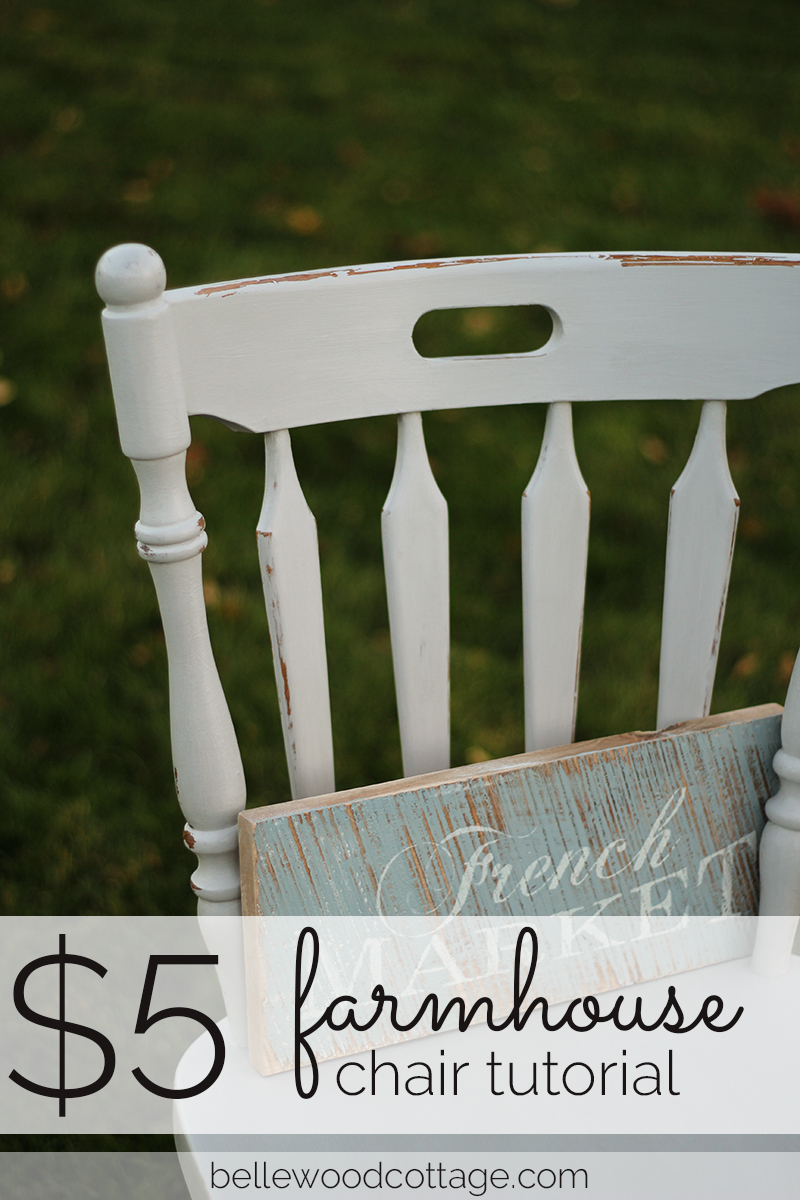 If you love the farmhouse look and want to add some cute style to your home without busting the budget, this is a great little project.
I recently picked up two chairs from thrift stores for only $5 each. After giving them a chalk-style paint makeover, I had two fun farmhouse pieces that have added more character to our home.
The $5 of course accounts for having paint on hand already, but keep reading below for another budget tip if you still need to purchase your paint (this tip will keep your cost under $25 and you'll have lots of paint left for more projects!).
Tips for choosing your chair:
-Choose a shape you love.
-Test for sturdiness. Repairing a wobbly chair is no fun; just say no.
-Examine for deep gouges/scratches. These will show through the paint, and may not be the look you want.
-Some dark finishes tend to bleed through chalk paint. It's annoying, but a coat of stain blocker will usually do the trick. Here's a great post from Brush and Pail with more tips.
-Check thrift stores on sale days…you can find some amazing bargains!
Once you've found a chair, go ahead and give it a quick wash with soap and water. Even though chalk-style paint can be slapped on with no prep work, I don't recommend this method. Give yourself a clean palette to begin with, and you will be much happier with the finished look.
In that same vein, I will also sand my piece lightly, as this photo illustrates. No need to remove all the finish, just be sure that it is scratched up evenly so the paint adheres well.
Now, you don't need to sand when using chalk-style paint, but I like to have a fresh surface to paint on. For the short time-investment, it's worth it.
I then will wipe off any remaining sanding dust before I begin painting.
My tip for finding budget-friendly chalk paint
Now for that tip on budget-friendly paint! As you may be aware, chalk-style paint can cost about $40 for a tiny can. It's great quality, and lasts for many projects, but it can be a lot of money if you're on a tight budget.
This Rust-oleum option I found at Home Depot is a fantastic value for under $20. I used it for both these chairs and was really happy with it. I will say that I think the Rust-oleum paint shows brushstrokes a bit more than the leading chalk-style paint. Their color selection is also quite limited, but I haven't found that to be much of a problem.
Grab a good quality brush (you can try my favorite brush for painting furniture, and I also like Purdy brushes) and plan to paint your piece with at least two coats of paint. I also like to slightly thin down my first coat of paint with a bit of water. You can paint from the can, but if you add water, do this in a separate container. I find that adding water 1 teaspoon at a time to about a 1/2 cup of paint works well. Choose a consistency you like, but know that if it gets too thin, your first coat won't do much to cover that original finish.
Tip: Your brushstrokes WILL show, so paint in a methodical manner. I went horizontally on the rounded spindles of the chair, and vertically on the flat spindles.
I also flipped my chairs upside down and painted all the underneath areas first.
Here's a glimpse at what I aim for with a first coat:
Distress the chalk paint
After both coats are dry (I prefer to wait several hours between coats and then let the piece dry overnight before distressing, but just check your paint can and follow directions) you can begin distressing. Find my tips on distressing chalk paint here.
This is where chalk-style paint really shines, as it lends a beautiful rustic look to any piece. You can distress with sandpaper, but my favorite way is actually with a damp towel. Just grab a flour sack style towel, dampen it, and rub gently in areas where you want distressing. Both methods create different looks, so feel free to experiment in inconspicuous areas of your chair.
I would suggest starting small with distressing and highlighting areas that would naturally see some wear and tear. You can always add more!
Distressed with a damp towel:
I opted to not distress the chair below, and I also really love the way it turned out! So don't feel obligated to add "character" to your piece.
Apply wax to seal the paint
The last step is to wax your chair. The wax I used (shown in the supplies photo) is also budget-friendly (and can be found at craft stores), but it's not my favorite. It's a very liquid substance, so it is brushed on (use a sparing amount), let dry, and then buffed gently to a shine. You could also try a poly coat if you want something that will last longer. I would not choose to finish a piece in wax if I knew it would receive a lot of use (think bathroom cabinets, etc).
Add some farmhouse style
Now your chair is done, so how about adding some farmhouse details? I styled one of mine with this cute sign, and a watering can filled with flowers. You could also place of stack of gingham towels on top of the chairs or leave a fresh/dried bouquet on top. Or maybe you want to paint several of these and replace your old dining chairs with a farmhouse look. Lots of fun options!
Leave me a comment if you try painting your own thrifted chair!
Disclaimer: None of the above links are affiliate links, and I do not work with any of the companies whose products are listed. I'm just a happy customer! 
Save
Save