Repurpose Children's Books for Wall Art
If you have a favorite children's book, why not showcase it? Learn how to repurpose children's books for wall art (especially those beautiful picture books!) with this simple step-by-step tutorial.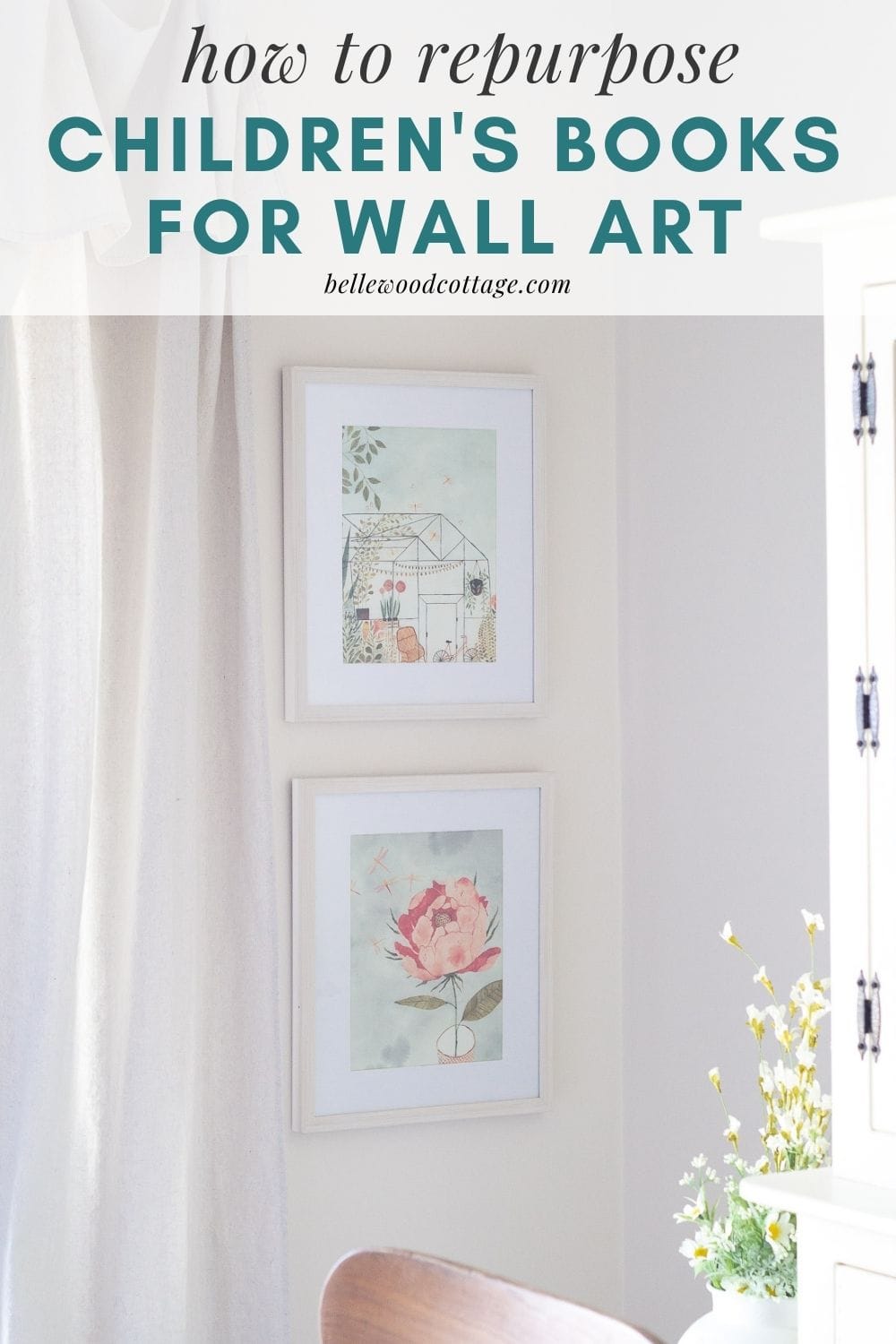 Please note that this post contains affiliate links which allow me to earn a small commission when a purchase is made at no additional cost to you. Read more here.
When I was reviewing books last summer, I received a beautiful new children's picture book from Candlewick Press. The Invisible Bear by Cécile Metzger. It hadn't yet been published so it was still in galley format, meaning the book wasn't bound, but instead was a stack of large folded sheets.
It worked great for reviewing and paging through a few times, but since the book was so sweet and I adored the illustrations, I figured I'd probably go ahead and buy the hardcover once it was released so that it would be easier to read with my toddler.
But what to do with the galley pages? Well, I loved Cécile Metzger's artwork so much that I wanted it on my wall!
If You Want to Use a Picture Book for Wall Art
If you want to use a picture book for wall art, it's best to choose a book that doesn't include text on each page. Ideally you'll be able to use just pages that are free of text. However, sometimes the text is a desired accompaniment–perhaps if you've found a favorite vintage book or something like that.
So it really just depends on the look you're going for. In this case, I thought the pages made beautiful art prints, so I only chose pages without text.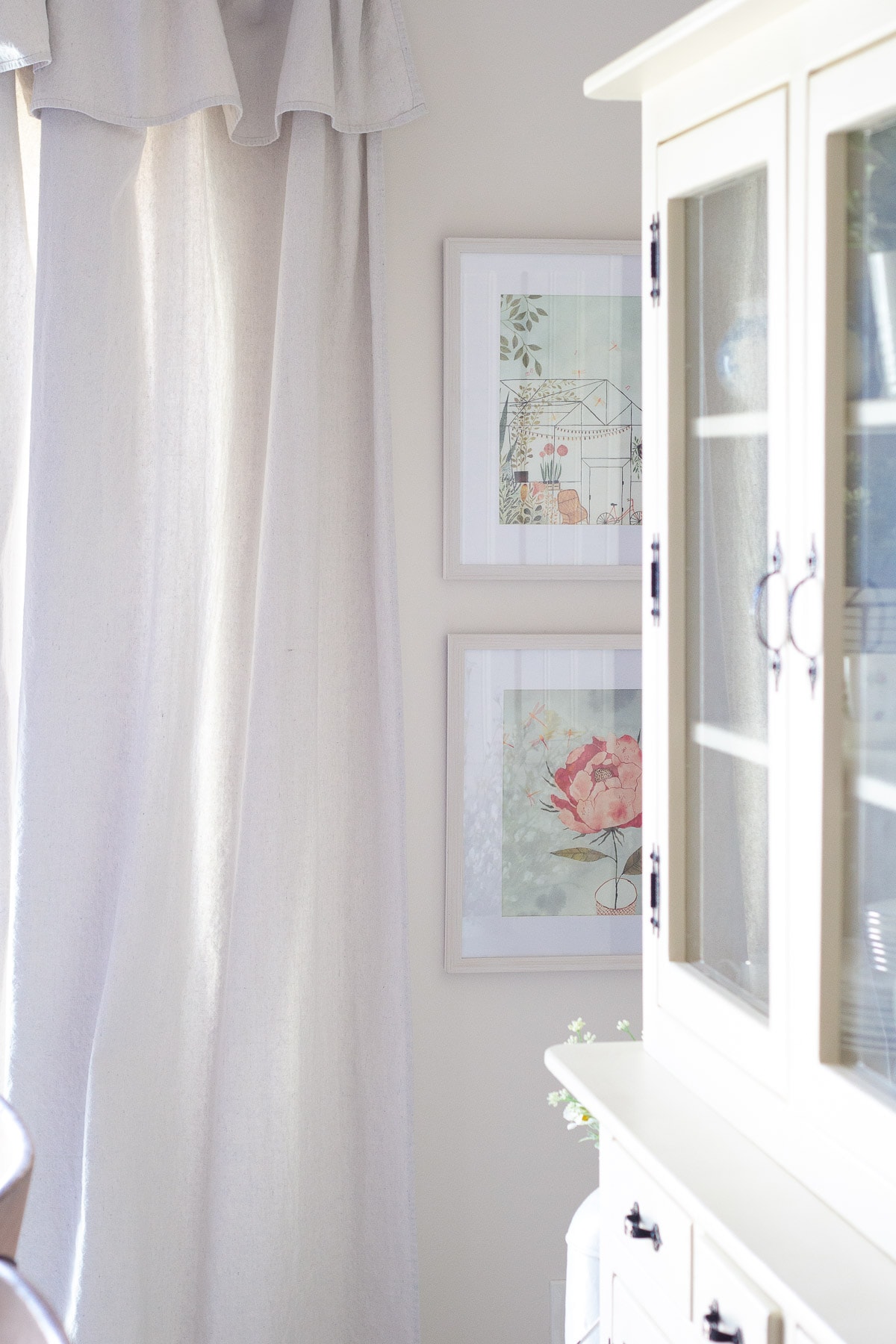 Remember that copyright prohibits photocopying pages and using them, so you'd want to purchase a copy of whichever book you've decided on (sometimes you can save money by purchasing used someplace like Thriftbooks.com) and slice out the pages you need.
Now, I love books, so tearing them up to use as wall art doesn't naturally sit well with me. However, if you have a favorite book that is damaged (or a situation like I had where I couldn't use the copy for reading), then this could be a perfect solution.
How to Save Money on Picture Frames
Pages from picture books can be quite large, so I knew I would need 11″x14″ frames to hold the pages. Plus, I wanted frames with a mat–making them even larger.
Unfortunately, I couldn't find large frames easily in stores and when I did, they were a bit more than I wanted to spend (right around $25 a frame).
So I started perusing the clearance sections of some of my favorite home décor stores to see if I'd stumble upon some larger frames that I could repurpose. And, sure enough Hobby Lobby delivered with this pretty wall art– each on clearance for $6 each. Perfect!
Though the art inside was cute, I still wanted to use my picture book. There's something special about displaying art that is (likely) completely unique to your home.
How to Remove Art from Picture Frames and Reuse Them
Of course, tearing the wall art open and replacing the artwork wasn't quite as simple as I'd hoped. Thankfully my husband jumped in to help me finish these one afternoon and with his help the process went smoothly.
It's worth noting, that depending on the frame/artwork, you may not be able to reuse the mat in the original artwork. In this case, the art separated relatively easily from the mat, but it was glued down. Thankfully it didn't tear, but I did have to be careful.
So if you try this project, I recommend trying it with some thrift store art or something else inexpensive. Or find some reusable frames that fit your budget.
Supplies needed:
picture book
old frames (check to be sure your art will completely cover the old print)
pliers
utility knife
double stick tape or scrapbooking squares
a bowl for the staples
Remove the old art
In order to repurpose children's books for wall art, first we'll need to remove that old art from the frame. Let's get started!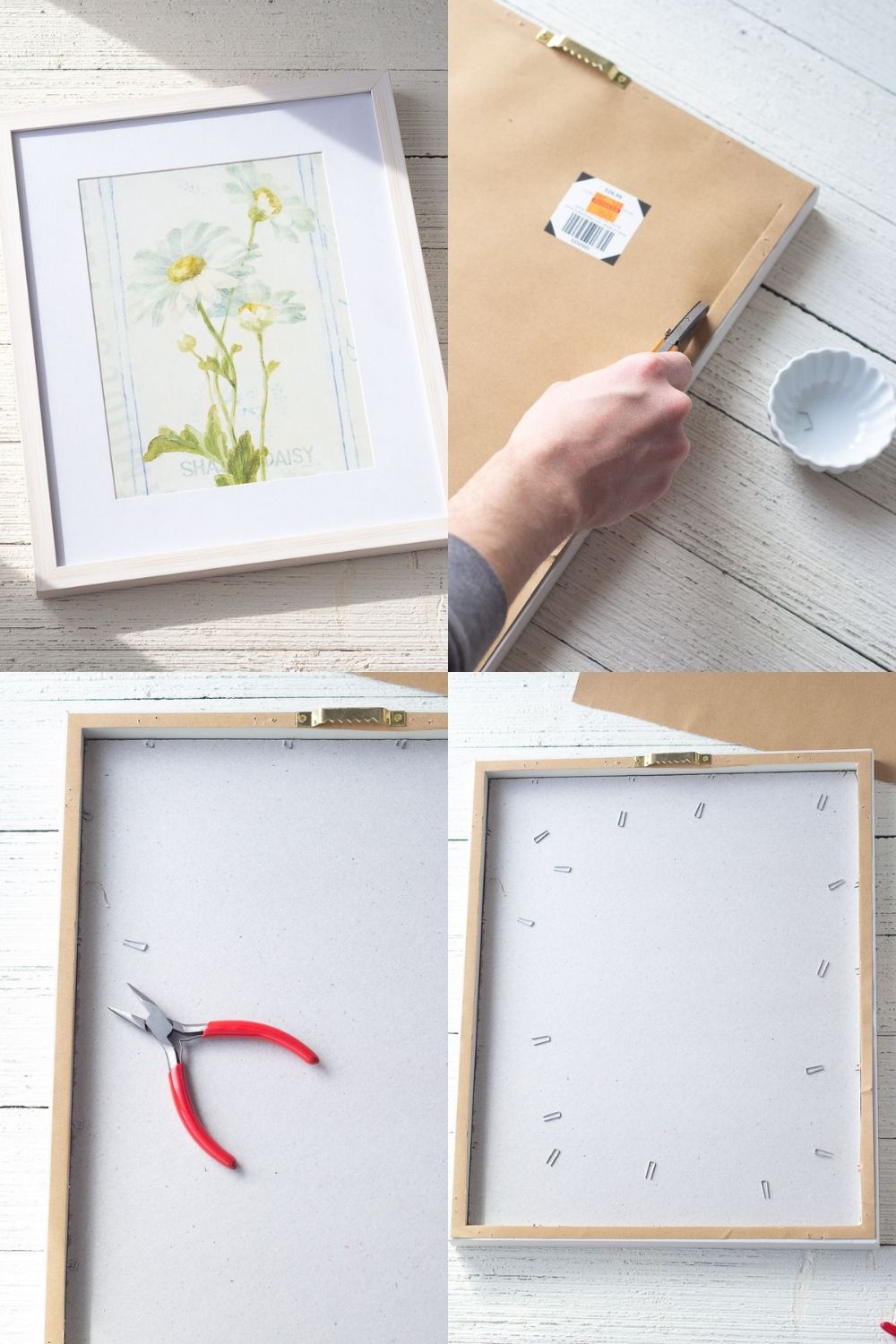 First, slice open the paper backing on the artwork and remove it.
Then, use pliers to remove every single staple from the art. Save these in a bowl nearby because you will be using them again!
Detach the mat and prepare the new art
After extracting the art (remember the glass isn't secured in the frame, so be careful!) you'll need to remove it from the mat.
We were able to kind of slice the art away and then peel off the mat. Just go slow so that you can reuse that mat!
Use some double stick tape or something similar (I had some scrapbooking squares on hand so I used those) to adhere the new art on top of the old print on the cardboard.
Replace the art
Check the glass for any cardboard particles and replace the mat and art facedown in the frame.
Hold the art and everything in place while you flip over the frame carefully to check that everything looks correct in the frame.
Next, it's time to replace the staples. Grab the bowl of staples you set aside and begin replacing them one by one. I forgot to include the photos of this process in the collage images so I included them below.
Replace the staples
Replacing the staples in the store-bought frames is easiest if you replace them with your fingers and then push them in with the same pliers you used to remove them.
You can see how they prevent the cardboard from popping out of the frame:
And that's all there is to it! I think this would be a great way to reuse old art from your home or a thrift store. Just open up those frames and replace with new art–whether from a children's book or not.
I do love the idea of using art from picture books because each page is a work of art from a talented illustrator. It's easy to forget that each illustrated book was once a set of paintings, drawings, or mixed media art, etc. It's fun to be able to showcase that creativity in a new way.
I hope you enjoyed this quick step-by-step on how to how to repurpose children's books for wall art in your home. I'd love to hear if you have tried something similar!
Thanks for stopping by!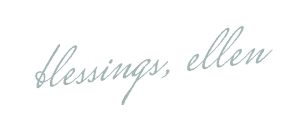 More Ideas from Bellewood Cottage