How to Freeze Crumbl Cookies for Later
So you bought a party box at Crumbl and couldn't quite finish all those cookies? No worries! Save those delicious treats for another day with this handy step-by-step tutorial on how to freeze Crumbl Cookies for later!
Please note that this post contains affiliate links which allow me to earn a small commission when a purchase is made at no additional cost to you. Read more here.
Wondering what Crumbl Cookies are? Check out my full review of Crumbl Cookies!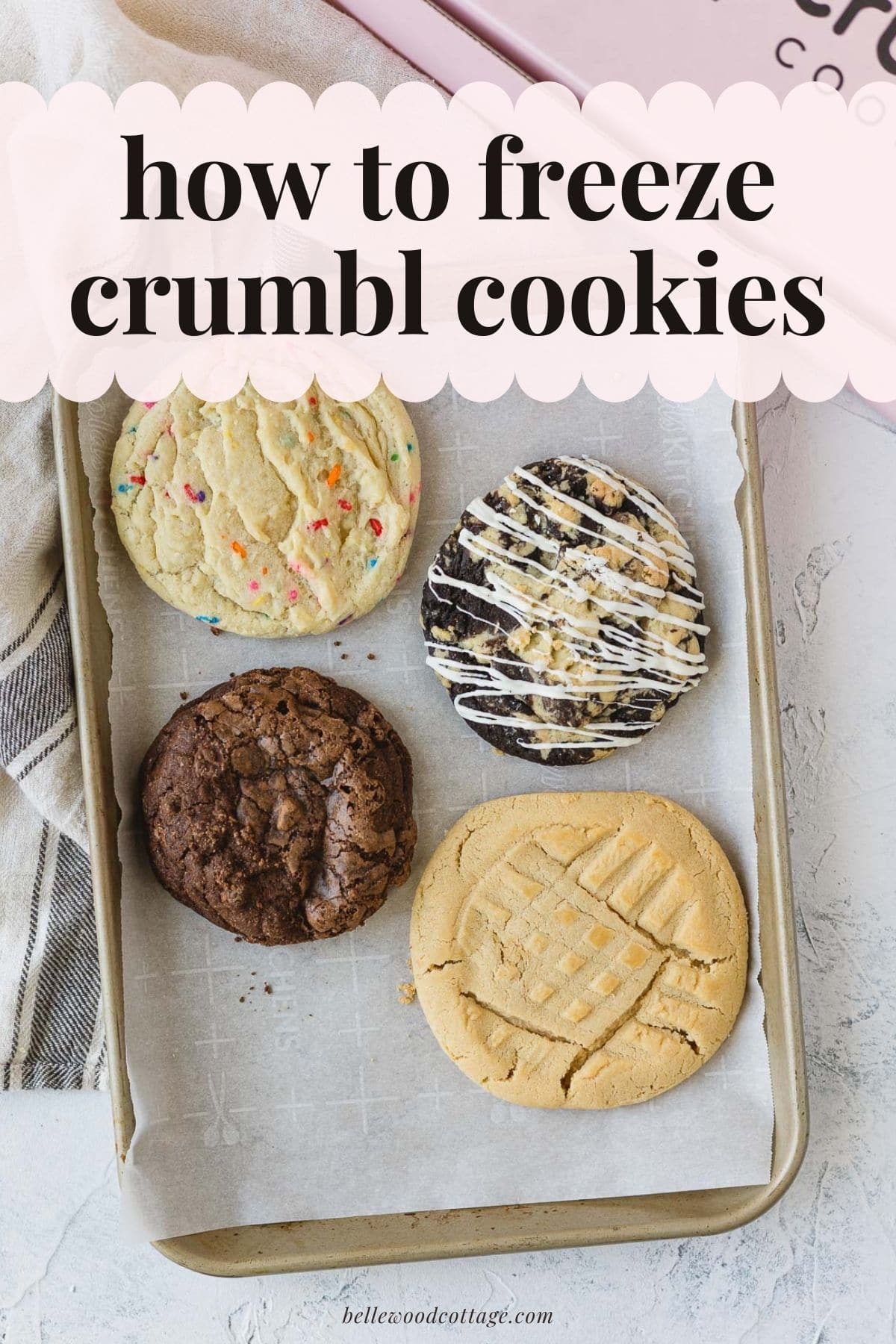 These tips will work for most baked cookies (including homemade Crumbl copycats), but I wrote up this step-by-step guide specifically for Crumbl Cookies. These bakery cookies are HUGE and if you buy a multi-pack box (or order a box shipped to your home) chances are good that you won't be able to polish off every last cookie.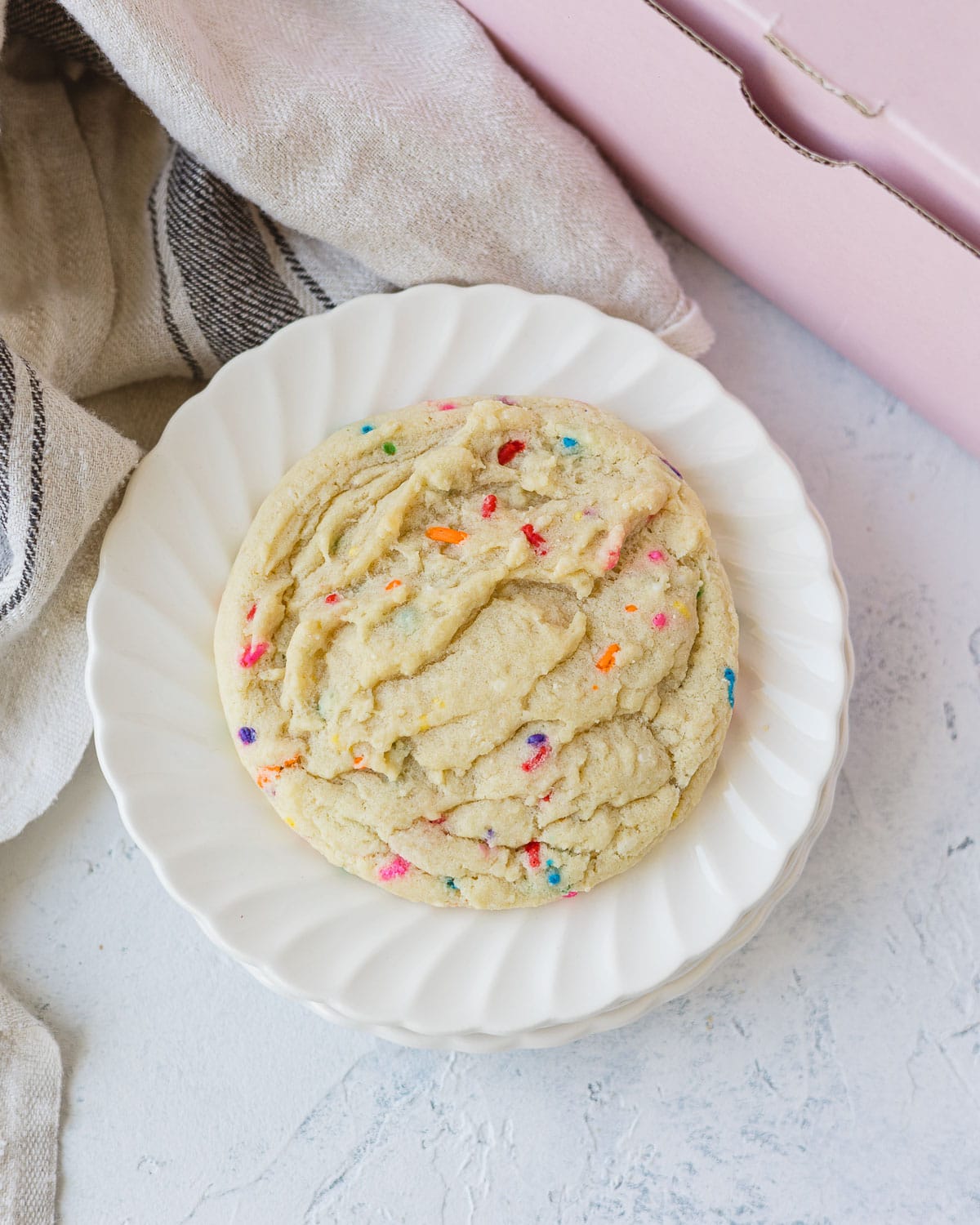 Luckily, most of the flavors (though not all) can be frozen for later. Freezing unfrosted cookies versus frosted cookies is a bit different (especially when it comes to thawing them safely) so check out the instructions below for each style of cookie depending on what you are planning to freeze.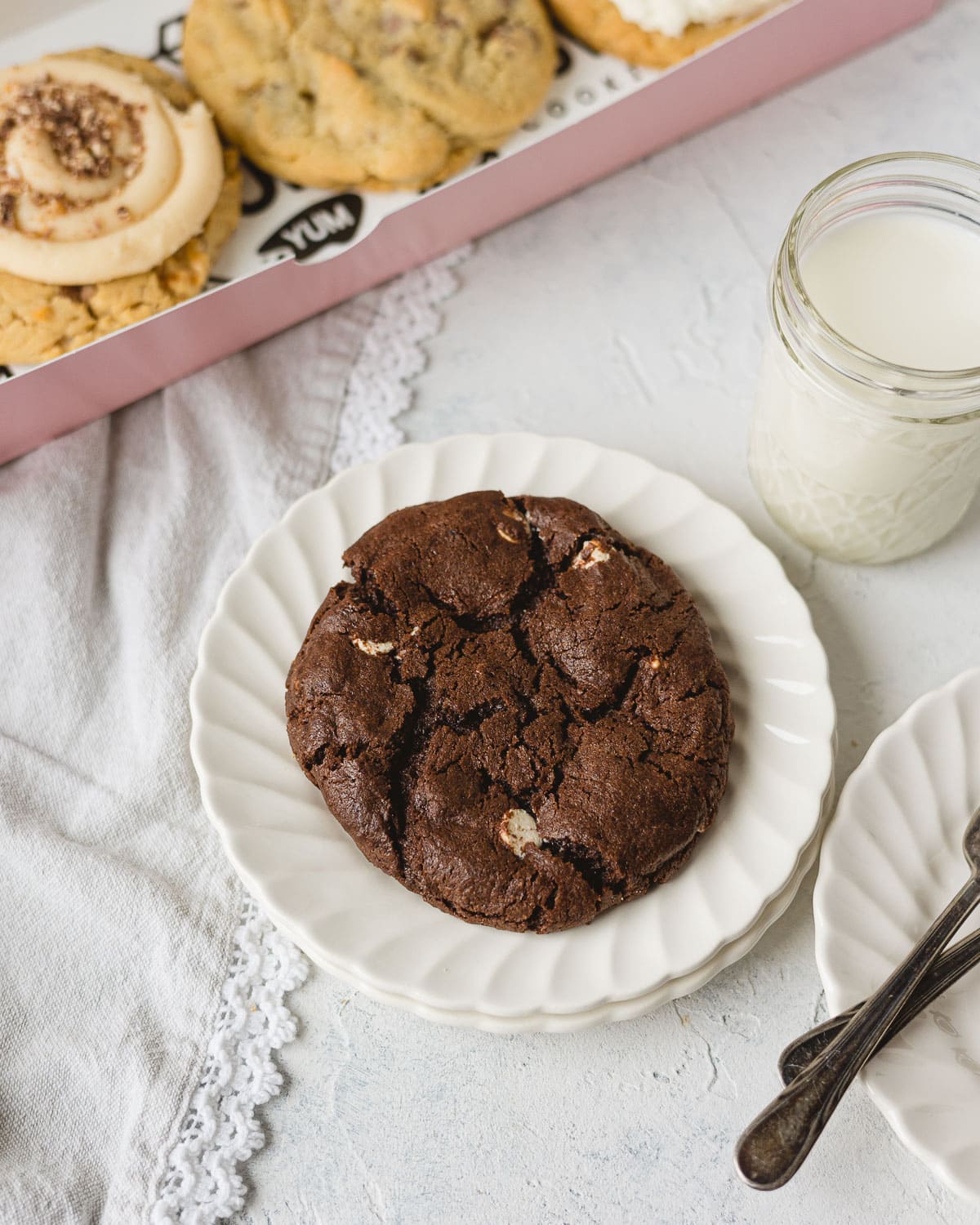 Ever wanted to know every flavor Crumbl has released? Check out my list of all 200+ Crumbl Cookies flavors!
How to Freeze Crumbl's Unfrosted Cookies
Unfrosted cookies include cookies like Milk Chocolate Chip, Original ft. M&M's, Blueberry Muffin, Brownie Batter, Classic Oatmeal and more.
Here's how to freeze them!
First, be sure the cookies are completely cooled before attempting to freeze. You can place the cookies on cooling rack (just like you would for freshly baked cookies) to cool them faster if you plan to freeze immediately after arriving home from Crumbl Cookies.
Wrap or Divide Each Cookie
The first thing to do is make sure the cookies don't stick.
You can wrap each cookie separately in plastic wrap or you can cut squares of parchment paper or wax paper and place them between cookies and then stack.
You may also freeze cookies on a lined (I use parchment paper) baking sheet until they are completely frozen and then you may pack them. This provides extra insurance against squished cookies. I still generally place parchment squares between the cookies to avoid sticking.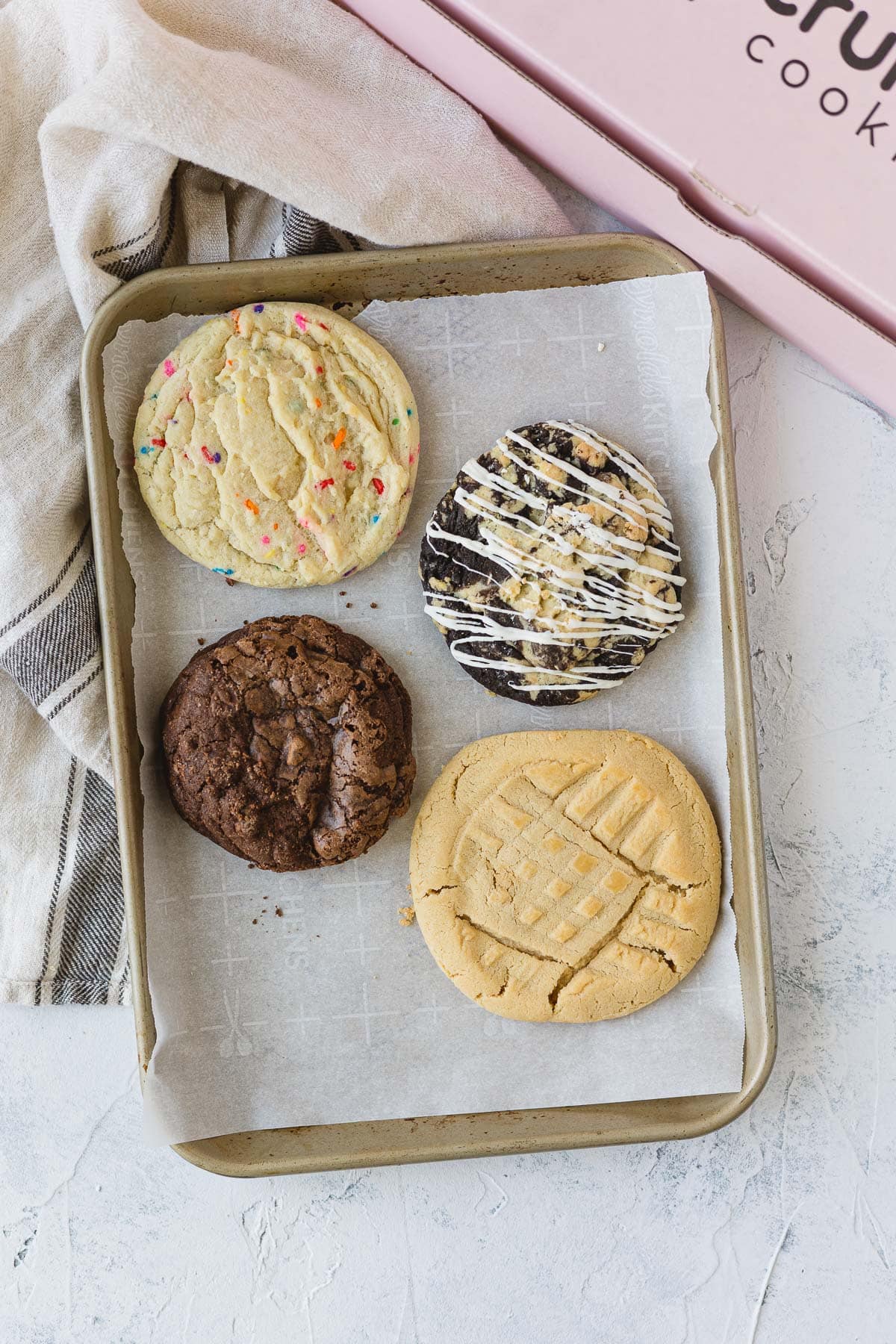 Pack Cookies
Once you are ready to pack the cookies, you can use freezer-safe bags or freezer-safe reusable containers. While I usually prefer to use freezer-safe reusable containers, the cookies are so large that sometimes a ziptop bag is a lot easier!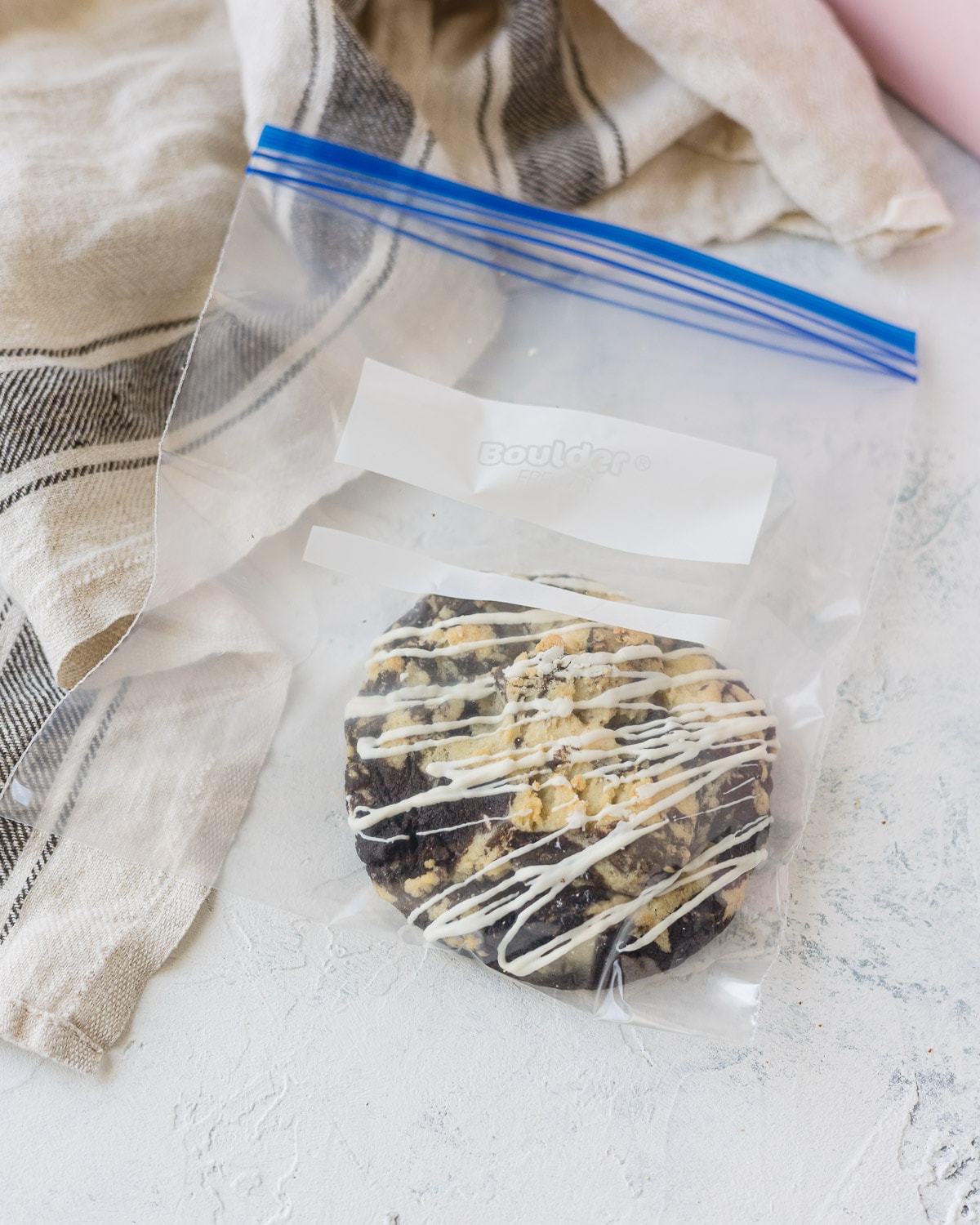 What Size Freezer Bags? I use ziptop bags in a 1-quart or 1-gallon size. I find that most of the cookies (except the really large/flat ones) will fit into a quart size bag.
Layer the cookies into the bag or container and place in the freezer. Be sure to label your container so that you remember when you froze the cookies.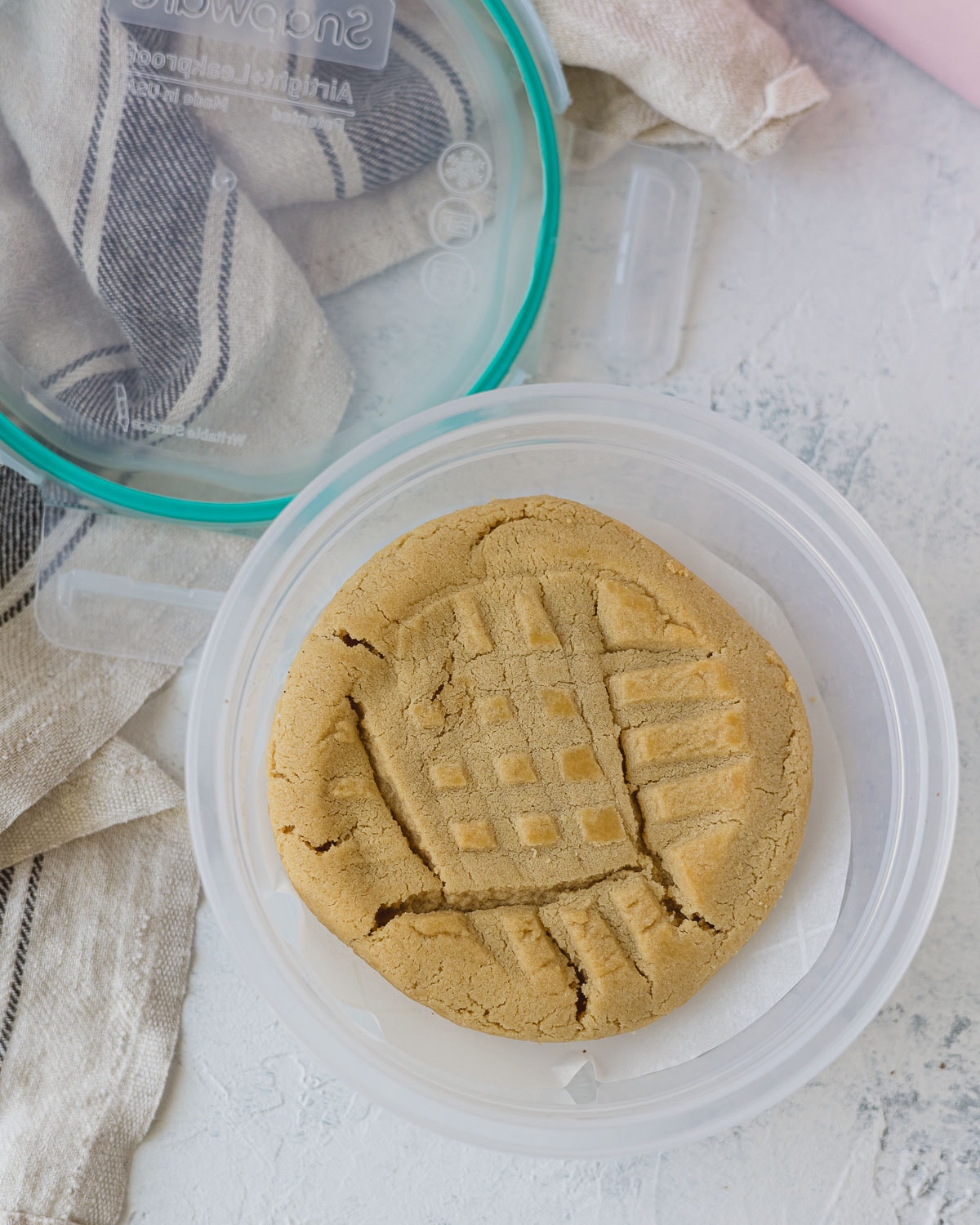 I will stack up to three layers of cookies in a container.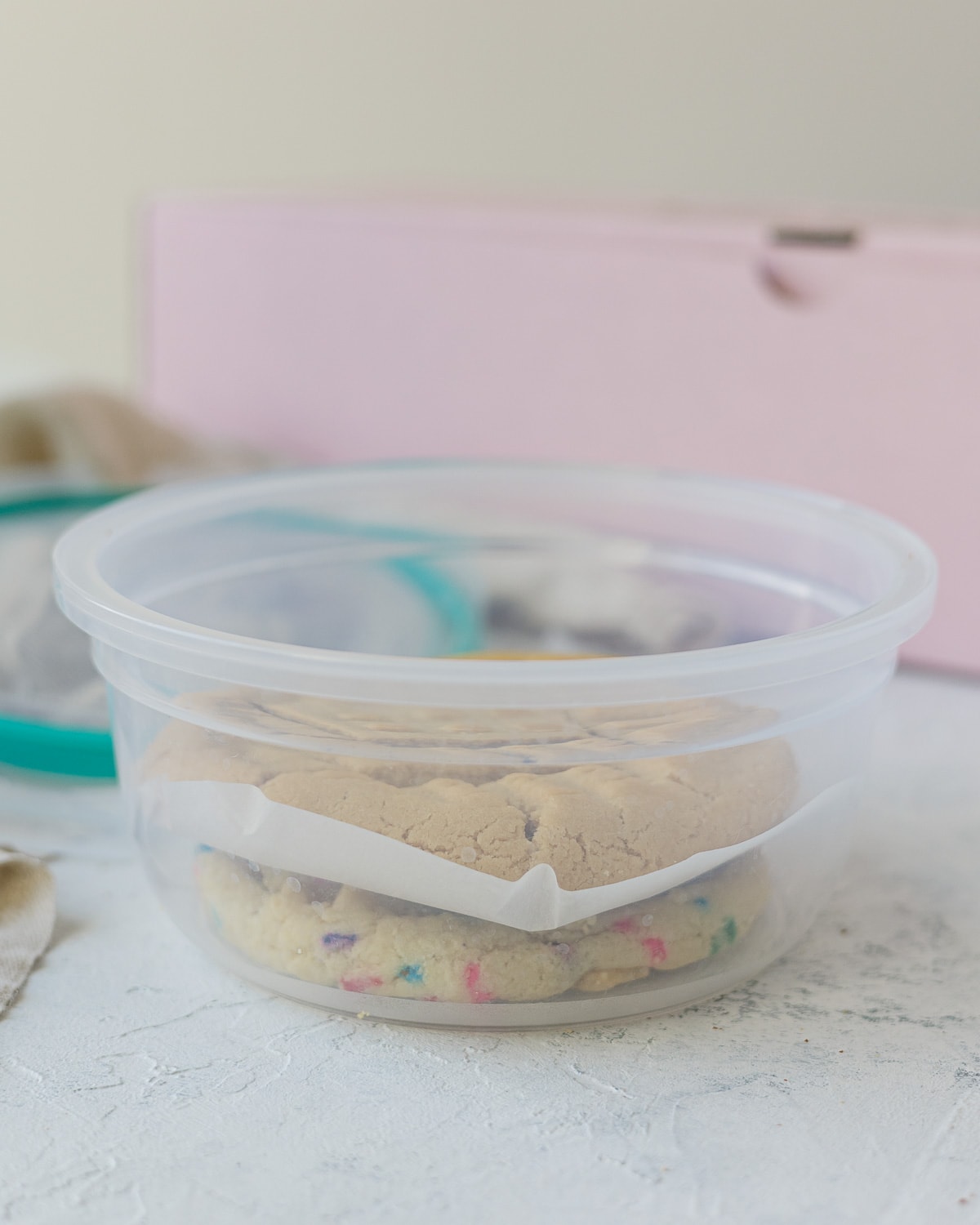 What Size Freezer Container? If you don't already have freezer-safe containers on hand, be sure to purchase containers that are made for freezer use and that are about 5″x5″ or more (plus an inch or two for height). Crumbl Cookies are big (usually about 4.25″ diameter)! These inexpensive containers from Target are what I use when I'm baking and freezing cookies.
Freeze for 1 month for best quality.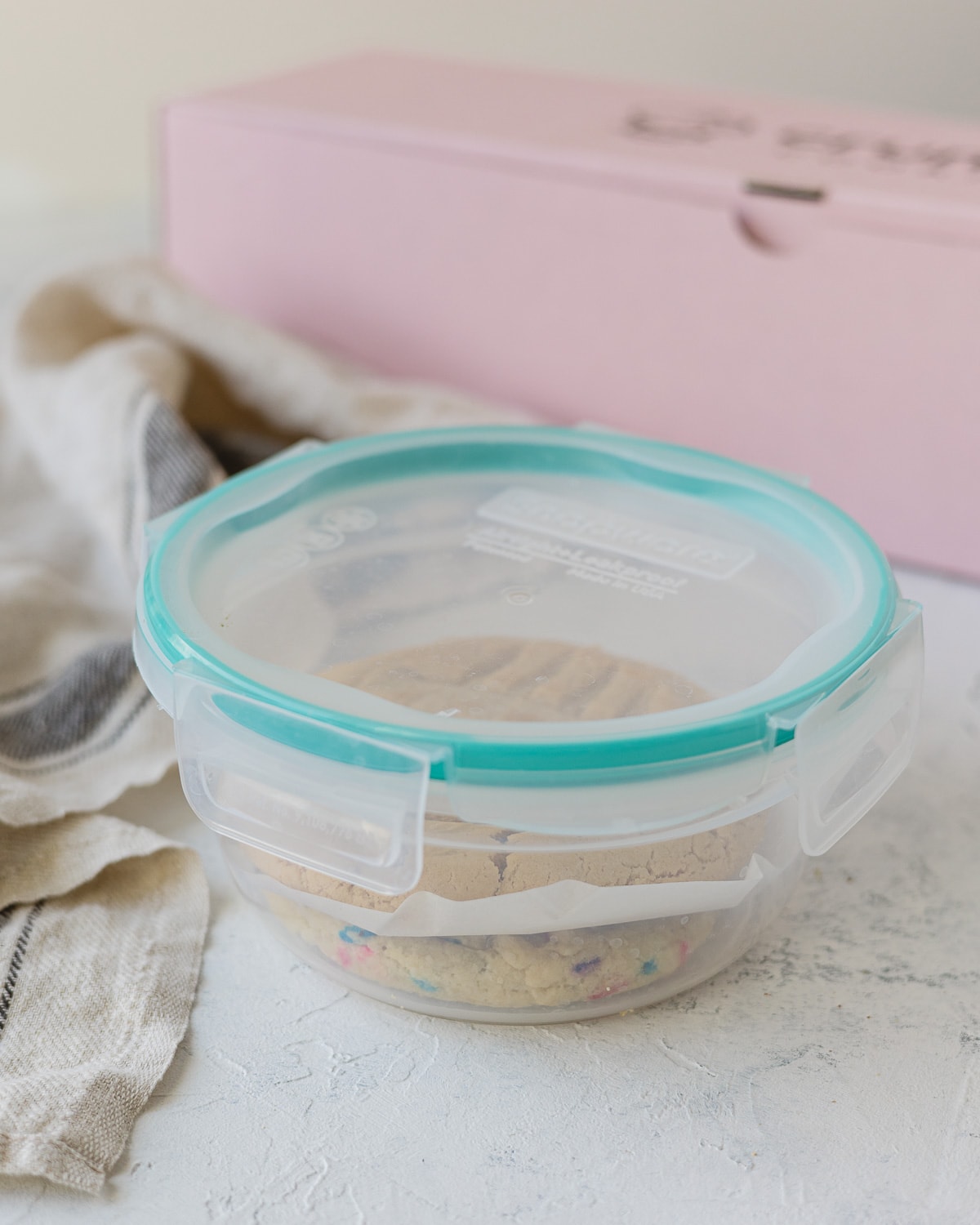 To Thaw Unfrosted Cookies
To thaw most of Crumbl's unfrosted "served warm" cookies, remove the cookie from the freezer container and thaw at room temperature until it's soft and ready to eat. Only thaw what you are going to eat–no re-freezing. You could also try some short intervals in the microwave to warm the cookie.
As noted below, the frosted cookies should be thawed in the fridge so that they stay cold and safe to eat as they thaw.
How to Freeze Crumbl's Frosted "Chilled" Cookies
Any cookie with a basic buttercream or similar frosting ought to freeze well. This would include cookies like Confetti Cake, Cookies & Cream Milkshake, and Peanut Butter Cookie ft. Snickers.
Are There Any Crumbl Cookies That Can't Be Frozen?
Note that not all Crumbl Cookies can be frozen with great results. Though I'd have to test more flavors individually to give you a concrete answer on whether or not it can be frozen, I'd be cautious about freezing cookies with a non-traditional frosting. This would include cookies like Passionfruit, Key Lime Pie, Boston Cream Pie, Berries and Cream, and similar cookies.
You'll also want to be wary of freezing cookies with toppings that might become mushy. These would be cookies like Peanut Butter Cookie ft. Muddy Buddies and the Cinnamon Cookie ft. Cinnamon Toast Crunch.
With all that being said, here's how to freeze frosted Crumbl Cookies: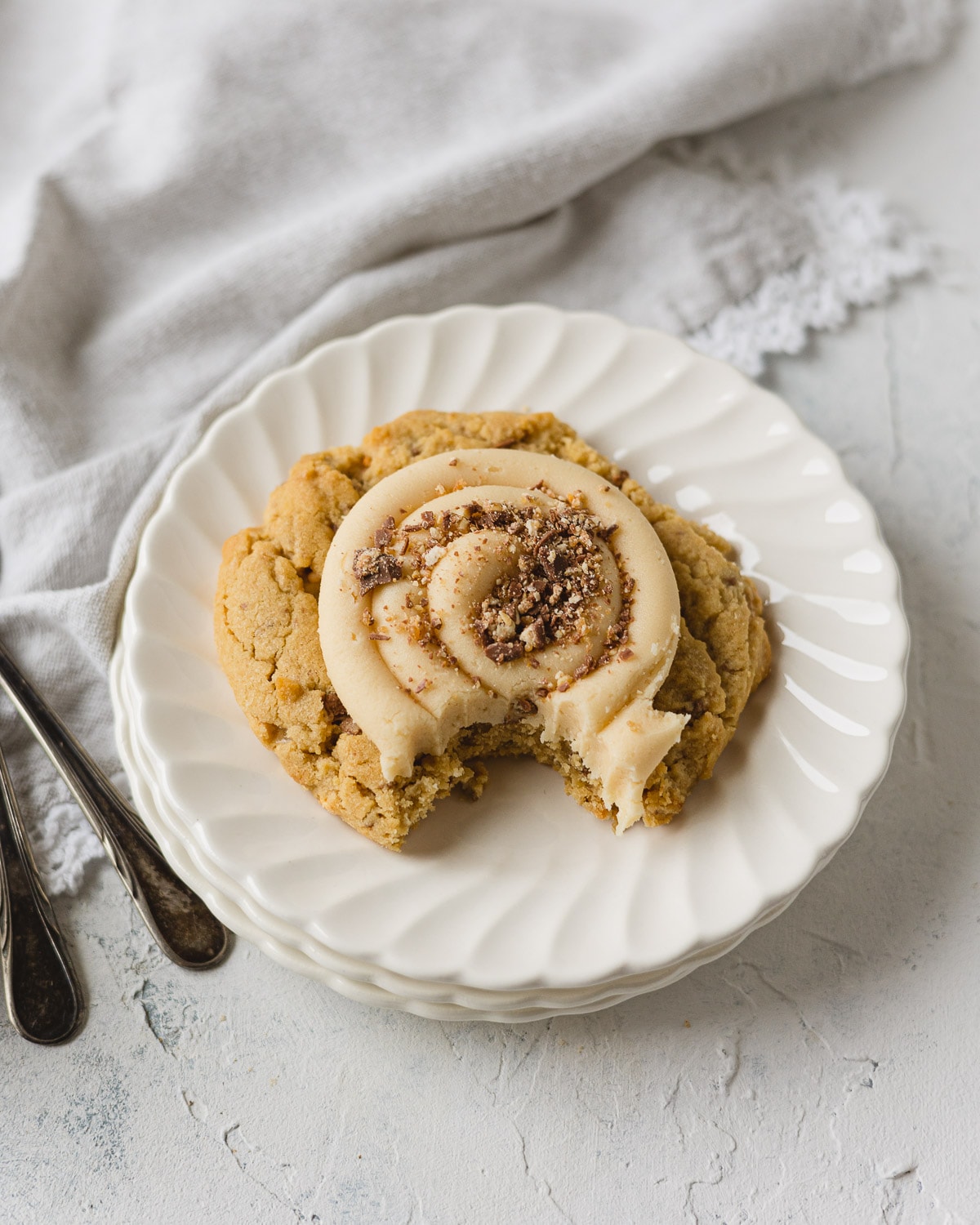 Secure Frosting
With frosted cookies, it's important to freeze the cookie prior to placing it into a container or freezer bag so that the frosting remains intact.
Place all frosted cookies on a lined (I use parchment paper) baking sheet and pop it in the freezer. Once the icing is set/hard (an hour or two usually) or the cookies are frozen solid, the cookies can be frozen in containers or freezer bags.
Wrap Them First
I wrap each cookie individually (using plastic wrap) or separate them with squares of parchment or wax paper. If you are stacking frozen cookies, stick to a max of two layers total (frosted cookies) to keep the cookies intact.
I use large freezer-safe containers or freezer-safe gallon bags. Don't forget to add a date to the packaging. Freeze for 1 month for best quality.
How to Thaw Frosted Cookies
Once you are ready to eat your cookies, you'll need to thaw them. For frosted cookies or "served chilled" cookies, thaw them in the fridge and NOT at room temp. For the chilled cookies, you need to maintain refrigeration throughout the thawing process up until the time you eat the cookie for food safety.
In a hurry? If you're rushed for time and/or only have one or two frosted cookies to freeze, you can skip the flash freezing step. Just pop each cookie into its own container or bag (freezer safe) and pop in the freezer. The frosting might squish a bit, but it'll taste fine!
Avoid Soggy Cookies
To avoid getting a soggy cookie after its thawed, remove the cookie from the freezing container (whether plastic container or ziptop bag) and thaw in a separate container. Lining the container with a paper towel helps to absorb moisture too. Remember to only thaw what you plan to eat.
And that's it! I hope this quick step-by-step on how to freeze your Crumbl Cookies was helpful as you now know how to save those delicious cookies for later. The freezer sure comes in handy when you want to stock up on your favorite flavors!
Make your own Crumbl Cookies! I love making cookies at home so trying out copycat Crumbl recipes has been a fun project. Try my giant (single serve!) recipes like: Milk Chocolate Chip, Chilled Pink Sugar Cookie, and Peanut Butter Cookie.
More Crumbl Goodness