Make Small Batch Oreo Balls and enjoy this holiday treat any time of the year. This recipe makes just a dozen Oreo truffles (great for singles and small families). The recipe is simple–crushed Oreo cookies, cream cheese, and almond bark coating. So good!
Please note that this post contains affiliate links which allow me to earn a small commission when a purchase is made at no additional cost to you. Read more here.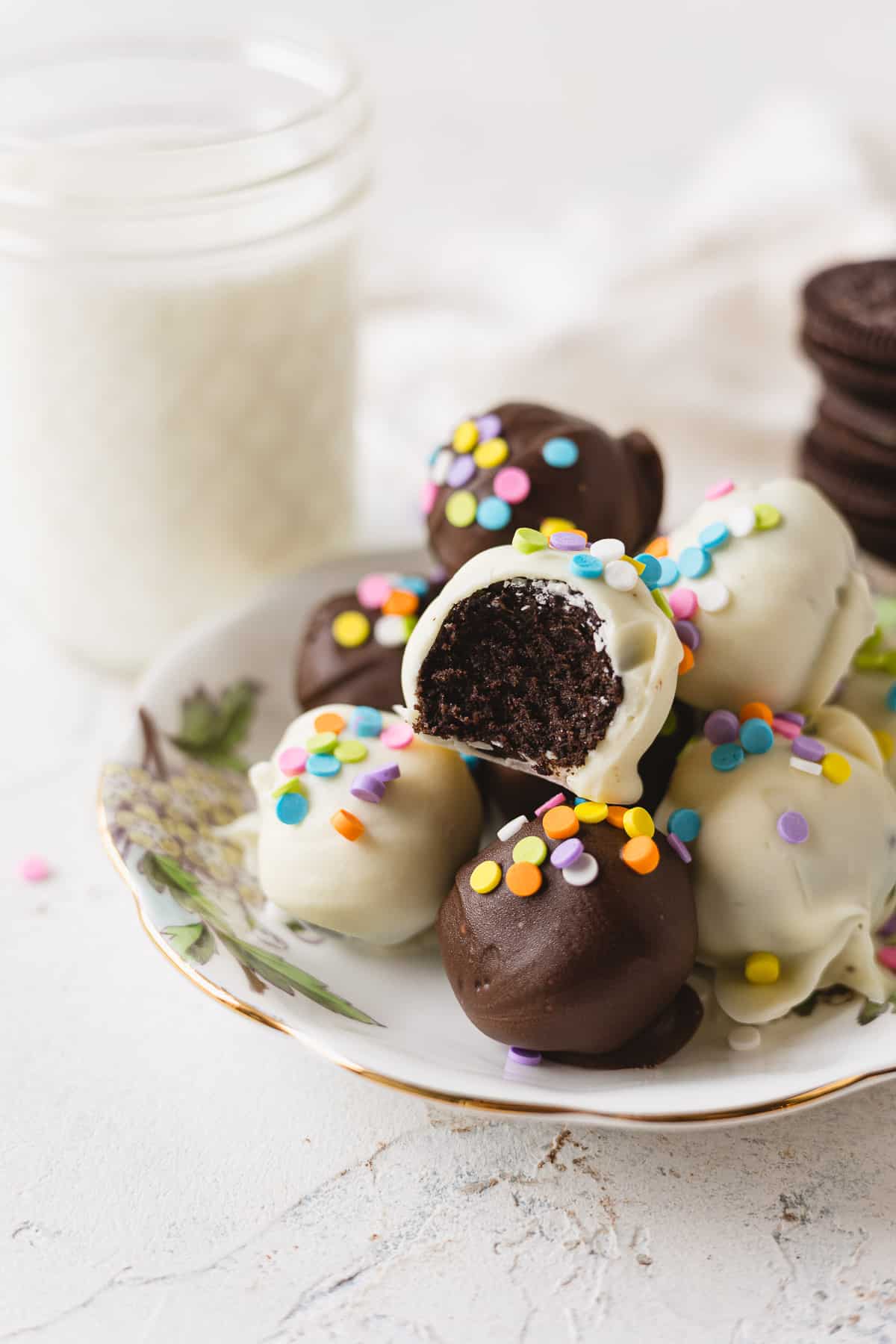 Oreo Truffles are one of my favorite holiday treats. They are total indulgence, but who can resist?
Now the main problem with the original recipe is that it is something like: 1 pack of Oreos, 1 block of cream cheese, and 1 package of almond bark. It makes a lot! Great for parties, but not so great when you just want a small dessert.
Thus, this small batch recipe was created. The recipe makes 10-12 Oreo balls so it's great if you are a single or have a small family. Plus, they keep well in the fridge or freezer so if there are a few leftovers you can easily save them for later.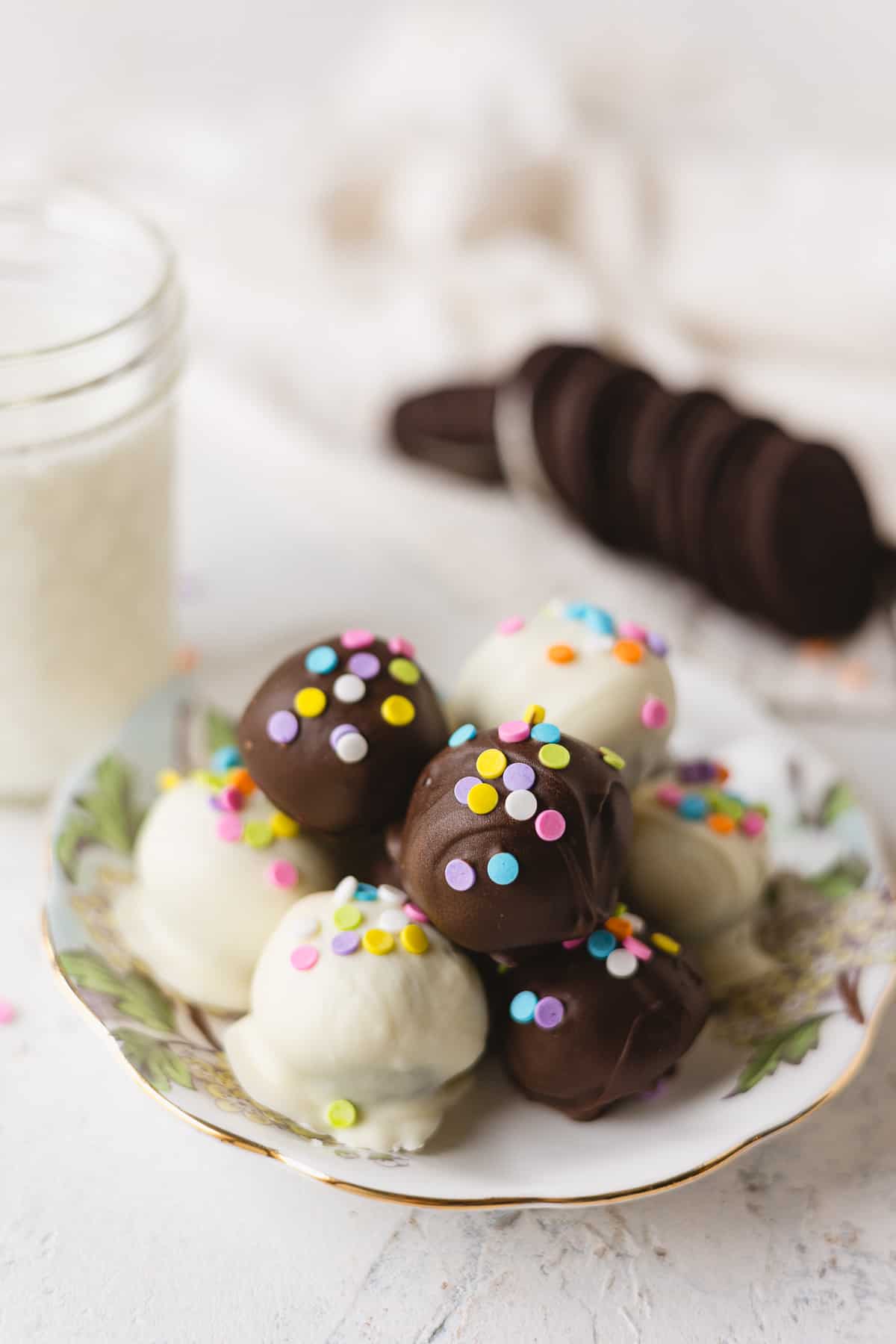 Three Reasons You'll Love Small Batch Oreo Balls
This is a "small-batch" variation of the popular Oreo balls recipe. This recipe makes 10-12 truffles.
Quick to make. Other than a bit of time in the freezer, these treats come together quickly for a speedy dessert option.
Easy to customize. You can decorate these treats with different colors of candy coating, sprinkles, or whatever. Trade out the regular Oreos for the mint variety, Golden Oreos, or another favorite to switch things up too!
What to Do With the Leftover Ingredients?
Of course, the original recipe is also convenient because you use up every bit of the ingredients you've purchased. However, there are lots of ways to use up the leftovers after making this recipe. Note: this recipe is also handy if you already have leftovers of Oreos, cream cheese, or almond bark too.
Candy coating keeps for a long time so you can store it or use it up for other holiday goodies (like chocolate covered pretzels for instance). Oreos can be used in cookie crusts for pies or no bake desserts or even as an ingredient in homemade cookies.
Cream cheese is easy to use up too. My go-to is our favorite chicken enchilada soup, but it's also great on bagels, swirled through brownies, or baked in a cheesecake.
Looking for more great desserts and treats? Don't forget to check out my library of Cookie Recipes including a lineup of Crumbl Copycat Recipes.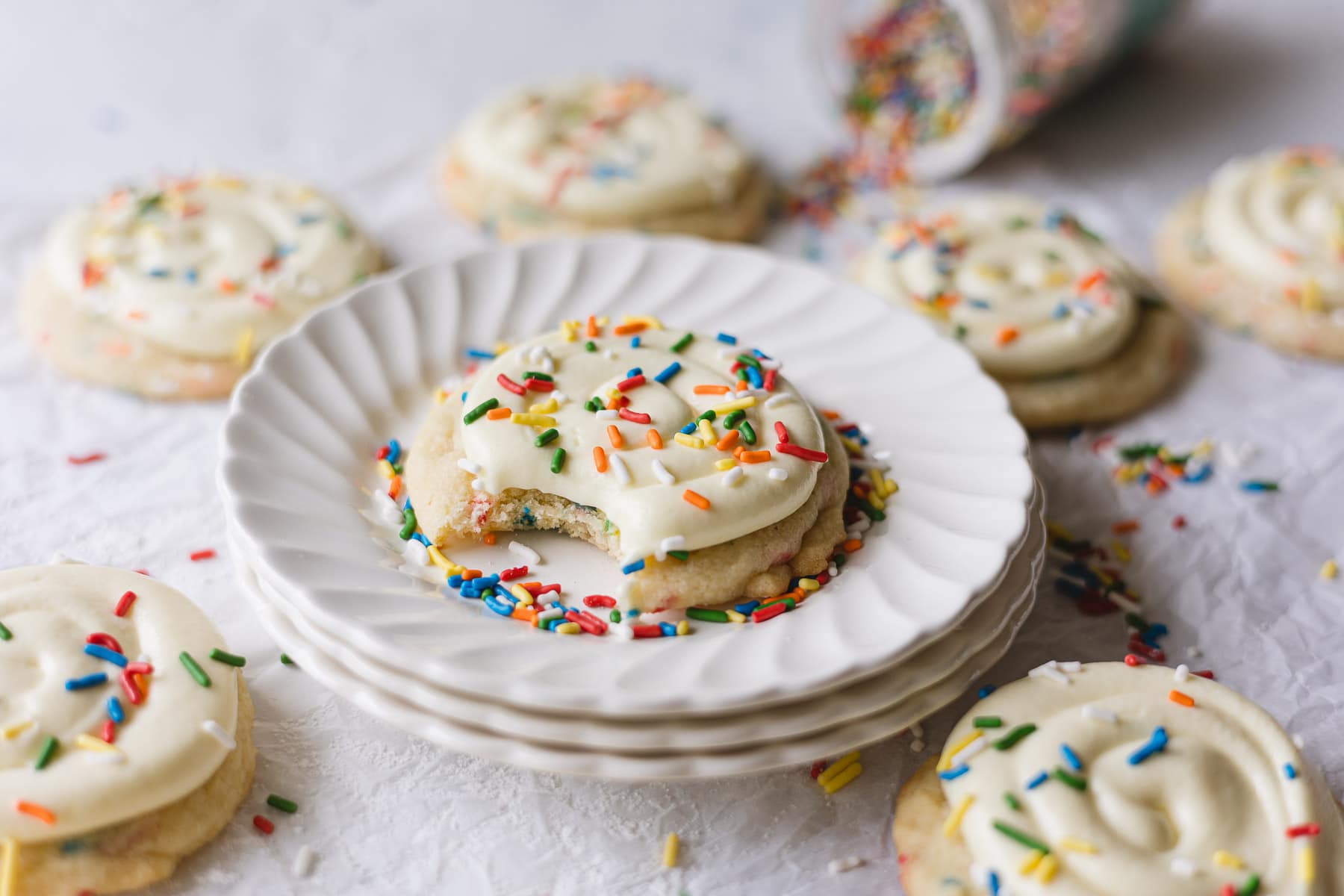 Ingredients You'll Need
Oreo Cookies – Oreos or any type of generic chocolate sandwich cookie will work here. Use a brand you enjoy eating right out of the package for the best flavor in the finished truffles. I use the sandwich cookies with the regular amount of filling here–though I think double-stuffed would probably be fine.
If you do try double-stuffed and the resulting dough is too messy to shape, just scrape the filling from an additional cookie or two, crush them, and mix the crumbles into the dough. You can also pop the dough in the fridge for thirty minutes before scooping.
Cream Cheese – I stick with full fat cream cheese here for the best flavor. Philadelphia cream cheese has better flavor than generic brands, but either will work.
White Chocolate and Dark Chocolate Candy Coating – Also known as "Almond Bark" (make-your-own), these candy coatings melt easily and set up relatively quickly. They are great for dipping holiday treats like Oreo balls.
I've had mixed success with generic brands (many of which taste too sweet), but I really like the Log House brand if you can find it (I haven't been able to yet this year). Walmart sells a generic white chocolate/vanilla flavored coating and dark chocolate flavored coating.
If you are grocery shopping, check the baking aisles (usually right by the chocolate chips) and the holiday candy areas.
How to Make Oreo Balls
Find the complete printable recipe at the end of the post!
Crush Cookies: I use a ziptop bag (quart-size has plenty of room) and a rolling pin to crush the cookies. A food processor also works well (and eliminates the waste of the plastic bag).
Cream together: This is a small batch, so you can easily mix up the dough by hand. You can also use a hand mixer too. Just mix the crumbs and the softened cream cheese together.
Shape: Shape dough into 10-12 truffles using a 1 tablespoon cookie scoop or measuring spoon.
Freeze: Freeze for 1 hour. Don't skip this step.
Coat in candy coating: Melt candy coating following the package instructions and dip the frozen Oreo balls into the melted chocolate coating. Set truffles on wax paper to harden and cool.
Optional decorations: While the almond bark is still liquid, sprinkle your favorite style of sprinkles right on top. Alternatively, top with more crushed Oreo crumbs, mini chocolate chips, or even a drizzle of chocolate (use the opposite color that you dipped the truffles in).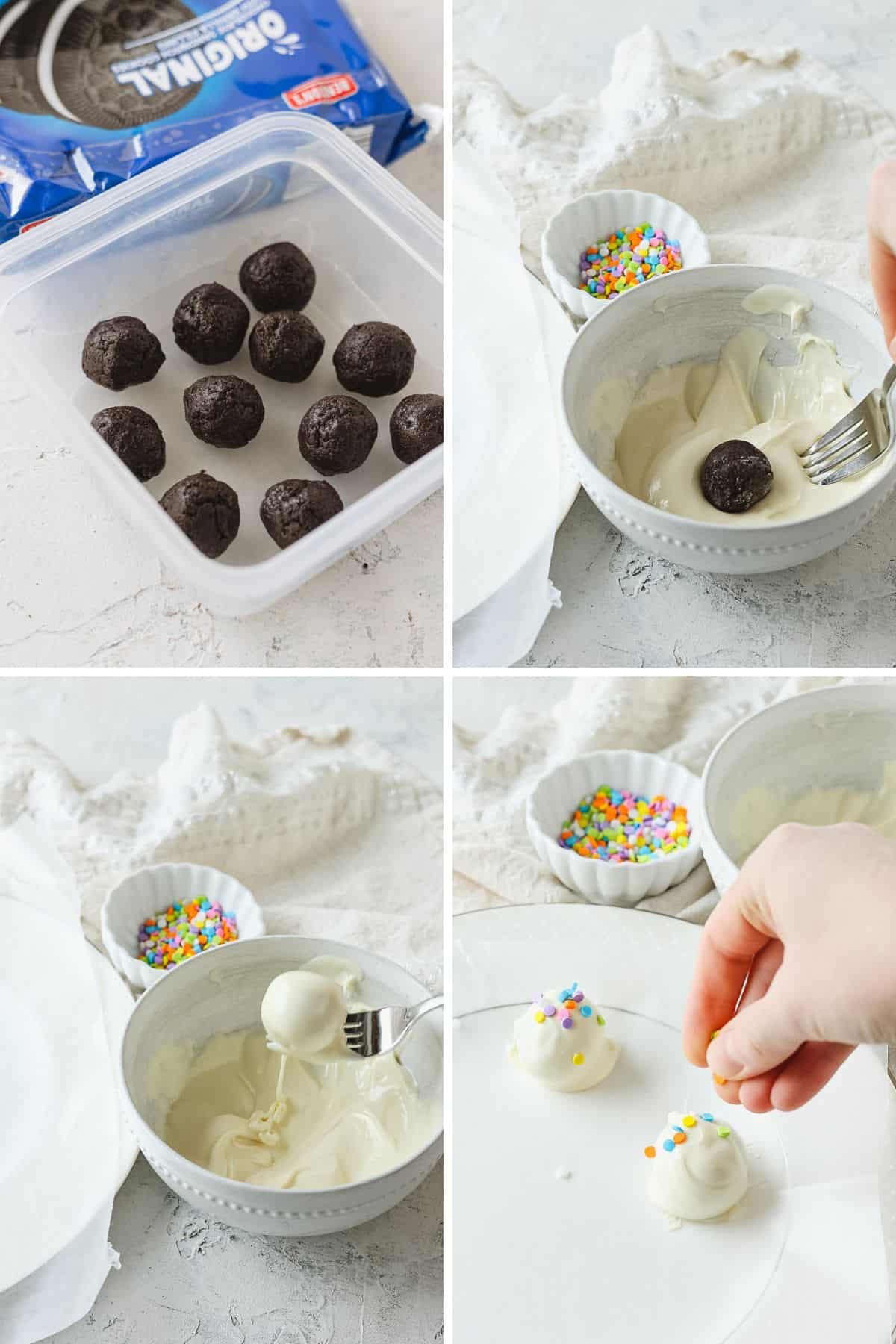 More Tips and Tricks
For easier mixing, be sure to start with finely crushed Oreos and soft cream cheese.
For neater truffles, don't skip freezing the shaped dough before coating in chocolate.
Be sure to have your decorations ready to go if you are using something that needs to "stick" to the top (like sprinkles). Add these immediately after dipping the truffles.
Are Oreo Truffles Healthy?
No. But we have broccoli for that.
How to Store Oreo Balls
Homemade Oreo Balls can be stored in the fridge for up to 1 week.
How to Freeze Oreo Truffles for Later
For long-term storage, the truffles can be frozen for 1-3 months in freezer-safe packaging.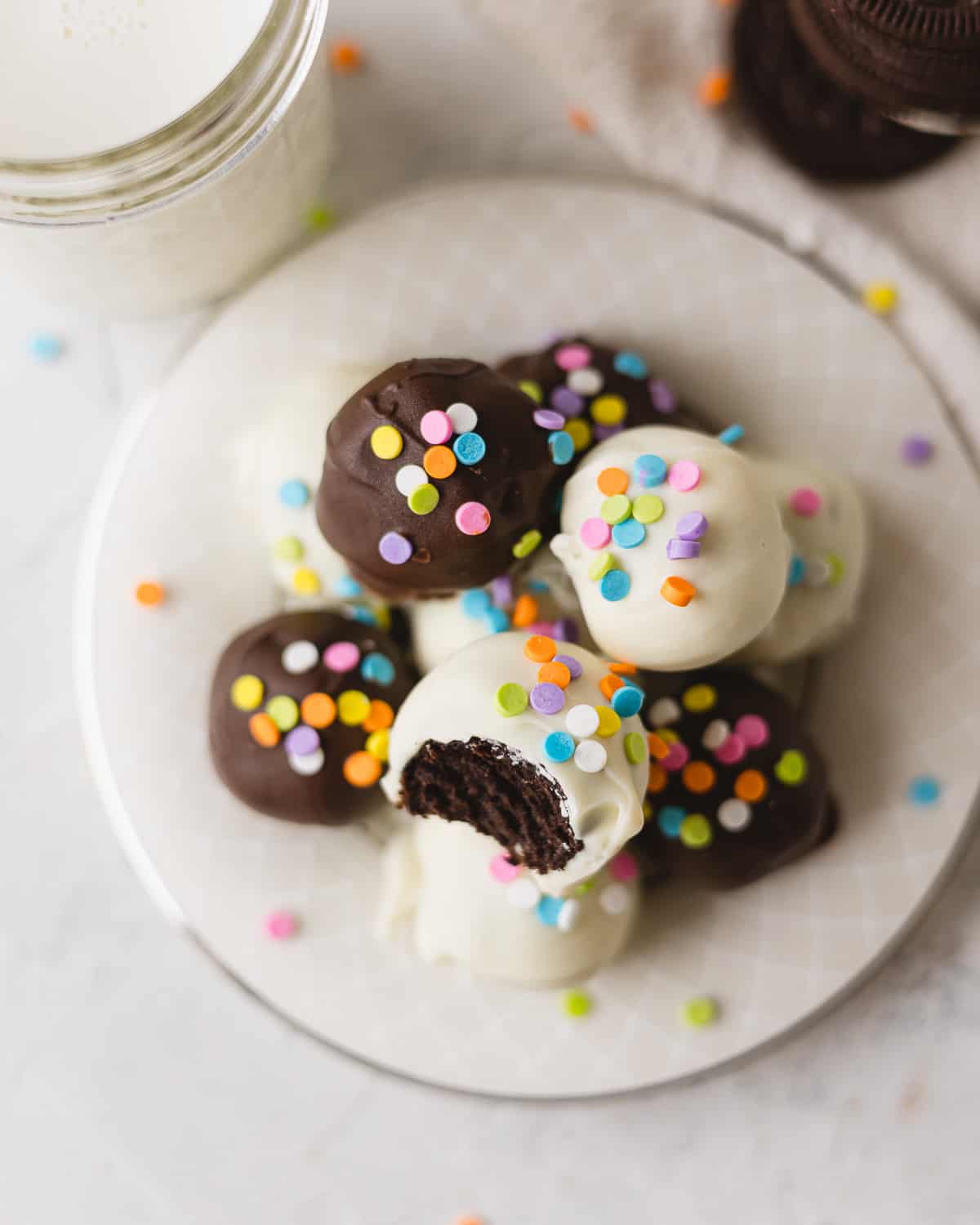 If you loved this recipe, leave a 5-star rating! I would so appreciate it!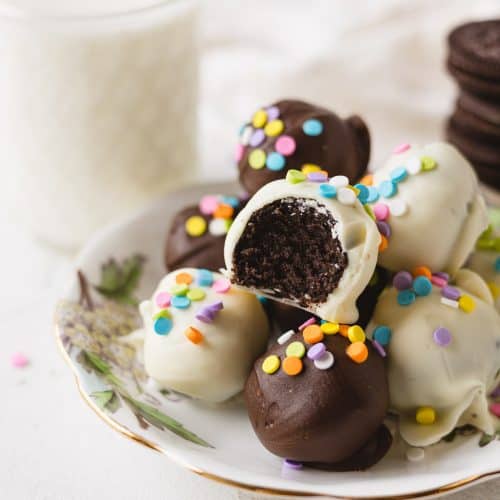 Small Batch Oreo Balls
Oreo balls are super easy to make and really delicious too. They are usually a holidays-only treat, but with this Small Batch Oreo Balls recipe you can indulge any time without filling your freezer with dozens and dozens of these irresistible truffles! The recipe makes 10-12 moderately-sized truffles and they store well in the fridge or freezer.
Ingredients
10

chocolate sandwich cookies

(Oreos or a generic variety)

2

ounces

cream cheese

softened (I prefer full fat)

5-6

ounces

"almond bark" candy coating

vanilla flavored or chocolate flavored
Instructions
Use a food processor or a zip-top bag and a rolling pin to crush 10 Oreo cookies into very fine crumbs.

Place the softened cream cheese into a medium-size bowl, add the Oreo crumbs, and stir until completely combined.

Use a 1 tablespoon measuring spoon or cookie scoop to scoop out 10-12 Oreo balls. Place on wax paper in a small storage container and freeze for 1 hour (don't skip this step).

Follow the instructions on your package of candy coating to melt about 5-6 ounces of chocolate (see notes). Dip each frozen Oreo ball into the chocolate using a toothpick or a fork and quickly allow the excess candy coating to drip away and place the Oreo ball on a piece of wax paper to set.

If you are adding a topping like sprinkles or Oreo cookie crumbles, sprinkle these on immediately as the chocolate coating will set very quickly.

If you plan to decorate with piped chocolate you will do this after the coating is completely set (see notes).

Store finished truffles in the fridge (up to 1 week) or freezer (up to 1-3 months). Enjoy!
Notes
How Much Candy Coating Will I Need?
I find it's best to always have a little more candy coating available than you think you will need. If the coating is quite hot and the Oreo truffles are fresh from the freezer it will be easier to get a thinner coat of chocolate. As the chocolate cools the coating will become thicker for the last few truffles being dipped. I find that the vanilla candy coating tends to go on thicker than the chocolate flavored variety for some reason.
How Can I Make the Oreo Balls Look Neater?
I find working with very warm candy coating and frozen Oreo balls to be the best way to get neat truffles. It also helps to keep the size relatively small (I don't go larger than 1 tablespoon). If you start getting lumpy coating on the truffles, it's time to reheat the chocolate candy coating. The reheated chocolate coating might not have as much shine as at first, but it does help achieve neater truffles. 
How Should I Decorate?
Use sprinkles, additional Oreo cookie crumbs, or a drizzle of chocolate (use a contrasting color) to decorate the finished truffles. Sprinkles, cookie crumbles, and anything that needs to "stick" to the candy coating should be added immediately after dipping the truffles while the coating is still melted.
Can I Try Different Flavors?
Absolutely–use the ratios listed above and have fun experimenting with different flavors of sandwich cookies and candy coatings. You can even add in a bit of peppermint extract for a festive flavor. Try subbing out some (or all) of the cream cheese for Nutella, peanut butter or maybe even Biscoff spread!
Nutrition
Calories:
130
kcal
Carbohydrates:
16
g
Protein:
1
g
Fat:
7
g
Saturated Fat:
5
g
Polyunsaturated Fat:
0.4
g
Monounsaturated Fat:
1
g
Trans Fat:
0.01
g
Cholesterol:
5
mg
Sodium:
57
mg
Potassium:
30
mg
Fiber:
0.3
g
Sugar:
13
g
Vitamin A:
64
IU
Calcium:
7
mg
Iron:
1
mg