Behr Chalk Decorative Paint Review
There are plenty of chalk style paints available to paint furniture with these days and they each have their pros and cons. Here is a complete review of Behr Chalk Decorative Paint (conveniently available at The Home Depot). Learn all about the costs, the color selection, ease of application, final results, top coat options, and more.
Please note that this post contains affiliate links which allow me to earn a small commission when a purchase is made at no additional cost to you. Read more here.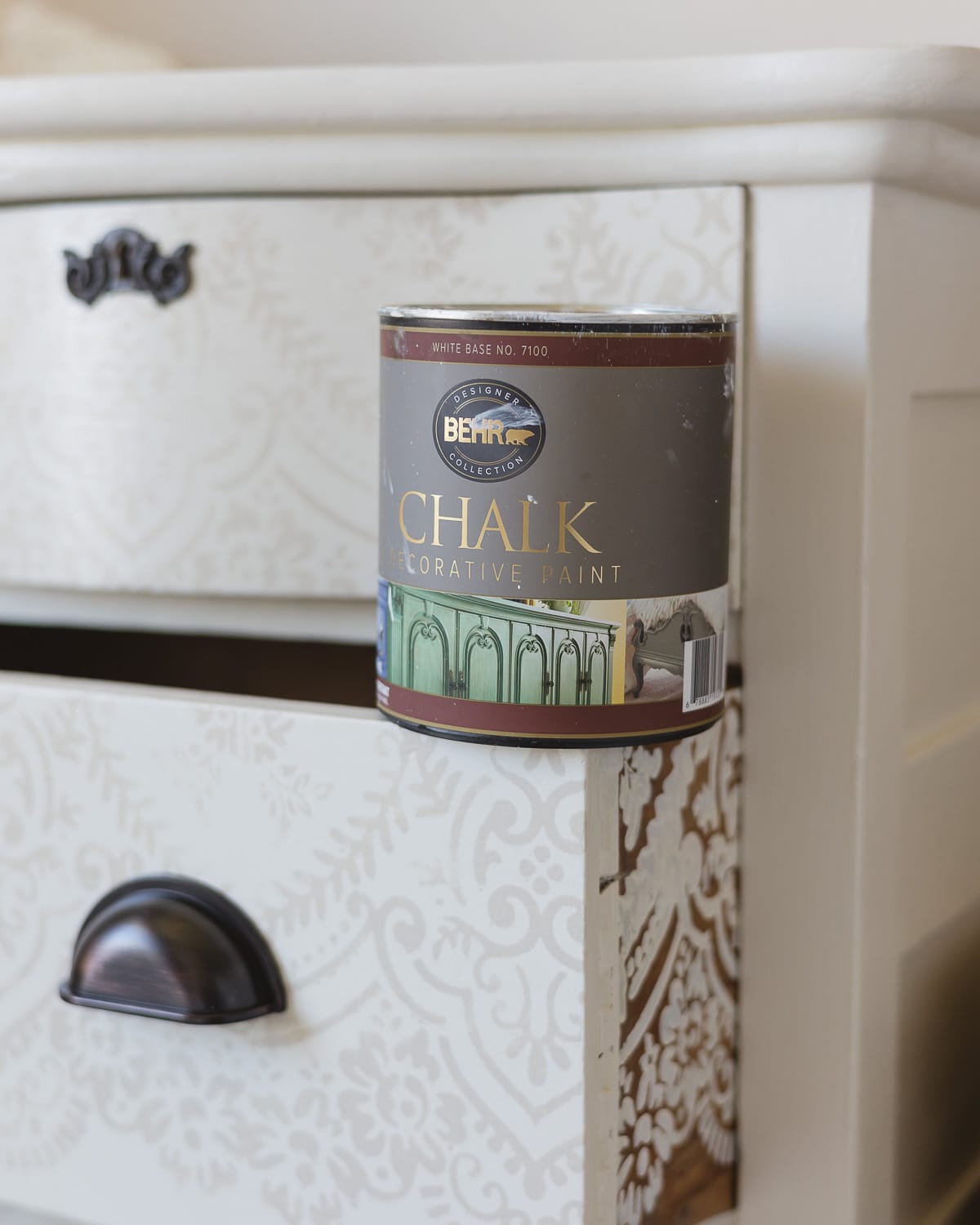 I love trying new chalk paints and Behr's paint has been on my list for awhile! When the opportunity arose to paint a dresser for a friend, I took the chance to try out the paint and write up my thoughts here.
If you want to learn more about other Chalk Paint and Chalk Style Paints, I have a complete article for you: What is So Great About Chalk Paint?
A Complete Review of Behr Chalk Decorative Paint
I've included plenty of detail in this review for you including: what makes Behr's chalk style paint special, how to use it, cost of the paint, and answers to frequently asked questions. For instance, you'd be surprised how often people wonder if they can use the paint for painting kitchen cabinets!
Find Behr Chalk Decorative Paint among my roundup of the Best Chalk Paint Brands!
What is Behr Chalk Paint?
Let's start with the basics first. Behr Chalk Decorative Paint is a matte-finish interior chalk style paint designed to be used for furniture painting (or other crafting). It requires a top coat for the strongest finish. It's available in an impressive array of colors. It's easy to find (or ship to your home) at The Home Depot.
The paint is similar to other chalk style paints like Rust-Oleum Chalked Paint, Magnolia Chalk Style Paint and Country Chic Paint. It's also similar to the original Annie Sloan's Chalk Paint.
What Makes This Chalk Paint Stand Out?
Behr's chalk style paint stands out for the affordable price (about $20 a quart) compared to other chalk paints as well as the phenomenal color selection. Chalk style paints are usually quite limited in color selection, so you might have to switch brands depending on what you need. However, Behr's Chalk Decorative Paint boasts that it is "tintable to over 500 colors".
I was able to choose my color already mixed and ready online from Home Depot. The free shipping made it extra convenient. I chose a color and the paint was at my door in a few days. We'll talk more about the color selection process near the end of the post.
How to Use Behr Chalk Decorative Paint
Here's a quick overview on how to use Behr's chalk style paint for furniture painting.
Prep the furniture
Since this is a chalk style paint, it's designed to be applied with little (or no) surface preparation. You can start painting right away. However, many surfaces (especially anything with a shiny top coat) will benefit from a light sanding. In fact, the can notes, "For better adhesion, scuff sand glossy surfaces."
What about priming? While you might not need to prime, I often do because I paint old furniture and more often than not I encounter small spots of bleed through. It's nice to solve these quickly with a coat of good stain-blocking primer and move on. If you try to paint over bleed through with a chalk paint it will just keep seeping through each new layer of paint.
Once you've prepped your furniture to your satisfaction, it's time to paint.
Application
Grab a good paintbrush and your can of paint (I like to paint from a separate container–here's how I neatly pour the paint) and begin painting. I found the Behr paint to be a good consistency that didn't require any thinning down.
When painting furniture, watch for drips collecting in corners or flowing down edges. These can later be sanded away, but it's easier to catch them immediately.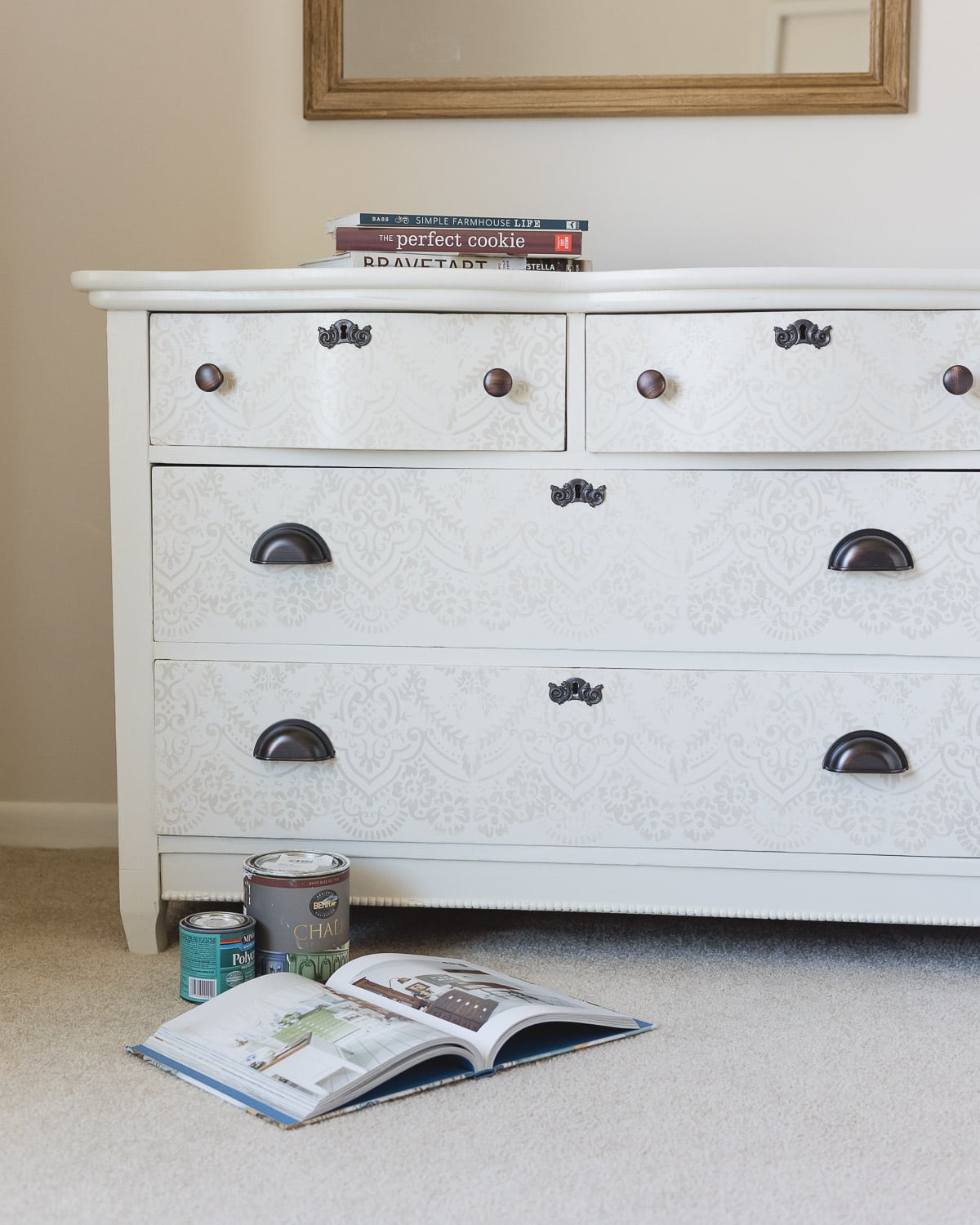 How many coats?
For this review I used Behr Chalk Decorative Paint in the color Cotton Knit. I found it to be a nice creamy white, but it was quite sheer.
After one coat I knew I'd definitely need two or three coats. I also had already primed the piece, so I ended up with four coats total (not including top coat). I do expect this with lighter colors, but Annie Sloan's Chalk Paint often only requires one coat (it's quite thick) and I would say that Rust-Oleum's Linen White Chalked Paint is also more opaque.
How much paint did I use?
I used around half a quart of paint for this small/medium-size dresser. That was likely due to needing that third coat of paint. I would say the overall value is great, but you'll get a little less mileage than Annie Sloan's Chalk Paint.
What is the finish like?
The final finish of the paint is a flat matte finish. Just what we are looking for with a chalk style paint! Of course, this can change depending on the top coat you choose.
I did not test the Behr wax because wax isn't my favorite top coat choice. I wanted this piece to have a sturdy finish that would hold up, so I opted to use Minwax Polycrylic in a Matte finish. Note that the "matte" finish of the Minwax is more of a satin finish.
After applying the finish the paint color deepened a few shades. It didn't yellow (which is different and will look like uneven streaks), but the cream paint became creamier and darker.
The paint also shows brushstrokes like other chalk style paints. When painting with chalk paints it's really easy to get "thick spots" around edges of the piece and I definitely noticed this occurring, likely due to the excess coats I applied to get complete coverage.
Be careful with this when you are painting anything with doors/drawers. The layers of paint can become so thick that the opening/closing becomes sticky. I usually don't have this issue, but this particular dresser did cause me some problems with that!
Other Takeaways
Overall, the process of using Behr Chalk Decorative Paint was relatively seamless. I loved the color selection and the ability to ship the paint to my door.
While not ultra-low VOC like Annie Sloan or Country Chic Paint, the paint is low-VOC and I was able to paint indoors with the door/window propped open.
The main problem I had was simply that the paint required extra coats (three total) over a primer coat to get the best coverage. I would imagine this is likely due to the light color, but since I haven't tested the darker colors, the sheer-ness might be an issue throughout the line.
The paint is also easy to clean up (just soap and water).
Note that as far as I can tell each paint is considered a "custom color" and is not returnable if you don't like the color.
Cost of the Paint
Behr Chalk Decorative Paint is available in both liquid quarts (to brush on) and aerosol sprays. The brand also provides three wax colors for top coats and decorative finishing.
If you need a brush for painting furniture, I like the Wooster Shortcut Brush. It's inexpensive and the flexible handle makes it comfortable to use and excellent for reaching tight corners.
Paint Colors Available
As I noted above, most chalk style paints come already tinted and thus, you are a bit limited in color selection. But with Behr's Chalk Style Paint, you have a huge selection of colors available. You can order many of the colors right online from Home Depot and the paint is said to be "tintable to over 500 colors".
The downside to this is that with so many colors it's hard to make the right choice. I found the color previews online insufficient. The colors are photo-shopped in (onto dressers/buffets) and it was hard to tell the difference between similar colors.
Annie Sloan's paints on the other hand have better product details and tons more resources if you can find a local shop selling the paint (swatches, comparison pieces, etc.).
I also was looking for a darker cream color and I was afraid to end up with brown, so I ended up going a bit too light. From the online photos I should have had a much darker color, but I would say this Cotton Knit color I bought is very close to white.
Note that I believe all the paints are considered "custom tinted" and are not returnable if you change your mind on the color.
Where Can I Buy the Paint?
Behr Chalk Decorative Paint is available at The Home Depot. Unless you need a color tinted in-store (which I have not yet done), it's easy to buy online and receive free shipping to your door.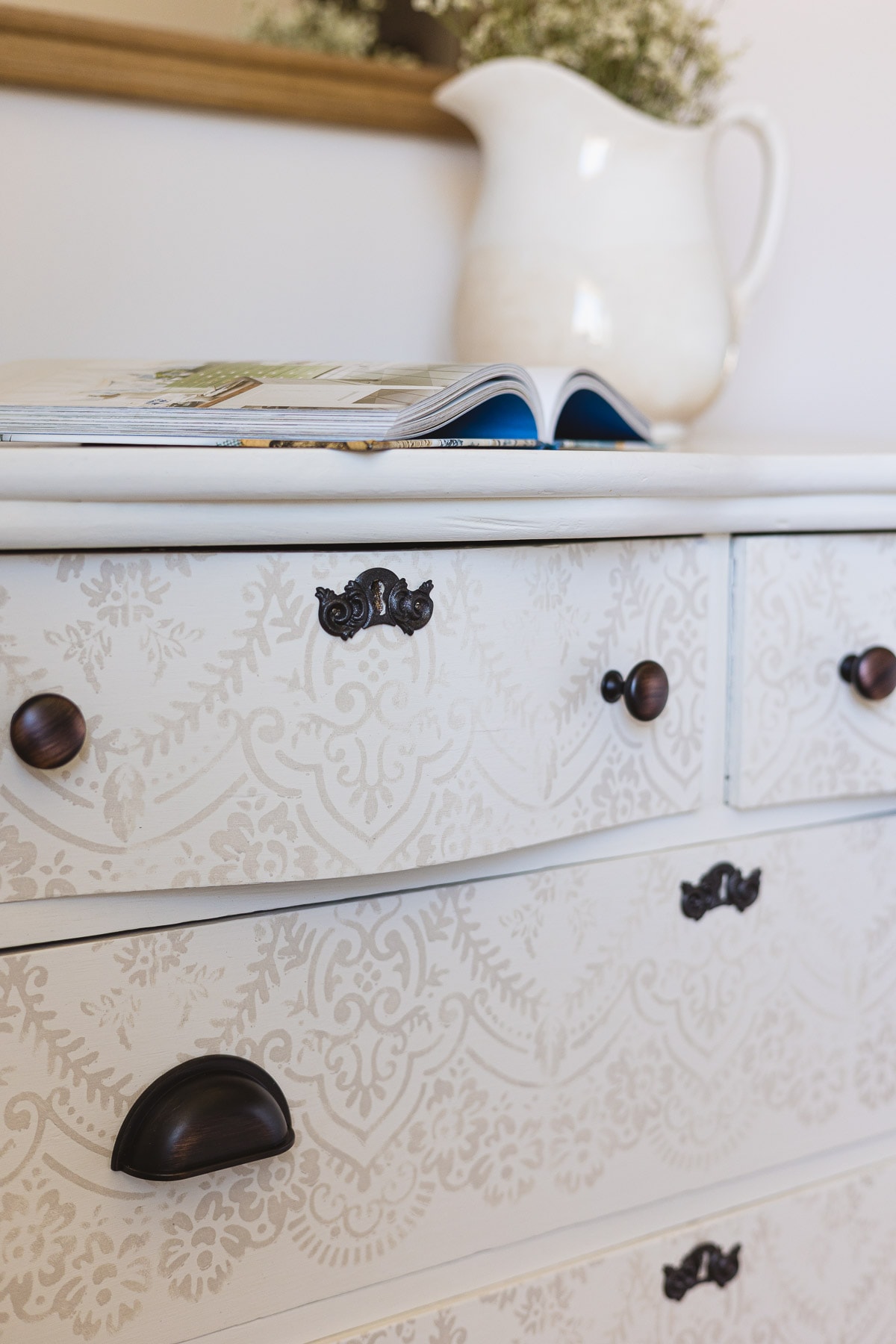 Can I Use Behr Decorative Chalk Paint on Kitchen Cabinets?
I usually recommend avoiding chalk paint on cabinets. There are far better paints out there for the job and you want a very sturdy paint in the high-traffic area of your kitchen. Chalk painted cabinets won't hold up as well as paints designed for that specific environment. That being said, the top coat you choose will make a big difference (absolutely don't use wax for this) and you could potentially get a nice finish with an appropriate top coat.
Another consideration though is the coats you'll have to apply (primer, several coats of chalk paint, plus several top coats). Paints like Benjamin Moore Advance (a standard for cabinet painting) will require a primer coat and two coats of paint and that's about it.
You will also have obvious brushstrokes and "thick spots" that can accumulate in corners and around edges. This look is quaint on antique furniture, but may appear untidy and unprofessional on kitchen cabinets.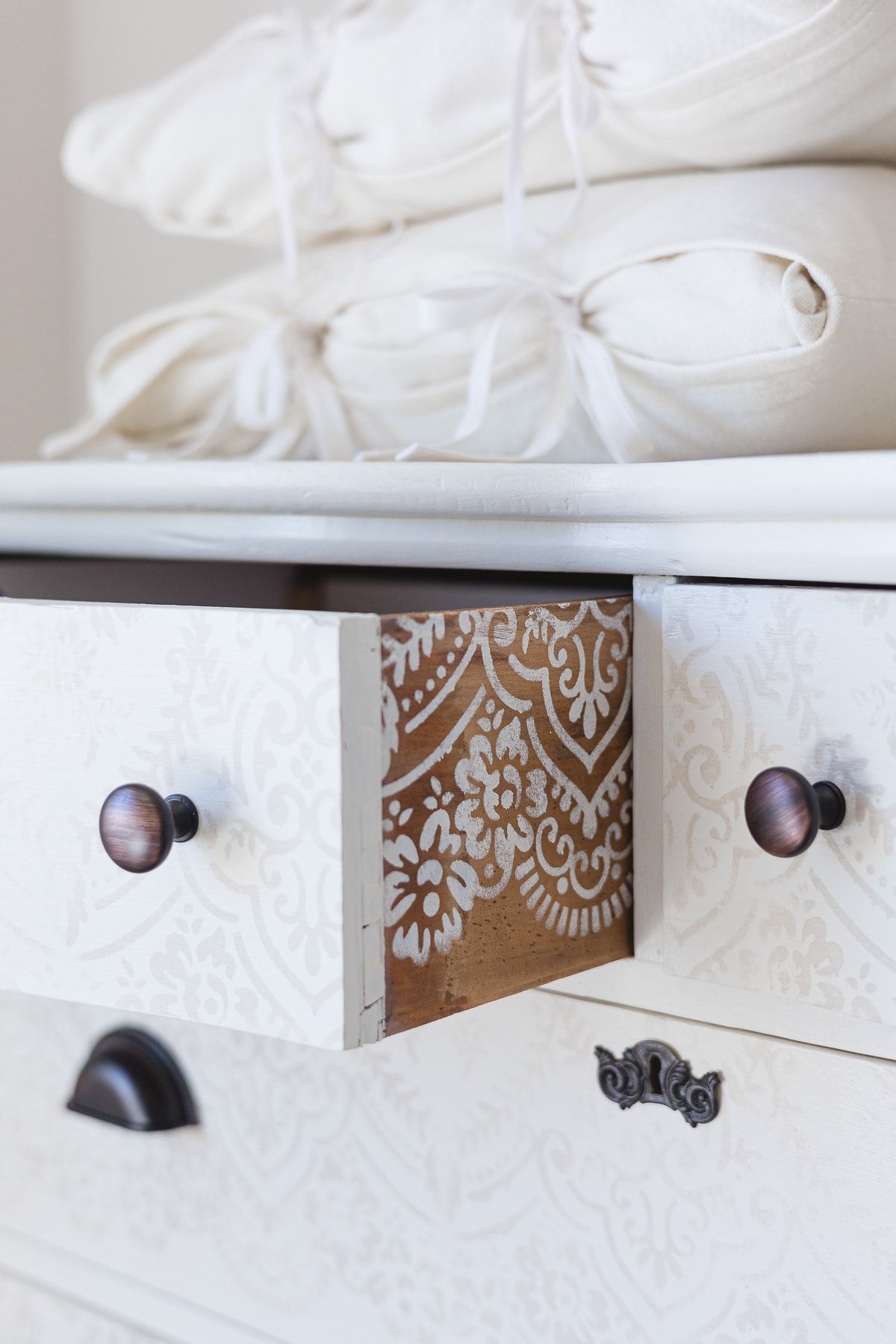 Frequently Asked Questions
Does Behr's Chalk Paint Need Primer?
Sometimes. I often opt to use a primer when furniture painting. The main reason to prime is to prevent any bleed-through from the finish of an old piece of furniture.

Some types of wood furniture are more prone to bleed-through than others, but for the average piece I find a primer coat to be nice insurance.
Does Behr chalk paint need a top coat?
Yes. While you can leave the paint unfinished it will attract lots of scuffs and scrapes and is not ideal for furniture. You could use the Behr wax (for a soft finish for lightly used furniture) or (my preference) a strong non-yellowing polycrylic top coat.

Always test in an inconspicuous area first (and use good lighting to check for yellowing). I used Minwax Polycrylic in a clear matte for my review piece.
How do you apply Behr chalk paint to furniture?
After opting to sand the piece or apply a primer coat as desired, apply two to three coats of paint (allowing to dry at least 2 hours between coats). Sand in between coats with a fine-grit sandpaper if desired for a smoother finish.

Distress piece for a vintage look if desired (I use sanding blocks for this). Apply 1-2 coats of your favorite non-yellowing top coat. Allow to dry completely before use.
How long between coats of Behr chalk paint?
When using Behr Chalk Decorative Paint, you'll need to wait two hours between coats of paint. My preference is to wait even longer when possible since adding subsequent coats too soon can cause unnecessary issues with your chalk painted piece. Before applying a top coat, I choose to let my pieces dry up to six hours or overnight.
Is Behr's Decorative Chalk Paint Low VOC?
The webpage for Behr's Decorative Chalk Paint does call it a "low VOC" paint. If you are looking for an ultra-low VOC chalk paint try Annie Sloan Chalk Paint or Country Chic Paint.
Summary & Notes
Overall, I was pleased with my experience using Behr Chalk Decorative Paint to flip a dresser. Would I use it again? Yes, I would choose this paint if I needed a very specific color and/or a can of budget friendly paint. It would be a good choice if you have lots to paint in your home. You could pick up several colors and spend around half the amount you would with a boutique brand.
The pros (like the affordable price and large color selection) make this paint an appealing choice for many projects. The cons (like the overall thinness of the paint) could sway my decision to a different paint depending on the project, but overall I would certainly recommend this one!
More Furniture Painting Tips