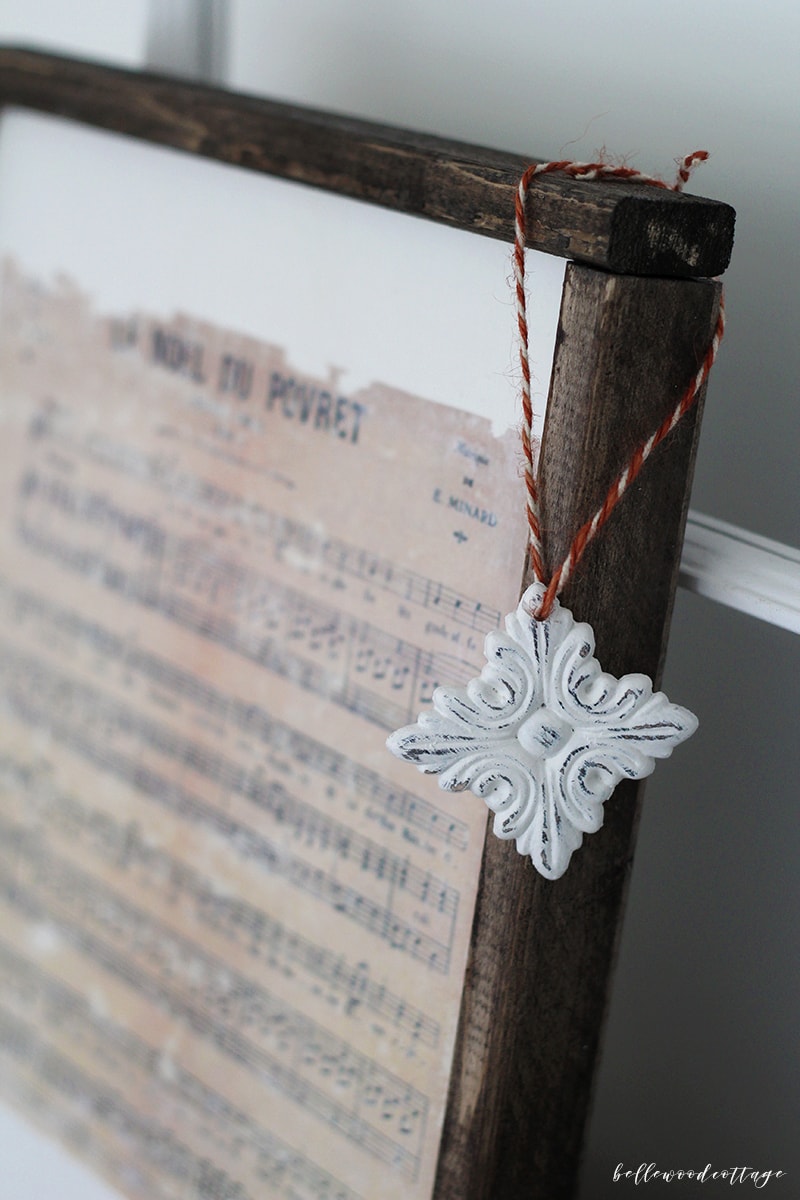 Can you believe it's December 1st already?! I'm still a little shocked that Thanksgiving is already over, but my Christmas preparations are well underway as I'm working on lots of DIY projects, purchasing copious amounts of sugar (don't worry, the situation is totally under control), and decking the halls.
In the midst of it all I find that the Christmas season often becomes crazy-busy, and I know a lot of you feel the same. In fact, finding time for a DIY project might feel 100% impossible. I can relate to that! However, projects like this simple DIY ornament are super easy to fit into a free afternoon. And I don't know about you, but I always feel refreshed after an afternoon of crafting. Hint: That free afternoon we're talking about is also probably a good time to sneak in a mug of hot chocolate.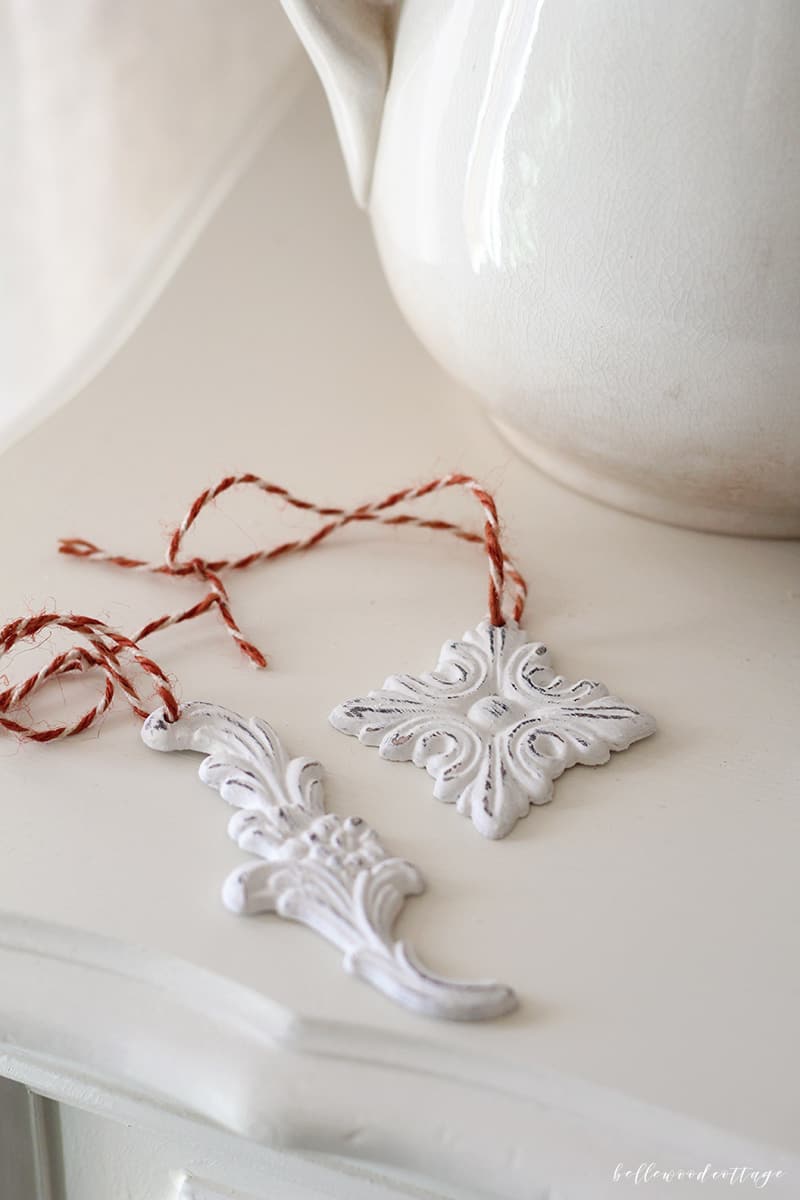 I started this farmhouse Christmas ornament on a whim. I wanted to make some pretty ornaments to fill our tree and of course, they had to be budget friendly. Perusing the aisles of Hobby Lobby led me to these pretty wood appliqués. A little time and some chalk paint later and I had four sweet farmhouse-y Christmas ornaments.
The supply list is short for this one and all you really need are some wooden appliqués + some basic painting supplies (plus a drill to make holes). I've linked to the appliqués I used below, but you can find others by searching wooden appliqués or ornamental moldings.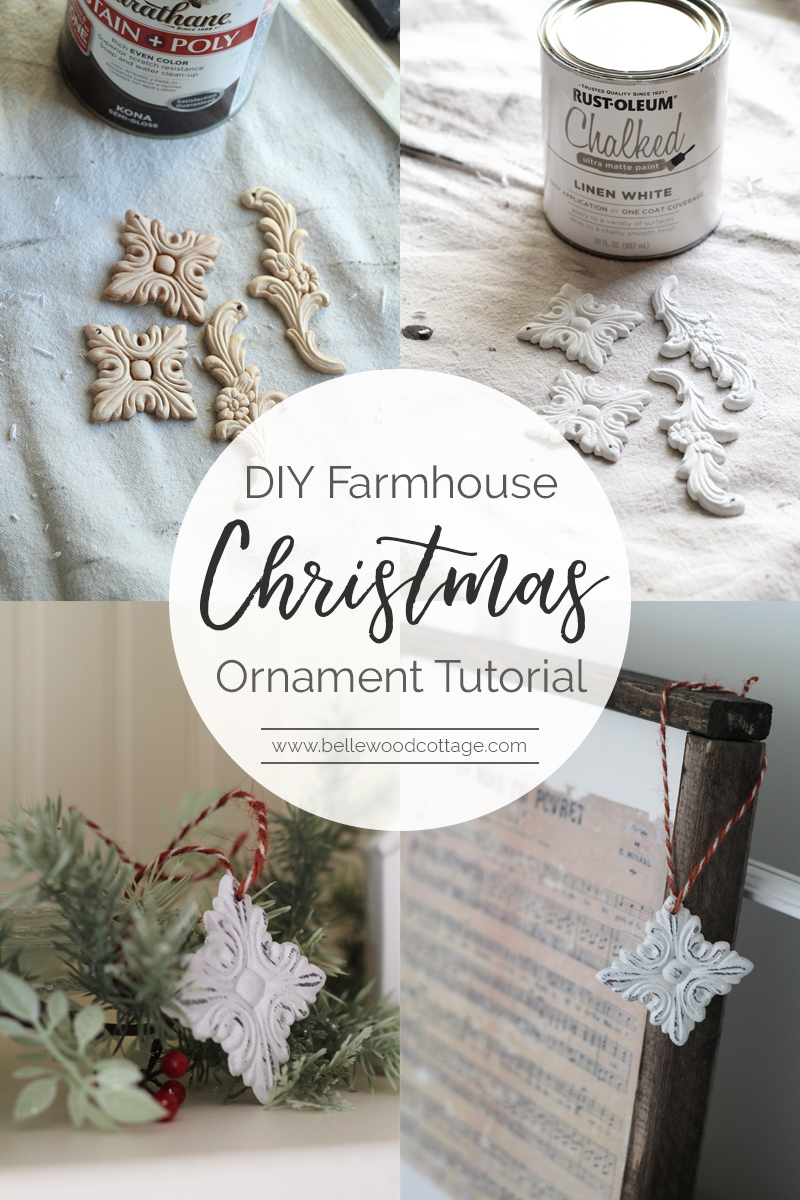 DIY Farmhouse Christmas Ornament Tutorial
Supplies
Wooden appliqués, I used these and these (from Hobby Lobby)
Stain (like my favorite stain+poly)
Chalk style paint (I used Rusto-leum Chalked in Linen White)
Wax or polycrylic to finish (I used Rusto-leum Matte Clear)
Sanding block or sandpaper
Paintbrush
Drill
Twine or yarn to hang the ornaments
First off, drill an 1/8″ hole in the top of your Christmas ornament. These wooden pieces are delicate, so go slow and don't get too close to the edge. If you don't have a drill, find a family member or friend who would be willing to drill these for you.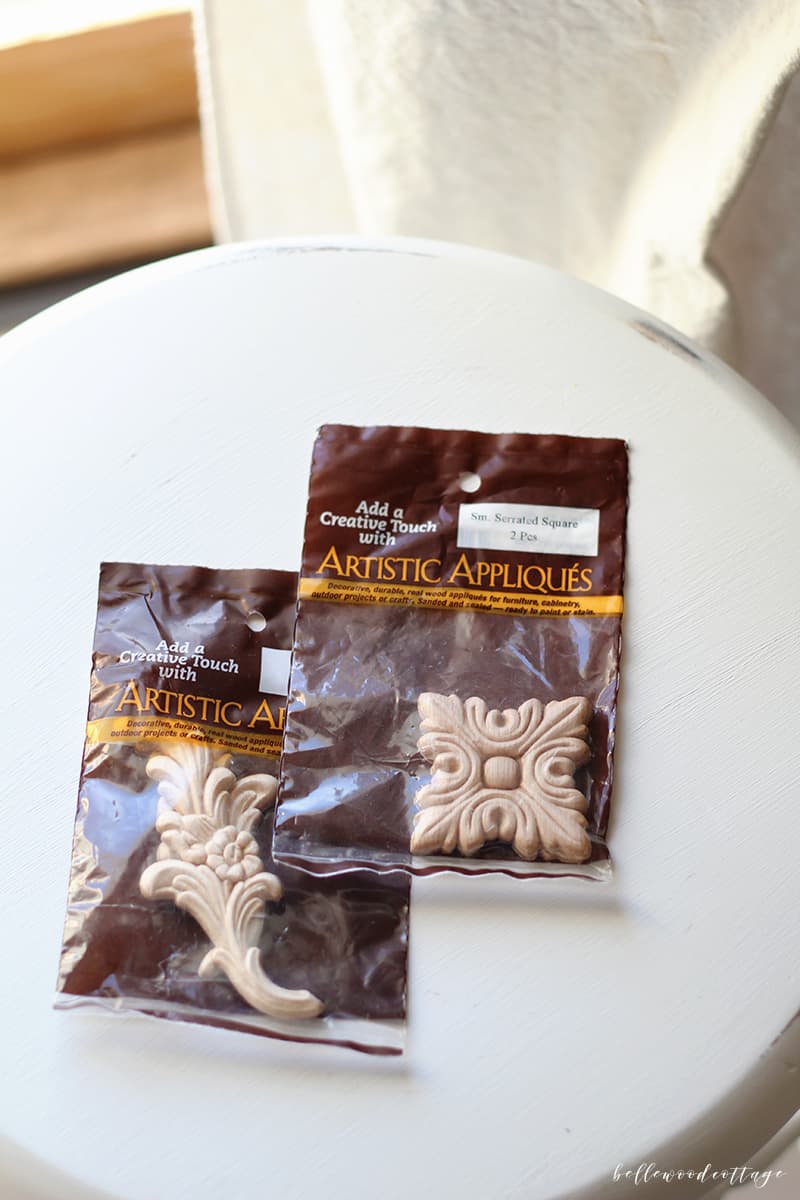 Stain your ornaments with a dark-colored stain. I like to use this Varathane stain+poly because it just requires water cleanup and has a poly finish built in. If you choose a stain with no poly, I recommend sealing the ornament with your polycrylic before the next step so the chalk paint doesn't soak into the wood (this can leave a streaky finish and require a lot of coats to look good!). Let dry.
Grab your favorite color of chalk paint (choose a light color so that there is a good contrast between your layers) and paint on a few coats. I ended up painting three coats on my ornaments. Let dry.
Once the paint has dried thoroughly, it's time to add some character. I like to use a fine sanding block for this step. Start slow and focus on rubbing off small areas of the raised portions of the design. If you sand off too much, you'll get down to the original light-colored wood, so I recommend a light touch to just remove the layers of chalk paint.
Finally, cut 14″ lengths of twine or yarn. Thread the end through the hole in the ornament and tie the ends together in a tight knot. Cut the ends to about 1″ and you're done!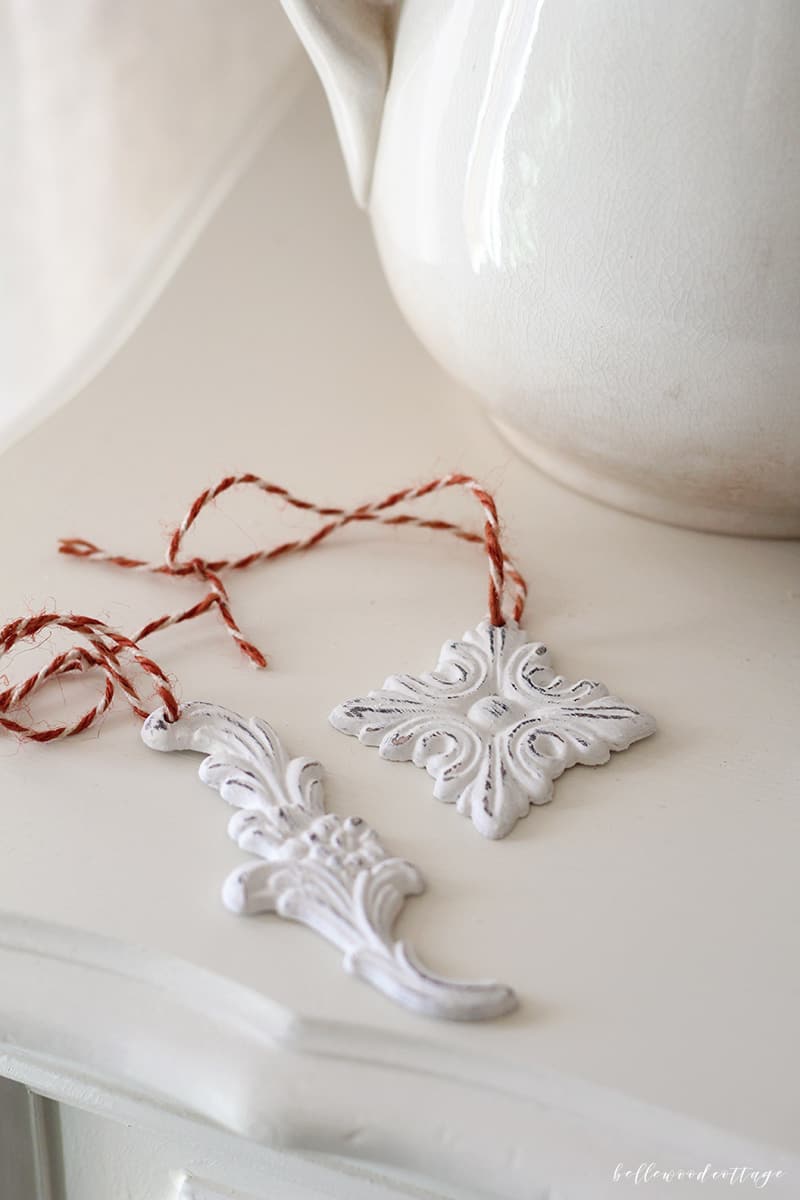 This is such an easy way to make a farmhouse Christmas ornament to hang on your tree this holiday season. If you give it a try, I'd love to see your finished product!
Have a Merry Christmas!
More Christmas Inspiration from Bellewood Cottage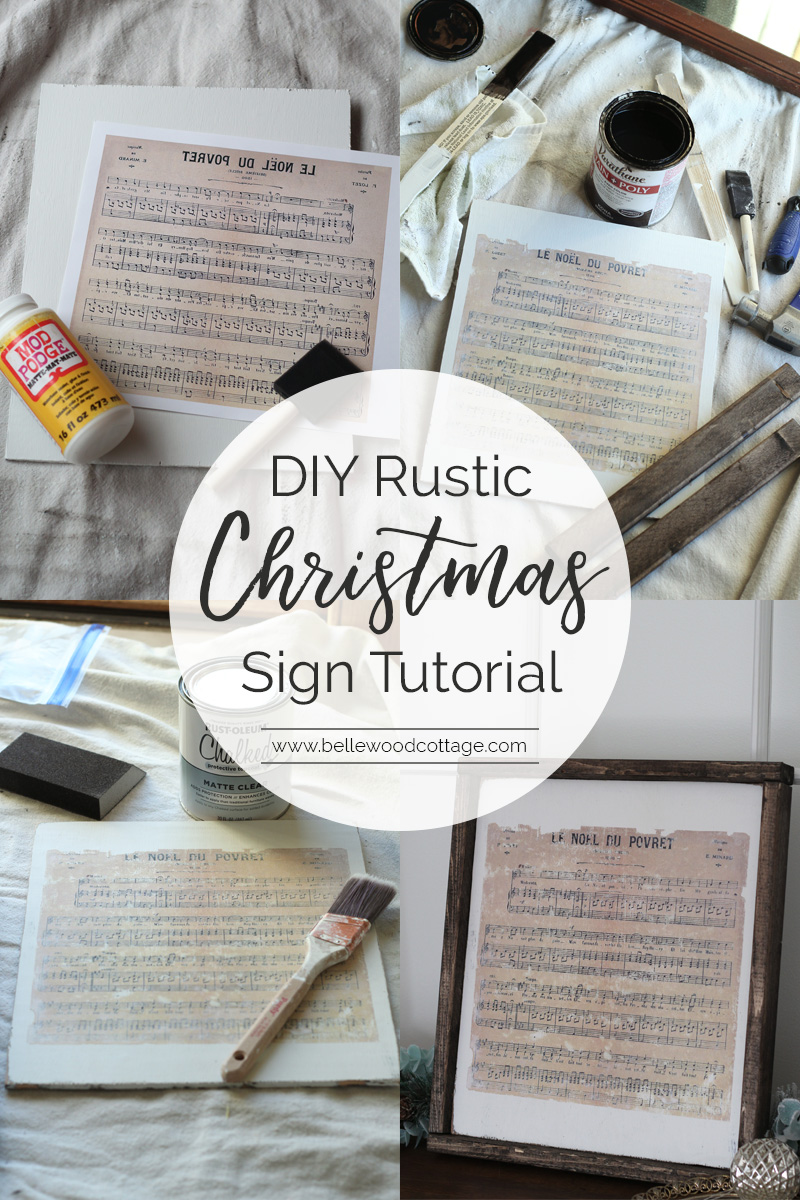 Save
Save
Save