Crib vs. Pack and Play – What to Buy for Baby
Debating purchasing a crib vs. pack and play? Let me save you some time as I unpack the pros and cons of cribs, pack and plays, and more!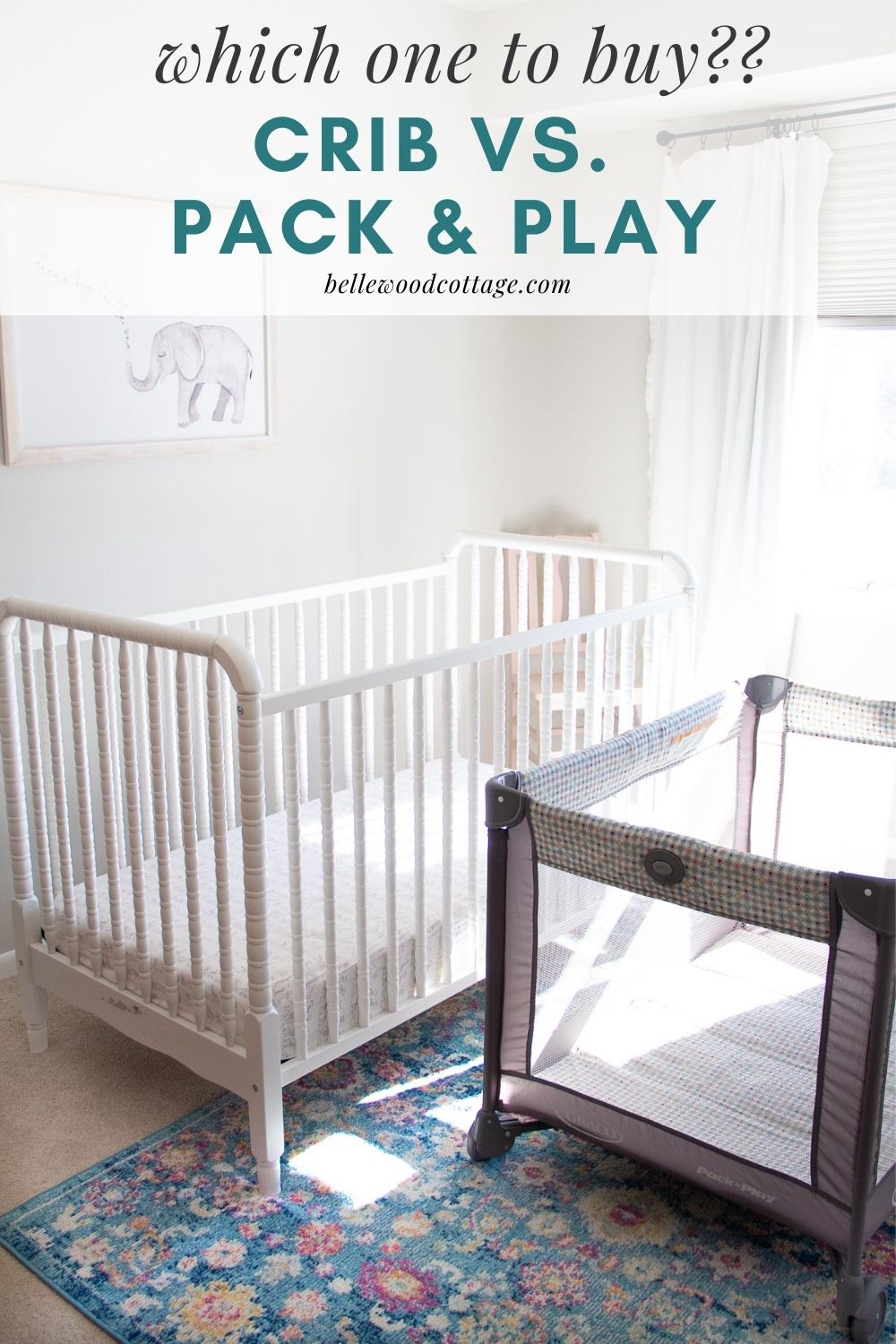 Please note that this post contains affiliate links which allow me to earn a small commission when a purchase is made at no additional cost to you. Read more here.
Shopping for baby gear is overwhelming! It seems like there's a million choices to make before you add an item to your cart…and you haven't even opened the box and started wading through that giant user's manual yet. Ugh.
I hear ya on the feelings of overwhelm, which is why I'm sharing this post today. I spent far too many hours trying to figure out where and how baby needed to sleep and I realized after the fact that the solution was actually rather simple.
Disclaimer: As always, I am just a fellow parent offering the advice that worked for me. Please read my entire disclaimer here.
Crib vs. Pack and Play
Did you find this post because you are wondering about purchasing a crib vs. a pack and play or playard? You've come to the right place.
I'll answer your question, but my answer might surprise you! For any new baby, you want to be sure you're only buying baby gear you will use. So here's what I recommend:
I suggest for the maximum practicality, longevity, and financial savings, purchasing BOTH a good crib and a no-frills pack and play for your new baby. And that's it!
For reference, we own this Jenny Lind crib (which comes in a whole bunch of cute colors) and this simple Graco pack and play (in a different color).
A good crib is rated for up to 50 lbs. This takes you from the newborn stage all the way through toddler-land. No problem. A pack and play is a portable (fold-up) solution that can be used for a newborn in a parent's room and for travel (or naps away from home). Pack and plays or playards are generally rated for 25-30 lbs (check your manual).
Now, let's chat through this simple solution in greater detail. You might also wonder if you need something like a cradle, Halo Bassinet, or a SNOO. We'll talk about those as well.
Safe Sleep
Let's review safe sleep before we get too much further. Here, I'm going to point us right to the experts. I recommend reading this article from the AAP on Safe Sleep Recommendations. There is lots of important information there to review before baby comes.
Since we are talking about pack and plays and cribs today, I wanted to include this specific area of the article about using a "firm sleep surface":
"Infants should be placed on a firm sleep surface (eg, mattress in a safety-approved crib) covered by a fitted sheet with no other bedding or soft objects to reduce the risk of SIDS and suffocation. Infants should never be left to sleep on sofas, armchairs or in sitting devices. Soft bedding remains a risk for infants older than 4 months"

American Academy of Pediatrics, ​Safe Sleep: Recommendations, accessed 3/12/2021
Later in the article (under the "Room Sharing" heading) these items are given as appropriate firm sleep surfaces: "The infant's crib, portable crib, play yard or bassinet should be placed in the parent's bedroom for at least 6 months but preferably a year."
Always be sure to do your own research and confirm the safety of your baby sleep product with the AAP guidelines (and check the owner's manual too ).
Cribs and playards/pack and plays are generally considered safe at the time of this writing (March 2021) and are referenced in the article above (as well this additional article from the AAP's Pediatric Patient Education site). Always confirm the safety of the area where baby will sleep.
Longevity of Use
A crib is generally rated for up to 50 lbs (note: some are only rated up to 30). A pack and play is generally rated for 25-30 lbs (check your specific model). Both of these options will likely see a child through the toddler years.
However, a pack and play (though perhaps technically safe by weight limit) will start feeling filmsy (and a bit small) for older babies. Not ideal for a fulltime sleep solution.
I prefer using a crib with a good mattress for fulltime baby sleep and supplementing with a pack and play for travel.
Pack and plays are also great for newborns as they weigh so little that the lightweight cardboard mattress isn't a big deal. You can use the pack and play in your room with a new baby as long as you need and then transition baby to his/her crib in the nursery.
Portability
Crib vs. pack and play, the pack and plays win for portability. Whereas a crib is a permanent piece of furniture, a pack and play/playard is small, collapsible (into a rectangular box), and portable.
This is why I found it helpful to have both! I wanted the crib for the longevity, good mattress, and sturdiness, but the pack and play was great for naps and nights away from home.
Travel
Having a baby used to a pack and play can be handy when traveling. If you travel a lot you will certainly want a pack and play, but they can also be really convenient when you want to spend a longer time somewhere without baby missing a nap.
Decor
A crib is miles more aesthetically pleasing than a pack and play. Plus, many of them can transition to toddler beds too.
Comfort
Have you ever felt a pack and play "mattress"? It's a sheet of cardboard with some padding divided into three sections for packing up. It's not exactly my definition of comfy. The "mattress" tends to not fit perfectly so it's a little lumpy and weird each time the playard is set up.
The playard mattress is fine for tiny new babies, but I cannot imagine how that would be comfy for an older baby or toddler. So, crib vs. pack and play, I think a sturdy well-designed crib mattress definitely wins this battle.
Practicality
There's also just some practical aspects to a crib that are nice. Like how easy it is to find the correctly fitting waterproof sheet protectors and sheets.
In fact, you can even double up for nighttime potty training. Just put two sets on the mattress (mattress protector, sheet, mattress protector, sheet) and remove the top set when an accident happens and you are good to go for the rest of the night.
And cribs do a great job at containing rambunctious toddlers! If you have the space for crib, I think you'll be really happy with the decision. And that pack and play can easily stow away for whenever it is needed.
So, Should I Buy a Crib, Pack and Play or Both?
I recommend for the most practical, budget-friendly option (that will see you through the newborn stage, the baby years, and even the toddler years), buying a good crib and a no-frills pack and play.
The crib will be used for fulltime sleep in the nursery or nursery area and the pack and play is excellent for room sharing during the newborn stage and for additional travel/portability as needed.
I suggest purchasing a modestly priced crib (rated for up to 50lbs) that matches your chosen décor. You can even opt for a crib that can convert to a toddler bed if you would like. We have this pretty Jenny Lind crib that also converts to a toddler bed.
Then I suggest ALSO purchasing a budget-friendly pack and play. This particular Graco pack and play is my favorite because it doesn't come with all the "extras" (that annoyingly are only used for the first few months anyway).
You can certainly opt for a fancier model if you like, but I'm all about saving those dollars if I can!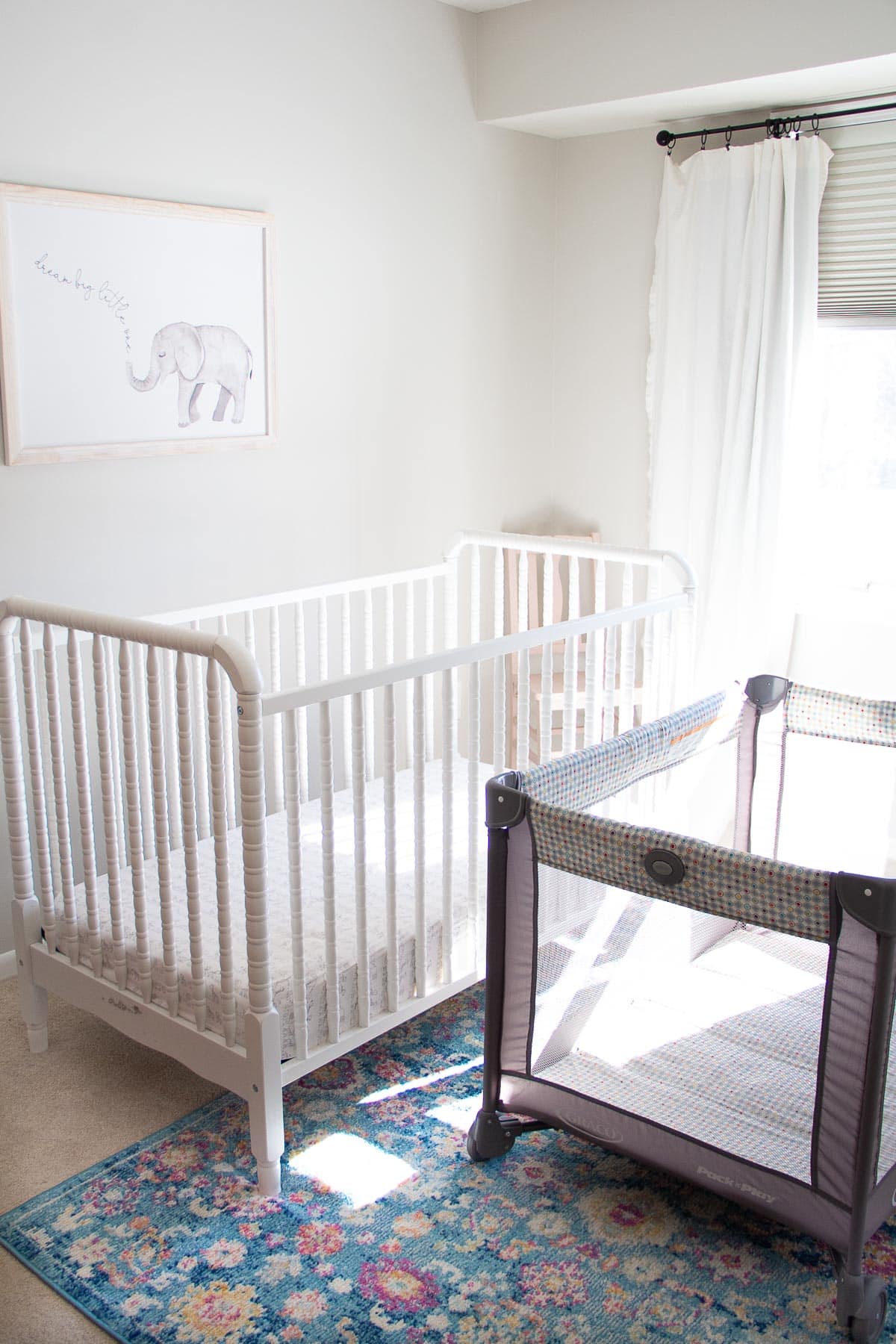 Why I Don't Like Using a Pack and Play Fulltime
Some parents opt to use a pack and play for fulltime baby sleep. I don't like this option as well because the pack and play mattresses (and whole setup honestly) are kind of filmsy feeling and I can't imagine that thin cardboard mattress being comfy for older babies.
I think it's completely fine for naps and nights away from home, but when you consider that your baby is going to spend 10-12 hours a night sleeping in their crib or pack and play, it seems worthwhile to have a good sturdy crib mattress!
Note: Why I Suggest Avoiding Cradles and Bassinets
Now, there's nothing wrong with cradles and bassinets. However, your baby will outgrow them very quickly. And whereas a pack and play can still be used for naps on the go or as a playard, cradles and bassinets are a one-time use. And it's a very short time.
If you have the budget and the space, you can certainly opt for a bassinet anyway. There are even models (like the SNOO) that claim to help your baby sleep better (and who doesn't want that?). But from a practicality and longevity standpoint, I think you get the most for your dollars with a simple combo of a good crib and a no-frills pack-and-play.
As for cradles, I totally wanted one, because CUTE. But, we decided it made more sense to purchase a pack and play. It would be portable and last longer too.

If You Want a Crib, but ALSO a Small Place for a Newborn to Sleep
I knew I wanted baby in our room for the first few months. In fact, room sharing is actually recommended for safe sleep. Using the pack and play during that newborn room sharing period was SO helpful! It helped with nighttime wakings and was a great solution for finding space for baby in our room.
Many pack and plays have a "bassinet" level that you can use for the new babies (check weight limits on your particular model because it's usually around a 15 lb limit) which is convenient. You don't need this though–it's just a "nice to have." This particular pack and play does not have the bassinet level and it's usually $45-60 depending on color.
You can keep baby in your room for as long as you need to (I liked to use the crib to "practice" some daytime naps early on to make the transition to the crib easier). Then when you're finished using the pack and play with your newborn, just fold it on up and keep it handy for travel.
More Pros and Cons of Cribs
I love my little one's crib. It's safe, cozy, and even though it takes up some space, I'm told that this "space" problem only increases once you have teenagers demanding their own rooms. So, I guess we better get used to it!
Here's a few more reasons to invest in a crib for your baby:
Longevity: Buy a crib rated for up to 50 lbs. That way you can use the crib through the toddler years. Quick tip: sleep sacks are awesome for safe sleep + keeping baby warm and if you continue to use them as baby grows, you can avoid the "climbing out of the crib" danger and frustration.
Safe sleep: A crib is designed for safe sleep. Do purchase a new model that is up to date on current safety standards.
They look good: A pack and play (even a Cadillac like this one) is just, well, not exactly cute. A crib can be beautiful. And you can buy a color to match your décor.
Variety of price ranges: You can purchase cribs from this $80 IKEA model all the way up to some spectacular $1000+ cribs from (you guessed it) Pottery Barn Kids.
Most Value Overall: Unlike bassinets and cradles, a crib can be used from day 1 up until baby is a toddler. Buy a model rated for up to 50 lbs and consider purchasing a crib that can convert to a toddler bed if you like.
Con – Not Portable: Though a crib isn't portable, you can easily supplement with a pack and play that can be tucked away when not in use. This is what we did and it worked great.
More Pros and Cons of Pack and Plays
Portable: Great for travel, a simple portable fold-up playard is essential if you plan to be on the go with baby often. Or, if you want, you can head straight to the luxury model, this Nuna Travel Crib.
Safe Sleep: Pack and plays are included in the AAP's list of acceptable firm sleep surfaces. Do not add a different mattress–only use the one the manufacturer included.
Longevity: With many pack and play/playards rated up to 30 lbs, that's a pretty good run for a playard. I don't love a pack and play for everyday sleep with older babies, but it's certainly just fine for nights of travel!
Inexpensive/great value: The cost varies, but you can purchase this simple playard for about $60-70. You can save more if a particular color goes on a big sale (ours was just under $50 if I remember right). From the newborn days to naps on the go, it's so worth it!
Tip: If you know you'll need to use your pack and play/playard often for naps or overnights, make sure that baby sleeps in it from time to time. This helps baby stay accustomed to the pack and play and can save a lot of trouble (and lost sleep) while traveling.
How Long Can I Use a Pack and Play?
You can generally continue to use a pack and play with your baby as long they are under the weight limit and there are no other safety concerns (climbing etc.). The weight limit for pack and plays is often around 25-30 lbs (check your manual) which means you could use a pack and play until your child is about 2 years or older, depending on weight.
While I still suggest a crib for fulltime sleep, a pack and play is handy throughout the first few years of your little one's life from traveling to naps away from home. It's a great investment!
What's the Best Pack and Play?
Ok, now let's talk a little more about which pack and play to buy. Purchase a pack and play/playard intended for baby sleep, as well as something that collapses easily for travel/portability (this is the pack and play we own).
Here is my biggest pack and play tip: Avoid all the "extras"!! I firmly believe that the extra "nappers, changers, bassinets" included with pack and plays are just designed to rope parents into purchasing a more expensive model.
Most of these little extras are only able to be used up to 15 lbs, after which they ruthlessly clutter up your home. Plus, if you have any other type of swing or bouncer, you might not reach for them at all.
Price is a factor too. The no-frills pack and play that I recommend is about $70 (and I often see it for much lower). Those tricked out multi-piece pack and plays? Usually around $250-300.
You've probably caught on by now that I'm not presenting a verdict between a crib vs. pack and play. Instead, I think they both complement each other well, and the key is to choose a pack and play that is budget-friendly and does its essential job–without all the extras.
A basic pack and play with a bassinet level (which is still optional, but nice) will do the job nicely. Note that the bassinet level is different than the separate bassinet "napper" additions that fit on the top of the pack and play. Instead, it's a simple attachment that allows the pack and play mattress to be installed closer to the top of the unit. It makes it easier to retrieve baby when they are still so little.
If You Plan On Using Your Pack and Play A Lot
Now, there is one other model to mention, but it's certainly on the the pricey side.
The NUNA SENA® Aire 2021 Travel Crib. This thing is like the Cadillac of playards. It's technically a travel crib and it absolutely phenomenal if you do a lot of traveling. It features a bassinet level for new babies and a lower mattress position for up to 30 lbs.
The really handy thing is that if you do a lot of travel with your baby, the leg design allows for a one-handed foldup where the entire crib folds up together and slides into a travel bag. It also has incredible ventilation with a ventilated quilted mattress too. Like I said, Cadillac for sleeping babies.
Crib vs. Pack and Play…What Did You Decide?
I hope this post answered your questions about cribs vs. pack and plays. Not to mention some of the other gear that manufacturers claim is a "must have!" Our combination of a good crib plus a no-frills pack and play was a budget-friendly choice that served us well from the newborn stage and beyond.
I'd love to hear what you decided or if you have any other questions! Leave a comment below and I can't wait to hear from you.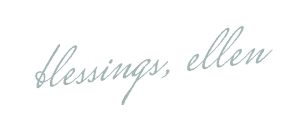 Having a Baby? More Posts to Read: