10 Shiplap Bathroom Wall Ideas for Your Bathroom Refresh
Using shiplap in a bathroom is an easy way to add character even with a low budget. You can opt for a traditional horizontal planked wall, vertical shiplap, classic white shiplap, or even painted shiplap. Fill your bathroom top-to-bottom, or just add a half-wall or accent wall. You'll be inspired to update your bathroom with these pretty shiplap bathroom wall ideas!
Please note that this post contains affiliate links which allow me to earn a small commission when a purchase is made at no additional cost to you. Read more here.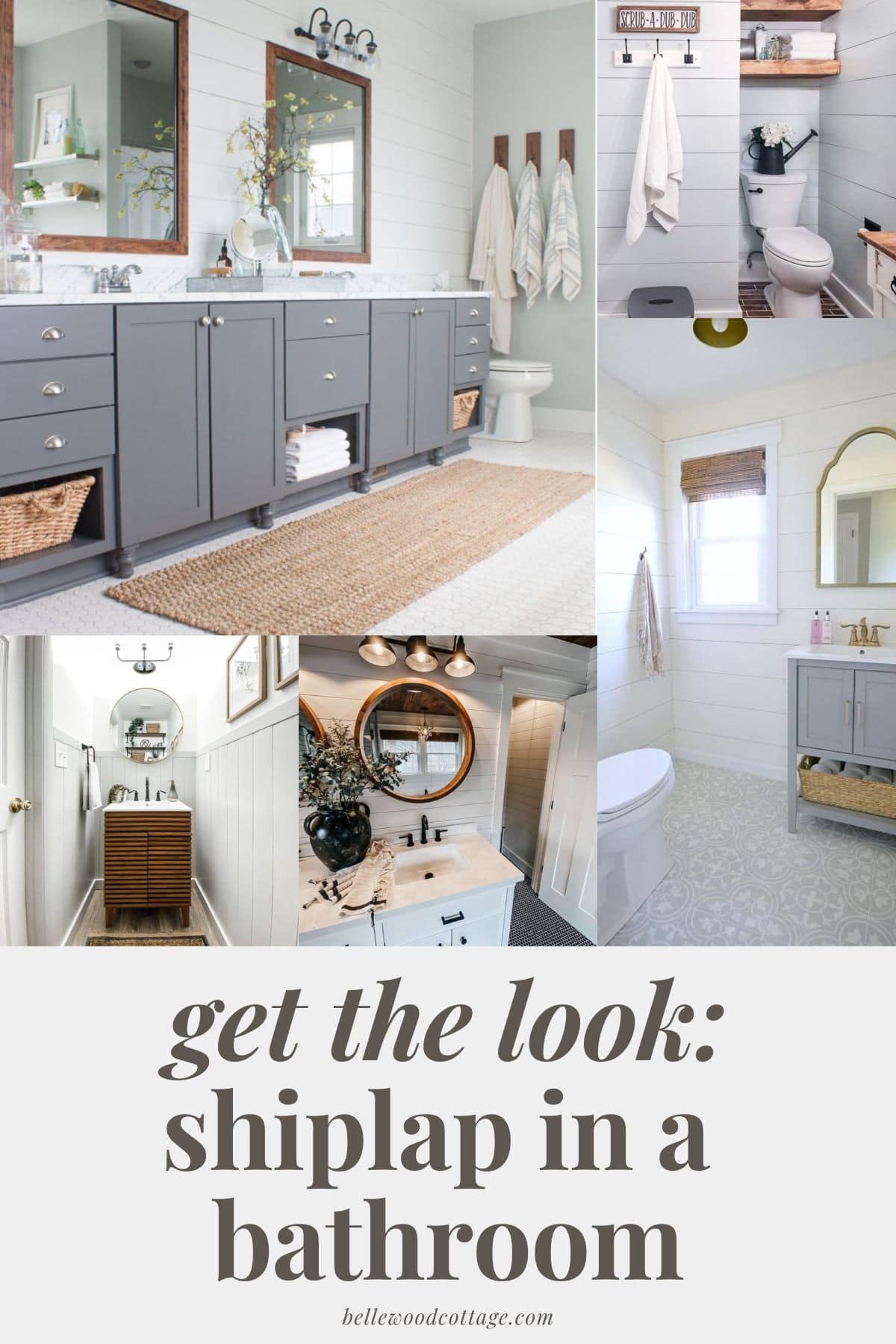 I love browsing Pinterest for home ideas. Lately though, my Pinterest feed has been rather cluttered up with suggested content that I don't find applicable. Or, I'll click on an idea only to be led to a site that just apparently scraped the photo from the original blogger, UGH.
So, because Pinterest hasn't been as helpful, I've been having fun pulling together more of these roundup posts. That way it's easier to quickly browse through a host of already-curated ideas and skip the scraped content where the photo leads nowhere!
Using Shiplap in Bathrooms
Bathrooms and powder rooms are often some of the smallest spaces in our homes. They can be tricky to renovate and update because professional help is often needed for plumbing and electrical work.
That's where updates like shiplap are so wonderful. Instead of swapping fixtures or changing layouts, consider just adding a simple planked accent wall behind a vanity or around the perimeter of the room. It's less expensive and less hassle.
Shiplap is most often used in farmhouse style bathrooms, but it also works well in modern bathrooms, coastal/beach style bathrooms, and more. It's a versatile look!
What Is Shiplap?
Though the term "shiplap" is widely used these days to refer to nearly any style of planked wall, true shiplap is actually a specific type of construction used in older homes. Original shiplap was created with boards knit together with a "rabbet" joint (which is like a stair step) running down the edge of each board.
These tightly fitting boards "sheathed" homes and provided protection against outdoor elements.
Though most "shiplap" walls we see trending now in the home décor world are not true shiplap, it's often easiest to refer to them as such since that is the terminology homeowners and decorators are using. Terms like "wood paneling", "wood planking", or "faux shiplap" are also used.
Faux shiplap walls are typically added on top of drywall. They are there for style, not function. There are many ways to add the shiplap walls from ripping down larger sheets of plywood to purchasing pre-primed and ready-to-paint planks.
Where to Shop
Shiplap planking can be totally DIYed (usually by ripping down larger boards with a table saw), but buying ready-to-go planks is certainly the simplest approach! You can head to your local home improvement store or shop online to find just the right product. I prefer to shop online since I can read reviews and see other homeowners' projects before purchasing. Here's a few of my favorite spots for shiplap:
Is It OK to Use Shiplap in a Bathroom?
Shiplap planked walls are OK to use in bathrooms, but because bathrooms are high-moisture areas, it's worth taking a few additional considerations before starting to install your shiplap walls.
Since the shiplap look is created with wood planks, homeowners often wonder if it's going to hold up in their bathroom renovation. Any time you are working with a wood surface (especially a painted one) it pays to be cautious so you can avoid chipping, mildew, and water damage.
In this post I've rounded up real-life bathrooms from homeowners (many of whom even installed the shiplap themselves) so you can see just how well shiplap works in bathrooms!
Precautions Before Adding Shiplap Planking in a Bathroom
Here's a few precautions to take before adding shiplap to your bathroom to make sure your new space stays looking clean and fresh.
Choose a Bathroom with Great Airflow
Since bathrooms are a high-moisture environment it's best to stick to installing shiplap in a bathroom with good air-flow and an exhaust fan. If your bathroom doesn't have this and/or you know the room is particularly prone to mold and mildew, look into a PVC shiplap option.
Consider PVC Shiplap Over Wood Planks
PVC shiplap is a plastic version of wood shiplap which ought to eliminate most of the concerns that come with choosing traditional wood planks.
PVC is synthetic plastic and yes, they even use it to make shiplap. If moisture is a big concern, try picking up PVC shiplap over wood planks. The particular product I linked for you here is rot-free, moisture-proof and paintable with latex paint.
Use Shiplap in a Powder Room
Powder rooms (without shower or bath) are far less damp than a typical three or four-piece bath. These smaller bathrooms are a great spot for shiplap. The likelihood of water damage in these smaller spaces is low.
Consider a Mildew-Resistant Paint
There are many paints designed specifically to work in bathrooms. These paints may be moisture-resistant or mildew resistant and can be used to finish pre-primed shiplap boards. Be sure to use a paint rated for indoor use. Using a higher-gloss finish (avoid "flat" or "eggshell") can also help keep moisture from causing damage. Being sure to seal the raw edges of the shiplap boards is a good idea too.
Love shiplap? Check out my roundup of beautiful shiplap ceilings for more beautiful homes to draw inspiration from!
Shiplap in Bathrooms – Inspirational Images to Spark Your Design!
If you are considering adding shiplap to your bathroom, I think you are going to love these real-life examples!
All photos used with permission.
Shiplap for a Lakehouse Bath
This Lakehouse Bathroom from The Lily Pad Cottage is the ultimate retreat. The large floor plan and extra-long vanity with double sinks is so luxurious. Here, a white horizontal planked shiplap wall is placed behind the vanity mirrors. The warm wood of the mirrors and the darker light fixtures really pop against the neutral shiplap accent wall.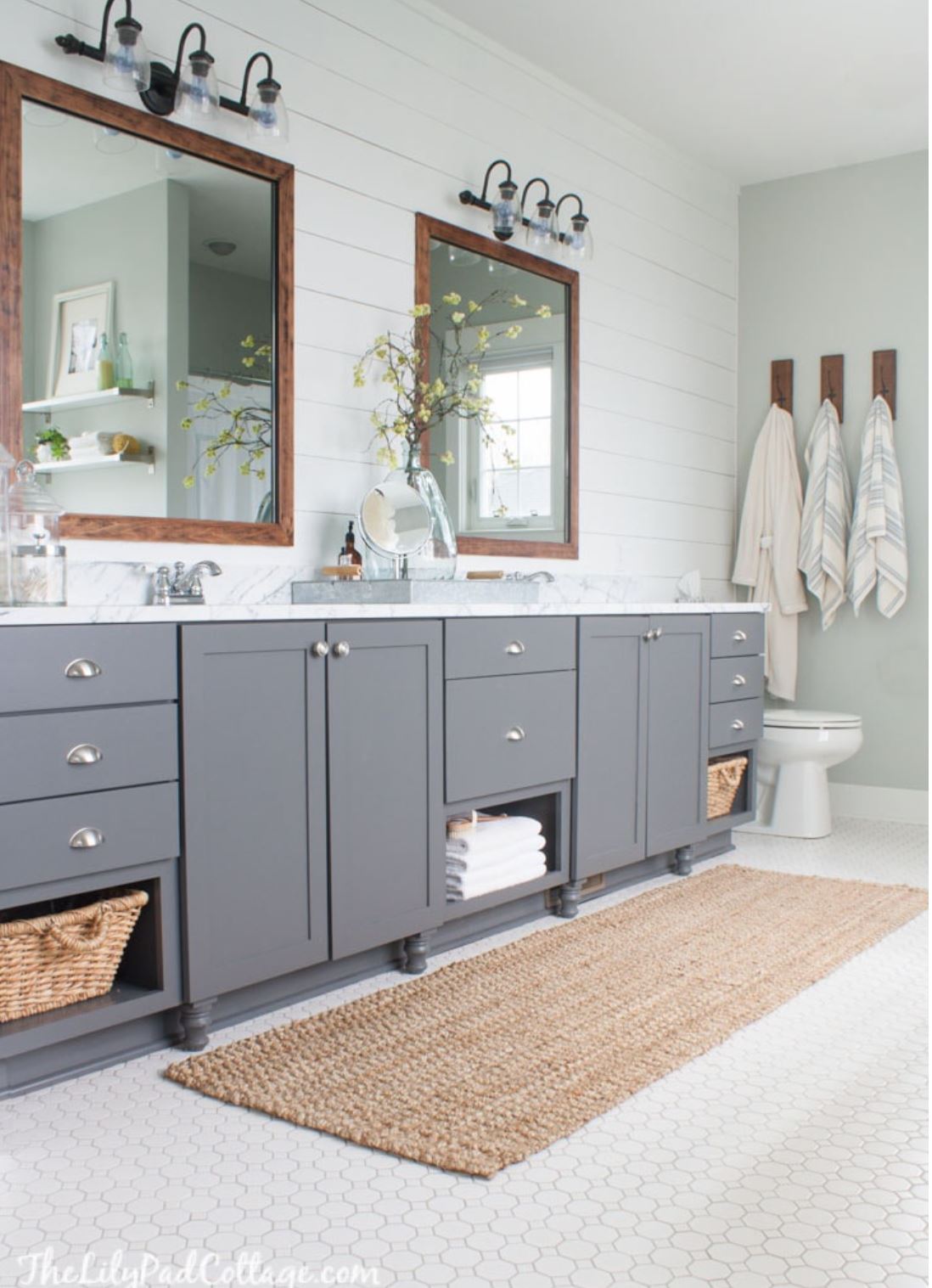 Shiplap in a Petite Powder Room
Think your bathroom is too small to add character? Think again. This lovely "California Casual" Bathroom Makeover from Lauren at Bless'er House shows how even the smallest powder room can be transformed with a little shiplap. The shiplap wainscoting here really takes things to the next level! The half wall of vertical shiplap painted a light gray adds interest yet keeps the small room light and bright.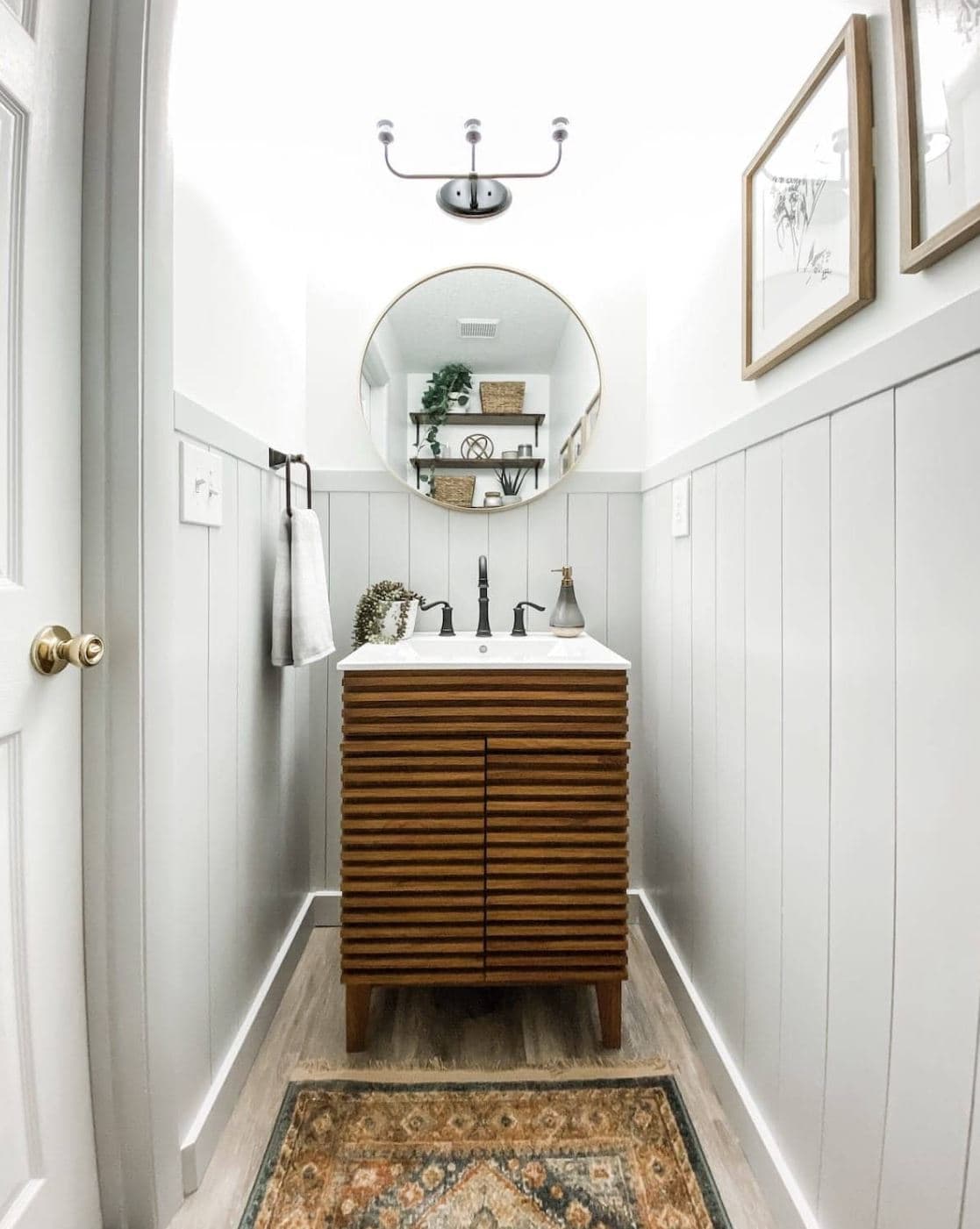 Shiplap Walls in Bathroom
If you really love shiplap, you might be tempted to fill every square inch of your bathroom with the planked wall treatment. Here, these shiplap walls from Joyful Derivatives are accented with natural wood shelving and décor to warm up the space. It has that cozy farmhouse feel!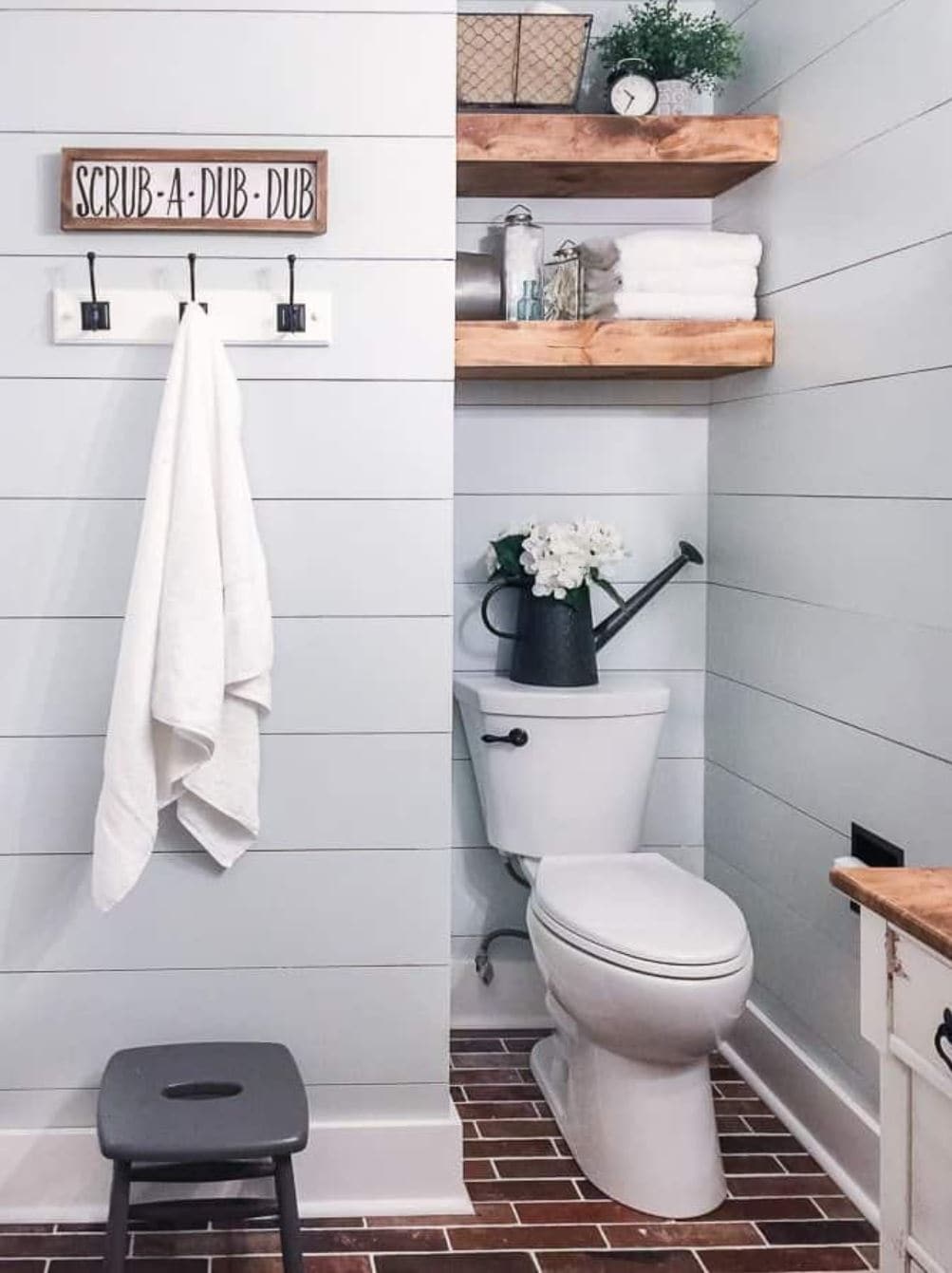 Coastal Inspired Vertical Shiplap
The great thing about planked walls is that you can customize the style simply by painting the treatement. This pretty vertical shiplap wall from The House of Hood Blog has been painted in Sea Salt by Sherwin Williams, which is a beautiful coastal green-gray-blue color that adds beach vacation vibes. Add faux plants and oil-rubbed bronze fixtures to complete the look.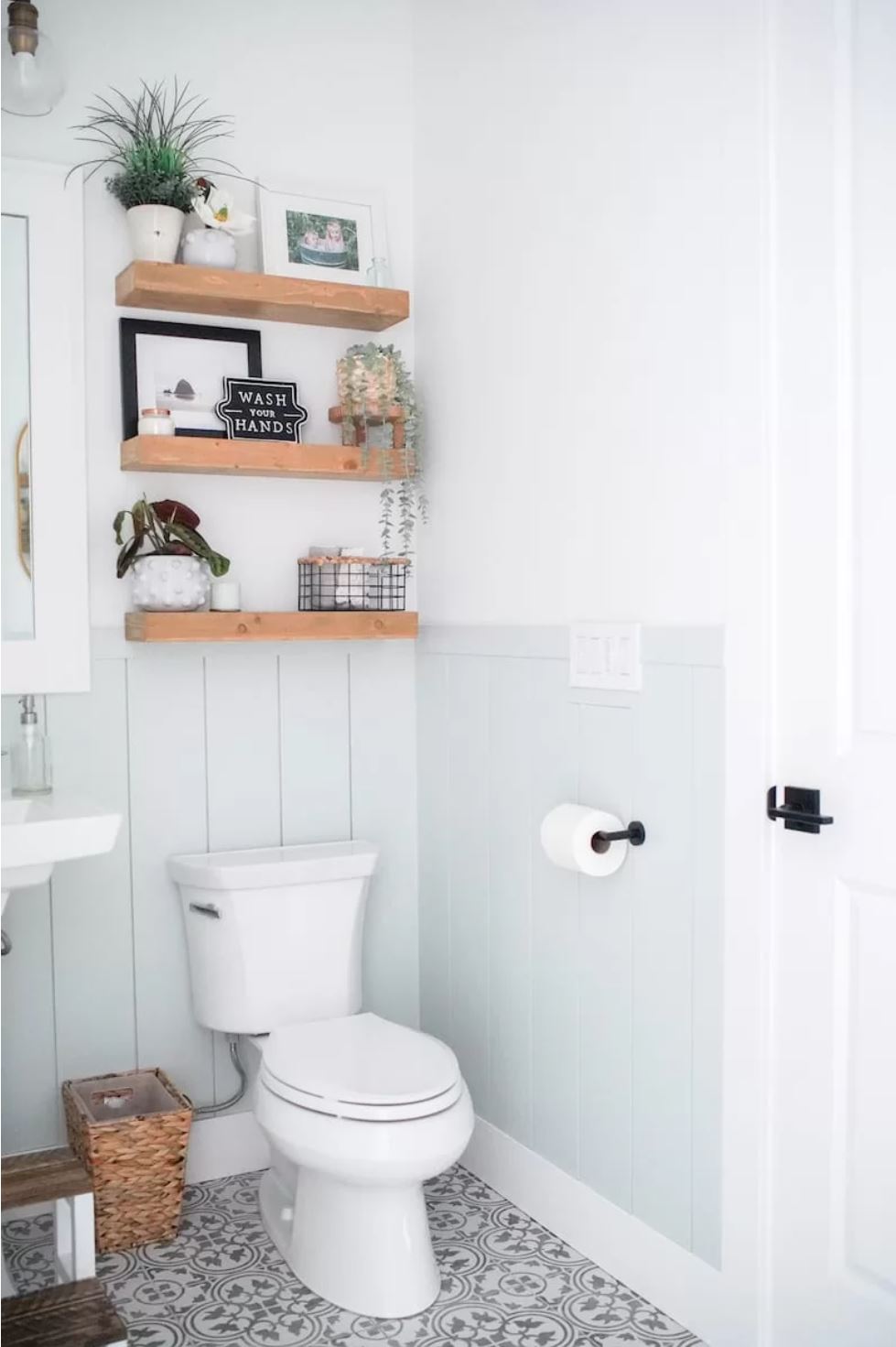 Vertical Shiplap in Accent Color
In this sweet bathroom update, Ashley from Cherished Bliss opted for a half-wall of Gray Vertical Shiplap which provides visual interest in a minimal way. The shiplap was able to transform the bathroom without doing major renovations like removing the floor tile.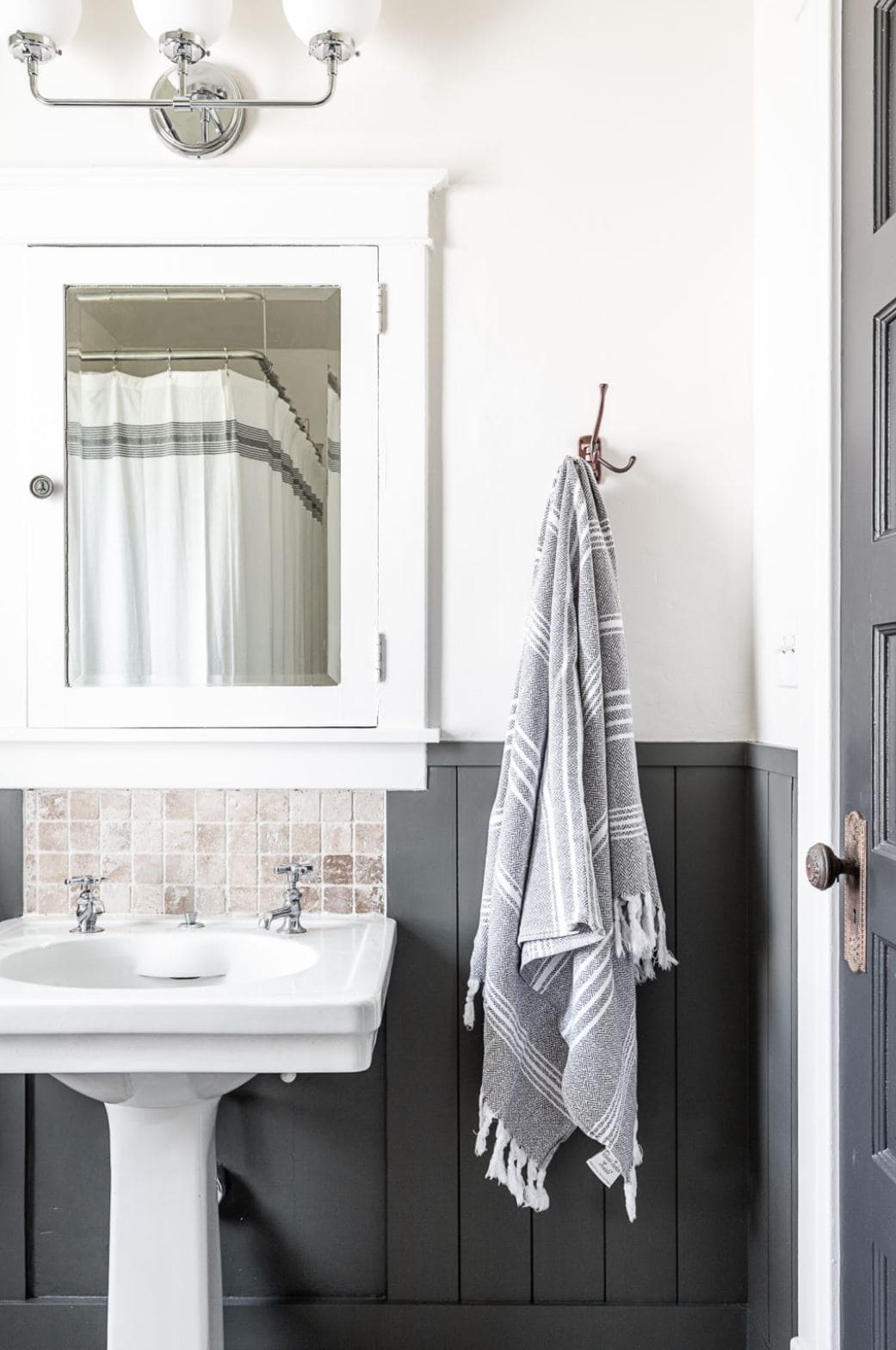 Floor to Ceiling Shiplap in a Farmhouse Bath
This beautiful Farmhouse Bathroom with Shiplap from Jenna Kate Design is the quintessential farmhouse look. I love the wide 8″ pieces of planking (painted with Swiss Coffee by Kelly Moore) paired with the statement flooring.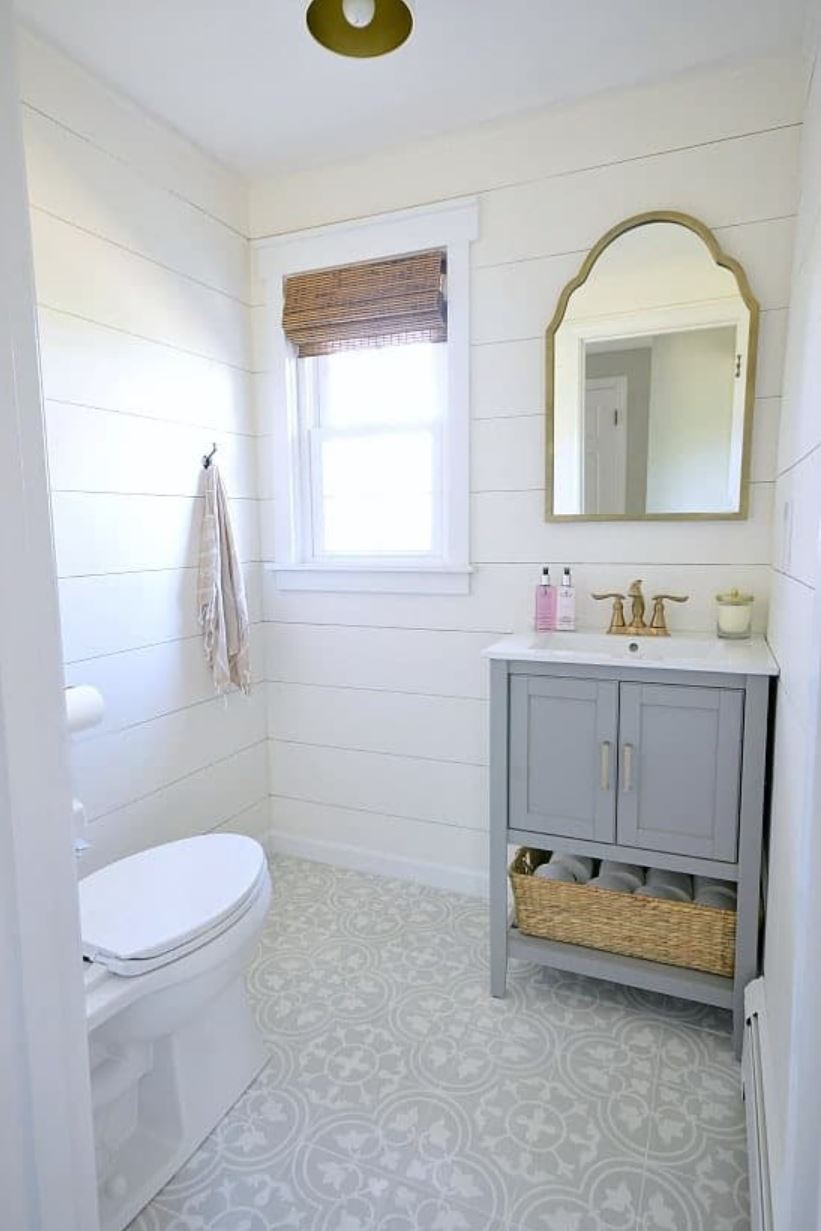 Shiplap Everywhere
This Wall to Wall Shiplap in a Farmhouse Bathroom from Home Like You Mean It is a bathroom that is truly covered in shiplap! This space is perfect for the shiplap superfans.
The vanity used here is a great choice for a bathroom with shiplap. The small backsplash is just large enough to keep any splashing water from the sinks away from the wooden planks.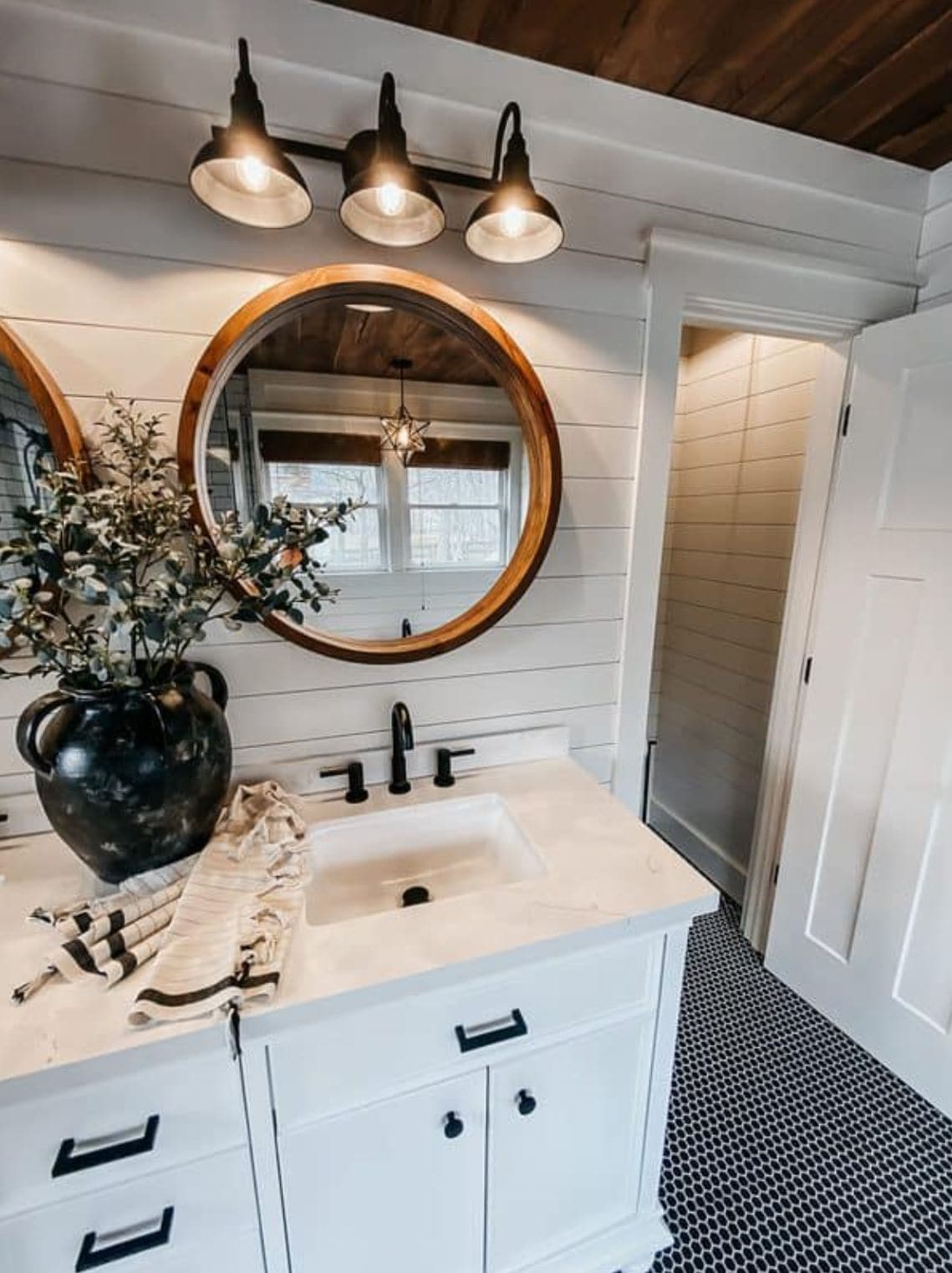 Farmhouse Bathroom with Antiques
Since the planked "shiplap" treatment has a vintage/heritage feel to it, it pairs well with the display of antiques. Here, this Farmhouse Bathroom from Tessah (1900stonefarmhouse on Instagram) uses a half wall of shiplap, statement flooring, and antique accents (like the mirror and salvage trim piece) to give a small powder room tons of character.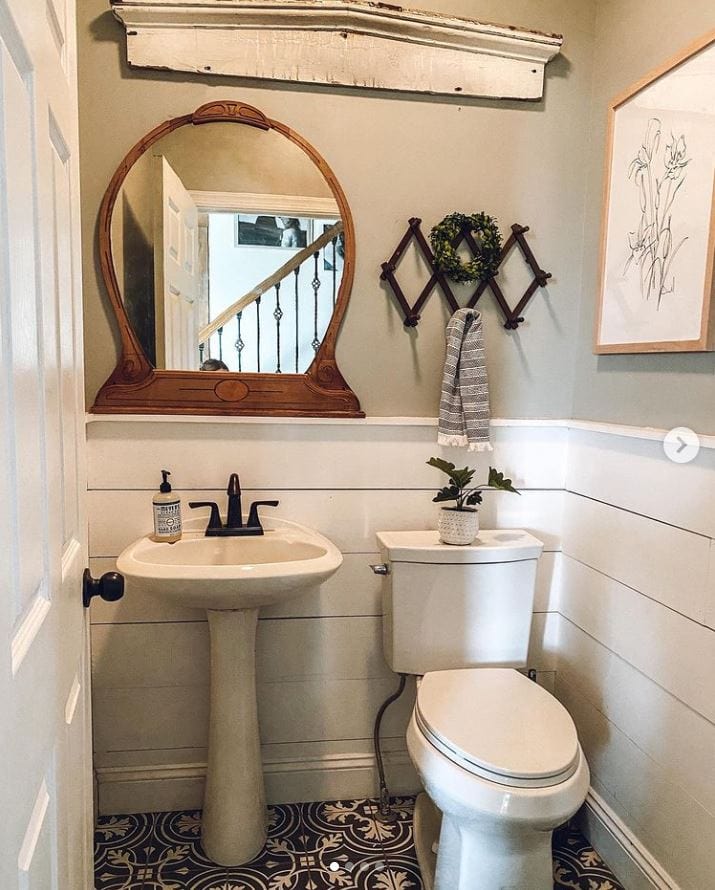 Blue Painted Vertical Shiplap
This contemporary bathroom makeover from Sustain My Craft Habit features a DIY shiplap wall above the vanity area. The blue painted vertical shiplap is placed behind the double vanity under round mirrors and an industrial farmhouse light fixture.
This is also a great demonstration of how to safely install shiplap into a bathroom. Because the vanity includes a built-in backsplash, the vertical ends of the boards are safely above the splash zone from the sinks. If the planks were totally adjacent to the sinks, excess water would easily seep up the cut edges of the boards and create water-logged (and eventually moldy) boards.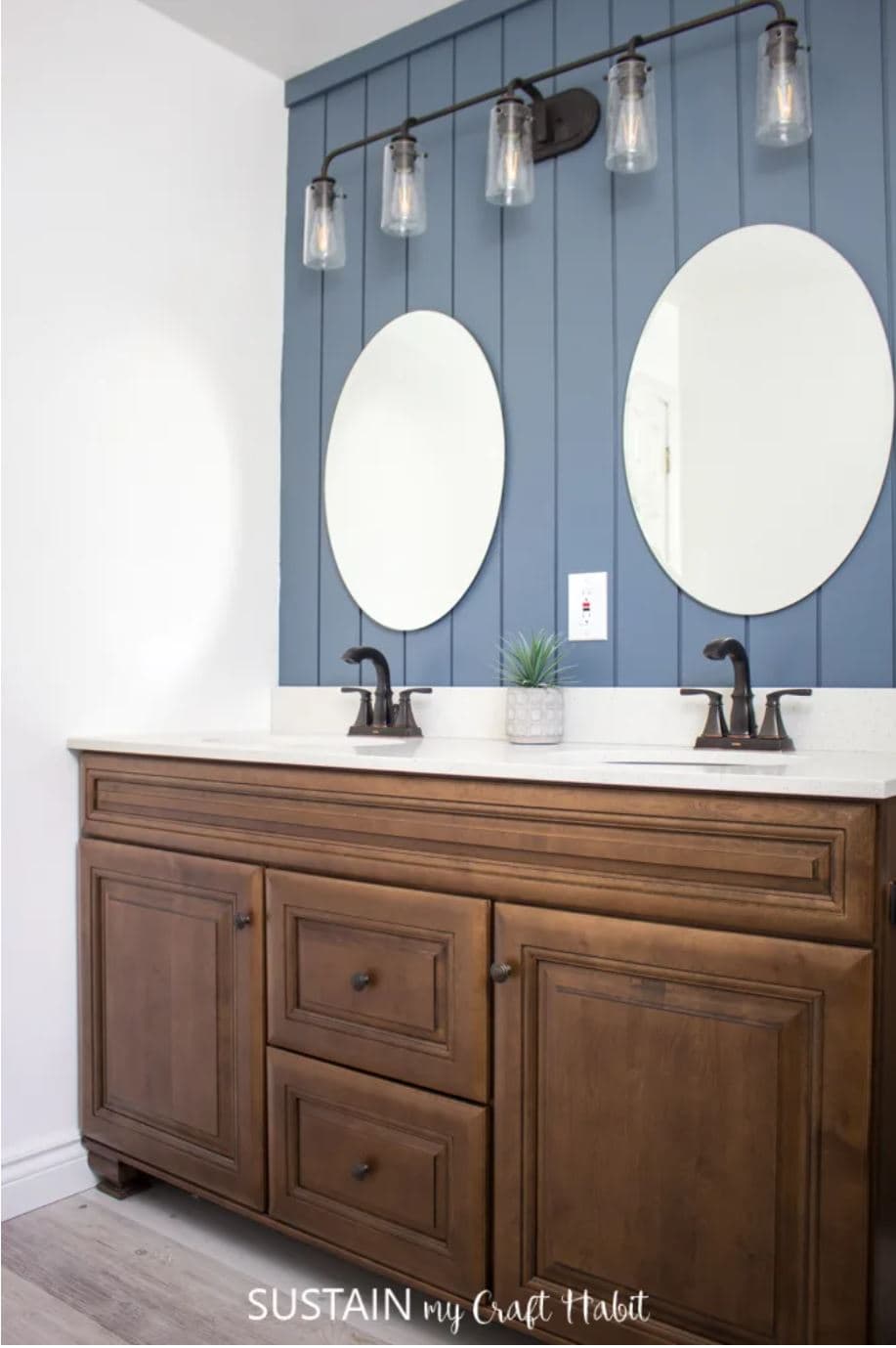 Shiplap Towel Bar
DIYing a whole bathroom's worth of shiplap might feel a bit daunting, but what about adding just a small accent area? This Vertical Shiplap Half Wall from Mary at The Handcrafted Haven adds towel hooks for a cute area of storage.
Since towels are damp you'll want to be sure to paint the shiplap with paint that's rated for use in high-moisture areas like bathrooms. This idea is likely best for guest bath or powder room where there is less daily traffic. The high-moisture of an everyday bathroom may start chipping away at a painted shiplap wall.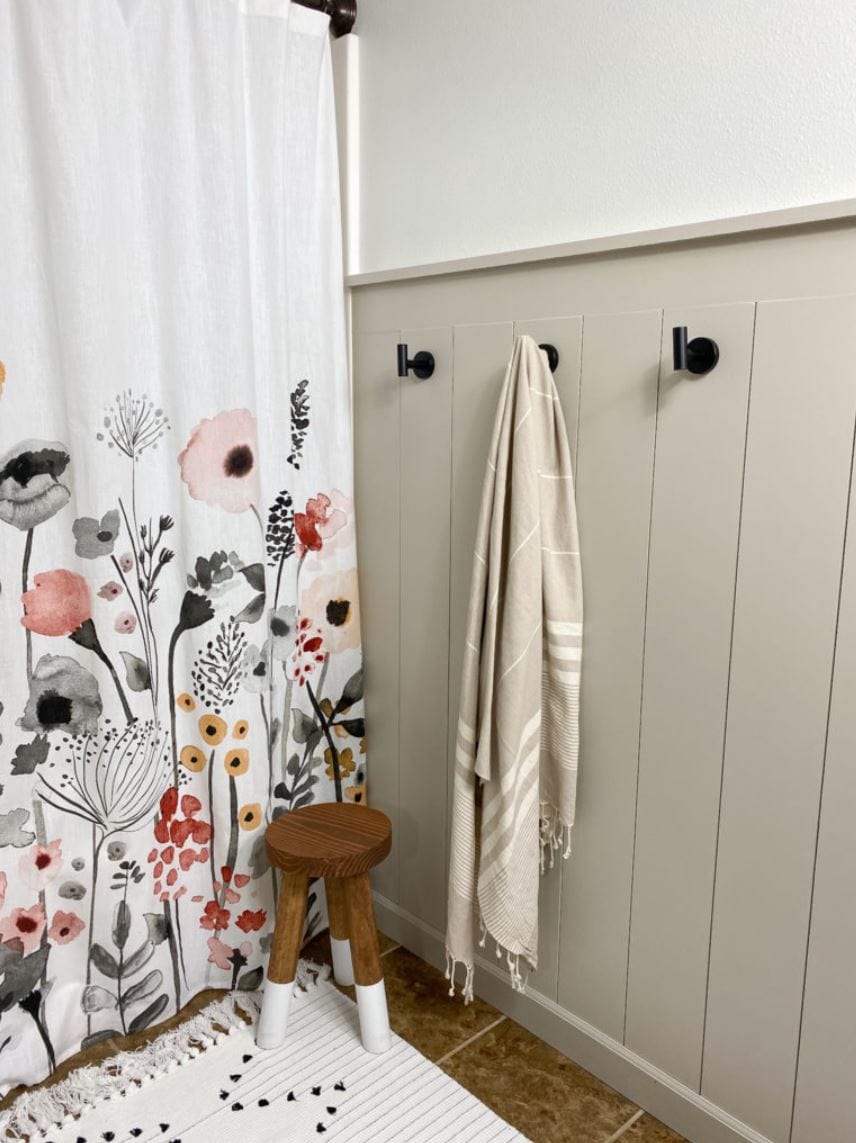 If you are renovating a bathroom and considering shiplap I hope these inspiration photos (so many of them from DIY bloggers who installed everything themselves!) gave you some great ideas for your project. Shiplap is a wonderful choice for adding interest to plain spaces and it really shines in a bathroom reno where space may be quite limited but character is still desired.
More Home Decor Inspiration