how to distress chalk paint – 7 helpful tips
Use my seven helpful tips for how to distress chalk paint in order to get the most authentic look when you are painting furniture with chalk paint.
Please note that this post contains affiliate links which allow me to earn a small commission when a purchase is made at no additional cost to you. Read more here.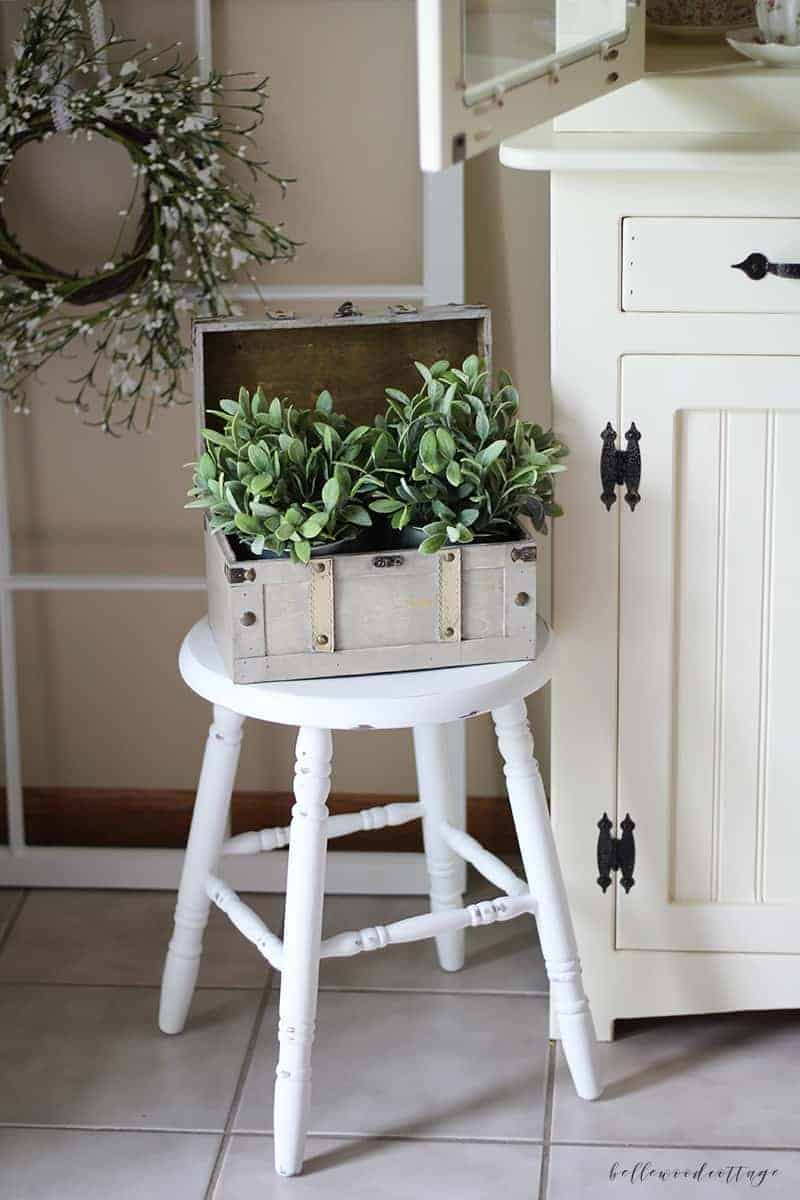 Over the weekend, I worked on finishing up a few mini painting projects that needed to be distressed and waxed. These two cute little farmhouse stools I had on hand received a quick & easy update with white chalk paint. Bonus? The cost of this project was negligible since the two stools were free and I already had plenty of chalk paint and wax on hand. Gotta love some low budget home décor!
Here is the before photo:
And here is the after:
Supplies for Distressing Chalk Paint
My Favorite Brush
Annie Sloan wax OR Rust-Oleum Matte Clear (I prefer Matte Clear–it's a polycrylic and so much easier to use!)
Sanding blocks
Optional: damp kitchen towel or baby wipes
All I did to transform these was simply give them each a light sanding with a sanding block, prime with two coats of primer, paint with two coats of chalk paint, and then distress and wax. Small projects like these are so fun because they can be easily finished in a weekend!
This is a quick photo I snapped before I began distressing. I think the stools were cute without any distressing, but adding it gave them a lot more visual interest and adds a bit more charm.
I personally love how distressing can add instant character to a piece and allows me to achieve a vintage look even newer pieces of furniture. Chalk style paints are excellent for distressing.
If you love the all-over chippy look, milk paint might be a great option to consider too. As I distress my furniture, I think about where the piece might have seen the most wear (if it was a true antique!) and try to distress in those areas.
I use a sanding block and start slow, adding more distressing as I feel the piece needs it. I like the way both of these stools turned out, but I may yet sand them just a bit more. It's a process!
Here's a couple of tips if you are new to distressing chalk paint:
How to Distress Chalk Paint
Pick up a few fine grit sanding blocks to use on your piece. Bring everything outside to work if you can to minimize cleanup. Rather than sanding, you can also try using a damp towel (or even baby wipes) to distress, but just remember that this method can only be used before the piece is waxed/sealed.
Distress before waxing for greatest flexibility. If you remove too much paint in a spot, it's easy to give it a quick touch up with more paint if the piece is not yet sealed. I also find that distressing before waxing/sealing seems to give me a bit more control on how much paint I'm removing with my sanding block.
Sand after waxing for less mess/dust. I still get a decent amount of sanding dust with this method, but it's definitely reduced. The method with the least dust (none!) is definitely the damp towel method.
If you distress after you have waxed the piece, you will need another coat of wax on the piece after you're done distressing. This is simply because you've re-exposed the paint and now need to seal those areas again before the piece is ready to use.
Go slowly and remember that less is often more. I love the chippy look of an aged piece, but it's easy to go overboard when speeding up 100 years of aging into fifteen minutes of sanding. Adding a bit of patina with dark wax can also help age a piece without going crazy with the sanding block.
Distress in areas that make sense. Realistically, if a piece is around 100 years old (which is generally the look that distressing tries to achieve) it likely is going to be distressed around corners and edges. If you're working with spindles (like the legs of these stools) the innermost rings will not have any distressing, while the outermost rings will see a good bit. If you're working with a dresser, add distressing on the edges of the drawers, but not the centers. Again, oftentimes less is more!
Finally, experiment! It can be intimidating to start attacking a freshly painted piece with a sanding block, but it's a fun technique to try, and so long as you love the finished product, that's really all that matters.
Share with me in the comments if you have any other tips for distressing painted furniture!
More DIY Projects from Bellewood Cottage
Save
Save
Save