10 Quick Tips for Running a Successful Blog
I recently realized I'd hit over 300 published blog posts on my website! Let's chat through what I've learned, how I make money, and how you can start a successful blog too. Here's 10 quick tips for running a successful blog.
Please note that this post contains affiliate links which allow me to earn a small commission when a purchase is made at no additional cost to you. Read more here.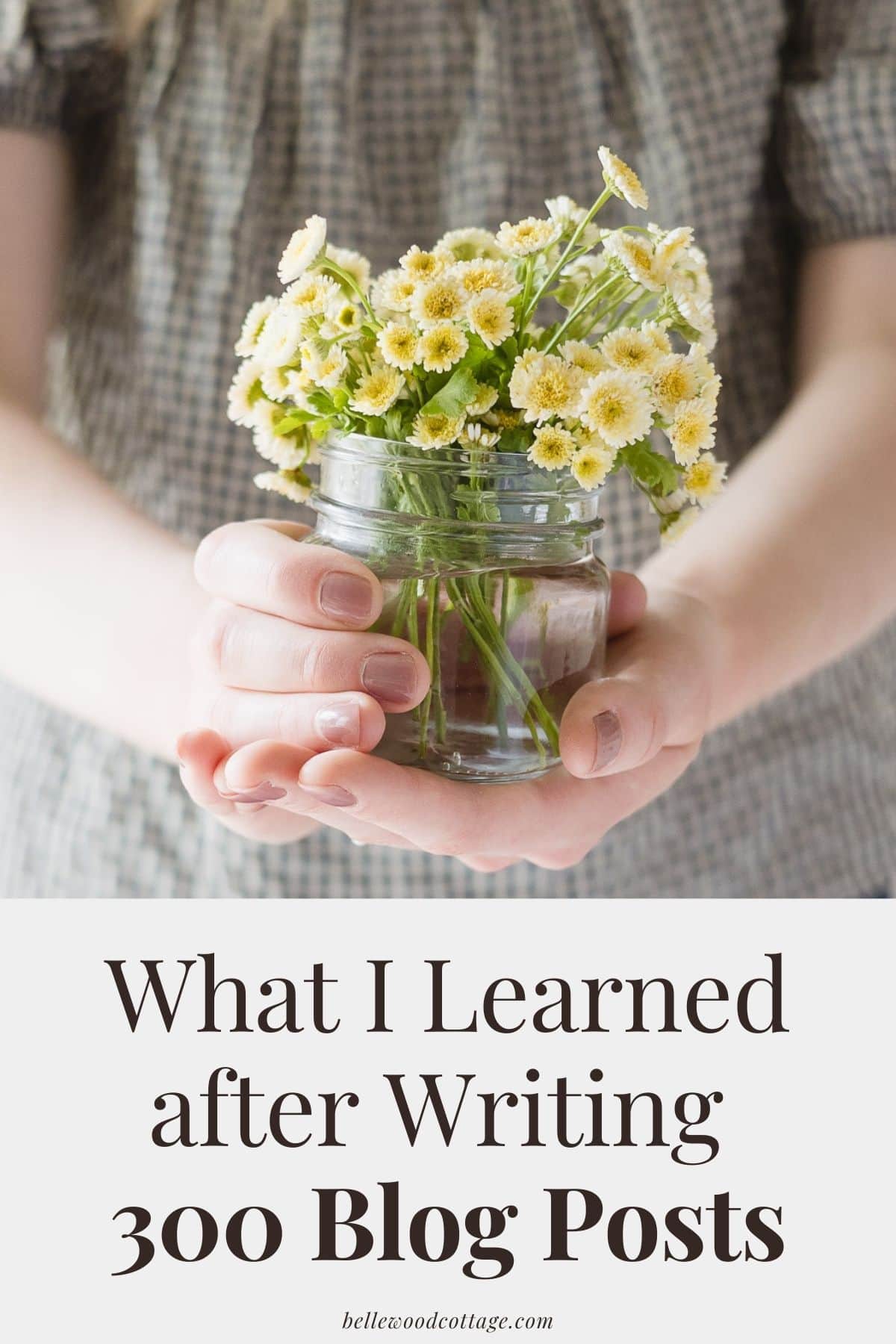 When I realized that my published posts count had gone over 300 posts, I knew I had to take some time to write up a post about the past few years of blogging. What I've learned, how I've made money, what I plan to change in the future, etc.
I also realized that many of my blog posts are 1000 words (if not 2000 or 3000 words) and 300×1000 is quite a lot of typing!
If you are a blogger, you know the incredible amount of work that goes into maintaining a website and creating content. I wanted to share this list with some quick thoughts on how to grow a successful blog. I'm still growing mine and have lots of goals yet to reach, but I've been so thrilled to watch my income and traffic grow the past few years and it's SO nice to feel like I know what is working and what to do next!
Ten Quick Tips for Running a Successful Blog
As a lifestyle blogger (focusing on crafts, home, and a little dessert), I definitely struggled in the beginning with gaining traction. Once you have a post that is a "win" you will be inspired to keep going! In the meantime, you can support your website and pay for expenses like hosting if you are smart about the content you write. Which leads me to:
You Can Start Earning Right Away with Affiliate Income
After starting a blog, you might be wondering, will this actually make money? Yes, it will! The best way to monetize right away is with affiliate links.
Write up reviews for your favorite products, write comparison posts, or show how to solve a problem with one of your favorite products. These make great posts people love to read. If you do a good job, you can start earning money as readers click your affiliate links right away.
Add affiliate links within these posts (be sure to properly disclose them) to link to your favorite retailers and receive a small commission if/when the product is purchased.
I like using Amazon Affiliates, LTK, and Shareasale. If you are just getting started, Amazon is an easy place to start. The commission rates are not always competitive with other networks, but you also might make more sales, so it can balance out depending on your niche.
Set Your Sights on Joining a Premium Ad Network
If you want to make money blogging, one of the best things you can do is to plan to join a premium ad network: Mediavine or AdThrive. This will not be easy! Mediavine used to only require 25K monthly sessions to apply, now it's 50K monthly sessions. That's a hefty ask for a brand new blog. Note that AdThrive is 100K sessions.
While there are other ad networks you can join (and they can be a good fit for some bloggers) it's ideal if you can keep the ads off your site until you are bringing in some good traffic. The ads slow down your site and affect your rankings and growth on Google.
I recently turned off my Google ads as an experiment to see if my traffic would grow. Everything sort of happened at once and I reached a lot of SEO goals at the same time the ads were turned off. I definitely think it might have been that last push my site needed to reach 50K+ monthly sessions and make it into Mediavine!
Don't Believe Everything You Hear
EVERYONE has a "how to start a blog" course these days. A lot of them are inaccurate, outdated, or just plain misleading. Don't spend a bunch of money trying to get the "secret sauce". Work hard, write amazing articles, learn SEO, and don't give up. Don't get distracted by the latest and greatest "sure thing".
If you want some solid information for getting started, start by reading Google's SEO guide. Then, peruse the articles from Moz. Listen to free blogging podcasts at the beginning to get tips and test techniques–without investing hundreds or thousands in courses that may not be sound.
Don't Get Distracted by Social Media
I've heard from several bloggers lately (myself included) that it's ok to drop Instagram. While it can be a great place to grow a community (and a lot of fun), it's also a very demanding platform. You could spend most of your blogging time there and it might pay off (or might not) and yet, you still don't have control over your account. It could potentially disappear overnight. Or, a bad algorithm change could take away most of your traffic.
I've always been a fan of minimal Instagram posting, but the real clincher for me was when I didn't post on Instagram for over three months and my blog traffic only grew. It's not that Instagram isn't valuable, but it needs to fit in with your goals.
Scheduling out posts is a great way to keep your account active and minimize time spent. You won't really grow a following this way, but it can be a good way to "pause" your account while you focus on growing traffic.
Pick a Niche for Your Website, or Not
I do suggest narrowing the focus of your website as much you as can, but the "pick a niche" or "niche down" advice can be exhausting. One of the BEST ways to find your own personal road to success is to try things!
My advice is start with an overarching category, like crafts, home & garden, food, etc. Then, dial in some specific topics you want to cover. Start with those. Write a nice little how-to series on sewing basic clothes, planting tomatoes, organizing a kitchen, etc.
Then, make another "cluster" of posts around a similar topic. Don't be afraid to branch out and just have fun, but try to create little groups of content that fit under an umbrella. Maybe you eventually only cover "organization" or "quick desserts" for example, but you can test things at the beginning to see what your readers love (and what Google loves on your site).
You can always refine your niche, but you'll never find those hidden topic gems if you are so afraid to go "off-niche" that you never get started.
80% Is Sometimes Good Enough
I can be huge perfectionist. For the longest time this kept my blog post count low (if the photos weren't perfect, I wasn't posting it!) and I was scared to try video. I finally realized that sometimes "done" is better than "perfect". Strive for quality, but remember you can always go back and update posts that require it. Don't sweat!
I have some key "must-have" elements of each blog post, but I try to keep myself moving so I'm currently publishing pieces at a faster rate.
Make a Content Calendar and Stick to It!
I love having a content calendar! But you know what doesn't work for me? Having every post on every publishing day specifically penciled in. Instead, I have a bank of pieces I want to write and each week (usually in advance) I select 2-3 and write them. I choose articles that complement each other to save time.
I shift things around constantly, but by the end of the week I've written my pieces and by the end of the month I have around a dozen new articles that I can check off on my content calendar. It keeps things flexible yet organized.
Work Ahead On Blog Posts
This is one of my favorite tips. I implemented this practice almost a year ago. The key is to spend a little extra time for several weeks (let's say four to eight) creating extra blog posts. I learned this fabulous tip on creating a content calendar from a Mediavine blog article by Susannah Brinkley Henry.
Essentially if you usually write two blog posts per week, start writing three for a few weeks and scheduling each "extra" post in the appropriate time slot where the following weeks' post would've gone.
Each week you will be one more post ahead of schedule until eventually, after several weeks, you'll have a few weeks worth of content ahead of schedule! It's great for peace of mind, but also for taking scheduled blog breaks or allowing for sick time.
Never Stop Learning
I love learning and I love learning about blogging! Whether it's improving photography, learning more about SEO, diving deep into techniques for keyword research or just about anything else related to blogging, it's such a rewarding way to build a business.
Commit to spending time each week (even if only a few minutes) learning (or improving) a skill. Tackle one thing at a time, whether a new social media platform, video editing, photography, etc. Learn from Youtube videos, podcasts, and articles from fellow bloggers.
And, if you are just getting started, don't hesitate! Commit to the learning process, enjoy the ride, and go write on that website!
What you need to get started blogging:
If you are just getting started, I recommend getting a good affordable website host (I use Siteground) and a functional stylish theme (the "look" of your blog). Here's what I use:
Feel free to reach out if you have questions!
Blessings! ~Ellen
More Blogging Thoughts