The Hat by Jan Brett Board Book Review
In a moment of curiosity, Hedgie finds himself in an unusual predicament. The classic children's book, The Hat, by Jan Brett is available in a board book edition and it's the perfect winter read for babies' tiny hands.
Please note that this post contains affiliate links which allow me to earn a small commission when a purchase is made at no additional cost to you. Read more here.
The Hat by Jan Brett | Board Book Review
The Hat is a classic choice for a little one's library. Preceded by the incredibly popular title, The Mitten, The Hat is the story of Hedgie, who in a moment of curiosity finds himself in a predicament. He has unintentionally donned a girl's stocking as a hat, and it is now firmly stuck to his prickles. While he tries to make the best of the situation (even as the other animals laugh), it turns out that he may have unwittingly started a new trend?
This book might be most familiar as a hardcover/paperback edition, but did you know there is a board edition too? Board books are great for little ones to explore on their own and this is one of our personal cold weather favorites.
The illustrations in Jan Brett books are exceptional. Each page is so rich for kiddos to look over and examine. In The Hat, each set of pages has a border with additional images that give more information about the story, as well as some foreshadowing about what might happen next. Lots of possibilities for interactive reading here.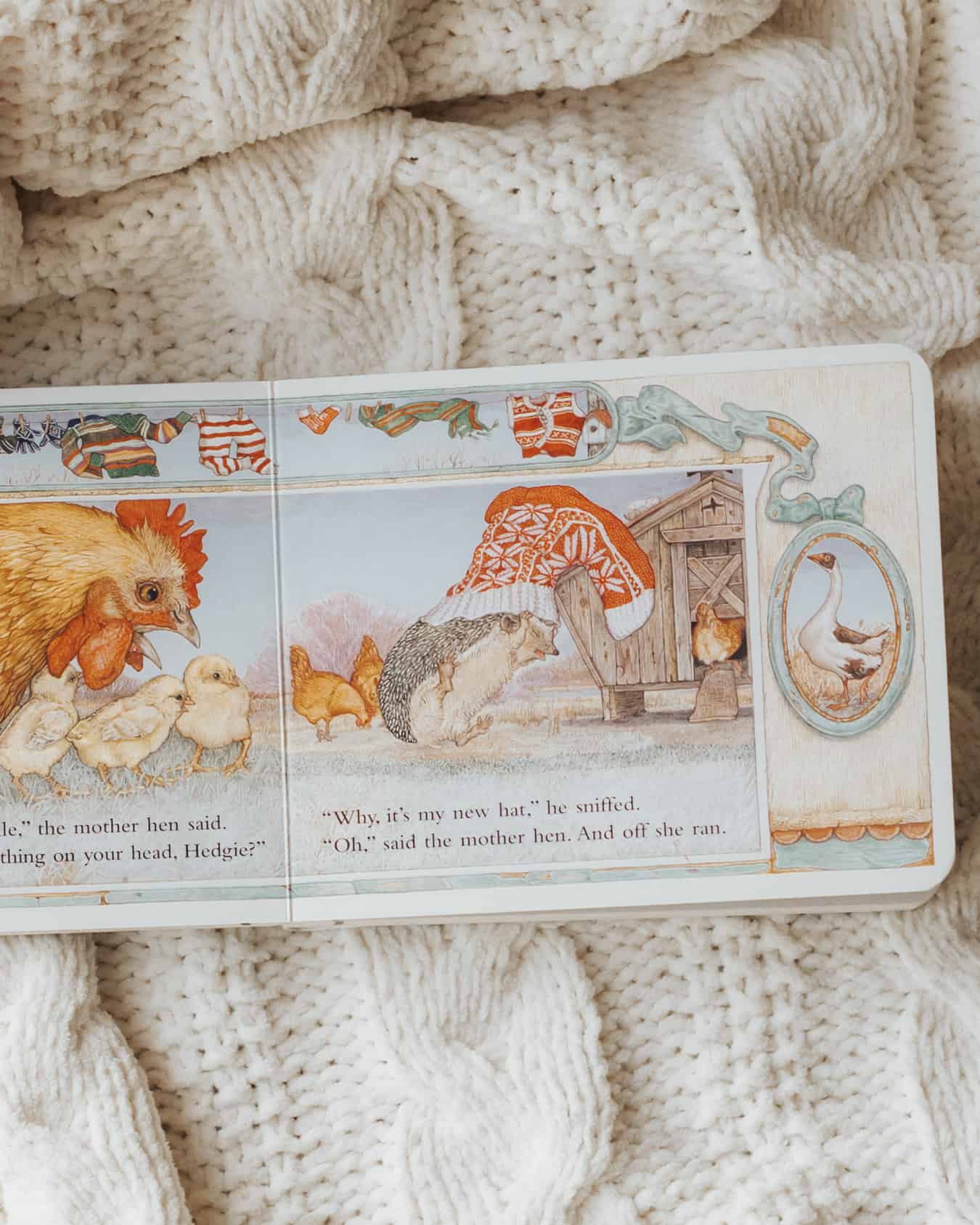 For instance, depending on the age of the child, you could:
Ask little ones to name various animals pictured (before reading the text)
Ask them to find Lisa on each page
Help kids notice the sneak peaks of the animals to come
Show them what is happening to Lisa's clothesline as the story continues
Questions to ask as you read The Hat
Who is your favorite character in the story?
Lisa is preparing for winter in this story. How do we prepare for winter?
What warm clothing could we wear when it's cold outside?
How do animals stay warm without hats and mittens?
Or for older readers:
The animals laugh at Hedgie's predicament. Was this a kind response?
What would have been a better response?
Did any of the animals offer to help Hedgie?
Who eventually helps Hedgie?
Why do you think the other animals copied Hedgie's accidental hat?
Obviously, keep these questions fun and low key. And there's no need to ask everything! Go with the flow and enjoy the time of reading aloud together. This is not a time for pop quizzes! 
Notes & Details
From the Amazon listing:
Age Range: 1 – 3 years
Lexile Measure: 540
Board book: 34 pages
ISBN-10: 0399234616
I love the board book edition of this book (linked in this post), but I will note that it is edited down from the original. More unfamiliar words like "stockings" and "woolens" have been replaced with "socks" and "clothing". The shortened story also reads a bit choppily compared to original hardcover. However, I do appreciate that the board book story is shortened appropriately for younger listeners. I have been reading this with my daughter ever since she was around 5/6 months, and she loves it!
If you don't have any of Jan Brett's books, I would suggest that The Hat (or the preceding title, The Mitten) is a great place to start. Depending on the ages of your readers, you can opt for the board edition or the hardcover. Or maybe even both! Because of the book's age and popularity this is a great title to keep an eye out for while thrifting or visiting used book sales. You can also check the used books on ebay and Amazon.
What I Love About The Hat
Being the classic that it is, The Hat comes in multiple editions. If you prefer the original text, verify the edition you are purchasing is an unabridged version.
I grew up with Jan Brett books, but I'm curious if you too are familiar with her illustrations and writing?
More Kids Book Reviews
Bear Stays Up for Christmas
The Christmas Tale of Peter Rabbit
Visit my Instagram for more (short & sweet) reviews!