The Best Baby Board Books to Buy or Gift
The way reading aloud impacts our growing babies is incredible. Get inspired to read to your little one with this curated collection of the Best Baby Board Books to Buy or Gift.
Please note that this post contains affiliate links which allow me to earn a small commission when a purchase is made at no additional cost to you. Read more here.
Being read aloud to is one of my favorite childhood memories. So it was no surprise that I couldn't wait to read books to our new baby. Fast forward several months later and I can say it's just as rewarding and wonderful as I thought it would be. Reading even the simplest of board books now is laying a foundation for years to come of reading aloud together.
There are so many exciting board books available to read with our young ones. Quality prose or poetry (paired with excellent illustrations) make reading even these short and simple books a joy.
In this post I have curated a collection of books comprised of our family favorites. There is a good mix of classic board books as well as recently published titles. This list is a great place to start if you are trying to choose a board book for a baby shower gift, or just hoping to grow your own collection.
I also couldn't resist including some non-board books called Indestructibles. These are rip-proof, chew-proof, AND washable. Shout out to my sister-in-law who discovered these several years back–they are awesome. Babies can look through them all they want with no worries about gnawing off cardboard. Just note that when you see "Indestructibles" in the book title then it will NOT be a board book.
So here's how we're gonna do this. I have a collection of favorite titles included below in a giant tiled image. You can just click the photos of the books that interest you and go from there (will auto-open new tabs). BUT, if you want more details, just keep scrolling. I have then broken up my list into giant numbered images with each title paired with a quick blurb about the book. VERY quick summaries. Click the links you are interested in and again, they will auto-open in new tabs. So easy! Or, copy titles to bring with you next time you are thrifting.
A couple quick tips to choose the best board books for you!
Read this post for ideas!
Visit your local library to page through new titles
Check Amazon for extra photos of the book's interior pages
Read reviews to be alerted to anything unexpected
Thrift! A fun way to find older books that may be out of print
Keep an ongoing list of favorite authors/illustrators to look for when shopping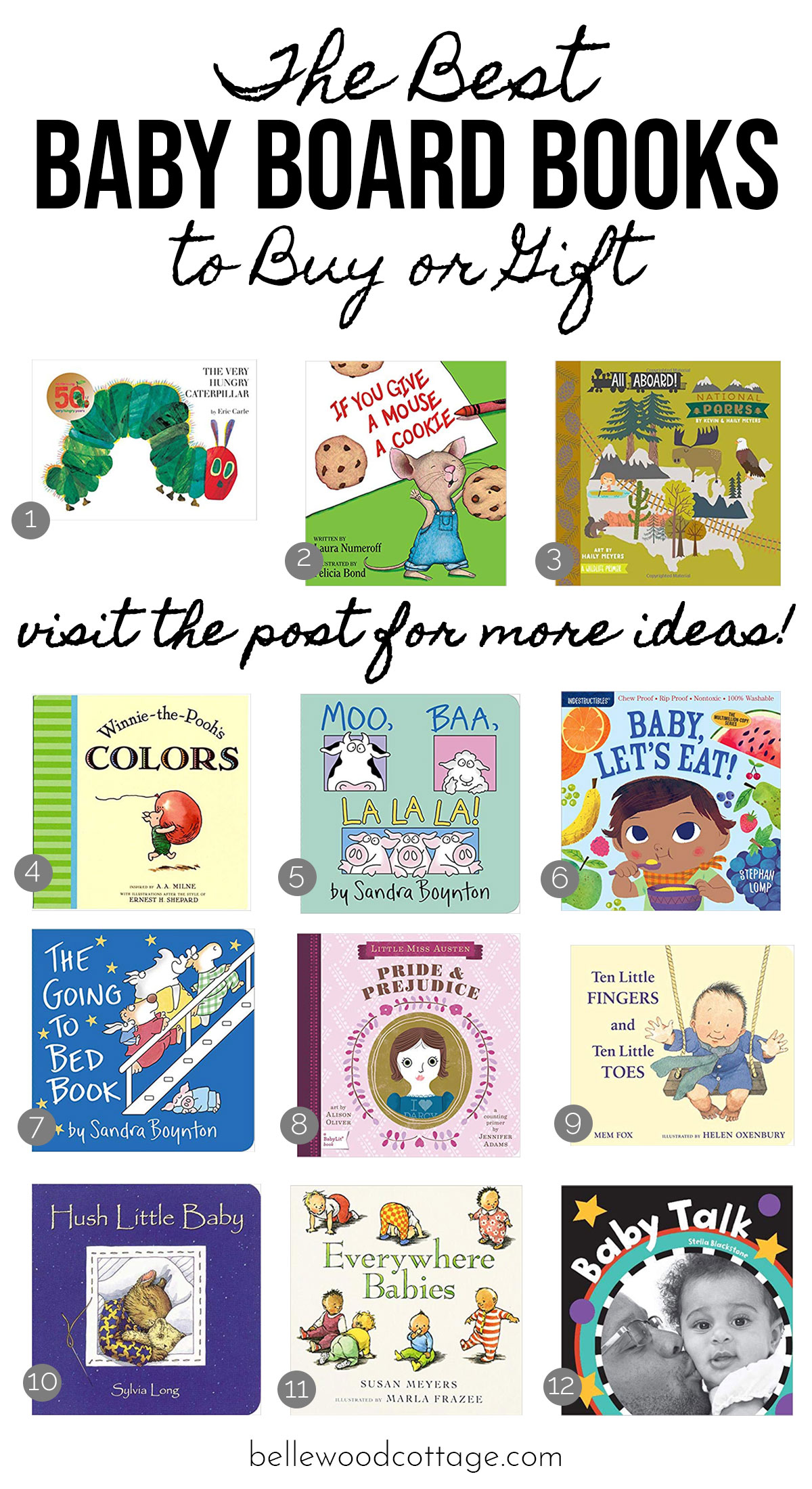 The Very Hungry Caterpillar by Eric Carle | A classic. Watch as the caterpillar eats its way through enormous amounts of food (interactive pages!) and becomes…well, you'll just have to read it.
If You Give a Mouse a Cookie by Laura Numeroff | A delightful snowball effect ensues with the simple act of giving a mouse a cookie.
All Aboard! National Parks: A Wildlife Primer by Haily Meyers & Kevin Meyers | Visit national parks and explore wildlife by train in this unique board book. Very basic language/content make this a great picture book for the littlest babies.
Winnie-the-Pooh's Colors by A. A. Milne | Simple sentences plus darling Classic Pooh illustrations. Note that there is not a story in this book, it just points out colors such as, "The bee is yellow."
Moo, Baa, La La La! by Sandra Boynton | With singing pigs that cry "la la la" versus the more expected "oink", Boynton provides her usual whimsical spin on baby literature. Babies and kids alike love this one! Be prepared to memorize it.
Indestructibles: Baby, Let's Eat! by Amy Pixton | Read about foods grouped by color with your babe, or since this book is "indestructible" (they really are!) enjoy watching baby crinkle, crumple, and chew to their heart's content.
The Going-To-Bed Book by Sandra Boynton | A quick read filled with the unexpected, like "exercising" being a crucial pre-bedtime step.
Pride & Prejudice: A BabyLit® Counting Primer by Jennifer Adams | A counting book that includes "Two rich gentleman" and "Four marriage proposals". Just like the original! (Note that it does not include the actual story).
Ten Little Fingers and Ten Little Toes by Mem Fox | Illustrated by Helen Oxenbury and filled with babies from around the world, a charming must-own classic. The padded cover makes it easy for older babies to page through all on their own.
Hush Little Baby by Sylvia Long | Mmk, so old nursery rhymes/songs are actually often pretty odd. If not downright cray. This sweet re-telling of Hush Little Baby is a much preferred update to the old "hush and I'll buy ya stuff" version.
Everywhere Babies by Susan Meyers | A long read for younger babies, we often choose just a few pages to read versus the whole book. Sweet rhymes and illustrations of how babies "everyday, everywhere" fill their days.
Baby Talk by Stella Blackstone | High contrast + photos of adorable babies make this so engaging for babies. Repetitive text (great for babies, but you may not want to read it dozens of times in a row!).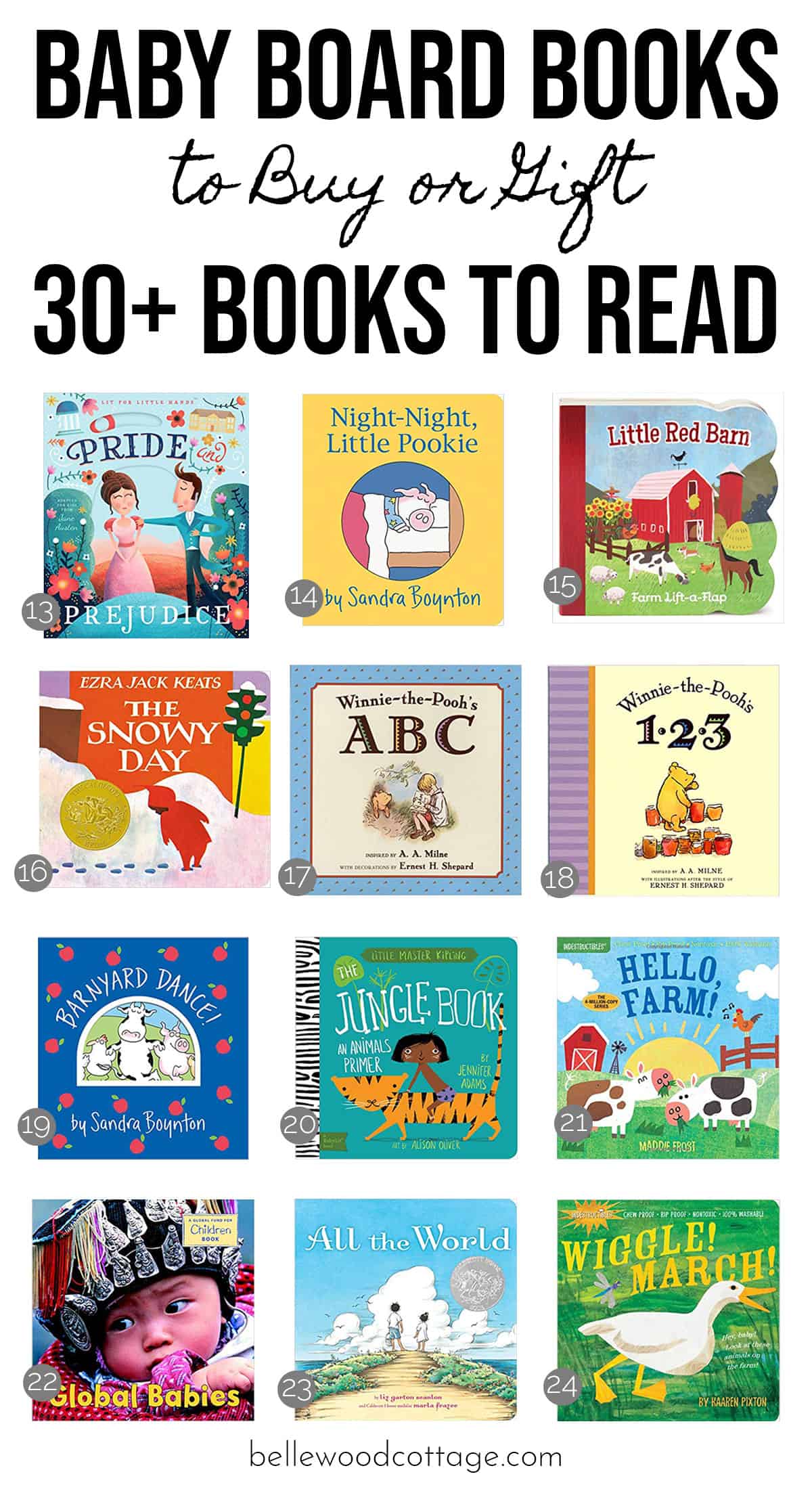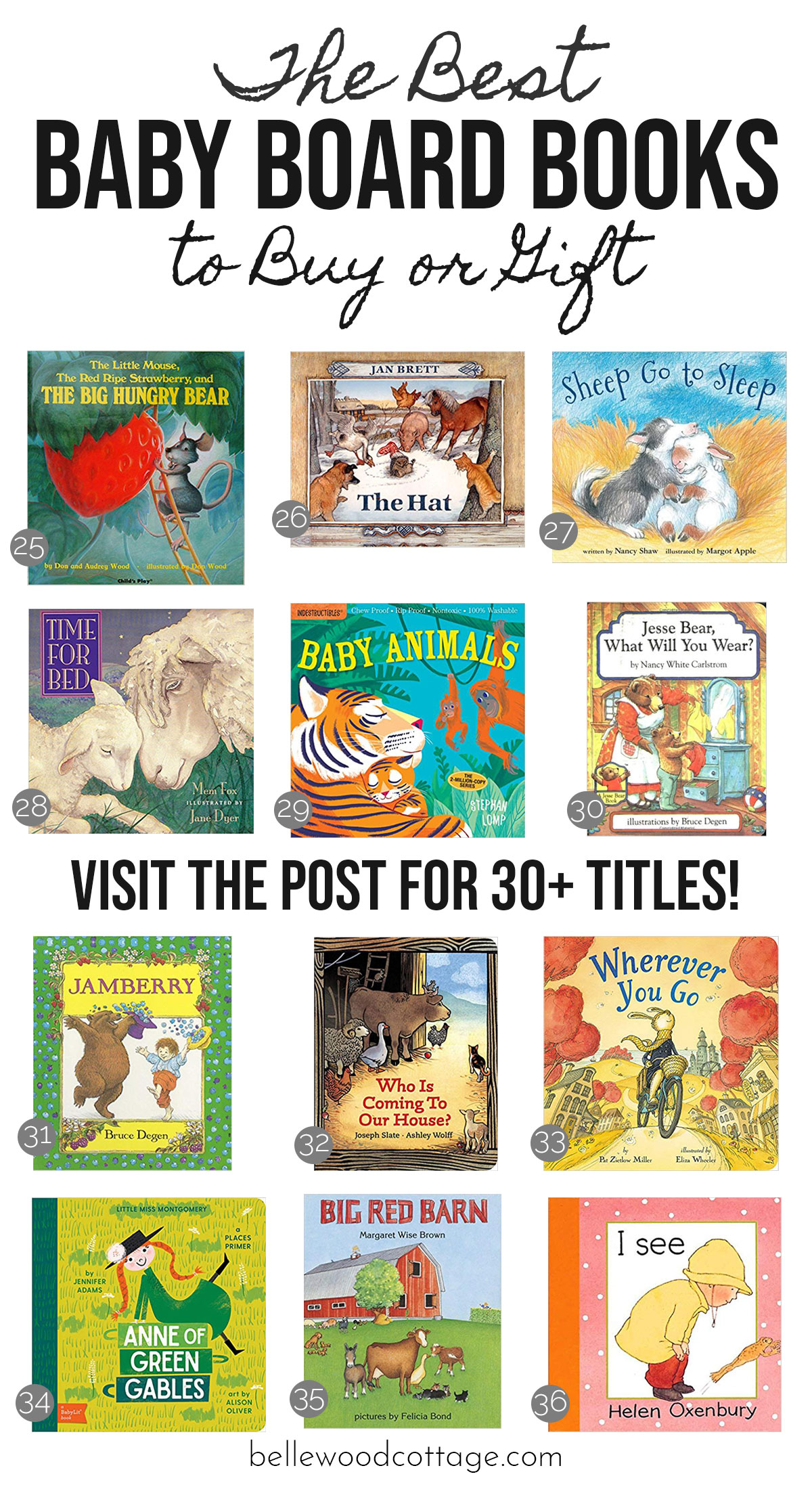 Now, I'd love to hear from YOU! Share your favorite board books with me in the comments. I am always looking for more great titles to read with our baby. Thanks for stopping by!
<3 Ellen
Did You Enjoy Reading About the Best Baby Board Books?
Here's More from Bellewood Cottage About All Things Baby
Gender Neutral Nursery Reveal
DIY Muslin Swaddle Blankets
Newborn Baby Essentials Checklist
Really Cute Gender Neutral Baby Clothes
Favorite Fall Dresses for Baby Girls