6 Tips to Successfully Paint a Front Door
I am a planner. This means that I make lists (many, many, lists), research, formulate a plan, second-guess the plan, research more, make a new plan, and then think about starting. I frustrate myself to no end with this, but I am trying to get better about just starting projects and not letting worry paralyze me.
So when I decided to paint our front door, I wanted to just do it. No endlessly researching primer, color theory, or if I should remove the door to paint it or not. I just wanted to paint it and be done.
So I did. Minus spending way too much time agonizing over paint chips. And you know what?
It turned out just fine.
Whew.
So, I wanted to share a couple of tips I learned along the way that will be helpful if you are hoping to update your front door in the future. I can't quite seem to totally get rid of the planner in me, so I hope you are able to glean from this list!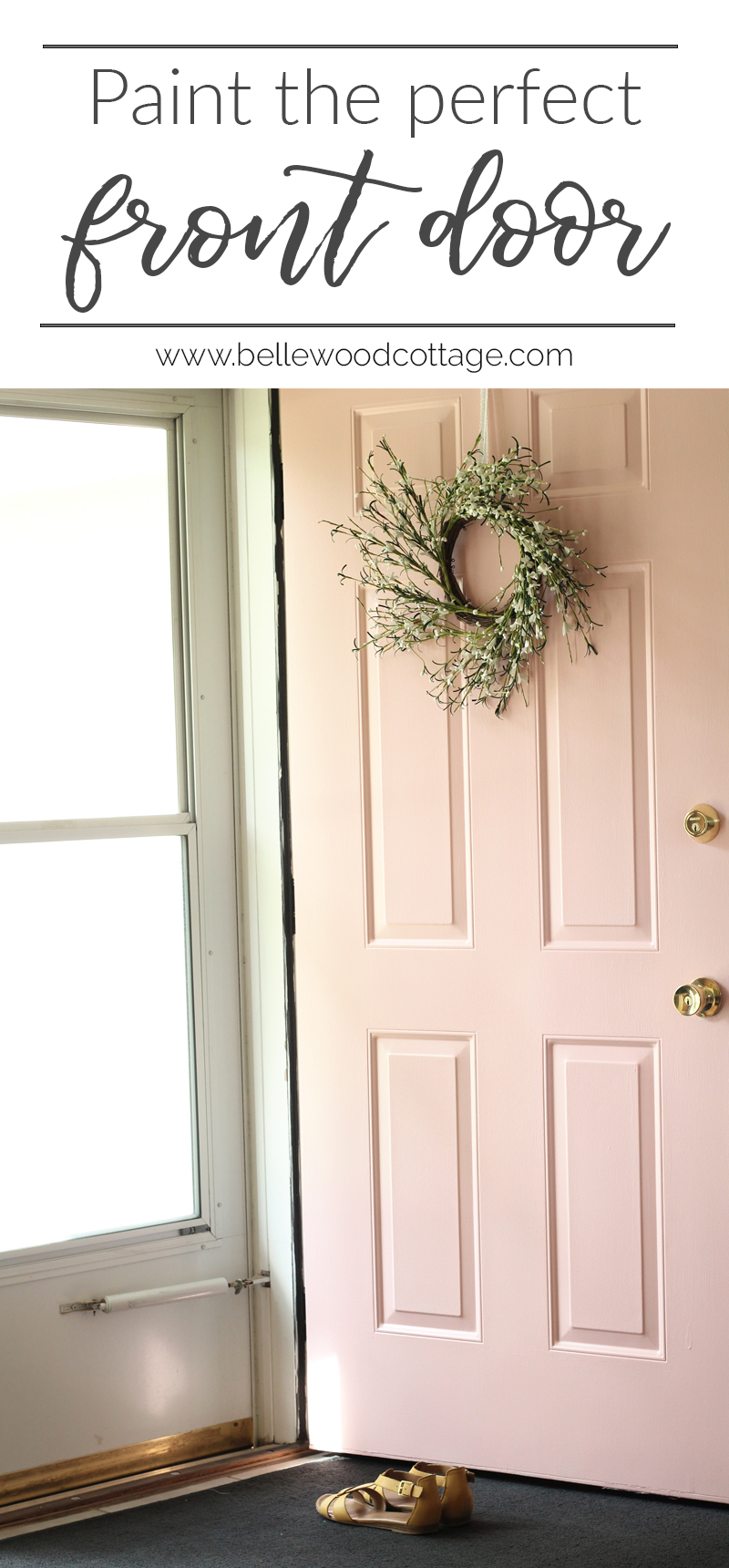 Paint I used: Sherwin Williams Resilience (I bought 1 quart and used about 1/2 for three coats on the front side of the door only)
Color: Sherwin Williams Bella Pink
1 – Choose the right color
Audition your colors in various weather-sun, rain, clouds, etc. When I was looking at pinks I realized that a lot of the samples looked gray on cloudy days. Not exactly the look I wanted. This knowledge steered me towards slightly brighter swatches.
Now, if you're like me, you brought home no less than 100 colors to audition. That's overwhelming.
I suggest literally ignoring all but one or two of your absolute favorites swatches and taping those to your door for a few days (consider priming your door right away for a clean slate). As you look at the colors and begin to notice how they appear (too bright, too gray, too bold, etc), make some notes on the back of the swatches. Try the colors with your storm door (if you have one) and without, to get a feel for how that changes things. Our door is screened, which tends to make colors appear more subdued.
Then, grabbing your pile of paint chips, try to find some of the colors that solve the problems from the original swatches. Now audition this new group, and repeat until you are confident with a few of the colors.
Color theory can be overwhelming, but sometimes it helps to know WHY something isn't working. If more information is helpful for you, I suggest doing some research on why colors appear the way they do (and how nearby colors change our perceptions as well).
Also try colors on the INSIDE of your home for those times when you will want your door propped open. If a color clashes badly with the interior paint colors, this test will make that clear.
Once you have narrowed your choices down, buy one or two samples at the paint store and paint each of them on a poster board. Audition these larger samples in the doorway to see how they look and then it's just about time to go buy some paint.
2 – Compare your color swatches to siding etc.
And while we are talking about choosing the color for your door…don't forget about your siding! Painting a house is an expensive project, so make sure the door color works with the existing siding. If possible, find out what color the siding was painted, so that you know the undertones you are dealing with. If you have a large garden you might also consider the colors that will be present there as flowers bloom.
3 – Plan ahead
Before you start painting, decide whether you want the front and back of the door to match. I've seen some amazing statement doors that are the same color inside and out, but I knew with choosing pink, I would not be able to do that. It's one thing to have a pink exterior door, but it's a whole 'nother kind of commitment to have a pink interior!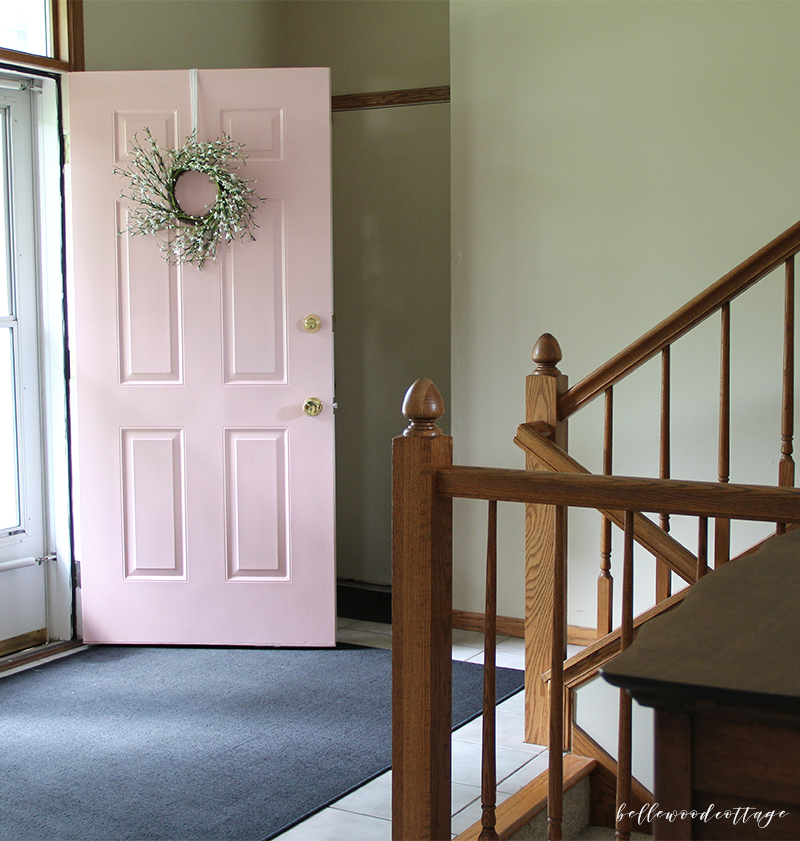 A safe bet is to simply paint your interior door the same color as the surrounding walls (if it doesn't match already). Just decide before you start painting so you have clear edges to tape off.
4 – Sand for best results
Sand your door before beginning to eliminate imperfections. It doesn't need to be intense, but you'll want to get rid of any bubbles or drips from previous painting jobs. I was lazy and didn't do this, but it still looks fine. Be the judge of what your door needs, but don't be lazy and skip this step if you are working with a door that has already seen a bad paint job.
5 – Use primer + a high quality exterior paint
I keep running into this problem when I go buy paint. I ask the salesperson what kind of primer they recommend, or if I need it at all? And they tell me, oh no don't bother with primer, you'll be fine. Going against my better judgement I listen (because who wants to paint extra coats if they don't have to?!).
Then I rue the day. Primer is your friend. Use it.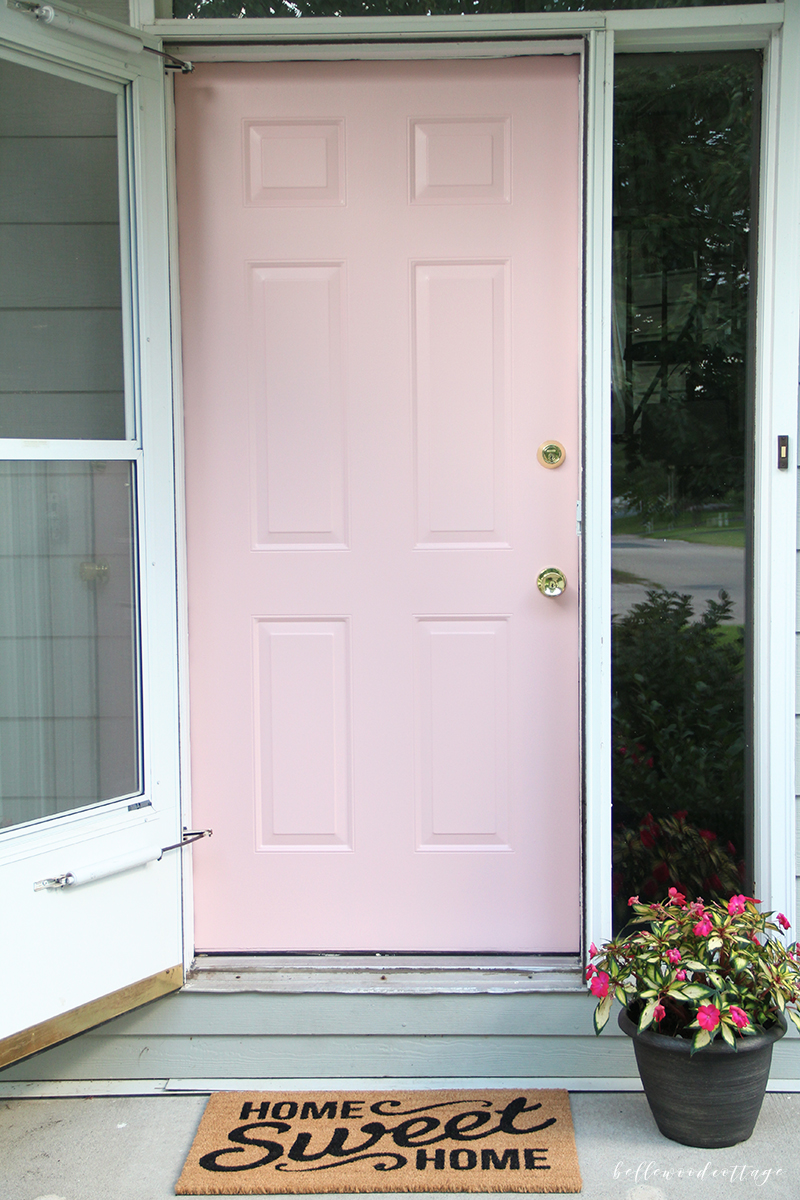 Another perk to using primer? It gives you a clean slate that will help you see how your new color ACTUALLY looks right away.
I didn't use primer, and I needed three coats of paint. It was fine in the end, but I prefer the clean slate that primer provides.
6 – Use the "lazy" method to paint
There is a lazy way to paint a door. First, don't remove the door from the hinges. Second, choose to paint only the front of the door. Third, loosen the hardware (doorknob and locks) enough that there is space between them and the door. This way you can paint neatly around the doorknob without having to reinstall it. Another option is taping off the knob, but it can be hard to avoid leaving behind a thin line of the original color.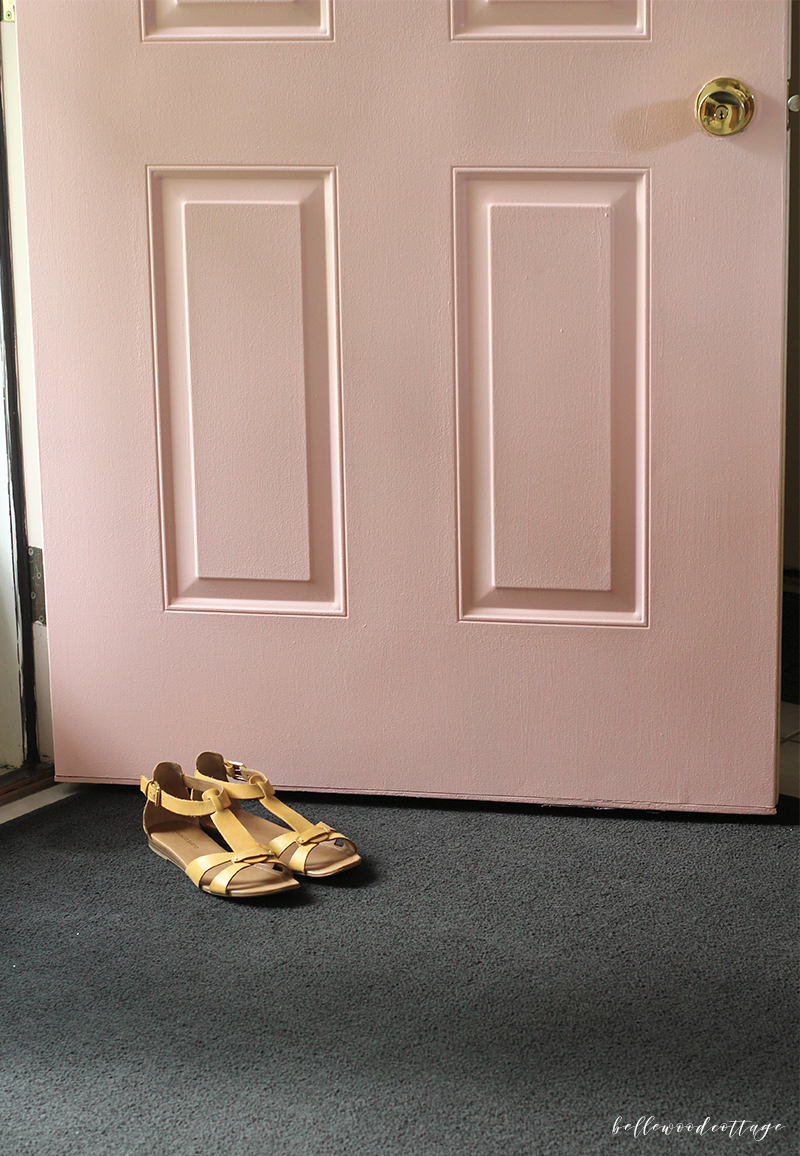 To paint: be very careful around the hinges and knob (use my favorite angled brush) and keep a wet cloth nearby for any drips and smudges.
This method won't result in the most perfect paint job you've ever seen, but it does a satisfactory job and is worth avoiding the hassle of taking a front door down!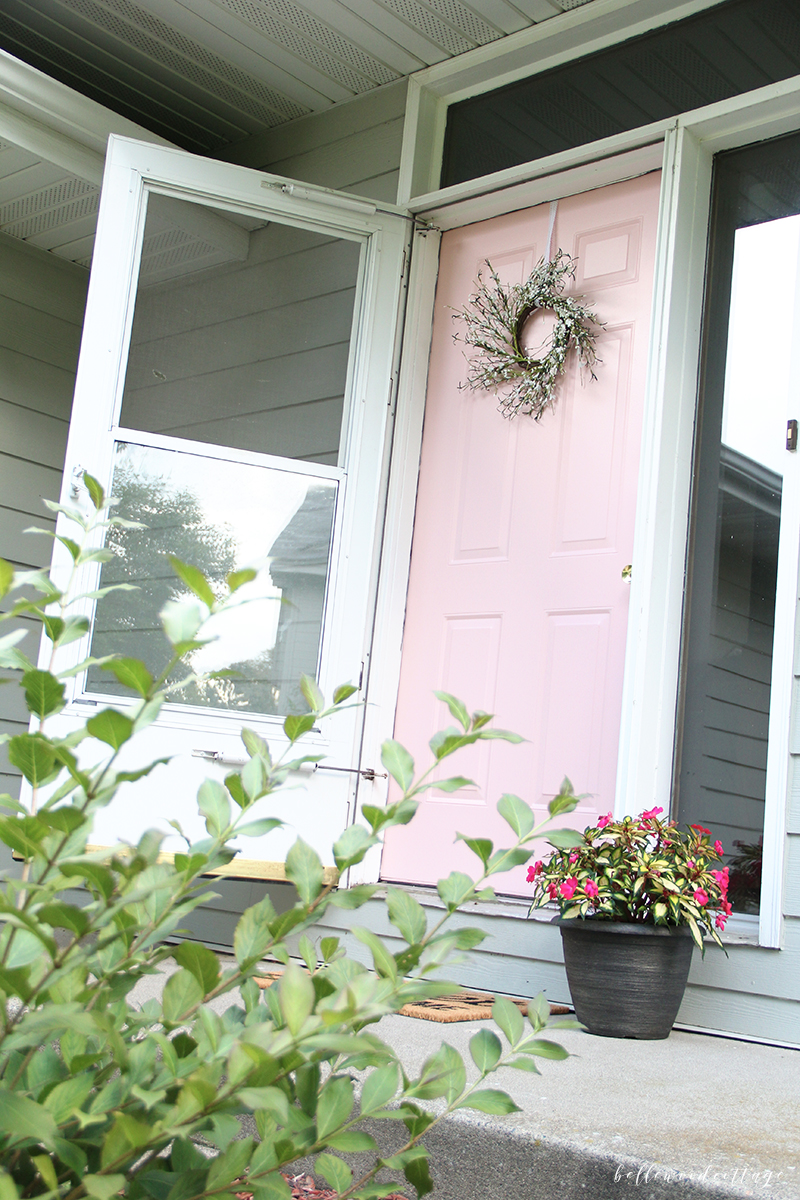 Good luck as you update your front door! I'd love to hear what color you choose. Let me know in the comments!Save
Save