How to Style a Fall Farmhouse Hutch
Irony is sitting at your computer writing a blog post about fall decor while it's a sticky 88 degrees outside. Yep. 88.
I absolutely love fall weather, so I'm looking forward to a temperature drop hopefully coming this weekend. Then I'll actually feel like indulging in some of the fall goodies that are out in droves (I see you, pumpkin spice latte). And of course, the home decor stores have their fall decor out in abundance (which let's be real, isn't exactly a new development).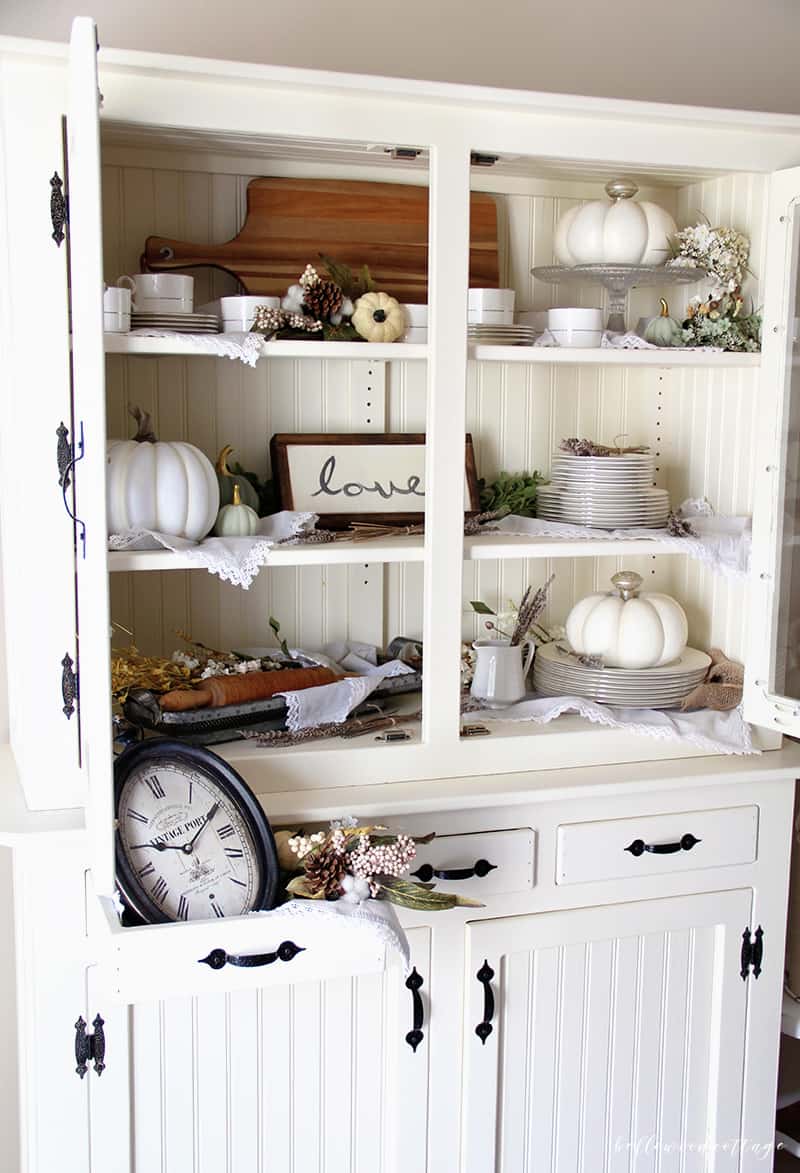 So naturally with all the autumnal goodness happening, I got inspired to give my hutch a little update for fall.
Because my main goal is always to stretch my decor budget, I try to be careful about what decor I'm bringing into our home. I like to choose good quality pieces, stick with neutral colors, and buy items that can be used throughout various seasons.
Of course, it's fall, so in that case there has to be pumpkins! In the interest of sticking within my budget though, I didn't want to go crazy shopping. In order to get the fall farmhouse hutch feel, I did a little shopping the house (there isn't much to shop, but it helped) and I picked up some fun pumpkins from Marshall's and the Target dollar spot.
Materials and decor used:
Already had: dried lavender, dishes, linens, clock, and some florals
Bought: pumpkins (about $30) and florals (Hobby Lobby and Michael's, about $15)
Style a fall farmhouse hutch:
I had an idea of how I wanted to style the hutch, but I edited that idea slightly based on the decor I had available. Here's a step-by-step plus some tips I employed to get the farmhouse look that I wanted.
Empty out the entire hutch (I use the base of mine for storage, so obviously I left all that alone)
Take stock of your larger decor items and decide on a color scheme. You can't go wrong with all white. Be careful about adding too many accent colors. I would start with one and then add in other colors if it looks a little sad.
Arrange the larger items first in a way you like throughout the hutch. For me this meant the pumpkins, dinner plates, cake stand, and metal basket. I tried to make sure each shelf was balanced separately as well as when viewed as a whole.
Fill in gaps with textiles, greenery, or medium-sized pieces. Again, not too many colors! This is where I added some linens (just cloth napkins from TJMaxx), basic greenery, and an antique rolling pin.
Add in finishing touches. I suggest choosing one item and using lots of it. For me, this was the little bundles of lavender placed throughout. It filled the spaces, but didn't add too much visual clutter.
My best tip?
This is my best tip regardless of what you have on hand for decor, whether it's only three pumpkins or three boxes full of farmhouse-y goodness.
Choose a simple color scheme and use large quantities of few items, rather than small quantities of many items. Examples: use stacks of white plates, a collection of wooden spoons, only one style of linen, etc.
Avoid using lots of small things that aren't identical, as these varying pieces can become a little overwhelming and cluttered looking. For instance, I had a little collection of milk jugs that I removed from the hutch (they are all different) because it was getting a little crazy. I ended up adding just one back in as an accent piece.
Well, that about wraps it up, so thank you for stopping by today! I hope you found these tips helpful and I'd love to hear in the comments how you stretch your decorating budget.
Save
Save