Affordable Spring Home Decor on Amazon
As I'm writing this post, I'm watching what is hopefully the last snowstorm that MN will bringing us this winter. It's a tired refrain, but I'm ready for spring over here! Who is with me? Now, I'm not really one to go crazy decorating for the seasons, but I think there is something to be said about freshening up decor and bringing in some seasonally appropriate colors and textures as the year progresses. Right now I am a huge fan of all my IKEA plants and other fresh spring decor brightening things up around here. Of course, there's always room for another piece or two, so I had a lot of fun pulling together this roundup of affordable spring decor from Amazon to share with you today.
Please note that this post contains affiliate links which allow me to earn a small commission when a purchase is made at no additional cost to you. Read more here.

As always, my philosophy with purchasing decor is to add in a few new pieces that revitalize the decor I already own. I also suggest purchasing pieces that can be used multi-seasonally. Using the same pieces throughout the year helps stretch that decor budget a little further! I try to avoid clutter where I can, and I honestly prefer a more simple decor scheme. Many of these pieces will work well throughout the seasons.
Find all the links for affordable spring home decor below!
Ellen <3
Shop with Me! Affordable Spring Home Decor from Amazon
1 – Basil Leaf Wreath // 2 – Bless This Nest Sign // 3 – Bicycle Throw Pillow Cover // 4 – Diamond Blanket Throw // 5 –  Green Mailbox // 6 – Flowers and Garden Planter // 7 – Set of 3 Tin Planters // 8 – Oval basket // 9 – Today is a Good Day for a Good Day Sign // 10 – Cream Ceramic Pitcher/Vase // 11 – Hello Welcome Mat // 12 – 4 Piece Canister // 13 – Bunny Feed Sack Throw Pillow Cover // 14 – Gray Striped Pillow Cover 15 – // North South East West Throw Pillow Cover
More Farmhouse Style Decor Curated by Bellewood Cottage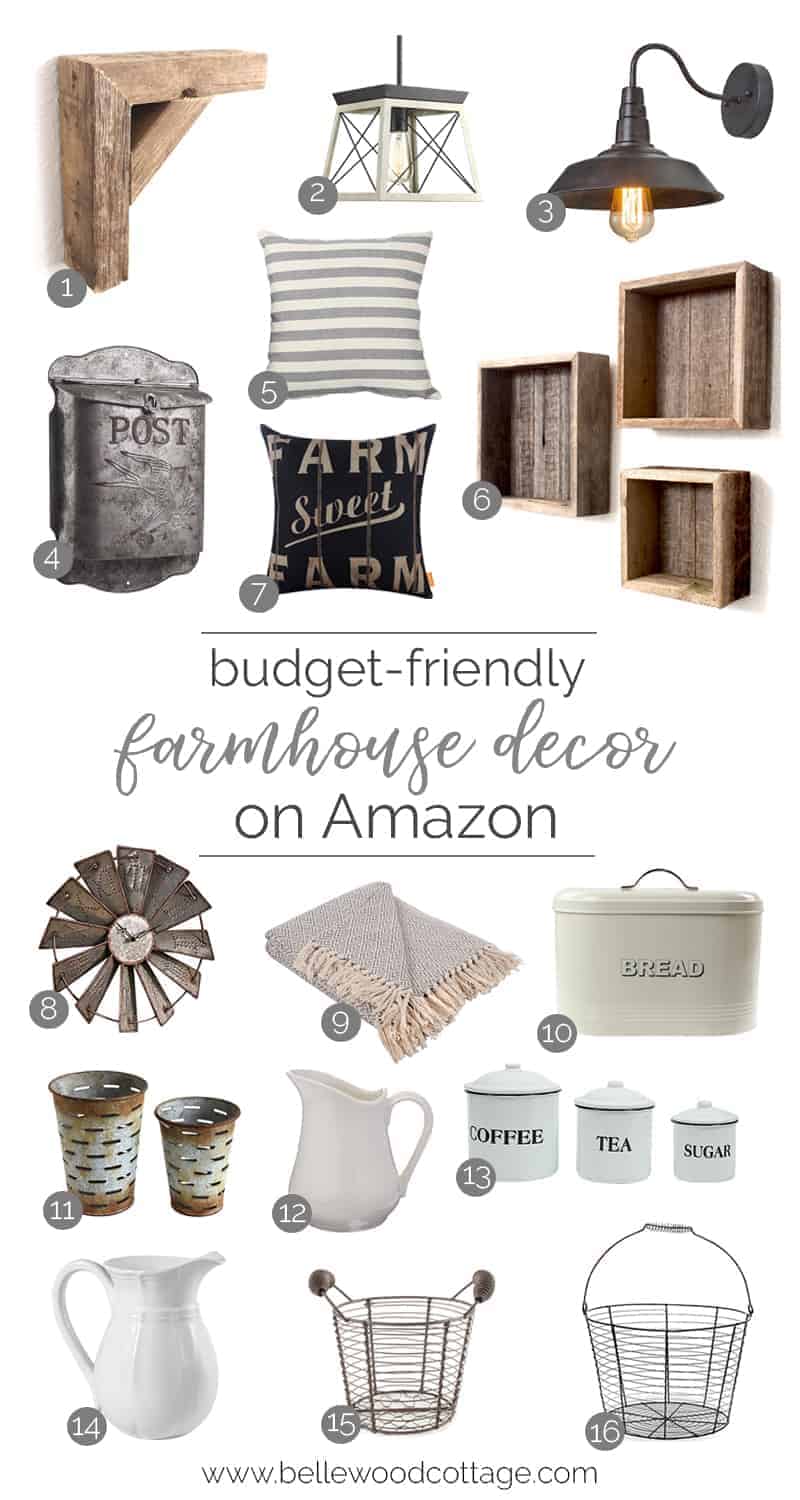 Save
Save
Save
Save
Save