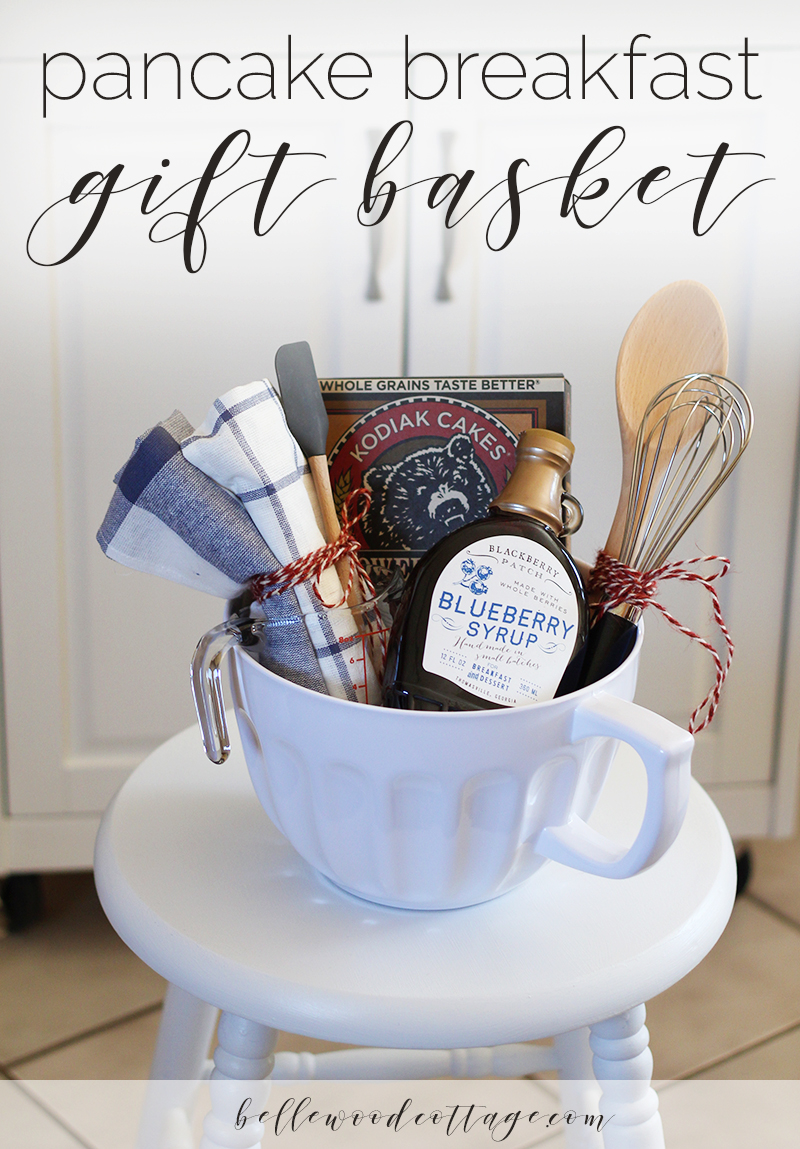 It's officially wedding season and that means bridal showers galore! I always love looking at my friends' registries and picking out a special gift to start them out on married life, but I think we can all agree that sometimes picking the perfect gift can be a challenge! I wanted to share this little gift basket I made recently, as it's a really fun diy bridal shower gift.
I came up with this simple gift idea to give the bride at a recent shower I attended. I settled on a "pancake breakfast" theme to provide the couple with some good kitchen basics as well as a fun breakfast kit to prepare together. If you're stumped by a small registry (something that seems to be more common these days) then including basics like towels, simple kitchen utensils, and mixing bowls with your gift is a good option as these items can usually be put to use, even if the couple has a fully stocked kitchen. And, if not, I always include gift receipts!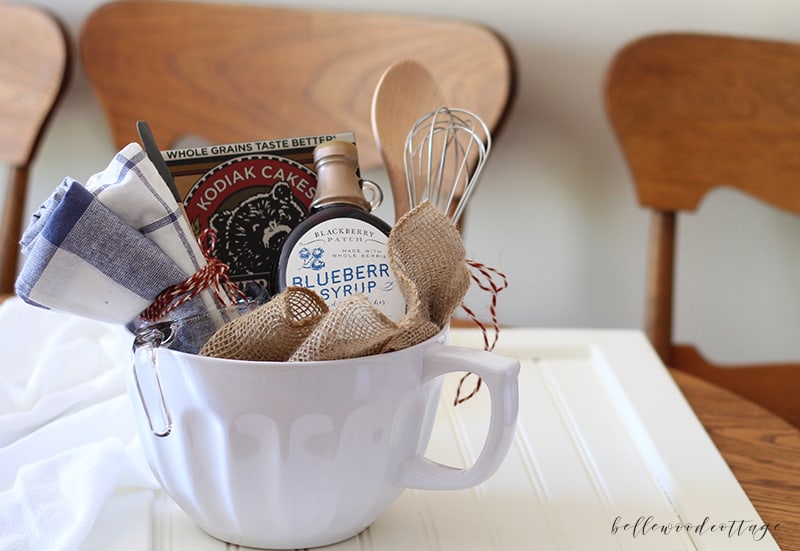 Alright, so let's talk about these adorable Cynthia Rowley batter bowls. Just. So. Cute. I had actually seen these a few times at TJmaxx before starting to pull this gift basket together, and when I struck out at Target for a cute bowl, I knew just where to go. Unfortunately, it was already about 9:10 PM and I was still 10 minutes away from the store. So basically I drove there, dove into the store, and quickly tried to select the perfect color in about ten minutes (all with a sales associate eager to close the store watching my every move). That's why you see two examples of this little project here, because I couldn't pick one bowl! haha, so I grabbed both the bowls, ran to the check out and made it out of the store before closing. Success!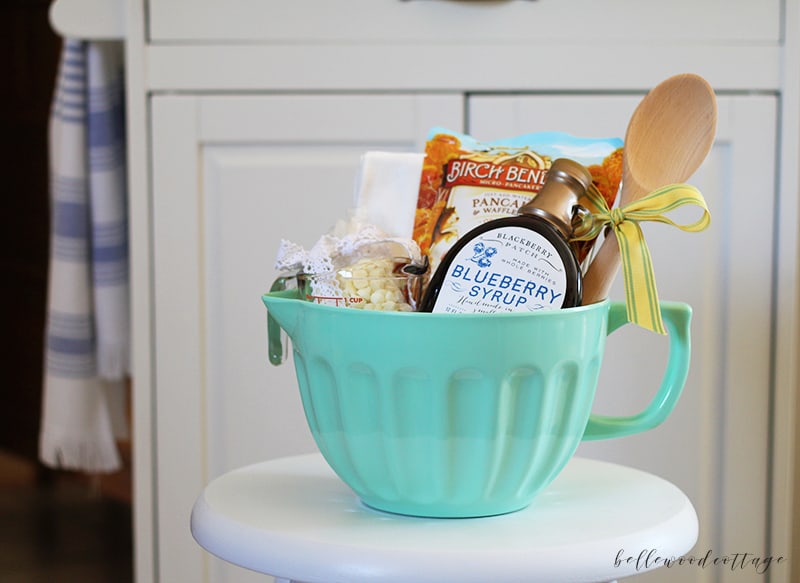 I also really like these bowls because they have a really nice grip on the bottom that prevents the bowl from slipping. I am really wishing I would have kept the white one for myself, but alas, I returned it after I finally settled on giving the bride the pretty green one.
So now, here's some suggestions for pulling together a similar basket.
What you need:
-a large bowl to hold everything in
-pancake mix
-gourmet syrup
-utensils (such as a whisk, pancake turner, spatula, wooden spoon, measuring spoons)
-additional ingredients such as mix-ins (like the chocolate chips shown above)
-kitchen towels
Tips for creating your gift basket:
Select a theme and make a list of everything applicable that could be part of the basket. Then choose a vessel for your basket, whether a bowl, basket, cooking pot etc. Then choose a few large items, medium sized items, and small items that all coordinate with the theme. Think outside the box and have fun with it!
Buy a few more things than you need and plan to return (yourself!) whatever doesn't fit/work. It can be hard to see how everything will fit together until you can play around with it at home.
If you are getting gift receipts, you may want to keep your shopping to one store (to make it easy for the bride to make returns).
Consider removing the packaging from your items. I don't recommend doing this if you anticipate the recipient may want to return/exchange the items, as it can make them difficult to return. However, if you bought off the bride's registry or are confident that the items won't need to be returned, taking off the packaging can give you more options as you arrange the basket. I liked the way it looked to line the basket with a kitchen towel, so I used an Ikea towel (second photo in this post) in addition to the packaged towel set I had bought at Target.
Use tissue paper underneath items to help make sure they are all visible and attractively displayed in the basket.
Try out different combinations of items until you settle on the perfect basket. The photos I'm sharing here are all the variations I tried out as I was arranging my basket.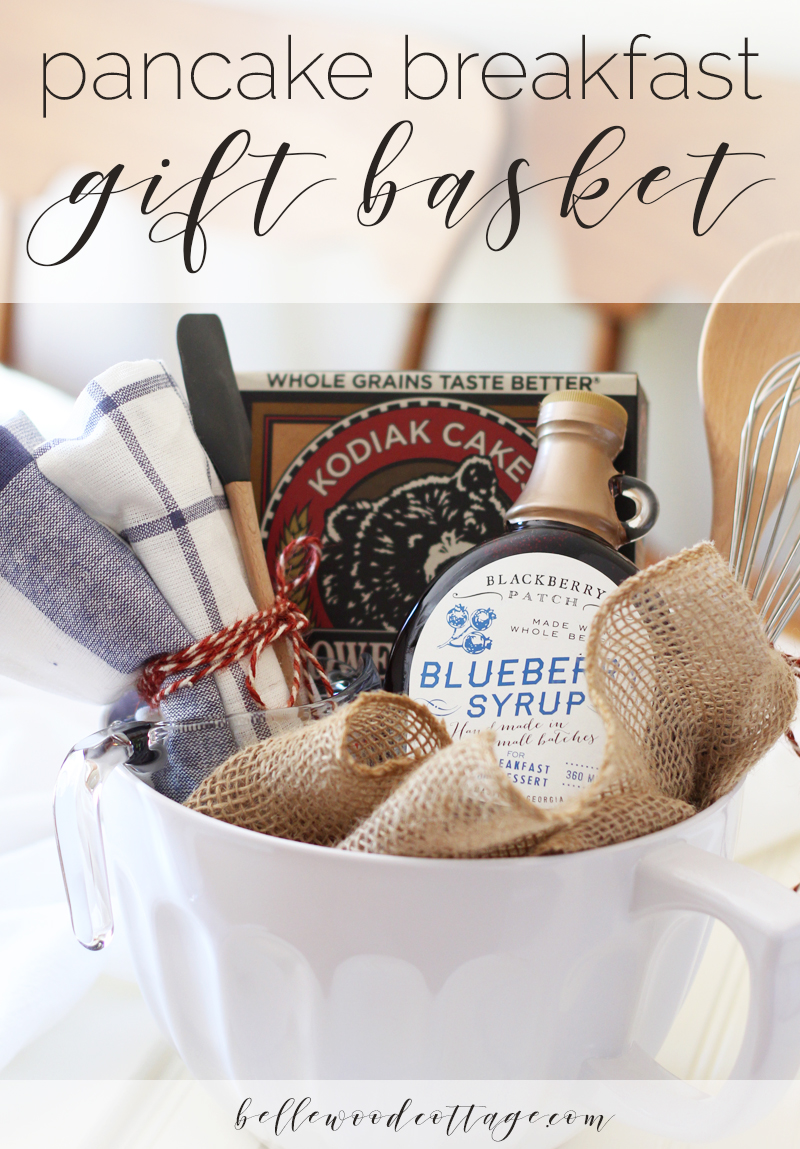 If you are thinking of giving this idea a try, I'll leave you with a few more themed ideas to experiment with:
-Cookie-baking themed kit (include a cookie sheet, oven mitts, measuring spoons, and good vanilla extract)
-Pasta supper (include a pasta pot, dry pasta, gourmet sauce, slotted spoons)
-House-warming (large basket, cozy throw blanket, box of tea, cocoa or coffee beans, and a good movie or board game for a night at home)
Save
Save
Save