An Honest Review of the KonMari Method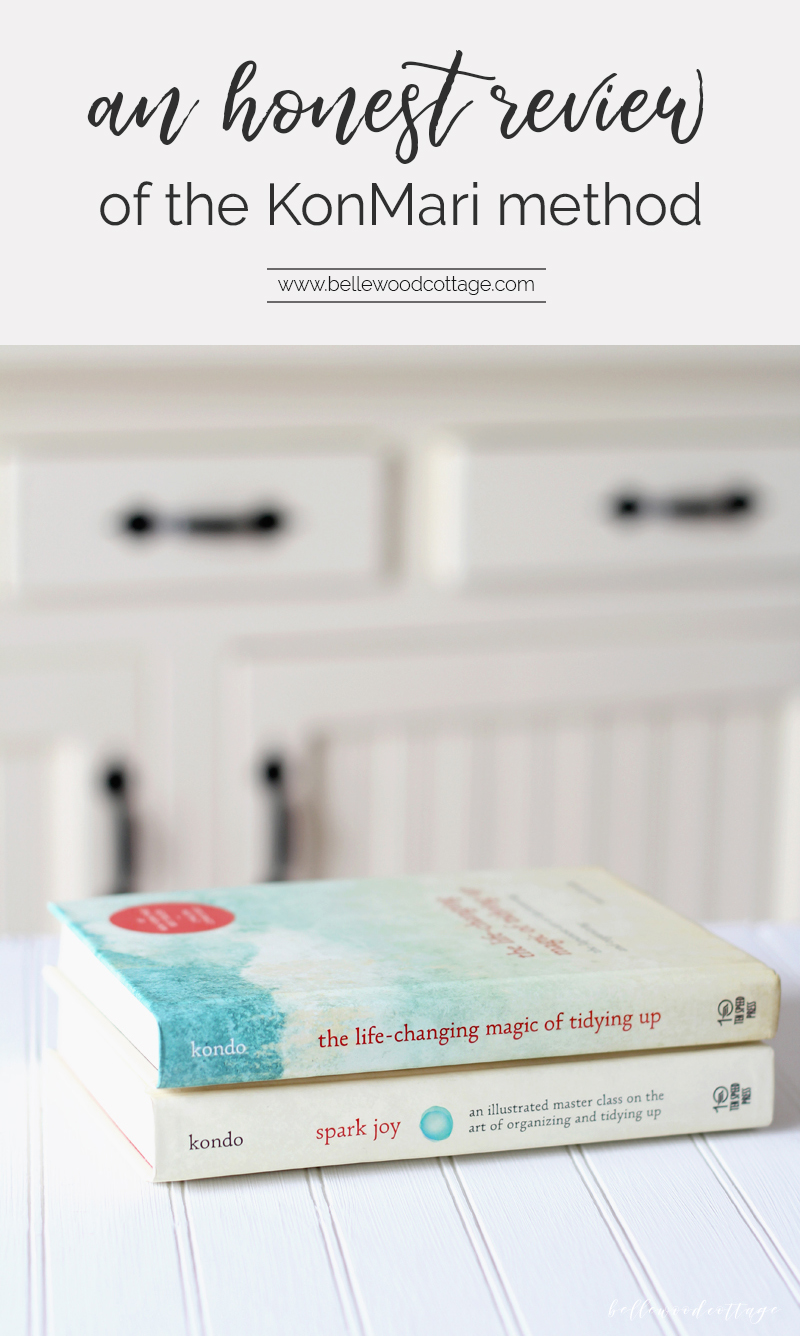 It's January and that means that tidying up is a hot topic. In my spare minutes I've been sorting, discarding, and organizing our home to better serve our everyday needs. With tidying up on the brain I wanted to share one of my favorite resources with you today!
Please note that this post contains affiliate links which allow me to earn a small commission when a purchase is made. Read more here.
The KonMari method first gained popularity when Marie Kondo published her best-selling book, The Life-Changing Magic of Tidying Up. Her methodical and unique approach to tidying up, as well her claim that not one of her clients has ever fallen back into a state of clutter, made it a pretty compelling read.
I find this book so charming (if an in-depth discussion about purging your belongings can be called charming?). Marie addresses clutter and tidying up in an encouraging, yet no-nonsense way that called me to get. it. done. One of the first things that struck me was the idea of working through the decluttering process once (fully and completely) and then being DONE.
For, like, ever.
For the girl that grew up with a room that never stayed tidy no matter how hard I tried (my craft desk was a daily nightmare), this was revolutionary. Tell me more, Marie.
What is the KonMari method of tidying up?
For those unfamiliar with the KonMari culture, here's how it works. You start by sorting and discarding your possessions fully and completely. The book provides techniques for accomplishing this effectively, including sorting by category, not room. Also, she never starts with mementos, or similar items. A sure way to crash and burn.
The main selection criteria for figuring out what stays and what goes may strike some as odd. She requests that you ask yourself "does this spark joy?" while holding each item. Odd, but I started to understand what she meant as I worked my way through decluttering my books and clothes. I quickly realized that while practicality might call me to keep certain items, I was astounded at how many things I just simply didn't even LIKE. Why did I own all these things?
The idea behind her strategy is that "we should be choosing what we want to keep, not what we want to get rid of" (p41 The Life-Changing Magic of Tidying Up). I love that philosophy!
After you have purged the excess stuff, the book continues the tidying up process with suggestions on organization and storage. Marie writes about the right way to fold clothes, store socks, and what in the world to do with all your photos. There are also plenty of tips on storage processes.
Including a tough love chat with those of us who insist on making piles of our stuff. Guilty as charged.
Now, there are a lot great practices and suggestions within the KonMari method as a whole. However, there's some weird stuff too. So let's chat about that.
What I don't like about the Konmari method
Is it possible to be too tidy?
It is worth noting that Marie Kondo is a tidying perfectionist. Which is honestly kind of awesome, but some of the anecdotes in the book prove that tidying can be taken too far. For example, one of her recommendations is to empty out your purse each day and put away each item in a designated spot. Useful? Perhaps. Practical? Maybe not.
The anthropomorphism
Throughout the book, objects are frequently assigned human characteristics. Marie suggests "thanking" your stuff for its service when you find it hard to let go. There is also a lengthy section on how your socks feel about being balled up and stuffed in a drawer. Treating objects as human or human-like definitely isn't for me.
However, I certainly don't disagree with parting with my goods with gratitude and thankfulness to God for providing me with such abundance that I actually have to give things away!
Look at the birds of the air: they neither sow nor reap nor gather into barns, and yet your heavenly Father feeds them. Are you not of more value than they? Matthew 6:26
There is also a lengthy section on Shinto charms and shrines, which I disagree with. I wouldn't throw the book away on that alone though. These sections can be easily skipped and the pertinent information still applied.
The book doesn't address what to do if you have a family…that you know, likes their stuff
I wish there were more suggestions on how to tackle decluttering and organization with a family. While the topic is covered briefly, the main takeaway boils down to leading by example. I think this both works and doesn't. I definitely have a hard time encouraging my husband to view clutter and organization the same way that I do!
Ok, enough of the cons, let's chat about where the KonMari method excels.
What I like about the KonMari method
Dealing with items in categories versus rooms
I think this is one of the Konmari method's stand-out tactics. When you are forced to collect ALL the items in a particular category before starting to sort and purge, it avoids the frustrations of finishing a section only to find more clothes, books, etc. in another area of the home. I also appreciate the strategy of starting with the easier stuff (clothes and books) first. Though admittedly, books are actually pretty hard for me!
Discard completely and then organize
I also appreciate how Marie advises discarding completely and then beginning to store and organize. Recognizing the true amount of things I need to find a home for helps me to come up with the best storage solutions.
Folding clothes in a consistent and tidy fashion
The tips for folding clothes have been really helpful. With the KonMari method, I can maximize my dresser space and keep it tidy. Like this:
Though The Life-Changing Magic of Tidying Up covers these folding techniques, I found the added details in the companion book, Spark Joy, to be useful as well.
I now fold all my plastic bags as she suggests. Perhaps a little over the top? But it takes seconds and is so tidy!
Designate a spot for each item
It's easy for things we use day-to-day (purses, shoes, kitchen items etc.) to never receive a designated storage spot. This creates the overflowing kitchen table syndrome that is the bane of tidy people everywhere. I am still working towards implementing this completely in my home.
One of my new practices is to always put away my necklaces on my designated necklace organizer. Nice and tidy!
Alright, so clearly I like the KonMari method. But has following the KonMari principles actually been "life-changing"?
Does the KonMari method work?
I would say yes, but it requires absolute follow-through to reach ultimate tidiness in your home.
I have successfully "kondo-ed" major portions of my life. Primarily clothes and books. My dresser drawers have stayed tidy ever since I arranged them according to the KonMari method (around 1.5 years?). I still need to follow-through with finishing every single category though (so challenging!).
However, overall the KonMari method has made keeping a tidy home a LOT more straightforward. I appreciate the simplicity of the method and I really do believe that a tidy home is good for the soul. I also find that as a creative person, I am freed to create when my house is in order!
Would I recommend the KonMari method to a friend?
Yes, I would. I would suggest using the KonMari method with the following caveats. First, the book emphasizes completion and perfection. While this may be necessary to never "relapse", it's likely not practical for all people and may only cause undue pressure.
Instead, use the principles to guide improvement and progress as you discard excess and organize your home. Be committed, but don't go overboard. Second, I would also caution against giving your "stuff" human qualities and instead direct your gratitude to God who provides (James 1:17).
Our God is a God of order, and I believe we can honor Him when our homes are tidy. It gives our families peace, saves us time, keeps our focus in the right place (rather than a focus on accumulating earthly possessions), and allows us to open our home to others at the drop of a hat. The art of tidying is indeed more than simply having a well-organized home.
Have you tried the KonMari method? If you are a steadfast fan or just curious, I would love to hear from you! How has the KonMari method changed your home or your perspective on discarding and organization?
Save
Save
Save
Save
Save