Dried Orange Slice Christmas Tree Ornaments
Dried Orange Slice Christmas Tree Ornaments are easy to make and add a lovely natural feel to Christmas tree decorations. Use a pretty yarn or twine that coordinates with your tree to hang them.
Love free craft ideas? Subscribe to Bellewood Cottage for more fun and relaxing craft ideas straight to your inbox.
For a simple (and inexpensive) Christmas decoration, try dried orange slices. One large orange can make a whole sheet pan worth of ornaments and you aren't limited to one citrus fruit either. Use a variety of citrus fruits to create ornaments for your tree, garlands, and gift toppers this year.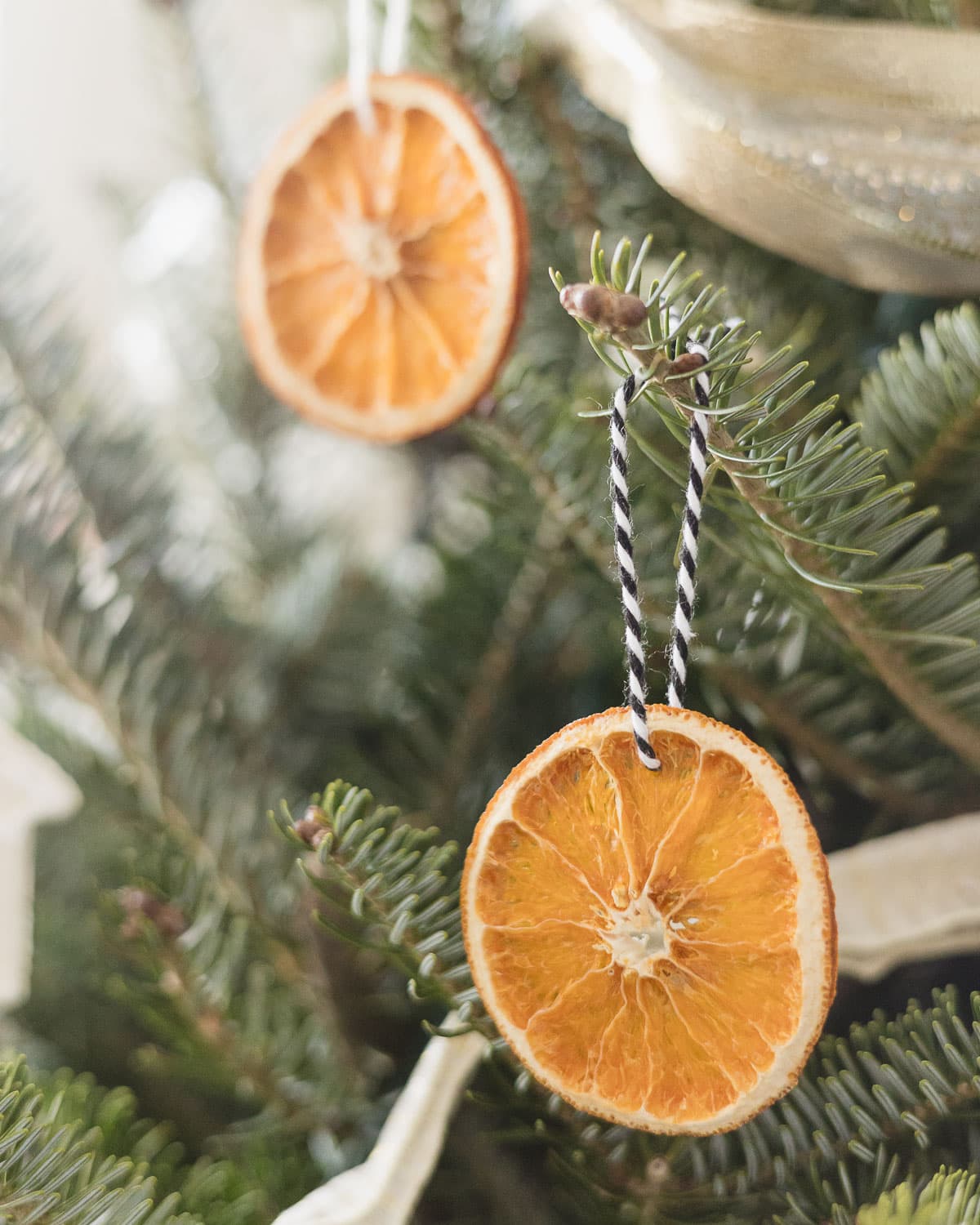 Supplies for Dried Orange Slice Ornaments
Oranges – You can use any variety of oranges for this craft. You could use clementines, grapefruits or lemons for other citrus options. You may want to experiment with the final size and color of other citrus fruits before making a huge batch.
Baker's twine – I love bold black-and-white baker's twine paired with these ornaments. You could also use a metallic twine, velvet ribbon, or yarn.
Other Supplies – Baking sheets, parchment paper, an oven and a knife.
How to Make Dried Orange Slice Ornaments
The main step for making these ornaments is drying the oranges. They are dried slowly in the oven and the juiciness of the fruit, the size, and the width of the slices all impact the time needed.
I generally plan for about 4-6 hours in the oven to dry the slices completely. However, you can also pull them from the oven and put them back in as needed if you don't have such a large block of time available all at once.
Slice the Oranges
Slice oranges into about 1/8″-1/4″ slices. You'll want to be sure you cut the correct direction to reveal the wedges. Cut off the navel end first and then continue to cut slices in that direction. Discard both ends of the fruit.
Arrange slices on a baking tray lined with parchment. Some overlap is fine, but more space is better so that the fruit can dry evenly.
I find the parchment helps wick away the moisture from the fruit. Using a baking rack that fits your pan works well too, but I prefer to skip the additional cleanup.
Bake the Sliced Fruit
Bake the slices at 200° F in the oven for 4-6 hours or until the slices are completely dry.
How to tell if they are dry? Slices that aren't completely dry will feel a little cool to the touch when you carefully touch them with a fingertip. Slices that are done will look quite dry and become stiff after cooling slightly.
I found that I needed to remove slices in batches. I'd have about 50% of the tray that was done and the rest that still needed some time. Once I reached that point, I'd just check the slices every half hour or so and continue to remove completely dried slices as they were ready.
Add Ornament Hangers
After the slices have cooled, cut a length of baker's twine and use a large needle to thread it through the top of an orange slice.
Tie the ends of the twine together. Trim ends.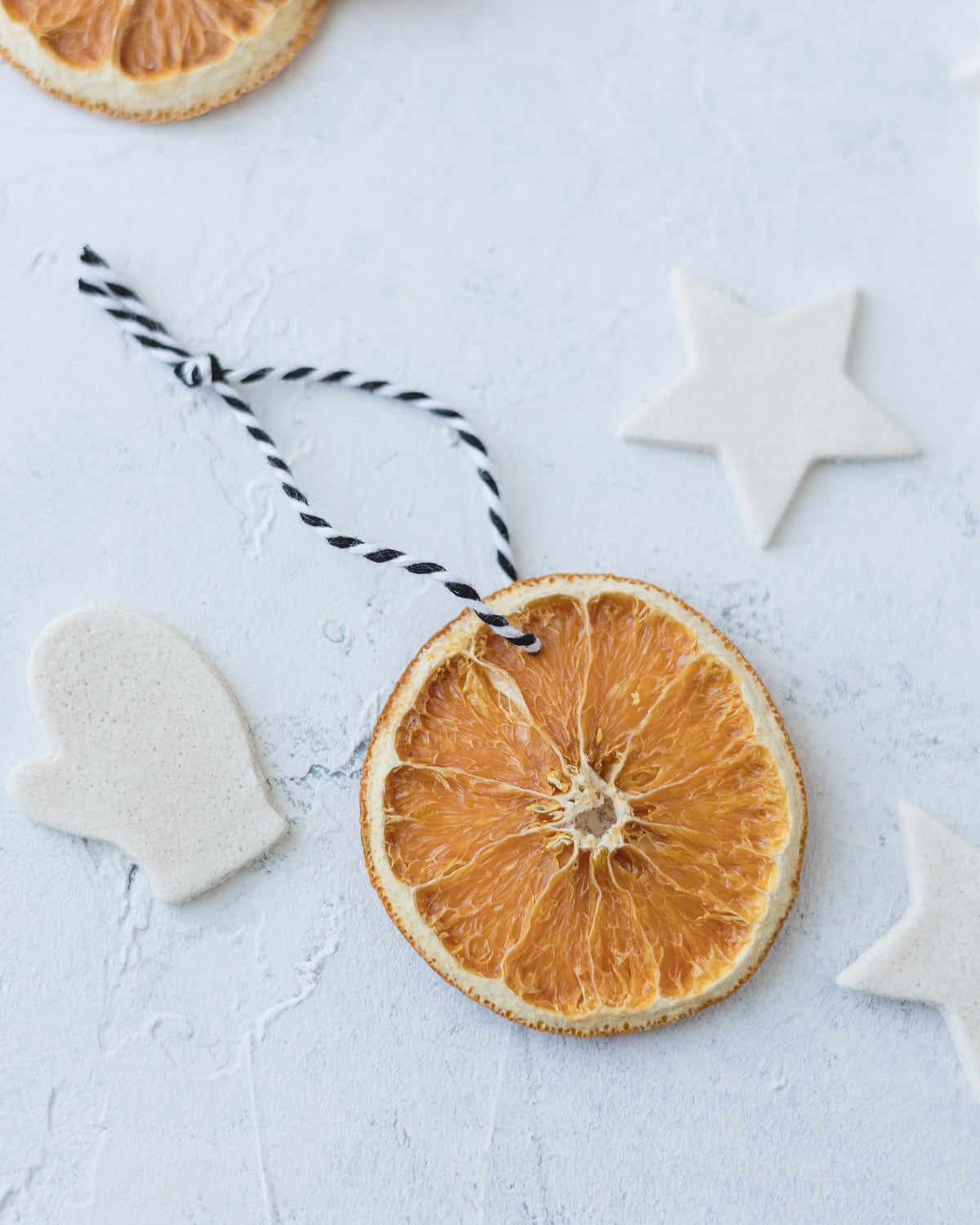 Use different types of yarn, ribbon, or twine to create a variety of looks.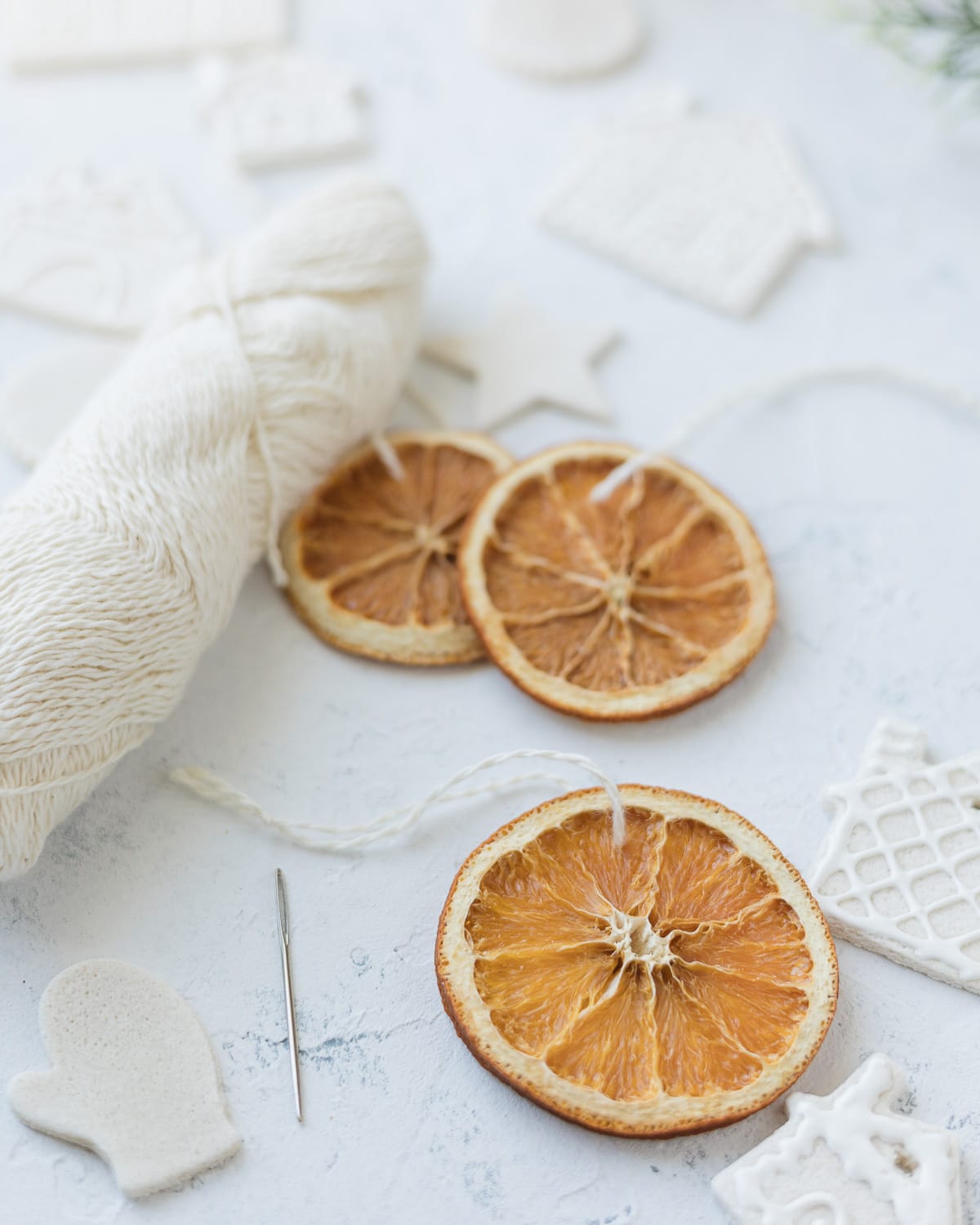 Hang on your tree alongside salt dough ornaments for a homemade Christmas.
Happy Crafting! ~Ellen
Craft with me! If you try this tutorial, tag me on Instagram or use the hashtag #BellewoodCottageCrafts. Watch my videos on YouTube and follow along on Pinterest for more ideas like this one!
More Handmade Ornament Ideas