Elephant Inspired Gender Neutral Nursery
Planning a gender neutral nursery? Learn how I pulled together ideas for a sweet elephant inspired gender neutral nursery, just right for a tiny babe.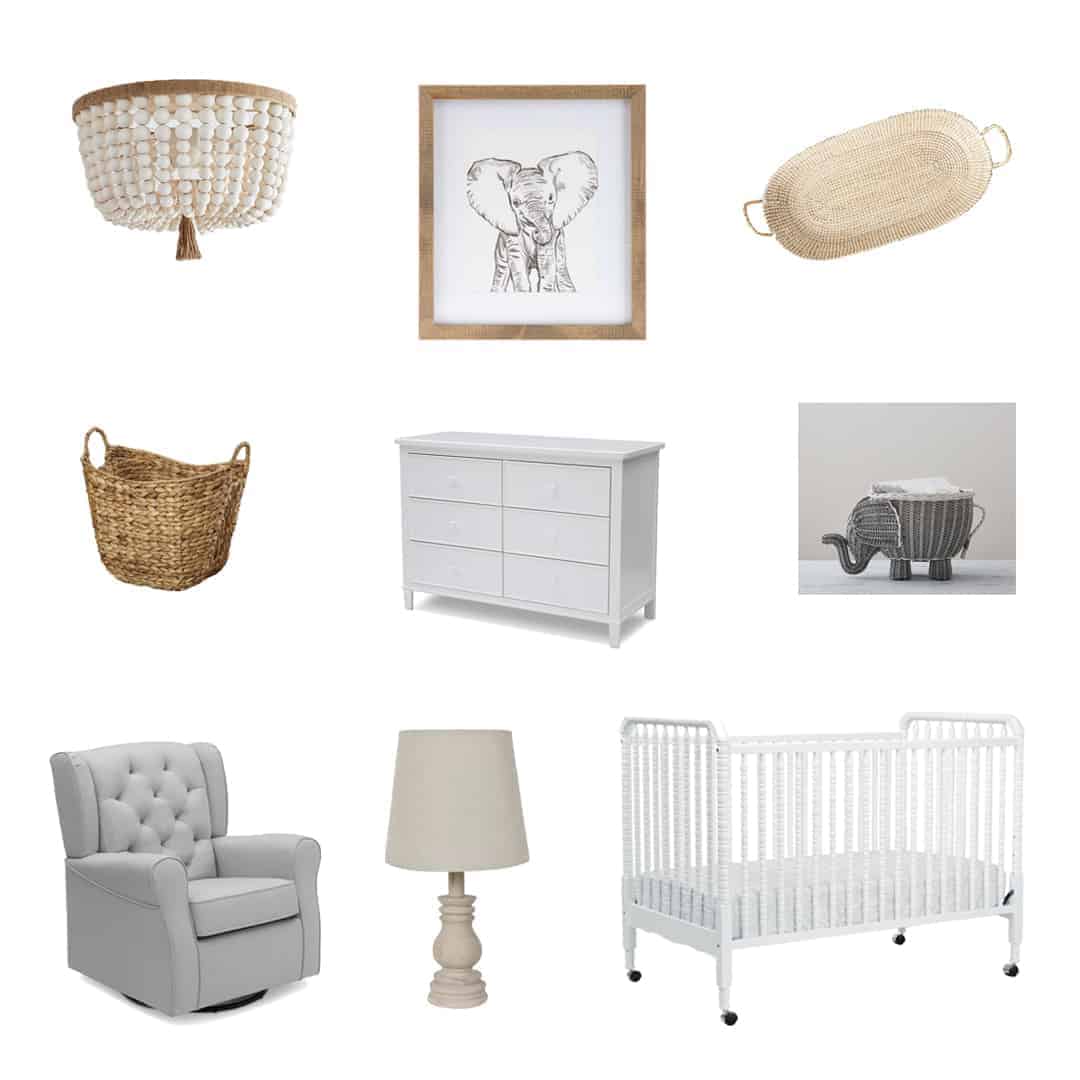 The time has come to start thinking about nursery plans. I posted on Instagram yesterday that the amount of CHOICES available for these tiny babes is overwhelming. I think the only thing I've settled on is that we'll buy a crib. Yup, some sort of crib. Out of the 26 million options, we'll pick at least one. Ha.
At any rate, I've been playing around with ideas for our nursery and stumbled on the idea of a sweet elephant theme. Of course, I've also come up with about 100 other ideas, so you can expect at least another post or two where I share more gender neutral nursery ideas. Note: Scroll to the end of the post for the full roundup of links.
Please note that this post contains affiliate links which allow me to earn a small commission when a purchase is made at no additional cost to you. Read more here.
Elephant Inspired Gender Neutral Nursery
Since our nursery is already painted (pre-pregnancy, woot!) I'm working off of those colors. We have a lovely soft gray, Drift of Mist by Sherwin Williams (walls), and a beautiful bright white, Chantilly Lace by Benjamin Moore (trim). I picked colors that I knew would work with either gender (we aren't finding out, pending any "oops" with our ultrasound!).
Now, why elephants? I have loved elephants ever since childhood and who knew, but it appears to be a popular nursery theme judging by all the decor options I found! Since I don't want to go overboard with a theme, I will likely sprinkle in just a few pieces of elephant inspired decor if I go this route. Scripture prints are also a must-have for me, so I've got my eye on a print or two from Gracelaced:
How to create a budget friendly nursery
As I picked pieces for this nursery, I tried to stay mindful of budget. Some of these items are on the pricier side, but as usual, I plan to employ as many money-saving tactics as I can! That includes shopping for similar pieces at places like Marshalls and TJMaxx, taking advantages of the big sales around the holidays, and watching Craigslist/Facebook Marketplace for secondhand deals. 
If you have planned a nursery for your littles, I'd love to hear any thoughts you have! Must-haves? Unnecessary stuff? Creative ideas for saving $$? I'm all ears!
How to design a gender neutral nursery

I love colorful gender neutral nurseries, but I'm a neutrals girl through and through (just check my closet), so that's the direction I headed with this nursery. I pulled a lot of white/gray pieces and am centering the design off this beautiful Jenny Lind style crib. It actually went out of stock at Target just as I was about to buy it for a MAJOR deal, and I'm still a little bitter.
I'm also bringing in some warmth with baskets, wall art (such as using warm wood tone frames), and bookshelves hung on the wall. I am hoping to get hubby to build me some shelves similar to these:
And how cute is this art from Hobby Lobby??
Of course, you can keep the elephant theme going with lots of accessories too, including this paci holder:
Or this teether:
These baby people sure know how to get a pregnant lady to buy stuff!
Well without further ado, here's the full round up of links for my elephant inspired gender neutral nursery! Hope you enjoy getting ideas from this post if you too are working on planning a gender neutral nursery.
<3 Ellen
1. Dahlia Flushmount Light
2. Baby Elephant Wall Decor
3. Kya Lamp
4. Persian Vintage Rug
5. Wicker Basket with Handles
6. Haven 6 drawer Dresser
7. Reva Changing Basket
8. Woven Elephant Shelf
9. Elephant Shaped Storage Basket
10. Emma Nursery Glider
11. Elephant Pull Toy
12. Davinci Jenny Lind Crib
More Baby Inspiration from Bellewood Cottage: