Pumpkin Ice Cream Dessert
Use canned pumpkin and creamy vanilla ice cream to create this layered Pumpkin Ice Cream Dessert. It's the perfect make-ahead dessert recipe for Thanksgiving!
Thanksgiving is a big deal in our family. We are all about the FOOD. Food, food, food. It's the time of year where we pull out our best appetizer recipes, make far too much stuffing/dressing, and indulge in pie-for-breakfast scenarios. It's a serious event.
So, as you might imagine, it's a fair bit of work too! That's why I love a great make-ahead dessert. And even better if it nods to the Thanksgiving dessert classic, pumpkin pie.
This Pumpkin Ice Cream Dessert was a recipe my husband brought to our marriage, from his dear grandmother. The first time I made it from his recipe it was a special remembrance of Thanksgivings gone by.
I was surprised then last year when I found the nearly identical recipe in my America's Test Kitchen Family Cookbook, which of course was published well after grandma had been preparing this dessert for her family. I would love to know how these old family recipes come to be! It's surely fascinating. And I imagine there is plenty of overlap throughout the generations and families.
My cookbook did have a few differences, namely the appearance of salt and pecans. So I made it again and this the result. I also swapped the gingersnaps in the original for my favorite Biscoff cookies. Either way you make it, it will be sure to please. And, since you can make this up to a week in advance, you will have one less thing to worry about in the days leading up to the holiday.
What Ingredients Do I Need?
This no-bake, make-ahead dessert is fuss-free and that includes your grocery list. Pecans (totally optional if you aren't a fan), ginger, cinnamon, and nutmeg kick things off. Then, a half gallon of vanilla ice cream paired with pumpkin puree (plus sugar and salt for flavor please!) and layered with spicy Biscoff cookies or gingersnaps. Easy!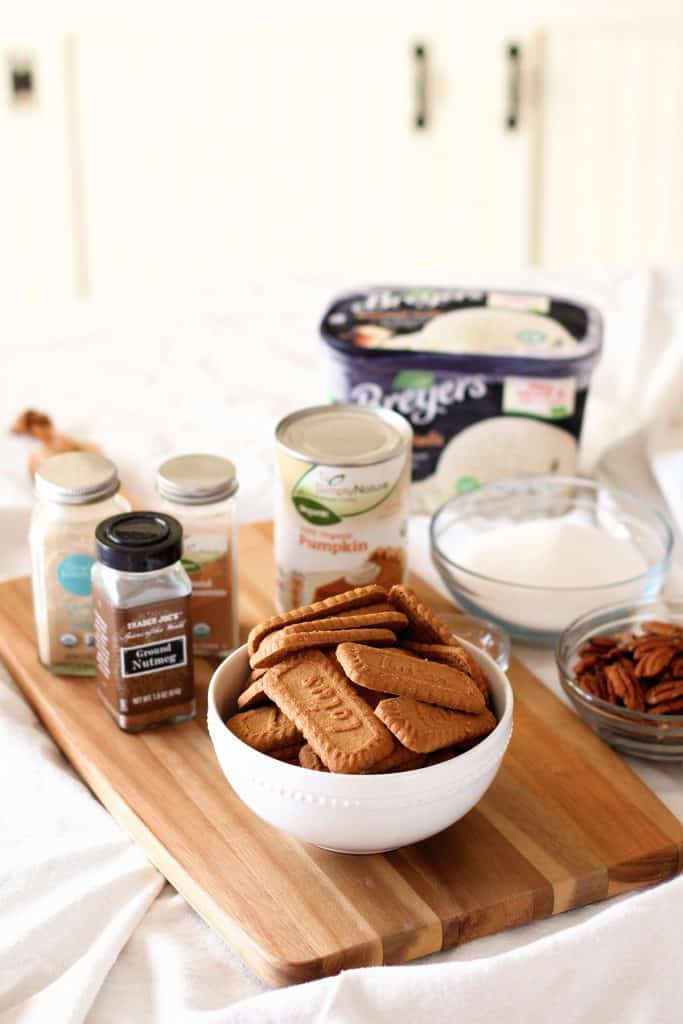 How Do I Prepare Pumpkin Ice Cream Dessert?
It's simple really! Toast some pecans, layer cookies in a baking dish. Then soften and stir your vanilla ice cream with pumpkin puree, sugar, and salt. Get layering in a simple baking dish with gingersnaps (or as my recipe notes, Biscoff cookies, yum!) and all that's left is to freeze until firm (6 hours).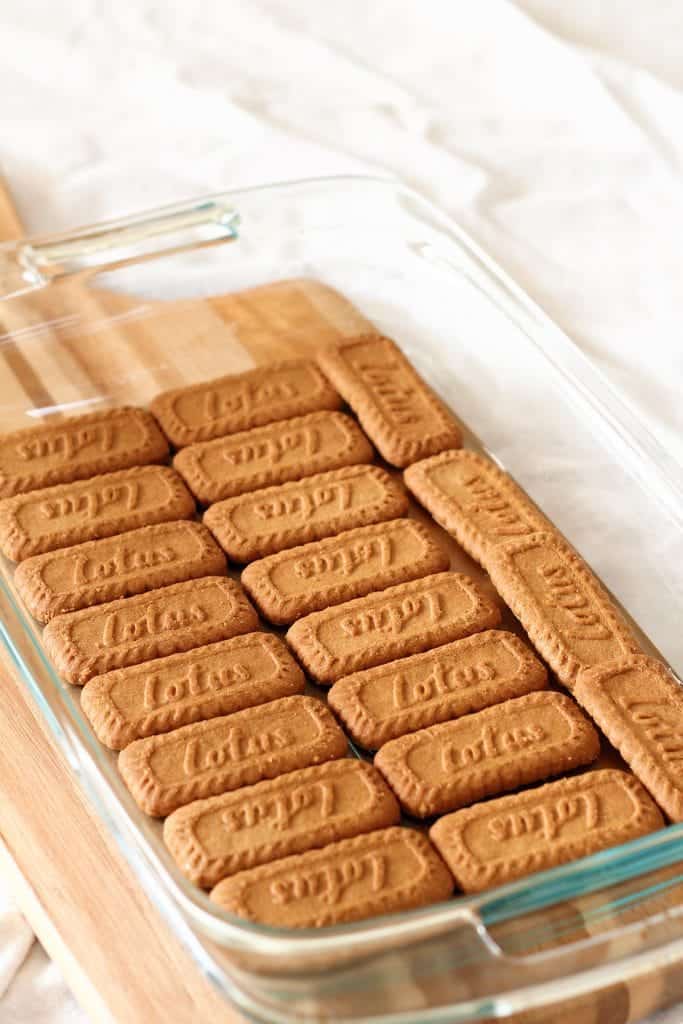 Do I Still Have Time to Make Pumpkin Ice Cream Dessert on Thanksgiving Day?
The dessert takes 6 hours to become firm in the freezer, so bear that in mind if you are running out of time. The best thing to do is make this a week in advance and then it's done, done, and DONE for the holiday feast. Can't beat that.
Homemade Whipped Cream
Preparing your own batch of whipped cream for your holiday desserts really takes things to the next level. Try preparing Homemade Whipped Cream using my easy recipe!
More Recipes from Bellewood Cottage
Pumpkin Ice Cream Dessert
Use canned pumpkin and creamy vanilla ice cream to create this layered Pumpkin Ice Cream Dessert. It's the perfect make-ahead dessert recipe for Thanksgiving!
Ingredients
¾

cup

pecans

chopped coarsely (optional)

1

tsp

ground ginger

1

tsp

cinnamon

½

tsp

ground nutmeg

40

Biscoff cookies

or gingersnaps, though you may need extras to cover your 9×13" dish if you substitute different cookies

½

gallon

vanilla ice cream

1

15-oz can pumpkin puree

(not pumpkin pie filling)

1

cup

granulated sugar

1

tsp

salt

homemade whipped cream

for serving, optional
Instructions
Toast the pecan and spices (ginger, cinnamon, nutmeg) in a small nonstick skillet over medium heat until lightly toasted and fragrant, roughly 5 minutes. Don't overdo! It's easy to burn pecans. Transfer to plate to stop the cooking and let cool.

Arrange half the Biscoff cookies or gingersnaps to cover the bottom of a 9"x13" baking dish (a little overlapping is ok).

Scoop the ice cream into a large bowl and soften by mixing and mashing with a wooden spoon. When the ice cream is soft enough to stir (but not melting!) fold in the pumpkin, sugar, salt, and the cooled pecans/spices until combined.

Spoon half the ice cream mixture over the cookies in the baking dish and gently smooth the surface. Add the remaining cookies to the top of the ice cream and then finally, top with the rest of the ice cream mixture. Cover the top with plastic wrap (two layers is best especially if preparing in advance) and then freeze until firm, about 6 hours.

To serve, cut into squares and top with whipped cream. If you are feeling fancy you could toast additional pecans and top with pecans and a sprinkle of cinnamon too!
Notes
My husband's original recipe does not call for pecans. I thought they were a fun and festive addition from the American's Test Kitchen, but if you prefer to skip, you certainly can.
This recipe serves 12 generously. If your Thanksgiving menu includes other desserts, you could plan that this would serve 16 (or maybe even up to 20) alongside those other treats.
One standard 8.8 oz package of Biscoff Cookies includes 32 cookies, meaning you'll need to buy two to have enough for this recipe. However, I don't think you'll have a problem finding a way to finish off that 2nd package.
Make it ahead: Prepare the Pumpkin Ice Cream Dessert through step 4 and then leave it in the freezer until needed, up to 1 week (though we have done slightly longer to no ill effects!). The ease of making this ahead makes it a perfect choice of dessert to finish well before the Thanksgiving holiday!
This original recipe is from my husband's grandmother and was found nearly identically in the (much newer) American's Test Kitchen Family Cookbook. This version is a hybrid of the two, with the additional twist of substituting the gingersnap cookies for Biscoff, a family favorite.
Nutrition
Calories:
532
kcal
Carbohydrates:
73
g
Protein:
7
g
Fat:
24
g
Saturated Fat:
12
g
Polyunsaturated Fat:
2
g
Monounsaturated Fat:
8
g
Cholesterol:
69
mg
Sodium:
450
mg
Potassium:
424
mg
Fiber:
2
g
Sugar:
55
g
Vitamin A:
682
IU
Vitamin C:
1
mg
Calcium:
227
mg
Iron:
2
mg