Best Freezer Meals For New Moms
Welcoming a baby is exciting, but overwhelming too. One of the best ways to make life a little easier is to stock your freezer with delicious freezer meals before having a baby. This list includes all my favorite freezer meals for new moms. Breakfasts, snacks, dinners, and (must-have) desserts so you can stock your freezer with food you will love eating.
Please note that this post contains affiliate links which allow me to earn a small commission when a purchase is made at no additional cost to you. Read more here.
I was so glad I prepared freezer meals before having my first child. Those first few days are a total blur, and preparing food from scratch just isn't always possible.
Prepping meals and snacks in advance is one way you can help make the transition easier on the whole family. Keeping tummies full helps everyone feel better–even if sleep seems futile!
I'm pretty picky with my freezer meals. Lots of freezer meals just do not live up to the hype. And I don't like the meals where they are "prepped" in advance, but then require a bunch of steps after cooking to finish.
So, my list includes meals I truly loved in the postpartum season and make all the time (not just when expecting a baby). I hope you can grab plenty of fresh ideas from the list and stock your freezer with options you are excited to cook and eat.
Stock Up on Staples
Before we get started on the recipes I like, I wanted to mention a couple of other tips for stocking your freezer ahead of a new baby's arrival.
If you have an extra freezer, this is SO much easier. You can shop before baby comes, stock the freezer full, and you are set.
Otherwise, what works well is to keep an ongoing list of your frozen "must-haves" (whether frozen fruit, chicken, or whatever) and when you order groceries, shop, or a friend offers to drop off a few things, you can remember to replenish the items you know you are eating regularly.
Costco Is My Best Tip for Frozen Staples
In my opinion, Costco's frozen food aisles are unmatched. The prices are fantastic, there is a large variety (including a lot of options for special diets), and nearly everything is high-quality and tasty too.
The downside is that the large packages mean that if you don't have additional freezer space, you'll be limited in how much you can stock up.
My Favorite Frozen Foods at Costco
This is a list of my favorite frozen foods to grab at Costco. You can often find smaller packages of these items at other grocery stores if you have limited freezer space.
Frozen mixed berries make an easy healthy snack since they are low in sugar and high in fiber.
Frozen mango comes in a giant bag chopped and ready to eat (trust me, no one has time to cut up mangos after having a new baby!).
Wyman's wild blueberries are great on oatmeal or cereal for some extra fiber and nutrition.
Frozen veggies – There are so many choices here, great for stocking up!
Garden deLites Chocolate Veggie Muffins (our store rotates through the flavors and the best is chocolate! The other flavors are kind of meh in my opinion.)
Just Bare Chicken Chunks are amazing cooked in an air fryer and served with Chick-Fil-A sauce!
We also like the Golden Platter Gluten-Free Chicken Nuggets.
Jones Fully Cooked Pork Sausage is quick to brown in a pan and we add it to simple meals like scrambled eggs or pancakes.
Orange Chicken makes a quick dinner with rice and maybe a salad mix or frozen broccoli.
Smoothie Packs are handy–just blend with milk and any additional smoothie favorites.
This is honestly just a start. There are so many great options in the Costco frozen section!
You can also purchase fresh ready-to-go foods and freeze them yourself. Costco's bakery muffins and bagels are excellent. Purchase, slice in half, and freeze.
Best Freezer Meals – Dinners
These are recipes our family has tested, eaten, and loved. They are easy to prepare in advance, freeze well, and taste great when you are ready to eat them. Be sure to pay attention to the freezing instructions within each recipe and date all your meals so you eat them before they start to take on freezer burn.
Note: These are also fantastic go-to recipes if you are bringing a meal to a friend. Homemade meals are hugely appreciated when adjusting to a new baby in the home. I like having a few standby recipes I can prepare quickly and drop off.
Breakfast Burritos from Happy Money Saver
These burritos are a good breakfast or dinner option. They take a bit of extra time (the rolling and wrapping of individual burritos), but turn out so yummy. This recipe is a hit at our house!
Chicken Enchilada Soup from Bellewood Cottage
This easy soup mostly just requires opening cans and adding shredded chicken and some soft cream cheese at the end. It's so quick it almost feels silly to make it a freezer meal, but it does help to have it totally ready to go!
To save freezer space, you can prepare the soup as directed, but skip the chicken broth and add it in when you thaw and heat the soup.
Bean and Cheese Burritos from Isabel Eats
Another simple burrito idea. Burritos are easy to eat which is helpful when you are holding a baby in one arm and attempting to eat with the other. You can customize this recipe easily (such as adding veggies in).
Chili (just use your favorite recipe!)
Chili freezes well and is packed with protein–great for easy meals after baby! Most recipes freeze really well, so use your favorite(s).
Tip: I recently bought these plastic freezer-safe storage containers off of Amazon and they are great. Packing soups and stews can be so awkward, but these containers have been a big help. Just be sure to cool food completely before packing it in plastic.
Chicken Enchiladas from Isabel Eats
I love this one! You can make your own homemade enchilada sauce or just purchase it from the store.
This lasagna claims to be the easiest and it truly is. I often use the ALDI brand of no-boil lasagna noodles (I don't like the Barilla brand which just turn to mush) and add the additional liquid that the package suggests. The no-boil noodles make it even faster.
Note: Sometimes a 13″x9″ pan of lasagna feels like a lot–especially for smaller families. You can also prepare larger recipes in two 8″x8″ pans so you get two freezer meals out of the recipe–and no overwhelming leftovers.
Detox Lentil Soup from Pinch Of Yum
This lentil soup is packed with protein and veggies. It can be a bit time-consuming to prepare with all the chopping, but it's a great nutritious recipe to pack into your freezer.
Note: Pinch of Yum has a whole lineup of freezer meals so check that out for more ideas.
Wild Rice Soup from Pinch of Yum
We love this recipe! Easy comfort food. I think it's probably the best texture if you follow the freezing instructions to make the creamy base after reheating the frozen soup…but I don't usually have time for that! I make it as directed in the original recipe and then freeze.
Lasagna Florentine from Pinch of Yum
Just a simple no-meat lasagna. I found this to be perfect for easy lunches for myself. Very quick to make too. If prepping for smaller lunchtime quantities you can easily divide up the recipe among smaller pans.
Quinoa Stuffed Peppers from Pinch of Yum
This recipe wasn't a slam dunk for me, because the frozen version didn't cook in the given time. However, it's very easy to make, free of meat, and includes plenty of hearty high-protein quinoa. I'll make this one again and just allow the peppers to partially thaw in the fridge before cooking next time.
Taco Meat Packets
I use the homemade taco seasoning recipe from Iowa Girl Eats and prepare ground beef ahead of time for easy freezer meals. Reheat the meat and serve with taco fixings like tortillas, shredded cheese, tomatoes, olives, and lettuce for a quick family-friendly dinner.
I usually freeze 1/2 pound packets, but you can freeze in any amount that makes sense for your family size.
Best Freezer Meals – Breakfast
Pumpkin Muffins – I like this easy Pumpkin Muffin Recipe from Pretty Simple Sweet. It's quick to make and the muffins turn out soft with just the right amount of sweetness.
More options would be these Double Chocolate Muffins or Blueberry Muffins from Sugar Spun Run.
Make-Ahead Smoothies are easy to prep in advance and super handy.
This Biscuit Egg Casserole from Sally's Baking Addiction is another favorite that is delicious and filling no matter the time of day. Freeze the whole pan or cut into squares and have individual servings ready to go. I've made this for friends with new babies often and it's always a success!
Note: Egg bakes tend to freeze really well so try freezing your favorite recipe. French toast casseroles are also great. It's easy to customize these dishes and freeze either single-serving portions or whole pans, whichever you prefer.
This Hashbrown Breakfast Casserole from Lil Luna has also been a big favorite lately. I haven't tried freezing this one yet, but I think it would work just fine. It's quite rich so it's best served with plenty of fresh fruit or some lighter sides.
Best Snacks to Keep In the Freezer
No Bake Energy Bites from Chelsea's Messy Apron
These bites usually don't even make it into the freezer because they are so good. A high-energy snack for postpartum moms!
Other good snacky foods for the freezer are muffins, granola bars, and higher-protein options like egg muffins. Use your favorite recipes and freeze in sturdy packaging so they last well.
Honestly I don't plan to prep many snacks for the freezer. Snacks are one of the easiest things to grab at the grocery stores so I use my freezer meal prep time for preparing dinners instead.
Best Desserts and Treats to Store In the Freezer
Prepping desserts is definitely an "extra". If you have time, it can be a lot of fun. Otherwise, we all know that desserts are far too easy to come by–whether in the grocery store or as friends drop off food and treats to celebrate the new arrival!
I do love baking though and I love dessert. So having some comfort foods in the freezer including my top dessert recipes is a must for me.
One of my favorites is cheesecake that is *just* about thawed completely. It's so darn good. Even more delicious when you are incredibly hungry and sleep-deprived!
I highly suggest baking up a pan of Mini Cheesecakes or Cheesecake Bars (don't skip the chocolate ganache) and freezing the individual portions. If you go with the Mini Cheesecakes (made in a muffin pan) you will be able to skip time-consuming cutting of bars. Freeze those little gems and pull one out from the freezer anytime you need an ASAP pick-me-up.
I will also be making at least one of these recipes: Frosted Sugar Cookies, Classic Peanut Butter Cookies, and Mini Chocolate Chip Cookies for a easy treats.
This Crumbl Copycat Recipe for Peanut Butter Blossoms is under consideration too. They are rolled in sugar and so chewy and yummy! To make these easy to freeze, I'll just spread the frosting on with a spatula instead of piping it.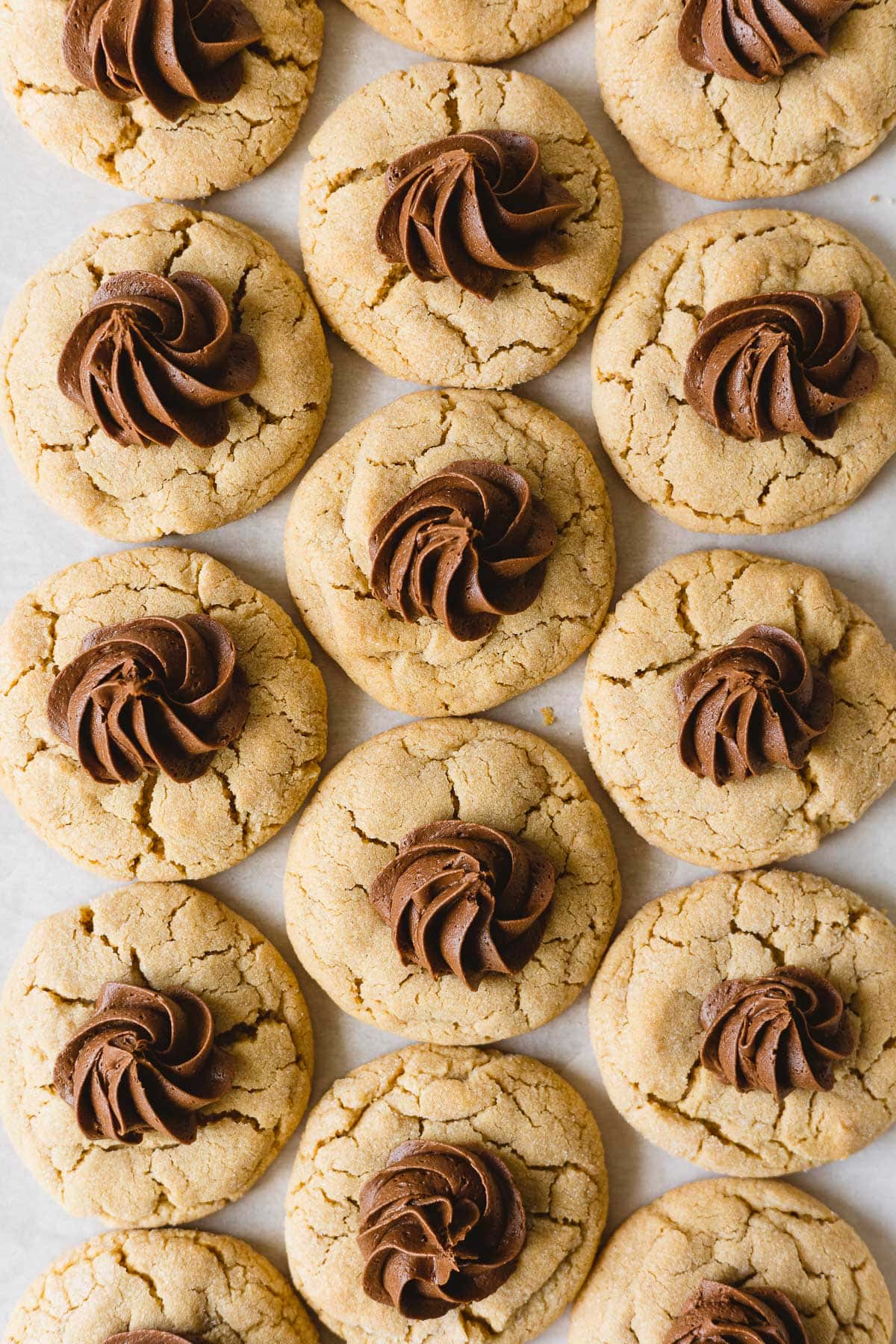 What meals, snacks, and desserts did you pack before your baby arrived? I'd love to hear about your favorites too!
More Baby Posts