Chalk Paint Too Thick? How to Thin Chalk Paint
Chalk paint too thick? Learn how to thin chalk paint with this quick tip! The first thing you might notice when you begin painting with chalk style paint is that the consistency is quite thick. This can make it tricky to apply. Learn how to water down chalk paint so it's faster and easier to paint furniture.
Please note that this post contains affiliate links which allow me to earn a small commission when a purchase is made at no additional cost to you. Read more here.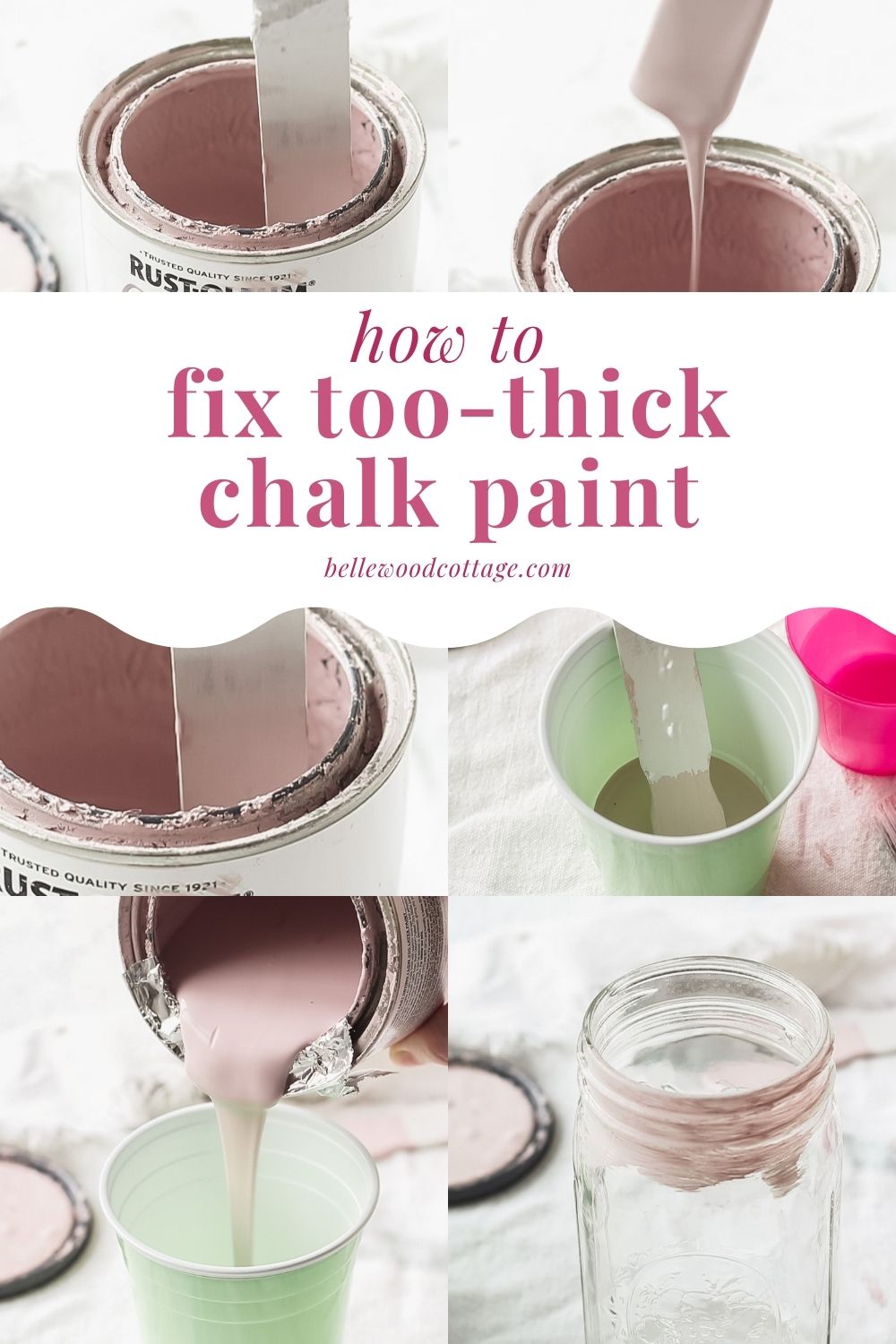 If you are diving into the world of chalk paint, then you've probably already realized it's a bit different from other paints. Chalk style paints (particularly Annie Sloan Chalk Paint–the original and trademarked Chalk Paint) are quite thick.
Chalk Paint Too Thick?
Thicker chalk style paints can be a real asset when you realize you'll likely only need one coat of paint on a piece. However, the thick paint can also be hard to work with. The brushstrokes left by this thick paint are also quite defined.
And, if you're like me, you're probably planning on doing a second coat anyway (I always miss at least a few spots on the first coat!). In which case it really doesn't make sense to struggle through painting with ultra-thick paint.
Luckily, it's easy to water down chalk paint to make it easier to work with, lessen brushstrokes, and even help your paint can go a little further.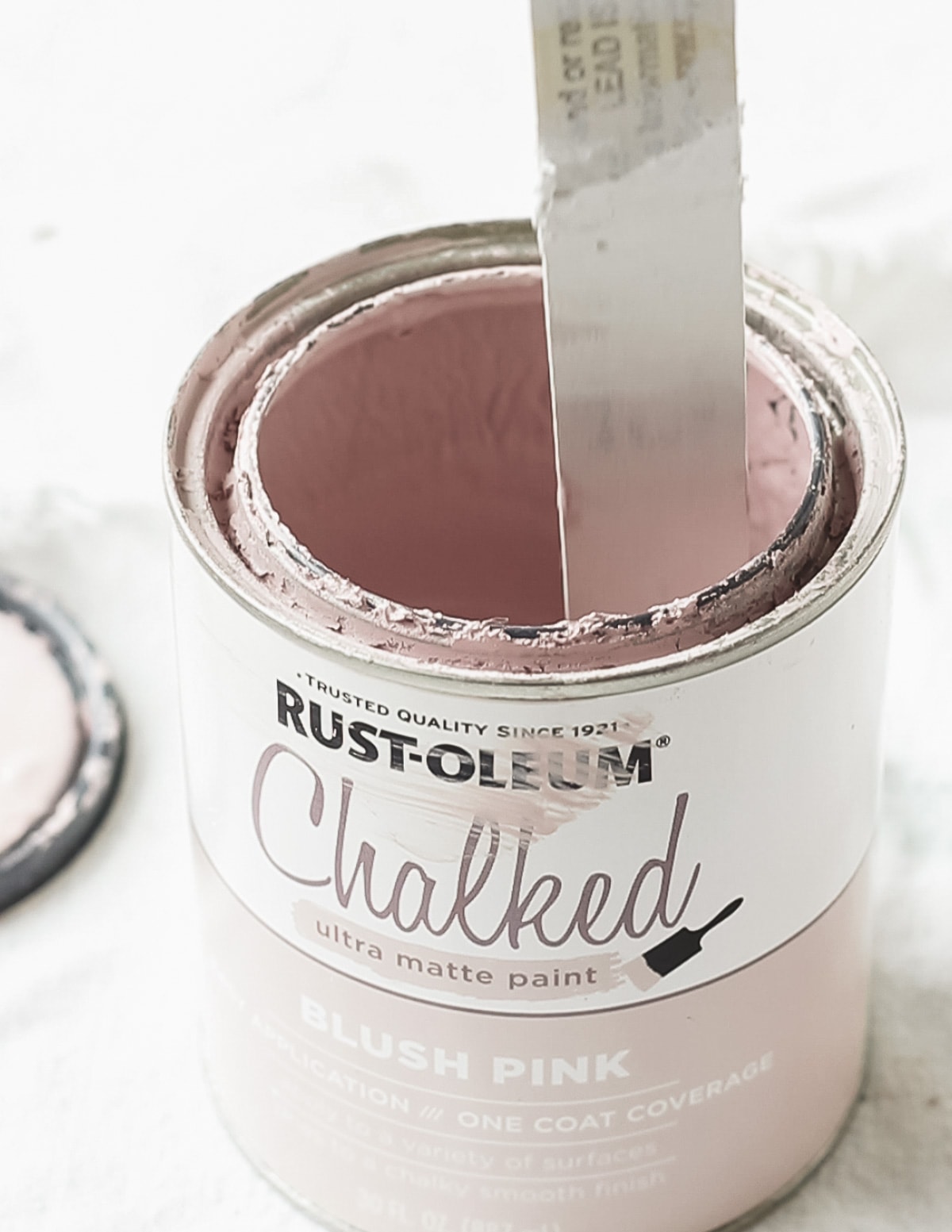 How to Thin Down Chalk Paint Step by Step
If you'd rather watch a video, find one linked at the end of this quick tutorial.
Supplies: You'll need chalk paint, a paint stick for stirring, a separate cup/container, water, a measuring spoon and a little tinfoil.
1. Pour some chalk paint into a separate container.
First, move some paint into a separate container (I usually use a plastic cup). You can gauge the amount based on the size of your project, but for the sake of demonstration I'm using 1/3 cup of paint.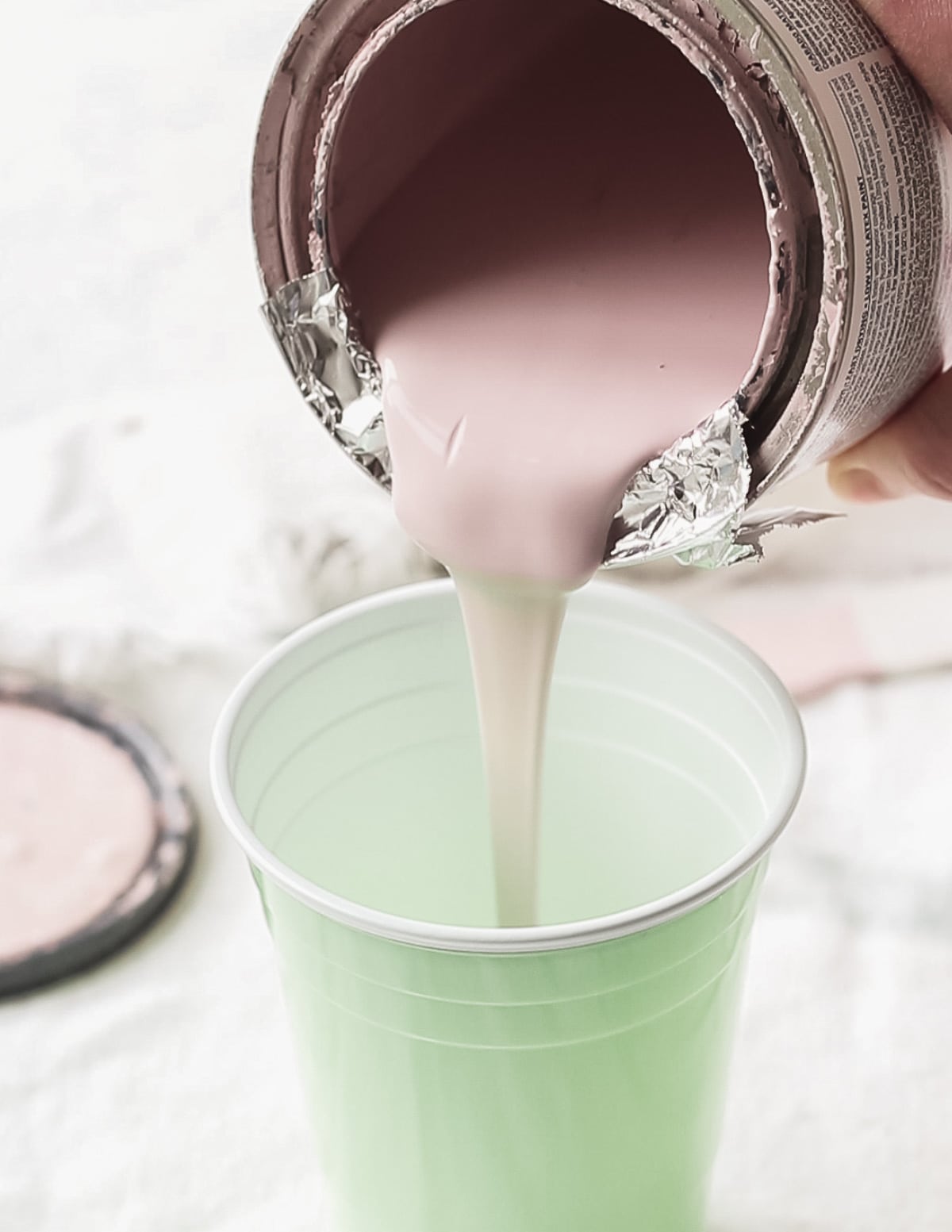 Tip: When pouring your paint into a separate container, wrap a section of tinfoil around the rim of your can. This prevents the paint from flowing over the rim of the can and making it all gunky like the can above!
2. Add water to the chalk paint.
To 1/3 cup of chalk paint, I will add about 1/2 teaspoon of water at a time. If you know you'll be using a larger amount of paint, feel free to start with more paint in the cup. Since you have the paint in a separate container it's easy to add a little more paint if you mistakenly water it down too much.
Stir the paint thoroughly.
I think I've seen Annie Sloan recommend about a 10 to 1 ratio when thinning down paint. My method uses less water at the start, but by the time we're done adjusting the consistency we'll probably be closer to something like 10 to 1. It's really just all about achieving the consistency you are after!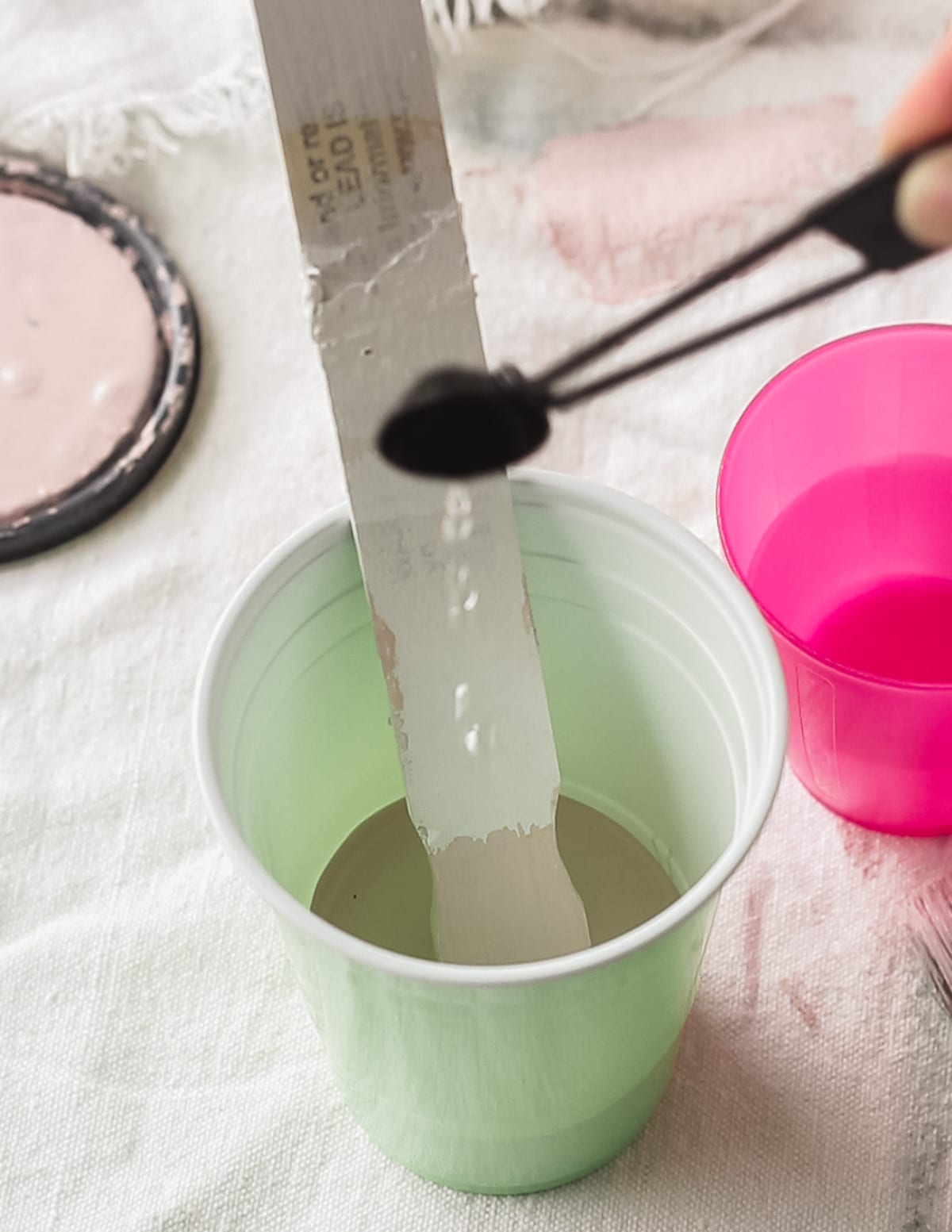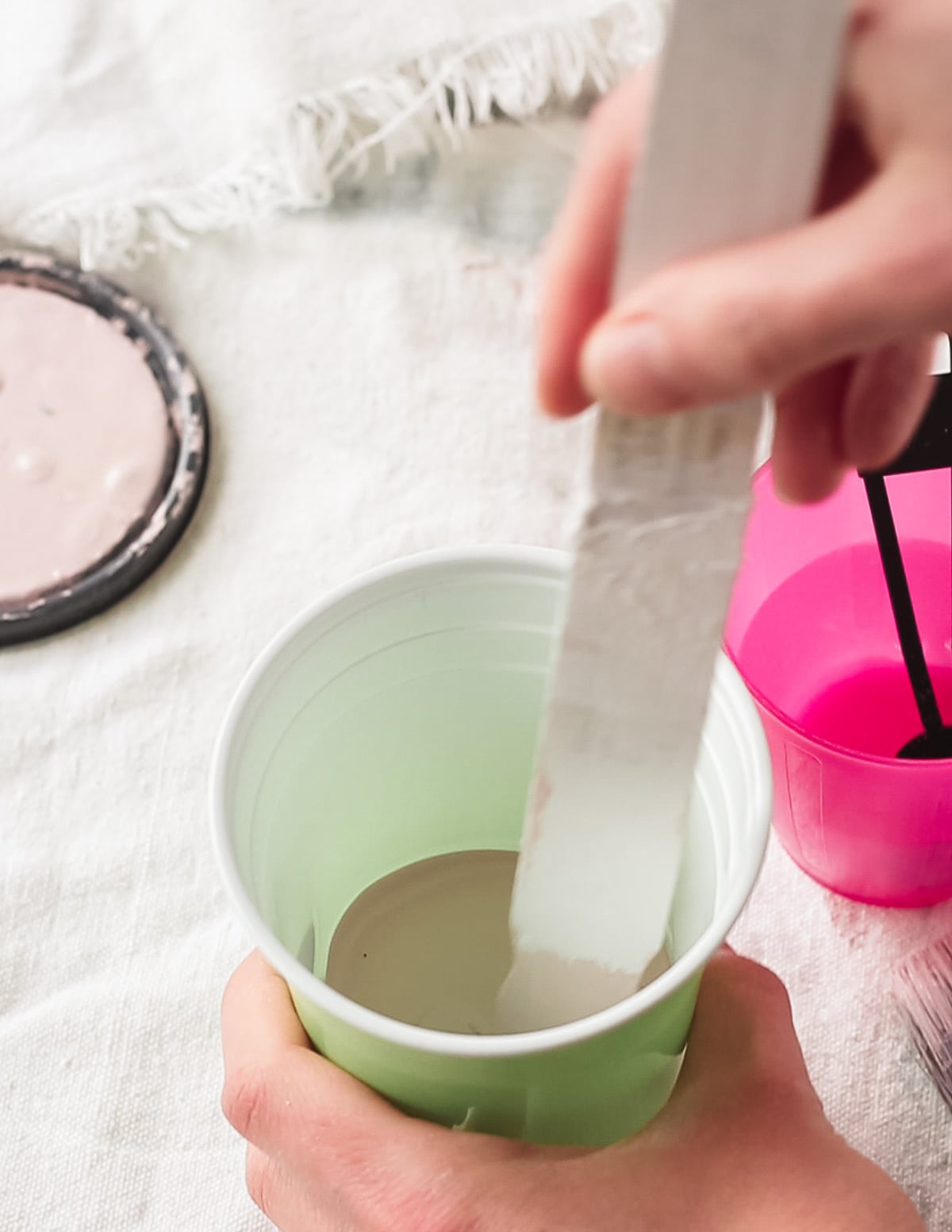 3. Add more water as needed.
Continue adding water in small amounts and stirring well between additions until the desired consistency is reached.
You can even thin the paint down to a wash to create some interesting effects as you paint furniture or other projects.
4. Time to paint!
Now you are ready to paint your project.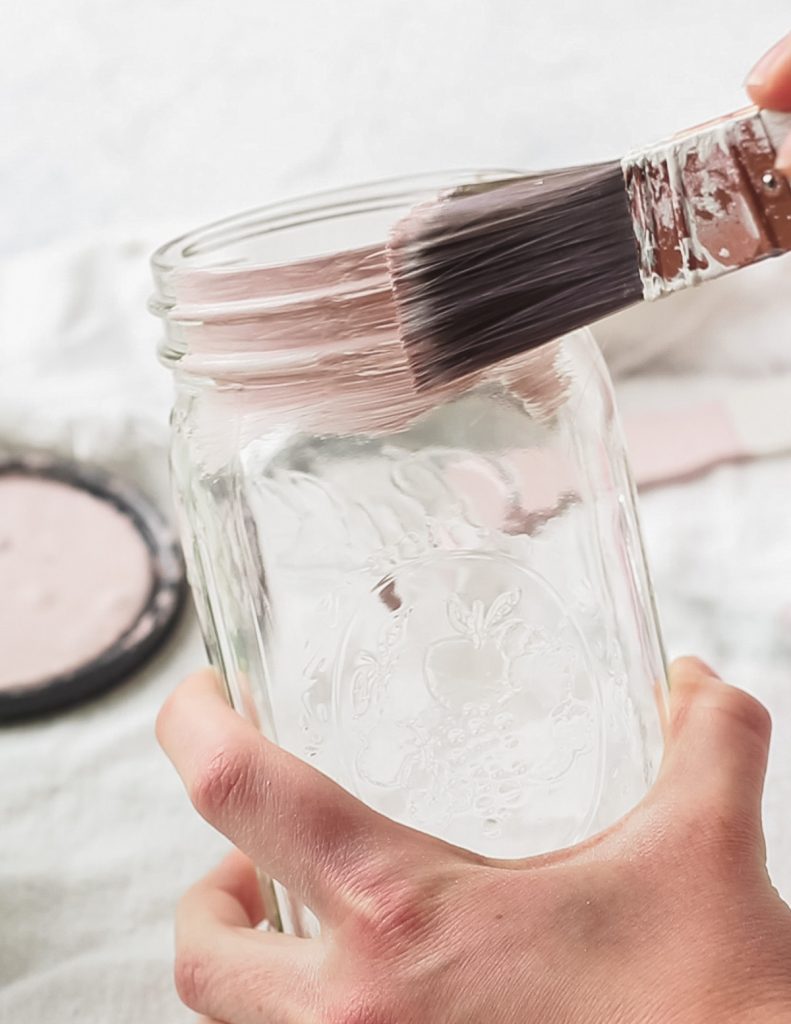 What Kind of Water Should I Use?
Remember to always thin your paint down in a separate container–not in the original can. We have filtered water so I usually just use some of that, but distilled would be a great choice especially if you anticipate that you may be storing the thinned down paint for some time while you make progress on your project.
So long as you are using a separate container to thin down your paint though that will protect the full can.
More Notes
Paints: I find that Annie Sloan Chalk Paint and Rust-Oleum Chalked tend to be thicker and I often thin these paints down before using.
Brushstrokes: Know that you will still have brushstrokes even with thinned down chalk paint. If you are looking for a paint without brushstrokes, chalk paint probably isn't the right choice for your project.
Stir the paint: After adding water to paint don't forget to stir it occasionally to keep the liquid mixed in well.
Storing paint: When I'm ready to store my chalk paint that I've transferred to a plastic cup I cover it with a piece of plastic wrap and rubber bands to store.
Whether you love to paint furniture or use chalk paints on craft projects, I hope that this quick tip was helpful!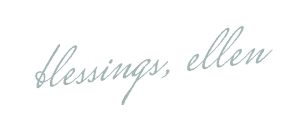 More Chalk Painting Tips & Tricks