KILZ Chalk Style Paint Review
In this honest review of KILZ Chalk Style Paint, I will talk about the cost, quality, availability, ease of use and more! If you love to paint furniture or similar projects, you'll want to hear about this paint.
Please note that this post contains affiliate links which allow me to earn a small commission when a purchase is made at no additional cost to you. Read more here.
First, a quick word about chalk paint and chalk style paint. Chalk Paint is actually the registered trademark of Annie Sloan, who originally created the model of a super-thick matte paint. Here's what Annie says: "Chalk Paint® is the brand name for Annie's unique water-based decorative paint." If you want to know more, check out my post, "What is So Great about Chalk Paint?"
A Quick Review of KILZ Chalk Style Paint
First off, note that the product I'm reviewing is the KILZ Chalk Style Paint line (not the Magnolia Chalk Style Paint line from KILZ and Joanna Gaines). I recently used this paint and clear coat to complete my IKEA Play Kitchen Hack and was really happy with the way the paint turned out. I definitely have some thoughts for you though!
Here's a quick summary of what you will find in this review:
Cost: What is the price per quart?
Colors: How many color are available?
Ease of Purchasing: Where can I buy It?
Ease of Application: Is it easy to use?
Project Results: How does the finished product look?
Other notes
Cost of the Paint
The KILZ Chalk Style Paint costs about $15-20 per quart, depending on where you purchase it. I noticed at one online retailer that some of the colors cost less than others, so you may want to take note of that.
There is a spray paint available too which is about $7 per can. I used the clear chalk style spray paint from KILZ to seal my IKEA Play Kitchen. Finally, KILZ offers clear wax and dark wax for sealing your piece.
Paint Colors Available
The paint comes in 13 colors and the spray paint comes in 6 colors. You can check out the colors here or here (full set). The colors include staples like white, gray, robin's egg blue, a gray/beige, red, yellow, and more.
What I Thought of Blue Juniper
KILZ Chalk Style Paint in Blue Juniper is what I used for my IKEA Play Kitchen Hack. I actually really liked it out of the can, but it dried a bit darker and more saturated than it looked originally, at least to me.
It's a nice bright robin's egg blue, but you might want to mix in a tiny bit of gray or white to tone it down a little if you like a more subtle look. Note: I always mix my paint in a separate container.
(you can see it didn't end up matching my kitchen's "backsplash" very well!)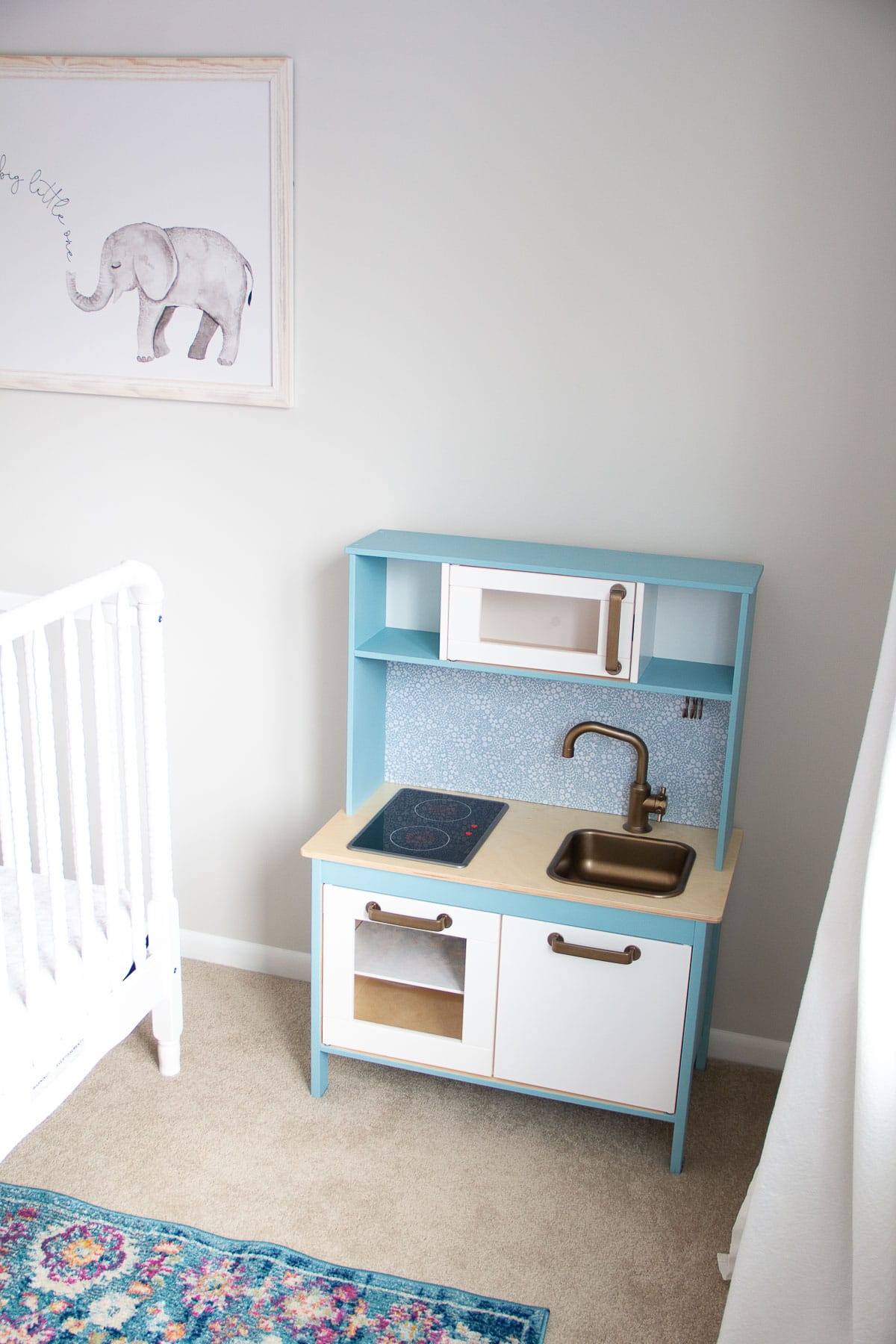 Where Can I Buy the Paint?
The paints can be purchased via Amazon here or Walmart here. Both are convenient options, so that is a win. If you have ever purchased boutique furniture paints before then you know that it can sometimes be a challenge to find a local retailer (or else pay for shipping costs).
I purchased my paint from Amazon and it was shipped extremely well and arrived in great shape. Note that the can says "white" very prominently, which may be alarming if you purchased a color, but white is just the base and the label on top should have your color listed.
Is KILZ Chalk Style Paint Easy to Use?
Yes! The paint applies well, isn't overly thick, and I only needed a small amount to paint my play kitchen with two coats. Now, I will note that KILZ does mention that a light sanding will help the paint adhere to your project. You might be familiar with the chalk style paints that claim no sanding is needed (though I usually sand regardless). In this case, I do think a bit of sanding (just enough to give the surface some sticking power) would be helpful.
On my kitchen (the IKEA pieces have a slightly glossy finish) I noticed the paint would pull away in some spots as I added the second coat which was a sign to me that it could be sticking better.
Here's a look:
The dry times are short for this paint (2 hours to recoat), though I waited longer in-between. I used two coats and then did some final touch-ups in a few areas.
Let's Talk About the Clear Coat
KILZ offers both a clear coat aerosol spray and a furniture wax (in clear and dark) to use for a top coat on your final piece. The aerosol was very easy to use, maintained the matte finish of the paint, and is holding up nicely. I allowed my piece to cure for a few weeks before attempting to scrape the surface with my fingernail and I wasn't able to scratch the surface. Note: the paint/spray didn't mention cure time, but it is just my standard to allow for cure time whenever I work on a chalk painted piece.
You can check out the wax options here or grab the aerosol here.
How Does the Finished Product Look?
I was pleased with the final look! Some chalk style paints can be super thick and end up feeling really heavy with brushstrokes (watering the paint down a tiny bit can help). With the KILZ chalk style paint, brush strokes are present, but not overwhelming. I didn't sand in-between coats, but you certainly could for an even smoother finish.
The paint dries to a nice matte finish that was maintained after spraying with the clear coat.
Summary & Notes
Overall, I was happy with this paint! I often use Rust-Oleum Chalked Paint (or Annie Sloan) for my chalk paint projects and I will definitely consider this paint as well the next time I need a can. I think the colors are a bit more trendy than the Rust-Oleum line.
I'm actually curious to do a comparison of the various chalk paint whites out there. The Rust-Oleum Chalked White paint is super bright and I'd love to find one that is just a bit more subdued. If you want to see some comparisons, let me know in the comments and I'll see what I can do!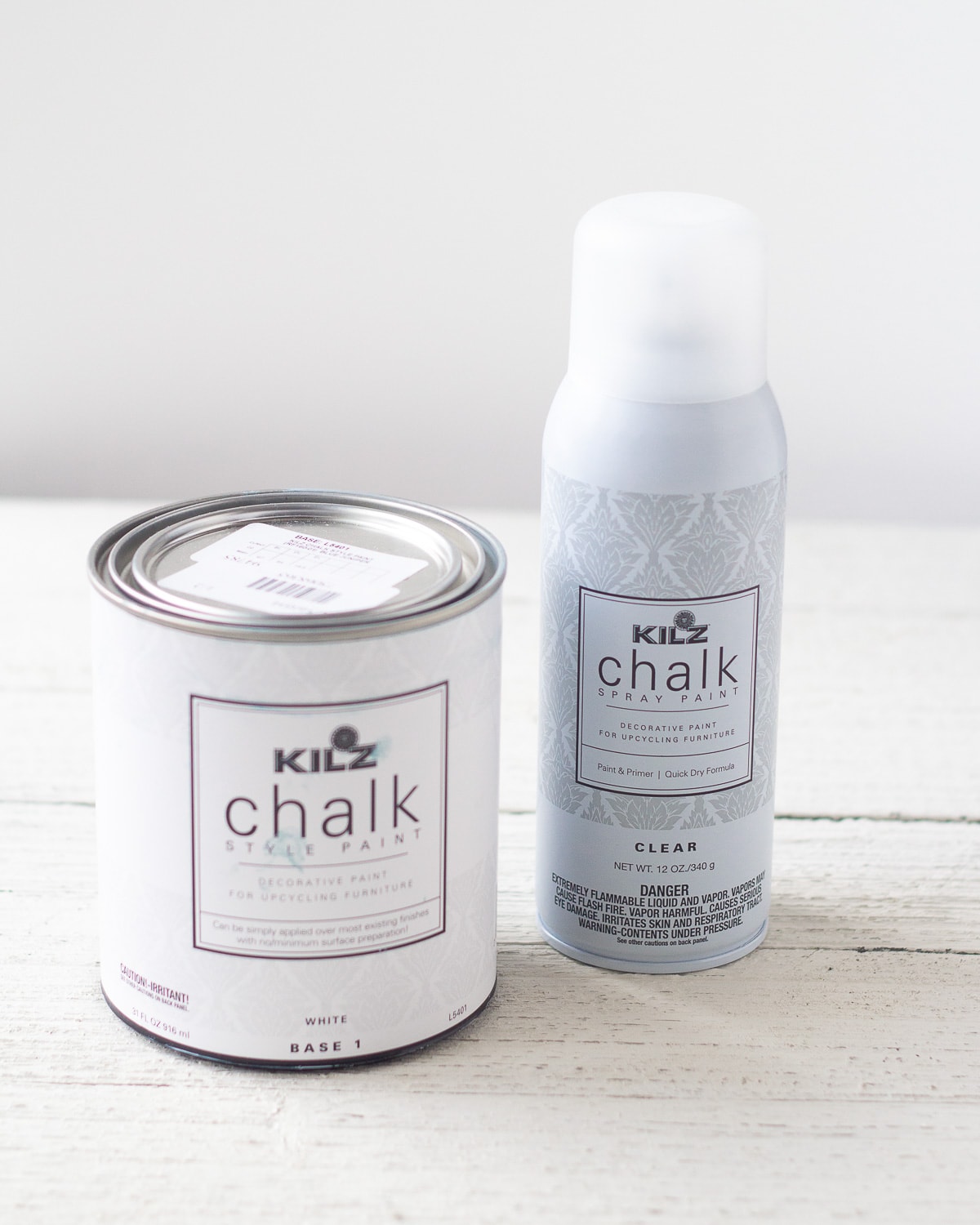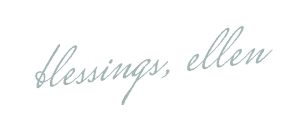 More Posts to Read