What Are Quilting Clips and How to Use Them
What are quilting clips and how do you use them? These handy little plastic clips (also referred to as "sewing clips") are excellent for holding together large quilts, blankets, and more while sewing. Here's what you need to know (plus where to pick up a budget-friendly set!)
Please note that this post contains affiliate links which allow me to earn a small commission when a purchase is made at no additional cost to you. Read more here.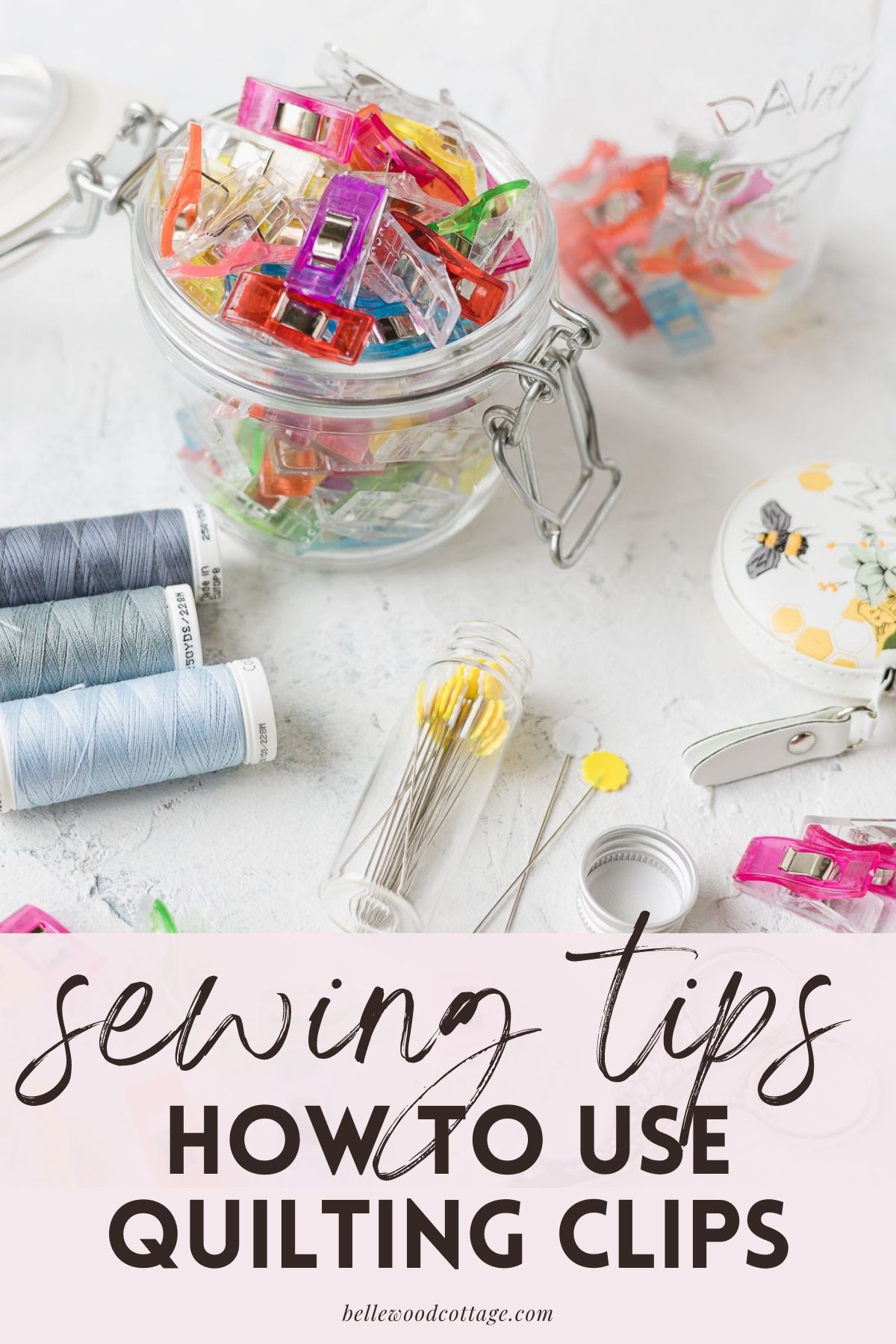 What Are Quilting Clips?
Quilting clips (or sewing clips) are not just for quilters. If you sew, you should own a set! This handy little invention provides a neat substitute for pins. The clips are made of plastic and metal and are used to hold fabric together just as readily (if not more so) than sewing pins.
Pro tip: While the name-brand sewing clips are certainly nice, the generic offerings are nearly as good–and a fraction of the price. Here's a set of sewing clips on Amazon to check out! Note that brands like Clover feature measurement guides on the clips in inches, while the generic options use millimeters.
I enjoy using the clips for several reasons. They are often faster to clip on than pins, they hold together multiple layers of fabric with ease, and best of all? No pinpricks!
The clips are also SO handy if you do a lot of sewing around kids or toddlers. I typically try to get my pattern/fabric cutting done while my little one is asleep. Then, if I use clips instead of pins, it's no problem to work on the project while we go about our day together. The clips are still small (potential choking hazard), so even though pinpricks are not a concern, always use your judgment when sewing around young children.
The clips are also excellent for teaching kids to sew. No one likes getting pricked with pins, so again, use the clips instead!
And don't forget about sewing with knits. If you don't happen to have ball-point pins on hand when sewing with knits, you can use quilting clips instead as you sew.
Any downsides to clips?
One downside to the clips is that you can't use them in the middle of a piece of fabric like you can with pins. The clips only work on edges and they only hold up to about 1/2″ of fabric at a time (though you can buy extra long ones).
Overall, because of the convenience, I now use these almost exclusively when I sew.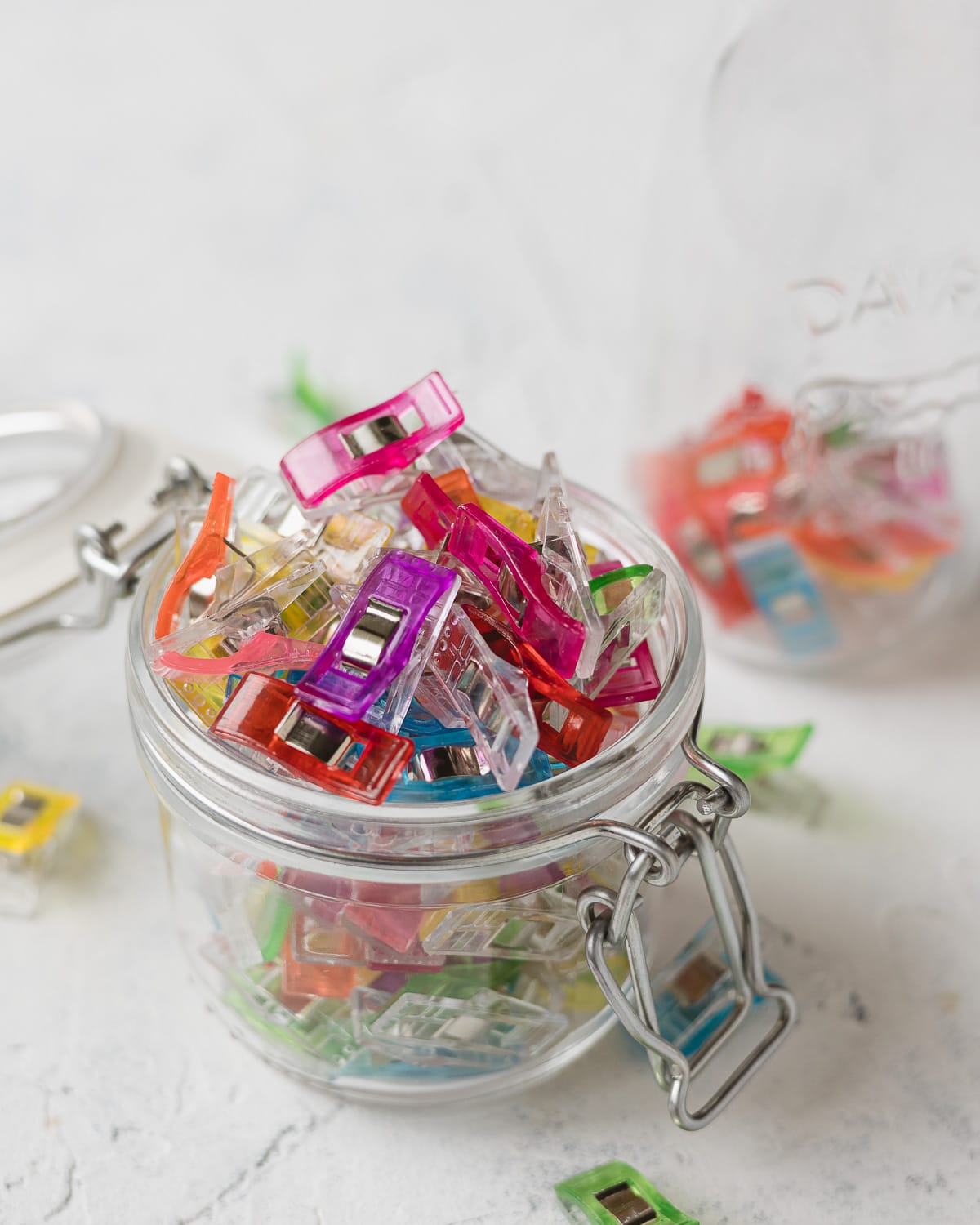 Where to Buy Quilting Clips
Quilting clips used to only be available as name-brand clips, but can now be found on Amazon as generic clips too. Mini Magic Clips (which are a slightly different style) and Clover Wonder Clips are the two original brands I've noticed. They can be found on Amazon and at fabric and craft stores.

However, if you shop the generic clips available on Amazon, they are far less expensive (especially if you need a lot!). I purchased a set of generic sewing clips and have been quite happy with them (I was able to purchase 100 clips for less than half the price of name-brand sets).
The downside of the generic clips for me is that most patterns I use call for seam allowances in inches, but the clips have measurement guides on the feet that use millimeters. So the measurement guides on the generic clips aren't all that useful.
Clover also sells Jumbo Clips which are longer (2.25″) and great for securing binding to a quilt top.
Another style of clips is metal slip-on Hem Clips. These clips slide onto hems and are flat metal with measurements marked on them–ideal for hemming garments or larger projects. Since they do not clamp to the fabric, I would still suggest having some of the plastic/metal clips I'm showing here on hand as well. I haven't used the metal Hem Clips, but depending on the type of sewing you do, they could be quite useful.
How To Use Sewing Clips
Using the clips is simple! Just clip fabric together a few inches apart and use instead of pins. Remember that the standard size clips will only clip about 1/2″ inside the edge of a project.
The clips are excellent for securing multiple layers of fabric! Be sure to remove them as you sew on a sewing machine.
Remember that the clips have seam allowance guidelines on them too. This can be really helpful–but be aware that different brands use different measurements for the allowances. Measure your clips or check the package before utilizing the measurement guides.
Sewing Clips Versus Pins
What about pins? Pins are an essential sewing tool, so even though clips are handy, you'll want pins too. Clips don't work for every project and pins come in many different styles to suit different purposes.
There are standard glass head pins (all-purpose for nearly anything), ball-point pins for knits, pins for delicate fabrics, plastic head pins, and even safety pins!
While there are some differences among brands, sewing clips are all pretty much for the same all-purpose usage. They can also be handy for fabrics that can't be pinned (such as leather/faux leathers).
Clips may feel too bulky when using on thin fabrics (such as if you are pinning together just two layers of quilting cotton), but are great for bulkier seams, like the hems on these dish towels.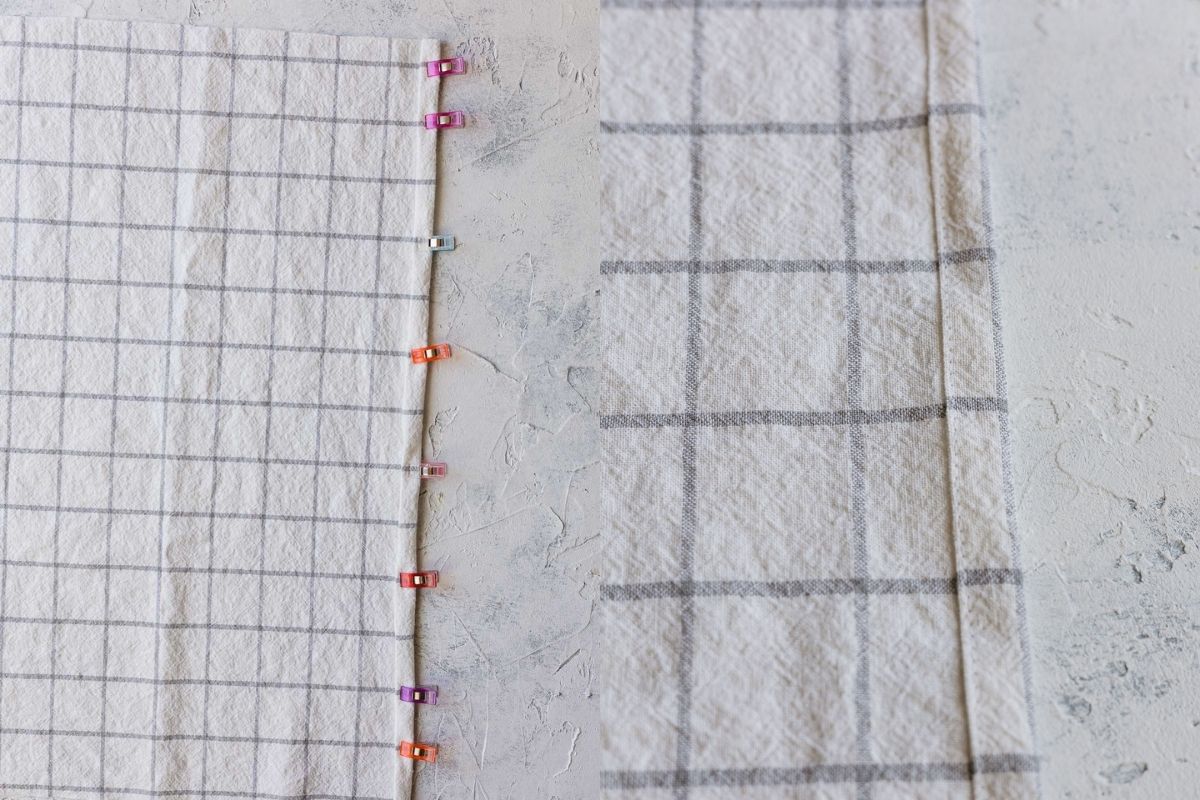 Remember that you can't "clip" in the middle of a sewing project, so these work for edges only. Grab sewing pins (or even safety pins) for instances when you need to secure layers of fabric inside the edges.
I also love how easy it is to find clips that drop to the floor. Anyone who has dropped a pin knows they can be a pain to track down (a magnetic pin cushion is your friend), but clips are easier to find and won't prick you!
How Many Clips Should I Buy?
When I use the clips, I usually space them out about 2″ inches apart depending on the project. If I was using them on a heavier project, I would likely keep them closer together. So if you know you are buying the clips for a larger project, grab two big sets.
Otherwise, one set of generic clips usually contains about 100-120 clips (this set on Amazon has 100) contains clips which is plenty for the average sewing project or small quilt.
If you've never tried sewing clips before, I hope this quick post gave you some insight into how helpful they can be! You can truly use them for clipping together all manner of sewing projects. I use mine nearly every time I sew these days–especially when my toddler is around too!
More Sewing Ideas