Ten Creative Ways to Use Bias Tape
If you enjoy making your own handmade bias tape (or collecting it!) perhaps you are curious about some of the ways you can feature the pretty tapes in sewing projects (and more). Here are ten creative ways to use handmade bias tape.
Please note that this post contains affiliate links which allow me to earn a small commission when a purchase is made at no additional cost to you. Read more here.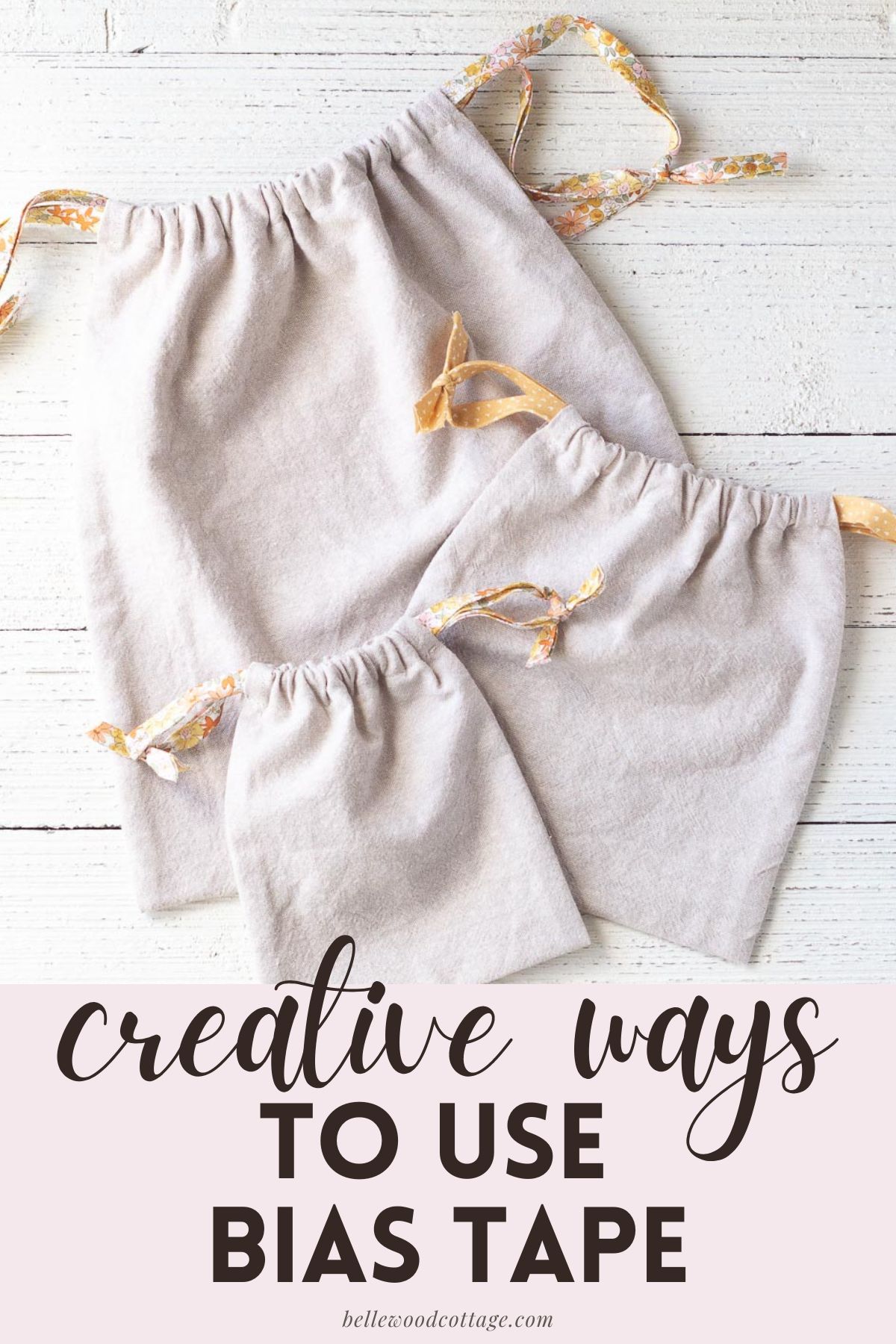 I used to always think that bias tape just meant those basic packs of stiff tapes available at the fabric store. Actually though, you can make your own bias tape (hello perfect match for anything you happen to be sewing!) and you can purchase beautiful handmade tapes too.
Once you discover the fun of these pretty bias tapes you'll be eager use them in sewing projects. I personally wanted to brainstorm more ways I could use my favorite bias tapes (and leftover scraps) so I wrote up this post to provide a resource for you as well!
Where I Buy My Favorite Bias Tape
If you don't feel up to making your own bias tape, it's easy to buy. I suggest skipping the mass-produced tapes you can find in craft stores and purchasing handmade bias tape. My favorite stop for bias tape is Bessie Pearl Textiles. Support a small business and purchase handmade beautiful tapes (made from popular fabrics).
Just about every piece of bias tape shown in this post is from Bessie Pearl!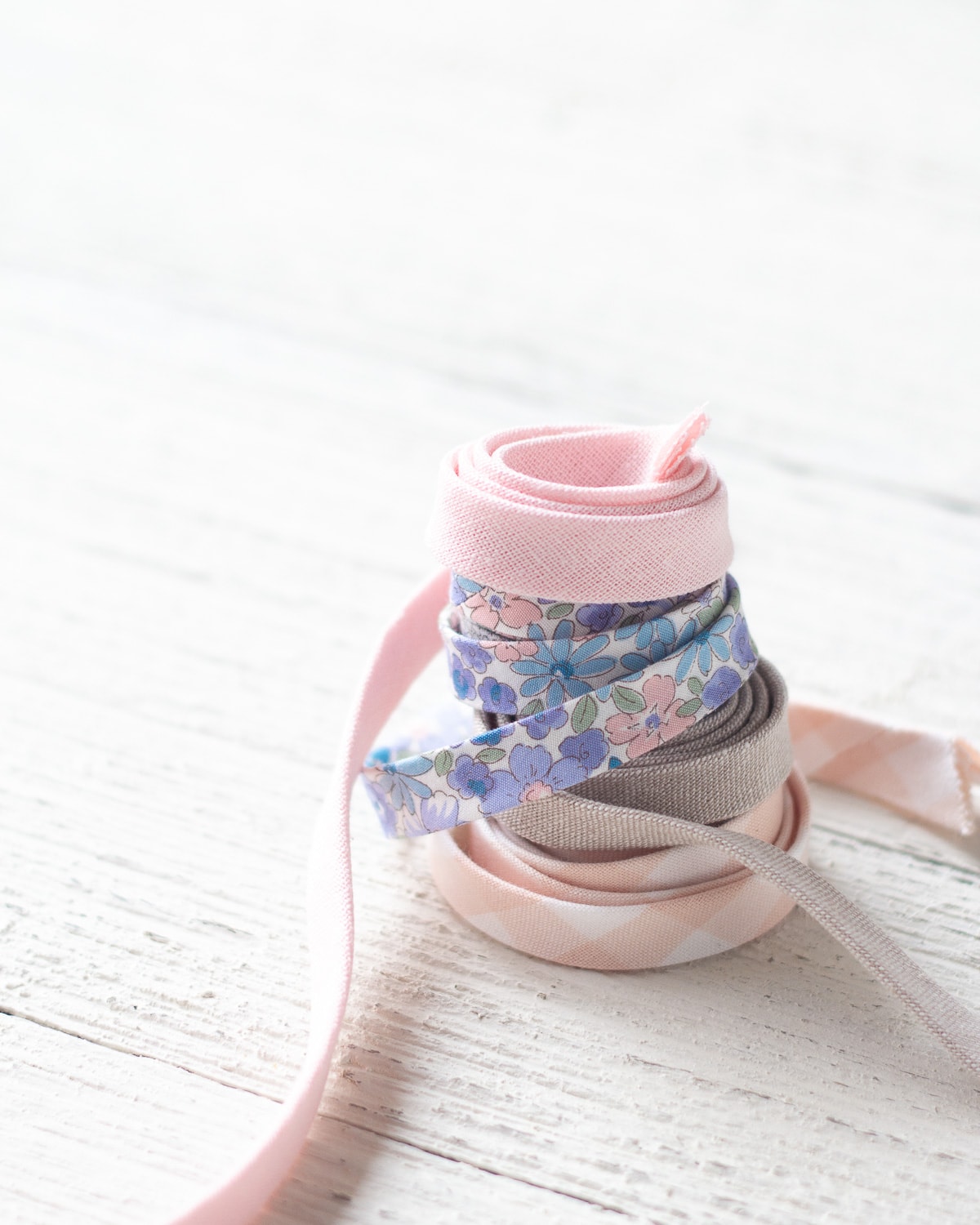 Single Fold Versus Double Fold?
If you are using a pattern or tutorial that calls for bias tape, it's important to know if the directions are asking for single fold or double fold bias tape.
This explanation from Threads Magazine is helpful. Basically, double fold bias tape starts as single fold bias tape, but is then folded in half.
I love double fold bias tape (usually in a 1/2″ width) and that's what this post features. Double fold bias tape works as a visible binding that can add a lot of color and interest to handmade projects.
It also works beautifully for projects like handmade baby bows!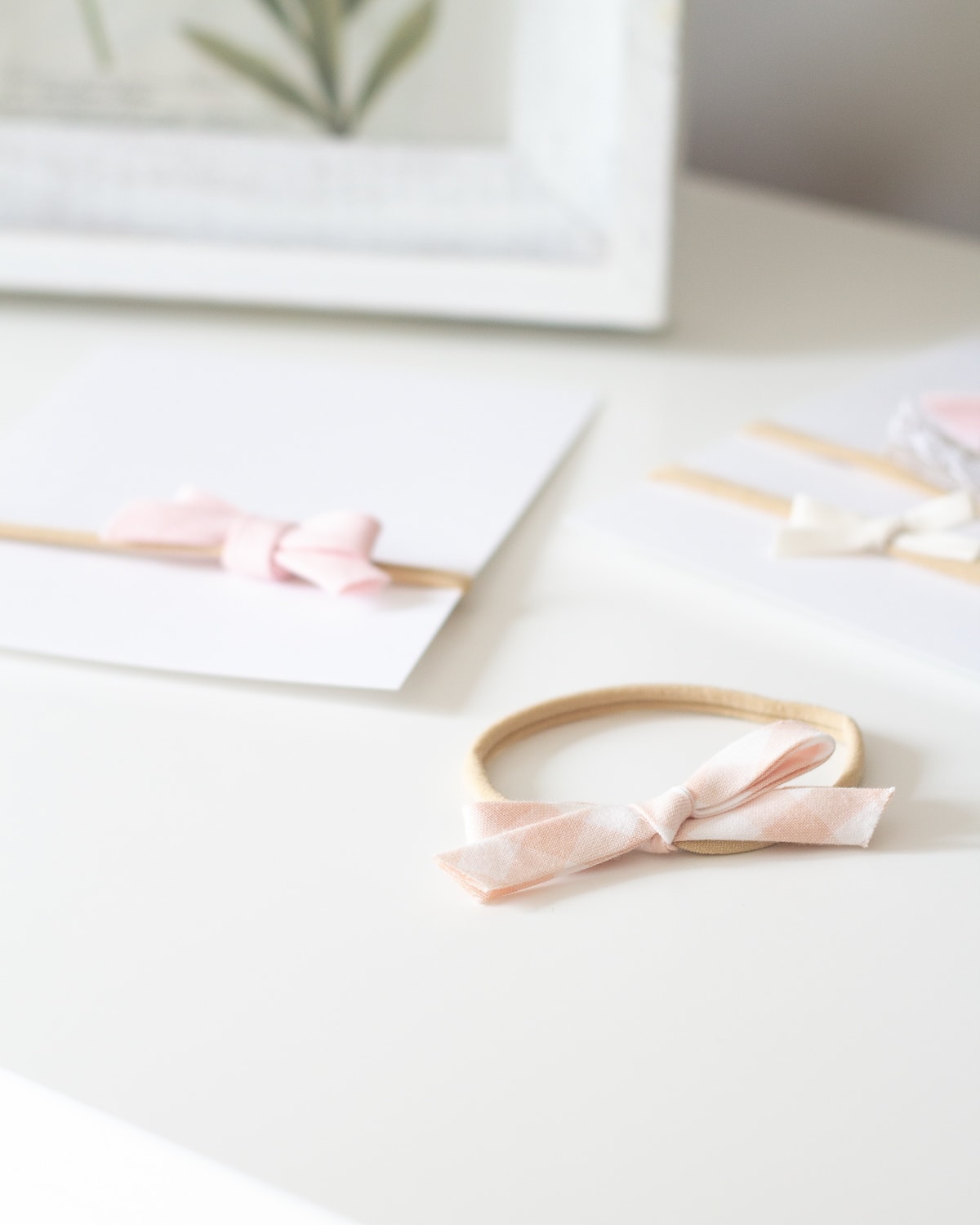 How to Make Your Own Bias Tape
I've made bias tape a handful of times myself and it's quite fun to do. While generally you would work with large bias cut strips to make several yards of bias tape, I've also used fabric scraps to create just several inches to turn into baby hair bows. You will need a set of bias tape makers to get started.
If you are looking for tutorials on how to make your own bias tape, here's a few you will find helpful: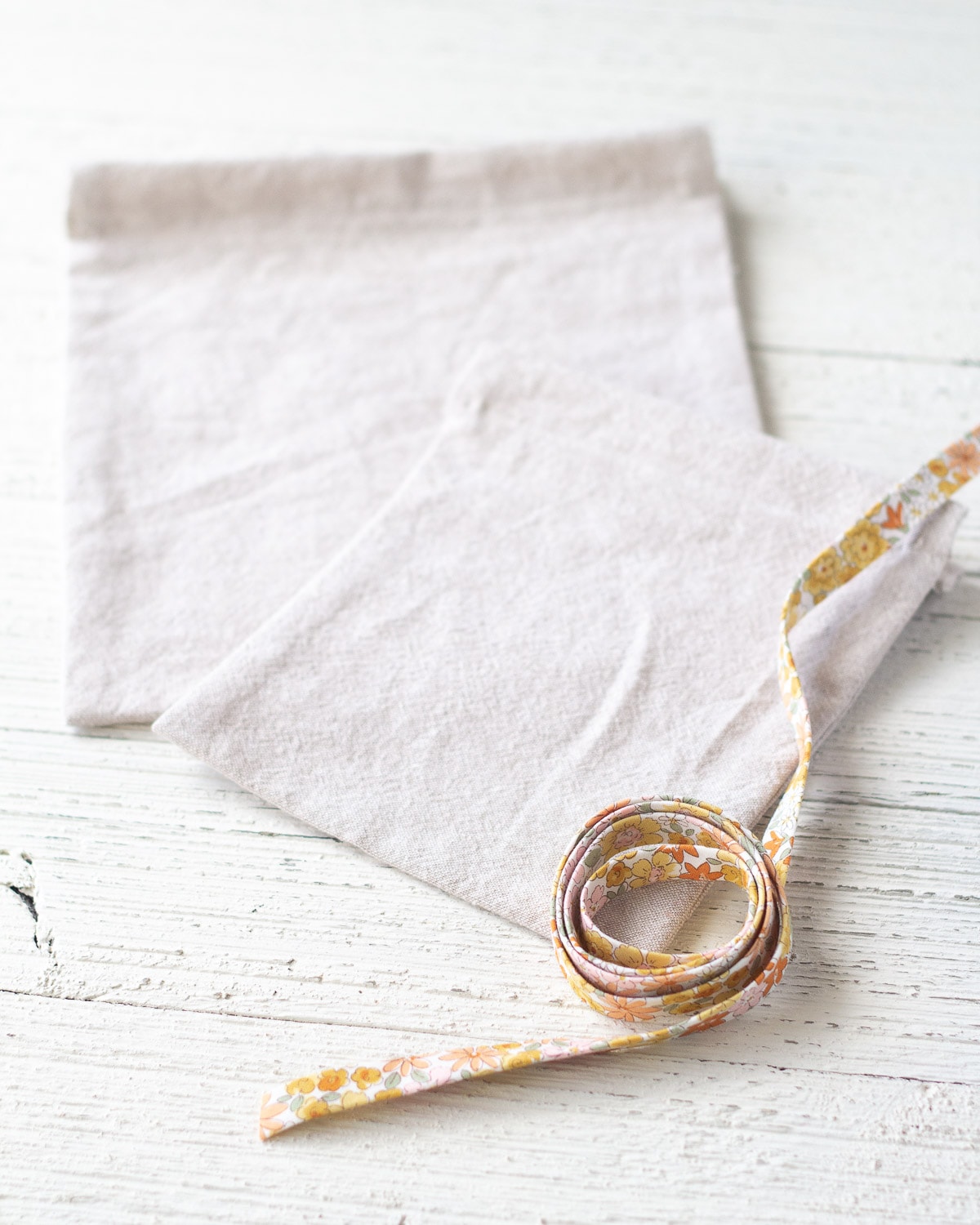 Creative Ways to Use Handmade Bias Tape
Now that you've either made or bought some pretty new bias tapes, let's get started with some project ideas!
Baby Hair Bows
Making handmade baby hair bows for little girls is a true delight. While you can create bows from a variety of materials and techniques, these simple bias tape bows are one of the quickest options.
A short length of bias tape is tied into a simple bow which is secured on a headband or clip. In my tutorial, I show you options for creating a variety of bow styles with just one main ingredient–bias tape! Tutorial uses double fold bias tape.
Drawstring Bags
This easy tutorial teaches you how to make handmade drawstring bags, with French seams! It's an easy technique that doesn't require a lining fabric and is a great intro to French seams. The ties for the bag can be just about anything, but I love using colorful bias tape.
Stitch the bias tape closed before using it in a bag so the tape will not come undone in the wash. You can use bias tape to make drawstrings for other projects too, such as pajama pants. Tutorial uses double fold bias tape.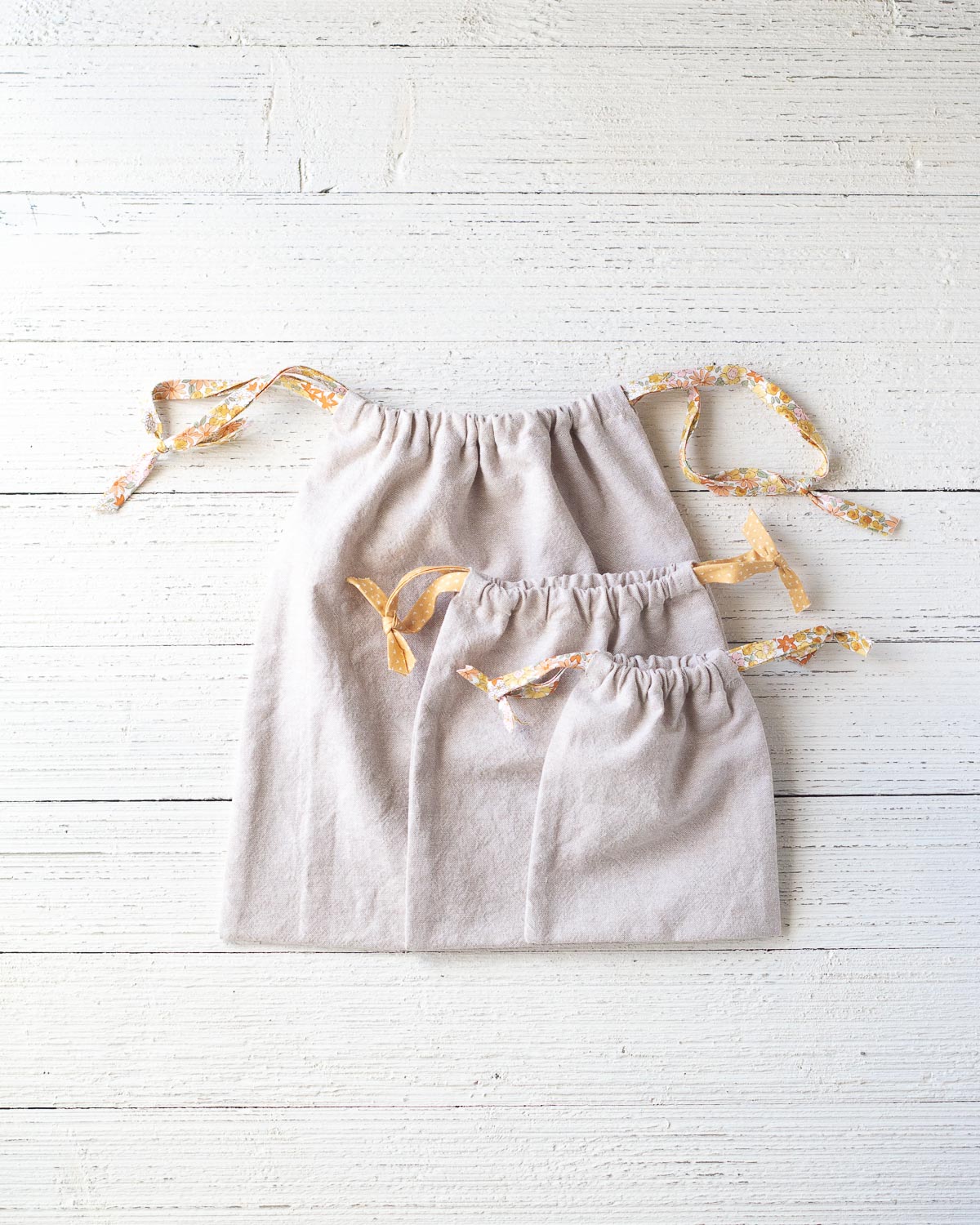 Use It on Dish Towels
Recently, I whipped up a few dish towels and wrote up a quick tutorial. It's an ideal project for sewing beginners because it's really just hemming rectangles of fabric. The best part is that you come away with a practical product to use afterwards too! Here I've used handmade bias tape for the hanging loops.
Stitch the tape closed before sewing it into the towel so the towels can still be machine-washed. Use up small scraps of bias tape from other projects for this one! Tutorial uses double fold bias tape.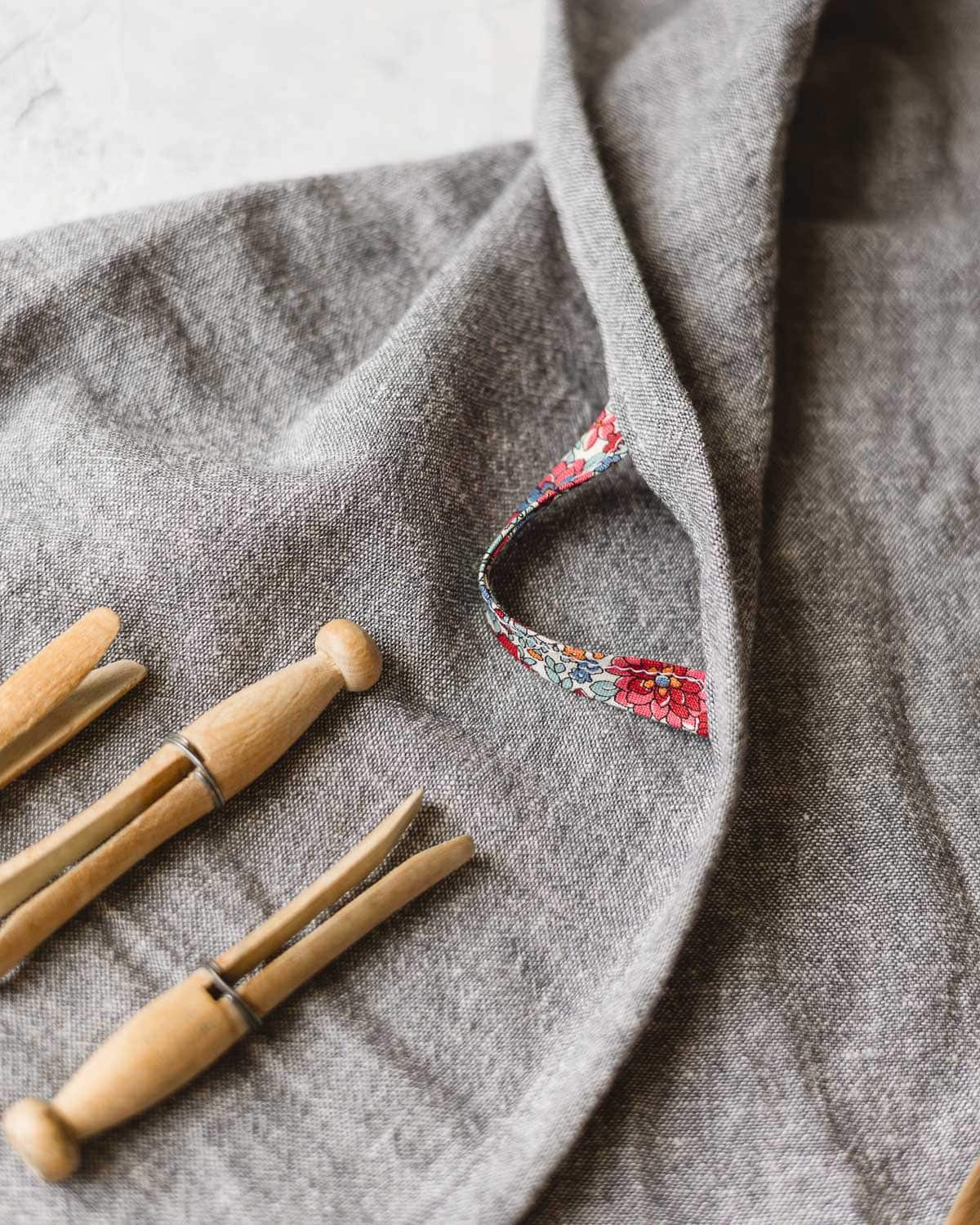 Newborn Wrap Shirt from Purl Soho
This Newborn Wrap Shirt from Purl Soho is a sweet handmade layette option for a new baby. While I often sew swaddle blankets or burp cloths for new babies, I'd like to add this one to my repertoire. The baby wrap shirt is made with linen and a colorful bias tape that wraps around the edges. Use 2 yards of double fold bias tape for this project.
On a Neckline of a Top
A lot of sewing patterns will call for a bias-tape bound edge on necklines or (for sleeveless garments) on arm holes. This is the perfect spot to add an unexpected pop of color from a contrasting bias tape. Usually you wouldn't see the bias tape when the shirt is worn, but I love knowing there is a cute bit of bias tape finishing off a seam. This tutorial on how to use bias tape on a neckline will prove helpful.
Edge a Blanket
These pretty quilted blankets from PurlSoho are a lovely way to showcase a quilted fabric–and a handmade bias tape! Use pre-quilted fabric or quilt your own.
Trim Burp Cloths & Wash Cloths
While it's easy to make simple burp cloths, you can level up the look by trimming them in bias tape. I still would opt to use two layers of fabric for absorbency. Make small washcloths or make-up remover cloths this way too.
Hooded Towel for Baby
Trim a DIY hooded towel for baby in bias tape for a cute project that makes a great baby shower gift!
Trim Quilted Placemats
Another stunning project from Purl Soho, I love these quilted placemats trimmed with bias tape.
Baby Bibs
Anytime you need ties or binding on a project, bias tape might just be the thing. Baby Bibs (like these from See Kate Sew) are perfect for this. Trim a simple bib shape in bias tape for a pretty contrast to the main fabric.
More Sewing Projects to Try
I hope these projects inspired you for creative ways to use bias tape. Here's a few more sewing and fabric projects you might enjoy too: