Pink Dotted Mason Jar Vase
Mason jars can be painted and customized in all kinds of ways. Start with pink chalk paint and add a dotted pattern for this simple pink dotted mason jar vase.
Please note that this post contains affiliate links which allow me to earn a small commission when a purchase is made at no additional cost to you. Read more here.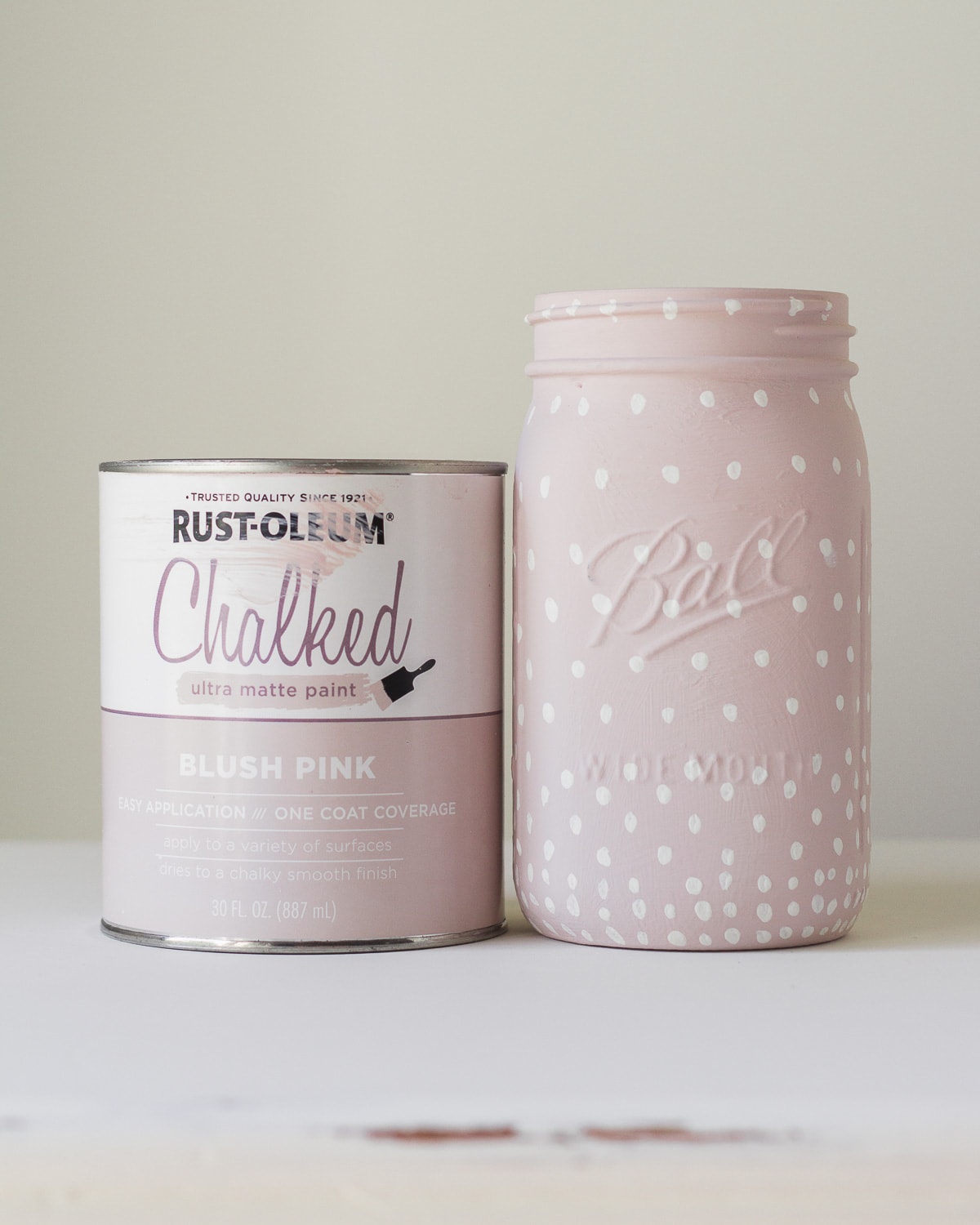 Craft projects that are relaxing and nearly guaranteed to turn out are my fav these days. Before I had my first baby, it was easy to find time to fix mistakes and spend extra time on projects, but these days…I just want to craft something and have it work the first time!
Enter these mason jar projects I've been into lately. Painting mason jars is still quite popular and it's really fun. It doesn't take much paint or time and you can use the finished jars for organizing, packing gifts, or home décor–like this vase idea.
Wondering How to Get Started Painting Mason Jars?
If you want all the ins and outs of how to paint mason jars, I wrote up a whole post about just that. I'm hardly the first person to think of doing such a thing and there are other fantastic resources out there too. My post includes facts on the different types of paint you can use, how they work, and ideas for creating your own unique jars.
Below though, I'll share the quick specifics on how I created this one:
First off, you'll need a few supplies. For this jar I used a quart-size mason jar, Rust-Oleum Chalked Paint in Blush Pink, Country Chic Paint in Crinoline, and a couple small paintbrushes. That's it!
I would suggest using a chalk style paint for this jar (I like Annie Sloan, Rust-Oleum, KILZ, Country Chic, and more), but feel free to use any colors you like. The dots will stick well to the chalk paint, so for those you could certainly use a basic matte acrylic craft paint from the craft store.
Dotted Mason Jar Vase
To make this vase, I first applied three coats of Rust-Oleum Chalked Paint in Blush Pink, letting the jar dry thoroughly between coats.
To paint mason jars, there's several ways you can go about it. For quart-size jars, currently I tend to do a method where I paint the entire lip of the jar first and then let it dry. It doesn't take long for that amount of paint to dry.
Then I stick my hand inside the jar and paint the rest of the outside. When I'm ready to remove the jar from my hand, the lip of the jar is dry from earlier and it's easy to take the jar off my hand and let the rest of it dry.
Then I grabbed some leftovers of Country Chic Paint in Crinoline and applied dots evenly across. As I progressed up the jar I started spreading the dots further and further apart until reaching the edge of the jar.
Near the bottom of the jar, I added more dots to make the effect more obvious.
To distress or not to distress?
I honestly wasn't sure if I would like the look of distressing on a jar with a pattern like this. Turns out, I do indeed prefer the original. I love the look of distressing with a coat of solid chalk paint, but this looks a little too messy to me. Which version do you like best?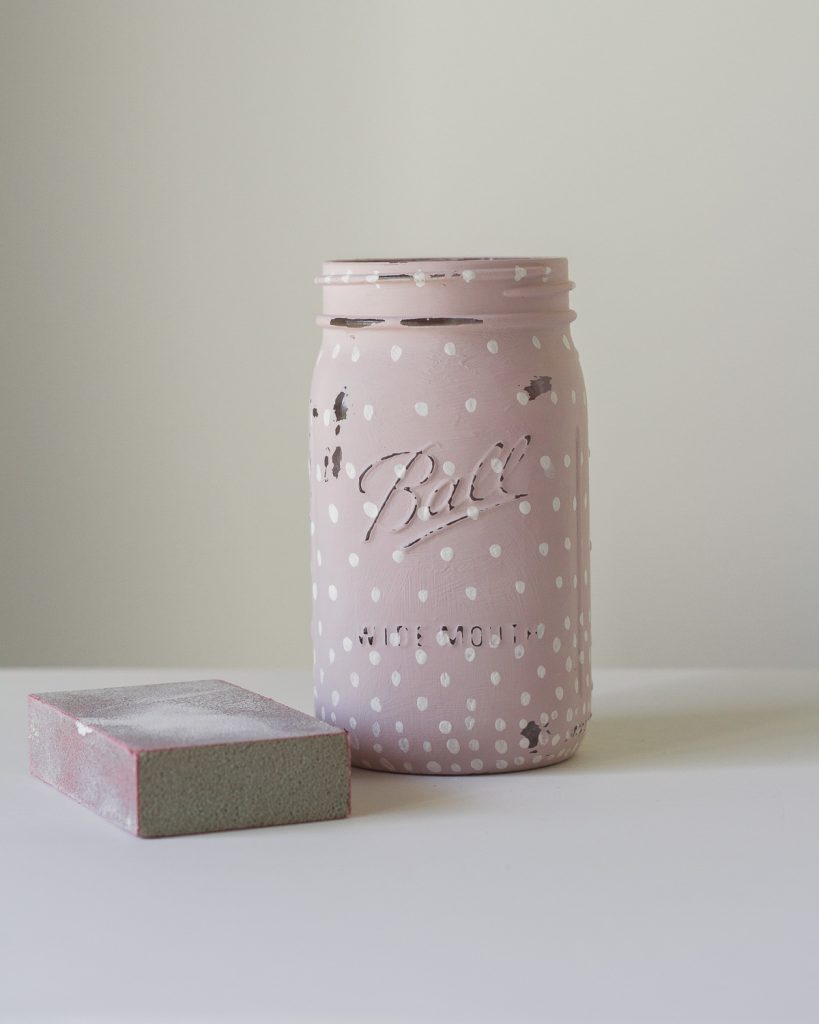 What about a top coat?
You can definitely seal the jar with a top coat since that is good protection for chalk style paints, but it's not necessary. If you are just going to use the jar with faux flowers, then I wouldn't worry too much about it.
And regardless of if you decide to paint on a top coat or not, I always suggest using care when handling water around chalk painted items.
This would also make a cute jar to gift! If you give it a try, let me know.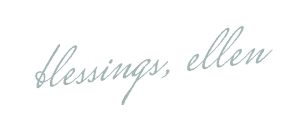 More Mason Jar Ideas