Mason Jar Sewing Kit Tutorial
Make a homemade sewing kit with this mason jar sewing kit tutorial! It's easy to put together cute (and useful) sewing supplies for a thoughtful gift idea for the sewing enthusiast in your life.
Please note that this post contains affiliate links which allow me to earn a small commission when a purchase is made at no additional cost to you. Read more here.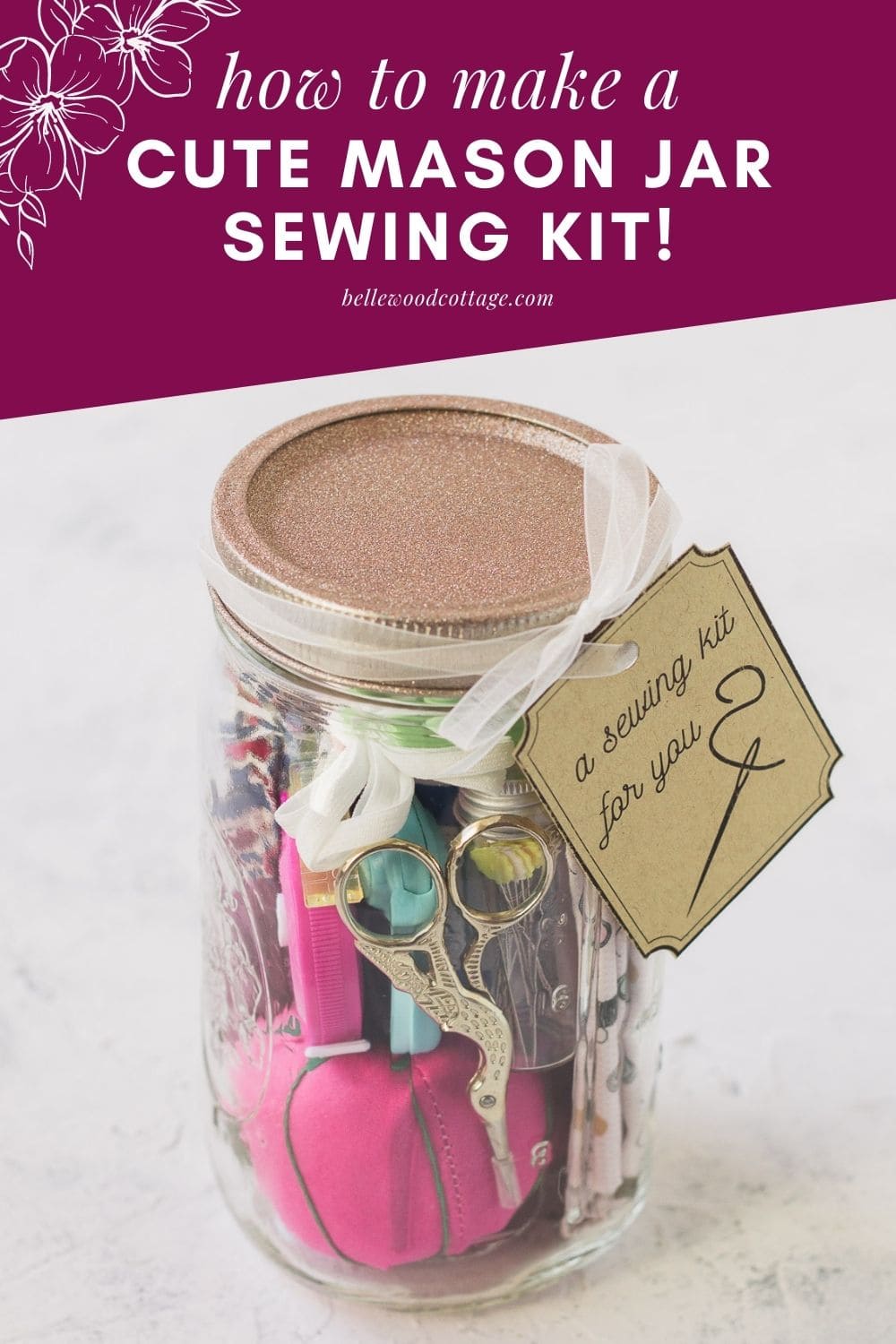 Fill a mason jar with practical sewing supplies to gift to a new sewer. You can pack basics like small scissors, a pincushion, needles, bias tape and more.
Or, you can make an heirloom jar and include vintage buttons, sewing supplies, and even handmade items (like a needle book or pincushion). A lovely gift to pass along to a grandchild perhaps!
In this post I've included a large list of sewing supplies (and suggestions for where to find them) you can pack into these sewing kit jars. Whether you are packing a gift for a beginner or advanced sewer, this jar is sure to be a hit!
Need a gift tag? I also included a simple PDF download for gift tags (you don't even need a color printer for this one).
Want to make the glittery lids? Grab the glitter lid tutorial here.
Should I Just Purchase a Pre-Packaged Kit?
Before deciding to put together your own sewing kit, you may have stumbled upon one of the pre-packaged options available. Would this perhaps be easier??
I think making a customized mason jar sewing kit is waaaay more fun, but let's discuss!
Why You Should Make Your Own Sewing Kit
First, pre-packaged sewing kits often come in lack-luster packaging. Junky plastic bags and cases are just not that exciting.
Second, the tools in the kits are mixed quality. I prefer to handpick the tools I want to include. It gives you a chance to choose a tape measure with a customized case for instance (linked to the options on Etsy!) or to include handmade bias tapes (perhaps with a few yards of coordinating fabric alongside the gift?).
Third, pre-packaged sewing kits are often designed for very small projects or sewing repairs. Packing your own DIY sewing kit gives you the chance to provide full packages of elastic, bias tape, Velcro, thread and the like. Far more useful in the long run!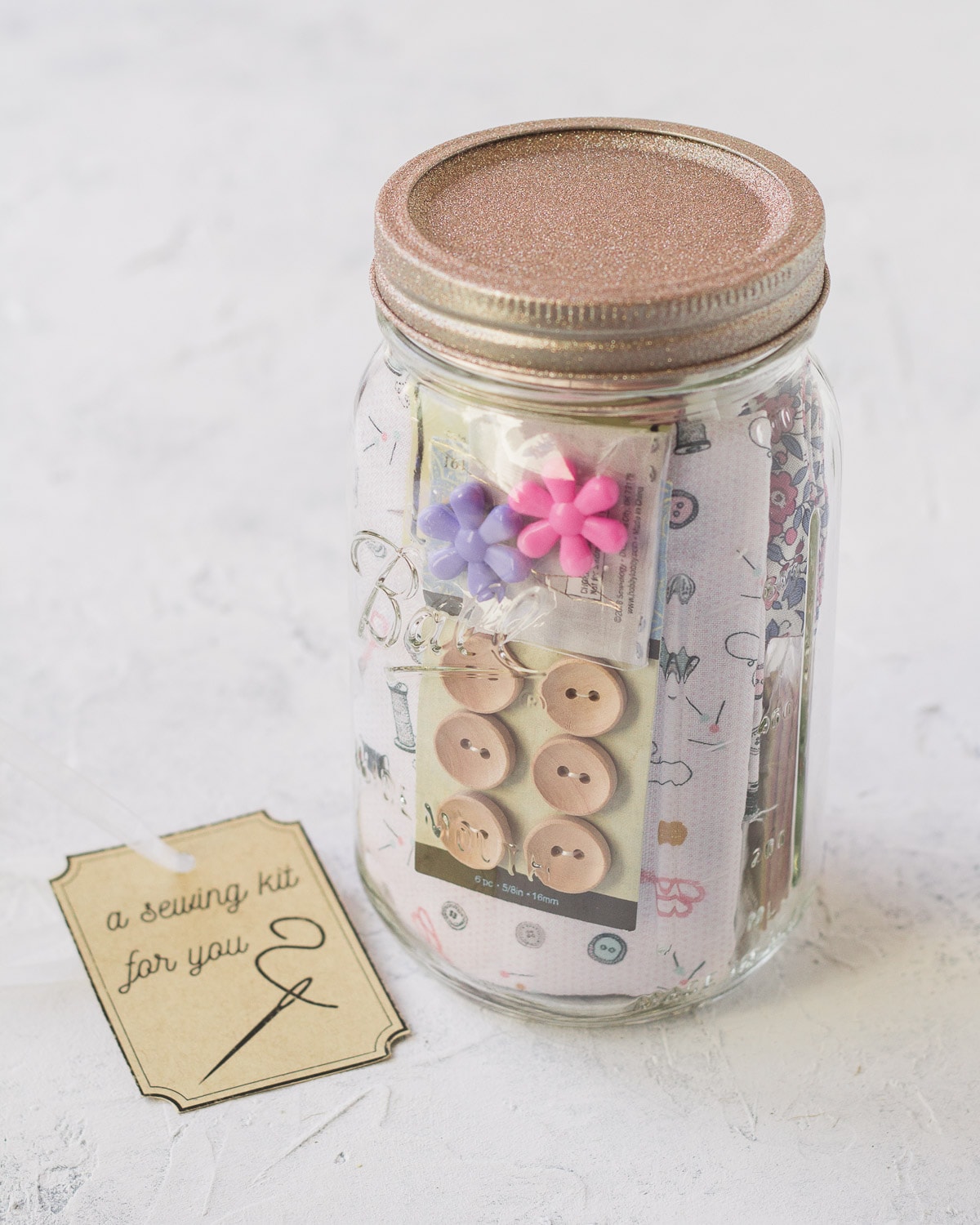 Fourth, compiling your own kit allows the chance to include heritage items you might wish to pass along. If you are packing the gift for a friend, daughter, or grand-child, consider sharing some special hand-me-downs from your own sewing box, like vintage buttons, embroidery scissors or notions.
Fifth, these gift jars are so much fun to make! Shopping and compiling all the sewing goodies is a blast. Color-coordinating, selecting tiny sewing tools, choosing a dreamy pair of embroidery scissors…I know you'll love creating one (or more) of these little jars.
What Size Mason Jar to Use?
While you can use a pint-size jar, I like using a wide-mouth quart jar for this project. If you already have some on hand, perfect!
Or, if you have to buy a jar (and only need one) I suggest stopping by the glass jar aisle at your local craft store. You can also find cases of the jars at stores like Target and Walmart.
You can also choose a larger jar in a different style–it doesn't have to be a "mason jar". Just choose something that is tall enough for the supplies you'd like to include.
Micro-Mini Jars!
Tip: I also love using micro-mini jars which you can find in craft stores (check the beading area), but I found mine at Dollar Tree. I couldn't find them online, but these 5 mL jars from Amazon are similar. They are so cute for packing tiny buttons, safety pins, and other tiny items.
What to Pack in a Mason Jar Sewing Kit
Alright, let's jump right into what to pack! If you like, just head to the sewing section at your local craft store and choose some of your favorite items. Or, shop my list below for lots of ideas!
I purchased many of the supplies seen below at Hobby Lobby. They have a nice selection of sewing and embroidery notions, plus watch for the bargain notions on some of the endcaps of the aisles.
Some of my top items to include didn't make it in the photo below, but I have bolded my essential picks in the following list.
If you'd like to add a glittery lid like I did in the photos, follow my Mason Jar Glitter Lids tutorial for tips on how to do that.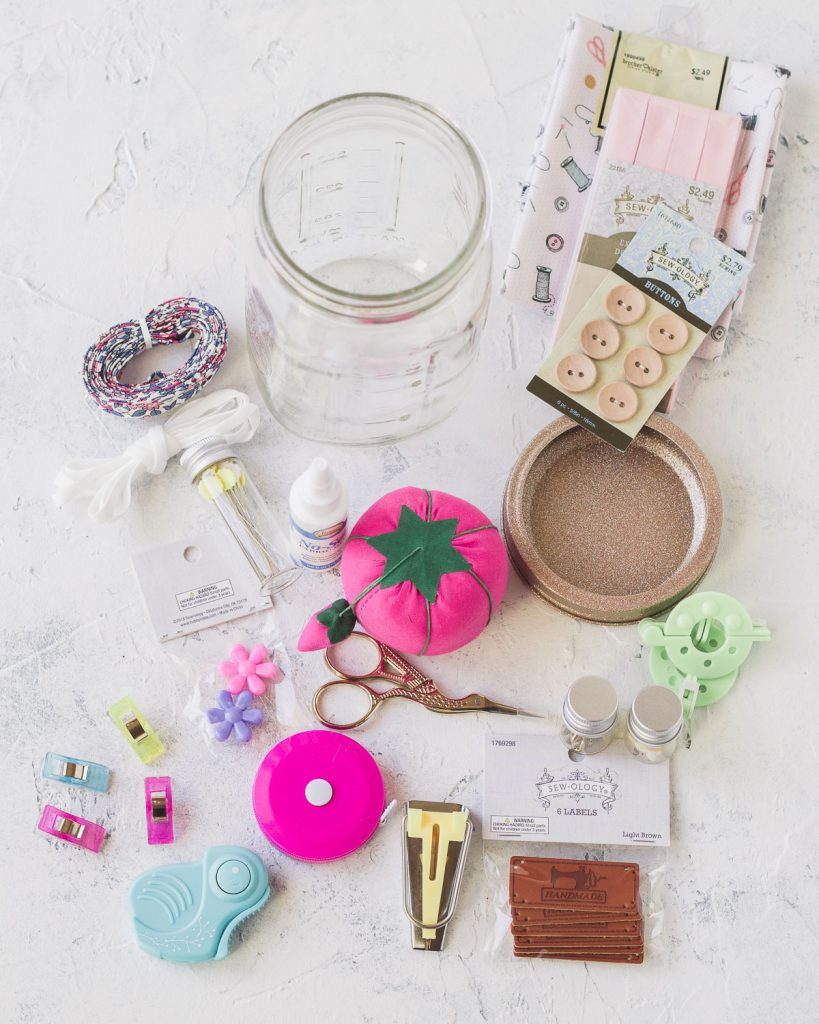 Earlier we talked about how pre-made sewing kits can be a little lackluster. But when I saw this tiny $2 kit from Hobby Lobby I couldn't resist adding it to my own homemade sewing kit. It was just too cute and tiny! Where else can you find 1.5″ scissors?
I think it makes a fun addition to a larger kit complete with some full-size items.
Other Sewing Supplies Ideas
I'd also love to suggest a few ideas that probably don't require purchasing anything at all!
If you sew and are a gifting a jar to a friend or family member as they embark (or continue) on their sewing journey, try including some more unique ideas.
Antique sewing supplies. If you have a surplus of vintage threads, trims, buttons, even tools like scissors etc., add a few special pieces in the jar.
Hand sew a needlebook. Including a needlebook that you've sewn yourself is a special addition.
Make a pincushion. Make your own pincushion in any color you desire for a one-of-kind gift!
Vintage buttons. I love a good button collection. Add some pretty buttons from your own collection to the sewing kit you create.
Make your own bias tape. I think at least every other sewing project I attempt requires bias tape. Handmade bias tape is so much prettier than the store-bought stuff and if you enjoy making your own it makes a lovely gift.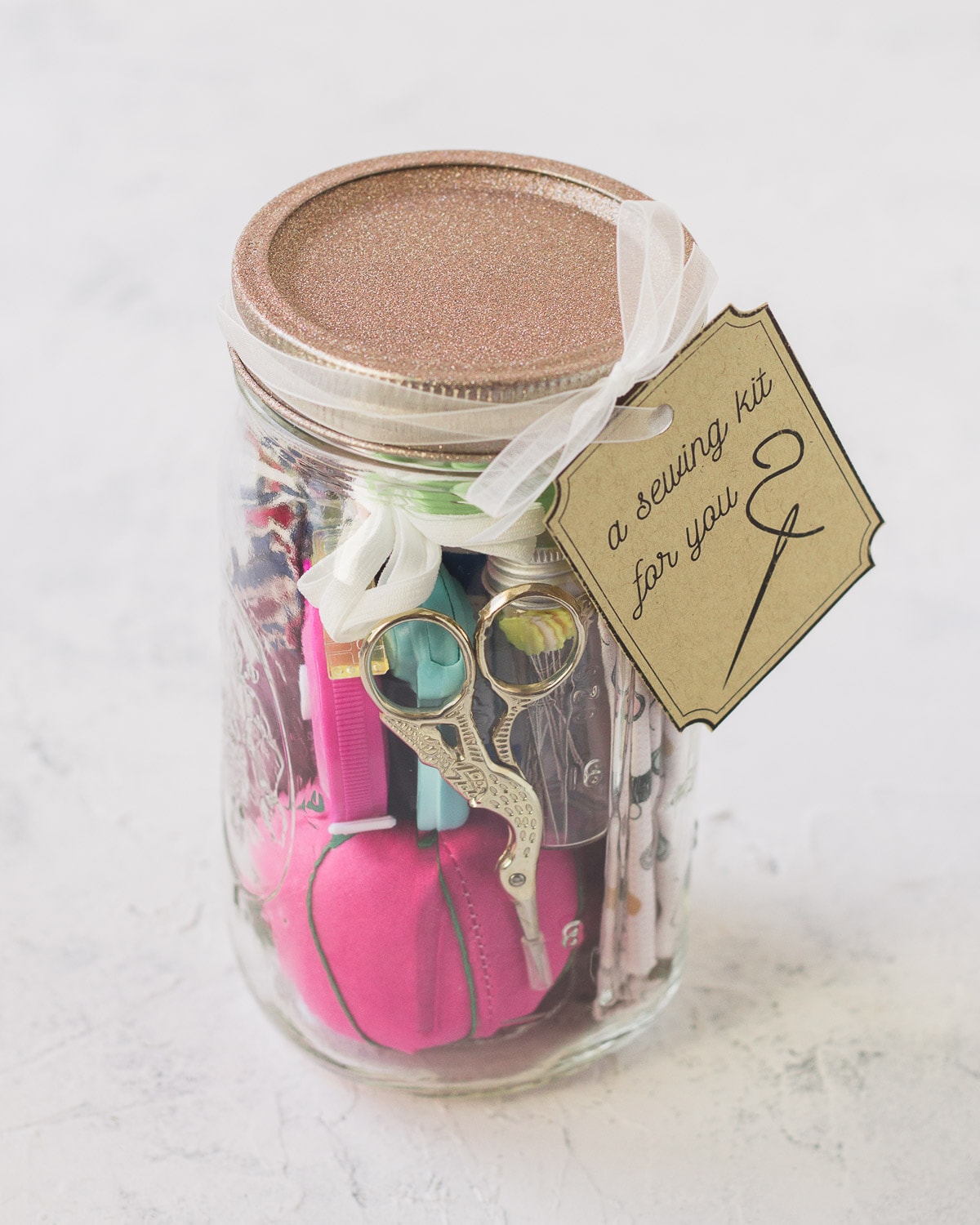 Don't forget to download your gift tags here!
If you make one of these jars, I'd love to hear about it! Share with me in the comments!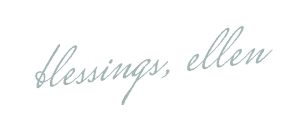 More Mason Jar Ideas from Bellewood Cottage