15+ Gorgeous Shiplap Ceilings & DIY Tips
A faux shiplap ceiling (or planked ceiling) is a beautiful way to add character, charm, and texture to any home. Whether you want to cover a dated popcorn ceiling, customize your home, or just add some interest to a boring space, this DIY project is sure to be a winner. Learn how various bloggers installed their ceilings and get inspired with some beautiful shiplap ceilings you will love!
Please note that this post contains affiliate links which allow me to earn a small commission when a purchase is made at no additional cost to you. Read more here.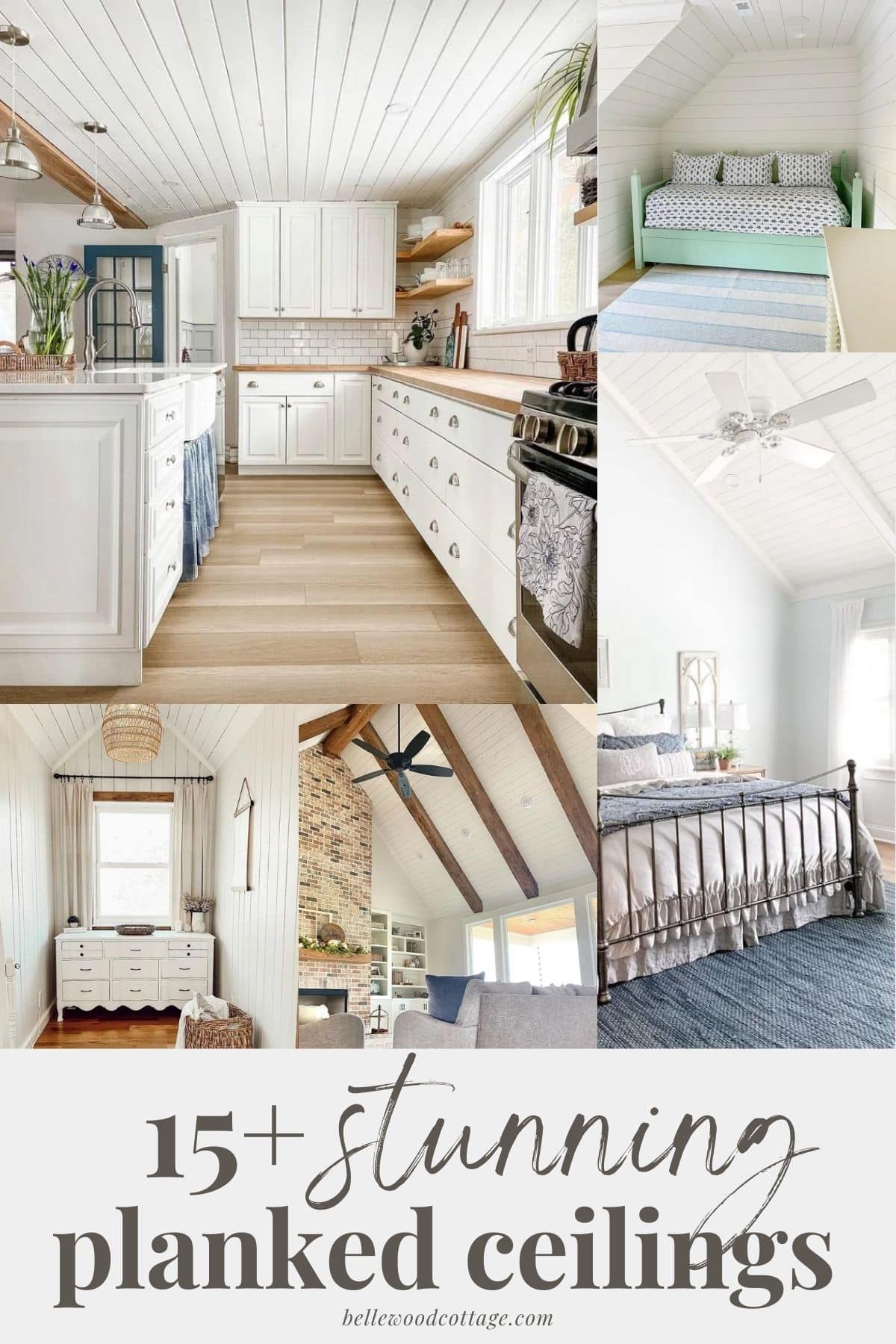 Using shiplap or wood planks on a ceiling is an effective way to add charm and dimension to your home. It also means you can cover popcorn ceilings (or other types of textured ceilings) without the fuss (and mess) of scraping popcorn.
Installing shiplap can be a relatively affordable project. With a little know-how it's an achievable DIY project too. Start small with a room that isn't used often (an extra bathroom or bedroom) to get your feet wet. Then, tackle larger and trickier spaces like a kitchen or main living area.
What Is Shiplap?
First off, we need to answer the question, "what is shiplap?" Though the term "shiplap" is widely used these days, it's actually a specific type of construction used in older homes. The style of revealing and painting old shiplap sheathing boards in old homes was brought to popularity in the home décor world by Joanna Gaines. Joanna's beautiful renovations have inspired plenty of homeowners to "get the look" in their own farmhouse style homes.
Each board of original shiplap has a rabbet (like a little stair step) running down each long edge. When the boards are joined, these rabbets connect together tightly to create a tough seal. Back in the day, the boards were connected together and used as sheathing (much like we see plywood used today) to secure old homes against the outdoor elements. When wall coverings (whether wallpaper, drywall added later, etc) are pulled away during renovations, some old houses will reveal that beautiful original shiplap.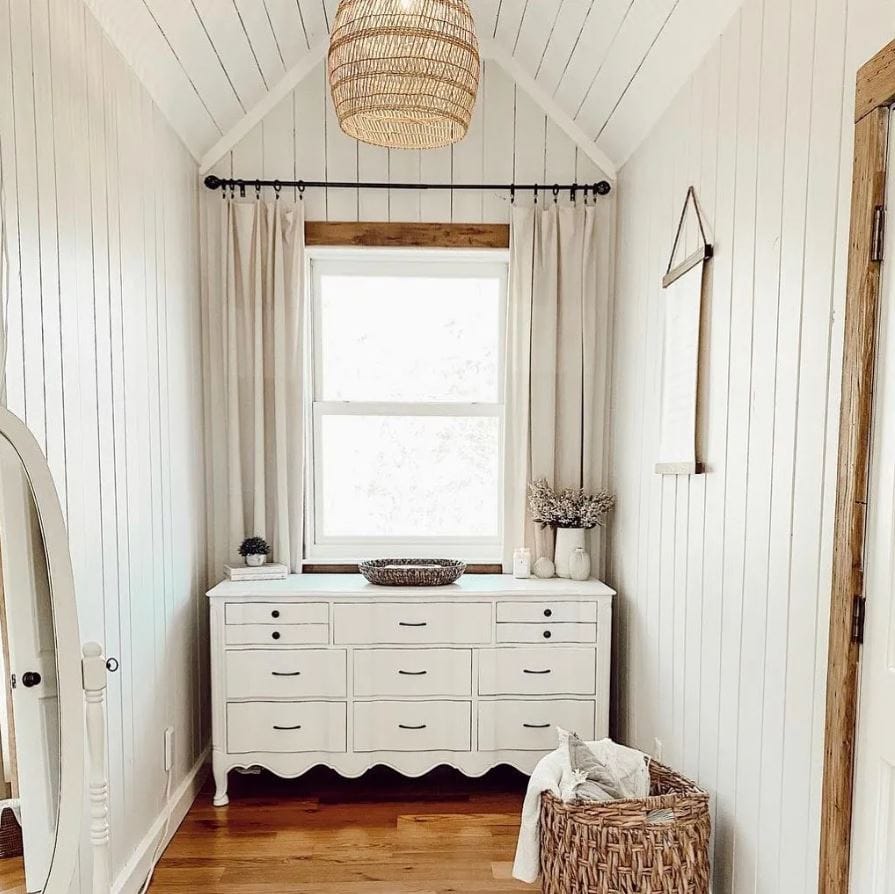 All images used with permission.
Installed shiplap boards make classic horizontal lines that homeowners have become obsessed with (especially in farmhouse style homes) and are now ubiquitous in home design. It's a huge trend. While sometimes the boards used are original shiplap, decorative paneling/planking added on top of walls or ceilings has become even more common.
What is faux shiplap?
If you go shopping for shiplap (or make your own faux shiplap) you'll come across plenty of products that replicate the original. These products are decorative rather than original shiplap used to close a home up against the outdoors.
While there are plenty of "shiplap" boards available at home improvement stores these days, there are many creative ways to get the look. Some DIYers use thin pieces of underlayment to construct a planked wall. Others go for the budget-friendly trick of using a permanent marker to draw the "lines" of shiplap onto a wall.
These DIY "shiplap" installations are actually better referred to as "wood paneling", "wood planking", or "faux shiplap" when they are used in a space.
While white painted shiplap boards are super popular, the look has evolved. Now you can find rooms with shiplap painted black, green, blue, and plenty of other colors. There's even a "vertical shiplap" trend. Shiplap planking certainly remains a top choice of homeowners, even as the original fervor has cooled.
Since faux shiplap can be installed just about anywhere in your home (from your kitchen to your bathroom), it's a beautiful choice for a custom ceiling. With plenty of homeowners scrambling to get rid of their popcorn ceilings, this technique of covering the ceiling avoids the mess and hassle of scraping.
Regardless of what we call it or the product we use, the shiplap trend is a favorite of homeowners and decorators. This roundup of inspirational shiplap ceilings will have you heading to the home improvement store on the double!
Be safe before you shiplap
If you plan to install a shiplap ceiling yourself, be sure to purchase a sturdy material and install it correctly. In older homes you need to be aware of the risk of lead or asbestos. Move forward with testing (and caution) and use professionals and their safe mitigation measures to protect yourself and your family. Note that this caution extends to nailing boards up into a ceiling and potentially disrupting unseen construction materials.
Curious about the cost of a shiplap ceiling? Find some popular products and a list of budgeting considerations at the end of this post.
15+ Gorgeous Shiplap Ceilings + DIY Tips
I gathered these inspirational shiplap ceilings from some of my favorite bloggers, home decorators, and interior designers. Many of these bloggers wrote up detailed posts about their DIY process for adding shiplap to their ceilings. Check those out as you get your project started.
If you are just looking for ideas, feast your eyes on all these beautiful spaces and their timeless ceilings!
White Shiplap Ceiling With White Beams
In perhaps my favorite space of this entire post, Jenny Brooks @bloom_jennybrooks on Instagram features white planked ceilings with white beams. It creates a space that is airy, fresh, and ready for any design scheme you might have in mind.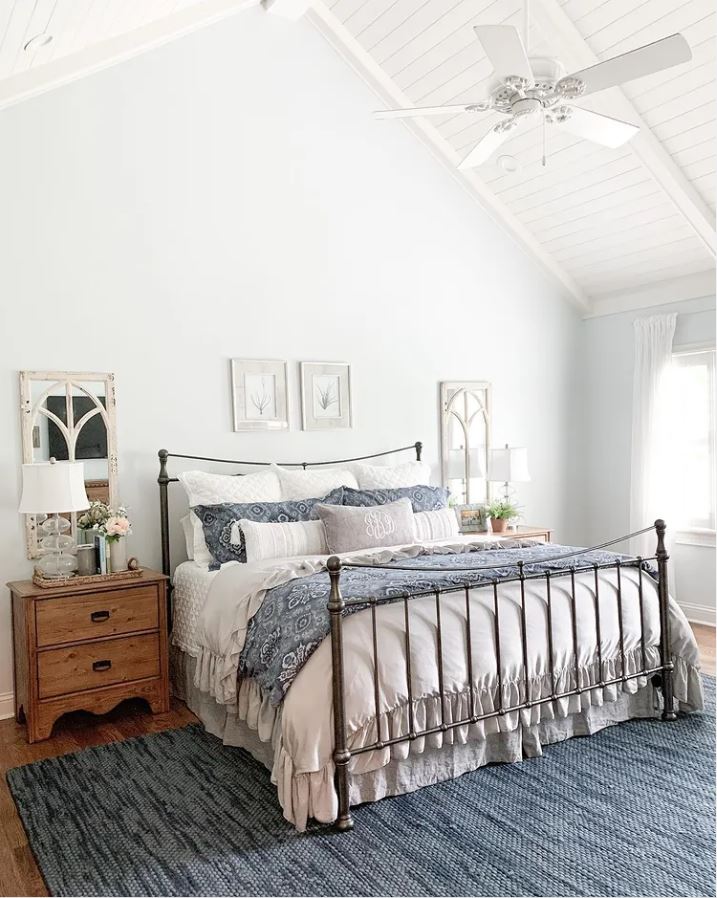 How to Add a Planked Ceiling to Your Basement
I love these detailed tutorials from Life with Neal and Suz. Before installing their wood plank ceiling Neal and Suzanne had to also install a drop ceiling grid system in their basement. This allowed them to cover exposed HVAC and electrical. If you need to prep your space in the same way, check out their tutorials (and the gorgeous finished product).
They used wood ceiling planks from Lowe's and shared a great tip. When using wood planks, you need to let the wood planks acclimate to your space before starting your project. Don't forget to plan this time into your project timeline.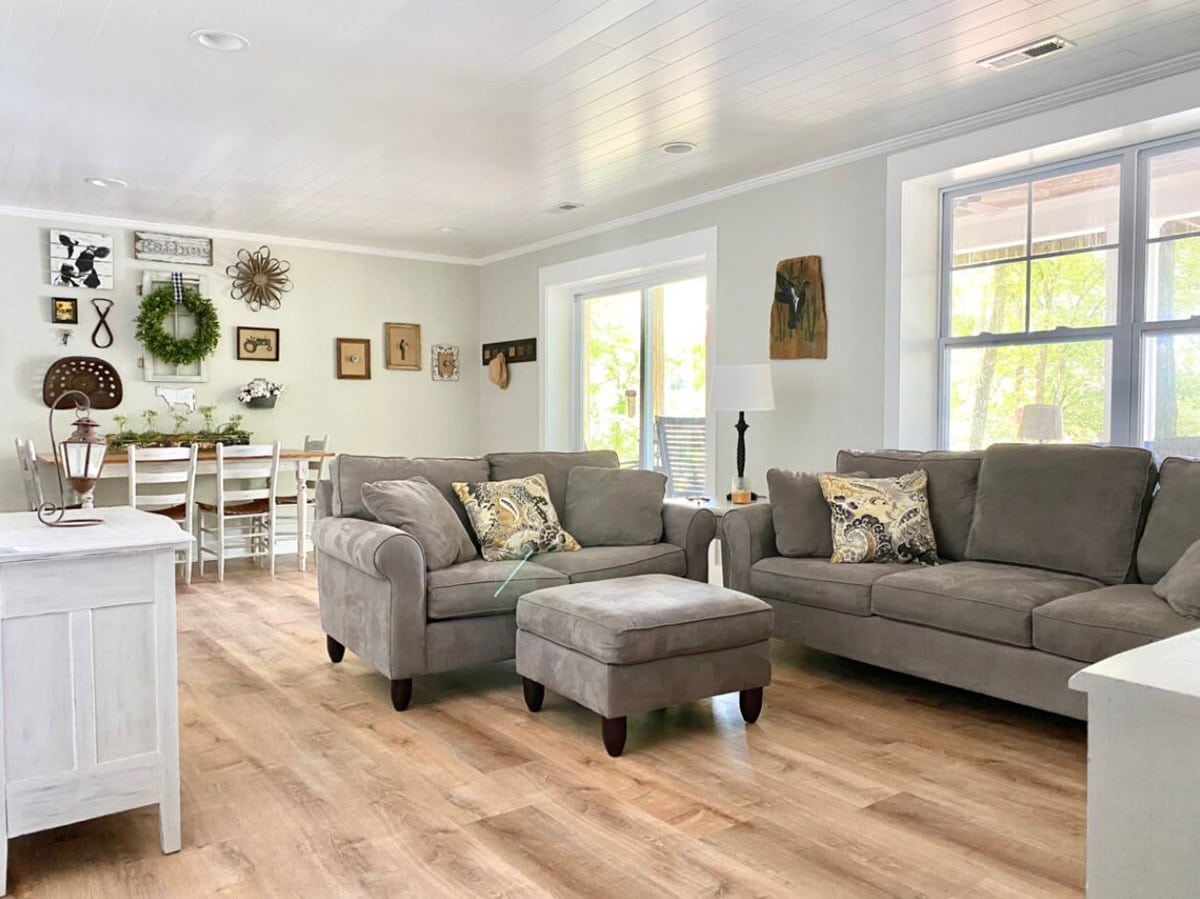 Vaulted Shiplap Ceilings with Beams
A vaulted ceiling looks great covered in shiplap too. Cover the ceiling with white planks and large wooden beams like this living room from Jill Holmes @holmessweethome_615 on Instagram.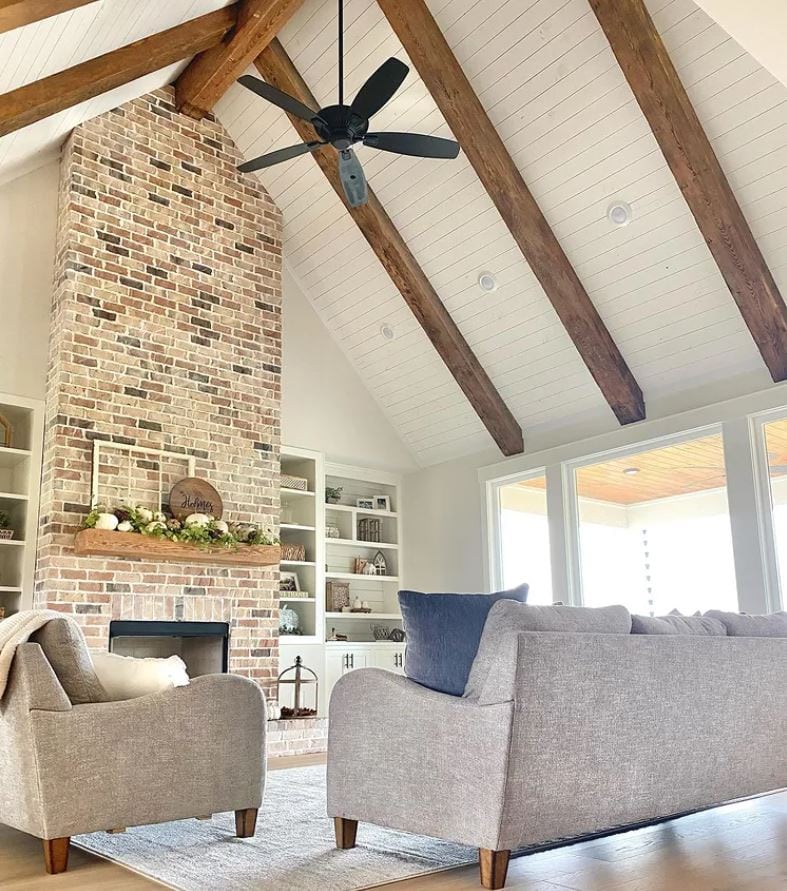 Create a Beautiful Farmhouse Bedroom
Liz from Love Grows Wild gave her bedroom lots of charm and texture by applying shiplap up the sloped wall. It ends just after meeting the ceiling. Then, she adds a wooden beam that provides additional color and a place to hang dreamy sheer curtains.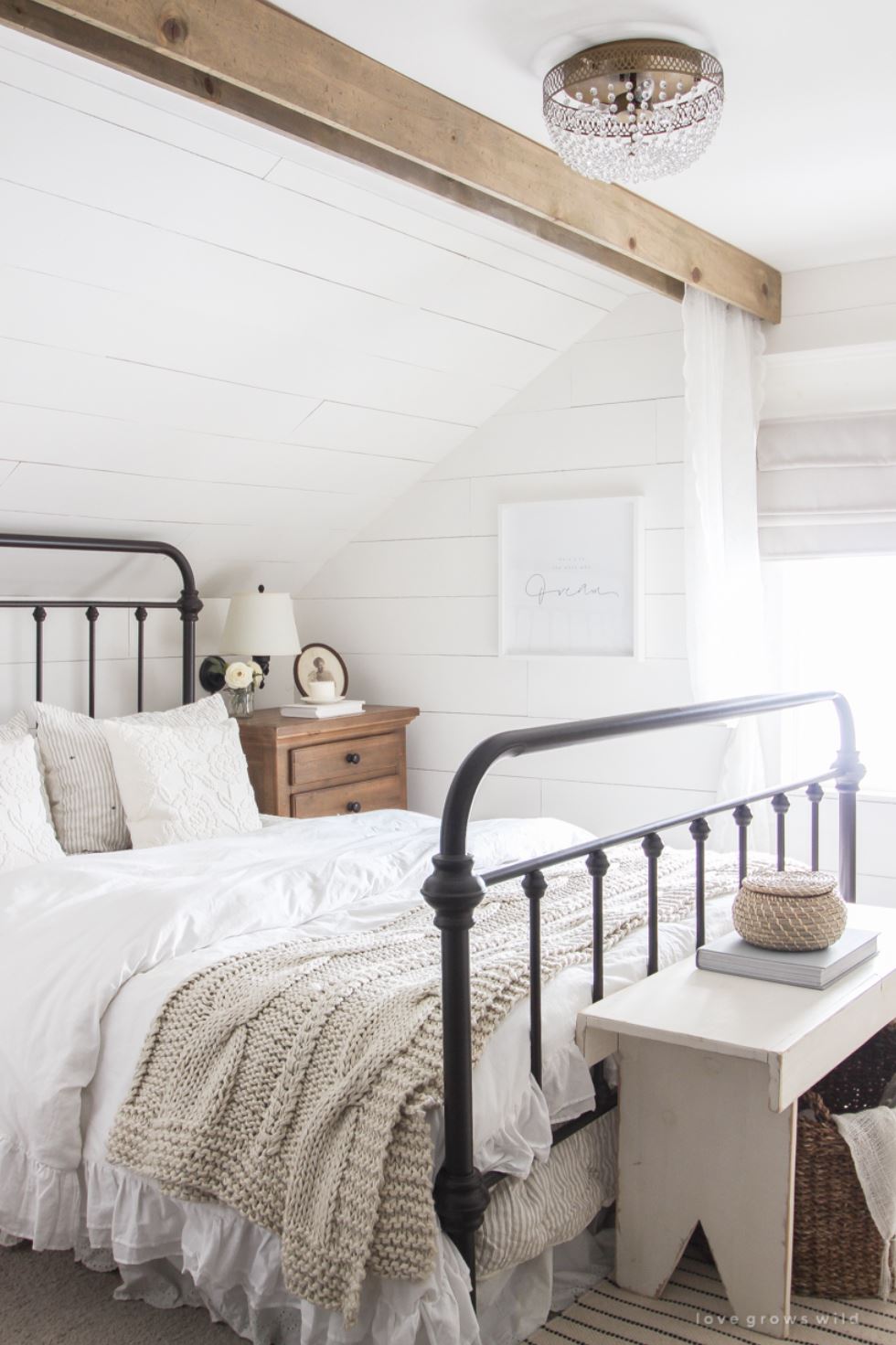 White Shiplap Ceiling in a Farmhouse Kitchen
Danielle Lea @candlewoodcottage on Instagram has shiplap featured throughout her home. This white planked ceiling (mirrored by a rustic wide plank floor and horizontal shiplap on the walls) is a showstopper.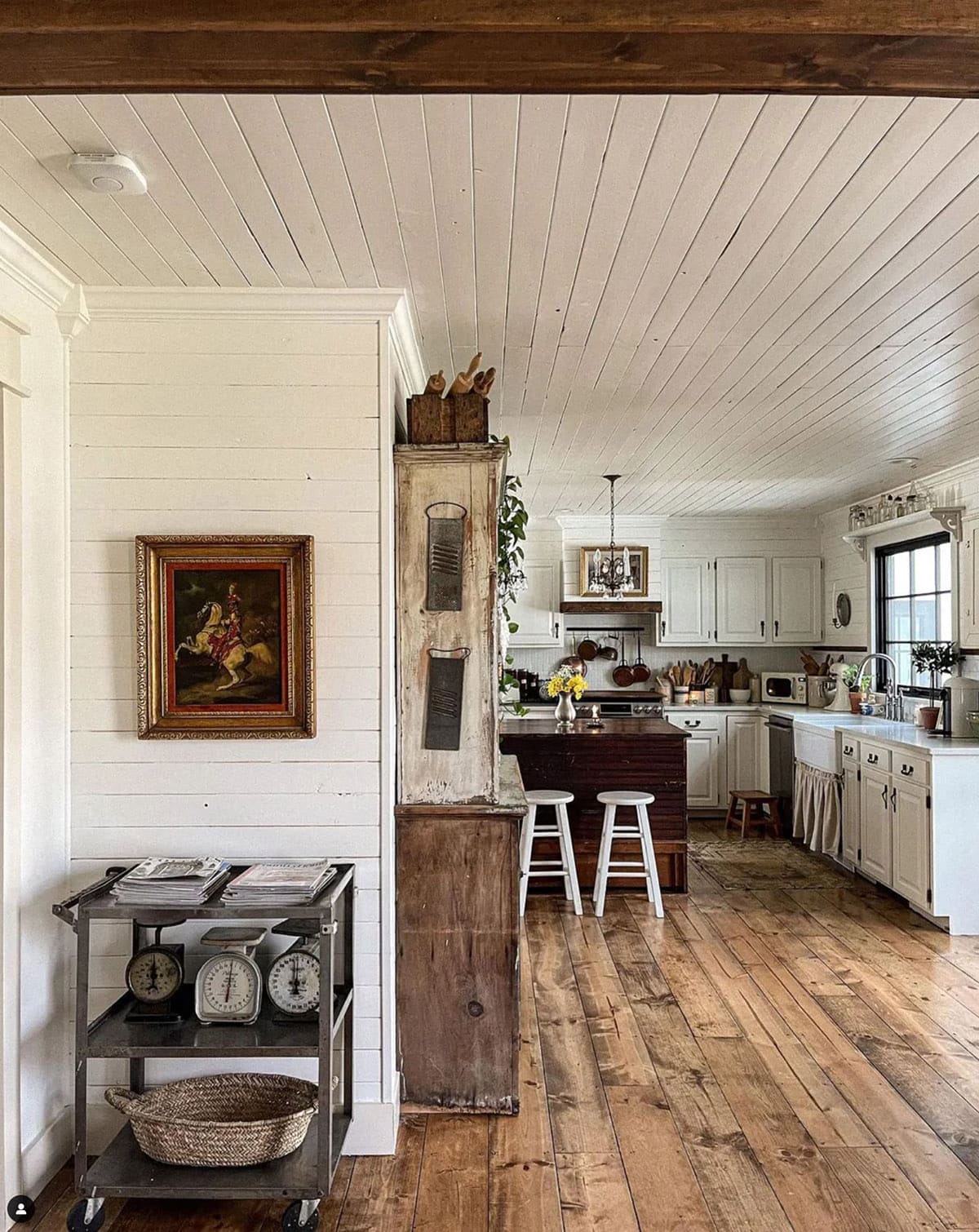 Carry Shiplap Up the Walls and onto the Ceiling
If you are lucky enough to be renovating a home that comes ready with character, use it to your advantage! Here, Amy Studebaker @amystudebakerdesign on Instagram utilized white painted shiplap on every inch of this little bedroom nook. A cute green trundle bed provides a pop of color.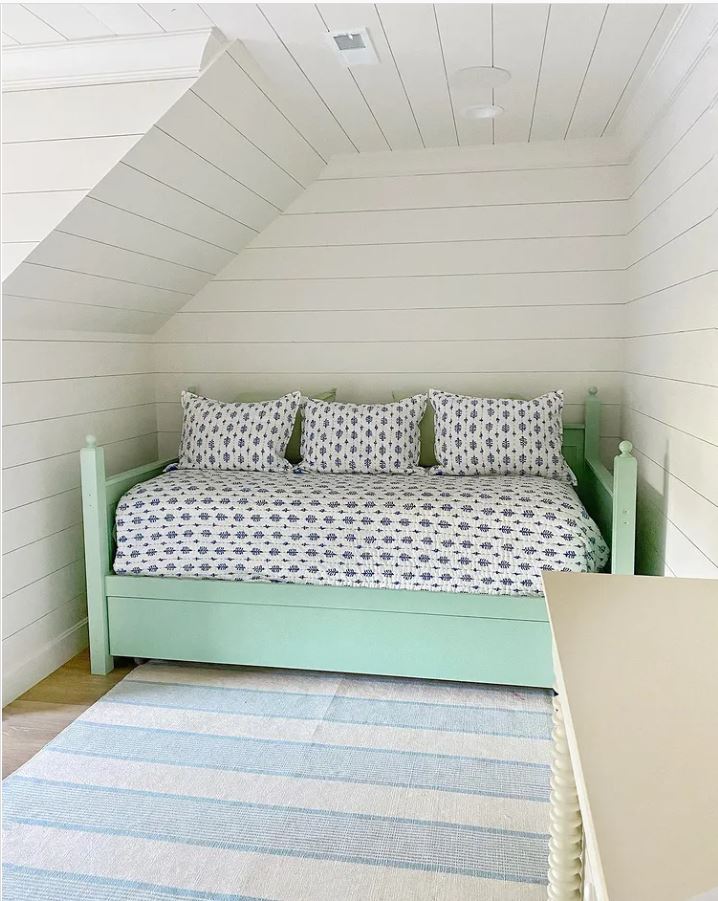 Ugly Popcorn Ceiling? Cover it up with Shiplap!
Rachel from Sprucing Up Mamahood shares a detailed tutorial on how to cover a popcorn ceiling with shiplap which she says is lots easier than attempting to scrape off the popcorn. Because her ceiling was already existent, the process was like installing a shiplap wall (they used 8″ wide shiplap planks). And just look at the beautiful finished product.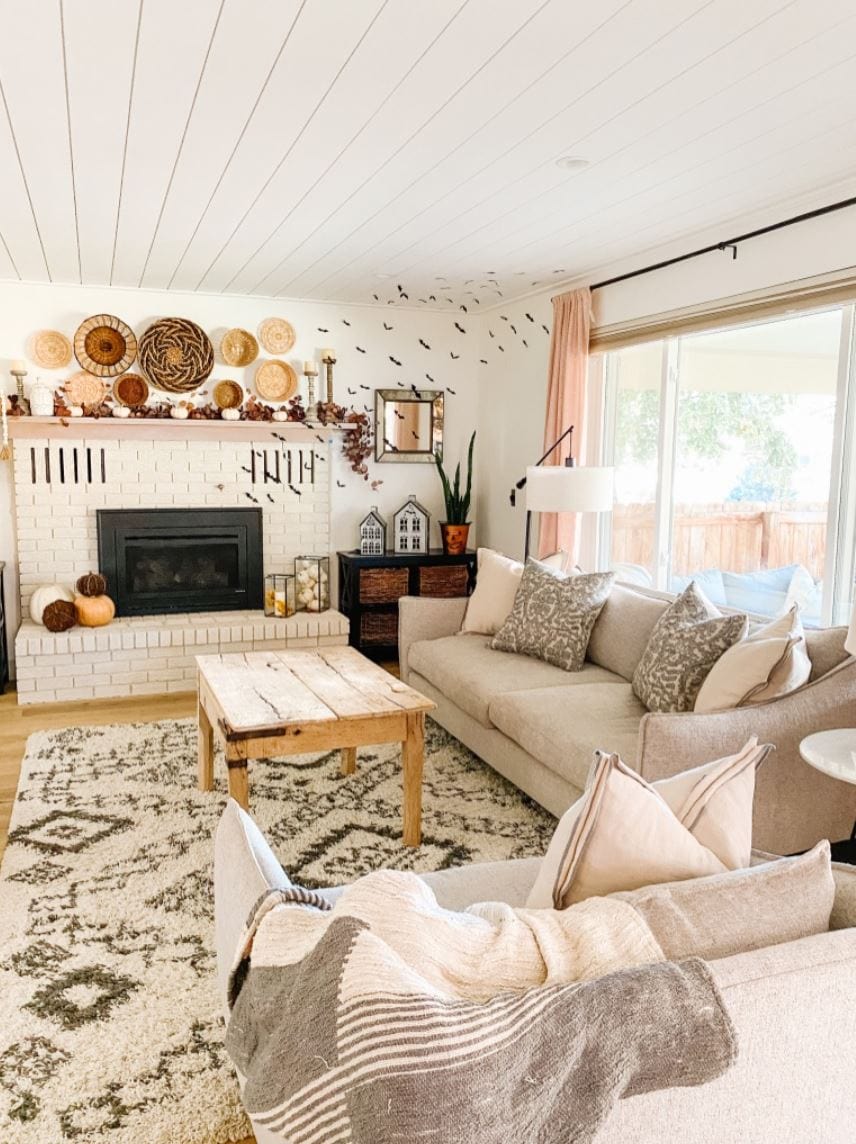 Embrace a Classic Look With Planked Ceilings
Amanda Marie from Sincerely Marie Designs points out how planked and beadboard ceilings are a common feature in older homes. Utilizing the look throughout your home not only embraces a classic vintage look, but can serve to cover ugly popcorn ceilings too (as well as textured ceilings which can be even messier to remove!). Check out How to Plank a Ceiling from Sincerely Marie Designs.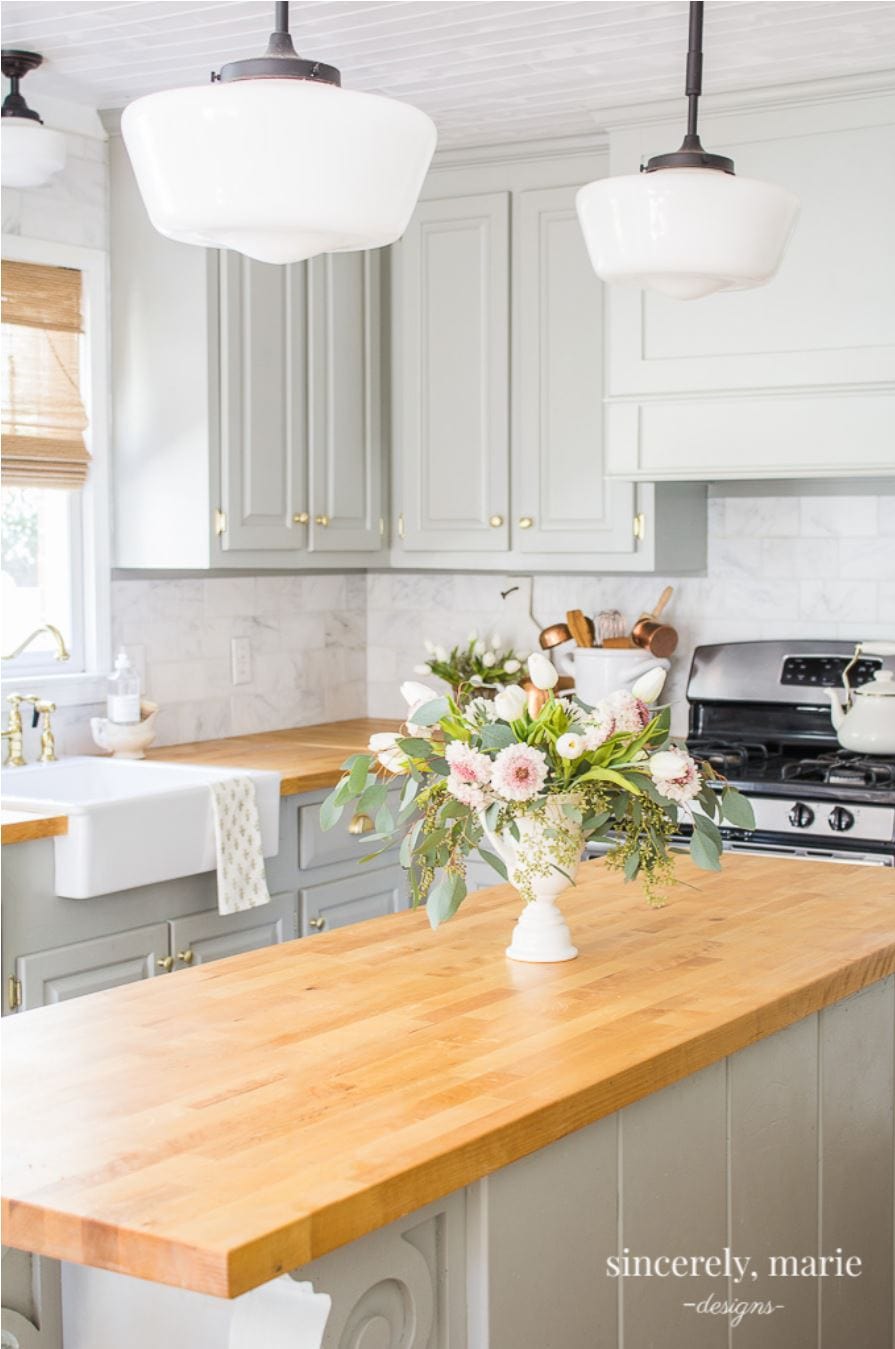 Pair White Shiplap with Wood Tones for Contrast
Oh I love this view in Veronique's lake house kitchen. This white planked ceiling in a white kitchen from @homesweetlakehouse is perfection paired with the wood tones in the open shelving, countertops and on the floor.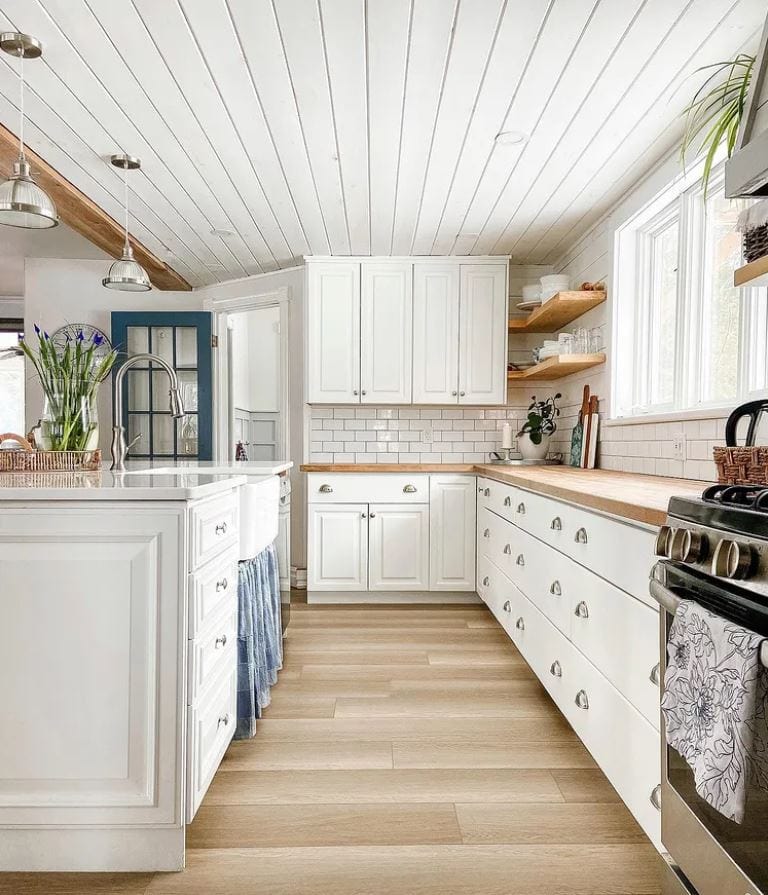 Fill a Nook From Floor to Ceiling with Rustic Shiplap
This beautiful nook from Misty Powell @mistymorning_ on Instagram uses vertical planks for the walls and then carries the look up onto the ceiling for a small space that is packed with charm.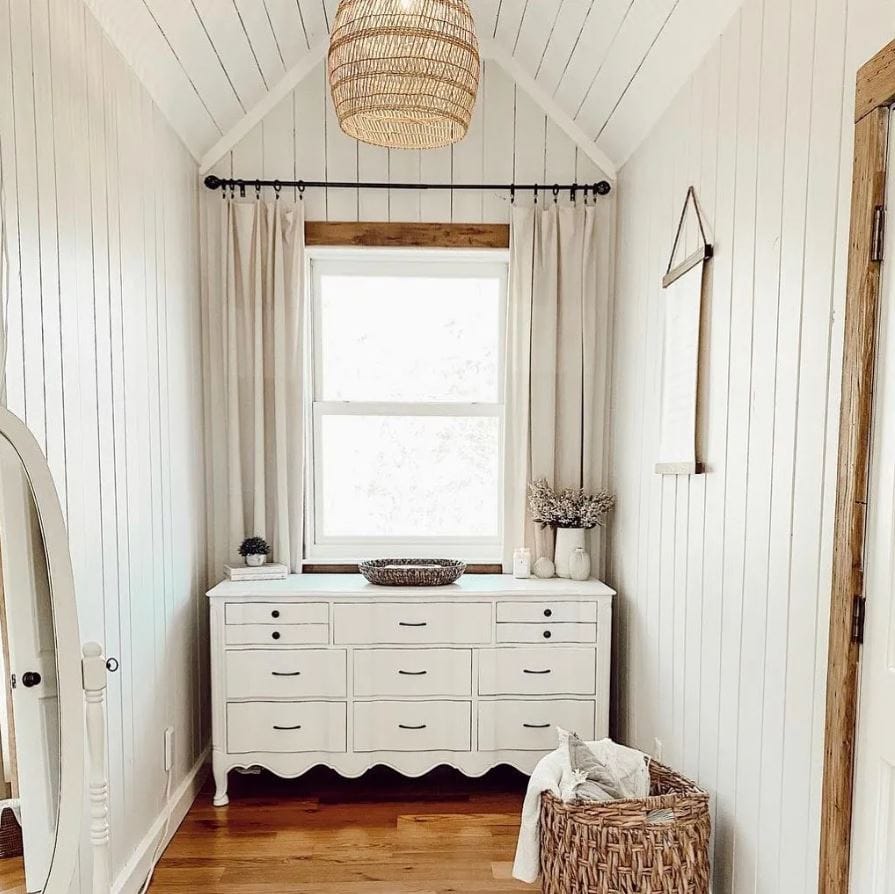 Try a Pickling Stain for a Different Look
Cindy at Edith and Evelyn shares how to plank a popcorn ceiling with plenty of tips. Learn what product to buy, how to install the ceiling, and when you should stain/paint. Cindy used Minwax white pickling stain from Lowe's to achieve a rustic whitewashed appearance.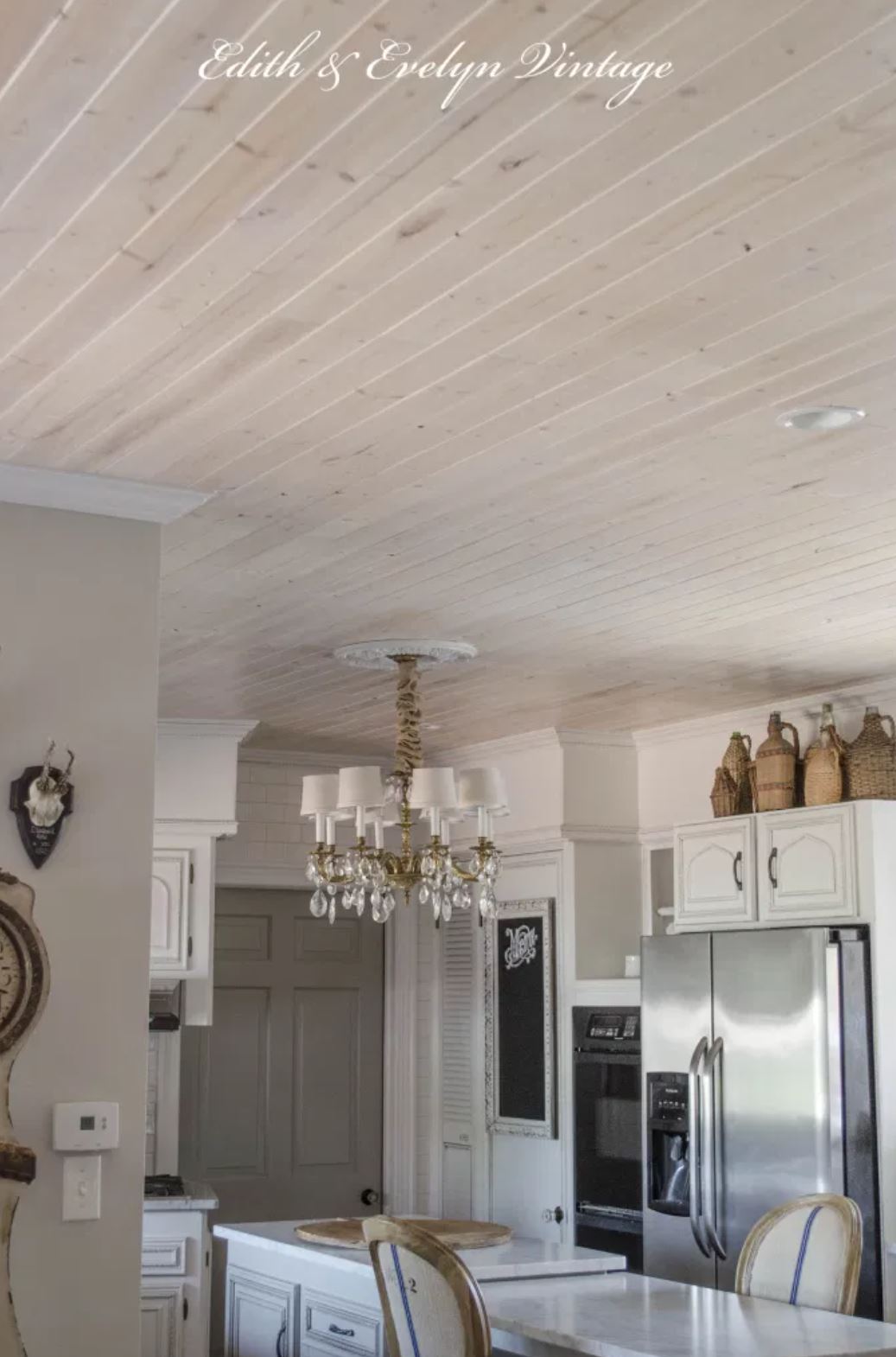 Shiplap Ceiling with Beams
This gorgeous kitchen from The Handmade Home features a wide plank white ceiling with beams and it doesn't stop here! In fact, Jamin and Ashley planked ceilings throughout their entire house…all at once. Whew! Check out the post for lots of details on how to DIY your own shiplap ceilings.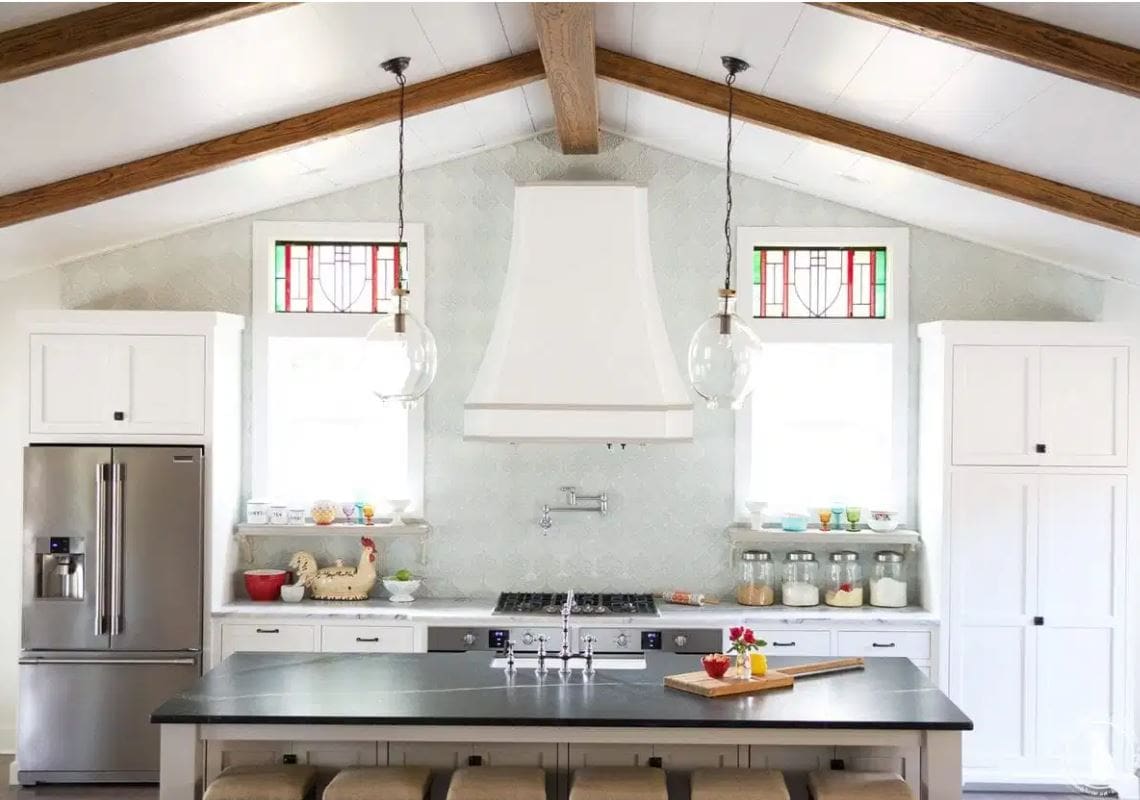 White Planked Ceiling with Wood Beams
This DIY Tongue-and-Groove Ceiling from Jenna Sue Design utilizes wooden beams to hide the seams created as the tongue-and-groove planks were installed. There are tons of great installation tips on this post. Tips like how to leave room for expanding boards and working around lights or speakers.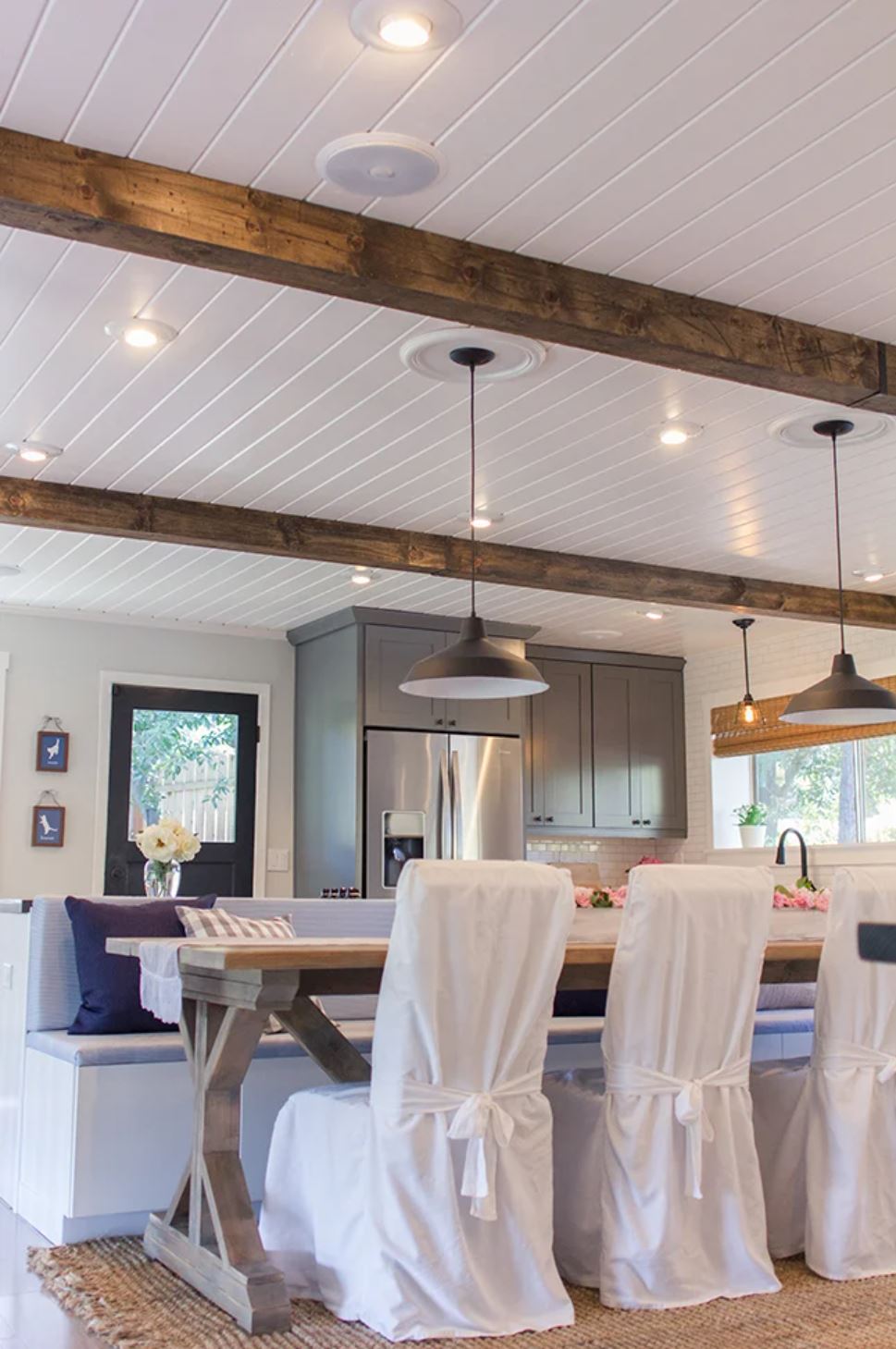 Rustic Statement Ceiling
If you love the look of a planked ceiling, but white shiplap isn't really your thing, consider adding a rustic statement ceiling like this one from The Lived In Look. Weathered wood planks from Lowe's create the look and there are lots of color options to choose from.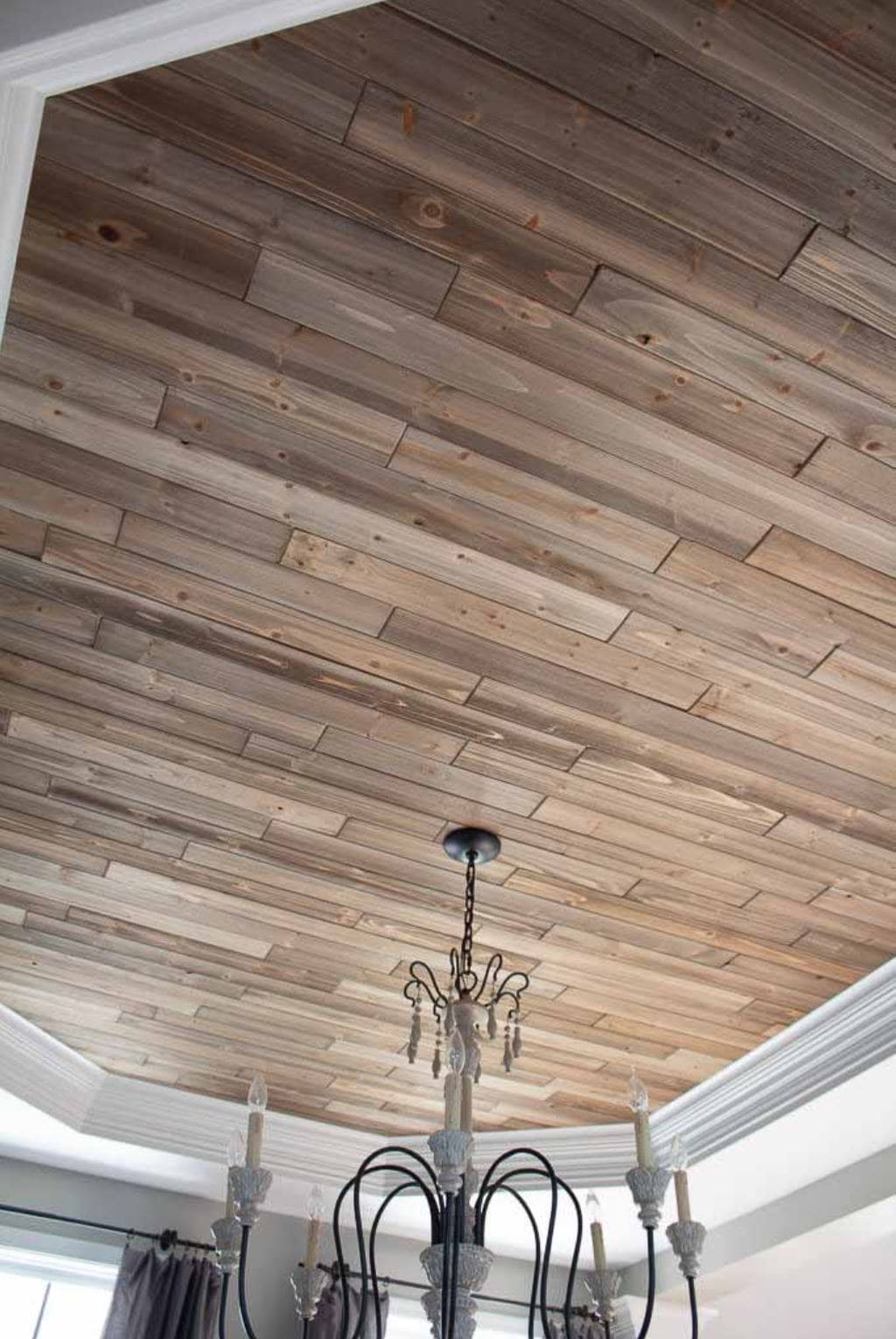 How to Plank a Ceiling + Tips
This tutorial on Planking a Ceiling from Forrester Home shares tips on how to install your own shiplap ceiling anywhere in your home.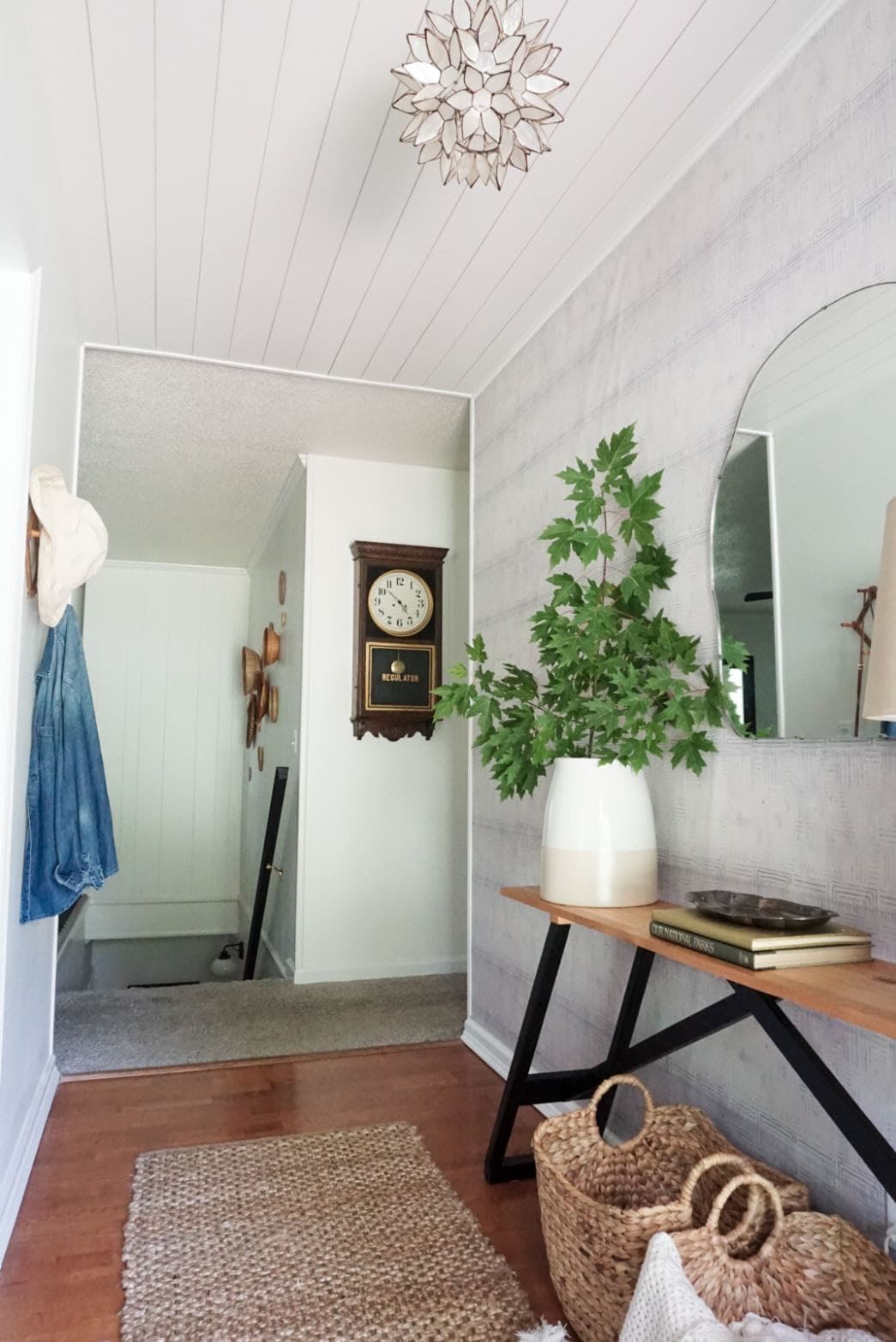 Cover a Rough Drywall Job With Shiplap
If you've ever scraped a popcorn ceiling only to realize that the original drywall job was subpar, planking the ceiling is a great option. This DIY Plank Ceiling tutorial from Lilies and Life shares all the materials used for the ceiling. It also shares details about the project cost and money-saving measures.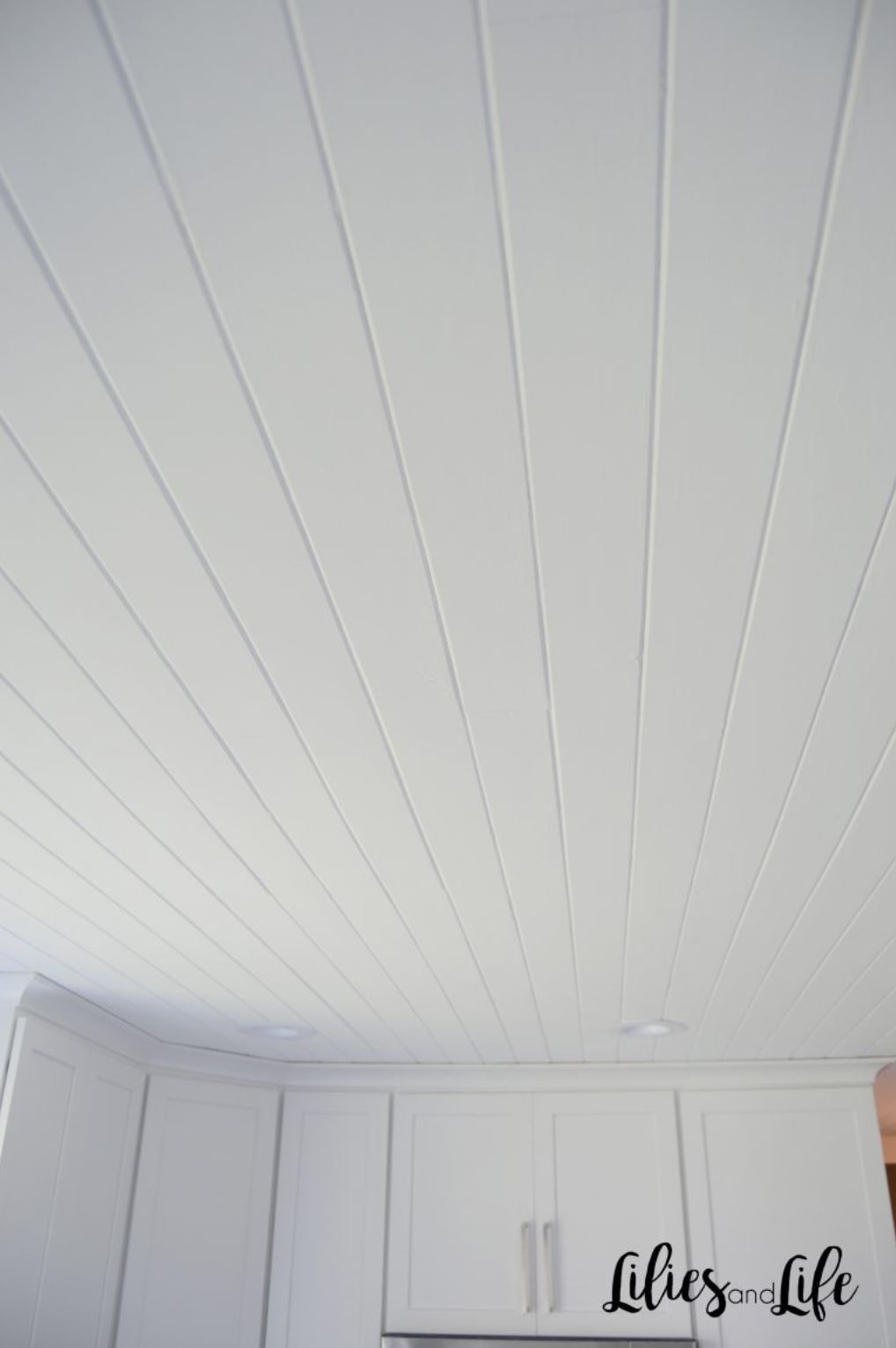 Cost of a Shiplap Ceiling
The cost of a shiplap ceiling varies quite a bit. The primary considerations are:
how large is your space?
are you DIYing the project or calling in professionals?
if DIYing, what tools do you own versus which tools will you need to buy?
is the ceiling ready to receive paneling or must repairs be made first?
does your home contain lead or asbestos (additional cost of mitigation measures)?
what material are you using for the shiplap ceiling?
Shiplap paneling is available at home improvement stores and it's a great way to get the project started. There's plenty of varieties available. Raw boards, primed, and even ready-to-install rustic boards with different finishes.
I suggest opting for a timeless look that will transition easily as your home style changes through the years.
Here are a few shopping options to get you started. Note that while these should be suitable for both walls and ceilings, they are offered only as suggestions. Be sure to check the product description and reviews before ordering a product seen here.
6″x8′ boards (6-pack) from the Home Depot will cost about $100 per pack (check the reviews to see these boards used in ceilings). These are pre-finished and ready to install.
A single 6″x8′ "Nickel Gap" Whitewood Board is sold for about $8 per board. These boards are ready to prime and paint.
These Arauco boards are 5.25″x8′ (about $11 per board) are pre-primed and able to be used on walls or ceilings (per the product description).

Even More Great Ceilings to Check Out
More Farmhouse Style Ideas from Bellewood Cottage