The Ultimate List of Farmhouse Gift Ideas
My Ultimate List of Farmhouse Style Gift Ideas provides over 50 special gift ideas for the farmhouse fanatic in your life. These farmhouse home décor gifts are perfect for birthdays, Christmas, special occasions, and even housewarming gifts.
Please note that this post contains affiliate links which allow me to earn a small commission when a purchase is made at no additional cost to you. Read more here.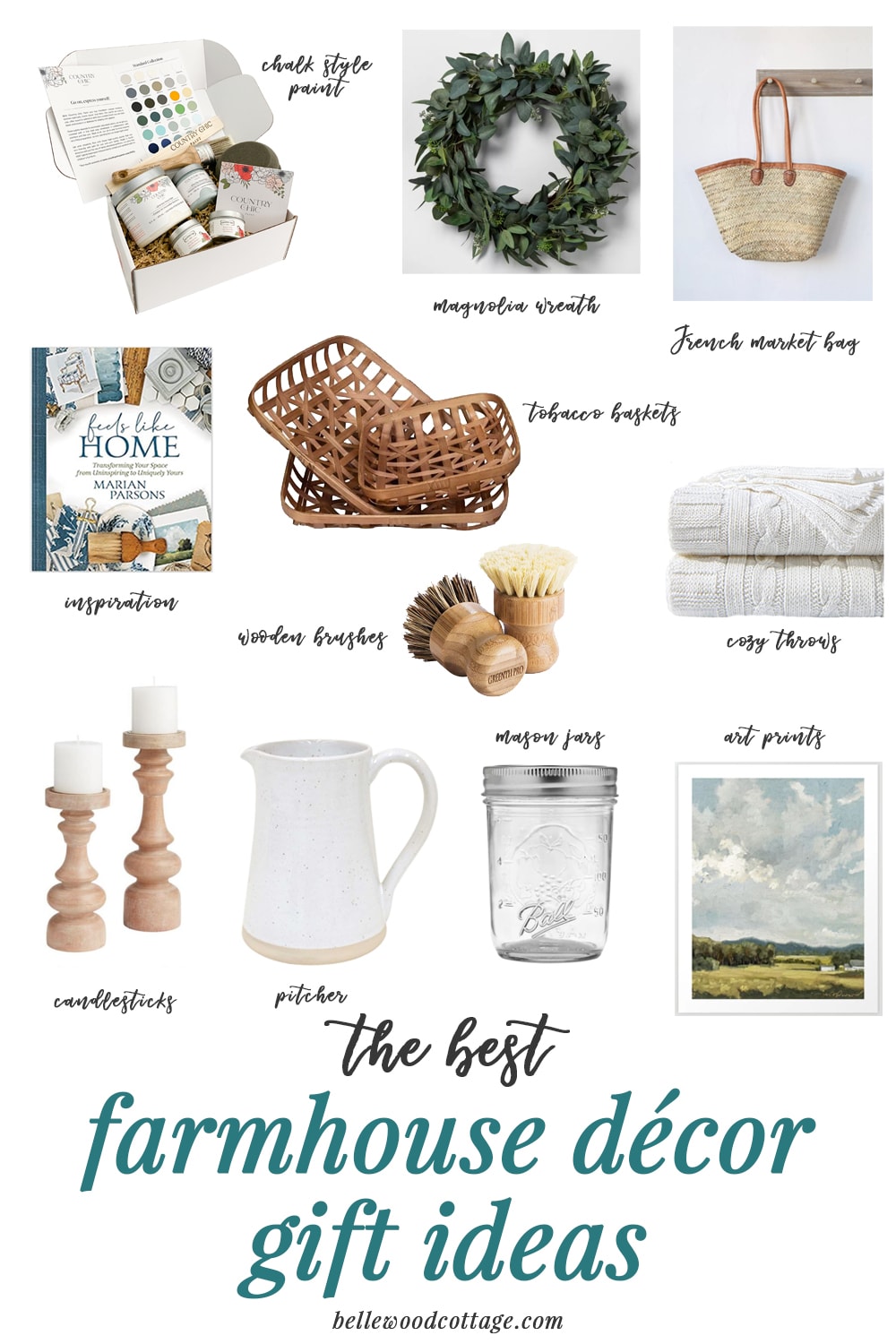 I'm so excited to share this list of farmhouse gift ideas with you today! If you are shopping for a friend or family member who loves Joanna Gaines, farmhouse style furnishings, chalk painting, and/or antiques…this is the list for you!
I've curated some of my favorite products and ideas including a recent chalk style paint I fell in love with, my current must-read home décor book, and the gift I want to give myself this year: linen sheets.
Come shop with me!
Favorite Farmhouse Gift Ideas
I've divided this list into five easy-to-read sections so don't miss the stocking stuffer ideas, ideas for DIYers, antique ideas (great for shopping local and one-of-a-kind gifts), and farmhouse décor books too.
If you are looking for great gifts for the farmhouse fanatic, this is the list for you. From cozy knit throws to letterboards, linen sheets to wooden dish brushes, there's something for every budget on the list.
Cozy Knit Throw Blanket
Cozy throws are a must for any home. For farmhouse style décor I opt for knit cabled throws in neutrals like whites, creams, and soft browns and grays.

Farmhouse Candle & Wooden Candlesticks
Candles and candlesticks add height to dressers, sideboards, and more. Most decorators will enthusiastically receive another set which is why I included this gift idea. The World Market Wooden Candle Holder remains one of my favorites.

Letterboard
Letterboards are everywhere. They make a great gift since they can be used anywhere in the home or for photoshoots/announcements (birthdays, new babies, back-to-school, etc.). Most farmhouse lovers will jump at the chance to add another letterboard to their collection.

Mason Jars
Whether you paint them, can with them, craft with them, or use them as storage vessels, mason jars will always be a farmhouse staple. Buy new jars OR hunt down antique jars for a one-of-a-kind gift.

Woven Baskets
It's easy to find a variety of woven baskets whether you shop online or locally for your gifts. Choose a sturdy basket in a neutral color in a mid-range size for gifting. And if you're hoping to make a more extravagant gift, fill the basket with more farmhouse goodies (makes a great housewarming gift)!

Linen Sheets
Linen sheets are absolutely a luxury item and I won't lie, they are pricey! If you want a show-stopping gift, this is the one. A couple of hints: Go for 100% linen, read the reviews, and plan to spend around $200+ for a complete sheet set of high-quality. I was browsing through the linen sheets on Etsy and there are SO many beautiful ones.

Linen Apron
A linen apron or two hanging in the kitchen is a simple and sweet touch that is useful too!

White Pitcher
Antique ironstone is hugely popular in farmhouse décor. It can often be pricey though. Get a similar look by purchasing a new white pitcher. I also have a roundup of my favorite white pitchers for more ideas.

Large Glass Kitchen Storage Jars
Fill these large jars with various dry goods (flour, sugar, coffee beans, etc.) and display on your countertop for farmhouse kitchen décor that is practical too.

Camont Art Print
What could be better in a farmhouse style home than artwork inspired by a real-life 18th century stone farmhouse? This beautiful art print reminds me of Pride and Prejudice and I plan to snag one myself once I decide on a size.

Magnolia Leaf Wreath
Magnolia wreaths are a classic farmhouse touch. They can be placed nearly anywhere in the home so they are a great gift idea for the farmhouse décor fan.

A Cute Breadbox
A breadbox is handy and helps clear clutter from countertops. Here's a roundup of more cute breadboxes.

Peg Rack
An easy farmhouse décor idea is to hang a wooden peg rack in your entryway or kitchen. Fill it with a wooden broom, a leather or woven bag, a scarf or jacket, and a bouquet of dried flowers.

French Market Bag
A market bag hung on a peg rack is simple statement of farmhouse charm. These pretty bags aren't always easy to find so they make a great gift idea since your recipient might not have one yet.
I like this leather handle bag from Anthropologie.

Leather Tote Bag
Another great item for your peg rack–practical and durable.

Lettered Book Stacks
Hand stamped book stacks are very popular right now and they can be customized to say whatever you'd like. You can make your own or check Etsy.

Tobacco Baskets
Another farmhouse style classic–these are great for hanging on an empty wall, adding height to décor displayed on dressers or sideboards, or collecting knick-knacks on coffee tables.

Dough Bowls
A vintage dough bowl makes a great vessel for creative table décor! Keep your eye out for vintage dough bowls in antique markets.

Landscape Prints from Miss Mustard Seed
If you are looking for something unique that isn't a mass-produced item, check out Miss Mustard Seed's Society6 Shop. Marian Parsons paints such beautiful work and you can order prints in various sizes to suit the recipient you have in mind.

Farmhouse Décor Stocking Stuffer Ideas
I also wanted to include some smaller farmhouse gift ideas that are great for lower budgets and/or tucking into a stocking.
Wooden Brushes
Simply replacing sponges and plastic dish brushes by your sink with wooden brushes can be a gamechanger when styling a farmhouse kitchen. These little brushes make great stocking stuffers.

Leather Journal
These leather journals could be used for journaling, sketching, and more.

Mugs from Hearth and Hand
A mug might be a common Christmas gift, but these mugs from Joanna Gaines are irresistible. I love the rustic feel.

Small Candles
Small candles with signature scents make fall and winter so much more cozy. They make a great gift idea since candles don't last forever!

Cheerful Little Wooden Houses
I recommend pursuing Etsy for unique hand-crafted farmhouse décor too. One of my recent favorite finds are these sweet wooden houses from Purely Katie on Etsy:

Christmas Ornaments
Christmas ornaments are one of my favorite stocking stuffer ideas. I like looking for ornaments at Target, Anthropologie, and on Etsy.

Ideas for DIYers
If your gift recipient loves repainting furniture, tackling DIYs around the house, or is always crafting something new, here's a few more specific ideas for DIYers.
Country Chic Paint Starter Kits
A chalk style paint "starter kit" works for both beginner and advanced furniture painters. Getting a selection of new paints and supplies to try is Christmas magic in a box.
I like the all-in-one element to these gift boxes and if you aren't familiar with Country Chic Paint they are a fantastic small company that is focused on creating easy to use ultra-low VOC paints. Here's a dresser I recently updated using their paints.
There is a Medium Starter Kit and a Large Starter Kit available. They each include paints, waxes, and a color card. My preference is to go with the Large Starter Kit since it includes a 16 oz container of paint (plenty for a piece of furniture) and a brush too (instead of just a painting sponge).
They also sell brushes and specialty finishes.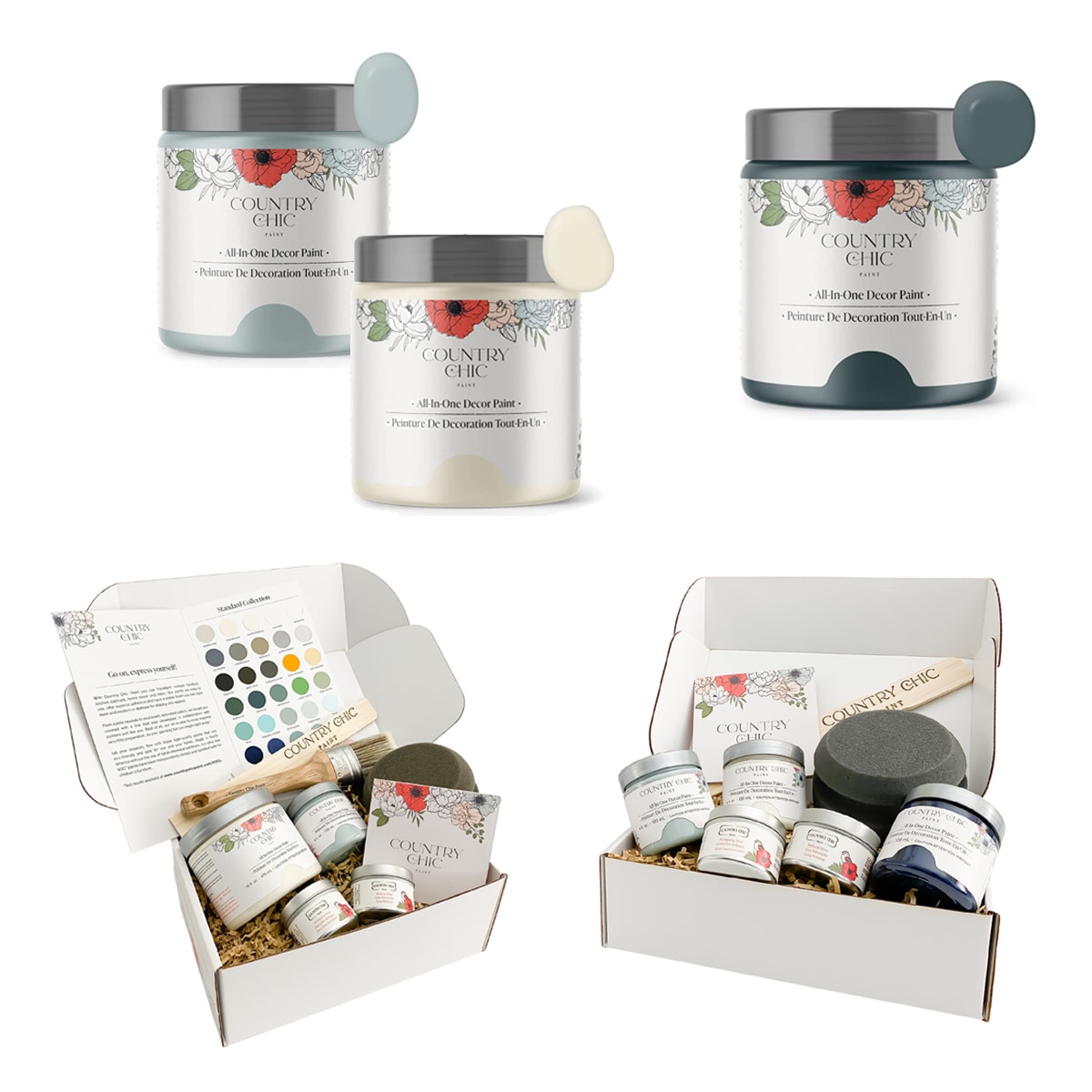 Magnolia Chalk Paint
Magnolia Chalk Paint from Joanna Gaines is also one of my top picks for gifting (the colors are beautiful). It's available online from Magnolia and also at Target. Target offers free shipping for $35+ orders, so that's where I usually grab mine.

A Cricut
These little machines can be pricey, but you can do so much with them. The Cricut Joy is a good machine for doing the basics (cuts 50+ materials) while the Cricut Maker 3 is the ultimate (cutting 300+ materials including fabric and wood and it has 13 tools/capabilities).
The machines are great for farmhouse décor fans because they allow a decorator to customize products with farmhouse sayings (think mugs, cards, t-shirts, trays, blankets, etc. etc.) and lots more (like crafting felt or paper flowers). They are incredibly versatile machines perfect for the DIYer.
This Cricut Comparison Chart from Michaels is really helpful if you are shopping for a Cricut machine this year.

Ideas for Farmhouse Antique Lovers
While buying online and at larger retailers is convenient, I love to shop small when I can. This quick list of ideas features gift ideas for farmhouse antique lovers that you can find on Etsy or hunt down locally at antique markets, flea markets, or sometimes even garage sales.
Ironstone: white ironstone dishes are beautiful displayed in collections which makes them perfect for gifting…you can always use another one!
Vintage scales: hunt for antique scales in unique colors like green or blue to give any room a pop of color.
Old books: These can be painted, made into lettered book stacks, or just displayed for their colors and character.
Stoneware crocks: These crocks can be used to hold other antiques (like wooden spoons or utensils), for organizing art supplies, and more.
Wooden spoons & utensils: A group of vintage kitchen finds looks great clustered together and displayed in a vintage crock.
Wooden crates: vintage crates can be used for storing and organizing, or just adding a little charm to a coffee table or other flat surface.
Favorite Farmhouse Décor Books
I had a hard time narrowing down my favorite farmhouse style for this post, so I'm already drafting another post with lots more book ideas for the farmhouse fan. But to start, here are four of my current favorites:
Homebody: A Guide to Creating Spaces You Never Want to Leave by Joanna Gaines

Feels Like Home: Transforming Your Space from Uninspiring to Uniquely Yours by Marian Parsons

Simple Farmhouse Life: DIY Projects for the All-Natural, Handmade Home by Lisa Bass

A Touch of Farmhouse Charm: Easy DIY Projects to Add a Warm and Rustic Feel to Any Room by Liz Fourez

And that wraps it up! Whether you select a book, stocking stuffer, farmhouse décor piece, or supplies for the DIYer, I hope you've found the perfect gift for your farmhouse fan. And maybe you even found a few ideas for yourself too!
Happy Shopping!