20+ Inspiring Farmhouse Style Kitchens from DIY Bloggers
Considering a kitchen update? You'll love this list of over 20 inspiring farmhouse style kitchens from DIY bloggers. Colorful cabinets, white cabinets, minimalist, modern, European, cottage style–this list has it all!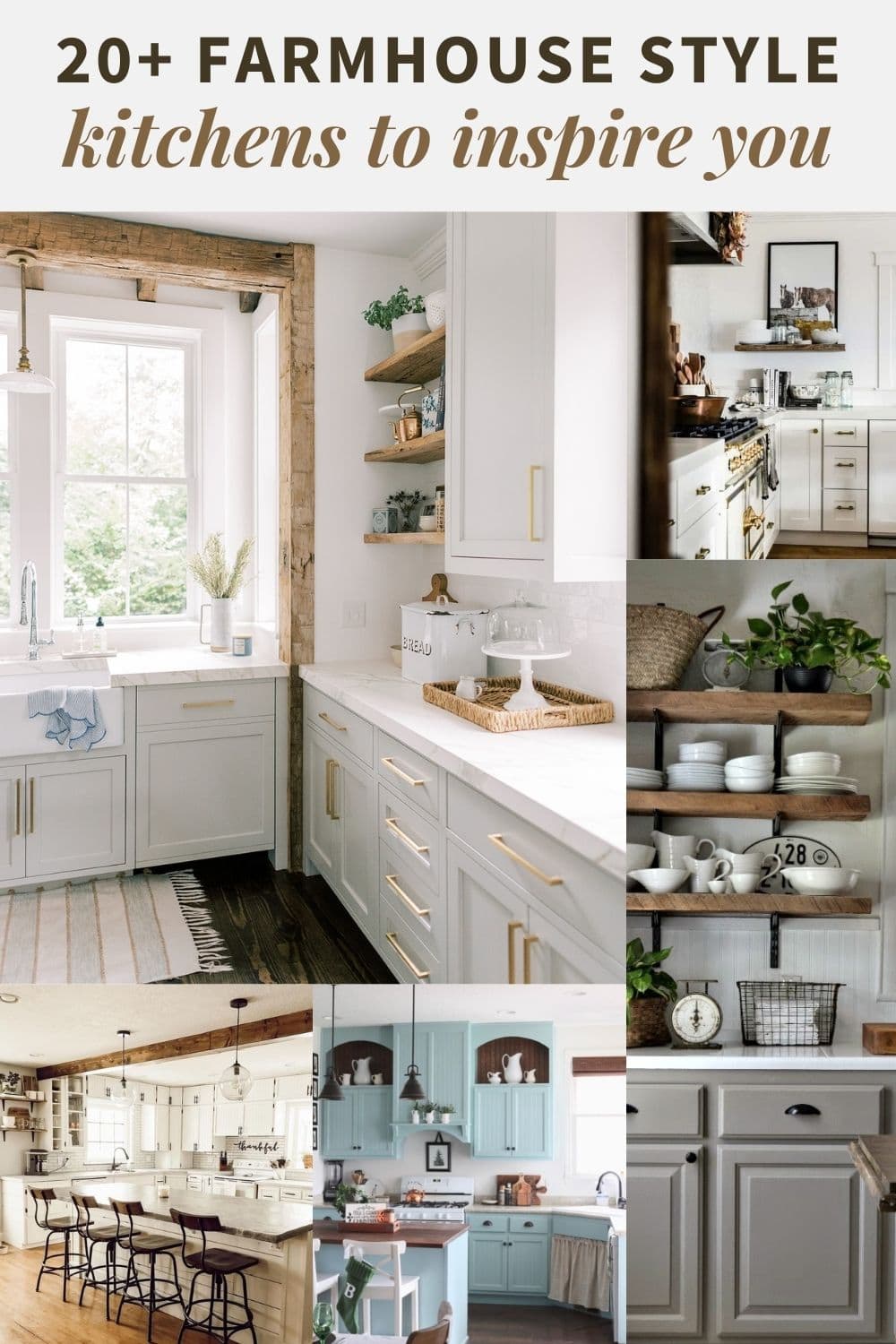 Photos used with permission (directly given or from the photo usage policies found on the respective websites) from the original bloggers and creators.
Thanks to each blogger for sharing their wonderful ideas!
We recently started chatting about updating our countertops. They are original to our home and they are, well, they are pink. It's a blushy, subtle, pastel pink. But pink it is.
So, you can imagine I've been eager for some other options. Hence, this list of inspirational kitchen updates.
I love encountering before-and-afters of fellow bloggers' kitchens online. It's so helpful to see the transformation step-by-step, and get ideas for updates that span a variety of budget constraints.
Thinking About a Kitchen Update?
As you look as these photos, look for inspiration too from the décor pieces used throughout. Like me, you may want to update everything about your kitchen, but sometimes change can be accomplished just with some simple (and budget-friendly) accessory swaps!
And I personally love seeing kitchen updates that have been accomplished with some good old scrappy DIY. We all love to save a few dollars right? A great way to do that is often just to put in some time and sweat to get things changing!
These kitchens (while not every element is a DIY project) are wonderful examples of what can be done with paint, small updates, larger updates, change of décor, and other ideas. No matter your budget, you can slowly update your kitchen to feature the style you love.
20 Inspirational Farmhouse Style Kitchens
Note: Farmhouse style is a pretty broad term these days and these kitchens run the gamut from minimal farmhouse to European farmhouse, country cottage to modern farmhouse. There are many elements to inspire!
I hope you enjoy these inspirational farmhouse style kitchens as much as I do! And please, wish me luck on getting rid of my old pink countertops!
Farmhouse Style Kitchen with Reclaimed Barnwood
Dream kitchen right here. I had the hardest time choosing just one photo to feature from Jackie's farmhouse style kitchen (Finding Lovely). I had to settle on a shot that revealed this gorgeous reclaimed wood surrounding the sink area. Wow. Note: I highly suggest reading Jackie's entire post because each photo is just perfection.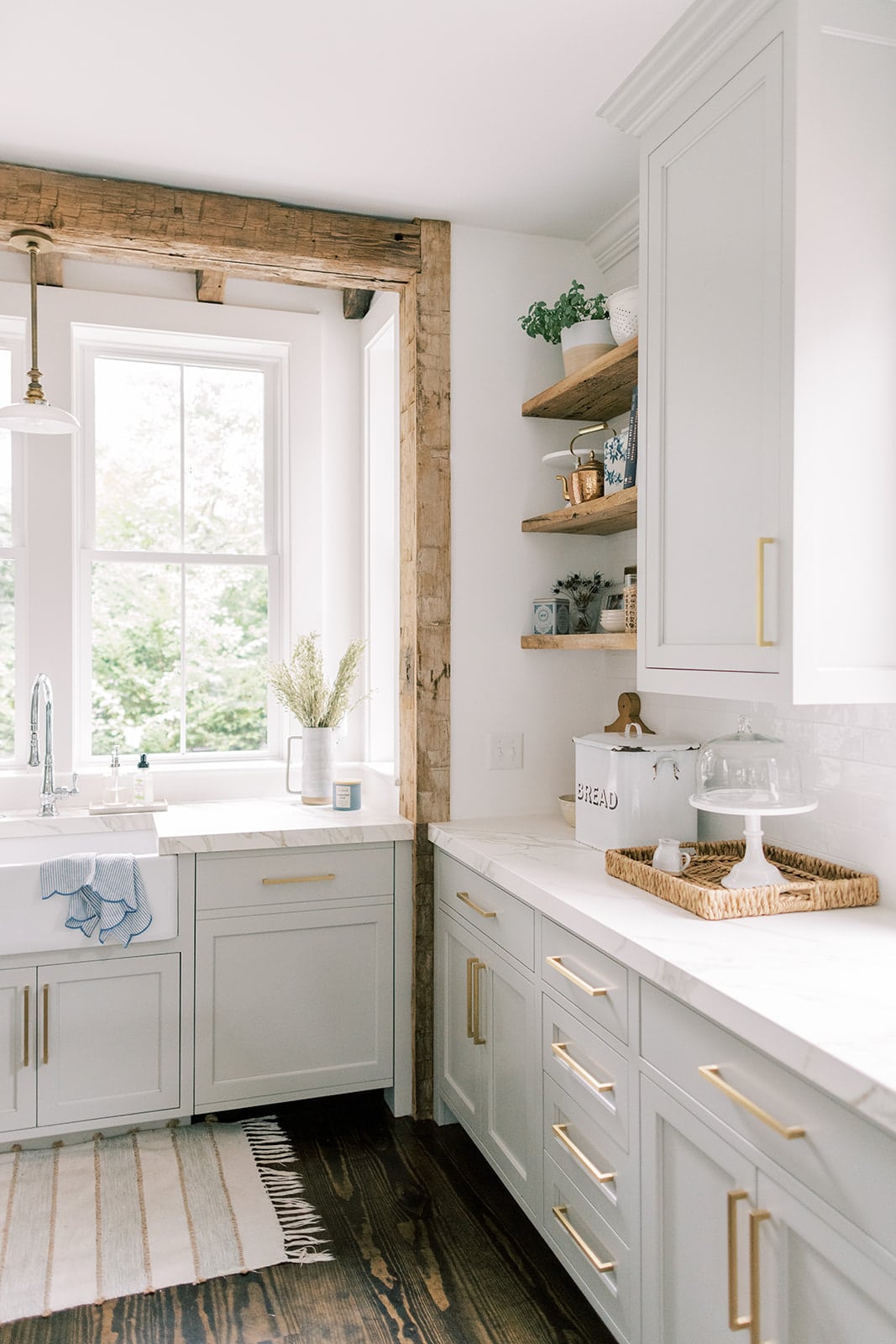 A Farmhouse Style Kitchen with Antiques and a Green Island
A statement island in Boxwood Green (painted with Miss Mustard Seed's milk paint) in Marian's kitchen (Miss Mustard Seed) provides color and dimension in a white kitchen. I love the use of antiques like copper pots, ironstone, and vintage linens.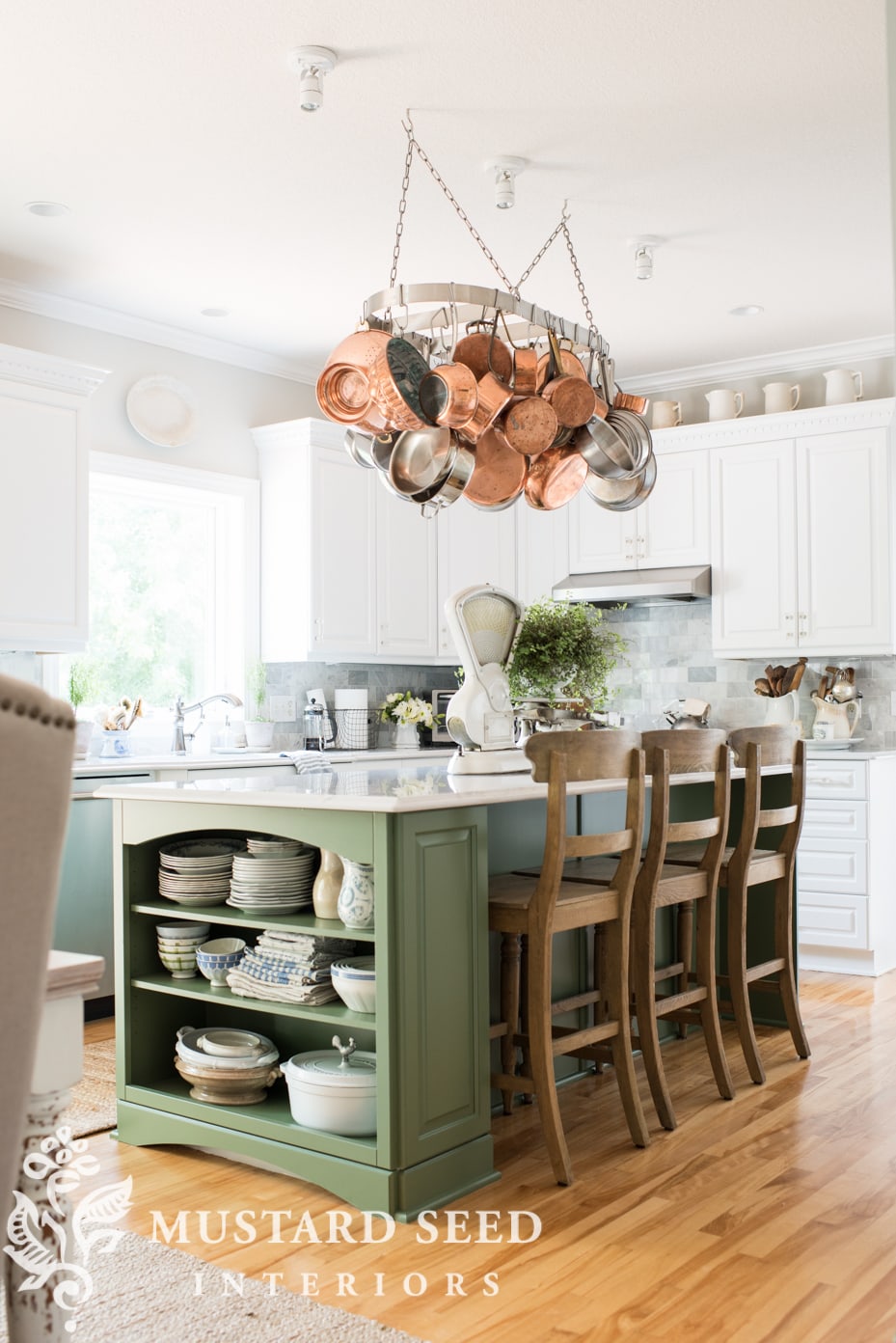 Antique Kitchen Island in a White Kitchen
There's lots to love about Liz Marie's light-filled white farmhouse kitchen…but my favorite element is probably the vintage countertop-turned-island. It's a history-filled statement piece that makes for a totally one-of-kind farmhouse space!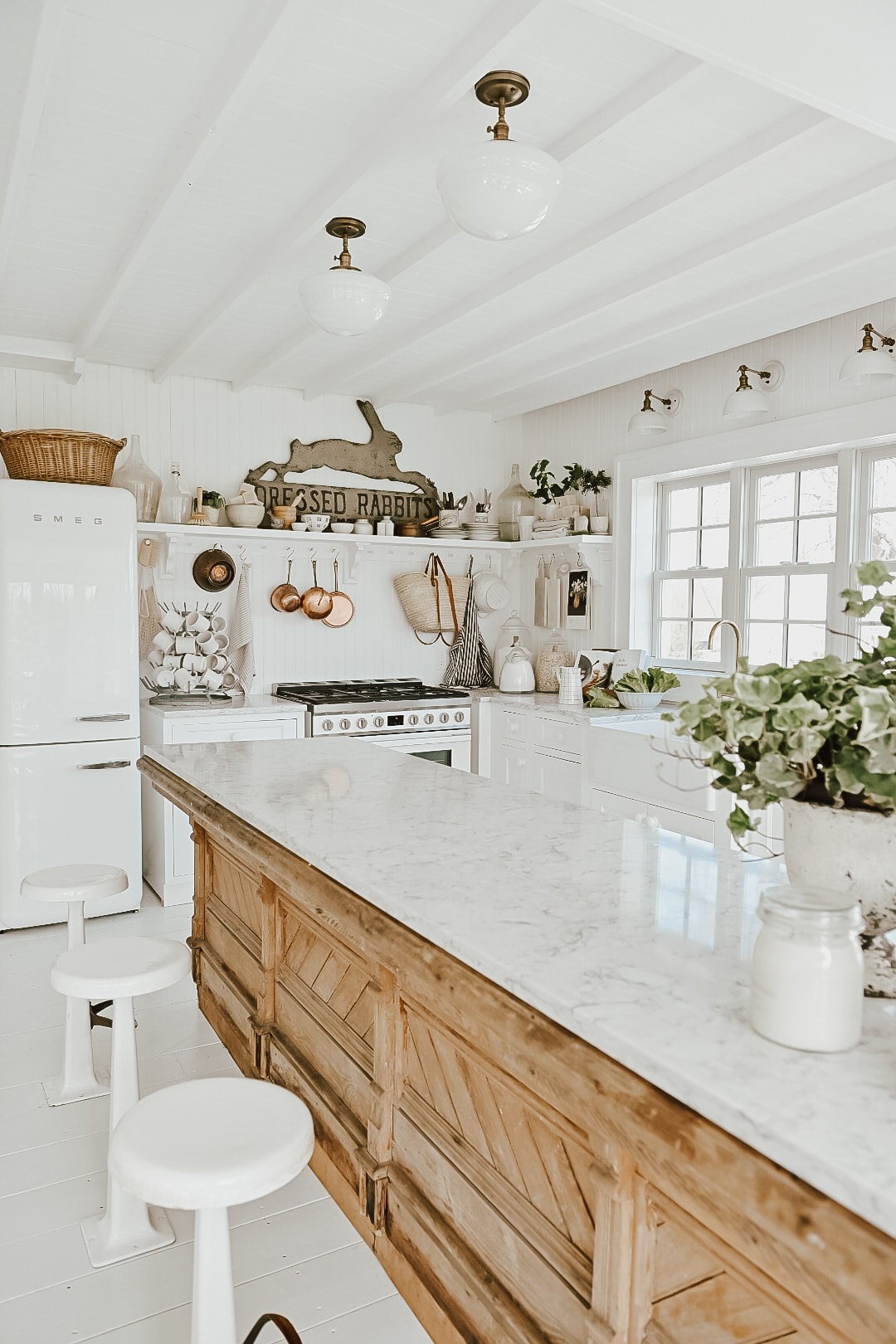 European Farmhouse Kitchen
I eagerly followed Cami's journey as they built their home and she designed this beautiful European kitchen from scratch. The soft blue cabinetry and the thoughtful antique décor accents create a truly European farmhouse style feel. Lovely!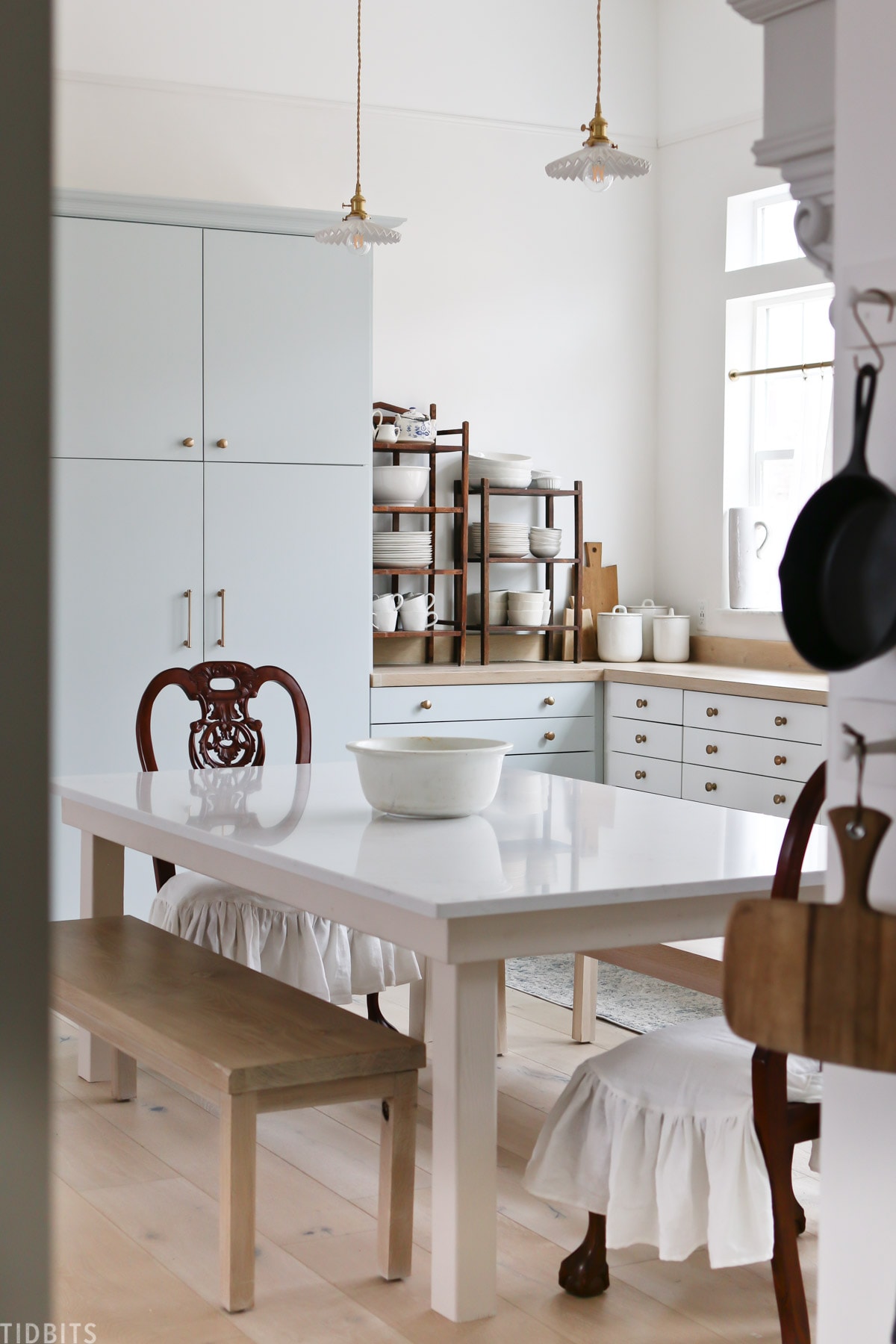 White and Wood Farmhouse Kitchen
This white & wood kitchen from Rachel at Maison de Pax is a stunner. If you want a farmhouse kitchen that will be timeless, Rachel's design will surely inspire you!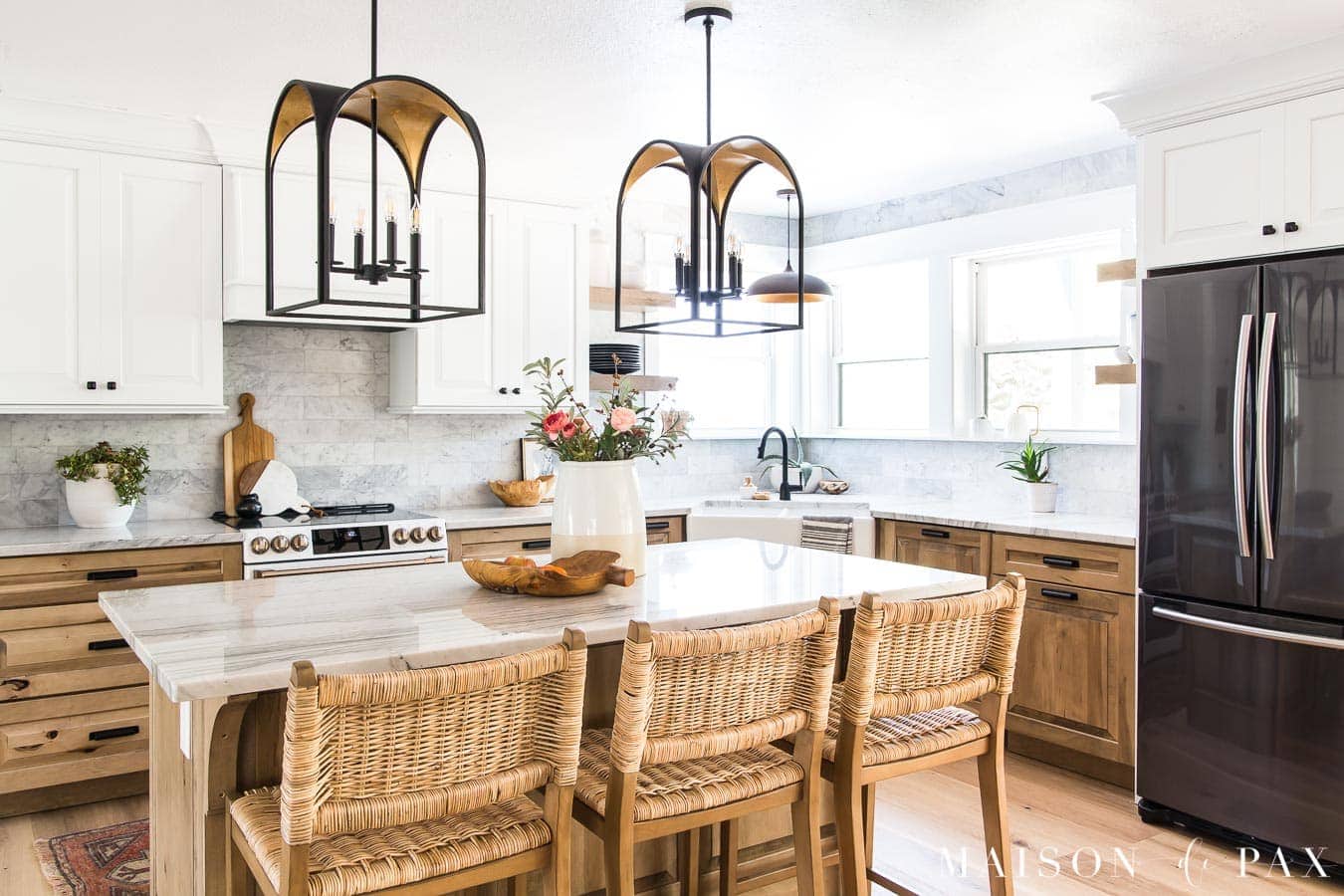 European Farmhouse Style Kitchen
Deb from Seeking Lavender Lane created a European farmhouse kitchen with so many stunning elements–like the diamond pane windows above the sink. Gorgeous. This is her kitchen reveal post and this post with all the autumn kitchen vibes is a must-see too.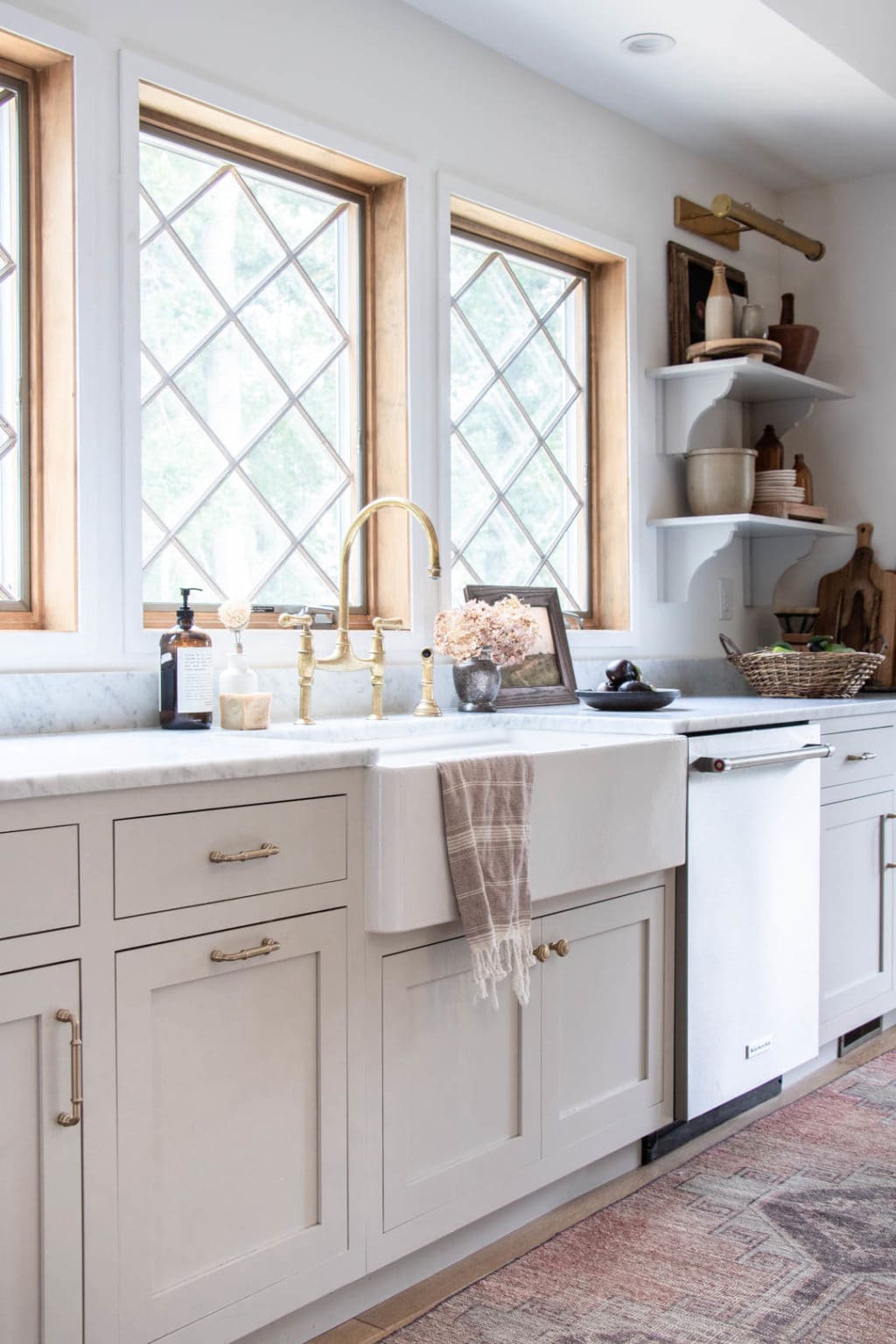 Love free craft ideas? Subscribe to Bellewood Cottage for more fun and relaxing craft ideas straight to your inbox.
Warm Tones in a Cottage Kitchen
Amanda Marie at Sincerely Marie Designs refreshed her cottage farmhouse kitchen renovation by changing to warm tones (love the copper décor accents!) and unlacquered hardware that develops a beautiful patina over time.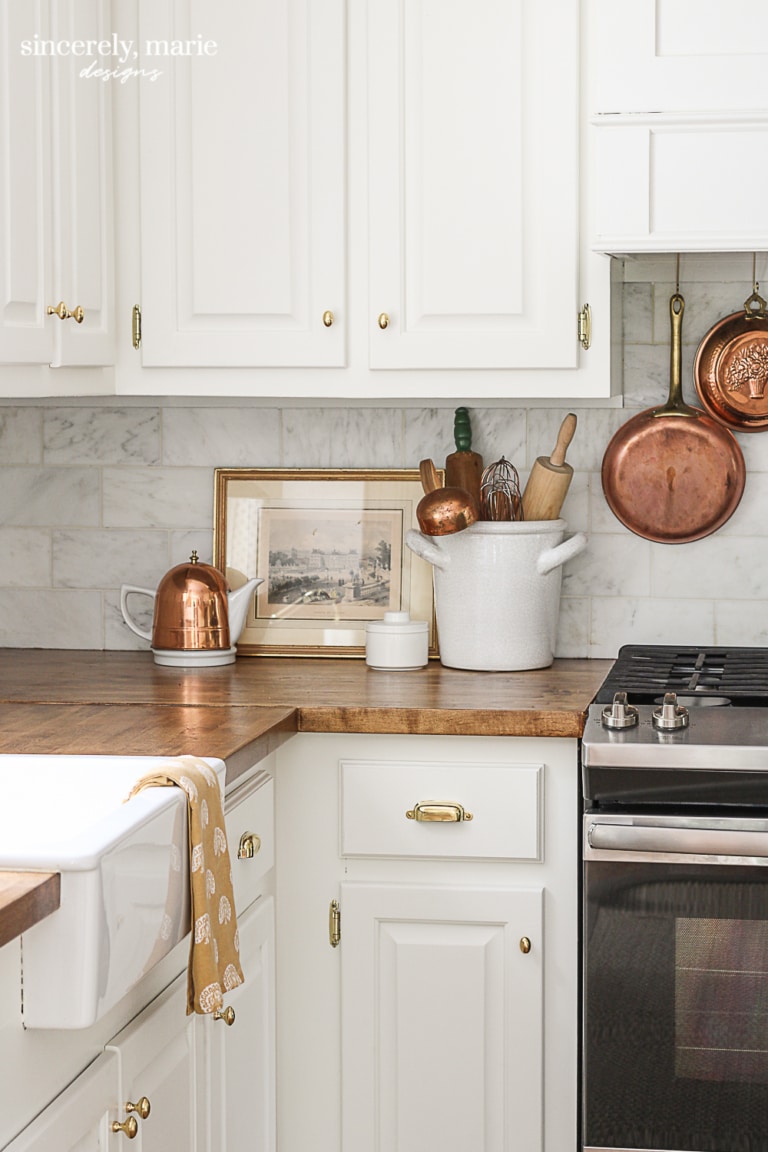 Kitchen Update with White Cabinets and Butcher Block Countertops
Miss Mustard Seed's older kitchen features white kitchen cabinets with a beadboard accent, butcher block countertops, and a practical undermount stainless-steel sink. I like this kitchen because it shows how much character you can achieve even if you don't choose all the quintessential "farmhouse" finishes like a white apron sink.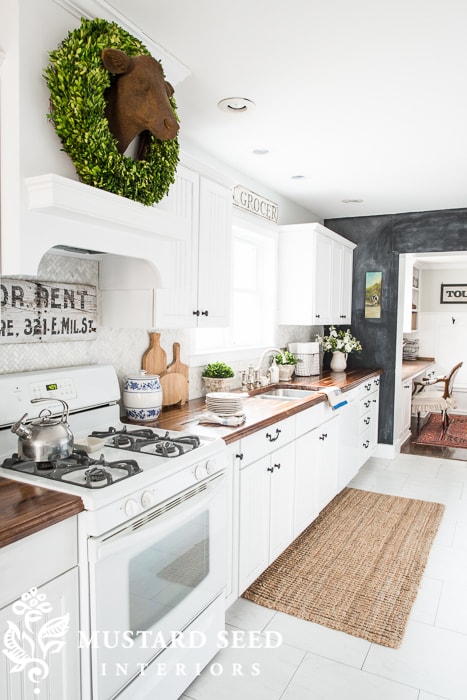 Modern Farmhouse Kitchen
Lauren's Modern Farmhouse Kitchen reveal (Bless'er House) is a wonderful example of how to transform a builder-grade kitchen into a style that you love. Updates like white painted cabinets, an IKEA farmhouse drop-in sink, and concrete countertops are great projects for the DIY homeowner!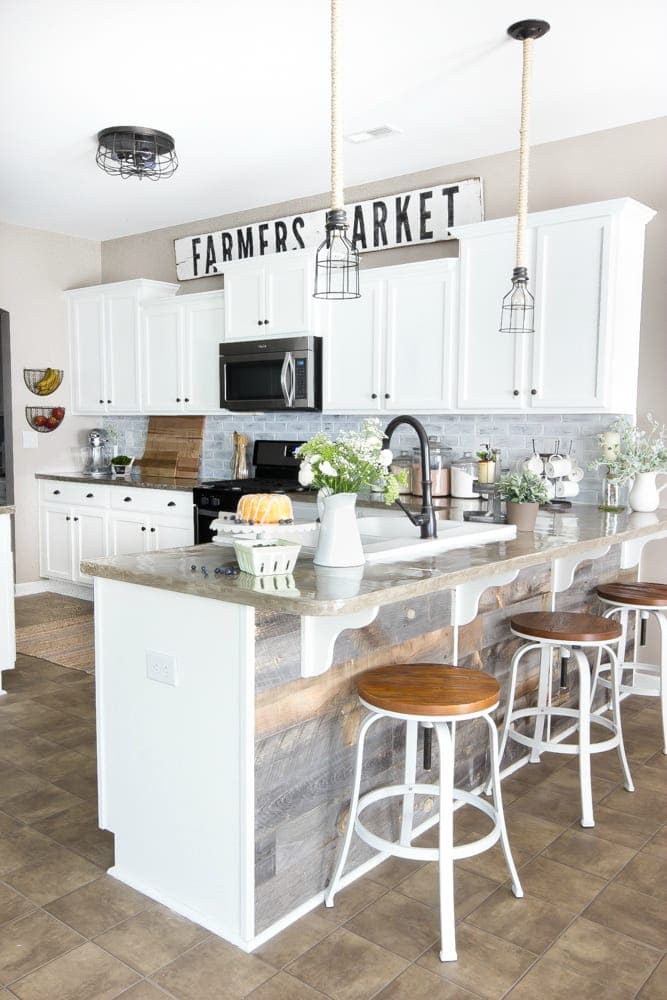 Cozy Cottage Kitchen with Blue Cabinets
Cindy's cottage kitchen with the beautiful blue cabinets (accented by the display of ironstone pitchers) has always been a favorite of mine. She has since moved and her new kitchen is just as lovely.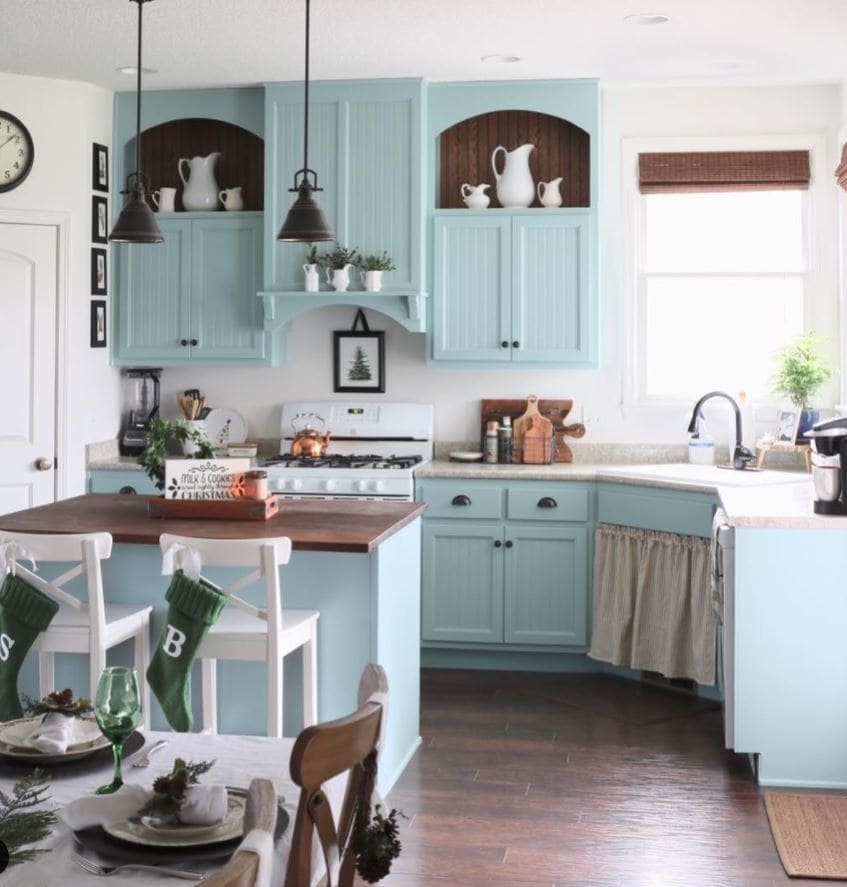 Rustic Farmhouse Kitchen
I love the big island with the shiplap paneling as well as the detail on the white cabinets in Kelsey's rustic farmhouse kitchen from The Old Farmhouse (Instagram).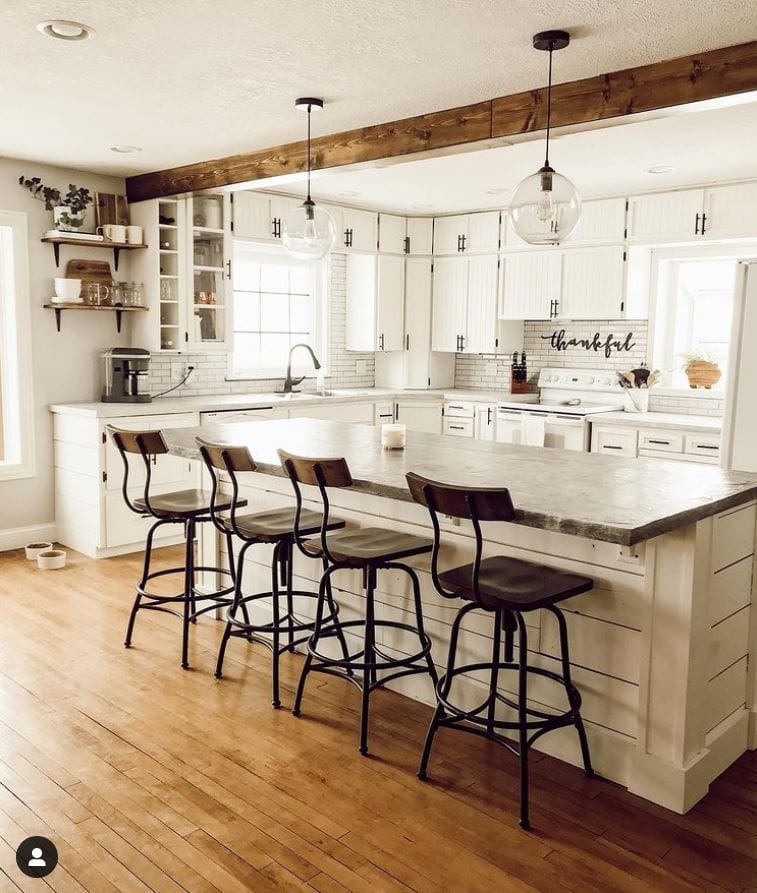 Rustic Modern Kitchen
This rustic modern kitchen from Cherished Bliss has a minimalist, yet cozy appeal. The concrete countertops, black cabinets, and open shelving sure make a beautiful kitchen! Ashley notes that she was able to use open shelving for primarily stylistic purposes since the kitchen features a larger wall of storage cabinets on the other side.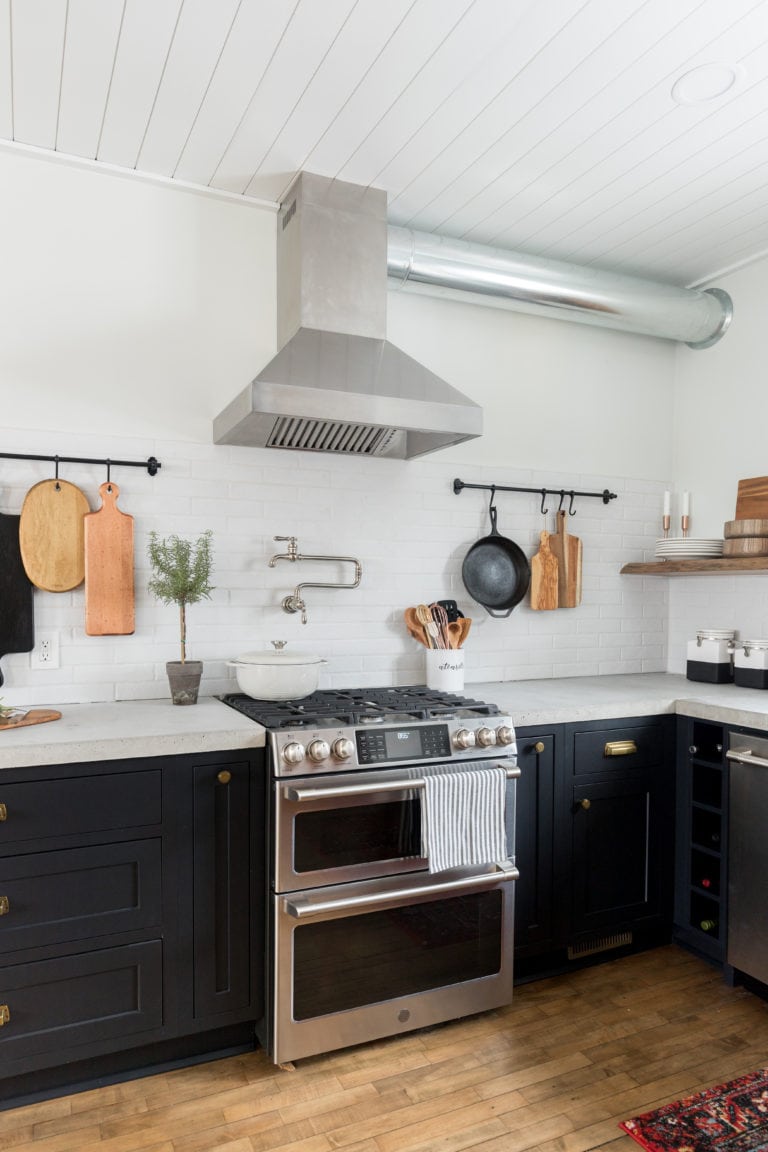 Simple Farmhouse Style Kitchen
Liz's farmhouse kitchen (Love Grows Wild) is simple and lovely and another great example of how you can keep your practical stainless undermount sink and still create a kitchen filled with farmhouse charm!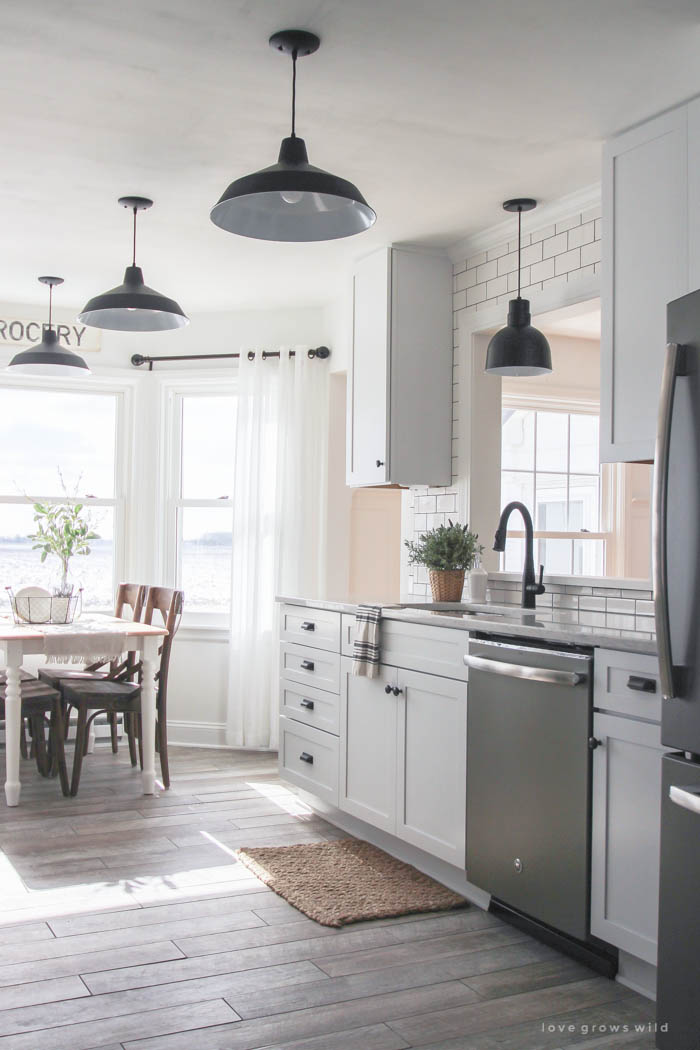 Farmhouse Kitchen with White Shaker Cabinets
Chloe's kitchen (Boxwood Avenue) features white shaker cabinets, a La Cornue CornuFé French range, and many other beautiful details.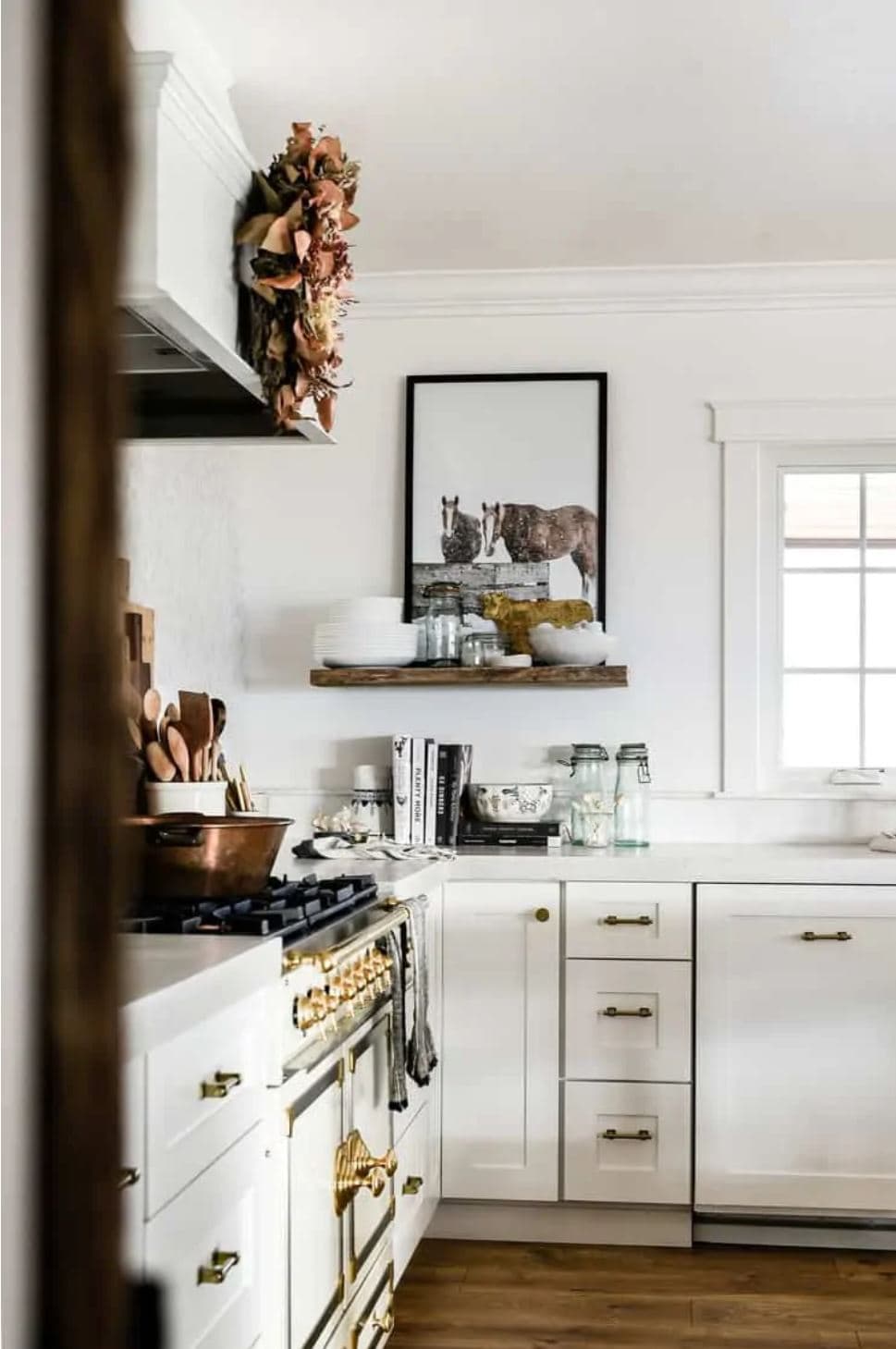 Cottage Style Kitchen with Blue Island
I had to share both of Cami's kitchens from Cami at Tidbits blog. This is her earlier kitchen, a cottage style kitchen with lovely pops of blue throughout. I love the cheerful colors and light and airy feel!
The opening shelving, curated dishes, and even the corbels under the island are some of my favorite details. Also check out her post on DIY Corian Countertops if you are interested in that.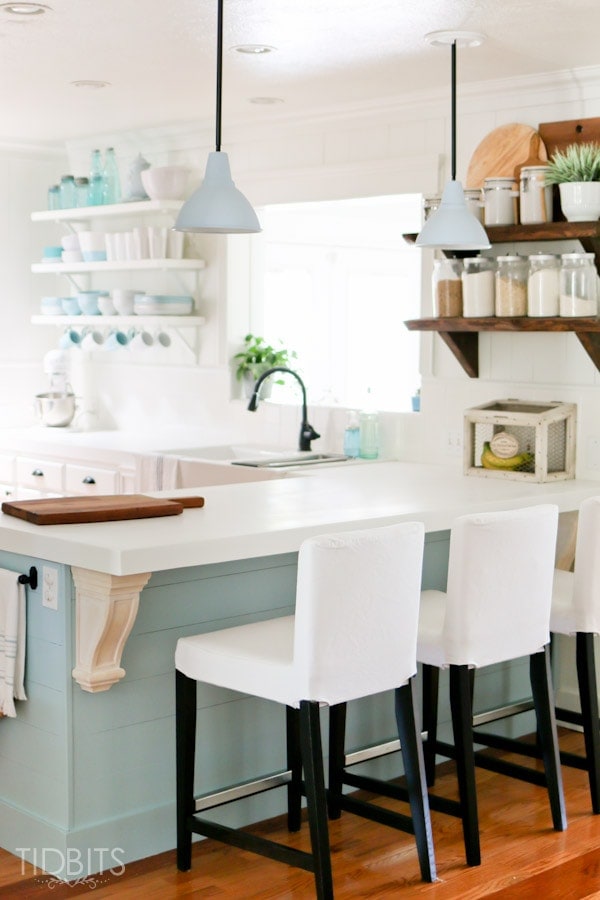 Summer Farmhouse Style Kitchen
Bright white cabinets, the IKEA apron front sink, and lots of linen accents make this pretty summer farmhouse kitchen from Lisa at Farmhouse on Boone.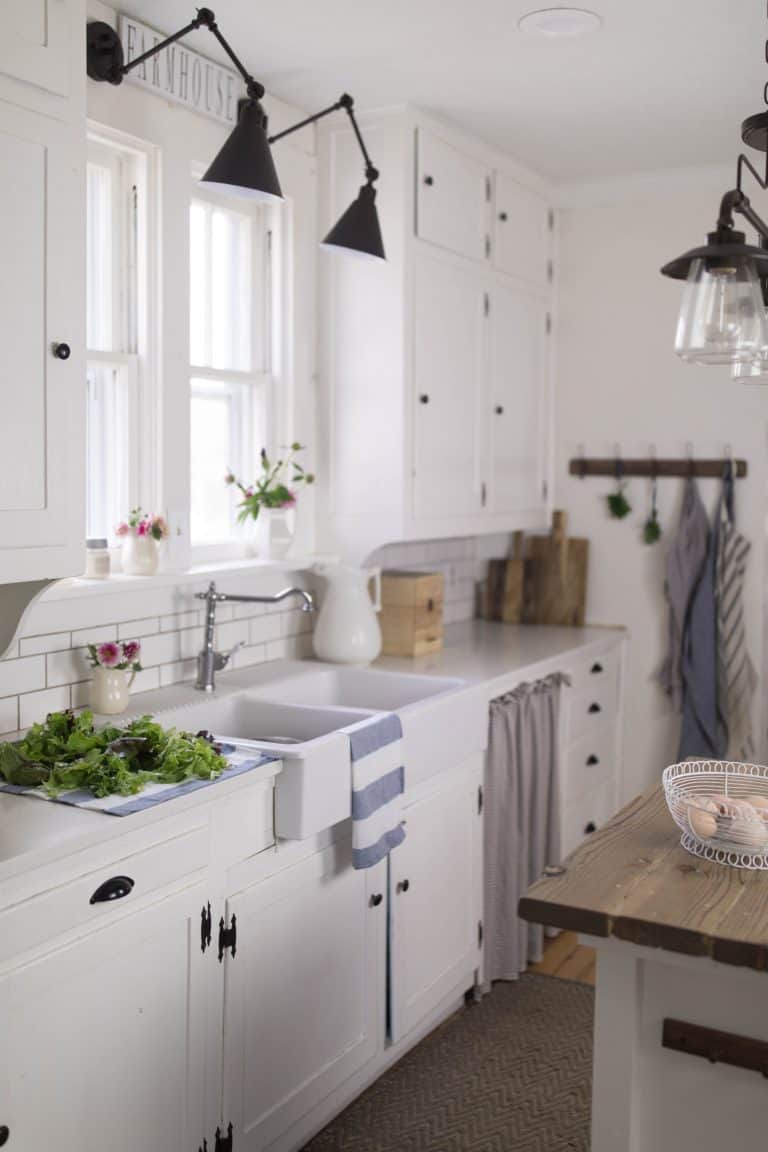 Farmhouse Style Kitchen Remodel Ideas
Sarah at She Holds Dearly offers plenty of wisdom as she talks about what she loves (and what she doesn't) in their farmhouse kitchen remodel from several years ago.
Colorful Cabinetry
Sara at Sincerely Sara D created one of the kitchens I often look at for inspiration. The style is not really "farmhouse" like some of the other kitchens I've selected here, but the cabinet color with the green undertones is a favorite of mine and I think the elements could work well with a variety of décor styles. See her kitchen here.
Farmhouse Style Kitchen with Gray Cabinets
This farmhouse kitchen features pretty cabinets that are painted with Annie Sloan's chalk paint. Diana from Our Vintage Home Love even tackled painting her tile countertops too!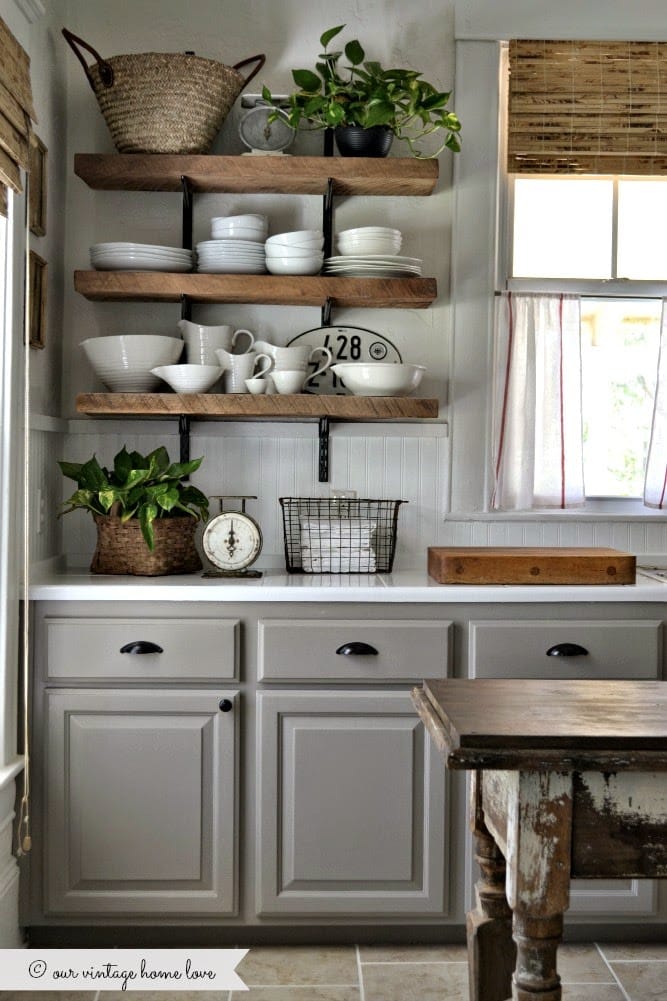 Add Height to Kitchen Cabinets
We know that kitchen cabinets that go allll the way to the ceiling look so so good. But that can be a pricey update. Enter this brilliant fix from KariAnne Wood of Thistlewood Farms. See how she added height to her kitchen cabinets with this DIY tutorial in her beautiful white farmhouse kitchen.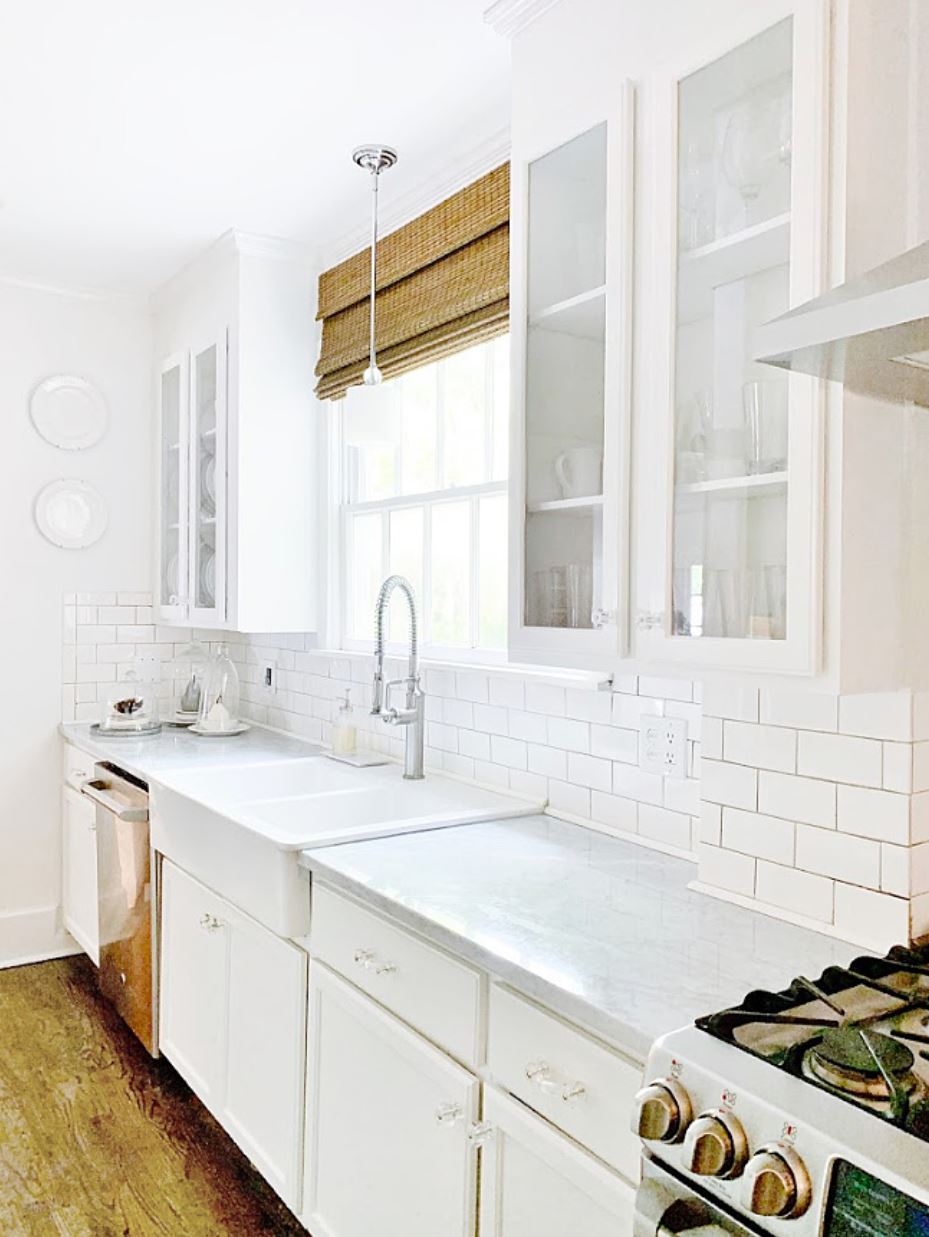 Colorful Cottage Kitchen
If you like a little more color, Courtney at Golden Boys and Me has created a cozy cottage kitchen filled with layers of color and texture that is sure to inspire!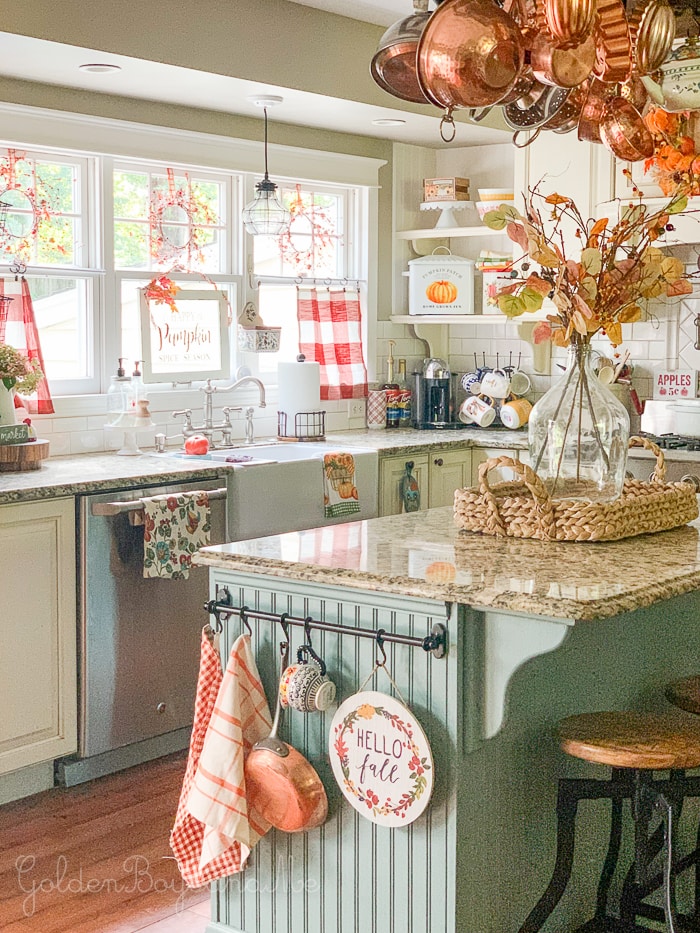 More Kitchens to Check Out
I hope you enjoyed this roundup of beautiful farmhouse style kitchens from DIY Bloggers. Whether you are planning a kitchen update or just browsing through inspiration, each kitchen and the blogger behind it provides plenty of style ideas to get you started.
I don't know about you, but I personally have too many favorites among these spaces to choose which one I like best!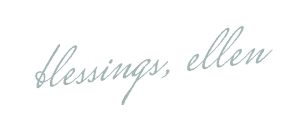 More Home Décor from Bellewood Cottage