Small Batch Whipped Cream
Looking for a small batch whipped cream recipe? If you only need to make enough whipped cream for one or two people, this recipe for Small Batch Whipped Cream recipe is for you. I've included instructions on how to make a mini batch of whipped cream with a hand mixer or with a small mason jar (handy when you don't have a mixer available).
Please note that this post contains affiliate links which allow me to earn a small commission when a purchase is made at no additional cost to you. Read more here.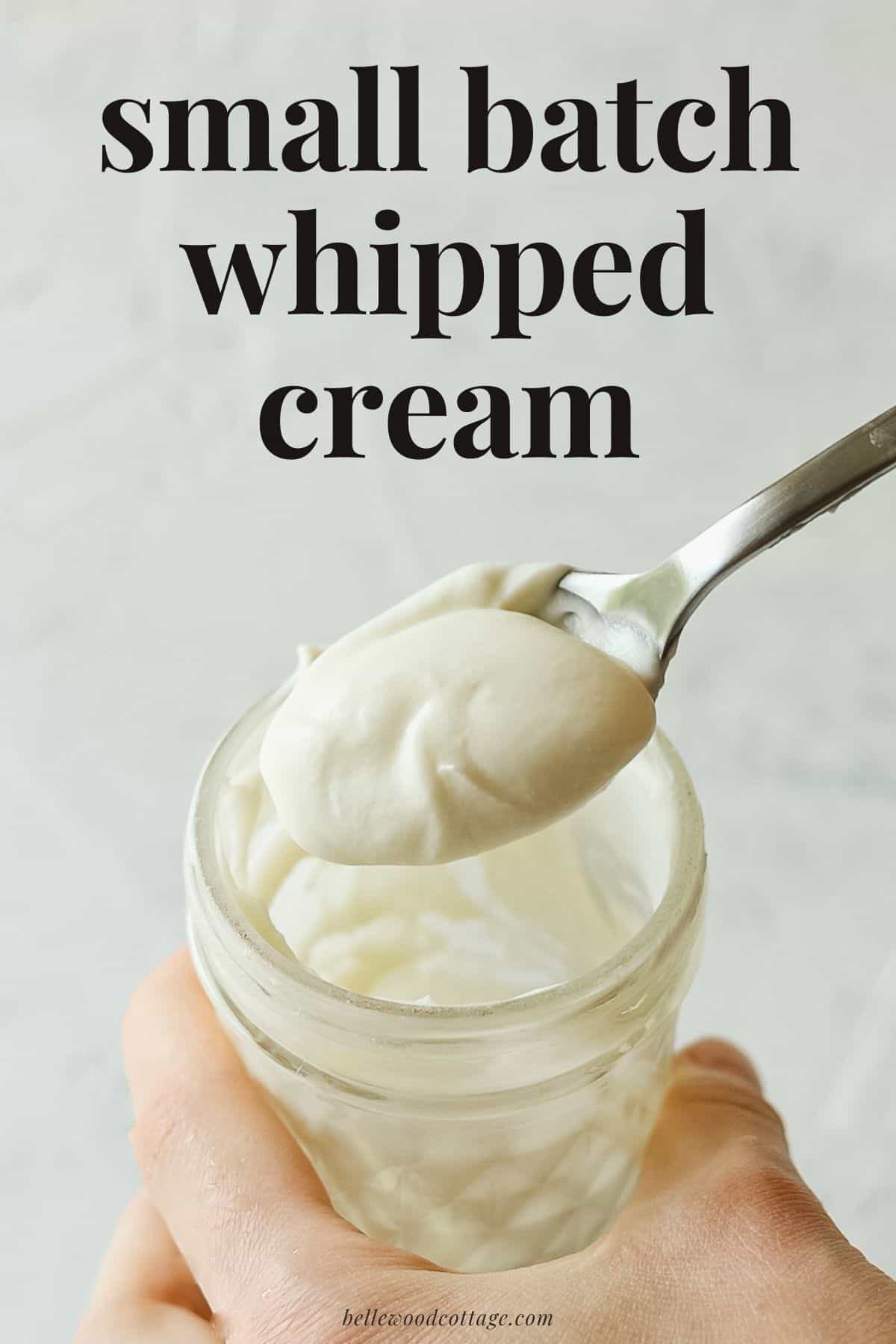 Fresh homemade whipped cream is a delicious topping for all manner of treats–whether a latte, stack of pancakes, or ice cream sundae. But when you just need enough for one or two, is it really necessary to make a full batch? Not at all! In fact, making a small or single serving of whipped cream is easy.
My recipe includes two methods for making small-batch whipped cream. One, with a hand mixer and the other with a simple mason jar + lid.
Homemade whipped cream is a tasty topping that allows us to skip any questionable ingredients of the spray can (or frozen topping) variety. It'll keep in the fridge for a few days (though the texture is best the first day) so you can prepare the larger 1/2 cup amount to use through the week or the small single-serving amount for a one-time treat.
Keep this trick handy for the next time you want just a dollop of whipped cream!
Looking for a larger quantity recipe? Try my homemade whipped cream! Also check out my FAQs about Whipped Cream for even more tips and tricks.
What To Do With the Leftover Heavy Cream?
There are plenty of recipes that use un-whipped heavy cream (such as scones, soups, no-bake cheesecake recipes, and lots more), so I usually don't have a problem finishing a container. The small batch uses so little that if you are worried about leftovers, you can also look for the small 1 cup containers of heavy cream at the grocery store.
You can also make a full batch of whipped cream and freeze the leftovers.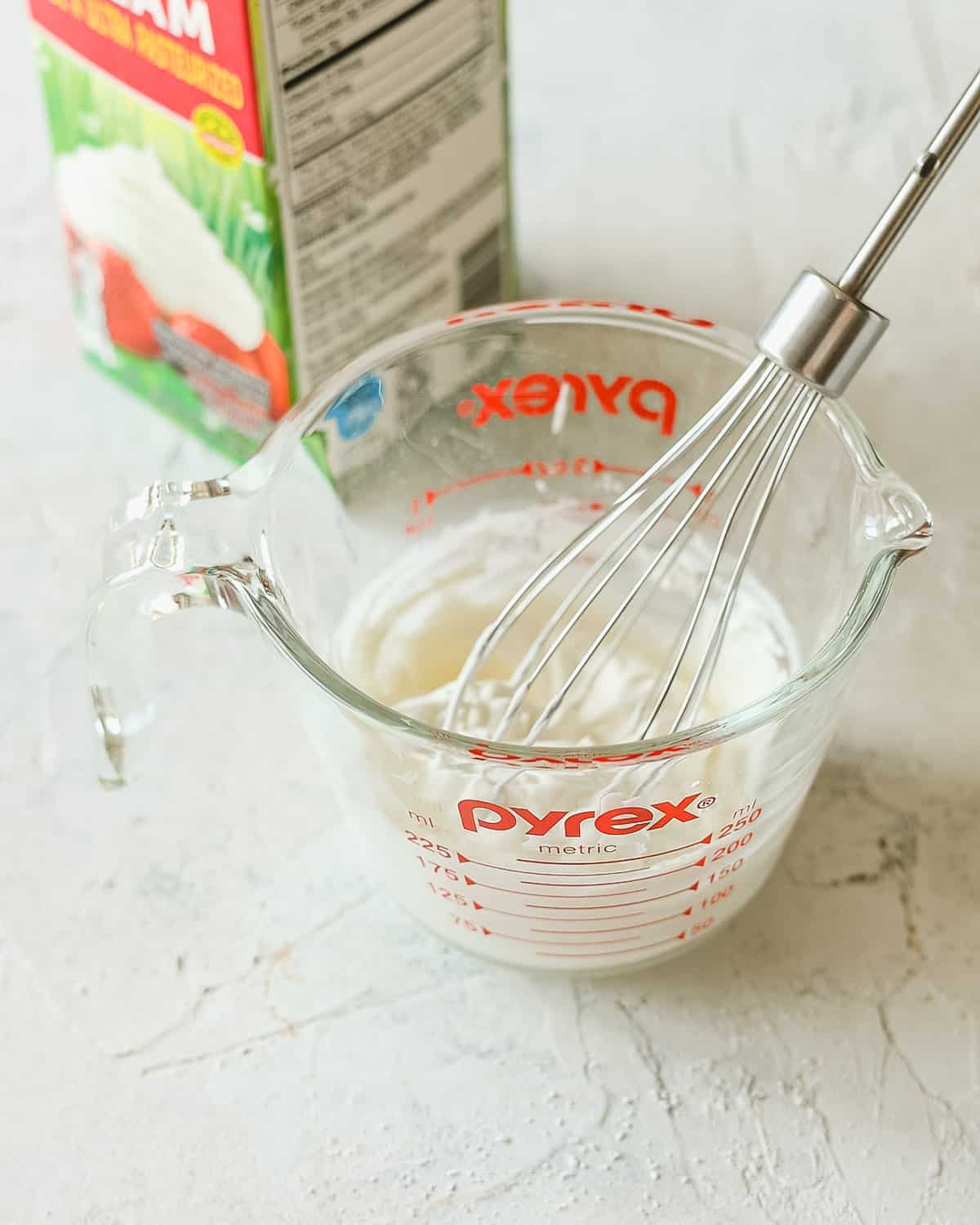 More Whipped Cream: Check out all these variations of whipped cream you can make. Yum!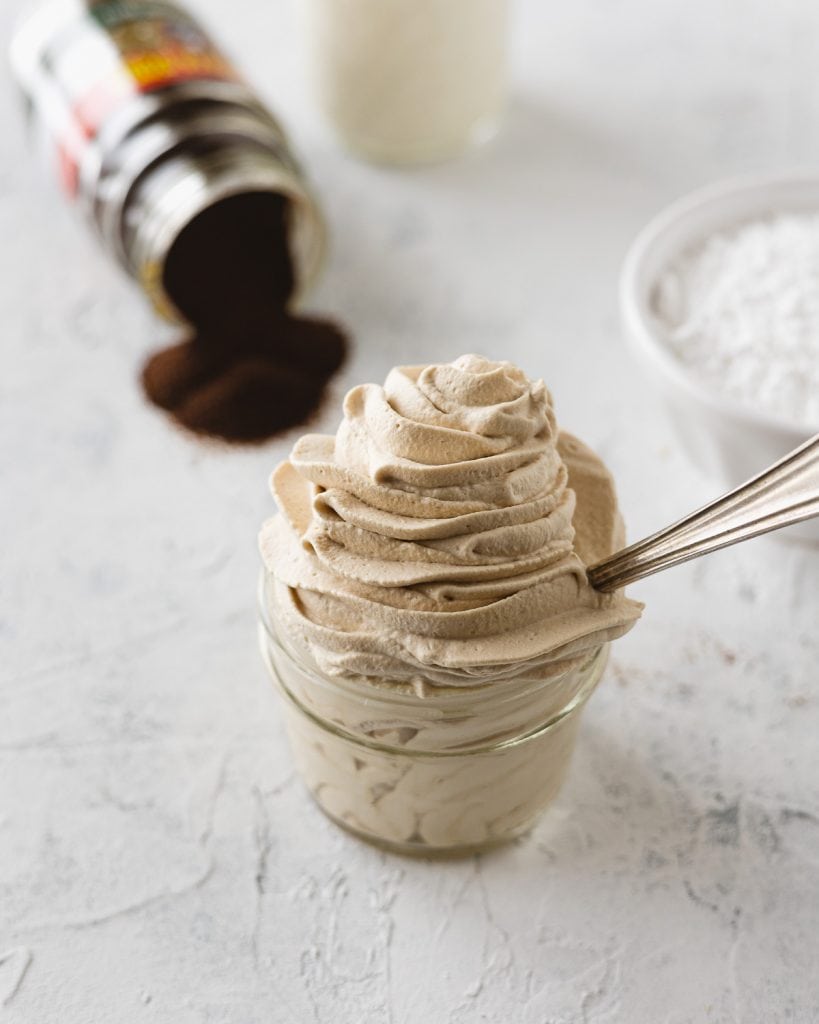 Ingredients You Will Need
Making a small batch of whipped cream requires the same ingredients as a full batch.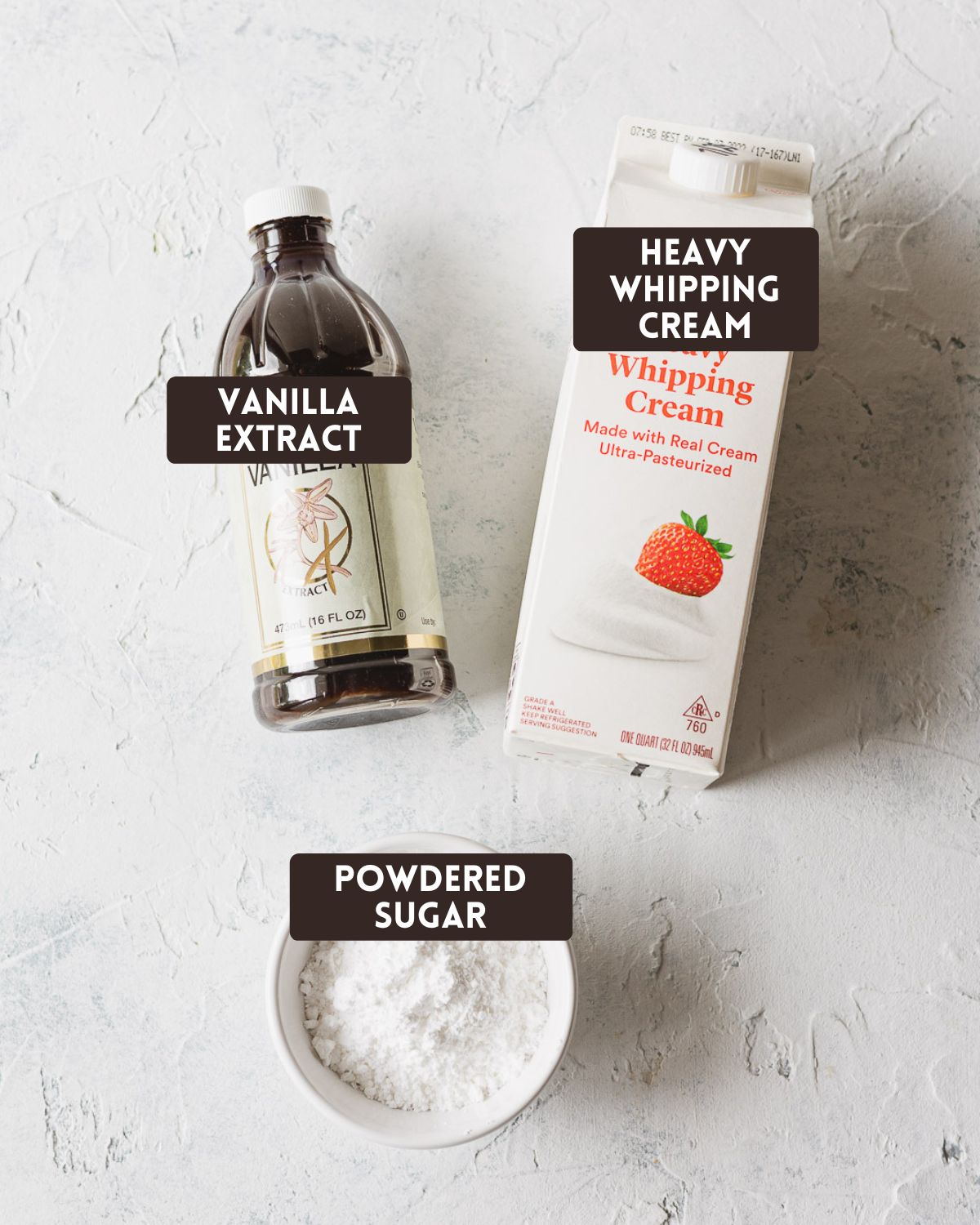 Heavy Cream – Look for "heavy cream" or "heavy whipping cream" at the grocery store. Avoid "whipping cream" which is a lower fat product and won't work as well.
Powdered Sugar – You can usually substitute in granulated sugar if you don't have any powdered sugar on hand, but the cornstarch in the powdered sugar (also known as confectioners' sugar) lends additional stability to the whipped cream. You might find that in the smaller batch (particularly the one serving recipe) that granulated sugar leaves a bit of texture behind.
Note when sweetening whipped cream, you are always welcome to adjust the sweetness to your preference.
Vanilla Extract – A few drops is really all you need.
How to Make a Small Batch of Whipped Cream
Find the complete printable recipe at the end of the post!
First Method: Use a hand mixer with a whisk attachment and a very small bowl (a chilled metal bowl is ideal). Here I've used a 1 cup liquid measuring cup.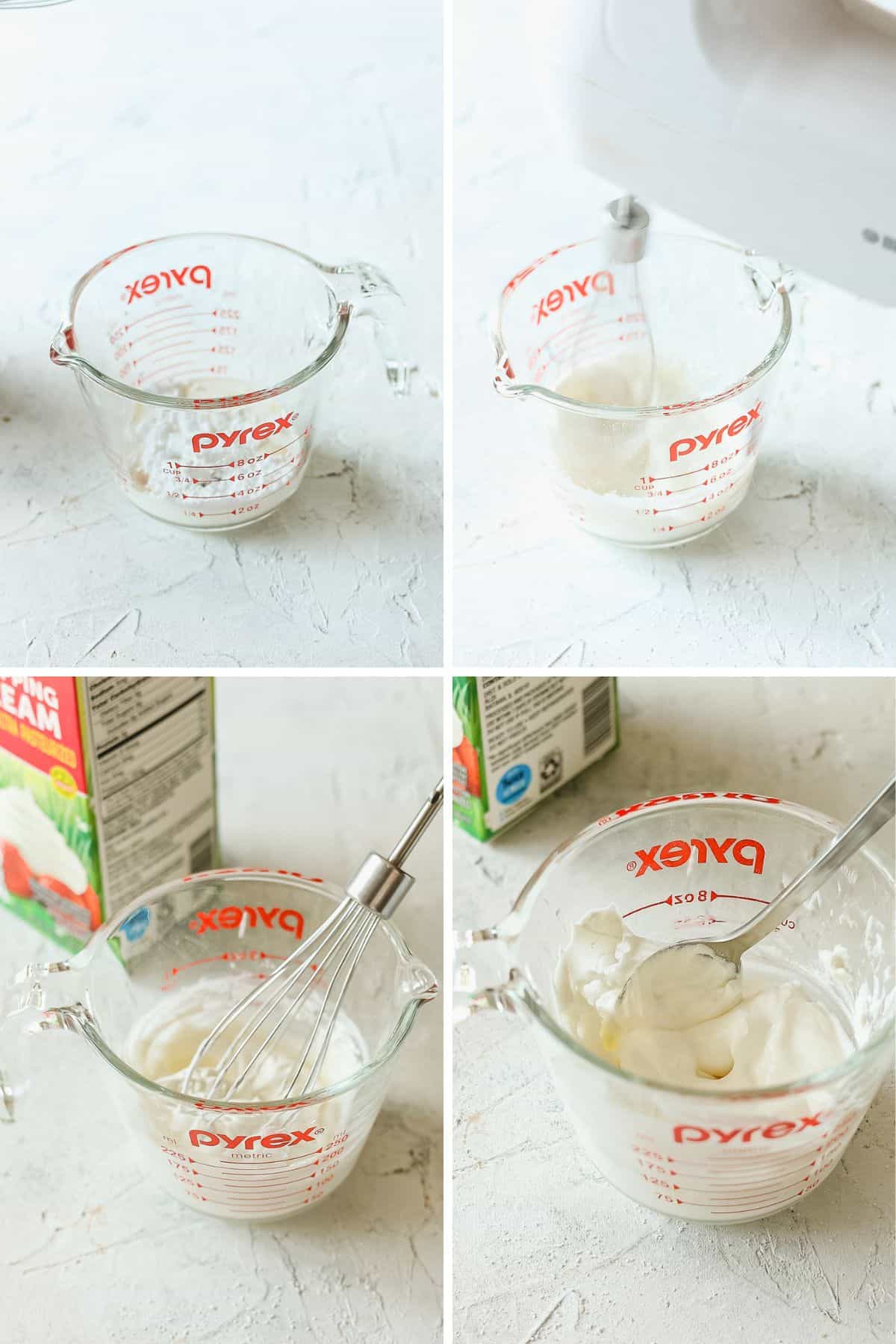 Second Method: Use a mason jar! This is perfect for a single serving of whipped cream because you don't need to haul out a hand mixer for just a dollop. It's also very quick. The small amount of whipped cream whips up in 1-2 minutes with constant shaking.
You can use a mason jar for larger amounts of whipped cream too. Just be sure your jar is only about 1/2 full before starting. The time needed to shake the jar will increase with larger amounts.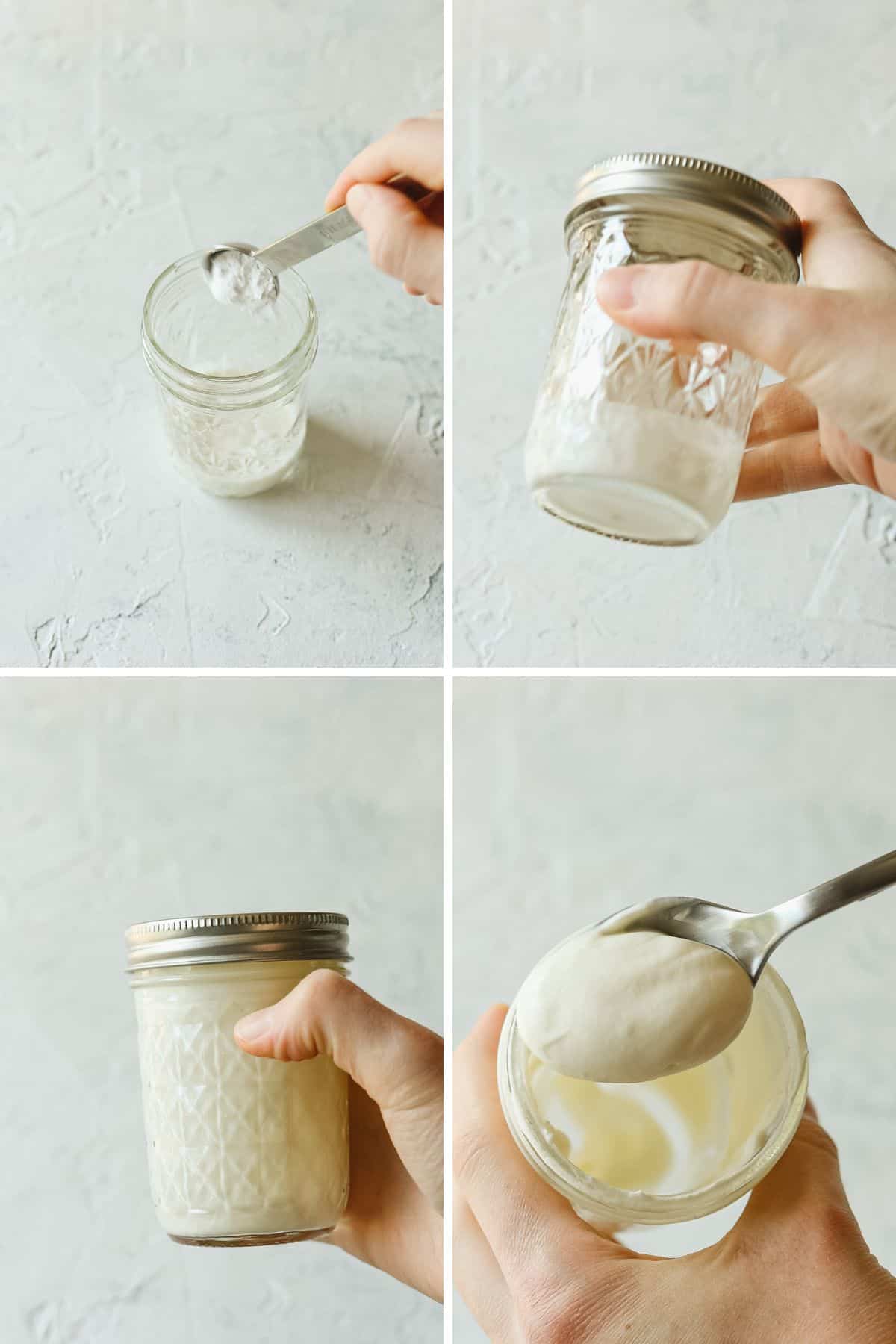 And you're all set!
More Single Serving Recipes
More Whipped Cream Recipes
If you loved this recipe, leave a 5-star rating! I would so appreciate it!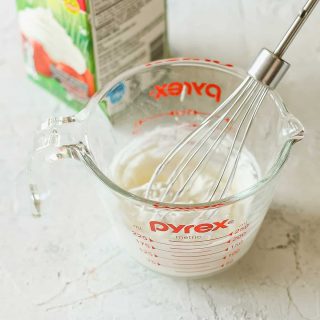 Small Batch Whipped Cream
Learn how to make a small batch of whipped cream (or a single serving) using two different methods. One, with a hand mixer and two, with a mason jar. Enjoy!
Ingredients
Make a Small Batch
1/4

cup

heavy whipping cream

well chilled

1

tablespoon

powdered sugar

(use half the amount for less-sweet version)

1/8

teaspoon

vanilla extract
Make a Single Serving
2

tablespoons

heavy cream

1

teaspoon

powdered sugar

a few drops of vanilla extract

(optional)
Instructions
Small Batch (with hand mixer)
Ideally, chill a small metal bowl and the whisk attachment for a hand mixer for fifteen minutes in the freezer before preparing the whipped cream.

Alternatively, use a non-chilled metal bowl or a small liquid measuring as shown in the recipe how-to above.

Using a hand mixer on low with the whisk attachment, beat the heavy cream, sugar, and vanilla together until the mixture has begun to thicken. Move the speed up one notch and check the whipped cream frequently for peaks as it continues to thicken.

This small amount can turn into butter very quickly, so keep a close eye and check frequently. Stop when the whipped cream is the desired consistency (soft, medium, or heavy peaks).

Recipe as written will make a scant 1/2 cup.
Single Serving (with mason jar)
Pour the heavy cream, sugar, and vanilla into a 4 ounce or 8 ounce mason jar. Screw the lid on tightly and shake for 1-2 minutes until the sound of sloshing is completely gone. Carefully check the whipped cream periodically until the desired consistency is reached. Enjoy!

Two tablespoons of heavy cream will make about 3 tablespoons whipped cream using this method. You can use this method with larger amounts of whipped cream too–just be sure the jar is only about 1/2 with ingredients before starting.
Nutrition
Calories:
345
kcal
Carbohydrates:
13
g
Protein:
3
g
Fat:
32
g
Saturated Fat:
21
g
Polyunsaturated Fat:
1
g
Monounsaturated Fat:
8
g
Cholesterol:
101
mg
Sodium:
24
mg
Potassium:
86
mg
Sugar:
12
g
Vitamin A:
1316
IU
Vitamin C:
1
mg
Calcium:
59
mg
Iron:
0.1
mg