How to Style a Hutch for Christmas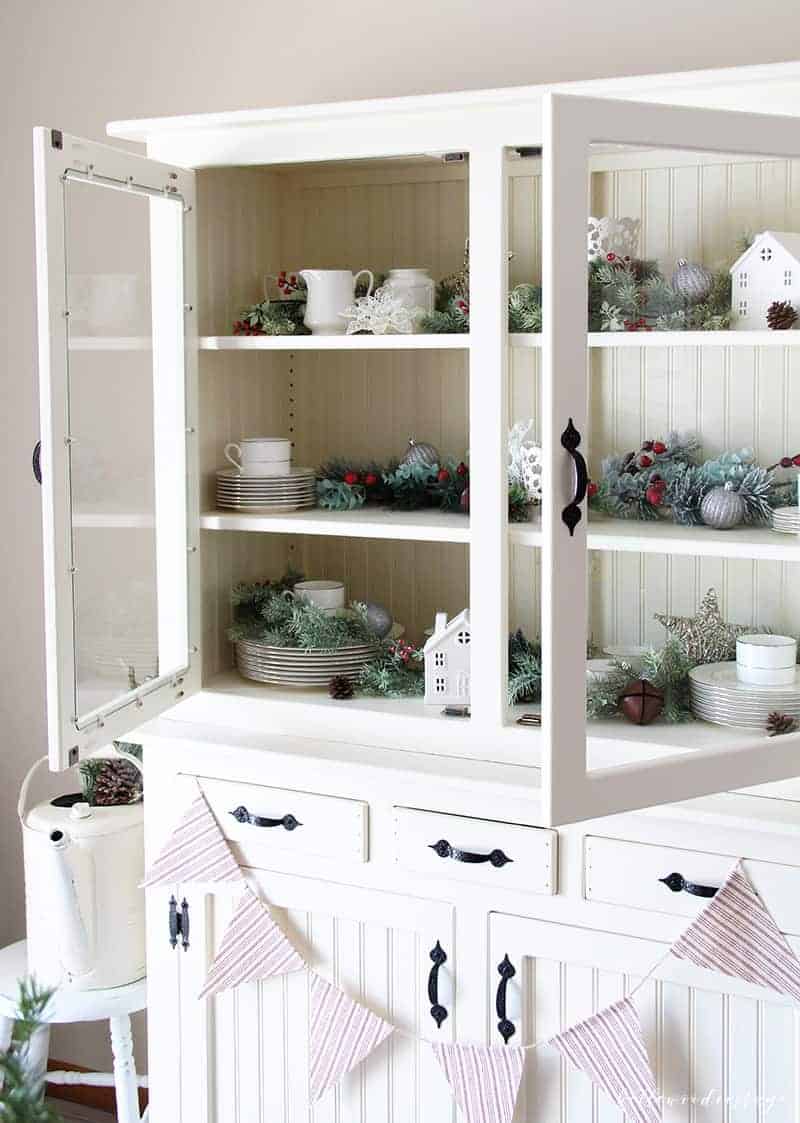 I'm just going to throw it out there. Husbands are by FAR the hardest people to buy Christmas gifts for. Boys (men? whatevs) in general (whether brothers, dads, etc) in my experience always tend to be of the "I don't know, get me anything" variety.
"Anything" meaning–absolutely no clothes, books, movies that I have deemed lame, movies that aren't the right format for my super fancy dvd setup I have rolling, CDs (because does anyone even make those anymore?), tools I already own, tools that aren't the right brand, or food (because we're married now and I can buy what I want when we go grocery shopping).
When pressed, these husbands will offer up a few actual ideas. Usually ideas that are way too crazy expensive for the modest Christmas gift budget that has been set. Or ideas that include buying their gift themselves because it's actually a really complicated item/process that has to be carefully managed by someone in the know (aka them).
the.struggle.is.real.
Sidenote: All you wives out there who ARE allowed to buy your husbands clothes as gifts (I am told this is a thing)…run with THAT. Oh to have it so easy!
All this to say, this story has virtually nothing to do with styling a hutch…but trying to find gifts for my hubby is how I spent my entire Saturday morning this past weekend and I felt compelled to share this with you. If you can relate, please let me know I am not alone!
Ok, well now that I got that off my chest, let's chat about some Christmas decorating. I wanted to share some of the decor I used to give my farmhouse hutch a Christmas-y vibe this season. As you know, I tend to keep things simple and budget-friendly, and this hutch is no different.
How to Style a Hutch for Christmas
The main thing I store in my hutch is the set of china that my Grandmother gave me when Ben and I got married. I have eight settings, but even with that, the china doesn't quite fill the hutch. So I like to bring in some seasonal decor to fill in some of those gaps as well as create a statement piece in our dining area.
First I pulled out some Christmas picks (find these with the seasonal faux florals at Hobby Lobby or Michael's). The stars are new from this year (they cost about $1 each when Michael's was having a sale). Find the stars here.
Next I snagged some extra ornaments that didn't make it onto our tree this year and some sleigh bells (from Hobby Lobby). I love the sleigh bells for giving a vintage vibe to my Christmas decor.
The main filler I use is usually faux greenery. I love these giant faux branches from Michael's. They were $3 earlier this season (70% off!), so I bought a few. For the size and volume of these branches, that is a great price.
I also love these garlands from Michael's. They maybe cost me about $5 on sale? They tend to be a little bent when you purchase them, but I wrapped mine around the china plates, so the kinks actually were kind of helpful in getting it to stay in place. I think this is the same one I bought (I purchased one last year and one this year, and I am almost positive they have added double the glitter).
And of course, what would a budget-friendly display be without some decor from the Target dollar section?
I picked up these votive holders from Target (+ mini wreaths from Michael's last year).
I also bought a few of these houses and bottle brush trees from the dollar section. These houses are HARD to find! I think they pretty much sell out the second Target restocks them.
So then it's just a simple matter of arranging everything to your preference. I like to take my china out of the cabinet and set up the large floral branches first. Then I add the china back in, wrap the garlands around everything, and finally add the accessories to any spot that needs something extra.
And that's it! I hope you enjoyed this quick break-down of how I style my hutch for Christmas. I really love getting to use this blank canvas to add seasonal flair to our home as the year goes by. It's easy to do and looks great even with minimal decor/accessories.
Thanks for stopping by today! And please, if anyone has solved the problem of what to buy husbands for Christmas, let me know! Really.
More Christmas Inspiration from Bellewood Cottage