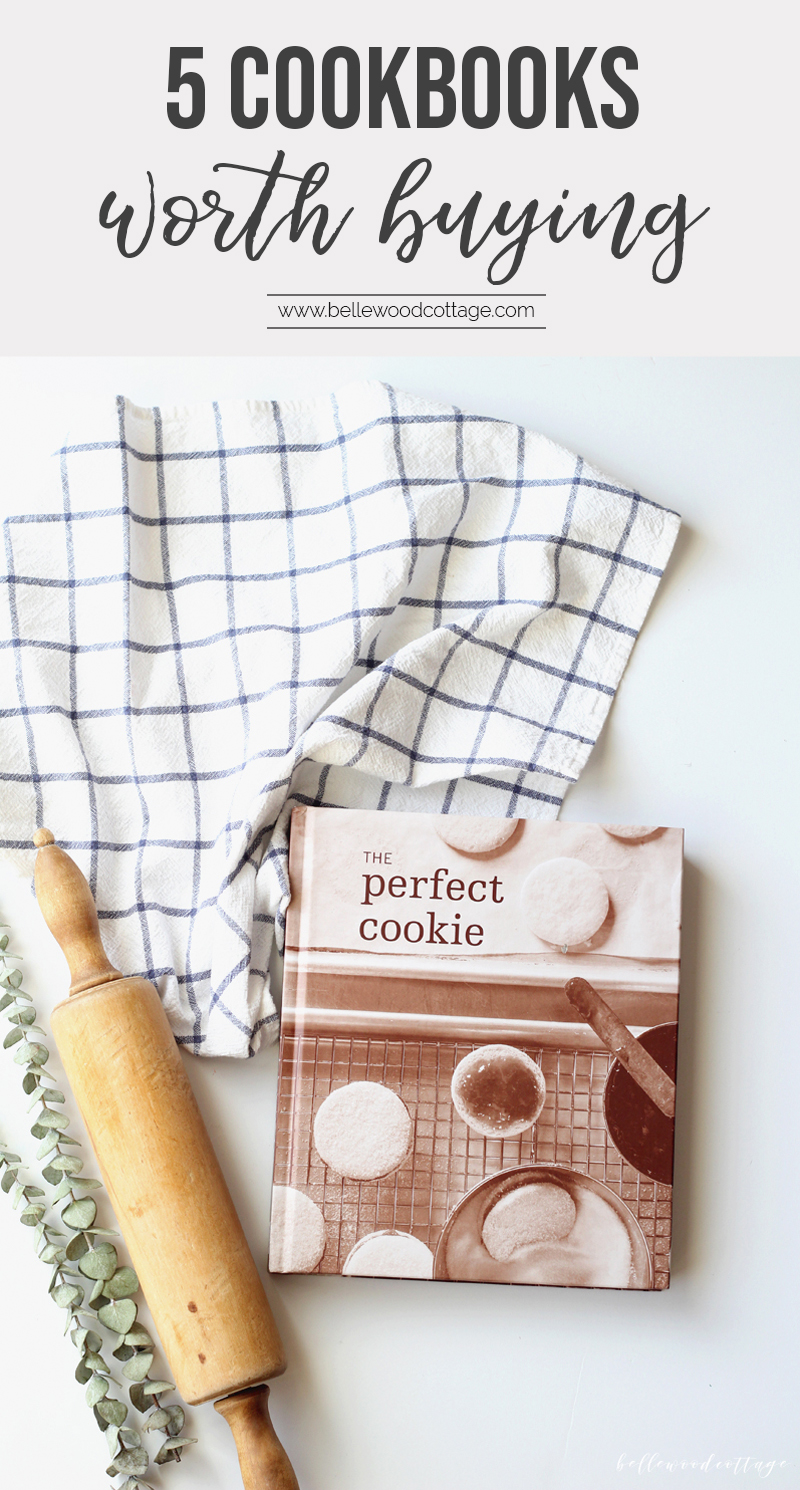 I have a problem.
It's a problem that is often heavy, unwieldy, and doesn't stay open when asked, but is still totally awesome.
Cookbooks.
After I asked for and received an AMAZING cookbook for Christmas one year (like I knew it was good, but it was SO good), I was hooked. I mean, pinning recipes is great, but there is something wonderful about having your own little library of tried and true favorites.
Please note that this post contains affiliate links which allow me to earn a small commission when a purchase is made (at no additional cost to you). Read more here.

Over the last few years we have been married, I've found that it's invaluable to have an arsenal of trustworthy and delicious recipes at the ready. Whether it's a quick dinner, a reliable appetizer, a show-stopping birthday dessert, or anything else a culinary situation may require.
In light of that, I wanted to highlight 5 cookbooks worth buying. These are books that I love using regularly and heartily recommend. In each description I tried to provide plenty of info so you will have a good idea if they will work for you as well!
How to decide if a cookbook is worth buying
No one wants to accumulate unnecessary stuff. It's way too easy to buy cookbooks that are soon relegated to lookbooks. I have made the mistake of picking up books that spoke to the way I wished I cooked, versus the way I actually cook…and I stay away from those now. I am all about the straightforward recipes that turn out well time and time again.
Also. Mileage may vary. The cookbooks truly worth buying are the ones that YOU will use. So maybe my favorites won't be your favorites. Read my explanations of why I love each book and use that to gauge if one of these cookbooks will fit YOUR particular lifestyle.
This is how I decide if a cookbook is worth buying:
ask: does it use ingredients I enjoy cooking with?
ask: are these recipes unique or do I already own something that provides me with these ideas?
pick up the book from the library and cook a recipe or two
visit the author's blog/website and give their most popular recipes a try
read reviews!
And since reading reviews is so helpful, I'll let you get on with reading mine! I will add the disclaimer to this list that it is by no means complete (or in any particular order). There are so many amazing cookbooks out there, so I'd also love to hear what are your favorite cookbooks worth buying. Let me know in the comments!
5 Cookbooks Worth Buying
What I love: I think I own all of the Pioneer Woman's cookbooks now. Not sure how that happened, but I'm not complaining. I love Ree for her accessible, flavorful, crowd-pleasing dishes and this cookbook is no different. The reason this is my favorite of Ree's cookbooks is because really, who doesn't love a cookbook that makes dinnertime easier?
In addition to solid weeknight recipes (including categories like 16-minute meals and and comfort classics), Ree has detailed sections on how to stock your pantry and prep for success. Something that has been really helpful to me is her section on freezer meals. She gives you tips for prepping and freezing food that can later be prepared in a variety of ways. I use her ideas all the time to keep my freezer stocked and ready to go.
Buy this cookbook if: If you need help figuring how to manage mealtime and what in the world to cook when 6 PM comes around. If you like good hearty recipes and step-by-step photos you'll also appreciate adding this one to your collection.
What I love: Cooking with a cast iron skillet for the first time can be a little intimidating. Like, how does one actually clean a cast iron pan (what, no soap?!)? This cookbook tackles every question you may have and provides amazing recipes along the way. We are talking everything from skillet pizza to apple pie. That is some flexible cookware! And bonus? Because you are cooking everything in a workhorse of a pan, many of the recipes end up being naturally one-pan meals. I can get behind that.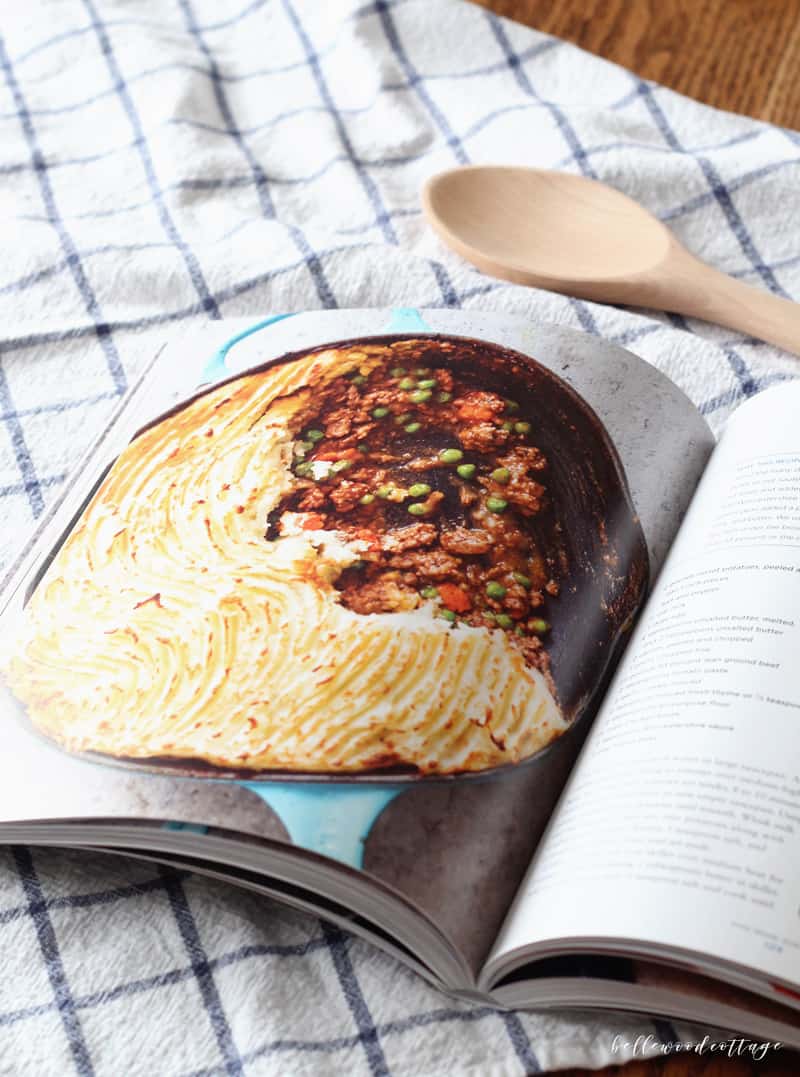 If you are familiar with Cook's Country/America's Test Kitchen you already know that everything they come up with is absolute culinary gold. The recipes are tested again and again and they always give you details on "why the recipe works". This means taking time to explain what ingredients cannot be substituted or why a particular step of the recipe is necessary.
Ben and I love the recipes in this book, but some stand-outs have been the shepherd's pie and the skillet mac & cheese. We also love the breakfast section. I'm getting hungry just thinking about it actually.
Buy this cookbook if: You like a minimalist kitchen and want to primarily purchase and use a single skillet with the ultimate flexibility. You need quick no-fuss ideas for dinnertime or other meals. You like eating things like "indoor barbecue chicken", "pork tamale pie"  and "hot fudge pudding cake". I do.
What I love: I've followed Andie's blog for quite some time and have appreciated (and needed) her perspective on food. Her story is amazing and I love her commitment to not just eat "healthy", but to eat balanced. Her book shares plenty of recipes that are heavy on healthy fruits and veggies, but also a section on meals to enjoy with others (aka, high calorie dishes that call for sharing rather than splurging).
Buy this cookbook if: You love gorgeous food photography, crave a balanced approach to healthy eating, and need some fresh inspiration from creative recipes.
What I love: If you are a household of one or two, you know that sometimes recipes can make way.too.much food. This is the cookbook I referred to above that was actually kind of life-changing for me! Basically, think of any recipe, and you'll find it in here, but perfectly portioned for a meal for two.
Some particular things that are awesome: Slow cooker meals have a dedicated section, including tips on what size slow cooker to use for cooking smaller portions. As we know, crockpot meals usually make far too much for a small household, but with these tips, any size family can utilize a slow cooker without eating leftover beef stew for weeks on end. There is also an amazing section on mini desserts and baked goods. We're talking mini banana bread, tarts, 6″ pies and cakes, and batches of cookies that won't force you to eat 2 dozen all by yourself (even though that wouldn't be the worst thing in the world).
Buy this cookbook if: You need recipes that are portioned to one or two people. You like recipes that turn out every.single.time. If baking is living your best life, but you don't have anyone to help you eat the resulting baked treats. You think mini desserts are adorable and you just need that in your life. I understand.
What I love: I can't remember a time that I wasn't following Deb's blog, Smitten Kitchen. So when her first cookbook came out, you know I was buying it. Here's some examples of the style of recipes you will find:
spaghetti squash and black bean tacos with queso fresco
wild mushroom tart
pancetta, white bean, swiss chard pot pies
The desserts section is also legit, kicking off with "gooey cinnamon squares" (think snickerdoodles, but in cake form) and including an apple pie so deep that it's baked in a spring form pan. Sign me up.
Buy this cookbook if: You love recipes with a little something extra. Deb's recipes definitely aren't of the "semi-homemade" variety, but they are always delicious and well worth the extra the effort some of them may require. And if you do a lot of hosting, Deb's recipes are always ready to impress.
So I couldn't stop at five cookbooks…
What I love: Most of my other suggestions of cookbooks worth buying have been geared towards that dinnertime thang, but I couldn't resist mentioning a new dessert cookbook I recently got that is SO good. A whole cookbook exploding with fool-proof cookie recipes from the Test Kitchen? Yes, yes, and yes. The recipes include plenty of traditional favorites (chocolate chip, oatmeal raisin, peanut blossoms, etc.) as well as showstoppers (Florentines, palmiers, Italian rainbow cookies). Oh, and did I mention the section devoted to gluten-free recipes?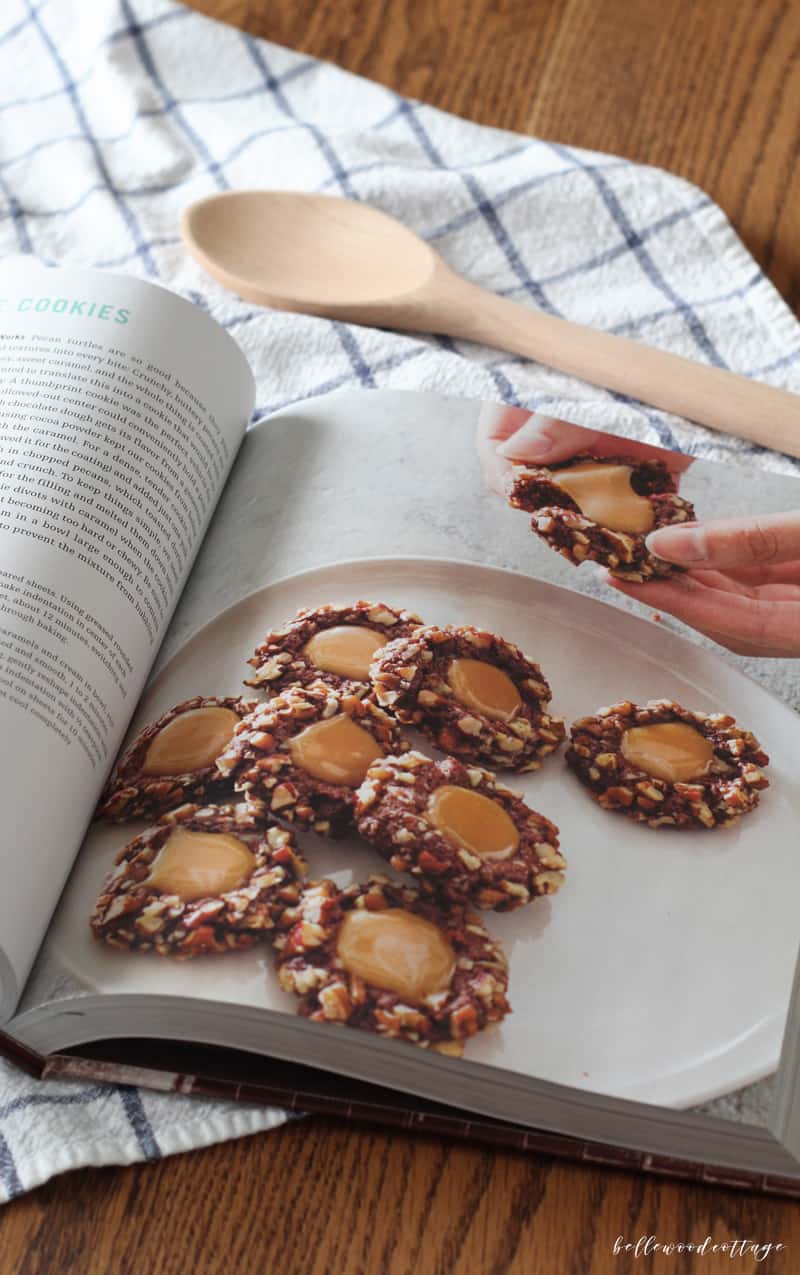 Buy this cookbook if: You're obsessed with cookies and want all the recipes. Or you just want to look at photos of cookies. I get that.
Thanks for sticking with me to the end of this post! I hope these books piqued your interest and you found some cookbooks worth buying and adding to your shelves. Again, I'd love to hear some of your favorites so share with me in the comments!
Save
Save
Save
Save
Save
Save
Save
Save
Save