Why Did Crumbl Remove the Classic Pink Sugar Cookie from Their Weekly Menu?
If you are a fan of Crumbl Cookies, you might've been caught by surprise when the Classic Pink Sugar Cookie (a weekly menu standard) was retired from its weekly status and moved to the rotating flavor menu of nearly 300 cookies. The menu now features five flavors from the extensive menu (plus alternating Milk Chocolate Chip and Semi-Sweet Chocolate Chunk Cookies–more on that in a minute!). Why the switch? Let's chat!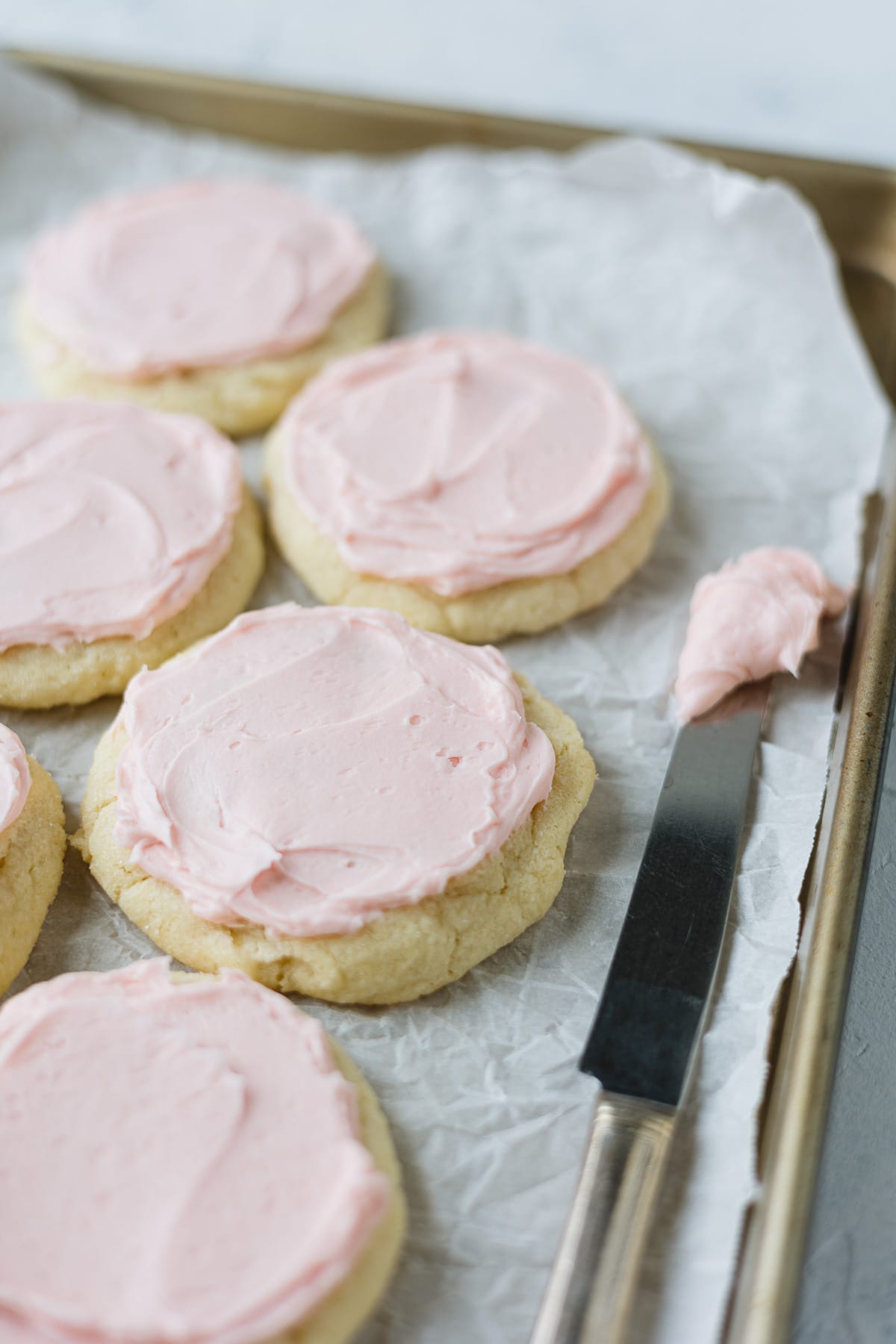 What are Crumbl Cookies you ask? Check out my full review of Crumbl! And, if you want to know alllll the Crumbl flavors, I've got you covered with a complete list of the 250+ cookie flavors.
Is the Classic Pink Sugar Cookie Still On Crumbl's Weekly Menu?
As of July 2023, the Classic Pink Sugar Cookie is NO LONGER on Crumbl's weekly menu.
Keep reading to find out why!
Crumbl originally moved the cookie off the menu in April 2022 and announced the change on their social media platforms. They encouraged fans to purchase extras before they were gone and keep them in the freezer for later.
Then, things took a turn again! Crumbl brought the Classic Pink Sugar Cookie back in September 2022 as a slightly modified vanilla sugar cookie with pink almond icing. The cookie featured real almond extract which some fans appreciated (real is always good after all!) and some fans did not (concerns about nut allergies being the primary reason).
The Classic Pink Sugar Cookie still managed to incite plenty of annoyance among die-hard Crumbl fans. Many fans wanted that space in the menu to go towards a fifth flavor from the giant Crumbl menu. So, Crumbl took the criticism to heart and changed things once again.
Now, as of July 2023, Classic Pink Sugar is back OFF the weekly menu. It will still rotate into the menu on occasion.
Of course, plenty of Crumbl fans were also unhappy with this move! It's hard to please everyone! If you are one of the many fans devastated to see the Classic Pink Sugar Cookie go, consider baking up your own batch of copycat cookies.
What Happened to the Milk Chocolate Chip Cookie?
Alongside this latest change, Crumbl also heeded a lot of criticism about the every-week staple Milk Chocolate Chip. Fans complained that the cookie lacked flavor, was overly sweet, and was a boring staple.
So, as of July 2023, Crumbl announced that the Milk Chocolate Chip and Semi-Sweet Chocolate Chunk cookies will now be available on the weekly menu on alternating weeks.
This seems to be a pretty good compromise. Now fans of either variation can plan on snagging it every other week. It's also easy to stock up and freeze your favorite cookies–so don't be shy about doing that either!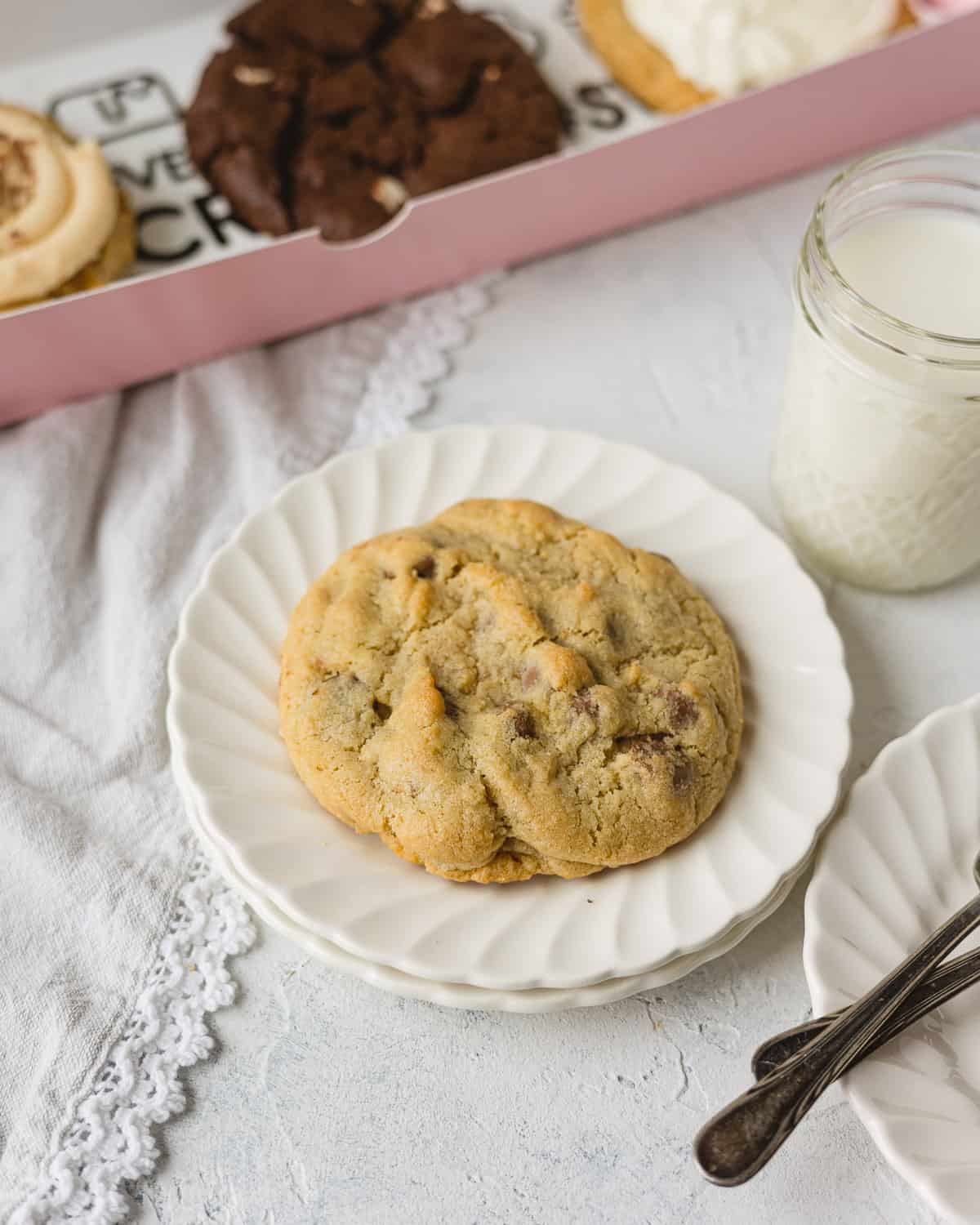 Why Did They Remove the Pink Sugar Cookie?
Of course the first theory is that maybe the cookie just wasn't that popular? With all the tasty creations that Crumbl comes up with week after week, maybe it's no surprise that fans would rather try a new flavor.
It's very possible that Crumbl was just tired of all the frustration around their iconic pink cookie and wanted to listen to their fans' request to change things up.
There are a few more theories for why the Classic Pink Sugar Cookie finally was retired from the weekly menu.
Was It the Almond Flavor?
Almond flavoring in baked goods is a bakery trick that adds a certain luxurious feel to a cookie or cake. Most of us don't bake with almond extract very frequently and our cookie recipes often call for classic vanilla. So, when we taste that hint of almond we instantly feel like we are really getting something special.
However, almond flavoring can also be more divisive. Not everyone loves the surprise flavor when they are expecting vanilla.
There were also some concerns about allergens in the almond cookie, especially when Crumbl moved to using real almond extract.
Selling More 6-Packs?
Another likely scenario (or possibly a combination of all of these reasons) is that the change has to do with selling more 6-pack boxes over 4-pack boxes of cookies.
Prior to the change, if Crumbl released 4 flavors (plus the staples of Milk Chocolate Chip and Classic Pink Sugar), many fans would purchase a 4-pack box with all the fresh weekly flavors. After all, most Crumbl fans would have tried the Milk Chocolate Chip and Pink Sugar Cookies already. Plus, they'd be there the following week too, right?
But, with a flavor rotation of five flavors and only one staple cookie? Well, if you wanted to try each fresh flavor, it makes the most sense to grab a 6-pack box and either add a Milk Chocolate Chip Cookie (or the new every-other-week alternative of Semi Sweet Chocolate Chunk) or a duplicate of a favorite flavor on that week's menu.
Now, this situation benefits Crumbl of course, but it also benefits Crumbl fans. Now, cookie fans anticipate five fresh rotating flavors (usually at least one that is totally brand new) with each weekly menu. This means that favorites come around a bit more frequently and each weekly menu is even more exciting.
When Will Classic Pink Sugar Come Back?
Funnily enough, as I was just about ready to publish this post for the very first time, the Classic Pink Sugar Cookie finally made its first reappearance! The cookie appeared on the flavor menu for the week of August 28, 2022. So it took around four months to reappear.
Note that the cookie was removed again in July 2023 and has yet to make a full reappearance (though it has hit some locations as a mystery cookie flavor already!).
It's also worth noting that the base sugar cookie tends to appear (no almond flavor) semi-frequently on the menu with different toppings/frostings.
My expectation is that the cookie will return to the menu roughly every four to six months. This still isn't all that frequent, so if it's one of your favs, try Crumbl's suggestion of purchasing several and freezing them or try baking your own Copycat Pink Sugar Cookies when the craving strikes!
What Are Your Thoughts?
Do you miss the Classic Pink Sugar Cookie? Do you think it should be placed back on the menu every week? Or, do you prefer having more fresh flavors on each new menu? Share your thoughts in the comments below!
Can't get enough cookies? Don't forget to check out my growing list of Crumbl Copycat Recipes.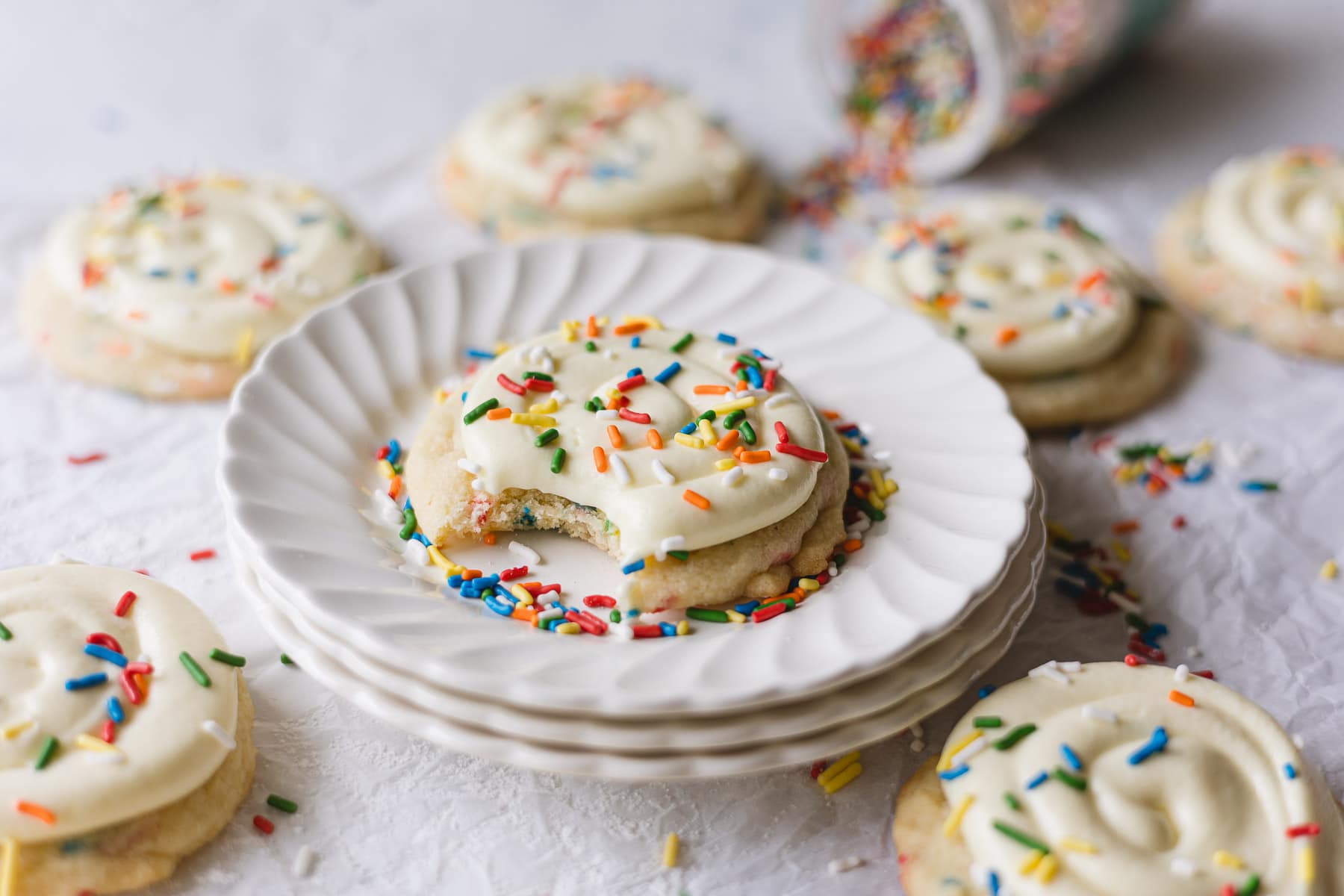 More Crumbl Cookies Goodness