Inspiring Shiplap Baby Nursery Ideas
If you love the look of shiplap, you'll love these inspiring Shiplap Baby Nursery Ideas. You'll find modern nurseries, farmhouse nurseries, and even a Harry Potter inspired nursery! Opting to install a planked wall for a feature area in a nursery is a great way to create a design that will grow with your child. Just transition the décor (and the crib!) as time flies by!
Please note that this post contains affiliate links which allow me to earn a small commission when a purchase is made at no additional cost to you. Read more here.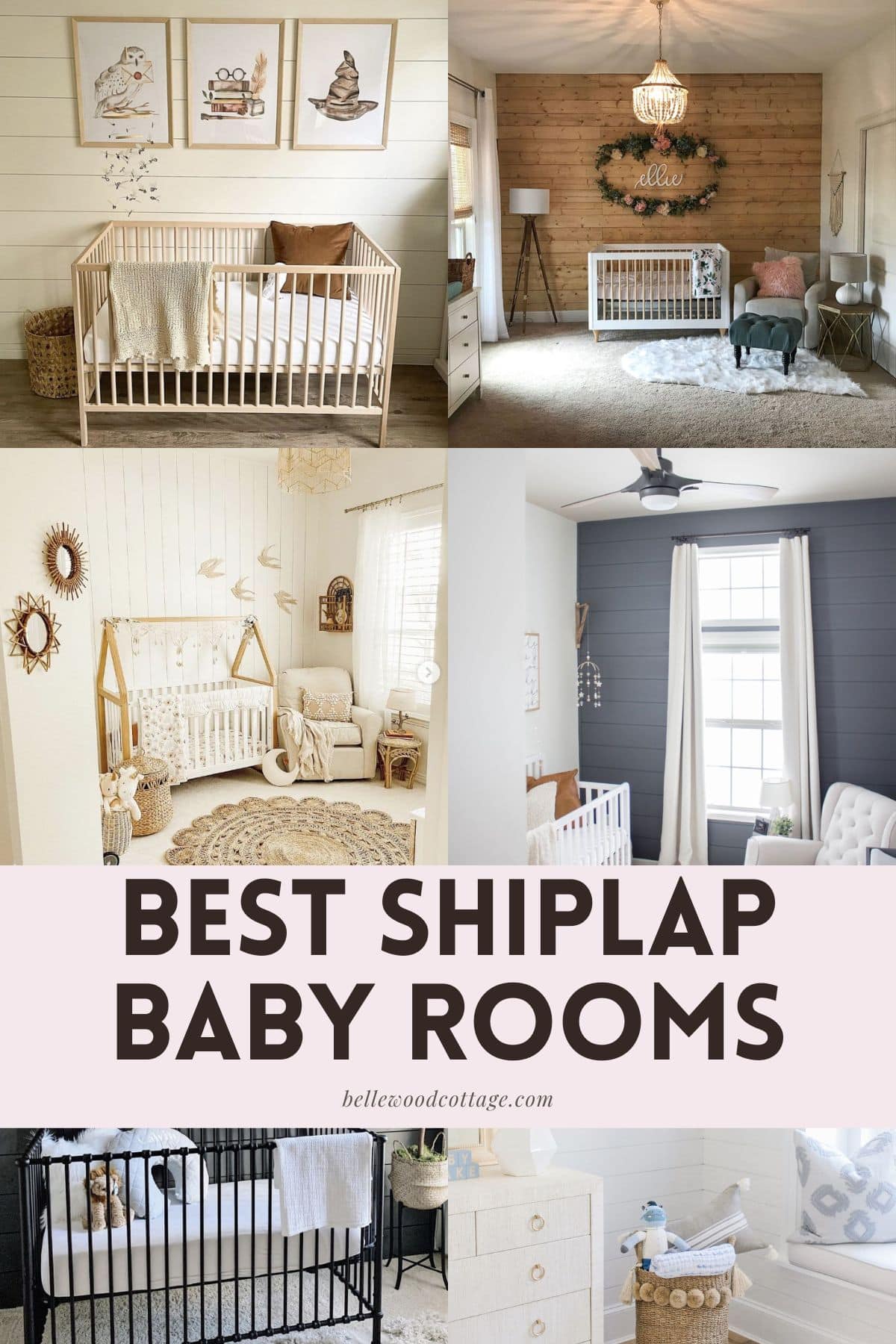 Planked feature walls are a popular choice to add interest to kitchens, bedrooms, bathrooms, hallways, and more. This easy treatment is a do-able DIY that lends itself to a variety of décor styles. Whether you love modern, farmhouse, coastal, cottage, or another style of home décor, a shiplap wall might be just what your space needs.
This is certainly true for baby rooms! Here I've rounded up over 15 shiplap baby nursery ideas to inspire you to give shiplap walls a try in your own baby's nursery. Whether you opt for a bold black shiplap wall, wall-to-wall shiplap, vertical shiplap, or another idea, the possibilities are endless.
What Is Shiplap?
Though I talk more about what shiplap truly is in my post about shiplap ceilings, let's still go over the basics. First, to use the word "shiplap" to refer to a the modern-day understanding of a "planked wall" is a bit of a misnomer.
Shiplap is actually an old style of home construction that used boards that fit tightly together using rabbet joints to "sheath" a home against the elements. These horizontal boards were strong and durable. The "look" of shiplap gained popularity as the designer Joanna Gaines began to remove drywall in old homes to reveal the shiplap underneath. She'd paint the boards white, add her magical farmhouse décor to the rooms, and suddenly a trend was born. The resulting cozy old-world feel of shiplap has become synonymous with farmhouse style.
Shiplap is a great look and even if you aren't into "farmhouse" style, the classic horizontal lines of shiplap-style planking make it an ideal choice for many homes.
Note that nowadays, these "planked walls" are generally added on top of drywall. Homeowners get the look using pre-fab shiplap boards (you can buy at Home Depot, Lowe's, or other stores), underlayment ripped down into thinner boards, or even wallpaper and other "faux" options. No matter your DIY skill level or your budget, you can absolutely get the shiplap look.
How to Use Shiplap in a Baby Nursery
Though no longer in its heyday, the "planked wall" treatment remains popular. While the initial popularity may have died down, the great thing about shiplap is that it is easily customized for a fresh look.
Want a more modern feel? Try going with vertical shiplap. Looking for a classic approach with a fresh twist? Try painting the planked boards. Black, blue, gray, and green are a few of the options you'll find below. Changing up the hardware and décor in a room also goes a long way towards giving the shiplap trend some fresh life!
And if you are looking for something even more unique? Some of the ideas below will give you the inspiration you need!
Inspiring Shiplap Baby Nursery Ideas
Shiplap is a wall treatment that will grow with your little one. You can change out the crib (some cribs even transform to toddler beds), the décor, and re-paint the room desired. Let's check out the ideas!
A Modern Take on Shiplap In a Baby Boy's Nursery
As the classic white horizontal shiplap has grown so popular, painting a planked wall helps the look feel more fresh. This Baby Boy Nursery from Balkanina Designs features a blue shiplap accent wall paired with white furniture and accents.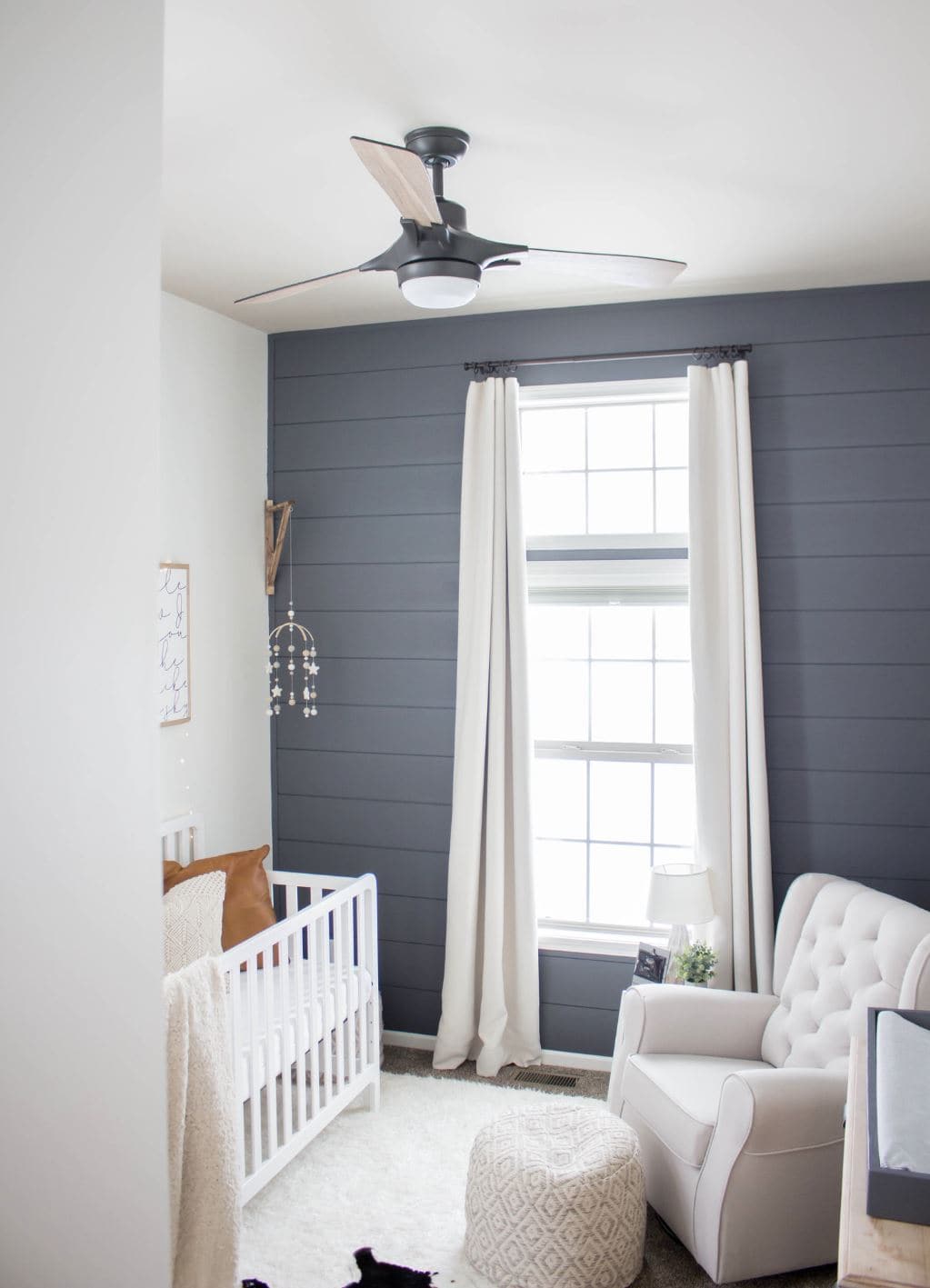 Vertical Shiplap in a Boho Nursery
I love this beautiful boho nursery from Courtney FitzPatrick @courtneyfitzp01 on Instagram. The space uses vertical shiplap, plenty of neutral accents (like rattan furniture, baskets, and a rug), and a unique crib that all serve to create a stunning baby room.
Harry Potter Nursery
When I saw this incredibly fun Harry Potter Nursery (complete with a Winged Keys mobile!) I knew I had to share. This design is from @kristin_dowding on Instagram and isn't it sweet? Joanna Gaines (the shiplap wall) meets Harry Potter (everything else) in the sweetest little baby room.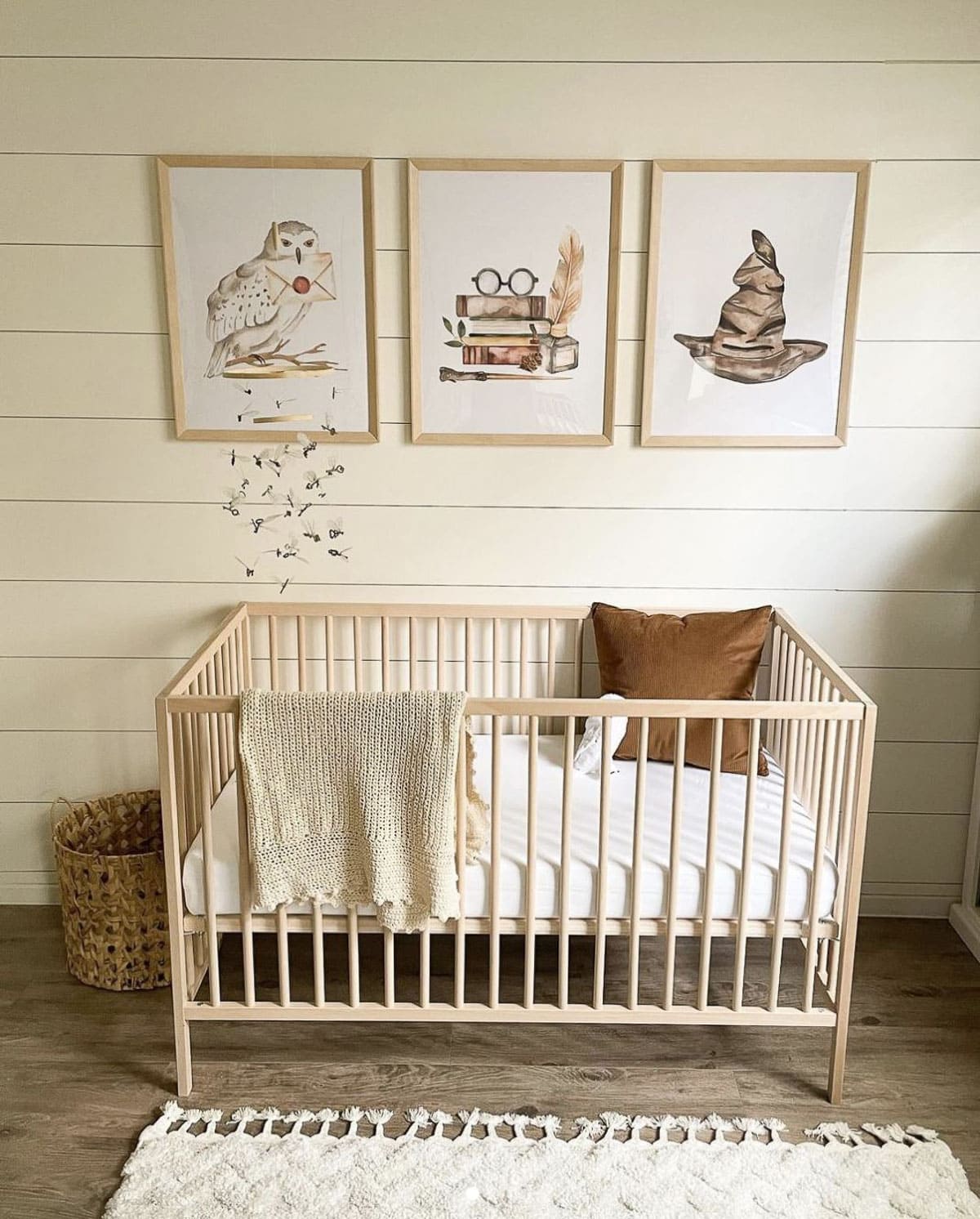 Natural Wood Planked Wall in a Baby Girl's Room
This pretty planked wall allows beautiful natural wood to shine. This Baby Girl Nursery with Rustic Shiplap is from @sdasilva10 on Instagram (and here's Sherri's home décor account). The rustic planked wall provides great contrast to the sweet floral arrangement surrounding the baby name on the wall.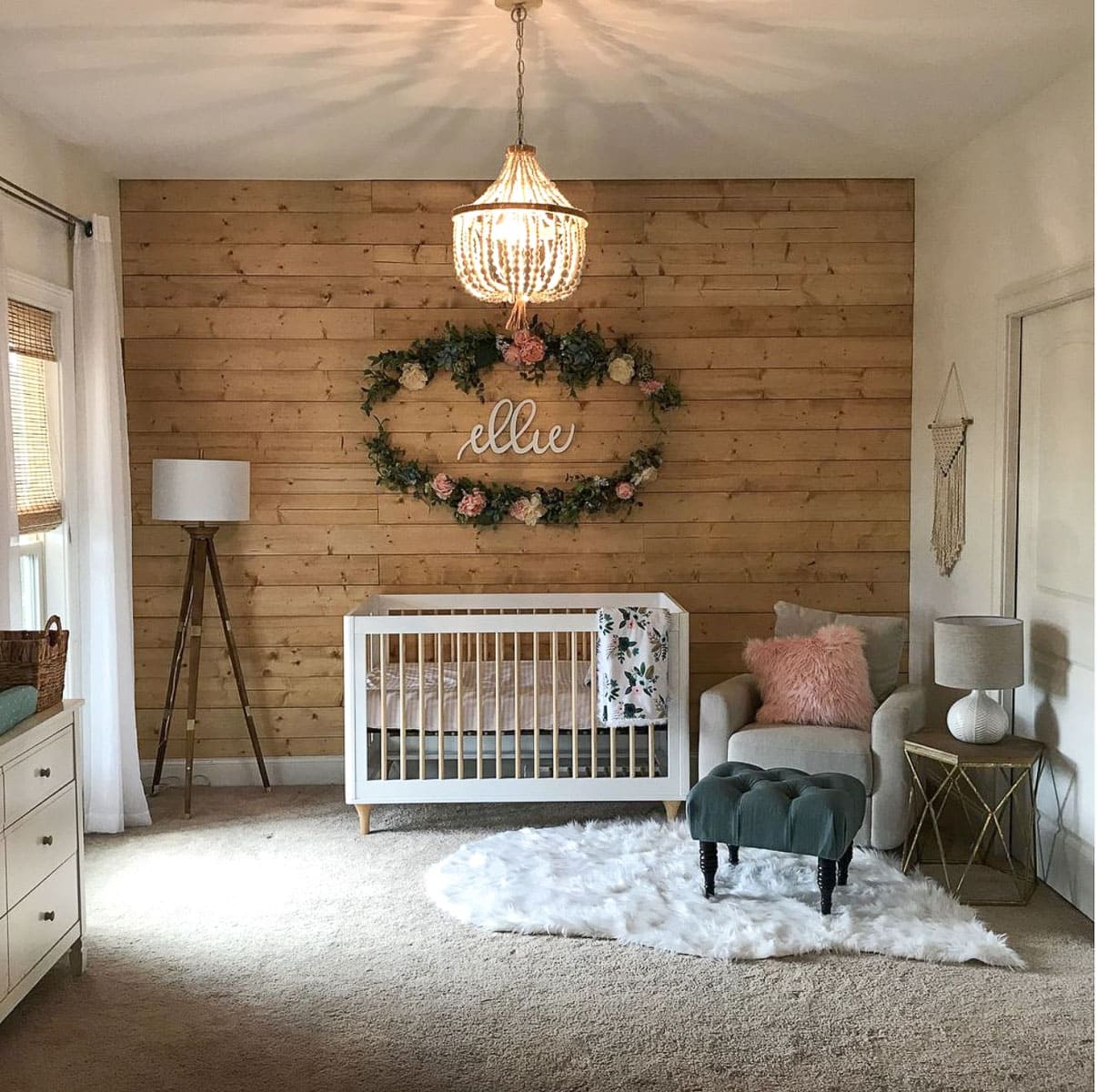 A Gray-Blue Shiplap Wall in a Coastal Nursery
This beautiful (and relaxing) Calm Coastal Nursery from Emily at Table & Hearth is a neutral space that will adapt perfectly for multiple children. The calming neutrals create a space that is functional and cozy. Here the shiplap is painted a deep gray-blue. It anchors the design and freshens up the planked wall look.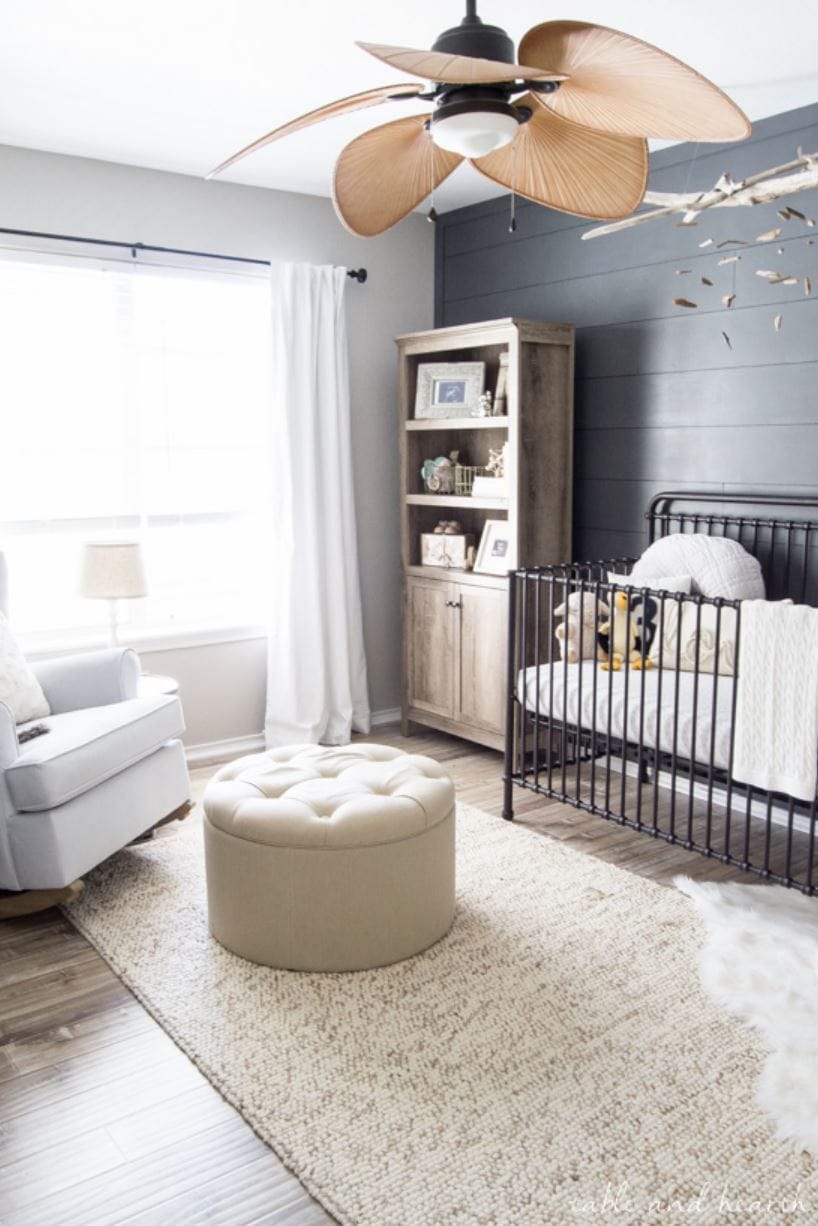 A Black Shiplap Wall
Maybe you are looking for something more bold. This Black Shiplap Wall in a baby nursery from @alieshaporto on Instagram is a modern look that can be paired with a variety of décor styles.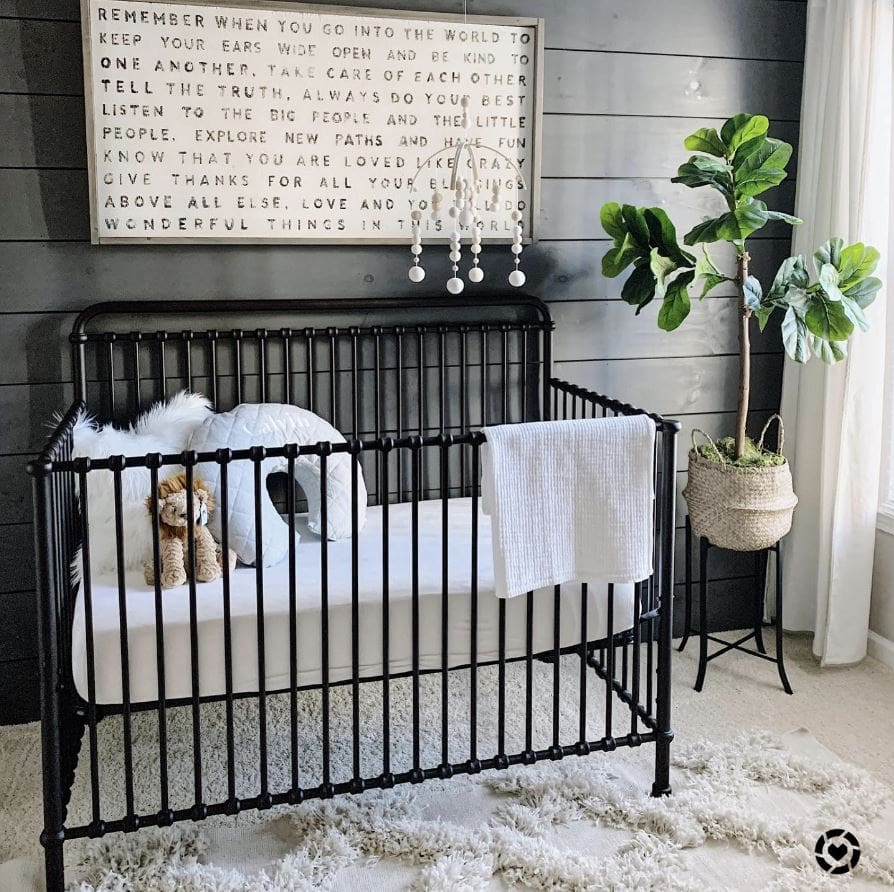 Baby Girl Nursery with Shiplap
This Baby Girl Nursery from Vanessa Calcara is primarily decorated in shades of white and light gray. Shiplap makes a great canvas for adding art or décor on a feature wall.
A Fresh Take on Shiplap, with Stripes!
I thought this Shiplap Stripe Wall from Courtney FitzPatrick @courtneyfitzp01 on Instagram was so clever. Instead of a going for a classic planked look here, Courtney took the idea of shiplap and placed natural wood boards with even spacing in-between for a rustic look in this little boy's room.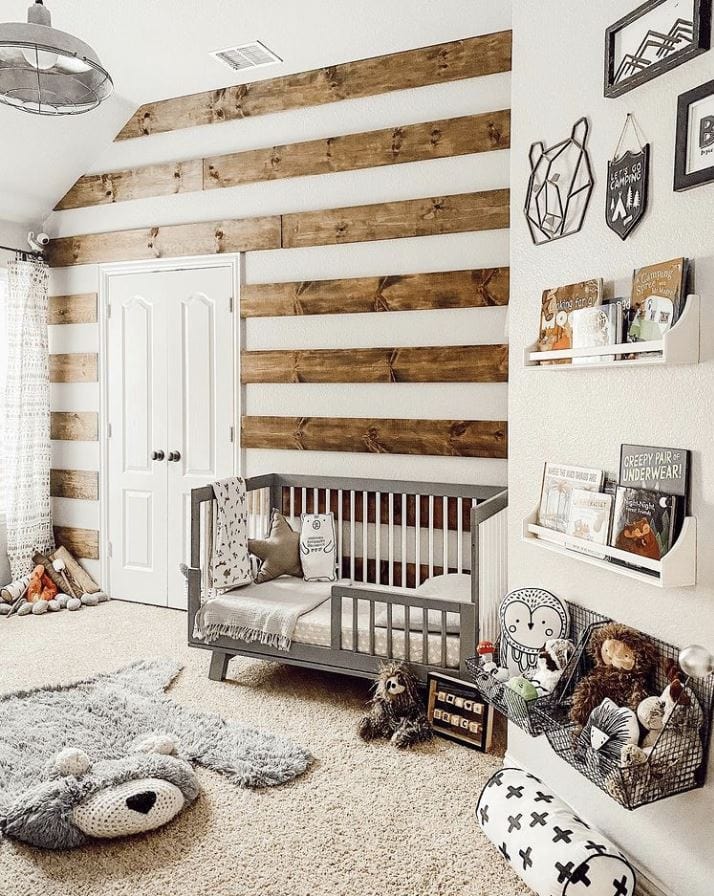 Baby Boy Nursery with Wall-to-Wall Shiplap
A shiplap feature wall is a popular choice, but have you considered lining a room in wall-to-wall shiplap? This Baby Boy Nursery with Shiplap from Monika Hibbs is a great example of just that. Though a more time-consuming option to be sure, the effect is stunning.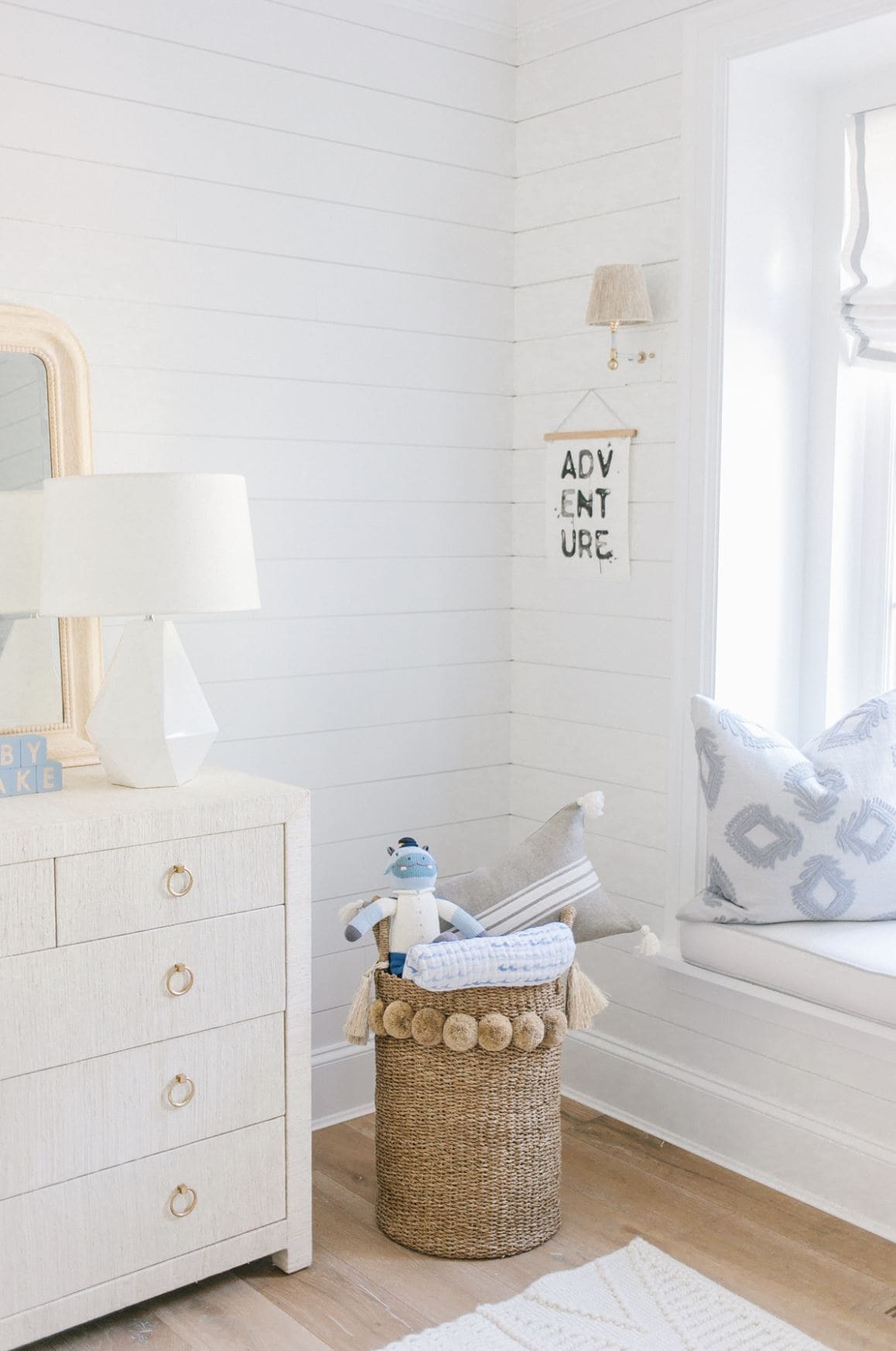 Freshen Things Up with Green Shiplap
Painting shiplap a different color than white instantly changes the look. Don't you love this Green Shiplap in a baby's nursery from @houseofhaires? The green pairs so well with the wood floors and neutral accents–and will look great for years to come.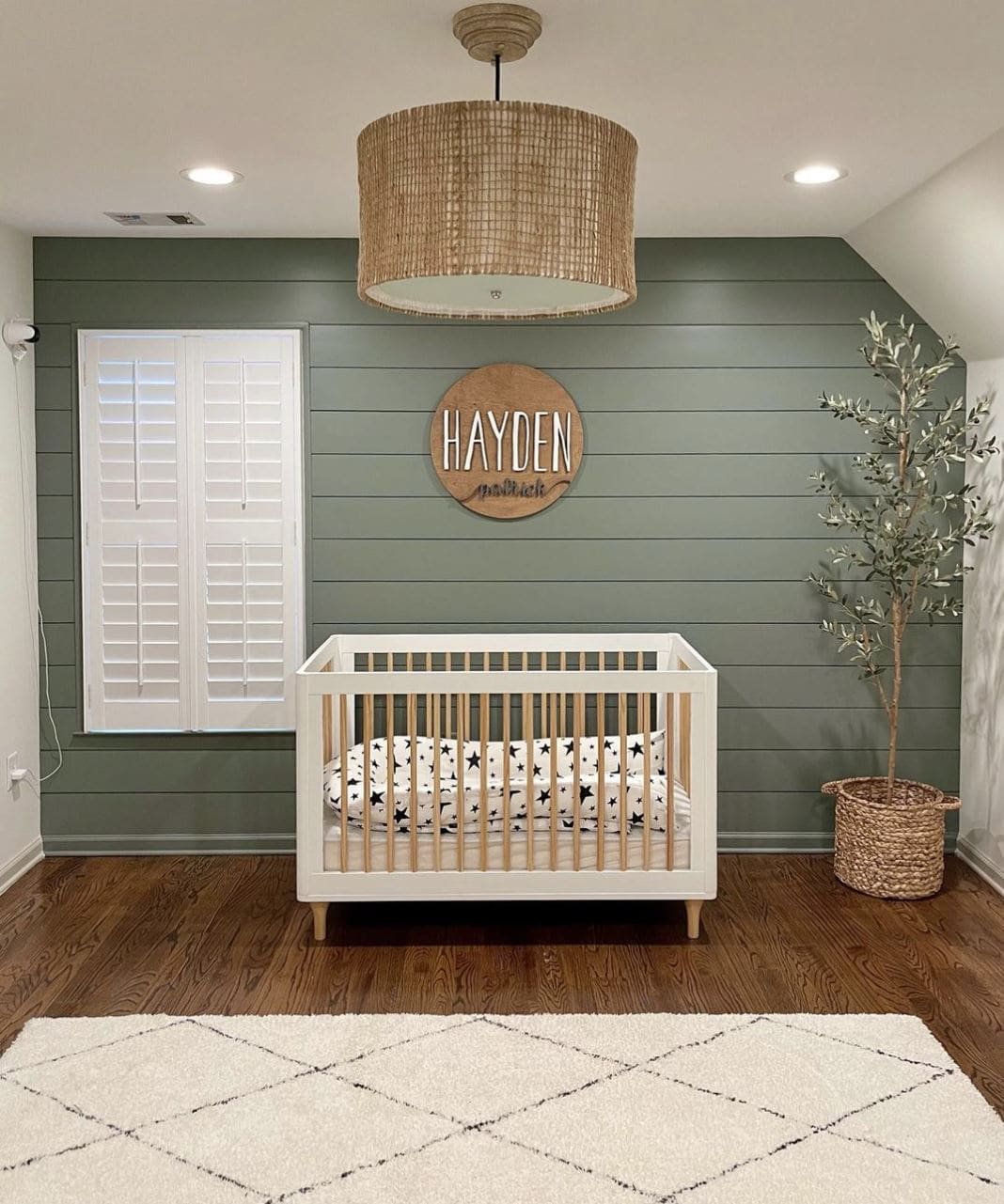 A Farmhouse Nursery…In a Closet!
If you are short on space, you may have to get creative with where baby sleeps! This Farmhouse Nursery with Shiplap from Elizabeth Joan Designs is done completely inside a walk-in closet. Though the space may be small, it's not short on character with walls fully lined with shiplap.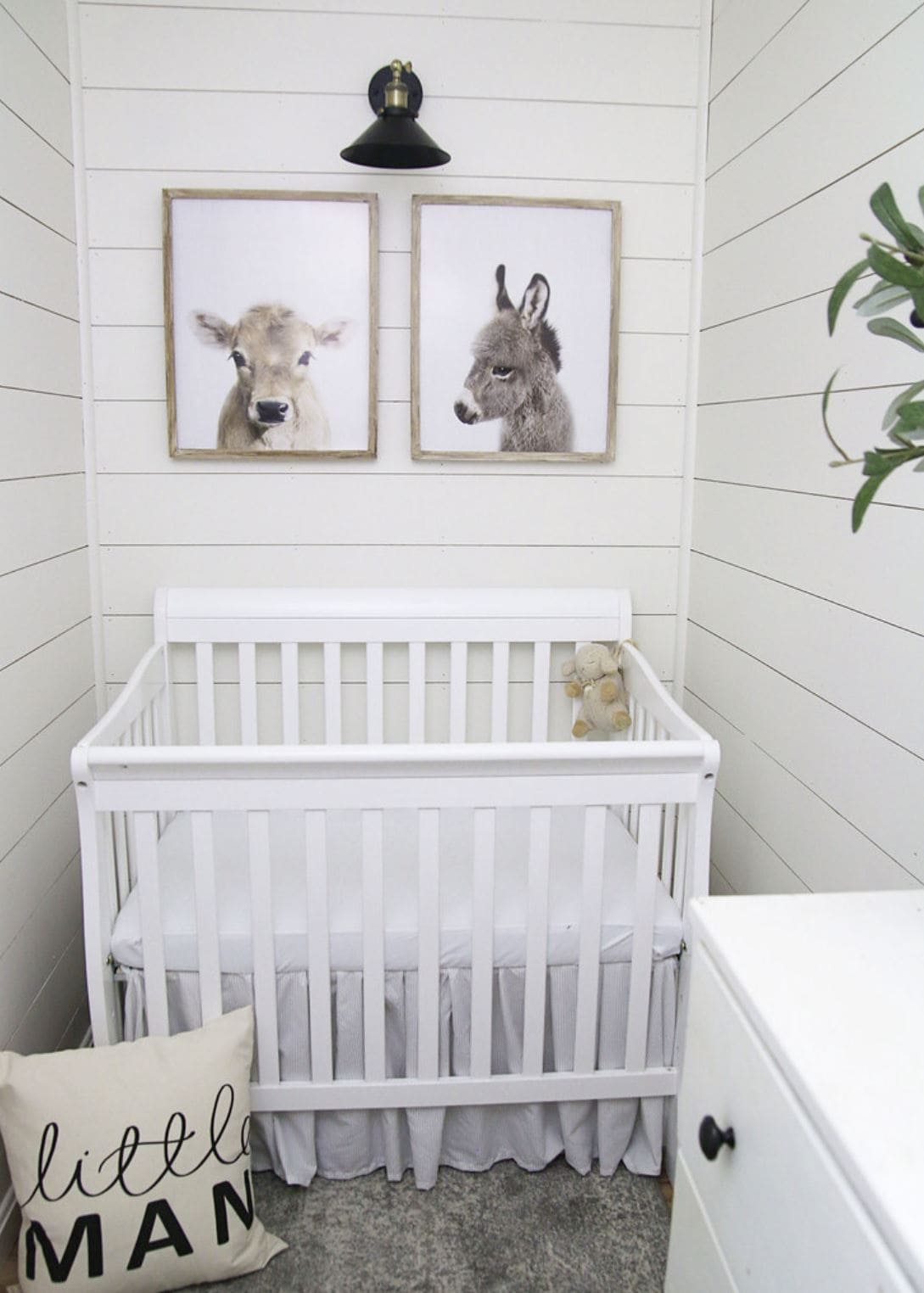 What about when baby grows up? I couldn't resist also sharing this Floral Bedroom for Girls from Ellison Made. The room houses three sisters and isn't it lovely? The matching three-in-a-row beds with the pink bedding and floral accents are so sweet.
Black & White Modern Farmhouse Nursery
This Black & White Farmhouse Nursery from @_lindsay_lewis_ on Instagram is a modern farmhouse look with a neutral color palette. This room is an ideal example of creating a canvas in a room that can transition to future uses (such as an older child's room or guest room) with ease.
Classic Farmhouse Nursery
Here's a pretty pink & white Farmhouse Girl's Nursery from Making Joy and Pretty Things. The room is sweet and simple with a planked wall, beaded chandelier, and farmhouse accents.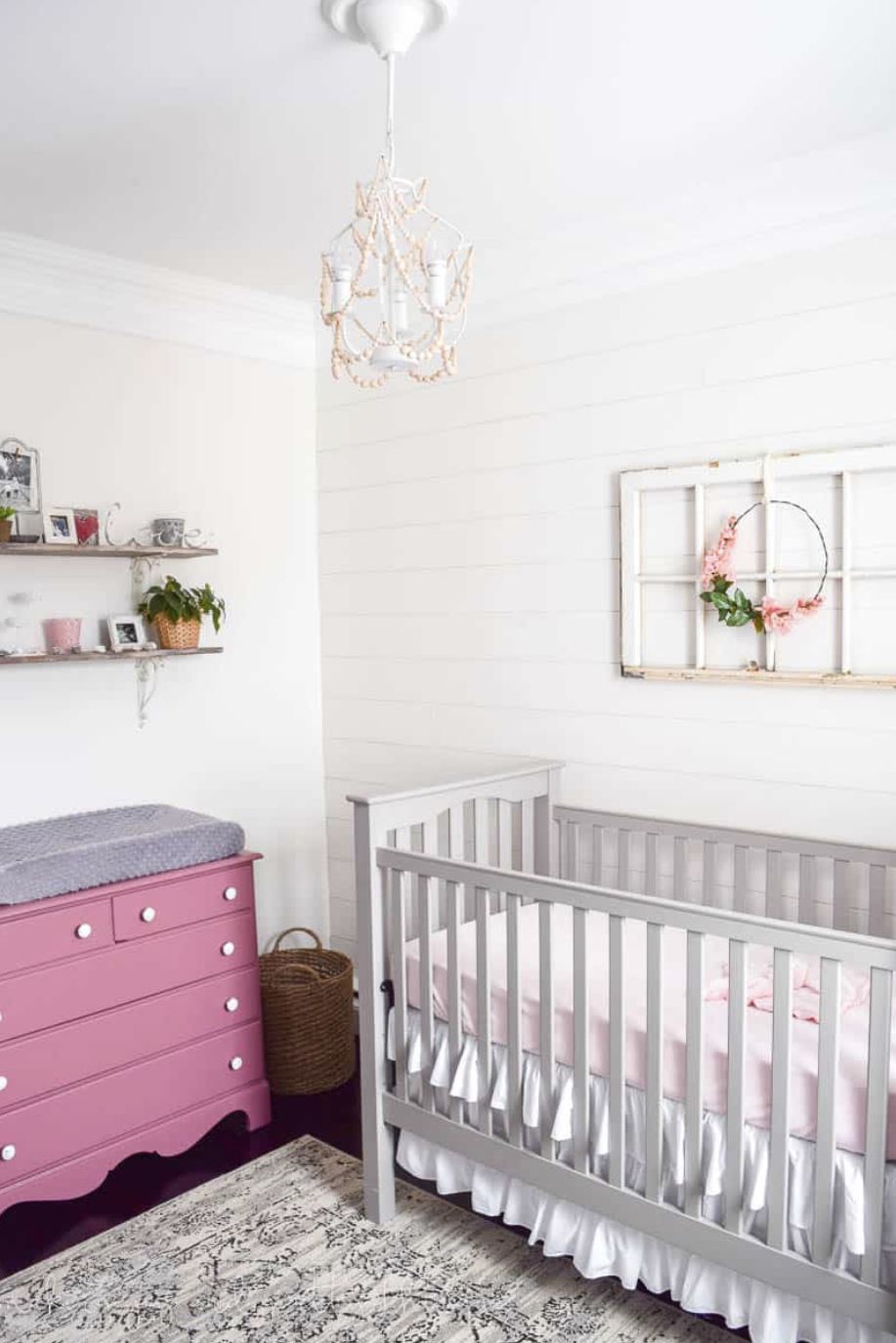 More Great Shiplap Nurseries to Check Out