how to add character to a cookie-cutter house
Does anyone else wonder how to add good old-fashioned character to a cookie-cutter house? There is something that is so wonderful about old homes and the character they bring, but they also can come with difficulties, large expenses, and overwhelming updates. At our current time in life, owning a relatively new house (roughly 30 years old) is the right path for us for practical reasons, but that doesn't stop me from wanting to add as much character as I can while we live here!
Here's a few of the updates I'm hoping to make; hopefully this can offer you some ideas as well if you are in the same boat as I am!
1 – Farmhouse window trim
Source, from Liz at Love Grows Wild. Pinned here.
I would absolutely love to switch out the trim around our windows for this pretty farmhouse look. Our current trim is not cute and very circa 1980's.
This is the photo that was on the listing before we bought our home:
You can see that the angled corners paired with the dark orange wood isn't exactly sending farmhouse vibes.
Until we can move forward with a trim update, choosing to cover up those angled edges with drop cloth curtains has definitely helped the space a lot:
According to Liz, this update costs about $10 per window, so I'm hopeful that it's something we can accomplish sooner rather than later!
2 -Replace baseboards
Source, from Farmhouse On Boone. Pinned here.
I love gloriously thick farmhouse baseboards like the ones seen above. Updating baseboards can be expensive, but it's an update that adds instant character.
We also have this railing (see below for the original listing photo) that wraps around nearly half of the living room (I dislike it in no uncertain terms) and painting it white would brighten up the space considerably. I normally am on the "don't paint it!" side of the fence when it comes to woodwork, but I have little qualms about painting the stuff from the 80's. The quality is just so far away from the the beautiful wood that was used to build houses 100 years ago.
3 – Ceiling medallions
Source, from Rachel Schultz on Homemaking. Pinned here.
It probably goes without saying that I would like to update our light fixtures (builder-grade lights are pretty blah), but I also think that a pretty ceiling medallion totally elevates a space. It's timeless and blends well with many decor styles (as seen above).
4 – Changing electrical outlets and HVAC vents
Ok, this is an update that is not really going to add a lot of "character" to a house, but it's definitely one of those items that distracts from the ambiance when outlets/vents become outdated (or are simply ugly). Our outlets are a really lovely greenish-brown color (hint: no greenish-brown color was ever called lovely) and updating them to white (if/when we finally decide on a new wall color, ha!) will really refresh the space.
5 – Decorate with antiques and found pieces
I am still working on this, as antiques can be pricey and we are working with a small budget, but it's amazing how adding in a character piece can change the whole tone of a room. Using easy-to-find items (such as old books) and chalk painting furniture is a great way to get that farmhouse look while still sticking to a budget.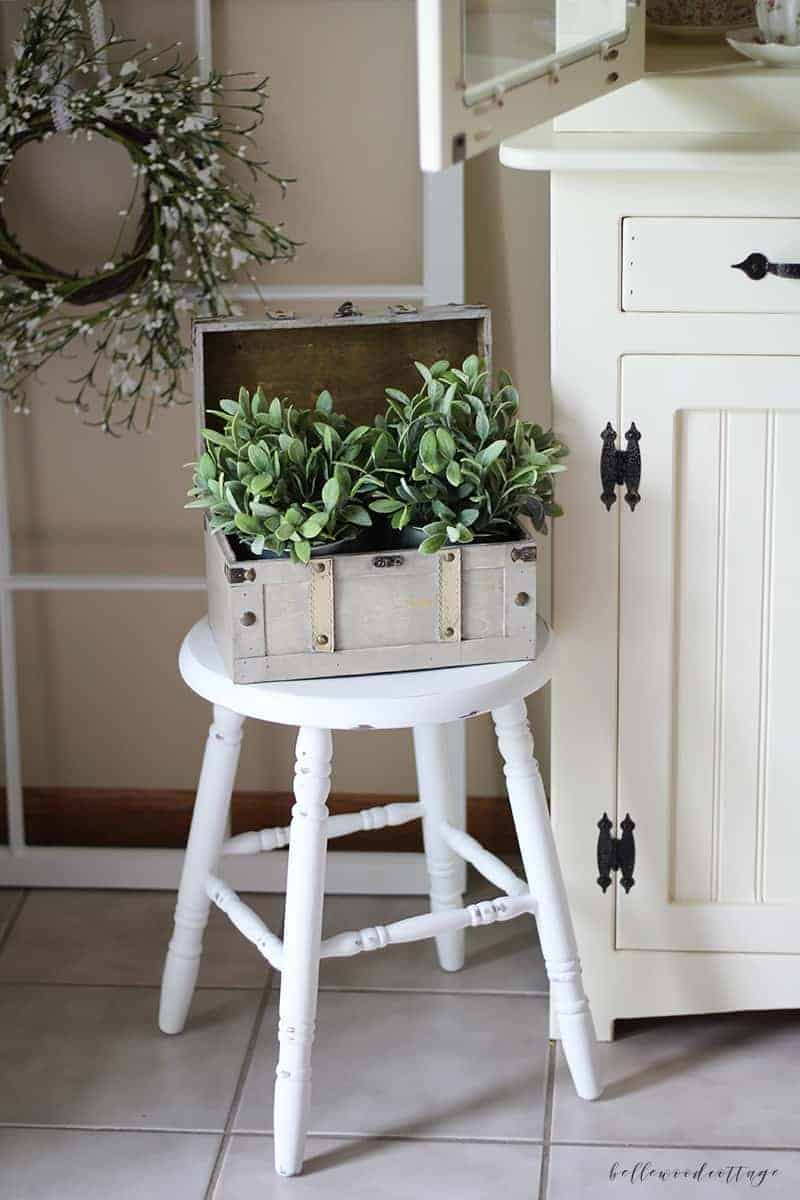 My list of updates to accomplish is much longer than this, but I think that starting with a few of these projects will get us closer to that character-filled home that I long for. If you have been through this same process, I'd love to hear the ways you brought character into your cookie-cutter house!
Save
Save