Finding contentment with your house: transformation on a budget | Part 2
Yesterday, I stopped by a local pop-up antique shop with my sister. The place was filled with wonderful vintage chippy furniture, old books, art, and even some ironstone.
The problem?
Well, one teeny tiny ironstone pitcher was $30.
And that was about my whole budget.
When you have a small budget for decor, the prospect of transforming a house feels absolutely overwhelming. $30 here and there adds up quickly on the credit card, but for some reason it never seems to make much of an impact across an entire house.
Can anyone relate?
If you too find yourself with a tiny budget, yet still want to transform your house and make it beautiful, this post is for you!
The first part of this series, where I talked more about finding contentment in a house of any kind, can be found here.
1 – Declutter
This is probably not the first thing you wanted to hear, but let's face it. Addressing clutter and getting rid of excess stuff is a fast (well, sort of fast) and free way to give your house new life.
Clearing out junk refreshes a home and gives you a fresh palette to be inspired by. White space is a vital part of design, and the way to add white space into a home is by simply taking things away. Simply choose an area to start, be ruthless, and enjoy the fruits of your labor.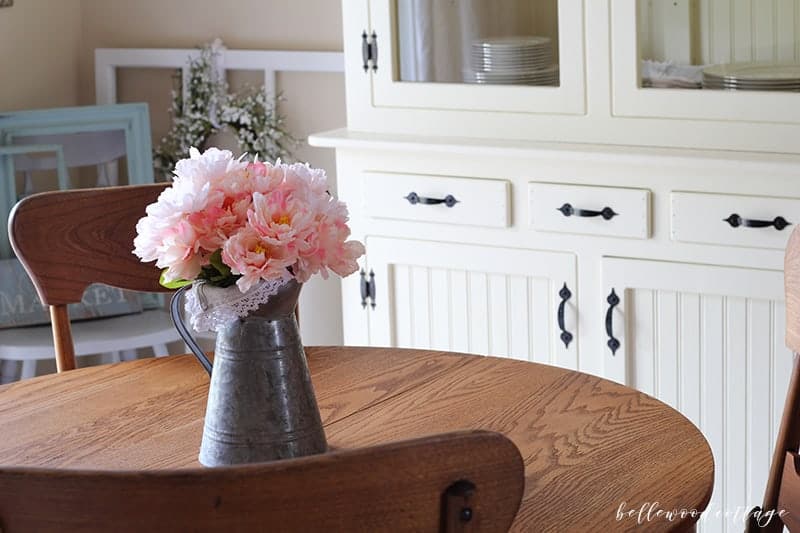 My favorite way to declutter is to take everything out a room, clean the room thoroughly, and then only put back the stuff I really want. Sometimes this can be quite a task though! So, another way to try is to go by categories. This idea is used in the Life-Changing Magic of Tidying Up, and I've found it helpful. Categories are things like clothes, books, and papers.
Try it and see what you think. I always find that clearing out the excess instantly makes my home more attractive, even if I didn't buy a single new decor item or paint a single surface.
2 – Organize
Now that we've decluttered, it's time to organize. Organization is key to keeping clutter managed and our homes looking great. Find the areas where stuff constantly comes in the house (whether that means groceries, craft supplies, mail, etc) and tends to linger in places that it shouldn't. Then, address those areas with organizational solutions.
I added a mail holder to our front entry and while it's a little overfilled right now (oops), it is waaaay nicer than having mail pile up on my kitchen table. Does it make a huge stylistic statement? No, but it's cute and keeps almost all our mail/coupons/whatever off the countertops. Win.
Take some time to come up with organization for key areas in the home and notice not just the aesthetic difference, but also the ease that organization gives to day-to-day tasks.
3 – Focus on what you CAN do
It's easy to get focused on the stuff we can't change about our house.
New baby means no time to paint? Husband would die before giving up his BarcaLounger (Joey and Chandler anyone?)? Maybe a tight budget limits new decor to virtually nil?
Rather than focusing on the unchangeable elements of your house at this time, think about ways you can change the aesthetic of your house while working around these elements.
For us, we currently don't have the time or budget to paint the main areas of our home (it's open-ish concept, so it's a commitment), which means unfortunately it's going to stay tan for now.
But in the meantime? I can keep collecting free furniture and painting it colors I DO like, so I do that.
I love grays and whites, so I've used those colors on a lot of pieces in our home and while they work well with the tan, the white pieces also serve to brighten up our space considerably. A creative solution to an annoying problem.
Even these little farmhouse stools (before photos here), add a nice pop of brightness and farmhouse charm to our space. They didn't take more than a few hours to paint, and the cost was negligible (they were free and I had the paint on hand). It's a small change, but again, it's still progress!
So, focus on what you could do right now to give your house the aesthetic you love. Maybe it's moving furniture around. Perhaps painting some darker pieces of furniture white? Or maybe try taking advantage of free printables to give your walls some new life (I've recently started a Pinterest board here for my own walls).
Get creative and focus on the areas you can change!
4 – Use small time increments for big impact
Remember how we talked about ditching social media? Well, try taking those minutes (or hours!) and applying them to improving your home in a tangible way. Take time to declutter or organize, or choose a piece of furniture to refinish.
It's a simple thing, but I think we often underestimate the power of a few minutes applied consistently to a task.
5 – Choose a home decor style that allows for budget-friendly solutions
Minimalism is huge trend right now, and done carefully it can actually save a lot of money. This look usually features white walls, natural wood furniture, thrifted finds, and things from West Elm (that last part won't save you much money just fyi).
I personally love the cottage/farmhouse look. I love white walls, cozy linens, rustic accents, and pieces that hint back to older times. In the interests of being budget-friendly, my style is probably a bit "minimalist farmhouse" in all honesty.
The best thing about farmhouse style though?
It allows me to reuse, recycle, and refurbish. That saves me a ton of money.
I'm willing to take on projects that no one else wants so that I can add character and charm to my home with some work on my part. Of course, this is a slow way to get my home looking the way I want it to. But, small steps eventually create a big impact.
Now, certainly the farmhouse style isn't the only look that can be done on a budget, but it is wise to choose a look that won't require changing every.single.detail that exists in your home. Work with your house, embrace its charm and oddities, and find a style that you can achieve piece by piece and build on as the years go by.
6 – Utilize paint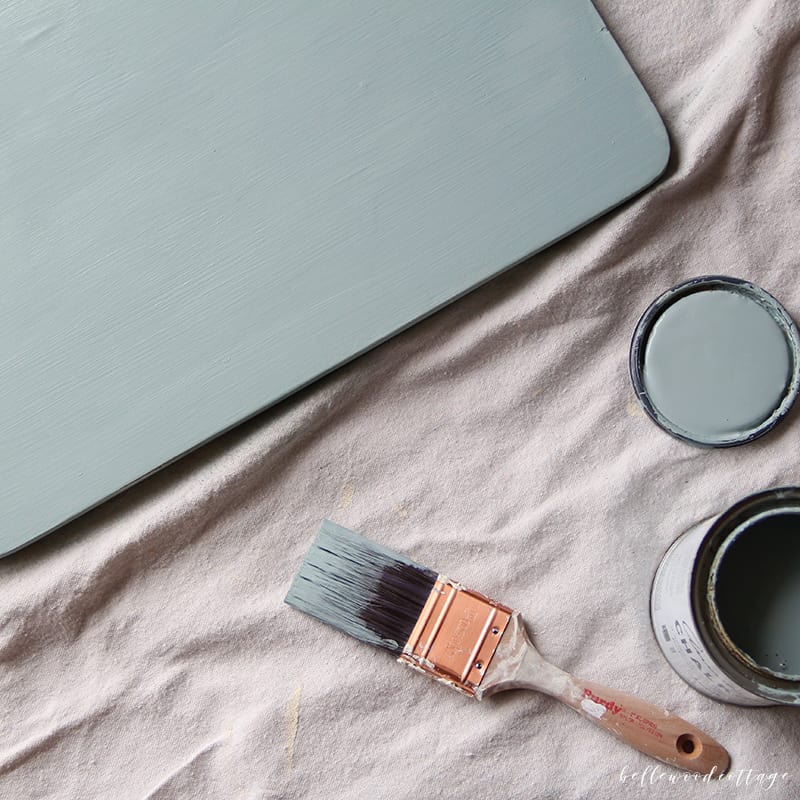 Paint can be pricey, but it's one the best ways to transform things you don't like about your home into things you LOVE about your home. Ugly built-in? Paint it. Dated kitchen table? Paint it.
I think if you have a limited budget, it's well worth it to invest in good paint (and primer) and start painting your home into a space you love.
It's incredible the difference it can make. My hutch is probably my favorite project to date (though it was not so fun to work on!) and I'm looking forward to seeing how our master bedroom refresh comes together after we paint the red oak trim and dark gray walls with a gorgeous white.
Peruse Pinterest for painting before-and-afters and get some inspiration to give it a try!
---
So there you have it! These six transformations are all ways I've been able to make progress with our home. Sometimes it feels like a never-ending list of projects and sometimes the urge to compare my house with others still strikes. However, it's wonderful to know that my home is slowly but surely coming together and we're staying on budget too.
I'd love to hear your thoughts on this topic, or even some other ways you've transformed your house on a budget. Share with me in the comments and let's encourage each other on this journey as homemakers.
Save
Save