Finding contentment with the house you live in | Part 1
Have you ever hated your house? Us girls can be good at hating things. We talk about hating our thighs, hating our jobs, hating our insecurities.
But you know what?
God wants so much more for us.
What if we recognized the amazing blessings that we have been given?
The house that is only five minutes from work.
The legs that take us to and from without (much) complaint.
The job that pays the bills.
I want to share today about finding contentment in the house you are in. As a homemaking and home blogger, I think about houses a lot. I follow home bloggers, I catch an episode of Fixer Upper whenever I can, and I am constantly stopping by paint stores (the jury is still out on whether this will ever result in painting).
So naturally, I have had a few thoughts about my house.
That carpet? It smells like a dog. Let's get rid of it.
I don't like red oak. Let's paint it.
I want a couch that is white. Let's buy this Ikea one and hope it doesn't break too quickly.
Anyone else? It's not fun to admit, in fact it's downright ugly, but discontentment can be an easy place to land. And in the age of social media, comparison is easy and contentment is hard. It can certainly be a challenge to stay focused and find joy in what we've been given.
I struggle with this often, because I see the gorgeous homes that others are carefully renovating, decorating, and curating to perfection. And after looking at that? Well, my 1980's split with the torn-apart basement, somewhat awkward layout, and lack of windows seems pretty blah.
So. While I might love to write about my latest chalk paint flip, what I really want this blog to be about is a community of women focusing in on how we can make our homes beautiful. Not necessarily "fixer upper style" with paint and decor (though that has its place), but by the way we manage our homes, welcome others in, and create a place of comfort and refuge for our families.
This will be a two-part post, where I spend the first part talking a little bit about our spiritual health and how we view our homes. The second post will focus on some practical ways that we can make our homes lovely, even when we're working with those elusive resources of time and money.
So you hate your house?
Set those feelings aside for a few moments, and let's talk about how we can find contentment, even in the face of something that won't let us forget we don't like it (houses can be hard to get away from like that).
1 – Embrace thankfulness
My faith in God, in Jesus Christ, shapes everything I do. Once I found truth, I couldn't see living any other way. When we see our house as a tangible blessing from God, it changes our entire perspective.
Whether you are living in a six bedroom mansion or a one bedroom apartment, know that having a place to call home is a blessing! It is a gift. And operate from a place of thankfulness.
I could easily get frustrated at the things that are ugly in our house (I'm going to be real, some stuff is actually UGLY) or things that are taking too long (we've lived here a year and a half and have painted one room. Yes, one.), but you know what I'm grateful for?
We live in an awesome neighborhood.
We are blessed with a roof over our heads and somewhere to keep all of our stuff.
Ben and I get to work on projects together and not worry about "messing stuff up", because even if we don't do things perfectly, we're still making improvements and having fun (most of the time!) together.
2 – Pray about it
Maybe you live in a house that is really difficult. Two bedrooms and three kids? Five kids and one bathroom? No garage and harsh winters? A living room that was tragically wall-papered from head to toe with no hope of removal, save for demolition?
These are real problems and they can be tough to manage.
Take it to the Lord in prayer.
I've been reminded a lot, that it's simply through God's grace that this world even exists. That we even breathe.
"For in him all things were created: things in heaven and on earth, visible and invisible, whether thrones or powers or rulers or authorities; all things have been created through him and for him. He is before all things, and in him all things hold together. " Colossians 1:16-17
I truly, truly believe that God listens to prayer, and we are absolutely free to ask Him about things that might seem trivial or self-focused, like houses. We are welcome to come to God with our needs.
I'll tell the story of how we got our house someday on the blog, but it was 100% God at work. We knew that we were in a competitive situation and also knew we couldn't offer more than our original offer. God came through, and we got our house. It, in all of its 80's split-level glory, was and is an absolute answer to prayer.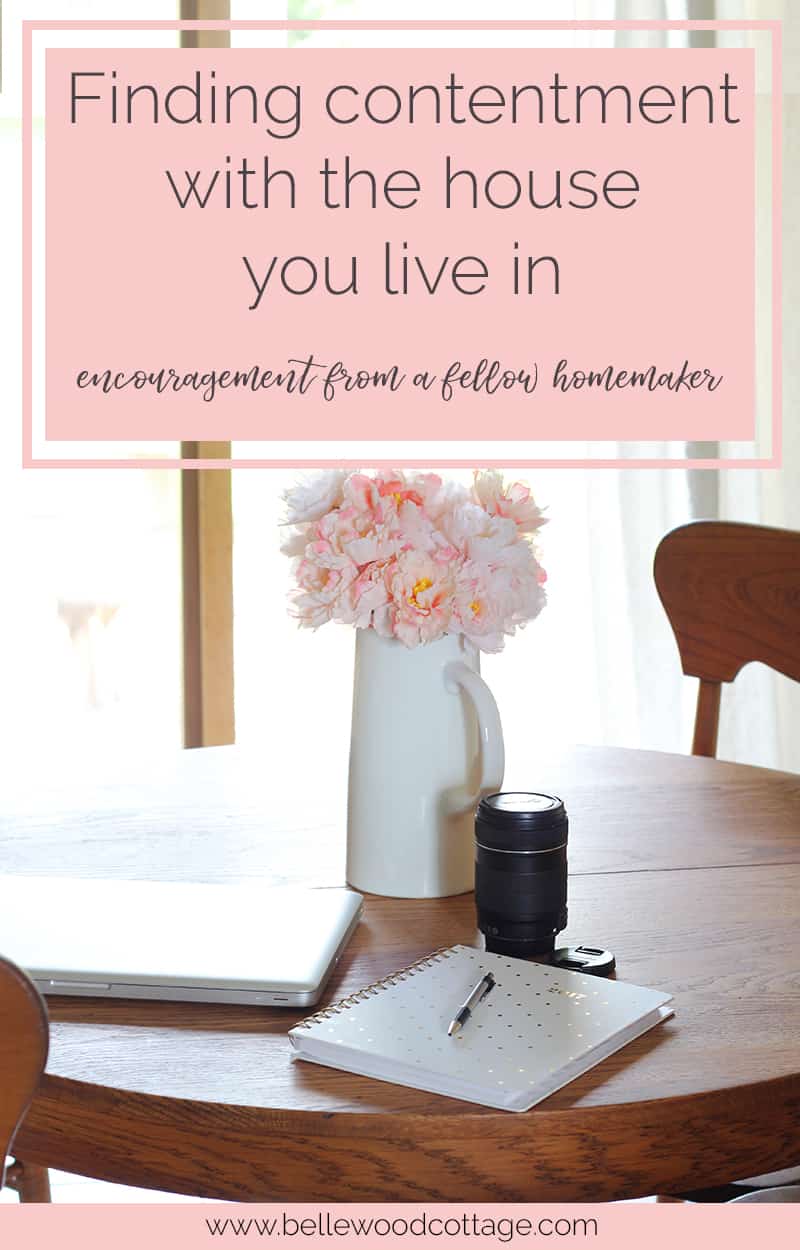 3 – Be confident
Sometimes it's easy to avoid opening our homes to others when we feel like they are "not clean!", "still a work in progress!" or simply "not good enough". However, practicing hospitality, even when things aren't perfect is a huge blessing both to the homemaker and the guests. Community is a powerful thing, and one of the best ways to build it is by welcoming others into our homes.
So don't give up on hospitality because you feel like your house is too small, or needs to be painted, decorated, or whatever. Embrace what you have, own it, and invite others in!
4 – Take a break from social media
It's hard, but it needs to be said. If, after scrolling through Instagram, you don't feel inspired and uplifted, but instead frantic and hopeless…it's time for a change. How can we be excellent homemakers for our families when we are so busy comparing ourselves to not just one photo, but the sum total of 100+ "perfect" moments or "perfect" homes?
Making our homes beautiful is fun. The painting, the shiplap, the collecting of various decor to create a certain feel in room, it's all good stuff.
But, let's remember that the people we have the joy of living with…our husbands, our kids, our families, are who really matter.
So take some time away from the social media channels and just invest in being joyful with your family. Your home doesn't have to be Pinterest perfect today (or ever really!).
5 – Finding true contentment
I sometimes struggle with spending time in the Word of God. It's easy to sleep a little late and rush out the door to work without a second thought. It's easy to prioritize "my" stuff, like blogging or house projects, or even friendships.
I find though, that keeping my eyes fixed on Jesus reminds me what's really important. It reminds me why I have a house in the first place and how I can be using it for God's glory. Even though our house isn't "done" yet, I can still use my unique dwelling place to offer encouragement, respite, and welcome to those in need.
Still wishing you owned an adorable 1900s farmhouse complete with legit shiplap, mullioned windows, and a front porch to end all front porches?
Take some time to focus on God and remember with me that "all things have been created through him and for him" and what that means for us when we consider our role as homemakers and the houses we live in.
Closing thoughts
If you made it to the end of this post, woohoo! I know, it was a long one. But I would love to hear what you have to say about homemaking, contentment, and finding joy wherever we're at.
Talk to me in the comments and let's encourage each other!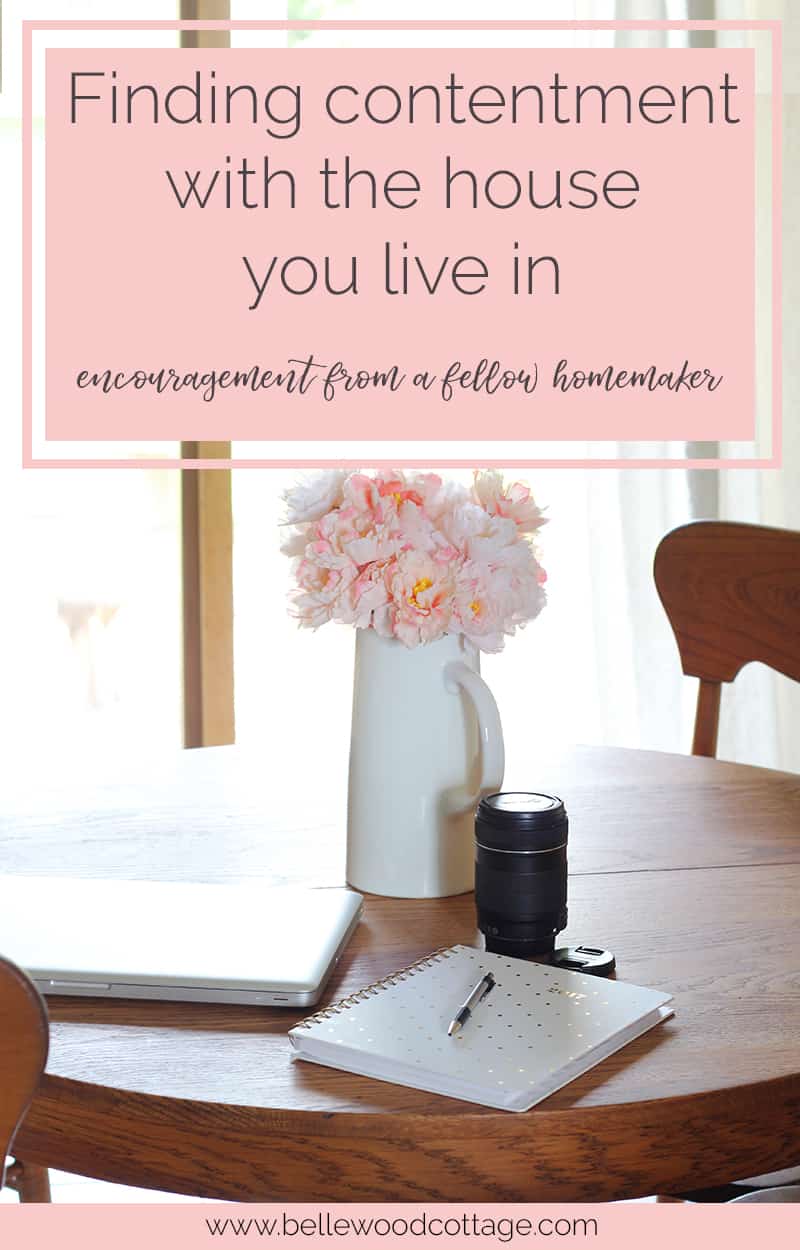 Save
Save
Save