The Best Chalk Paint Brands for Every Project
There are dozens of brands of chalk style paint available today, so which to choose? Check out this list of the Best Chalk Paint Brands for every project. Whether you love home décor, DIY, or flipping furniture, these tips are for you!
Please note that this post contains affiliate links which allow me to earn a small commission when a purchase is made at no additional cost to you. Read more here.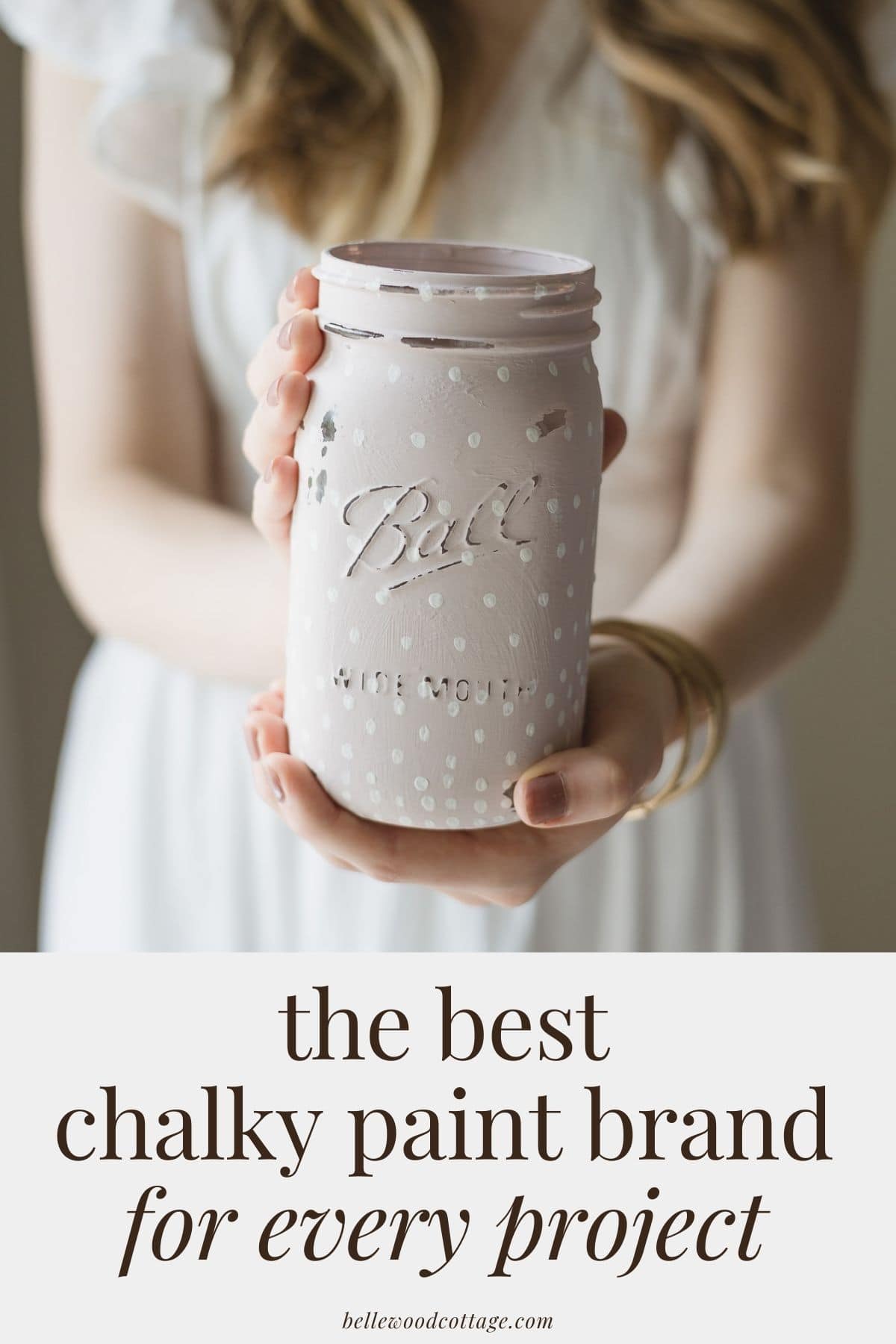 The world of chalk painting and furniture flipping has expanded quite a bit in the last decade or so. It's now easy to find chalk paints available at home stores, online, and in boutique shops. The question is, which chalk paint is the best?
In this post I'll share my experience with some of the most popular brands of chalk paint. You'll get details on all of the top brands of chalk style paints and when you should opt for one brand over another. Plus, I've sprinkled in plenty of tips on saving money, choosing eco-friendly paint, and where to buy these favorite chalk style paints.
If you are in a hurry or looking for something specific, check out the table of contents below:
There's Only One Real Chalk Paint?
Before we get started, it's worth noting that there is only one "Chalk Paint" and that is Annie Sloan Chalk Paint (holder of the trademark "Chalk Paint").
Obviously, once the popularity of a matte finish (and no-prep) paint was realized, everyone wanted in. So, the market has expanded with "chalk style paint" offerings from major paint companies and smaller ones too. There are a lot of paints to choose from!
In addition to Annie Sloan's paint, I'll cover many of these chalk style paints in this post. Paints such as Rust-Oleum Chalked, Country Chic Paint, Magnolia, and more.
What is Chalk Paint?
Though I have a detailed post answering the question, What Is Chalk Paint?, I wanted to break it down for you here in a few key points.
Chalk Style Paints are Matte Finish
One of the hallmarks of chalk style paints is the matte finish. Though a top coat is almost always used, these are matte too. The matte finish creates a look that blends well with a rustic, farmhouse, or vintage home décor aesthetic.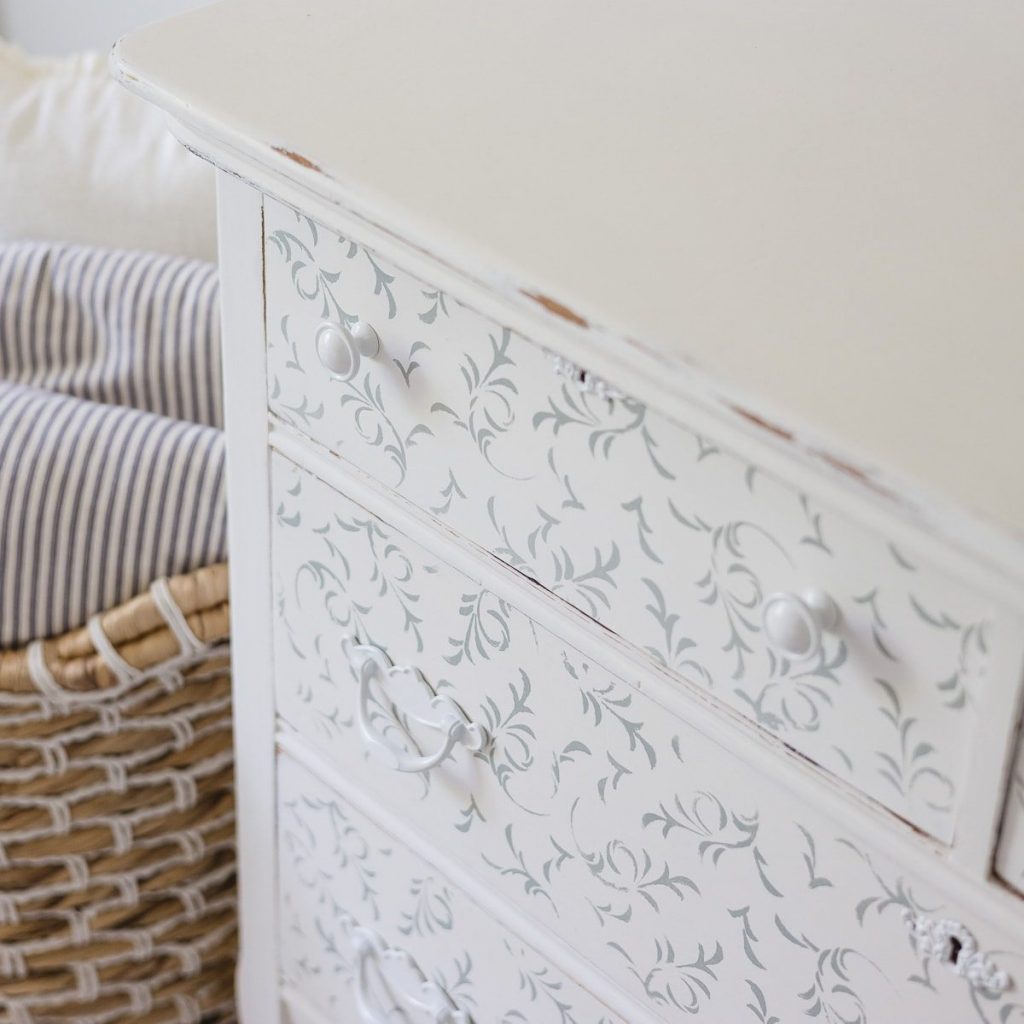 Chalk Paint Is No-Prep/Low Prep
THIS is the reason everyone wants chalk paint! No one wants to sand if they don't have to! And it truly is one of the things I love most about chalk paints. Finding time and space to sand and prime can make furniture flipping challenging (and tedious).
Chalk style paints eliminate prep–so yes, you can just start painting. Now, the caveat to this is that some chalk style paints adhere much better after a piece has been sanded. If you skip sanding, the paint might not apply as well and the finished piece of furniture could age more quickly.
My rule of thumb is, if sanding is the only thing holding you back from transforming your furniture, then do feel free to skip it. While a light sanding is usually my preference, I've painted plenty of pieces without sanding and it's been fine. Read your paint can to determine if there specific requirements for the paint you've chosen.
As for priming, the biggest reasons to prime are adherence and stain-blocking. Most chalk paints adhere well without a primer, but staining (or bleed-through) is a different matter. If you run into bleed-through as you paint an old piece of furniture, it can be a frustrating problem that will require a good stain-blocking primer to solve.
Chalky Paints Require a Top Coat
While you can simply buff chalk paint and leave it at that, you'll definitely want to use a top coat on furniture flips and any home décor accessories that might see a lot of use. A top coat protects the piece from wear-and-tear and also provides a slight matte sheen for a finished appearance.
Bear in mind that not all top coats are created equal. Some offer far more protection than others. Here's more about the different top coats you can use to seal chalk paint.
Chalk Style Paint Distresses Easily
Distressing ages a piece (or can even reveal a surprise color underneath the final coat of paint). Standard latex paints, while they can be used in furniture painting, do not tend to distress well.
When sanding paper is applied to a latex paint in an attempt to add distressing/aging, the paints tends to gum up. Compare this to a chalk style paint which sands away in a fine chalky dust revealing the layers underneath.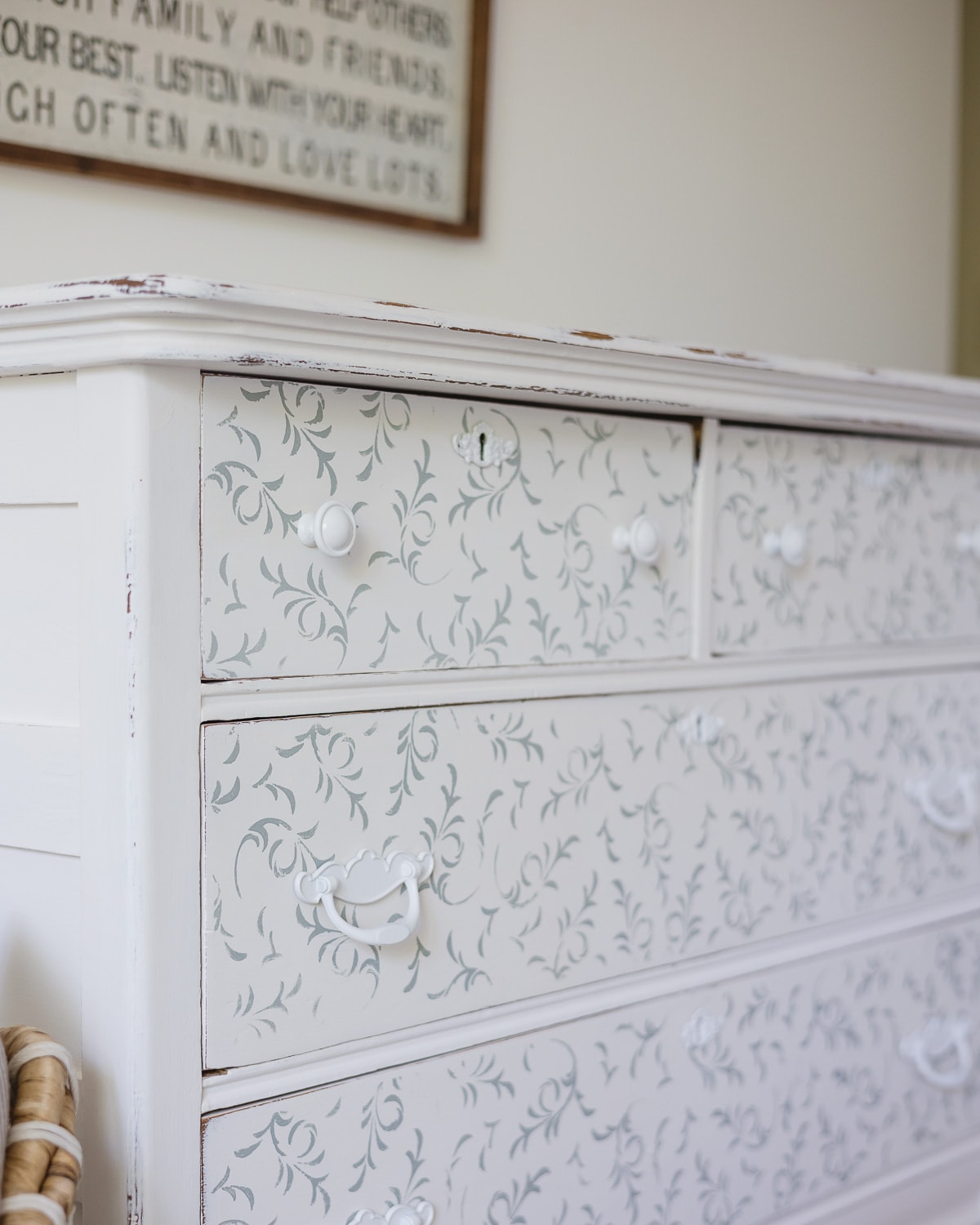 Shows Brushstrokes
I almost always forget to mention brushstrokes because I'm so used to them! I personally love the look of brushstrokes on a furniture flip because it looks vintage/handcrafted. It's more personal than a professionally sprayed piece. Some people don't like brushstrokes though, so if that's you, you might not be as excited about Chalk Paint/chalk style paint.
A quick note though, I do often water my paint down slightly to avoid overly thick/unattractive brushstrokes. I also use a good brush which helps achieve a smoother finish (I like the inexpensive Wooster Shortcut brush).
The Best Chalk Paint Brands for Every Project
Now that we've talked about what Chalk Paint and chalk style paints are, let's go over the best chalk paints for every project and purpose.
Best Affordable Chalk Paint: Rust-Oleum Chalked Paint
Rust-Oluem Chalked Paint was one of the very first chalk style paints I ever tried. It's readily available, budget-friendly, and comes in a small selection of basic (but pretty) colors.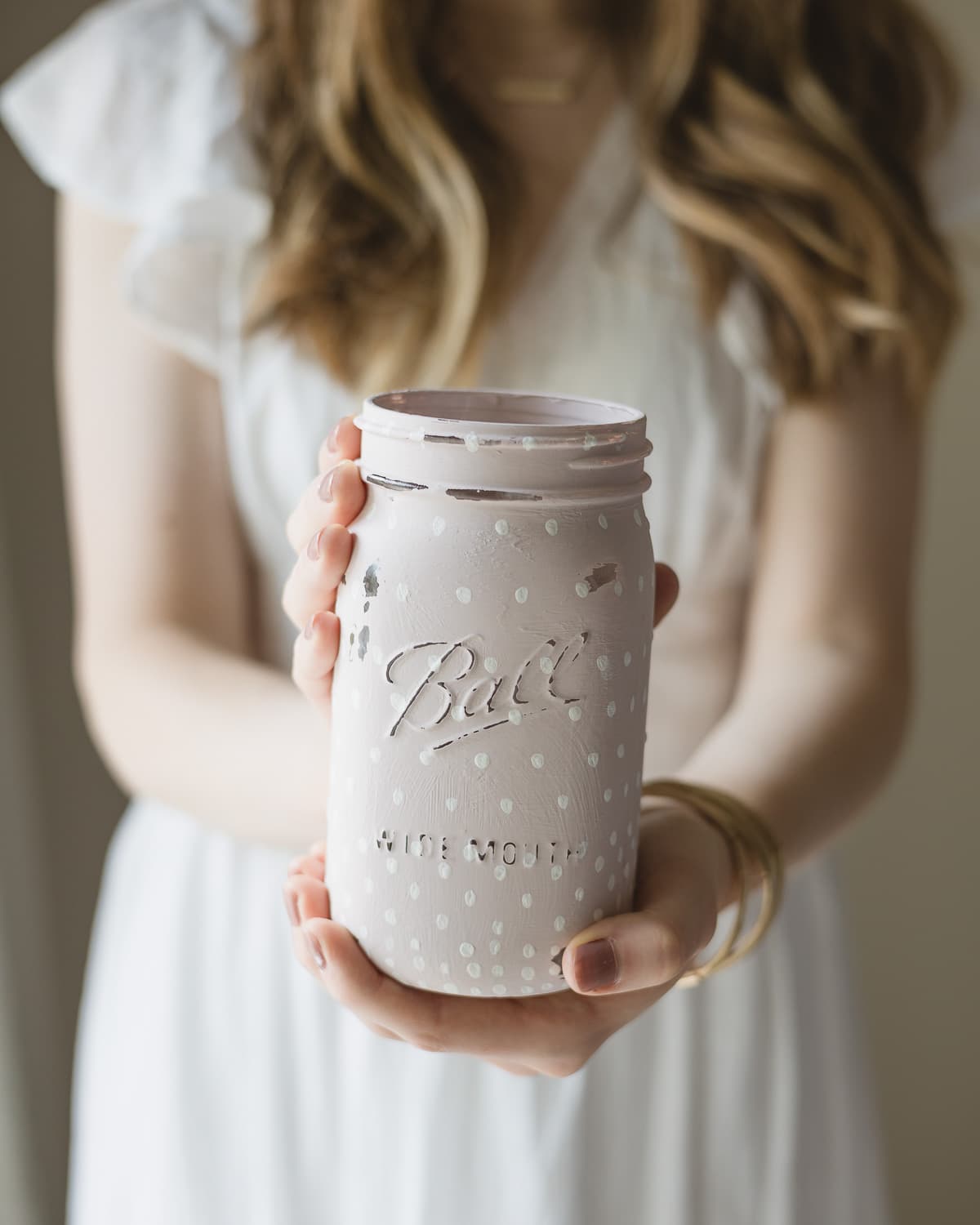 The paint can be purchased from Amazon, Home Depot, Ace Hardware, Walmart, and many other retailers. My post about Where to Buy Chalk Paint has more tips on purchasing chalk paint and saving money.
The paint costs anywhere from $10-$20 per quart. When boutique brands can cost up to $40 per quart, this makes Rust-Oleum very appealing, especially for beginning chalk painters. Watch the paint on Amazon to see if you can snag a great sale.
Rust-Oleum Chalked Paint is easy-to-use, adheres well (I do suggest a light sanding on glossy pieces), and the Linen White is a bright white that is excellent for "farmhouse style" projects. The affordability makes it easy to paint any (or all!) of your home furnishings while on a budget.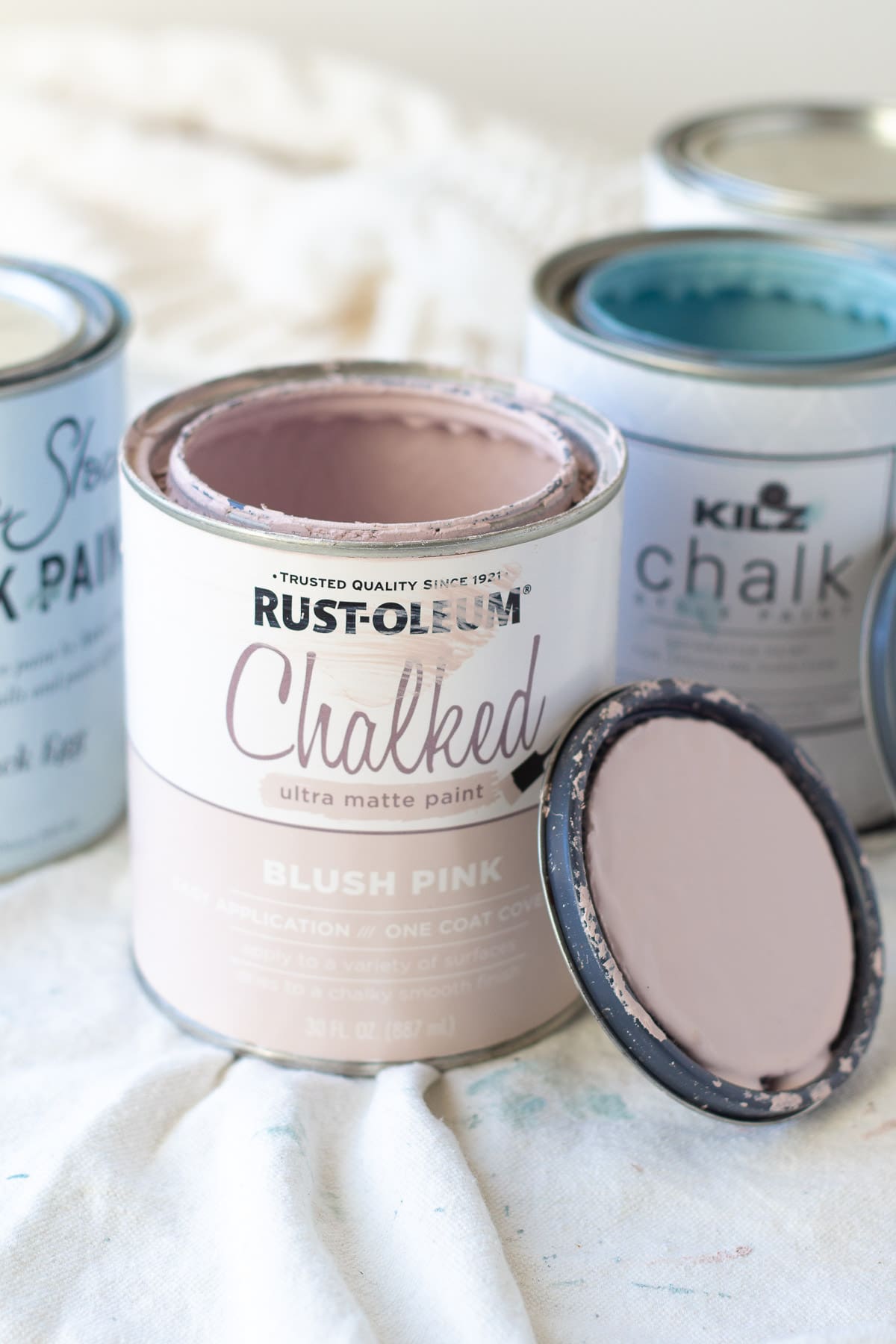 The brand also offers a light tint base and a dark tint base. These bases can be purchased at Ace Hardware (and potentially Menards too) and mixed up at the store. These bases allow you to make an additional 26 Rust-Oleum colors.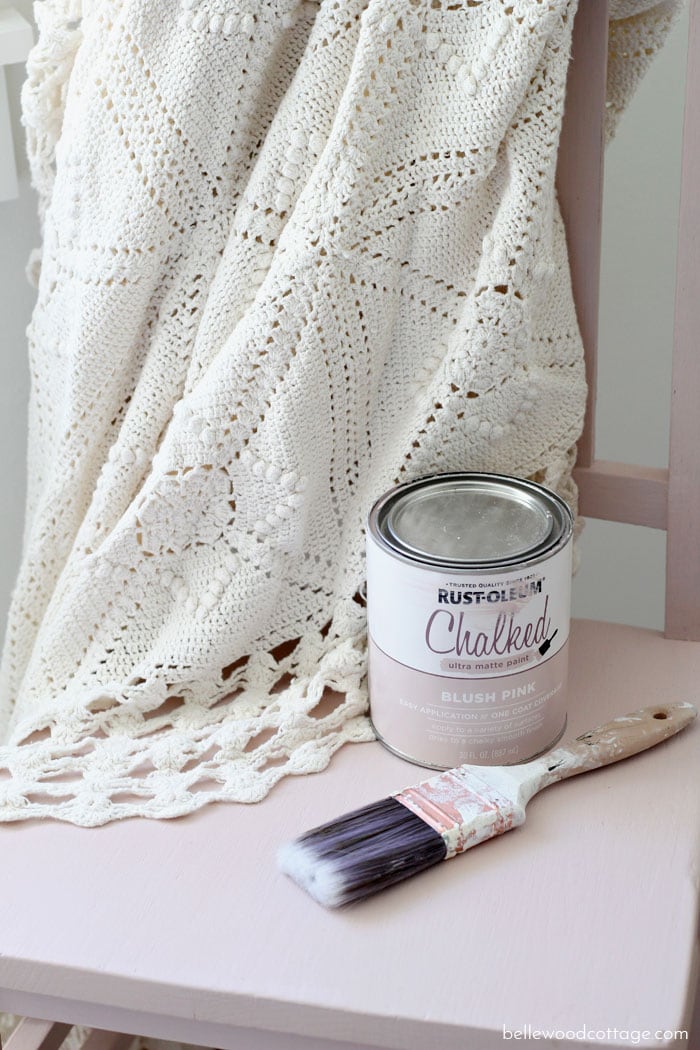 I always use a top coat when I flip furniture. Chalked can be finished with a polycrylic top coat like Rust-Oleum Matte Clear. More about Rust-Oleum Chalked is available on my Rust-Oleum Chalked Paint review.
What to Use It For: Rust-Oleum Chalked is my top choice for affordability among chalk paints. It's excellent for beginners. If you want to experiment (or just have lots of furniture to paint), the affordability of Rust-Oleum makes it a great option. Watch for sales so you can snag your paint at less than $20 per quart.
I also suggest considering using Rust-Oleum Chalked if you are trying to flip furniture for profit. The lower price point means you can earn more on your flips. Do be sure to choose a sturdy topcoat to give your pieces a strong finish for years to come!
Best Chalk Style Paint for Beginners: Country Chic Paint
Country Chic Paint really does so much so well! However, Country Chic Paint is especially excellent for beginning furniture painters.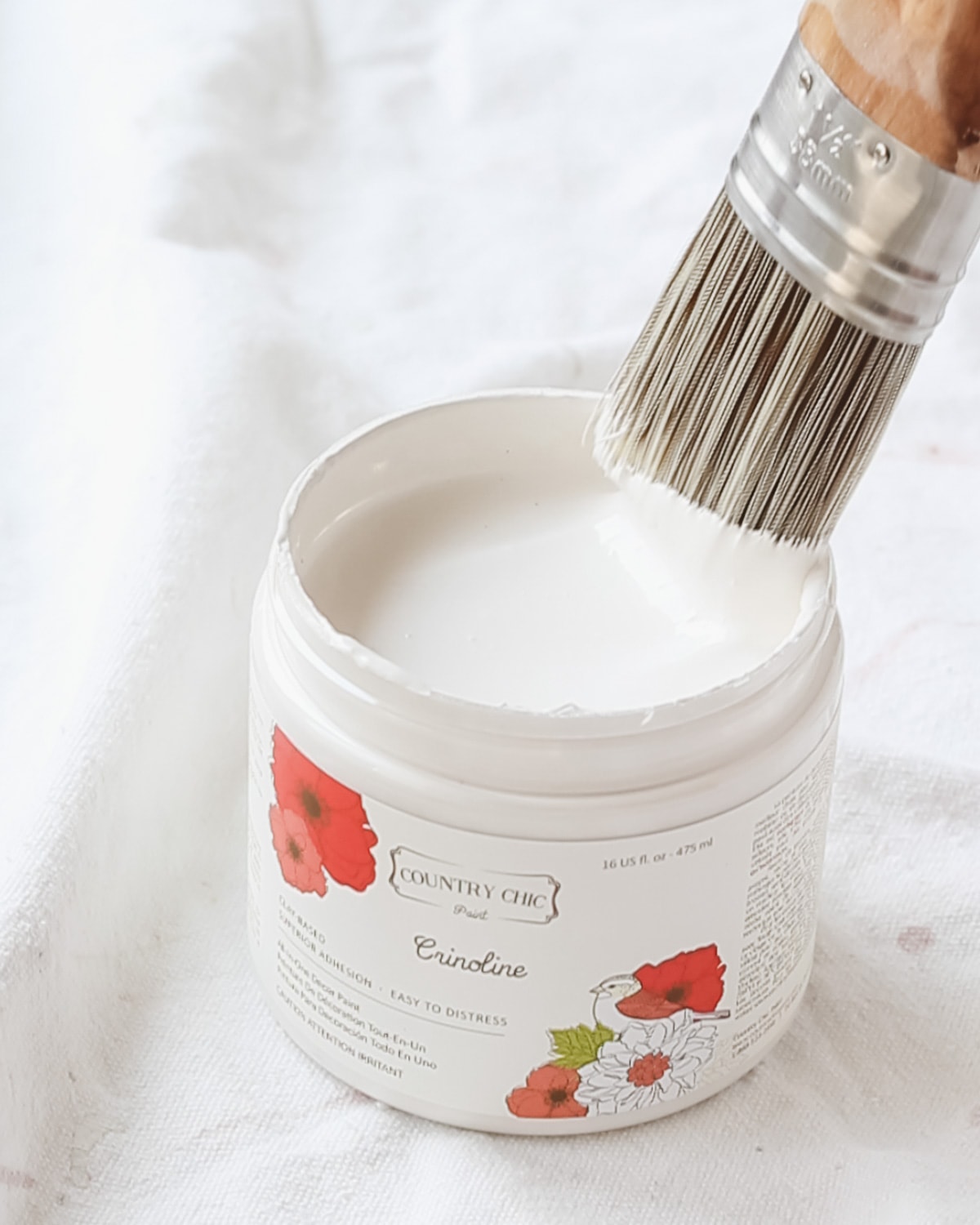 Country Chic Paint offers tons of product support to new painters. They have a blog with detailed starter tutorials for all their products. The blog even includes a guide for how much paint to buy and how to prep your furniture pieces.
They also sell all-in-one painting kits which make a good gift for a beginner (or experienced) chalk painter. You get nearly everything you need to start furniture painting right away.

Country Chic Paint comes in 55 beautiful colors, is ultra-low VOC and eco-friendly. To make things even easier, you can buy it direct from Amazon.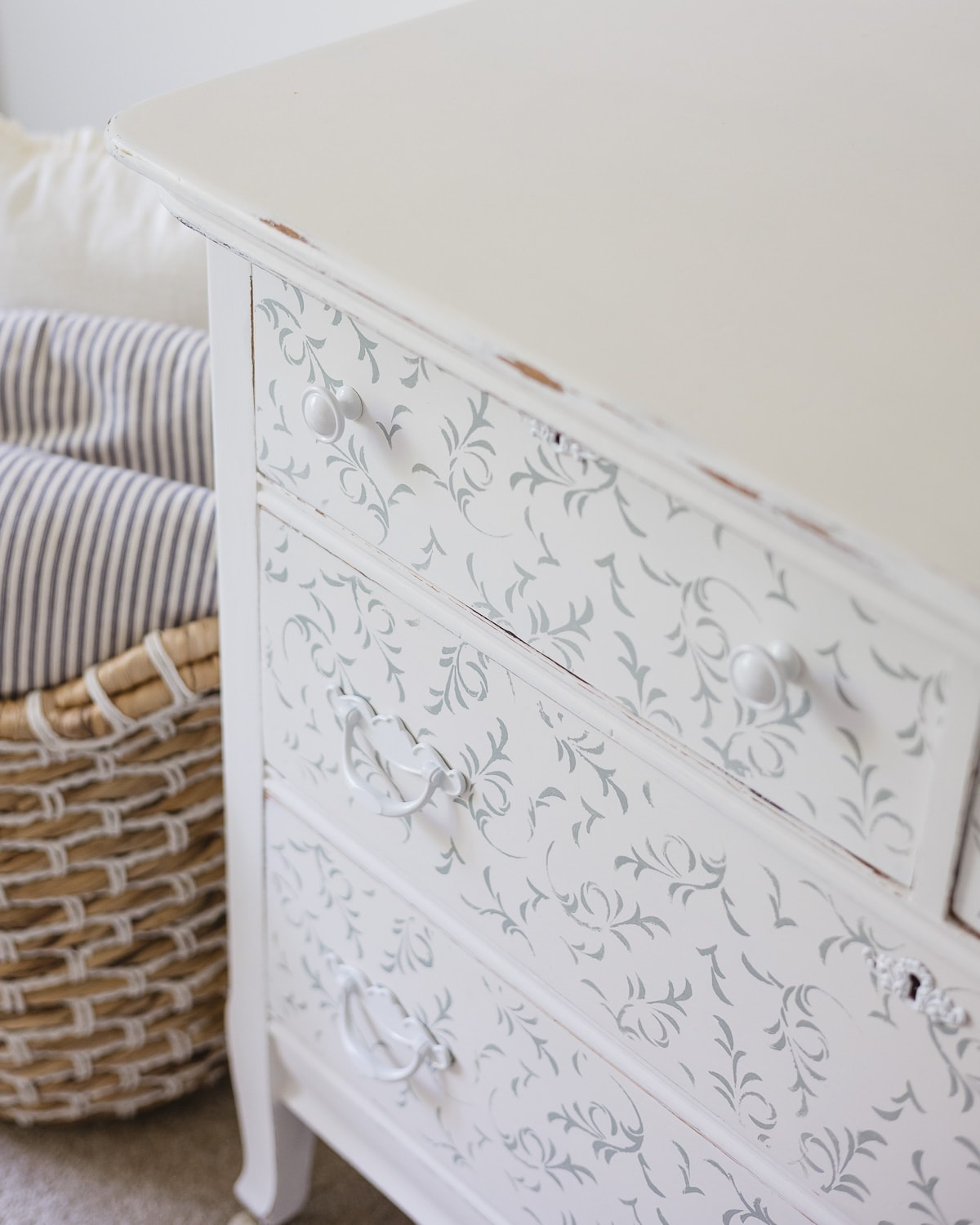 Country Chic Paint is a small Canadian family-owned company, so purchasing their paint means you are supporting small business too. Read my complete review of Country Chic Paint here.
What to Use It For: Country Chic Paint is my top choice for beginners. They offer a high-quality eco-friendly paint in 55 colors that is easily purchased direct from the company or from Amazon. Their product support and tutorials are extensive and their DIY painting kits make a great starting point if you are new to chalk painting.
Best Chalk Paint for Farmhouse Fans: Magnolia Chalk Paint
The coloooooors! The color selection of Magnolia Chalk Paint is unbeatable if you are a farmhouse style enthusiast. Even if you aren't into "farmhouse", if you love timeless/heritage paint color collections, then this is where you want to be. The colors Joanna Gaines has selected for her chalk style paint line are perfection.
I always shop Magnolia Paint at Target, because of the free shipping at $35+.

When I first tried Magnolia Chalk Style Paint, I was impressed. It's silky smooth and adheres well. One of the projects I like to test my chalk paints on is painting mason jars. If it adheres well to the glass and creates a nice opaque finish quickly, I'm a fan!
The Magnolia paint did great on the glass jars. It required three coats (my general guidelines for painting mason jars) yet it achieved an opaque finish quickly. As you can see above, it also distressed well too.
What to Use It For: Magnolia Chalk Style Paint is my top recommendation if you love antiques, vintage style, heritage colors, and of course, farmhouse style. Flipping furniture in your home using Joanna's colors will be truly transformational.
The colors are a dreamy fit for any farmhouse/antique vibe and the price point is moderate. Plus, it's easy to order from Target!
Best Color Selection: Behr Chalk Decorative Paint
Note: I'm still in the process of testing this chalk style paint, so I'll update this post soon with my final thoughts. Even though I haven't thoroughly tested Behr's chalk style paint offering yet, I wanted to include the brand here because it has such a remarkable color selection.

A drawback to chalk style paints is that you are limited to the colors that the paint company produces. This means switching between brands to get a specific color you want.
On the other hand, Behr's Chalk Decorative Paint boasts that it is "tintable to over 500 colors". Many of these colors are available already mixed and ready to order from Home Depot's website (with delivery to your home–YES please). The ready-to-go color selection is huge and the tintable options, as noted, number over 500.
What to Use it For: If you need a specific color for a project, Behr Chalk Decorative Paint is the paint for you. The huge variety of colors makes it easy to create unique furniture flips for your home.
Best Original Chalk Paint: Annie Sloan Chalk Paint
I couldn't end this post without talking about the original Chalk Paint, Annie's Sloan's Chalk Paint. If you are into furniture flipping and chalking, you must make plans to try Annie's paint. It's a different experience than any of the other brands that have created similar paints.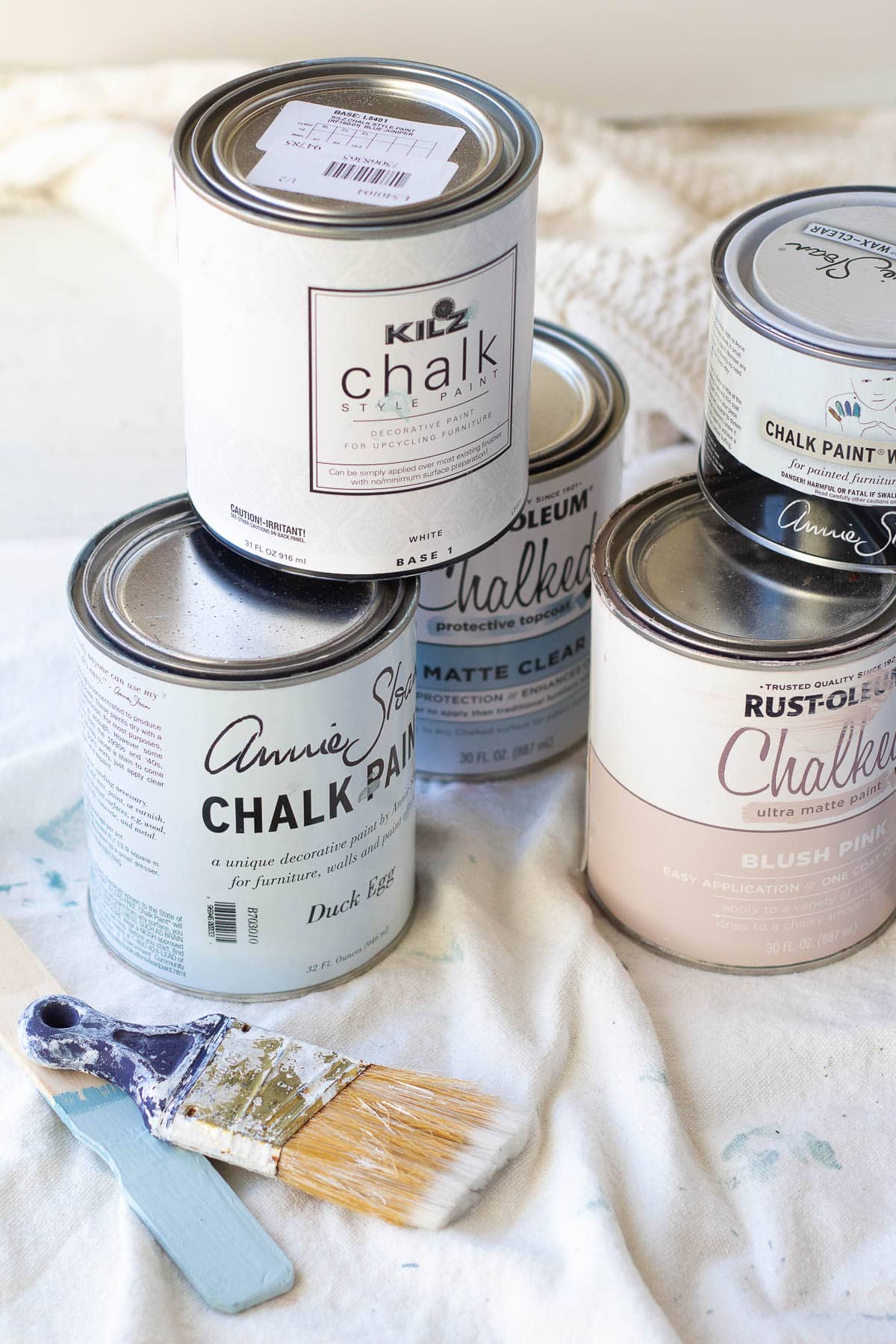 The downsides are that the paint is a bit more pricey and can be hard to locate. You might find a shop nearby (using their store locator) that carries it or you can purchase it online.
Annie's colors are superb. They are thoughtful, historical, and lovely to use on furniture. Annie Sloan's Chalk Paint is also ultra-low VOC and the company is committed to eco-friendly practices. She also confidently markets her paint as rarely requiring prep and useable on a huge variety of surfaces like wood, metal, melamine, flooring, glass, and even as fabric dye!
Note on prep: While a lot of the "no-prep" depends on the paint you choose, the piece you are painting will impact the final results too. For example: a piece prone to bleed-through will certainly require a good stain-blocking primer. By the same token, a piece with a heavily scratched surface will require sanding to even the painting surface and create a beautiful final finish. So even though Annie's paint really does work well without prep, there will be occasions where sanding/primer will be preferable or necessary.
What to use it for? A top choice of furniture flippers everywhere, experiencing Annie Sloan's Chalk Paint is a must if you are passionate about chalk painting and furniture painting. It's worth perusing the many tutorials on her website for a look at just all you can accomplish with her paints.
The downside is that sometimes it's hard to find a local retailer (or alternatively pay shipping costs from online). Country Chic Paint (available on Amazon) is another great eco-friendly chalk style paint with a beautiful color selection.
Best Chalk Style Paint for Small Crafts: FolkArt Home Décor Chalk Paint
If you don't have a lot of interest in painting larger projects like furniture (here's a list of small chalk painting projects to try), then you might not want to have to buy a quart of chalk style paint at any one time.

In that case, you can try using the smaller containers (4-8 ounces) of FolkArt Home Decor Chalk Paint. I wouldn't suggest this paint for furniture, but if you are looking to buy a variety of colors in small amounts, this brand is a good choice. Great for painting mason jars, home décor, and other small items.
What to use it for? FolkArt Home Decor Chalk Paint comes in small containers (4-8 ounces) making it perfect for all those times you need a matte finish paint, but do not require a entire quart. Use for small crafts (I suggest one of the other brands on this list for using on furniture). Americana Décor Chalky Finish Paint (8 oz containers) also works well for small projects.
Other Chalk Style Paints to Try
There are certainly other brands and varieties of chalk style paints to try. If you have a favorite, I'd love to hear about it and test it out. Here's another honorable mention I'm adding to the list:
KILZ Chalk Style Paint
I used KILZ Chalk Style Paint to paint my IKEA Play Kitchen Hack and it was overall a great painting experience. It's conveniently available on Amazon and you can read my full review of KILZ Chalk Style Paint here.
Have fun painting! ~Ellen
More Furniture Painting