My Red, White, and Blue Farmhouse Hutch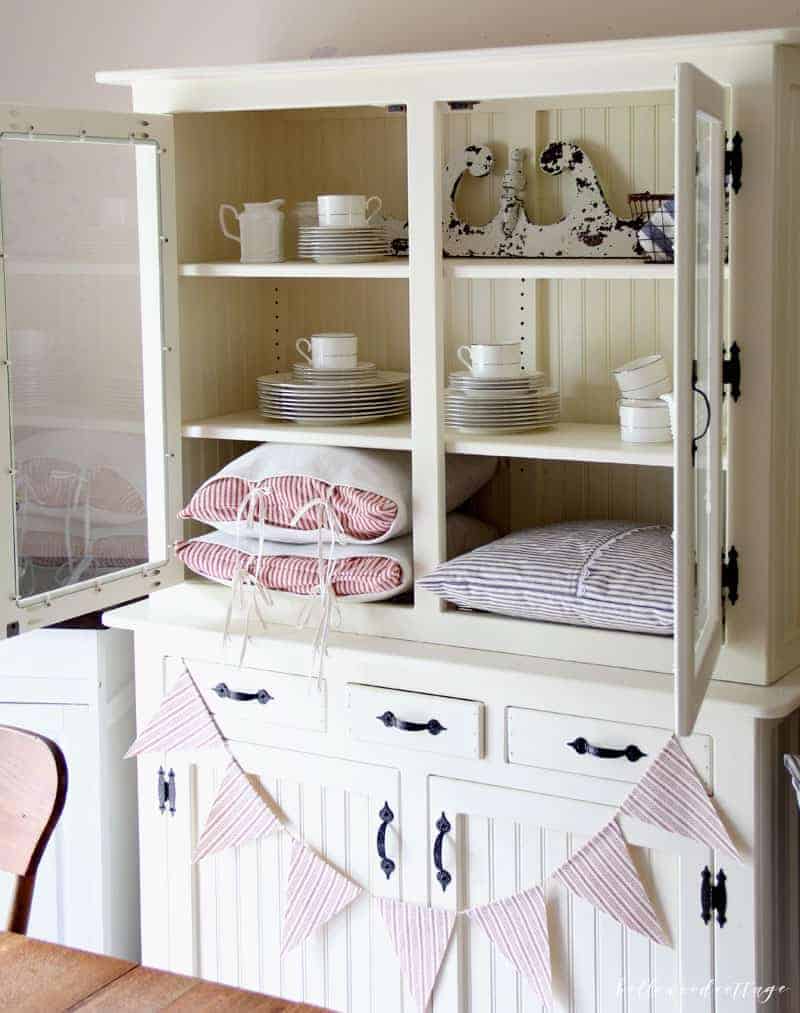 With Memorial Day this weekend, I got the itch to add some patriotic decor to our home. Just some pretty pops of red & blue to change things ups. Alongside that goal, my mission was also to start simplifying for summer.
I have been in the mood to declutter and organize lately, and my hutch was a great place to start. I loved the way it was decorated for spring (see it here) and had fun adding pieces to it the last few months, but it was time for a change!
My Red, White, and Blue Farmhouse Hutch
Step one: I took evvvvvverything out.
Step two: I grabbed all the red/white/blue decor items I had. Then I played around with pairing different items together for a cohesive (and patriotic) look.
Step three: Realized that I have lots of odds and ends, but not a lot of things that necessarily go well together. I love using large groupings of similar objects for a more cohesive (and less busy) affect. Hard to do when you only have a few items of each category, ha!
Step four: Time to begin arranging everything. I decided to pair some extra ticking pillows with my white china. I love how the pillows fill the hutch. Plus, you can't go wrong with ticking fabric! Find my tutorials for the blue ticking pillows here, and the red ticking pillows here.
Step five: Add some accents and play around with final touches. I added my "architectural salvage" from this chalkboard-to-mirror project and a red bunting (from the Target dollar section around Christmastime) to finish things off. And yes, the pillows are slightly too large to close the hutch doors…but since it's just the two of us and we still have plenty of room, I left it for now.
Step six: Shove all the excess decor behind the closed doors of the hutch because no one will ever know (well, except for all of you now!). 
How about you? Do you decorate for the patriotic holidays? I am definitely a minimalist when it comes to holiday decor (except maybe Christmas, because CHRISTMAS), but I'm loving the new look in my red, white, and blue farmhouse hutch!
<3 Ellen
Pin it here: