Ticking Stripe Chairs for Your Farmhouse Style Home
This roundup of ticking stripe chairs is perfect for your farmhouse style home. Freshen up your home décor with a pretty new accent chair!
Please note that this post contains affiliate links which allow me to earn a small commission when a purchase is made at no additional cost to you. Read more here.
I love ticking stripe fabrics, and the fabric works across a wide range of décor styles–not just farmhouse style. I found a few of these chairs while I was searching out some cozy accent chairs and I couldn't resist creating a post with all my favorite finds–plus a few more!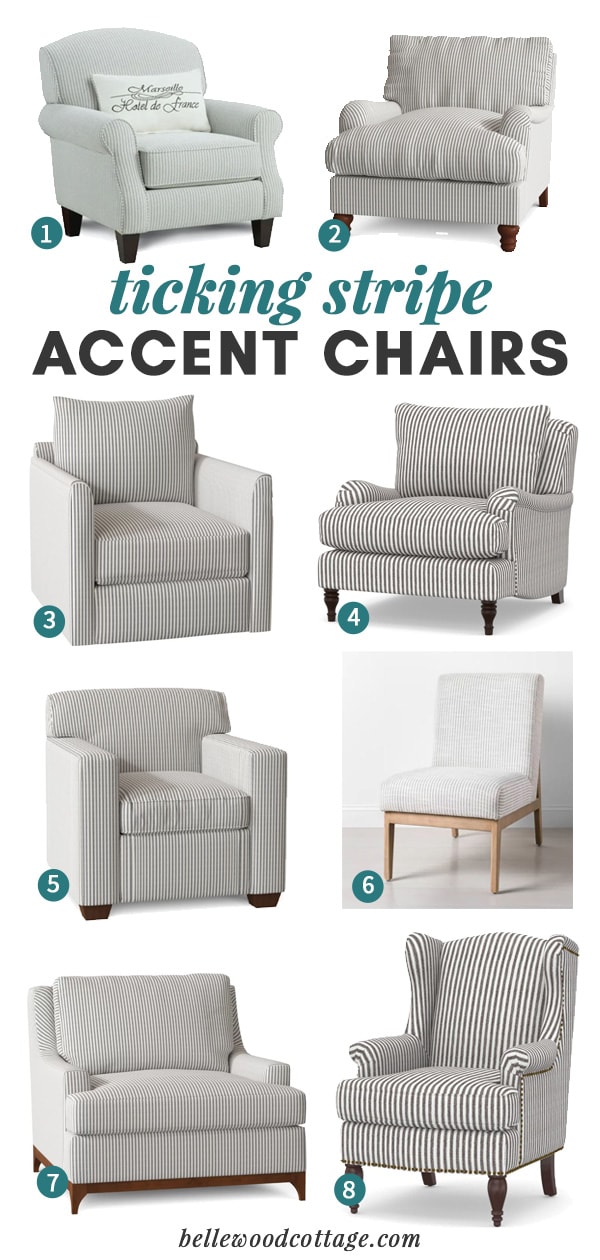 Chairs shown in photo: 1. Ticking Stripe Chair – Overstock // 2. Witham Armchair // 3. Alice 40" Wide Swivel Armchair // 4. Carlisle Upholstered Armchair // 5. Hertfordshire Armchair // 6. Slipper Chair – Hearth & Hand™ // 7. Dracut 41" Wide Armchair // 8. SoMa Delancey Wingback Armchair
What is Ticking Stripe Fabric?
What is ticking stripe fabric you ask? Well, ticking fabric was originally used to cover mattresses. The tightly woven fabric is excellent at keeping feathers from protruding out of mattresses, so it was a utilitarian fabric choice back in the day.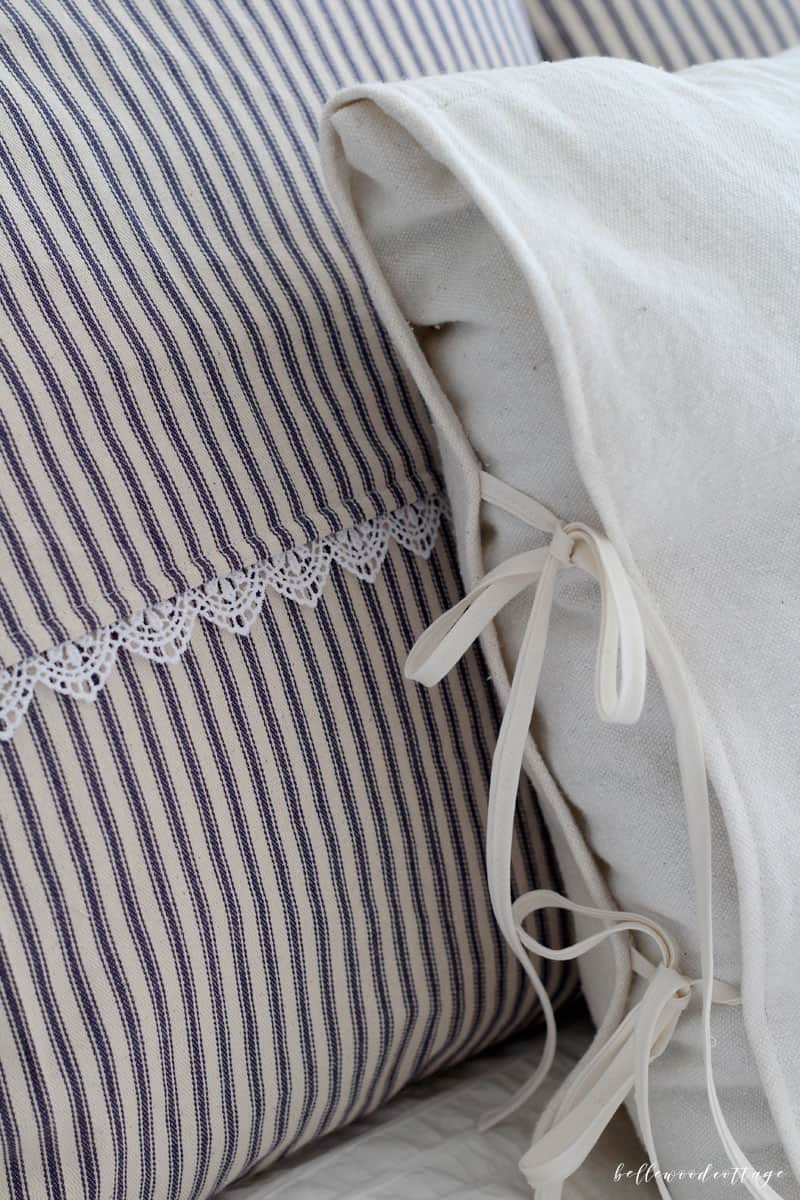 The striped pattern (usually navy stripes on a creamy background) is a hallmark of ticking style fabrics, but you can also purchase white (bleached) ticking and natural ticking fabric.
Even though the "triple-stripe" pattern you see above (with a central stripe edged by two thinner stripes) tends to be the hallmark style, oftentimes any stripe pattern that looks similar to this classic is referred to as a "ticking stripe".
If you love the farmhouse aesthetic, chances are that you have collected a few items with this fabric pattern. I love ticking because it's such an authentic choice for a farmhouse style home. A lot of farmhouse décor is cute, but not actually something a farmhouse of 100 years ago would have displayed or used…like a wooden sign reading, "Farmhouse", you know?
I used ticking stripe fabric to make these simple pillow covers a few years back and they are still some of my favorite covers to rotate in and out of my décor.
Not all of the accent chairs featured below are made with fabrics using the traditional ticking stripe pattern, but the close stripes give the affect and help you get the look even if the fabric isn't an exact ticking stripe.
Ticking Stripe Chairs from Wayfair
Wayfair has so many options for home décor and furnishings. They offer actually quite a large selection of ticking stripe chairs. My favorite is the Witham Down Cushion Armchair. It has great reviews and looks big and cozy–the perfect reading chair.

Ticking Stripe Chairs from Target
These chairs from the Hearth & Hand™ with Magnolia use a subtle stripe pattern with oatmeal and a creamy white. So pretty!

Ticking Stripe Chairs at Pottery Barn and More
This next group of chairs is from a variety of stores, but there are some real gems, including the Carlisle Upholstered Armchair from Pottery Barn.
Also, if you are looking for a smaller chair for a child's room, this Sherman Kids Chair in Grey from Bed Bath and Beyond is adorable!

Here's the Accent Chairs One More Time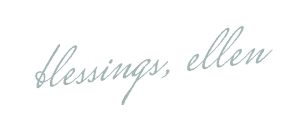 More Home Décor from Bellewood Cottage