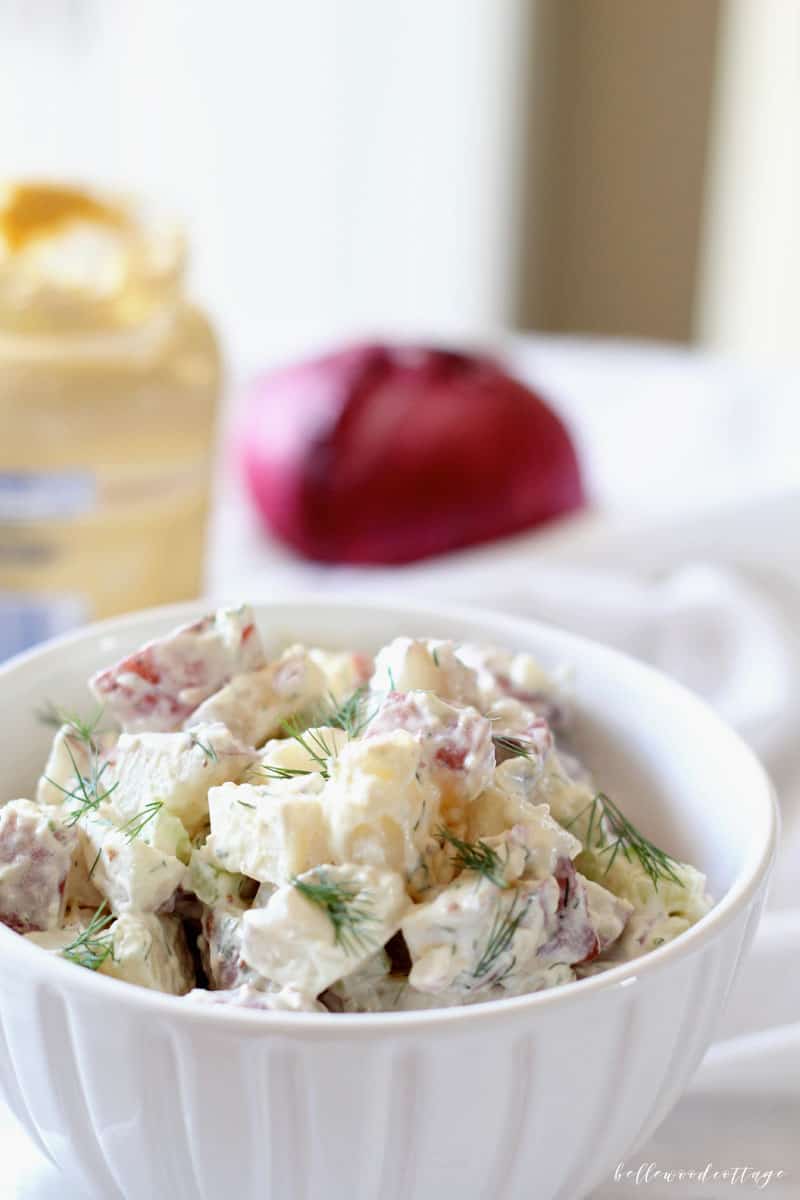 If there's one thing I can't get enough of during the summer season, it's grill-out food. Whether it's a barbecue with the neighbors on the books, grilling out with the fam, or a church potluck, nothing says summertime like some grill marks and a plentiful array of tempting side dishes. This, my friends, is one of my absolute favorite go-to side dishes. A good old-fashioned potato salad cannot be beat, and this recipe will take care of you every time.
Now, for a moment of total honesty.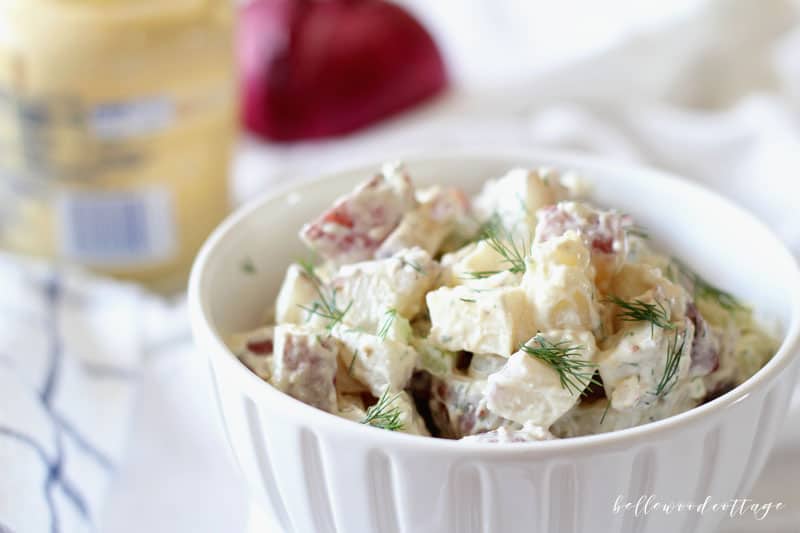 During my childhood I had absolutely no patience for potato salad.
To me, it was one of those foods that was always simultaneously too-salty and horribly bland, all while dripping in gobs of questionable mayonnaise. Well, if you've had that same experience, I'm hear to tell you that this recipe is nothing like those deli counter disasters. In fact, it is the polar opposite. This old-fashioned potato salad is filled with fresh flavors from chopped dill, two varieties of mustard, and a dressing that is light, yet substantial enough to coat these baby reds in pure deliciousness.
And I mean, it's a Ina Garten recipe, so really how could you ever go wrong?
The primary things I've adapted from the original recipe over the many times I've prepared this salad are as follows.
Less salt. The original recipe calls for too much salt, so while I still salt the water I boil the potatoes in, I leave any additional seasoning for the end. I recommend simply tasting the prepared salad and adding salt and pepper as you like.
Less onion: Secondly, the original has a little too much red onion for my tastes. I find that the onion flavor can become really cloying in a simple dish like this, so I prefer to scale it back to roughly half the original amount. Certainly feel free to add more if that is your preference!
Now go, make yourself some potato salad!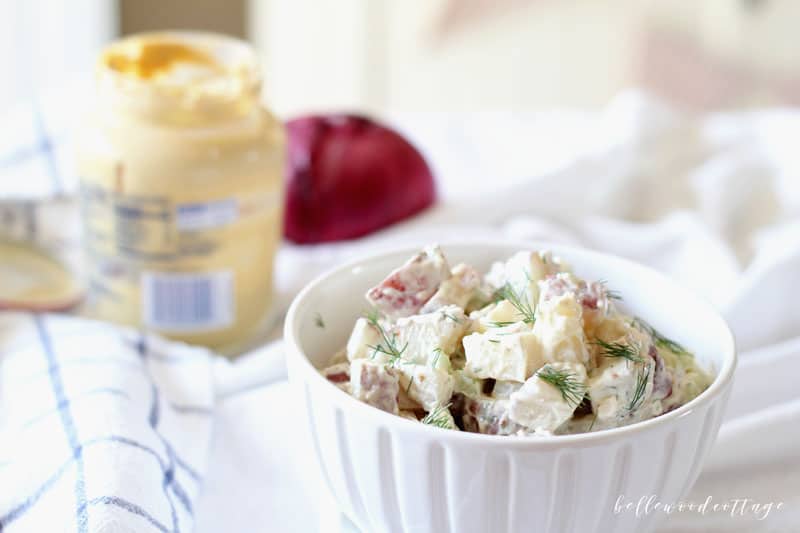 Ina Garten's Old-Fashioned Potato Salad
Adapted from Ina Garten's original old-fashioned potato salad recipe, here.
In Garten's Old-Fashioned Potato Salad
This old-fashioned potato salad recipe checks all the boxes for the perfect summertime side. Loaded with fresh dill, two varieties of mustard, and delicate baby red potatoes, you'll want to make this one all season long.
Ingredients
Ingredients
3

lbs

baby red potatoes

washed well and any spots removed

1

tbsp

salt
Dressing
1

cup

mayonnaise

1/4

cup

buttermilk

2

tbsp

dijon mustard

2

tbsp

whole grain mustard

3/4

oz

fresh dill

chopped fine

1/4

cup

red onion

chopped fine

1

cup

celery (about 2 stalks)

diced into 1/4" pieces
Instructions
Boil the potatoes: Place the washed potatoes in a large pot and cover with water and 1 tbsp salt. Bring to a boil on a stovetop. Lower heat and simmer for 10-15 minutes, until the potatoes are just becoming tender when poked through with a fork. Drain the potatoes and then cover them (you can leave them in the pot or transfer to a large bowl, whatever is easier) with a clean and dry kitchen towel to steam for about 15-20 minutes. This step will finish cooking the potatoes. They are ready when they are firm, yet fork-tender and fully cooked. Remove towel and allow potatoes to begin cooling.

Prepare the dressing: In a large bowl, stir together the mayonnaise, buttermilk, Dijon mustard, whole grain mustard, dill, red onion, and celery. Set aside.

Finish the salad: When the potatoes are cool enough to handle and no longer steaming, chop them into cubes (I aim for cubes roughly ½" to ¾" square) and add the potatoes to the prepared dressing. Gently stir everything together and add salt and pepper to taste. I have a salt and pepper grinder in my kitchen and I generally give a few turns of each and find that the salad is good to go.
Recipe Notes
Pro tip: This salad is delicious immediately after preparing it, but it's best after the flavors have had a chance to meld. I like to prepare it well enough in advance that it can sit in the fridge for a few hours before I serve it.
To store: Keep refrigerated for up to three to four days.
Recipe adapted from the fabulous Ina Garten.