Do I REALLY Need a Solly Baby Wrap? Solly Baby Wrap Review
From how to save money on a Solly Baby Wrap to tips for making the most of your new baby carrier, my Solly Baby Wrap review will tell you everything you need to know to decide if you REALLY need a Solly Baby Wrap.
Please note that this post contains affiliate links which allow me to earn a small commission when a purchase is made at no additional cost to you. Read more here. (Please know these are all my own opinions and I love love love my Sollys!) Disclaimer: All information is my opinion and should not be taken as advice from a Certified Baby Wearing Educator!
Solly Discount Code
Solly discount code: If you would like to snag a Solly Wrap, use my code BELLEWOOD10, valid for 10% off your Solly Wrap or other Solly products. Enjoy!
In my opinion, oh my goodness YES. The calming effect of the Solly Baby Wrap on newborns (and even older babies) is worth every penny. From basically instant napping to the ease of carrying baby when running errands (or running after an older sibling), you'll wonder how you lived without one!
If you've read my post on my top Newborn Essentials, you know I loved my Solly! Keep reading for my full Solly Baby wrap review, answers to questions, how to save money on all things Solly, and tips for making the most out of your Solly Baby Wrap.
How Long Will I Use My Solly Wrap?
Though you can use the Solly Baby Wrap until baby is 25 lbs, you will likely get the most use out of it in months 1-6.
Now here's the funny thing. When you hear people say, "oh you'll use your Solly most in the first 1-6 months" you'll be tempted to think, "oh that's not very much time, I probably don't really NEED a Solly wrap."
BUT, in newborn-land, each of those days might feel like a million years. So yes, 1-6 months of heavy use is WORTH IT.
We used our wrap so frequently in those first several months–for naps, errands, or just to calm our fussy infant. I am SO glad we had it. In fact, I wanted the floral print shown badly enough, I ended up buying it as a second wrap. And I still feel like I got my money's worth!
Solly Baby Wrap Review: What I Loved & What I Didn't Love
Alright, let's dive in! First up in my Solly Baby Wrap Review, a few of the reasons why I absolutely loved using the wrap with my baby–especially in the newborn phase!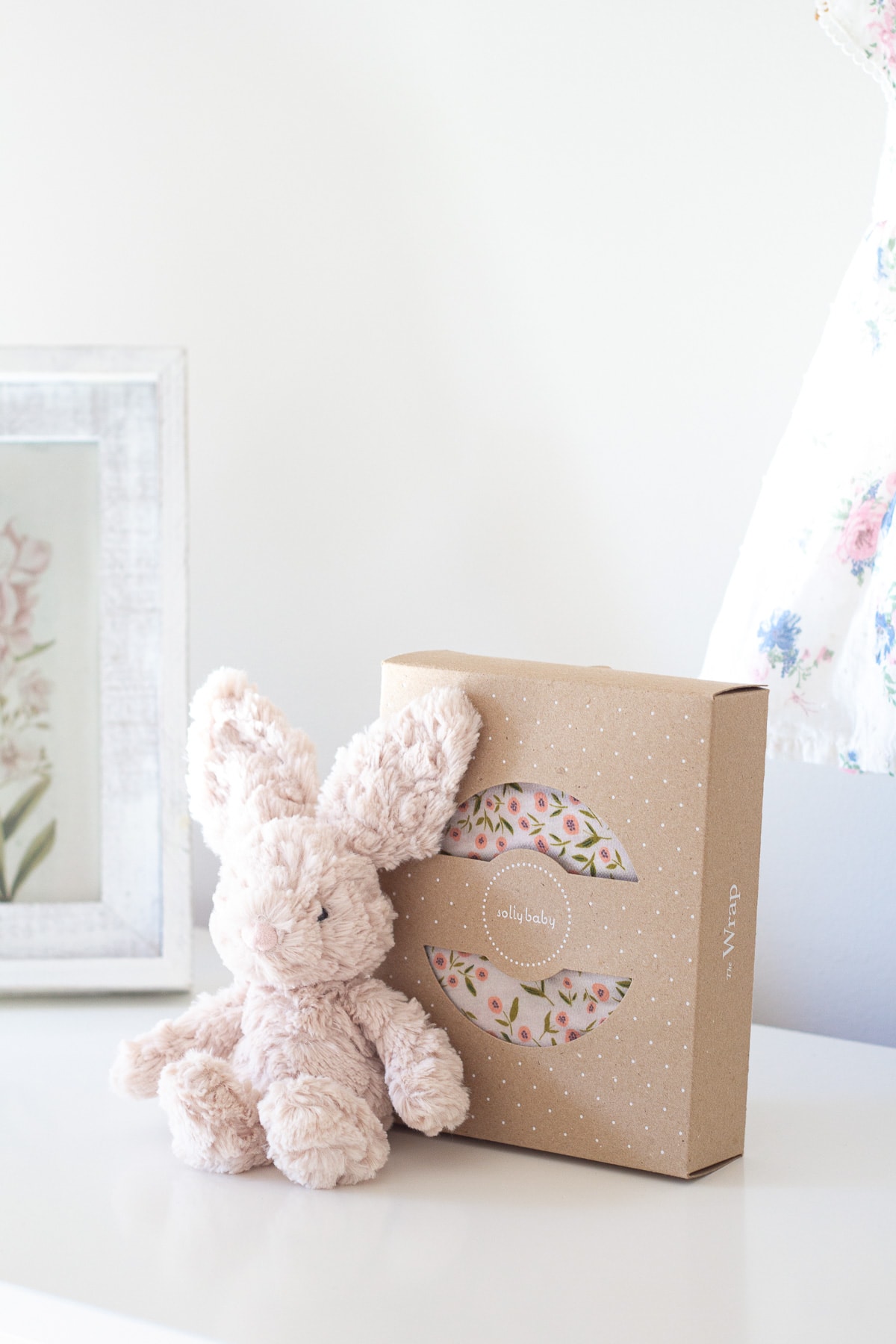 Incredibly Comfortable Wrap
After you deliver your baby it's so helpful to have a comfy carrier to use with your little one. But those "wrap naps" can get long and having a comfortable and supportive carrier is a MUST. The Solly's fabric is just the softest, and the wrap has plenty of support for comfortably carrying your new baby.
I also love that the fabric is cool and lightweight. Especially if you are having a summer delivery, skip all the other wraps and buy a Solly!
Beautiful Colors and Patterns
I always love seeing the new colors that Solly releases each season. Each pattern or color is beautiful and some of their collaborations with other brands have been absolutely stunning. Check out their current colors here.
Longevity of Use
Because the Solly Wrap can be used for babies up to 25 lbs, I felt great about the investment. We ended up using ours most in months 1-6, but like I said before, that stretch of time felt a lot longer when we were in the middle of it! I was thankful many times over for our comfy wrap!
Plus, the Solly will easily last for multiple kiddos, making it an even more worthwhile investment.
Easy to learn + Great Tutorials
Practice with your wrap before baby comes and you'll find it's easy to get to get the hang of (see more about that later in the post). I highly recommend watching all of Solly's tutorials (I always watch on Instagram!) on wearing the wrap and following instructions carefully.
There are general instructions/safety tips (like never wear baby forward-facing in a Solly) but Solly also provides extra tips that can help you trouble-shoot and get comfortable faster. Follow Solly on Instagram or Facebook for some really helpful tutorials.
Reduces Crying
The research has been done (read more here) and babywearing significantly reduces crying. YES please. Babies love to be cuddled close and it's really important (for you and baby!) during what is called the "fourth trimester" to have that close contact. Give yourself peace in those early newborn days and use your wrap.
Easily Washable
Spit up happens. I loved that the Solly Wrap was easy to wash (and quick to dry) when it got dirty. Check out my tutorial on how I wash my Solly Baby Wraps for tips on keeping your Sollys in perfect condition.
Hint: double check your tag in case you purchased a used wrap, but any of the newer wraps all recommend machine wash cold/delicate and tumble dry low heat. Can't get easier than that!
Fits Into Diaper Bag
The Solly is lightweight and even though it is long it fits easily into a diaper bag. You can use the pocket area on the end of the wrap to stuff it inside and add to your diaper bag.
An Absolute MUST for Growing Families
We just have one Little, but from what I've learned from my friends who have added to their families, having a baby carrier for the littlest member of the family is absolutely crucial. Whether you are chasing after a toddler or bringing baby to an older child's sports games, you will love having a quick and comfy baby carrier always at the ready.
What I Didn't Love About My Solly Wrap
Honestly, I truly loved just about everything about My Solly Baby Wrap! It's one of those products you buy and then realize, "ohhhh, I get why everyone loves these so much now!"
However, I personally love detailed reviews, so I wanted to add a few additional notes here to my Solly Baby Wrap Review:
Learning how to wrap: If you have used a similar style wrap, you'll understand how to wrap a Solly right away. If you are brand-new to baby-wearing you might have a bit of a learning curve. My husband caught on WAY faster than I did, and I think the very best thing is having a friend help you in person.
That's another reason I just love Solly. They have incredibly detailed tutorials you can watch (as many times as you need to) on Facebook and Instagram. AND you can even email their baby-wearing educator with your specific questions. I promise you can figure it out and you and baby will be so so comfy!
Hint: Plan to practice while still waiting for baby to arrive. Much easier!
Hint: Put on your wrap BEFORE baby desperately needs it. It's hard to focus on tying a wrap correctly with a crying infant in front of you!
The length of the wrap: The Solly Baby Wrap has to be long in order to wrap correctly (any similar style wrap will be long too). And, I love that the Solly does have enough length to customize for any parent & baby.
However, the downside to this style of baby carrier is that it's a little tricky to tie on if you are somewhere where you'd prefer the ends aren't dragging along the ground. BUT, all you need to do to alleviate this is just to tie on the wrap at home and then transfer baby in once you've arrived at your destination. Easy!
How Long Is a Solly Baby Wrap?
I have two Solly Baby Wraps and they measure about 17 feet long. I know that sounds crazy, but you will not notice this length at all once you've tied the wrap on. It requires the length to wrap correctly for baby's safety and the wearer's comfort. If you are petite, don't worry, you are also able to wrap the ends around your waist an additional time to use up any extra length.
Solly Baby Wrap Pocket
I specifically wanted to mention the pocket at the end of the wrap, because I was surprised by it when my wrap arrived! The photography on Solly's site does a good job of hiding this pocket, but it's actually the spot where Solly puts the required babywearing safety info.
You can turn out the pocket too, which hides the tag even better and you can use the pocket to store the wrap (sort of just stuff it there until it's all packed in) in your diaper bag.
Note: Some people cut the tag out, but I advise against that because it is a safety feature and you could potentially create some pretty bad holes in your wrap from removing it.
Can I Use a Solly Wrap with Holes In It?
If you've purchased a used wrap, you may have encountered a hole or two. It's really important that these holes are NOT on a weight-bearing area of the wrap. I wouldn't use a wrap with any holes in it personally! I would email Solly's Baby Wearing Educator (advice@sollybaby.com) for further info on this.
This is why I think it's worth the money to buy a brand-new wrap. Avoid the problem of holes or stains altogether. And don't forget to wash your wrap correctly to avoid creating any holes.
How to Save Money on Solly Baby Wraps
Solly Baby Wraps are an investment, so here's several tips to save money on your Solly Baby Wraps!
Choose a color you will enjoy using with future babies
Avoid shipping costs by buying a Solly Baby Wrap from Nordstrom (they have just three colors, but Nordstrom also has free shipping!)
Subscribe to Solly's newsletter for the latest coupons or sales
Follow Solly on Instagram for giveaways!
Plan to shop the Black Friday Sale (one of the best sales they have!)
Consider a used wrap–but again be very careful about a wrap with even the tiniest holes. Really, a new wrap is worth it!
Tips for Making the Most Out of Your Solly Wrap
Always use your wrap safely! Follow Solly's guidelines and watch plenty of tutorials.
Use the wrap past the newborn stage (it's still super comfy!).
Tie on your Solly Baby Wrap before running errands (or visiting friends/family)–All you need to do now is put baby in!
Always spread the fabric (across your back/shoulder and across baby's bum/back) for the most comfortable fit.
Avoid twists when you tie on your wrap.
Buy Your Solly Baby Wrap while you are still pregnant and practice!
Purchase a Solly Dolly for older siblings if you are adding to your family
Wash your Solly Baby Wrap properly so it lasts for years and years
Buy a Solly Swaddle too–They are lightweight and sooo soft! (see notes below)
P.S. If You Are Buying a Wrap, Don't Forget a Solly Swaddle
I couldn't resist adding a few more words about Solly Swaddles. Though the easy swaddles with velcro are handy, I loved using the blanket swaddle wraps with our peanut. And there is no better fabric than knit for a swaddle blanket in my opinion!
Solly's swaddles are absolutely dreamy and they usually have a coupon going for 2 for $40 which is perfect–grab one for you and one for a friend (or keep them both, I wouldn't blame you!).
Hint: Solly also sells absolutely beautiful sleepwear for babies (sleepers and sleep gowns) as well as crib sheets. Yes, it can become an obsession!
Thanks for Reading My Solly Baby Wrap Review!
I hope this review was helpful–feel free to ask any questions you might have in the comments. Now, go buy your Solly Wrap! Enjoy!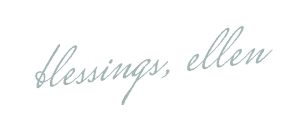 More Baby Posts