15+ DIY Pumpkin Craft Ideas
Decorating for fall? Looking for some great DIY Pumpkin Craft Ideas? This is the list for you! From fabric pumpkins to glitter pumpkins, sock pumpkins to washi tape pumpkins, I've included a variety of projects that are perfect for fall craft nights or creative afternoons.
Please note that this post contains affiliate links which allow me to earn a small commission when a purchase is made at no additional cost to you. Read more here.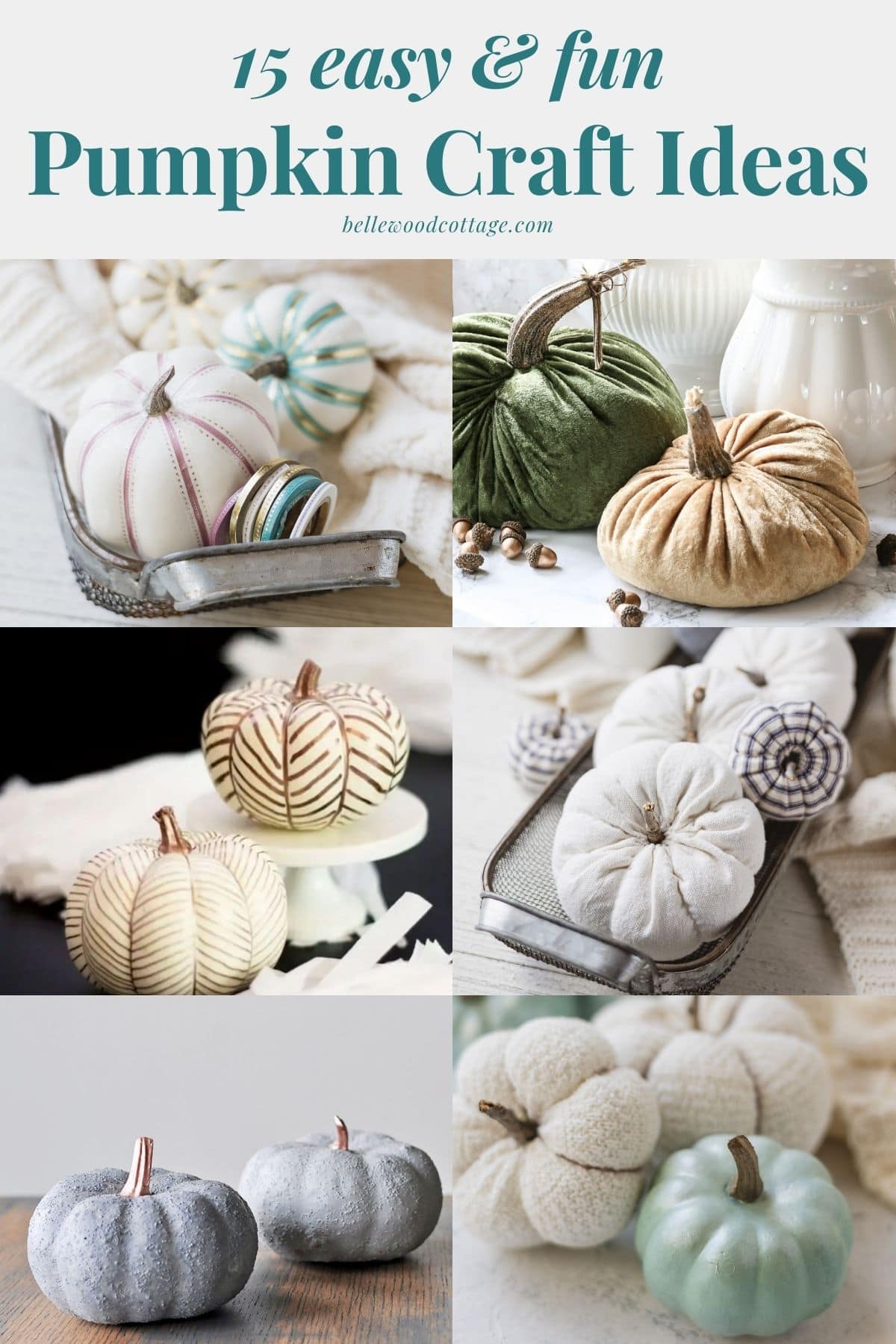 Crafting your own seasonal home décor allows you to customize your décor throughout your home. You are in charge of choosing styles, colors, and patterns that you love.
It's also a great way to save money. My sock pumpkins for instance can be totally free depending on the supplies you already have on hand. And embellishing fake pumpkins can give you show-stopping pumpkins at a fraction of the cost of fancier store-bought options.
I also love using projects like these pumpkin crafts for fall craft nights or parties. Many of these tutorials could also be used with kids or teens for keeping busy during the cold months.
What Supplies Do I Need to Make These Pumpkins?
I've included a large variety of pumpkin tutorials and noted a few of the key supplies necessary for most projects, so you can pick the ones that best fit what you are looking for.
A lot of the projects utilize store-bought pumpkins and customize them with yarn, paint, or other techniques to make something a little more special. Others use fabric scraps (and even re-claimed pumpkin stems!) to make custom pumpkins.
DIY Pumpkin Craft Ideas
I know you'll love these creative tutorials for DIY pumpkins. Use your creations to decorate your desk, your home, or anywhere else for fall. Enjoy!
DIY Sock Pumpkins
Grab a pair of cozy socks (old or new is just fine!) and cut and sew them into these mini sock pumpkins. Foraged twigs from the yard make up the stems.
Supplies include: socks, poly fiber stuffing, twigs, and sewing supplies.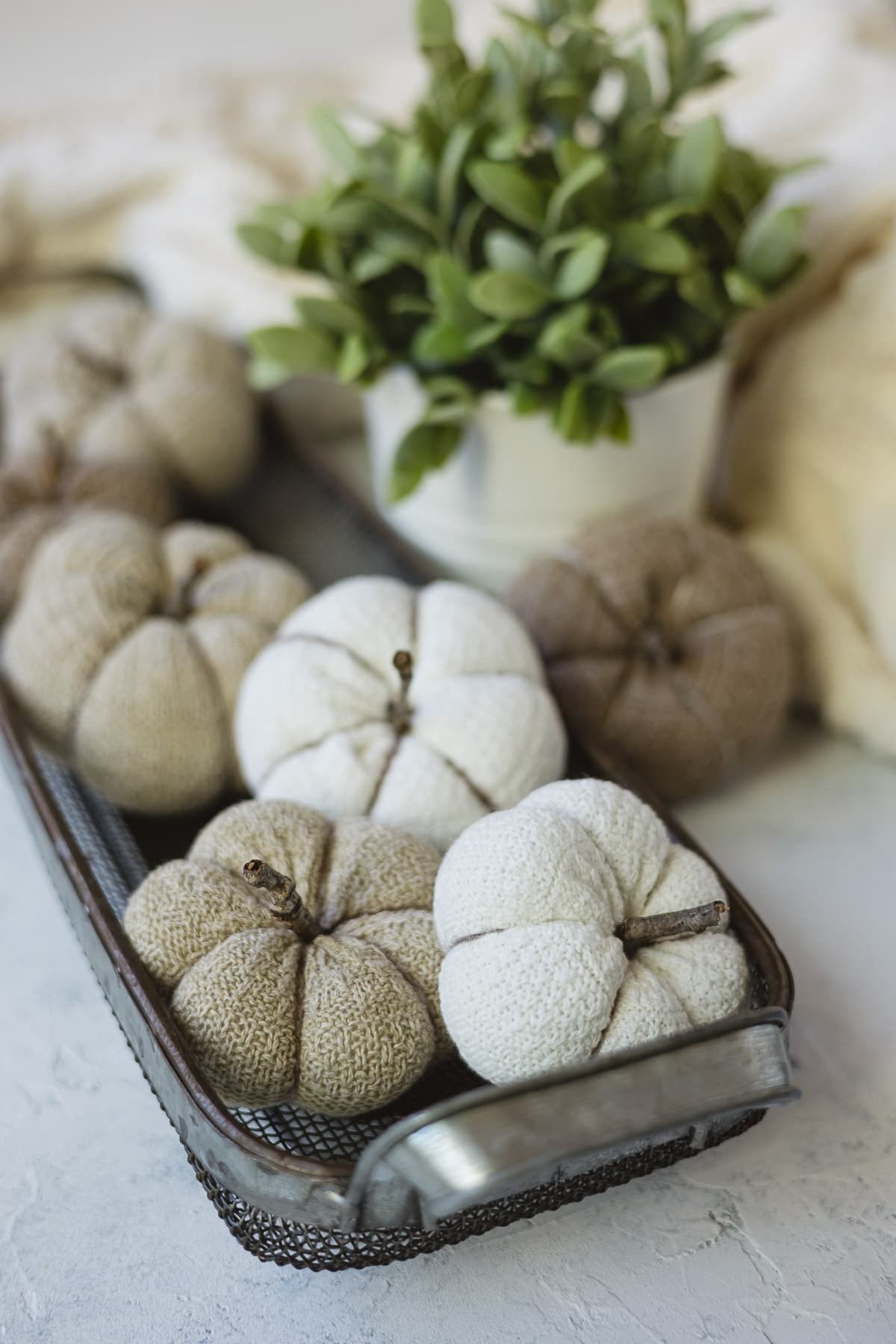 Chalk Painted Pumpkins Craft
I couldn't make a roundup of pumpkin tutorials without including a favorite of mine: chalk painted pumpkins. Craft store or dollar store pumpkins are transformed with layers of pretty chalk paint. I finished these ones off with a shimmery spray paint that adds a little something extra!
You'll need: chalk paints, spray paints, craft pumpkins (see tutorial for details).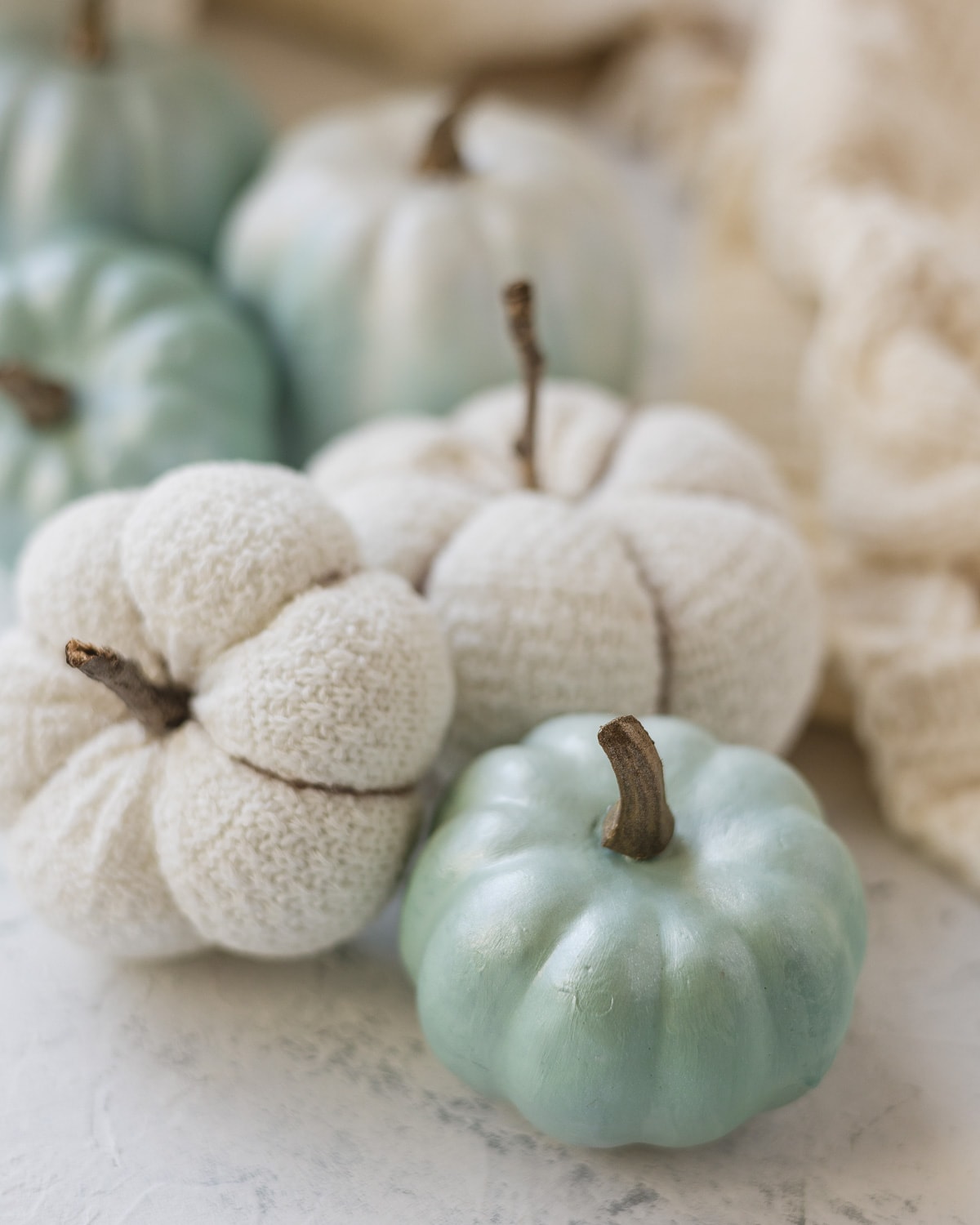 DIY Porcelain Pumpkins
This clever tutorial from Cindy at DIY Beautify shows how to transform dollar store pumpkins in blue-and-white porcelain pumpkins.
A few of the supplies you'll need include: craft pumpkins, paper napkins, Mod Podge, and a special spray paint that'll give that porcelain look.
DIY Monogram Glitter Pumpkin
Meredith at Unoriginal Mom used a Silhouette Machine to make this pretty monogram pumpkin, but you can also trace the monogram by hand so you don't need a special machine to make this one!
Supplies include: Double-sided adhesive sheet, a store-bought pumpkin, and glitter.
Paper Pumpkins
Aren't these Paper Pumpkins from Heart Filled Spaces just gorgeous? They fit an LED light so they have the prettiest fall glow.
Supplies you will need for this project include: a Silhouette Cameo or Cricut Maker with tools, a paper quilling tool, glue, cardstock, vellum, and optional LED lights.
Drop Cloth Pumpkins
Making drop cloth curtains or another drop cloth project? Use the scraps to make these sweet farmhouse style pumpkins. The tutorial works with nearly any kind of fabric, so don't hesitate to experiment!
Some of the supplies you'll need: A large needle for sewing the pumpkin grooves, a twig for the stem, and fabric.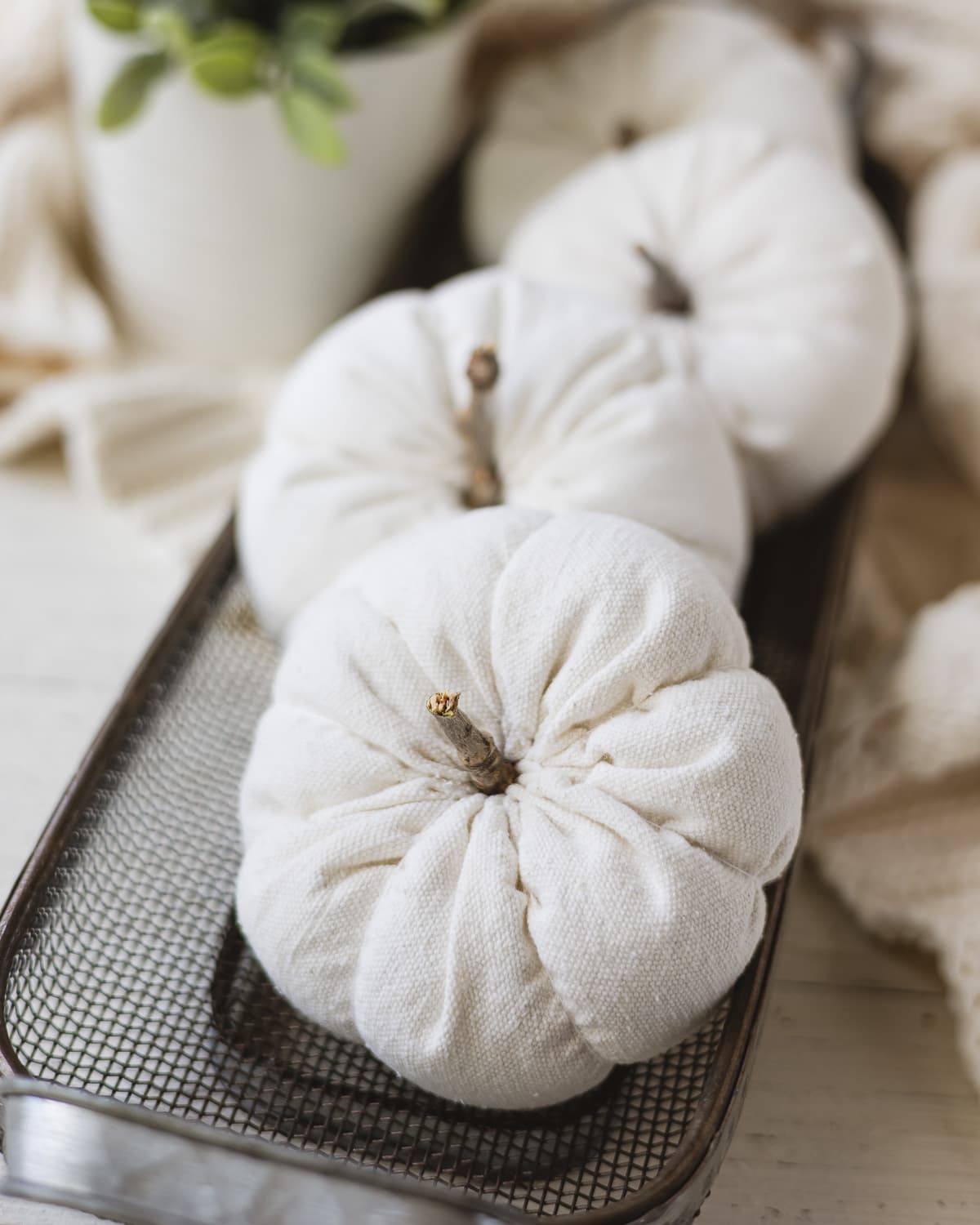 Velvet Pumpkins
These elegant Velvet Pumpkins are made with real pumpkin stems. A beautiful tutorial from Sarah at She Holds Dearly.
To make these pumpkins you'll need: velvet fabric, sewing supplies, and pumpkin stems for starters.
Ticking Stripe Pumpkins
These mini ticking stripe pumpkins are made the same way as my drop cloth pumpkins, but with ticking strip fabric! Customize the size as you like.
Some of the supplies you'll need: A large needle for sewing the pumpkin grooves, a twig for the stem, and fabric.
Rae Dunn Style Pumpkins
These Rae Dunn Style Pumpkins from Hunny I'm Home DIY are a dollar store makeover craft and aren't they cute?!
You'll need some faux pumpkins, white craft/chalk paint, a cutting machine and vinyl.
Yarn Wrapped Pumpkins
Here I tried out the popular DIY and offered a few tips and tricks to make yarn wrapped pumpkins just a little easier.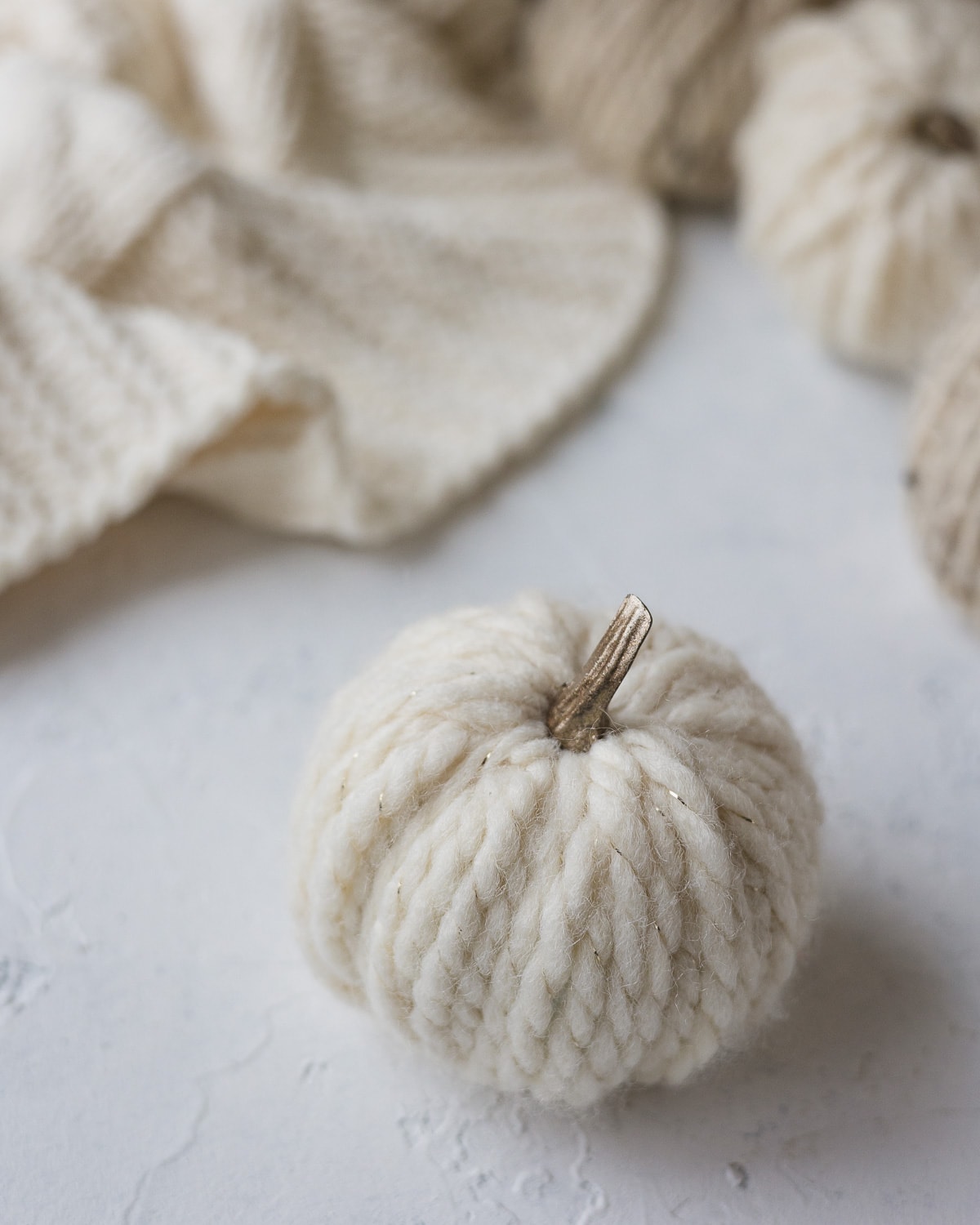 Yarn Wrapped Pumpkins (NO Styrofoam)
I also wanted to try making yarn pumpkins completely from scratch–and avoid the messy Styrofoam. This tutorial was the finished product and I love how easy these are to make!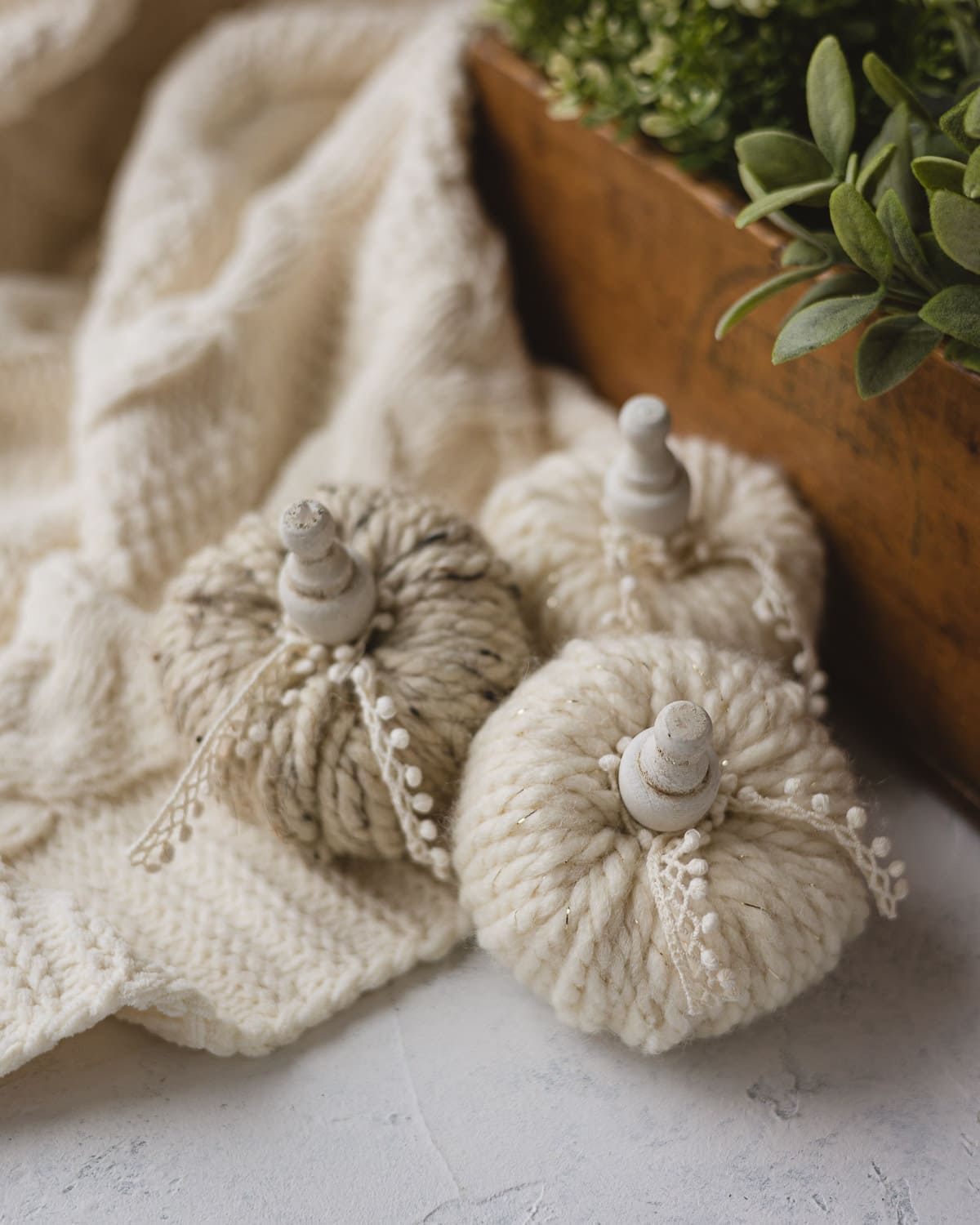 DIY Rope Pumpkins
These DIY Rope Pumpkins from It's Always Autumn use paper plates and rope from the dollar store. What a great craft idea!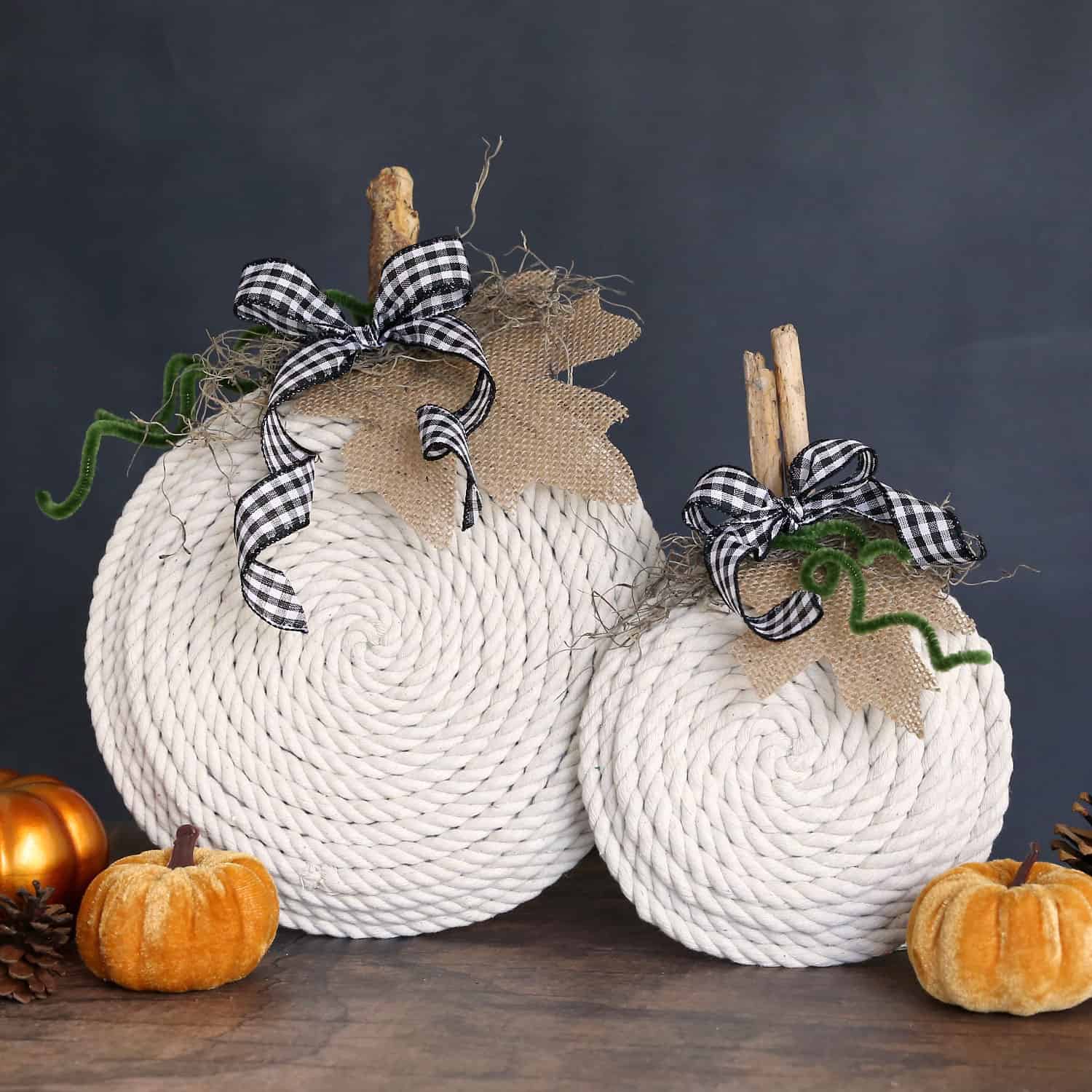 Milk Paint Paint Pumpkins
Use Miss Mustard Seed's Milk Paint + Bonding Agent and white wax to create these pretty soft-colored milk paint pumpkins.
Use: white store-bought pumpkins, milk paint in various colors, bonding agent, and white wax.
Toilet Paper Sweater Pumpkins Craft
Can you believe these cute knit pumpkins from It's Always Autumn start out with toilet paper rolls? Try toilet paper sweater pumpkins for a super quick fall décor DIY.
This pumpkin craft requires: a roll of toilet paper (don't worry you can still use the roll once you're done with your fall décor!), a nice stretchy sweater in your favorite fall color, and a few other odds and ends.
Washi Tape Pumpkins
Use store-bought foam pumpkins (these white ones were from Hobby Lobby) and thin washi tapes for a unique pumpkin decorating idea. These washi tape pumpkins are great for kids too!
You'll mostly just need small craft pumpkins and thin rolls of washi tape for this one!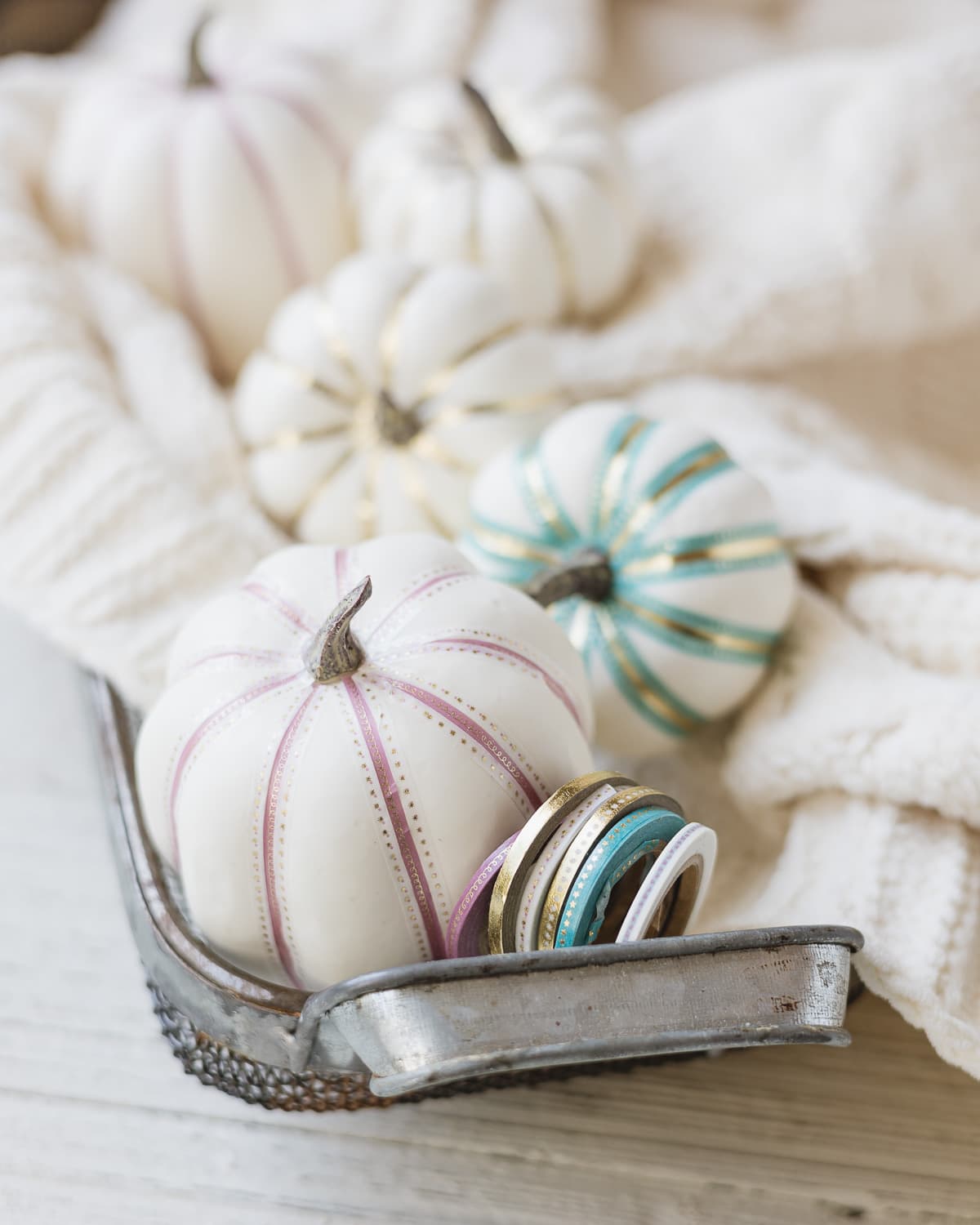 Concrete Pumpkins
If you are looking for something a little more neutral, try these creative Concrete Pumpkins from Ashley at Cherished Bliss.
This craft uses a paint that imitates concrete, fake pumpkins, and a few other things too.
Paint Pouring Pumpkins
Have you tried paint pouring yet? This creative technique works to create stylish pumpkins in Country Peony's Paint Pouring Pumpkins tutorial. The hardest part might be waiting for them to dry!
Supplies include: a paint pouring kit and faux pumpkins.
DIY Bundt Cake Pan Pumpkins
I love finding uses for cool thrifted items and these clever pumpkins from Lauren at Bless'er House are one of my favs. Use mini Bundt cake pans and spray paint to make these cute little pumpkins!
Supplies include: Thrifted Bundt pans (mini) and spray paint.
Herringbone Pumpkins
These beautiful Herringbone Pumpkins from Lovely Indeed make for sophisticated fall décor–and they are easy too. Just use white pumpkins from the craft store and paint pens.
DIY Sweater Pumpkins
Use old sweaters (hunting for good ones at thrift stores is so fun!) to create these pretty sweater pumpkins. Customize them by getting creative with the colors, patterns, and even the pumpkin stems that you choose.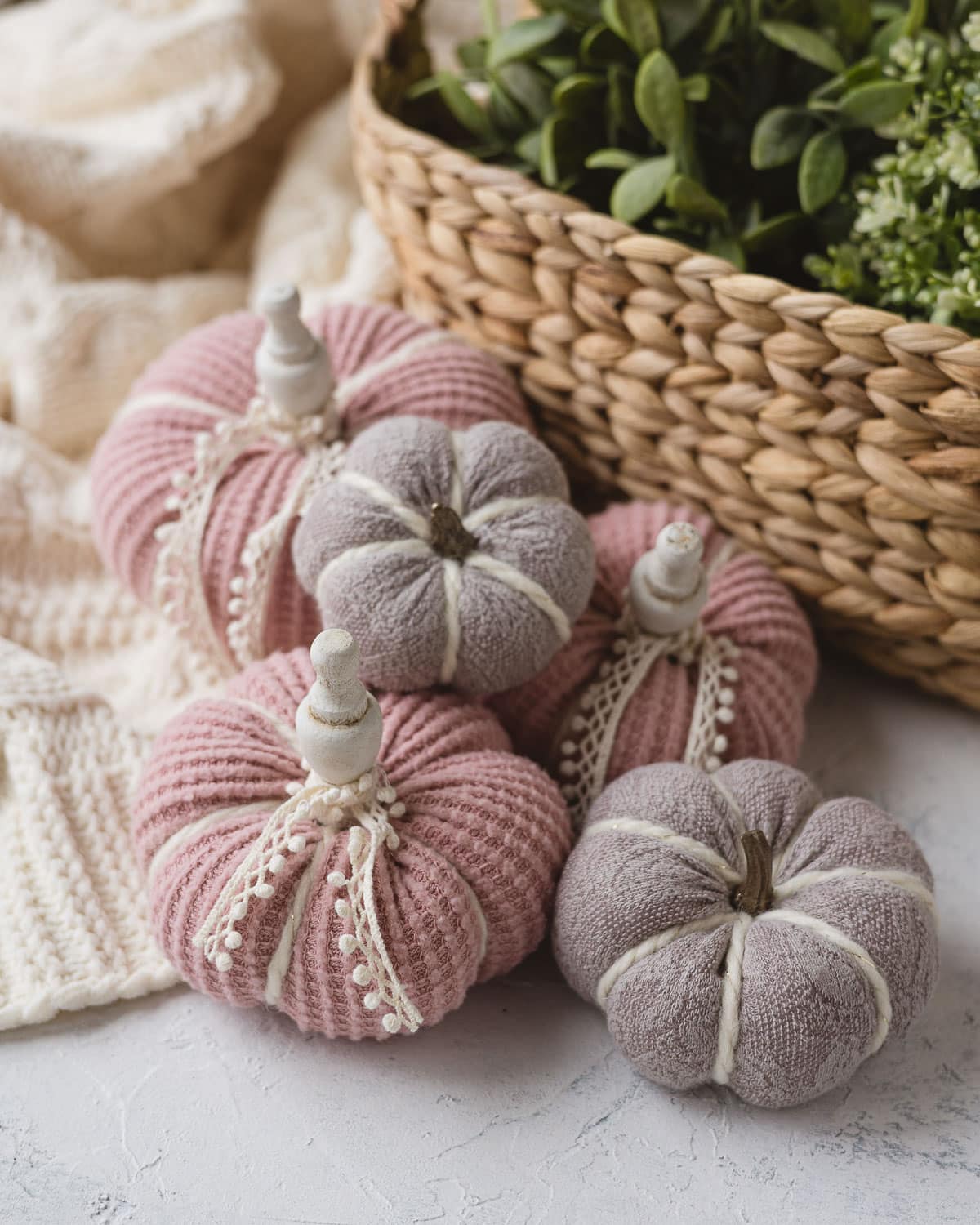 Alcohol Ink Pumpkins
These bright alcohol ink pumpkins from a Beautiful Mess are a colorful fall craft. This pumpkin craft starts with faux pumpkins and alcohol ink–and you get to spatter them with gold paint when you are finished.
Pumpkin Spice Salt Dough
This last craft isn't exactly a pumpkin per se, but it is filled with pumpkin spice! Use Pumpkin Spice Salt Dough, a variation on classic salt dough, to create all manner of fall crafts. Ornaments, garlands, gift tags, you name it. Grab a pumpkin-shaped cookie cutter and even make little pumpkins to decorate! A great fall craft with kids.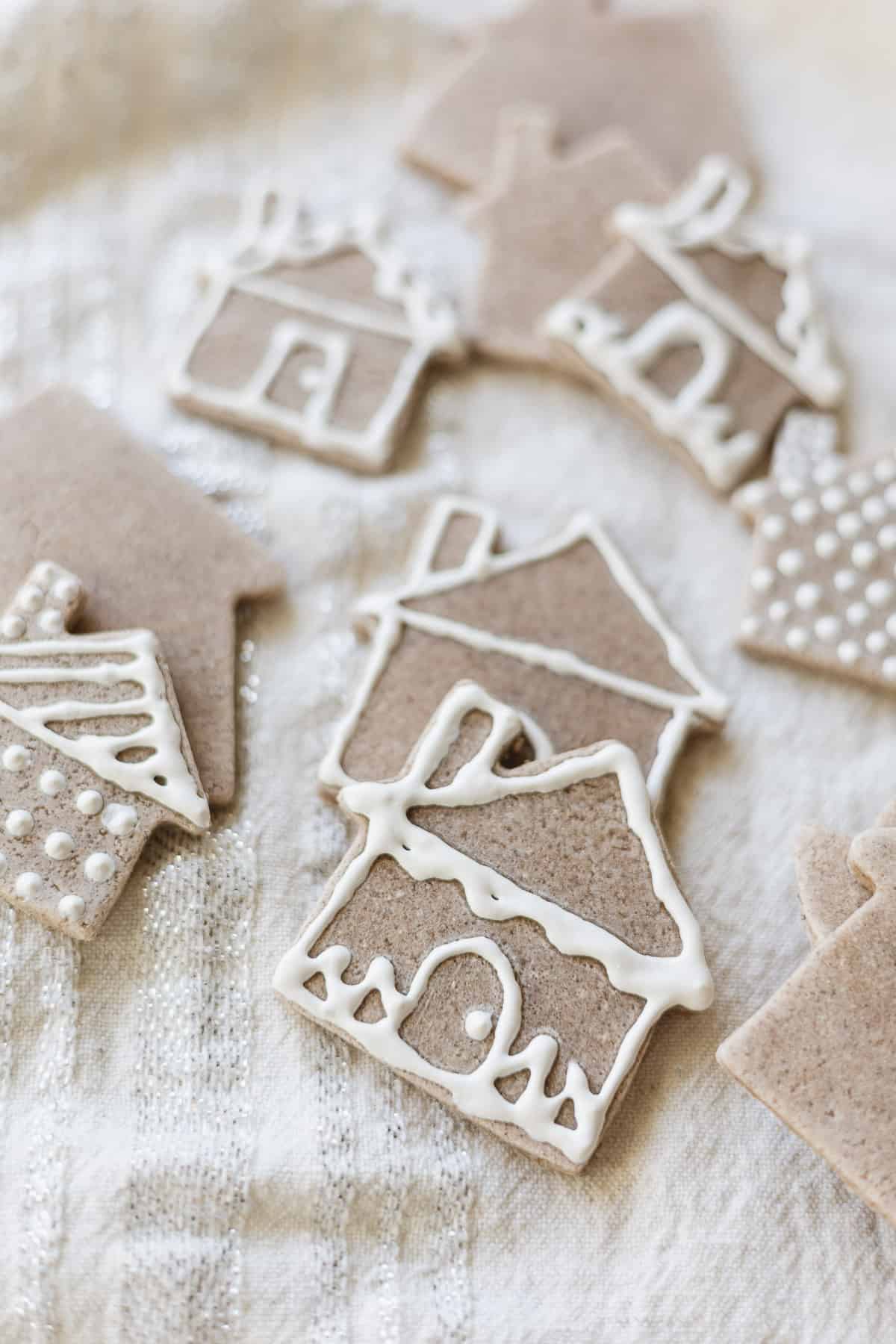 Which pumpkins are your favorites? I hope you enjoyed this roundup of some of my favorite pumpkin craft ideas! If you have any to add to the list, I'd love to hear about them.
Happy crafting! ~Ellen
More Crafts from Bellewood Cottage
Small Chalk Paint Projects (That Aren't Furniture!)
Mason Jar "Postage Stamp" Pencil Holder
How to Paint Mason Jars
DIY Christmas Window Ornament Using Chalk-Style Paint