15+ Mason Jar Crafts and Décor Ideas
Mason jars are full of crafting potential. Get inspiration for how to use mason jars around your home with these mason jar crafts and décor ideas. You'll see everything from mason jar vases, a DIY pumpkin, wedding favors, and a soap dispenser.
Please note that this post contains affiliate links which allow me to earn a small commission when a purchase is made at no additional cost to you. Read more here.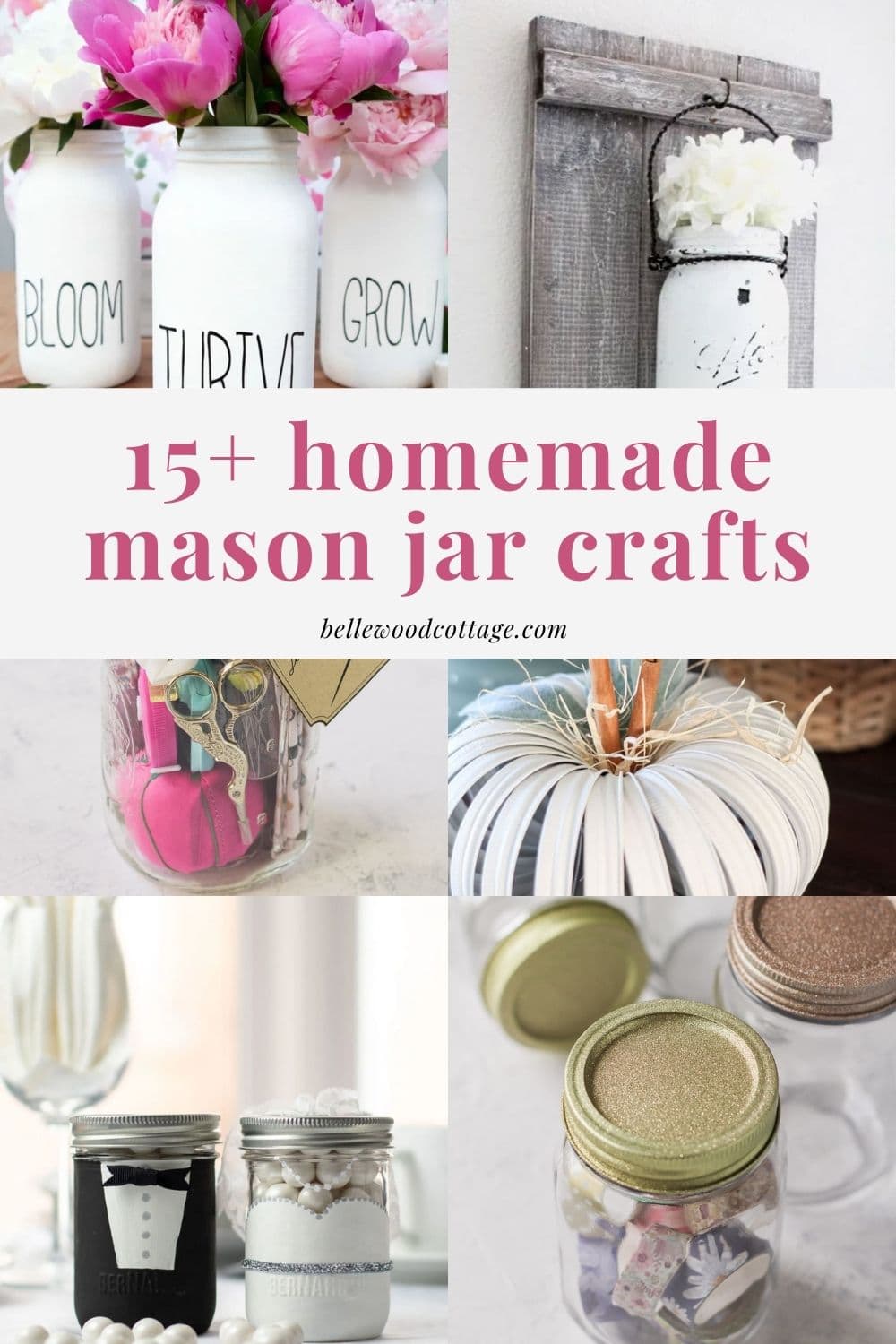 Mason jars have been a go-to resource for years, but they've continued to increase in popularity for use in home decor and just for crafting fun!
Mason jars are easy to find, relatively inexpensive, and they make the perfect canvas for all kinds of crafty ideas. Before we dive into the list of projects, let's chat about the best kind of jars to use for crafts and décor.
What Kind of Jars to Use for Mason Jar Crafts?
Though many of these craft and décor ideas use mason jars, you can almost always use another style of jar if you like. In fact, these crafts are a great chance to recycle pretty glasses and jars.
Here's a few more things to think about: If you want to paint and distress mason jars to use as vases, centerpieces, décor, or gifts, I find that I prefer using a jar with raised detailing (such as Ball Mason Jars). This provides good areas to distress and add interest to the painted jar.
Sometimes a project lends itself better to a jar with no detailing at all. This is where I head to the craft store (usually Hobby Lobby for me) and choose some of their plain glass jars. I've found that for gifts-in-a jar, I like the plain glass jars so that the gift inside is seen more clearly.
As far as size, pints and quarts are the most common. Know that you can also purchase wide mouth quart jars which can be really handy since they are easy to wash out or grab things out of (if you are using one to store craft supplies or something like that).
Mason Jars to Use for Crafts and Décor:
Mason Jar Craft & Decor Ideas
I think you'll love the mason jar crafts and home décor ideas found below. I rounded up many ideas from some of my favorite bloggers and there are plenty of tutorials to get you started with a mason jar obsession!
All photos used with permission (directly given or from the photo usage policies found on the respective websites) from the original bloggers and creators. Thanks to all of them for sharing their wonderful ideas!
Paint Jars with Chalk Paint
Painting Mason Jars with Chalk Paint is a such a pretty idea. In fact, it's become kind of a classic at this point! These painted jars with Annie Sloan paint from Mason Jar Crafts Love are gorgeous. In fact, I think Linda's tutorial might be one of the first I ever stumbled upon for this idea.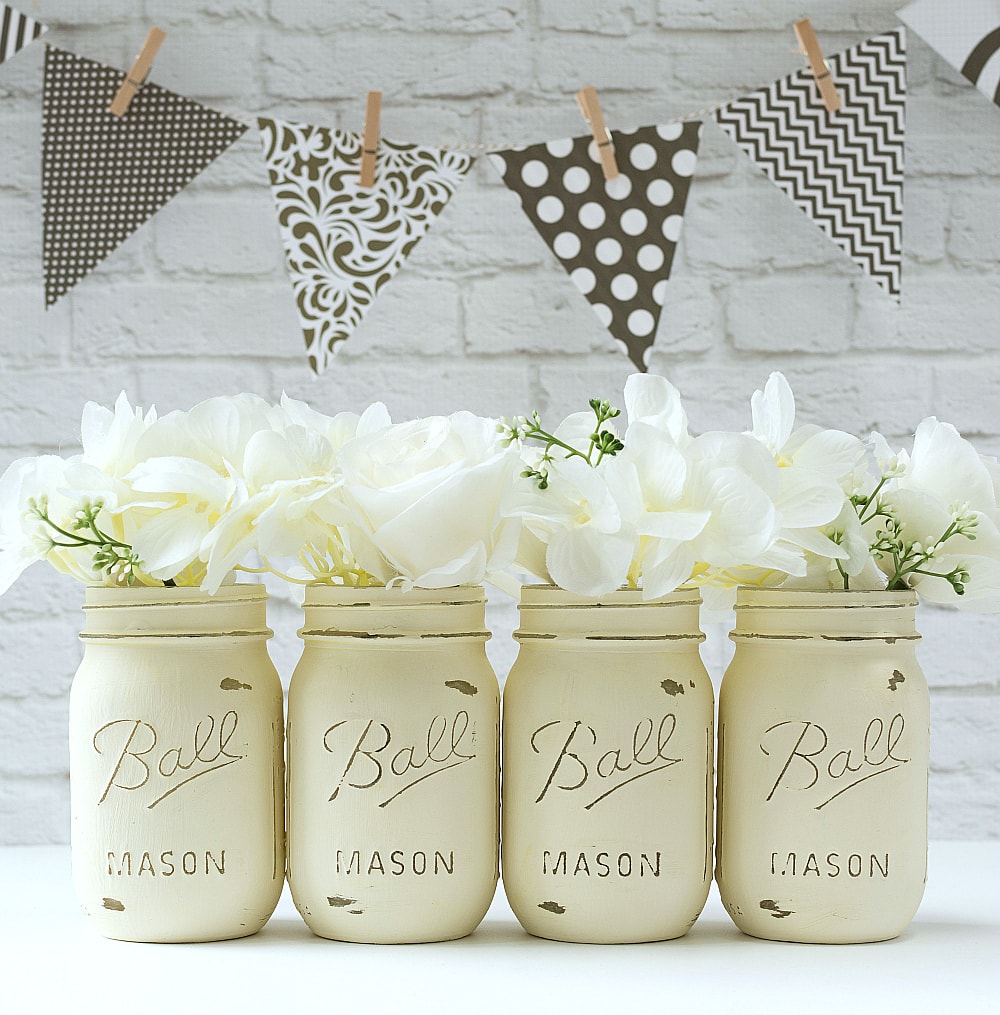 Mason Jar Lid Pumpkin
What an adorable DIY pumpkin made with mason jar lids! If you have extra lids floating around, this is the DIY to use them up. A sweet fall decorating idea from The Turquoise Home.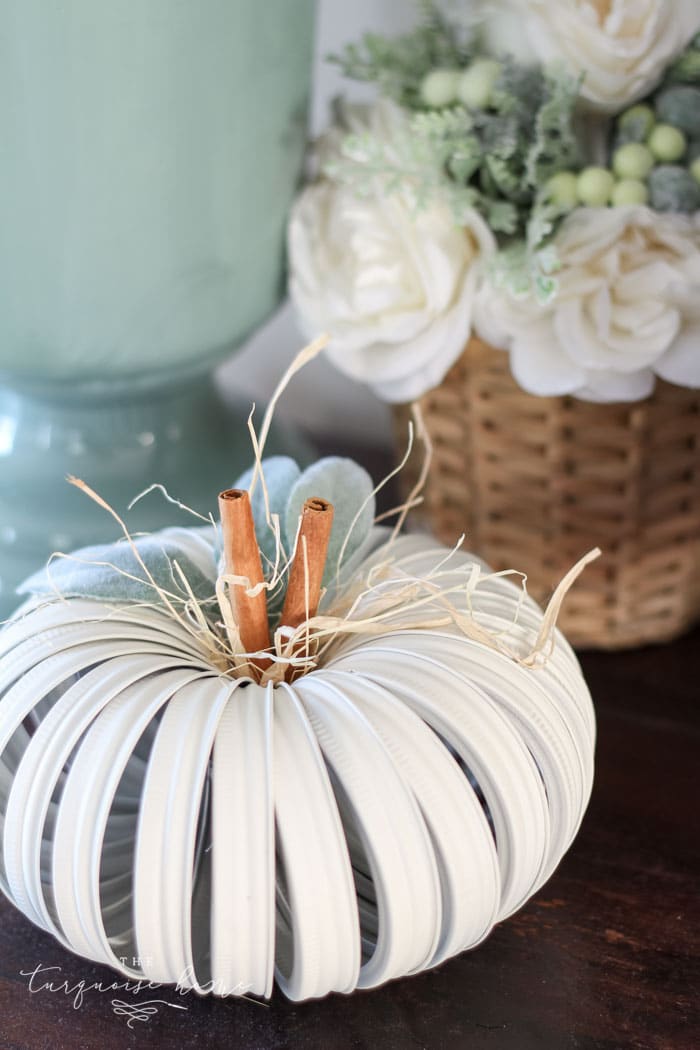 Leather Mason Jar Sleeve
If you've ever wanted to try working with leather, this Leather Mason Jar Sleeve from A Beautiful Mess could be a great project to get started. It would make a cool gift, or a stylish way to serve beverages when hosting.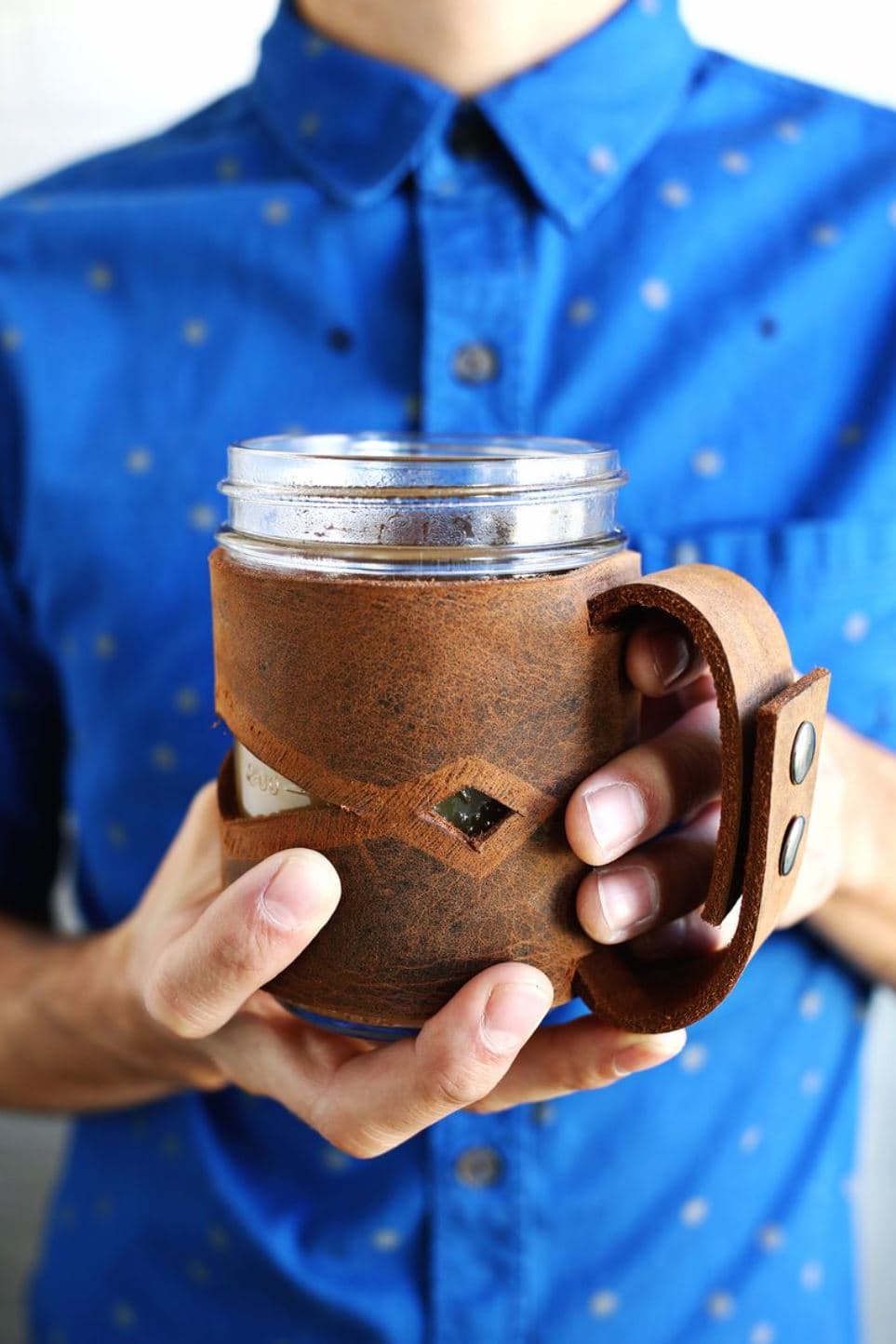 Glittery Mason Jar Lids
These Mason Jars with Glitter Lids are a simple way to pretty up a jar for gifting or using as décor. Glitter spray paint can be a pain, so I've included tips within the tutorial for successful spray painting (plus my preferred brand to use).
Love free craft ideas? Subscribe to Bellewood Cottage for more fun and relaxing craft ideas straight to your inbox.
Mason Jar Flower Vases with a Cricut
These Mason Jar Flower Vases from Sustain My Craft Habit are made using a Cricut and chalk-finish paint. If you know how to hand letter, you could also freehand words on each jar.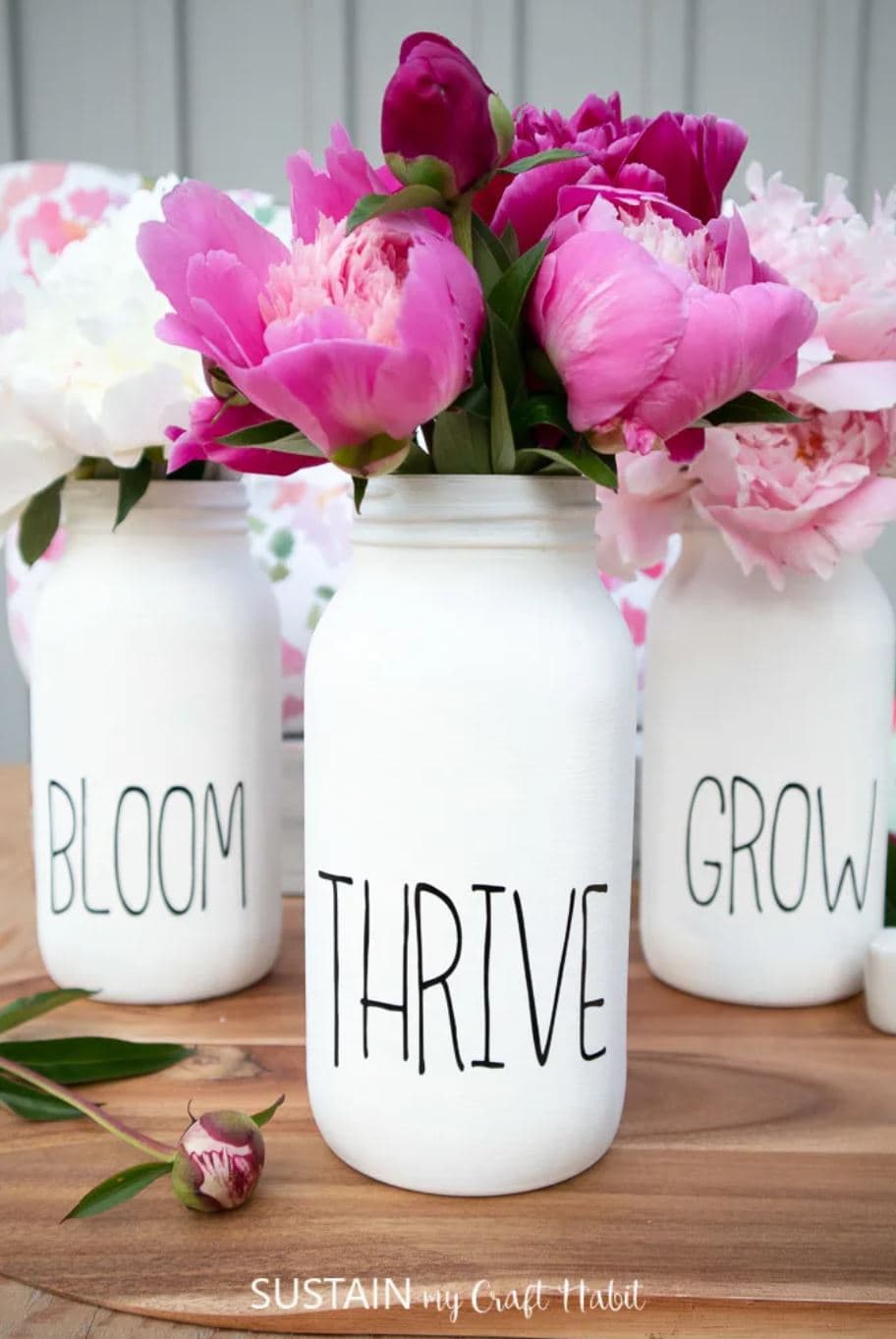 Mason Jar Canisters
Turning mason jars into storage canisters is a handy idea from Mason Jar Breakfast. You can customize the color, size, style, and quantity to suit your organizational needs.
Christmas Frosted Votives
This is older post from A Beautiful Mess, but I still think these Frosted Mason Jar Votives are such a pretty idea for the holidays. The frosted glass feels festive and they look like fun to make.
Texas Flag Mason Jars
These Texas Flag Mason Jars are a show-stopper. It's easy to get neat lines between the colors when you use washi tape to mask the jar (and a small brush for touch ups!).
Washi Tape Mason Jar Lids
Another creative idea for mason jar lids, try using washi tape to make colorful Washi Tape Lids for your jars. Great for storage or gifting.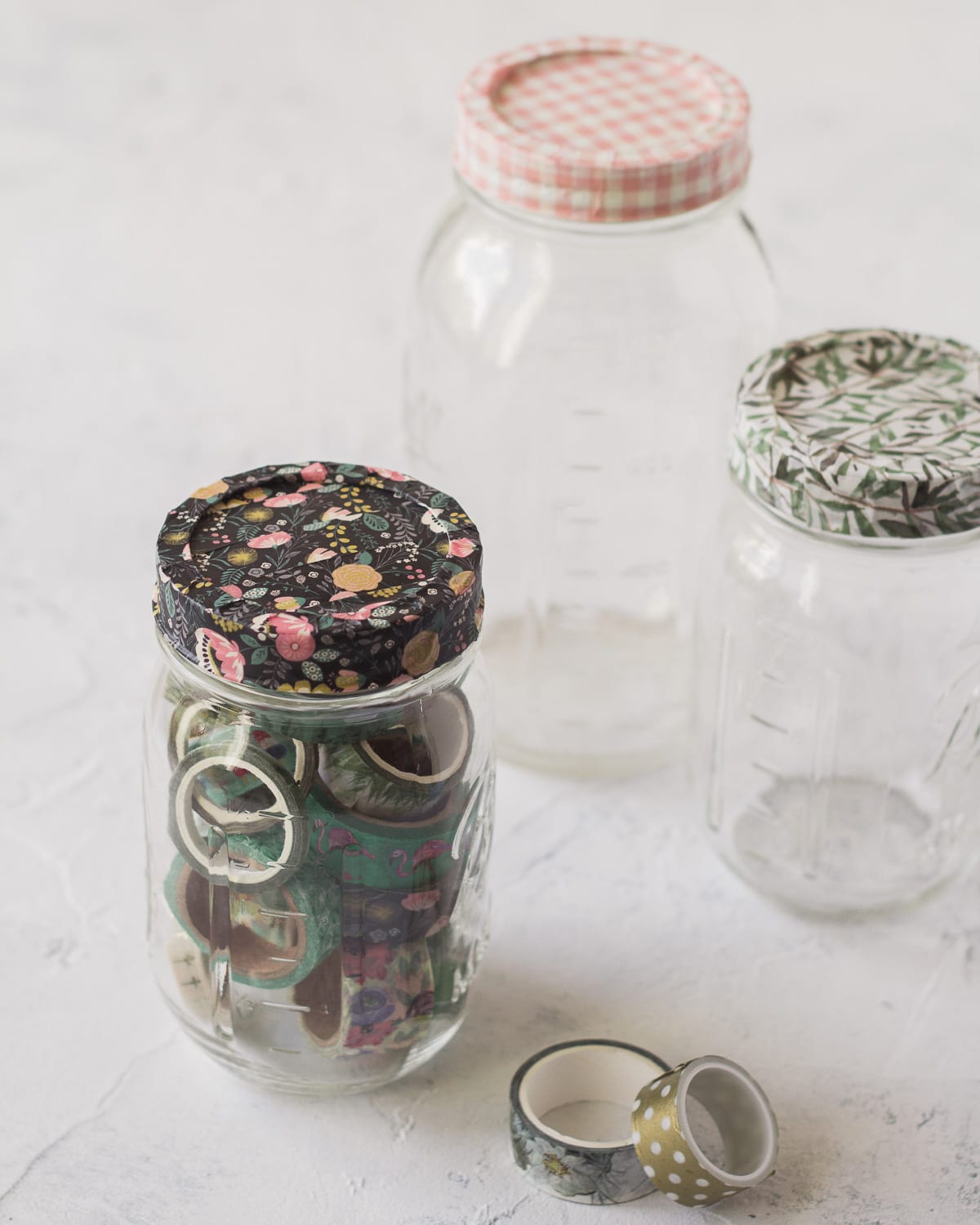 Wedding Favors in Decorated Glass Jars
Mason jars are popular for wedding décor and for good reason! They are pretty, readily available, and great for centerpieces, favors, wedding party gifts, and more. These Wedding Favor Glass Jars from Sustain My Craft Habit are a sweet way to celebrate with your guests.
Patriotic Mason Jars
Patriotic Mason Jars from H2OBungalow are a festive way to add some red, white, and blue to your summertime (or anytime!) décor.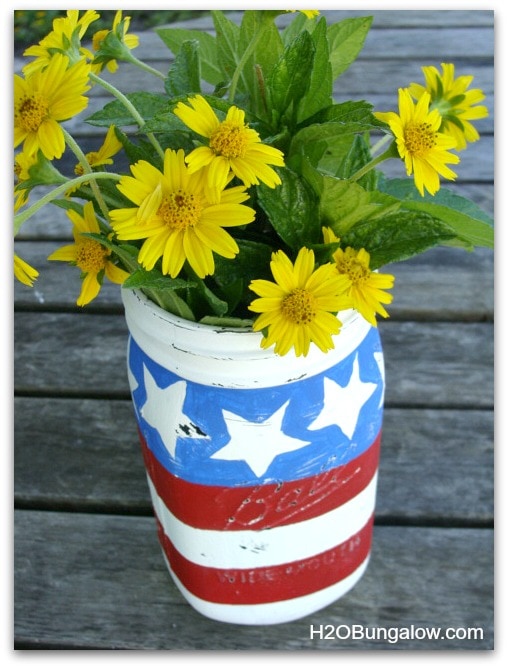 Colorful Bunny Jars
I love these colorful bunny jars from Torie Jayne. These aren't made with mason jars, but you definitely could use any jar you love.
Denim Painted Mason Jars
These Denim Painted Mason Jars from A Night Owl are so unique and the texture is right on! I think these would also look great within a patriotic tablescape.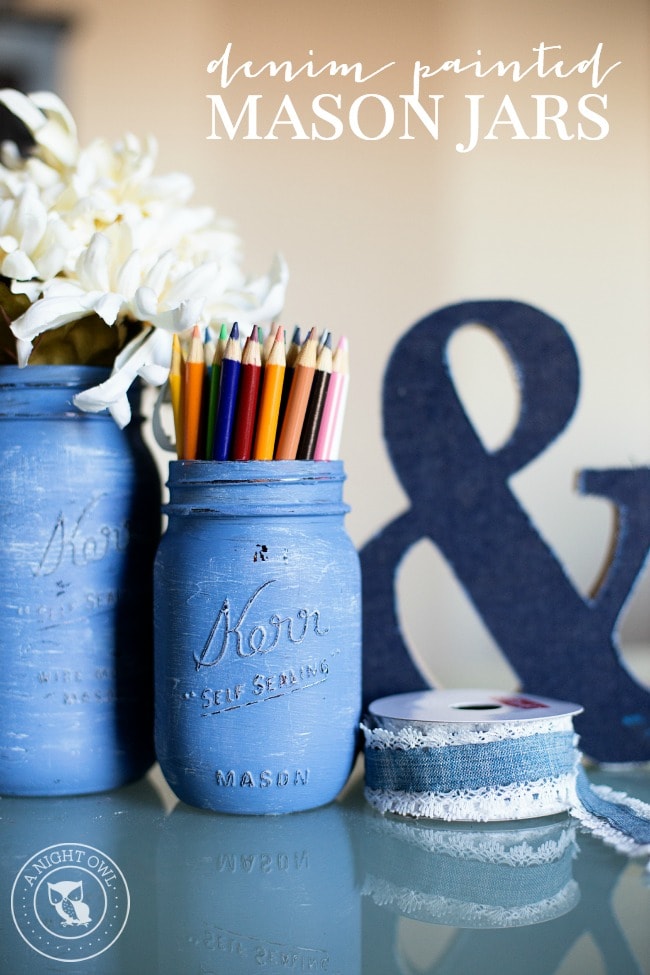 Mason Jar Sewing Kit
Corral craft supplies with this Mason Jar Sewing Kit. Try spraying several glittery lids and then use the jars near your sewing table to store odds and ends. Also a great gift idea.
Mason Jar Soap Dispenser
Such a cute little Mason Jar Soap Dispenser from Bless'er House! What a great way to add some rustic charm near a kitchen, bathroom, or laundry sink.
DIY Painted Mason Jar
This DIY Painted Mason Jar from Lovely Indeed is chic with the combination of white and gold spray paint. This jar could be used as a vase or filled with a gift.
Stamped Mason Jar
Use a rubber stamp to add pattern and color to a painted jar with this Stamped Mason Jar tutorial from Lovely Etc.
Rustic Mason Jar Sconces
If you'd like to add some mason jars to your wall décor, try this tutorial for Rustic Mason Jar Sconces from Simply Beautiful by Angela.
Thumbprint Jar for Mother's Day
Make this sweet gift for Mother's Day with your children's thumbprints creating the colorful flowers. This Thumbprint Mason Jar is an easy project that kids will love helping to create!
Mason Jar Christmas Centerpiece
Use spray paint, twine, and jingle bells to make this festive set of holiday mason jars for an easy Christmas centerpiece idea from Mason Jar Breakfast.
No Time to Make a Mason Jar Craft?
Here's some beautiful mason jars for sale on Etsy I think you will love: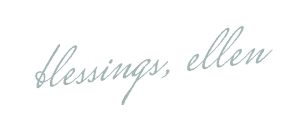 More Mason Jar Ideas from Bellewood Cottage