Washi Tape Mason Jar Gift Idea
Fill up a mason jar with pretty washi tape to make this easy washi tape mason jar gift idea! Perfect for friends, teachers, or anyone who loves crafts.
Please note that this post contains affiliate links which allow me to earn a small commission when a purchase is made at no additional cost to you. Read more here.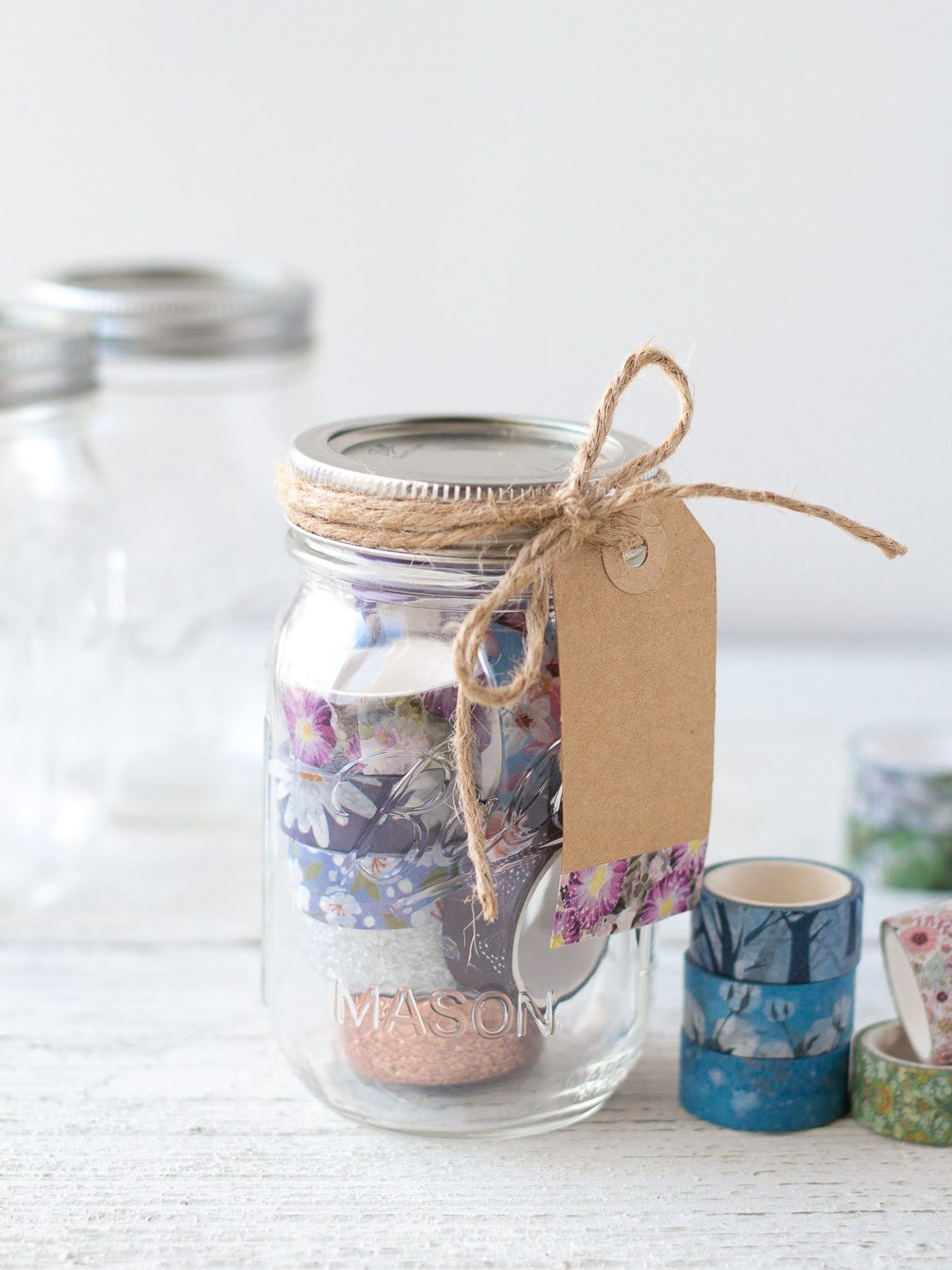 Wondering what to put into a mason jar for a gift? These little jars make the perfect packaging for a variety of tiny gifts, and I love the look of a jar filled to the brim with colorful washi tape. Washi tape can be used for a variety of craft projects and it's a great choice for a gift for anyone who loves crafting, journaling, organizing, and more!
Supplies You'll Need
8-16 spools of washi tape, depending on the size of the spools (see note)
other styles of art tape (optional: here I used 2 spools to fill out the bottom of the jar)
extra washi tape to decorate the gift tag
additional crafting supplies to fill the jar (optional)
Note: If your washi tape spools are about 1.5″ in diameter, you'll be able to fit about 8-10 in a jar. If they are smaller (1.25″ in diameter or similar), you may need up to 15-16 spools. I suggest adding additional supplies like colorful twine, buttons, stickers, tags, and miscellaneous scrapbooking/crafting/planner supplies if you are making a lot of these and want to keep the cost of each jar down.
Looking for adorable washi tape? Don't miss my round-up of favorite Etsy shops for washi tape!
What Can I Use These Jars For?
A mason jar filled with washi tape makes a sweet gift for anyone who loves crafting, keeping a bullet journal or planner, scrapbooking and more. You could also use these jars as favors at a bridal or baby shower, or as a special gift for Christmas, Mother's Day, or a birthday.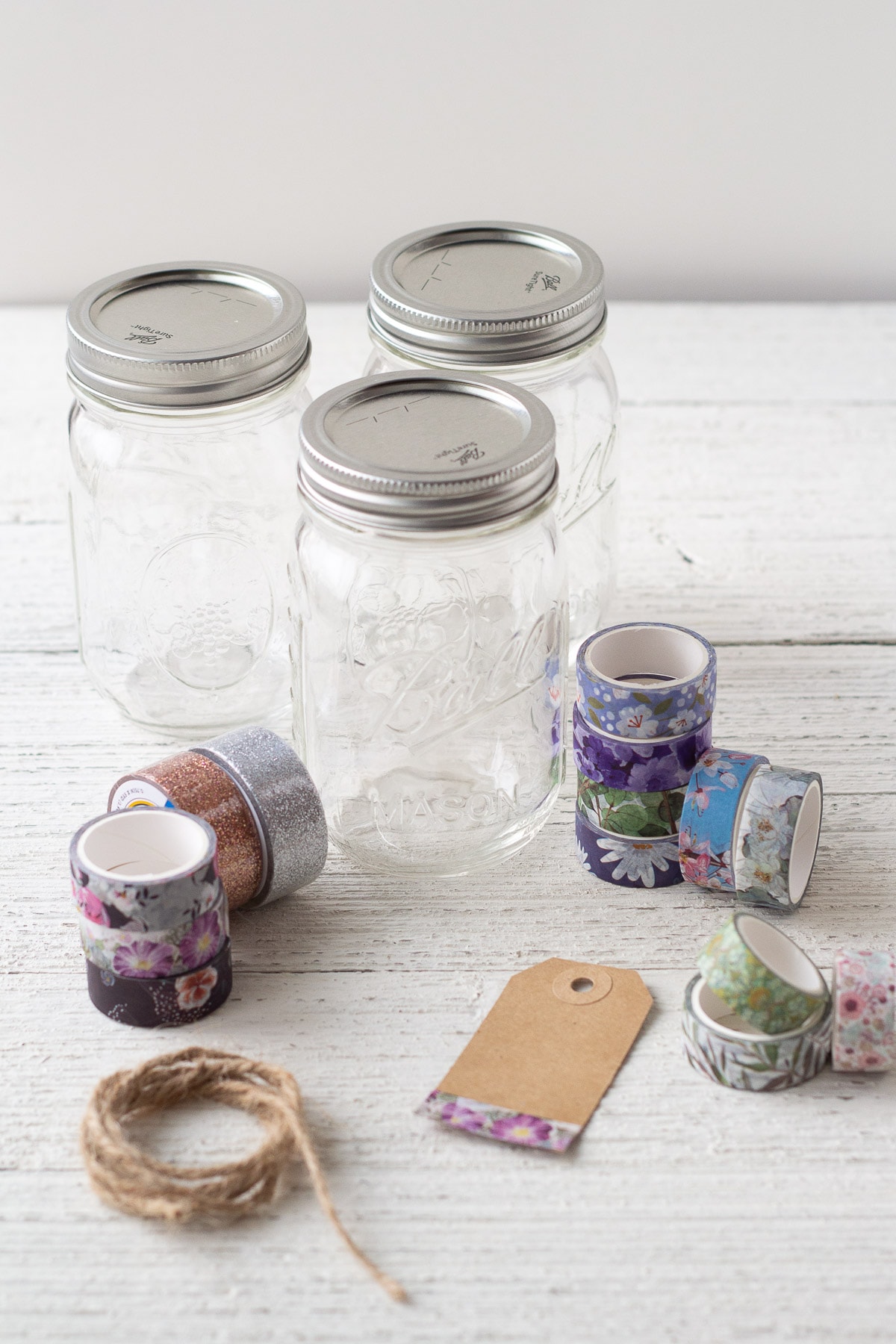 Ideas for washi tape
What to use washi tape for? Use washi tape to:
Seal an envelope
Make a greeting card
Decorate a picture frame
Scrapbook
Journal
Label or organize
and just about anything else you can think of!
Here's a complete list of 30+ washi tape ideas.
Washi Tape Mason Jar Idea
How to make the jar? Just collect your washi tape, fill the jar with your favorites, and then replace the lid. You could even spray paint the lid to make the jar even more special.
Or, try my tutorial to using washi tape to cover the jar lid like I did here: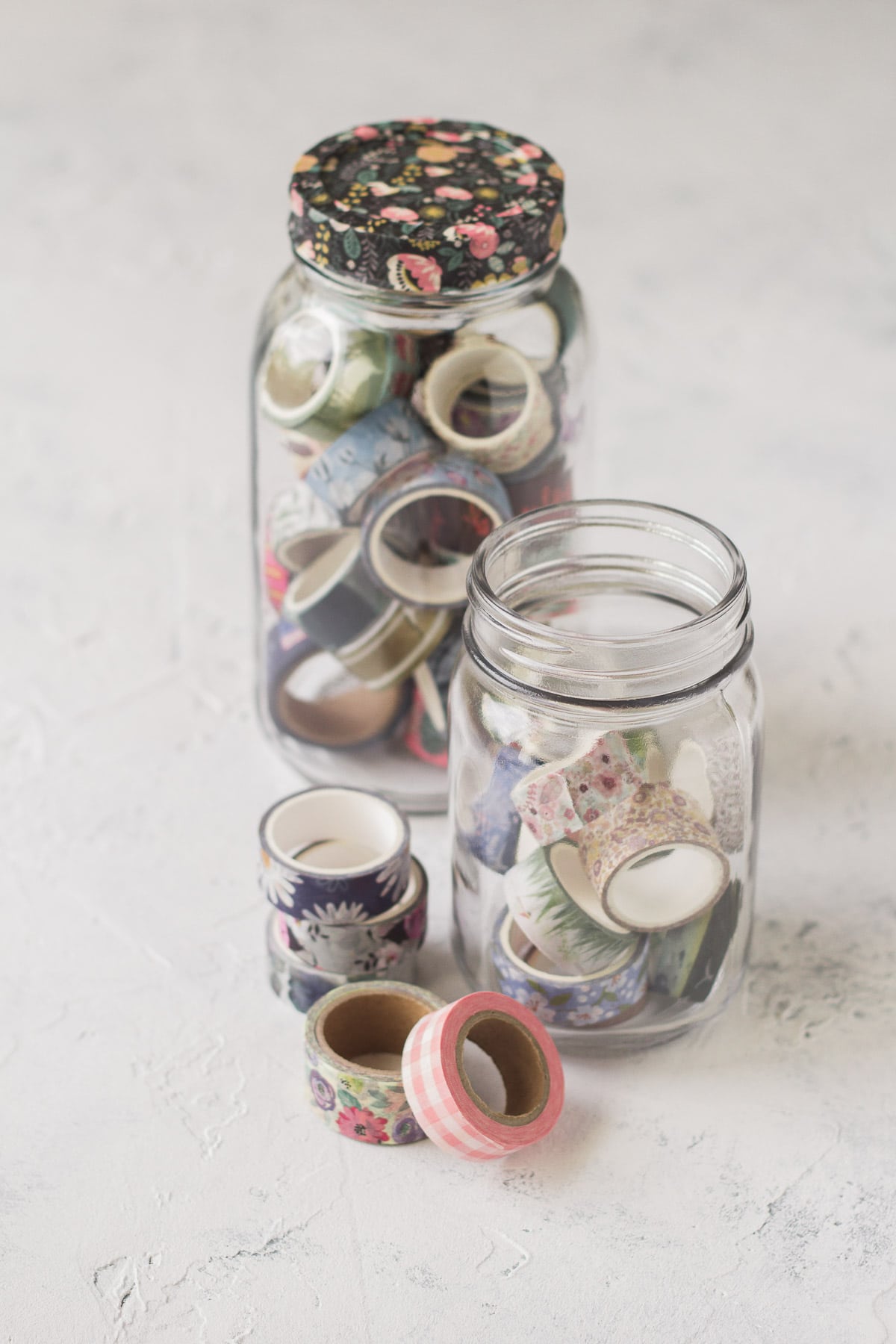 I like to use a little washi tape to decorate a simple kraft paper gift tag before attaching the tag with twine.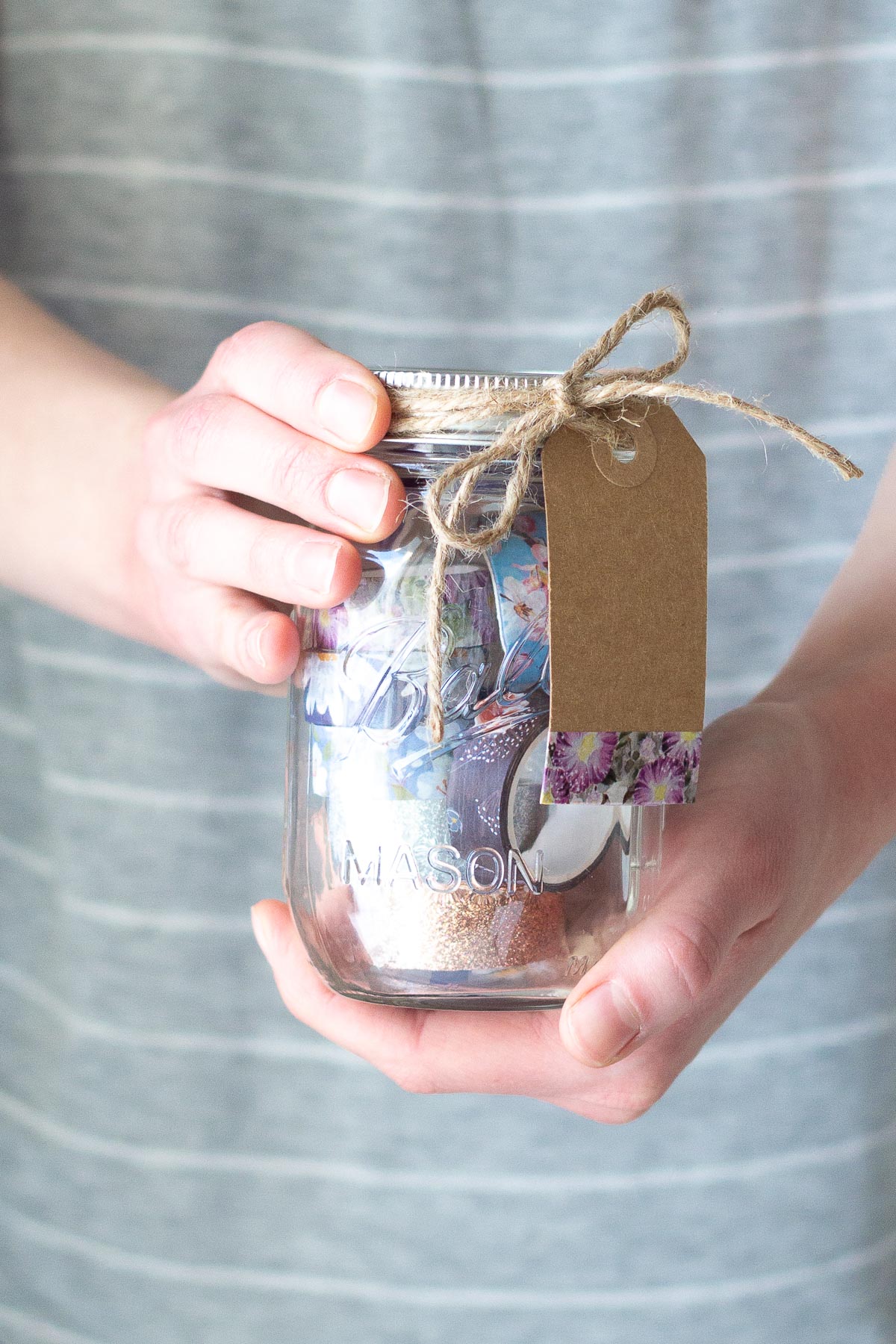 Making Favors for a Large Group?
If you are making these gift jars for a large group, buy your supplies in bulk and then divide them up. Buy a large set (or two or three) of washi tape, multiple rolls of twine, buttons, stickers, and other fun supplies to fill the jars. Then, just divide everything up amongst the jars and you are set! Place them in a large basket for a beautiful display at your event.
Yield: 1 jar
Washi Tape Mason Jar Gift Idea
Fill up a mason jar with pretty washi tape to make this easy washi tape mason jar gift idea! Perfect for friends, teachers, or anyone who loves crafts.
Materials
-washi tape (about 8-16 spools per jar)
-(optional) larger spools of art tape
-(optional) small stickers, crafting supplies, bullet journaling supplies
-kraft paper gift tag
-twine
Instructions
Fill a pint-size mason jar with washi tape. I found that depending on the size, you will generally need 8-10 rolls (1.5" diameter) or 15-16 rolls if the spools are smaller (1.25" diameter).
Replace lid on mason jar.
Wrap a kraft paper gift tag with a bit of washi tape (choose a color that coordinates well with the tapes inside the jar).
Take a long stretch of twine, ribbon or lace and thread it through the gift tag.
Wrap the twine around the jar 1-3 times, trim, and tie a bow. Adjust as needed.
Notes
If you plan on making lots of these jars, purchase washi tape and other coordinating craft supplies in bulk to save money.
Color coordinate your jars for the prettiest presentation.
Recommended Products
As an Amazon Associate and member of other affiliate programs, I earn from qualifying purchases.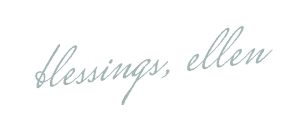 More Crafts from Bellewood Cottage