19 Easy Sewing Projects for Beginners
If you are just getting started with sewing, you'll love trying out easy sewing projects for beginners. Try your hand at sewing pillows, blankets, a dress, and more with this roundup of 19 simple projects to get you started.
Please note that this post contains affiliate links which allow me to earn a small commission when a purchase is made at no additional cost to you. Read more here.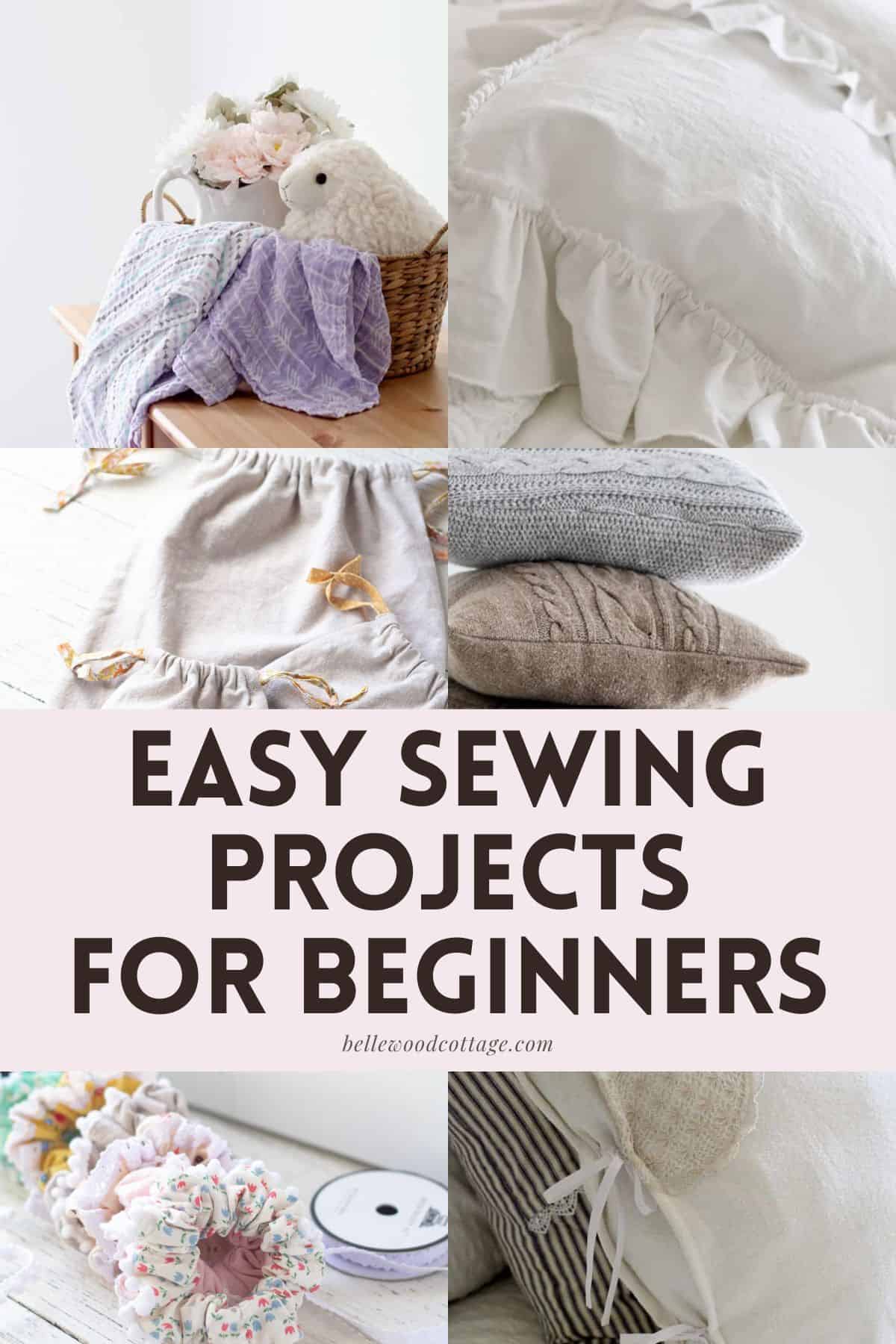 I love to sew, but I feel like sometimes there is a big learning curve! If you are a beginner, my best advice for you to level up your skills is simple:
Practice, a lot! The more you sew, the easier it will become.
Challenge yourself. Take on projects that seem a little too tricky (a zipper installation? gathers? pleats?) to keep pushing yourself forward.
Watch videos on Youtube if you get stuck.
And also, sew what you love! There are so many things you can sew from clothing to quilts, curtains to pillows, etc. etc. Sew what you enjoy and don't feel like there are projects you have to tackle just because everyone else is sewing them.
What Makes a Good Beginner Sewing Project?
I'm a firm believer that you can sew just about anything with a good set of instructions and lots of patience.
However, there are a few features to look for in beginning sewing projects that will help you experience success. The following are my basic criteria for a good beginner sewing project:
Straight Lines: Curves aren't too tricky to sew, but they are much easier after you've spent some time practicing with your machine. So, start with straight seams!
Few Pattern Pieces: Patterns with lots of pieces to put together are trickier. Stick with simple patterns with few pieces for your first few projects.
No Fasteners: Skip the buttonholes, zippers, and snaps until after you've successfully completed some simple projects and are ready to learn more skills.
Basic Cotton Woven Fabric: Save the slippery materials, laces, and knits until after you've gained confidence with easier fabrics like quilting cottons.
Useful! It's far more motivating to make something you are excited to use. Choosing projects you are eager to sew is best–even if they end up being more challenging than you expected. You will learn a lot on the journey!
Easy Sewing Projects for Beginners
This list of easy sewing projects for beginners features some of my most popular tutorials from Bellewood Cottage as well as a handful of projects from fellow bloggers as well. Whether you want to try stitching up some simple drawstring bags, pillow cases, or even an easy dress, this list of sewing projects has you covered.