12 of the Best Pumpkin Pie Recipes on the Internet
Looking for the Best Pumpkin Pie Recipes on the internet? This roundup of some of the most popular recipes from the internet will give you 12 incredible recipes to bake. I'll walk you through my personal favorite recipes, recipes that have stood the test of time, and recipes that have held up against the (oft harsh) critiques of anonymous internet reviewers. The list includes recipes like Alton's Brown's Pumpkin Pie, Ina Garten's rum-infused pie, pumpkin slab pies (ideal for feeding a crowd) and more.
Please note that this post contains affiliate links which allow me to earn a small commission when a purchase is made at no additional cost to you. Read more here.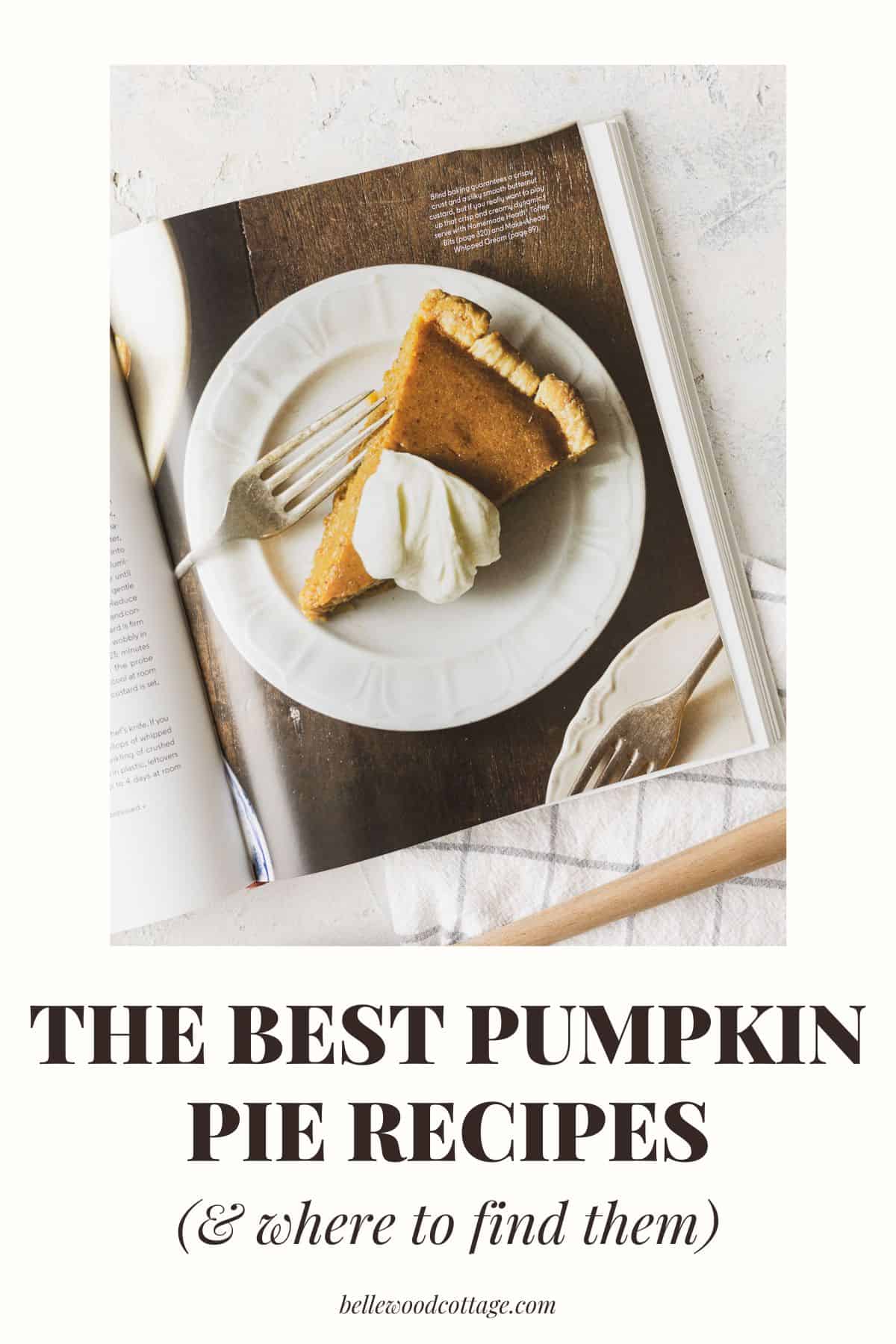 I started writing this roundup to capture all my favorite pumpkin pie recipes (and several I want to try asap) all in one place. I know for many of us, one of the challenges around a homemade Thanksgiving is figuring out which recipes to use.
With Thanksgiving dessert on the line, it's imperative to get it right. So, let's talk pie.
Best Pumpkin Pie Recipes On the Internet
This roundup is for those who want to make the best pies possible on Thanksgiving. Whether it's classic perfection or a little twist on the expected, this list includes both.
I've included a short summary of each recipe including any notes about particular techniques or ingredients you will want to be aware of. I've also noted which recipes I've personally baked.
Recipes included in the list include pies from famous chefs (Julia Child, Ina Garten, and more) as well as recipes from popular food bloggers (with rave reviews and extra-high rankings on Google).
Tips for Baking a Pumpkin Pie
I could talk all day about baking pies, but here's a few tips to keep in mind:
Test your recipe ahead of time. Seasoned bakers might be able to skip this step, but if it's your first time diving into the world of pie, test your recipe in advance. Pumpkin pie freezes well and no one will complain about having to taste-test extra pie.
Buy (or make) a pie shield. One of my great annoyances of pie-making is when the crust begins to burn before the pie is baked. I wrote a whole post on how to avoid a burnt pie crust which I suggest you check out!
Bake enough pie! Keep in mind that a 9″ pie serves about 8 (perhaps 6 if you prefer more generous slices). If you are hosting a large gathering, plan to bake multiple pies, choose a large slab pie recipe, or ask guests to bring additional desserts so that there is plenty for everyone.
Read through the whole recipe well before baking time. When I began preparing my Thanksgiving pies after moving out, I realized my apartment kitchen had a lot of missing tools. Where was my rolling pin?! Avoid emergency grocery runs by first checking your recipe to see if you need a food processor, a new pie plate, a rolling pin (you do!), or even just extra time to prepare the recipe correctly.
Let's kick things off with my personal go-to never-fail pumpkin pie recipe!
America's Test Kitchen Pumpkin Pie
America's Test Kitchen Pumpkin Pie is for me, the recipe. I really do think it's perfect and it's the one I return to year after year.
The recipe is informative, straightforward, classic, and dialed in just right. The pumpkin filling is cooked on the stovetop both to reduce moisture in the puree and to improve the flavor of the canned puree before baking. It takes a little extra time, but the results are superb.
The only irritating thing for me is getting ahold of the recipe. I have (probably too many) America's Test Kitchen cookbooks so I just flip one open and find the recipe, but if you don't have one of their cookbooks available you'll have to subscribe online to get access.
One of ATK's most recent baking books, The Perfect Pie (photo above) contains an updated pumpkin pie recipe with more ingredients and steps. This is a great recipe too, but I use the more basic one linked.
Smitten Kitchen
Deb at Smitten Kitchen has a wealth of recipes for Thanksgiving Day. I have to limit my perusal of her website around the holidays because I'll end up making enough food to serve 100s completely by accident.
I suggest Deb's Pumpkin-Cheesecake Marbled Slab Pie if you are serving a crowd this year. The sheet pan pie makes enough to cut into 15-18 slices and it features a sweet cheesecake swirl that breaks up the pumpkin flavor so beautifully. This is an excellent recipe and the one I may be making once again this year.
Bear in mind that the larger quantity of pie will require more ingredients. You'll need two 15-ounce cans of pumpkin puree for this one and six eggs (plus an extra yolk for the cheesecake batter).
If you are one of those people who can never decide between pecan pie and pumpkin pie, try Deb's classic Pumpkin Pie with Pecan Praline Sauce.
Stella Parks' Pumpkin Pie Recipe
If you love food-lore and learning about how great American recipes got their start, get yourself a copy of Stella Parks' BraveTart: Iconic American Desserts. I love this book. The research behind the engaging history of each bake makes it an essential for your cookbook library.
But, let's chat about Stella's Pumpkin Pie Recipe. What's different about the recipe? This recipe is for the cooks who love everything homemade.
You'll start by making a butternut squash puree (check the recipe for the reason why). The recipe also includes homemade sweetened condensed milk. The custard can conveniently be prepared up to a week in advance, or you can make the whole pie and follow Stella's instructions for storage.
Also check out Stella's incredible tips on How to Blind Bake a Pie Crust to avoid a shrunken pastry.
King Arthur Baking Pumpkin Pie Recipe
King Arthur Baking's recipe for Pumpkin Pie brings us yet more variations on potential ingredient combinations and method for pumpkin pie.
This pie uses evaporated milk and a bit of (optional) black pepper in a filling that is simply whisked together–quite easy. The catch is to follow the suggestion of allowing the filling to refrigerate overnight for the flavors to meld.
The pie also completely skips blind-baking the crust. Everything is baked together. For those looking for convenience, this might be the recipe to select.
Alton Brown's Pumpkin Pie
Alton Brown's Pumpkin Pie is unique in that it features a crumb crust made from gingersnap cookies.
I found in the recipe images and other recipe reviews that the crust (while undoubtedly tasty!) didn't look quite as neat as a traditional pastry crust. Alton suggests that the pie tastes best the day after baking, so be sure to prepare it in advance if you opt to try Alton's recipe.
Barefoot Contessa's Pumpkin Pie
Ina Garten has a knack for creations that are approachable, but luxurious. She's a proponent of high-quality ingredients with flavors that shine in her dishes and desserts. Ina Garten's (The Barefoot Contessa) Pumpkin Pie is a spin on the classic. Her recipe includes rum (both in the pumpkin custard and in the whipped cream topping) and orange zest.
The rum and orange zest make this a pie that will likely be most appreciated by adults ready to try something new. You might skip this one if you are baking pies for adults and kids alike!
Note that Ina's recipe calls for an 11-inch pie plate. Great for feeding a crowd, but make sure you have the correct size pie plate before getting started.
Sally's Baking Addiction Pumpkin Pie
What comes up when you Google, "best pumpkin pie recipe"? Well, in addition to some classics from FoodNetwork.com and King Arthur Baking, I love seeing the work of some incredible food bloggers pop up too.
While Google is always shuffling things around and each person searching tends to get a slightly different experience, for me, Sally's Baking Addiction's Pumpkin Pie shows up first.
Sally's Baking Addiction is a fantastic baking blog that is exploding with baking knowledge and recipes. Her tried-and-true recipes are reliable (I recently made her Easy Cinnamon Rolls and they were indeed easy…and delicious) and judging by the 5 star rating on her pumpkin pie (with over 200 reviews) home cooks have loved it.
What makes Sally's Pumpkin Pie recipe different? It includes a dash of pepper and instructions for making beautiful sugared cranberries. Plus plenty of tips for getting the perfect presentable pie and for making it ahead (or even freezing the pie).
If you are new to pie-baking, check out Sally's recipe to snag plenty of helpful hints as you go through the process for the first time.
Julia Child's Pumpkin Pie
After recently reading Julia Child's My Life in France, I was extra-curious to see if Julia had a pumpkin pie recipe. Of course she does! You can find Julia's Pumpkin Pie recipe on NYTimes.com, but I also found a review of the pie recipe from The Kitchn quite helpful.
Julia's pie has a few standout flavors–molasses and (optional) bourbon or rum, which will certainly change things up from the classic recipes. But what is really different about the pie is the method. The egg whites are whipped to stiff peaks separately and then folded into the filling for a final texture that is light and soufflé-like.
You'll work a bit harder to create this pie than some of the other recipes, but as with most of Julia's recipes, it is certainly worth the effort.
Modern Honey's Pumpkin Pie
Melissa Stadler from Modern Honey also has a Pumpkin Pie Recipe that came up as a top recipe when I googled the best pumpkin pie recipes. I wanted to include this one here because I haven't stumbled on a pumpkin pie with this combination of ingredients before.
The pumpkin filling uses cream cheese, butter, and powdered sugar. This is different than more standard ingredients lists with heavy cream and brown sugar or white sugar.
I actually was so curious that I tried making this pie this past weekend. It's really quite good, but I'd advise cutting down the sugar (as suggested in the recipe) and know that the pie leans more heavily towards a "pumpkin cheesecake" flavor (with all that cream cheese in the custard!) versus a more classic pumpkin pie custard.
The recipe is easy to make and doesn't require blind baking a pie crust.
BA's Best Pumpkin Pie
Of course, I had to include Bon Appetit's Best Pumpkin Pie recipe here too. The crust recipe is prepared in a food processor, includes a mixture of lard and butter, and a bit of apple cider vinegar too.
The pumpkin custard includes sweetened condensed milk and maple syrup. The pie is a simple matter of whisking the filling together and pouring into the cooled blind baked crust.
Food Network's Best Pumpkin Pie
If you are looking for a classic recipe with ideal flavor and texture (and not much fuss), give Food Network's Best Pumpkin Pie a try. The filling comes together easily with no pre-cooking or extra steps.
The crust is best of both worlds with a combo of butter and shortening.
What About Libby's Pumpkin Pie?
Of course, we're all buying plenty of Libby's pumpkin puree around the holidays and it does beg the question, just how good is that recipe on the back of the can?
Well, according to the AllRecipes page for Libby's Famous Pumpkin Pie, it's a pretty popular choice. It's got just about a 5-star rating with over 1300 ratings.
The pie includes the ingredients like pumpkin puree, evaporated milk (not heavy cream), eggs, and spices. It's very very quick. Mix up the spices, whisk the eggs, add the other ingredients, pour into a pie crust shell, and bake. Can't get much easier than that!
One note: while I found plenty of other recipes which provide instructions for freezing their pies (successfully), this recipe suggests avoiding the freezer as the crust and filling will separate. Not sure if it's something to do with the recipe or just an overabundance of caution.
Which Pie Will You Choose?
I'd love to hear from you! Did you try a new pumpkin pie recipe this year? Did you attempt a recipe from this list? What did you think? I'm personally so excited to try a few of these recipes this year and we'll see if I convert from my tried-and-true America's Test Kitchen recipe!
More Fall Baking Recipes