25+ Festive Valentine's Day Cookies To Bake
Looking for delicious Valentine's Day cookies to bake? You'll love these 25+ cookie ideas for Valentine's Day from talented bakers around the internet. This list is full of heart-shaped cookies, red velvet cookies, pink cookies, iced cookies, chocolate cookies and so much more!
Please note that this post contains affiliate links which allow me to earn a small commission when a purchase is made at no additional cost to you. Read more here.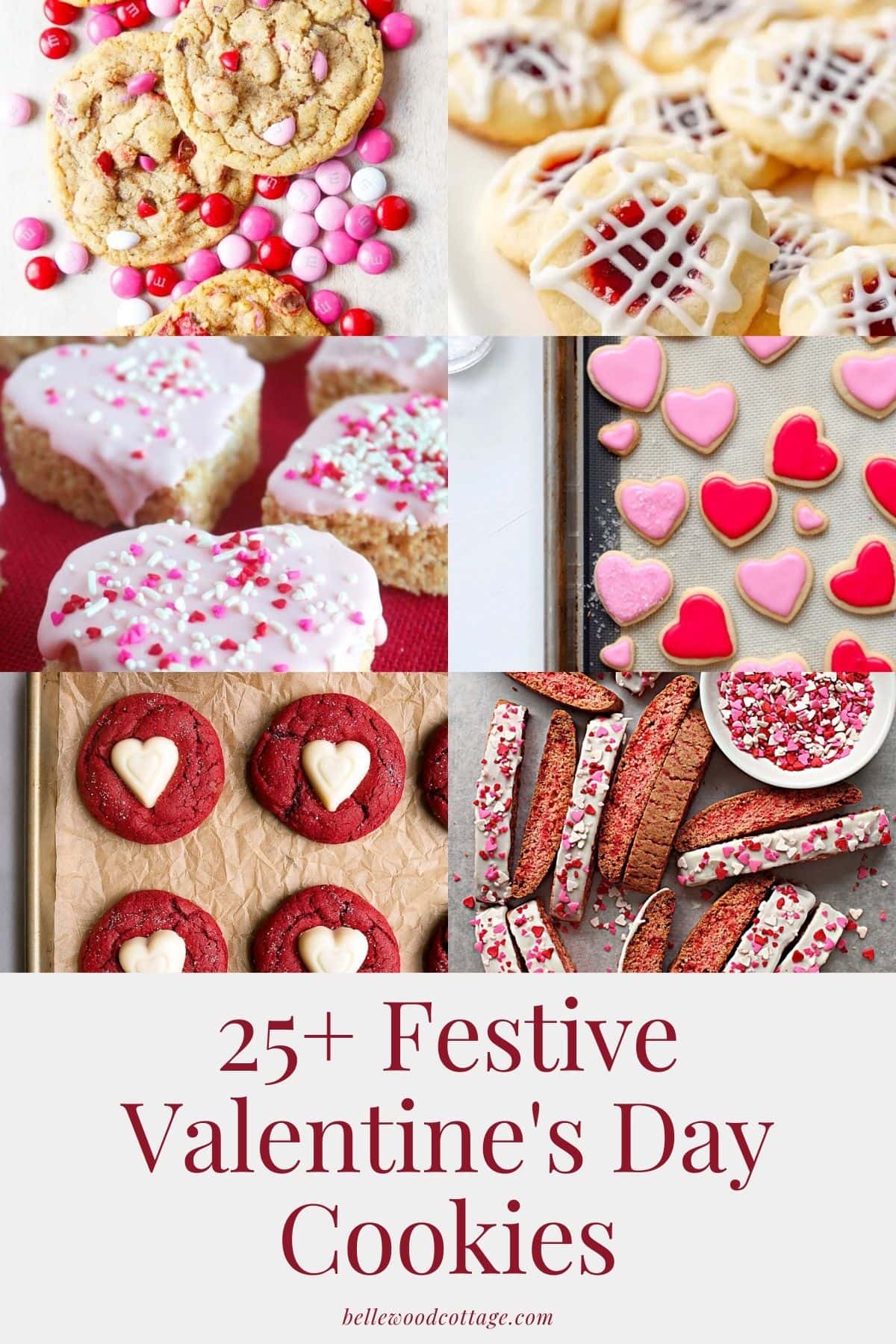 What Kind of Cookies are On This List?
This list is all about Valentine's Day cookies! Give me all the pink, red, and heart shaped cookies. While I too love brownies, cake pops, and candies, this list is exclusively cookies.
You'll find dozens of red and pink treats here that'll have you dashing to the kitchen to craft these cutie cookies. Oo, and chocolate cookies too.
Here you'll find essential recipes like these dipped Valentine Cookies from Sugar Spun Run. Recipes with a unique twist, like Sally's Baking Addiction's Raspberry Sugar Cookies.
Even recipes that are perfect for show-stopping desserts, such as Liv for Cake's Valentine Heart Macarons or Sugar Hero's Brown Butter Heart Cookies with painted fondant.
The Best Valentine's Day Cookies to Bake!
I'm so excited to share this list of 25+ of the best Valentine's Day Cookies to bake for the holiday. There are so many show-stoppers on this list–the hardest part will be deciding which recipe to make first!
Raspberry Sugar Cookies
If you are looking for something a little different than the typical Valentine's Day sugar cookie, try these Raspberry Sugar Cookies from Sally's Baking Addiction. The bold color is achieved with freeze-dried raspberries! Pack these up in a cute bakery box for a beautiful homemade gift idea.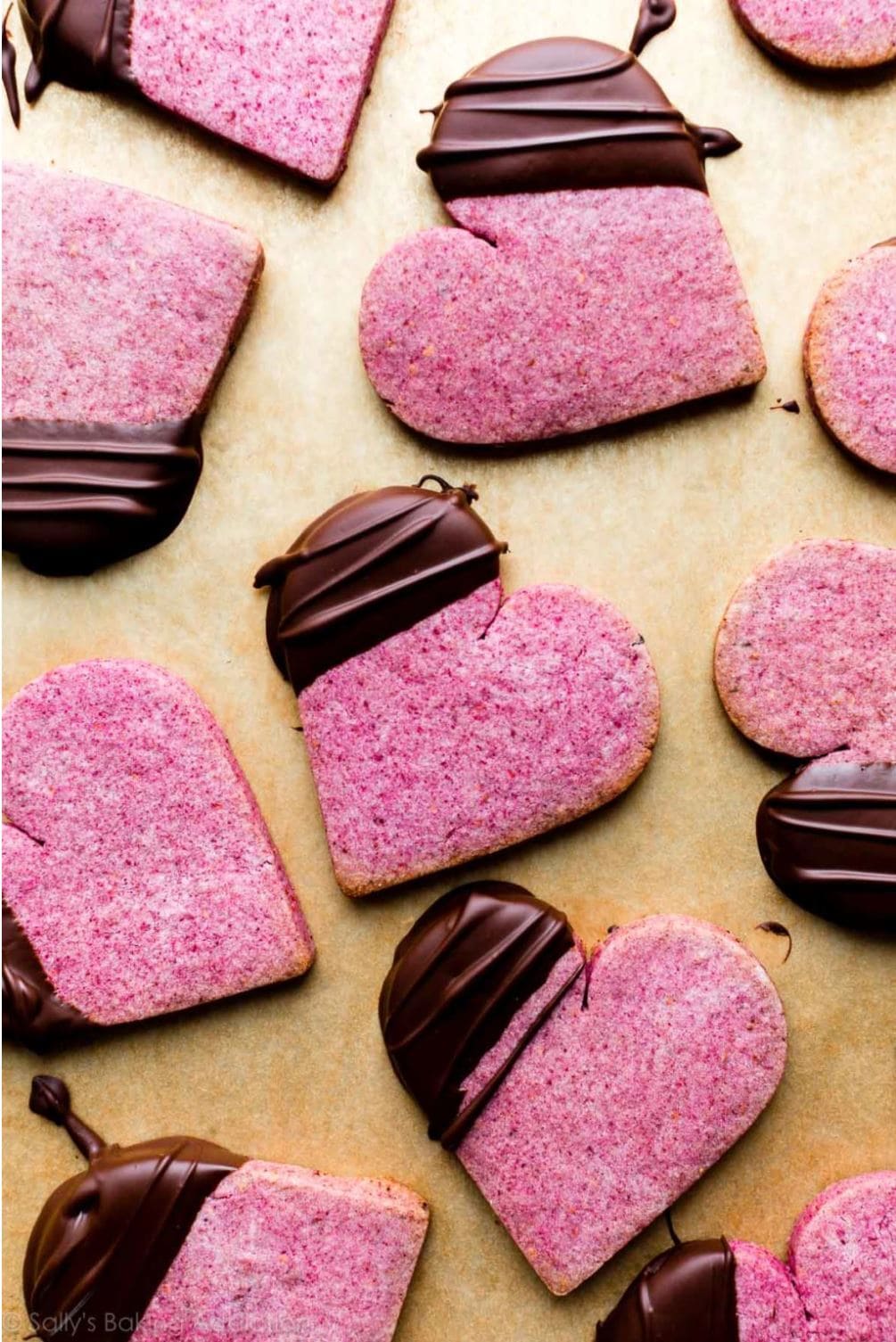 Raspberry Almond Thumbprints
These Raspberry Almond Shortbread Thumbprints from Saving Room for Dessert feature a crisp shortbread, raspberry jam-filled thumbprint, and a drizzle of almond glaze. Yum!
Stamped Sugar Cookies
Such a clever idea to use cookie stamps for a little Valentine flair! Stamped Valentine's Day Sugar Cookies from By Lauren Cermak make it easy to bake for the holiday. Lots of cute cookie stamps can be found at Williams Sonoma or Amazon.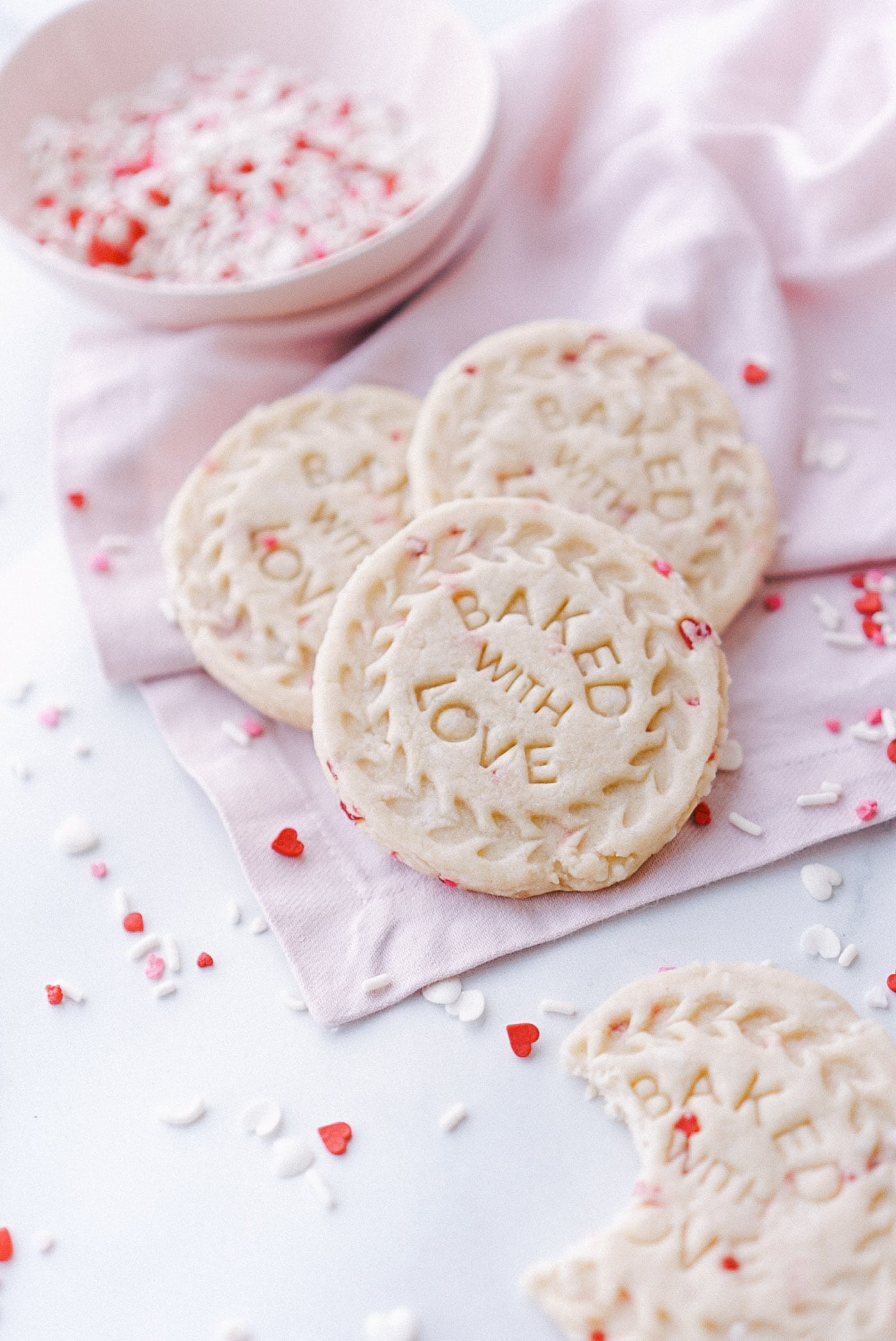 Crumbl Copycat Sugar Cookies
Have you tried Crumbl Cookies before? This copycat Crumbl Sugar Cookie Recipe features a pretty pink buttercream (flavored with almond, so yum) and a soft and chewy sugar cookie base. Whether you've tried the original Crumbl Cookies or not, you'll love this one.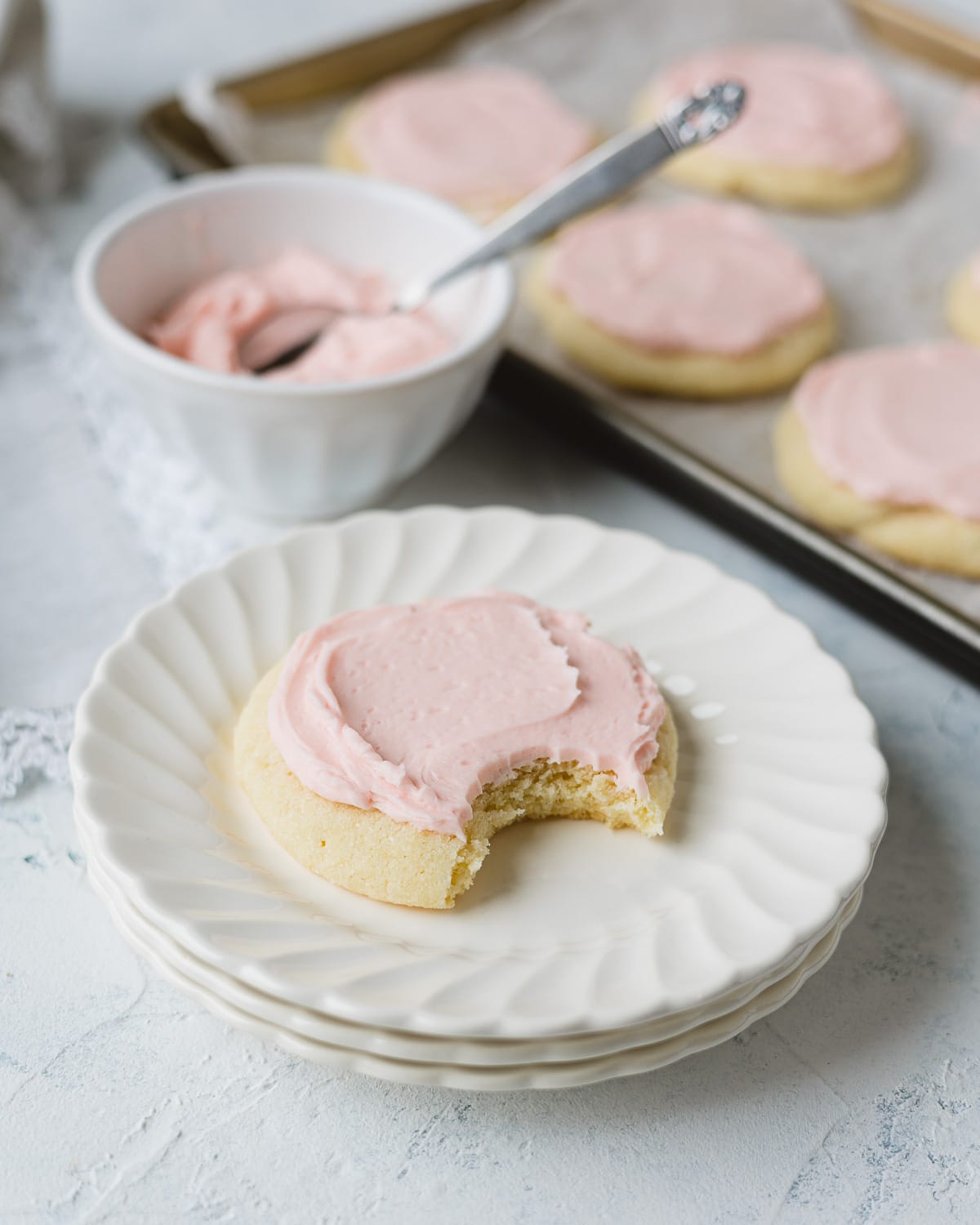 Chocolate Brownie Cookies
These chocolate-y chewy Chocolate Brownie Cookies from Frosting and Fettuccine can be yours in just twenty minutes–no chilling required!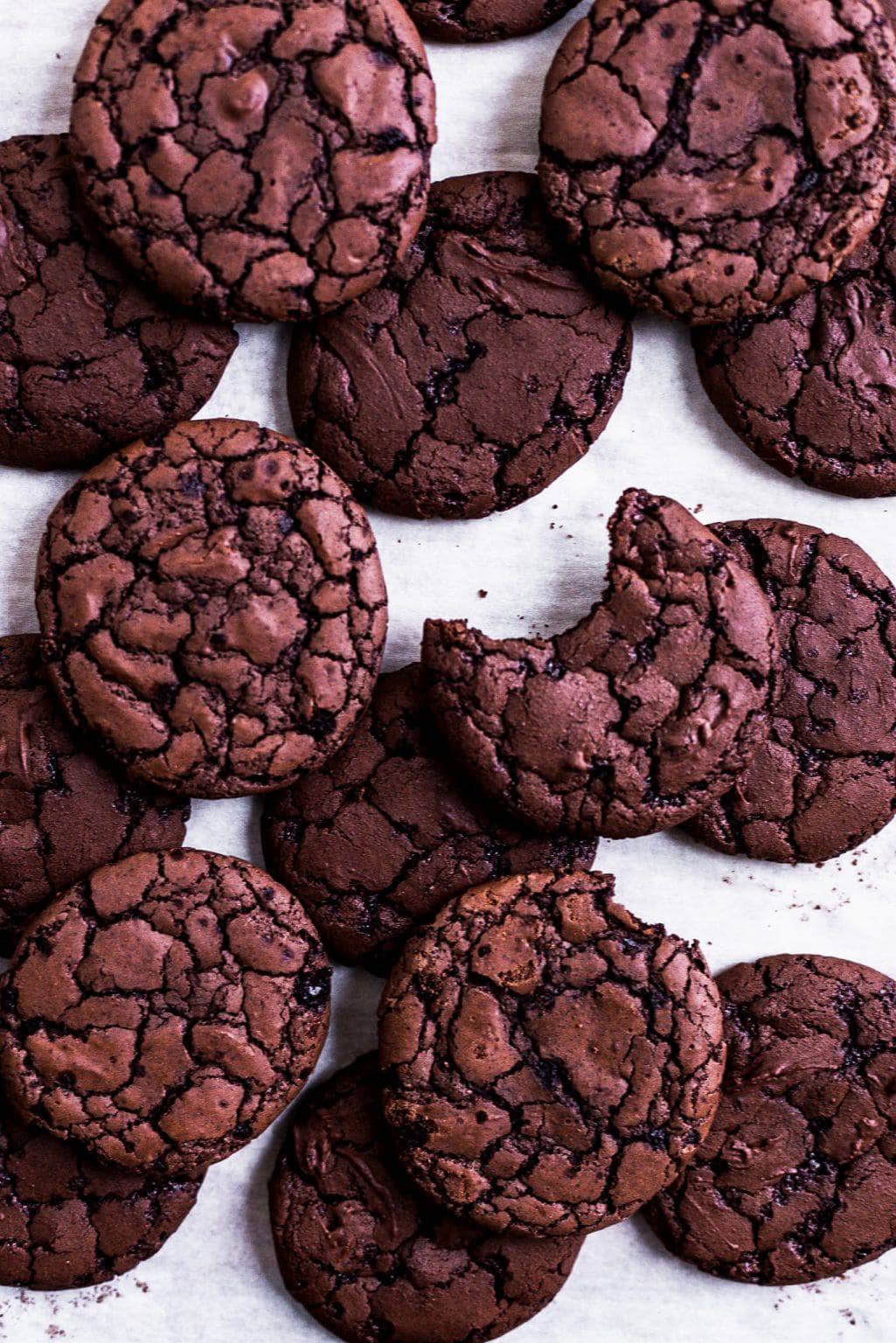 Red Velvet Cookies Stuffed with Cream Cheese Filling
Decadent? Oh yes. These Stuffed Red Velvet Cookies from Sugar Geek Show are a chewy cookie stuffed with a sweetened cream cheese filling. Beautiful option for gifting.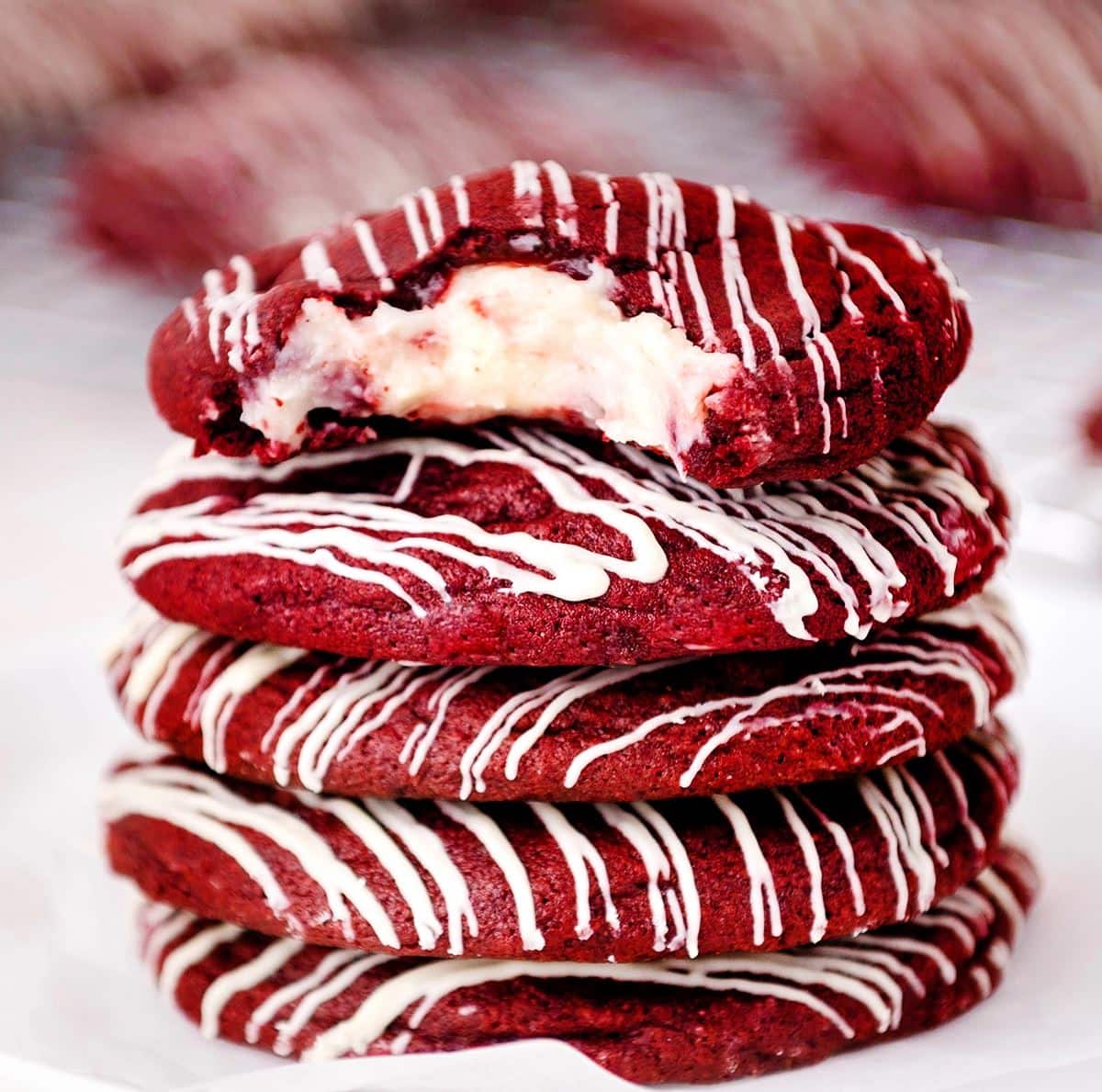 Sugar Cookies with Sprinkles & Nonpareils
Looking for a no-roll sugar cookie? Enter these Easy Sugar Cookies from I Heart Naptime. Use granulated sugar or nonpareil sprinkles in pinks and reds for dipping these colorful treats! A great cookie recipe to make with your kids.
Conversation Heart Sugar Cookies
Those little conversation heart candies are a Valentine's Day classic and Valentine's Day Heart Sugar Cookies with royal icing from Sally's Baking Addiction mimic the style in the cutest way. These are a show-stopper cookie!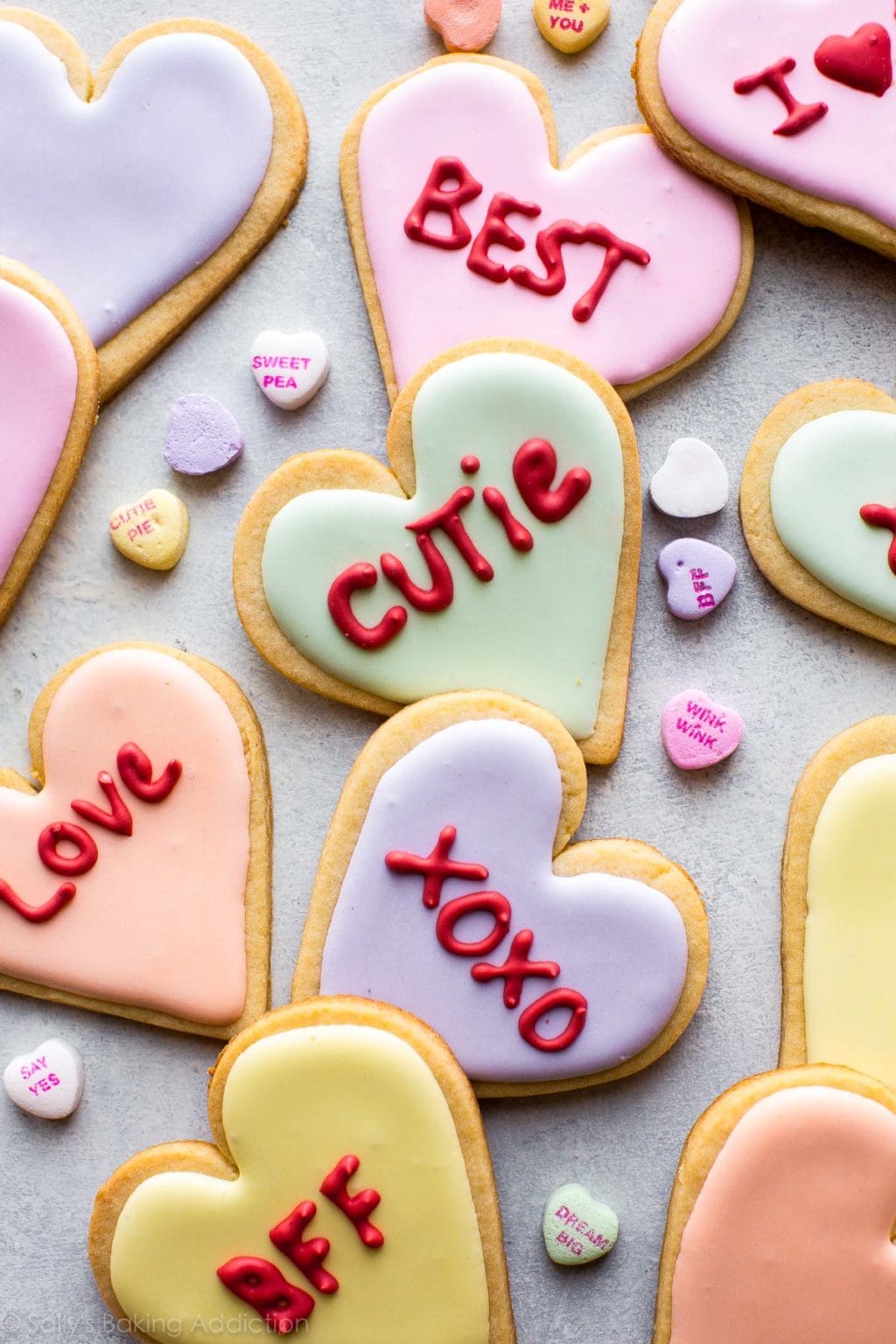 Valentine Dipped Sugar Cookies
Grab your heart-shaped cookie cutters to bake these Valentine Cookies from Sugar Spun Run. These cookies are created with a sugar cookie base and then dipped in both white and dark chocolate. I am here for it!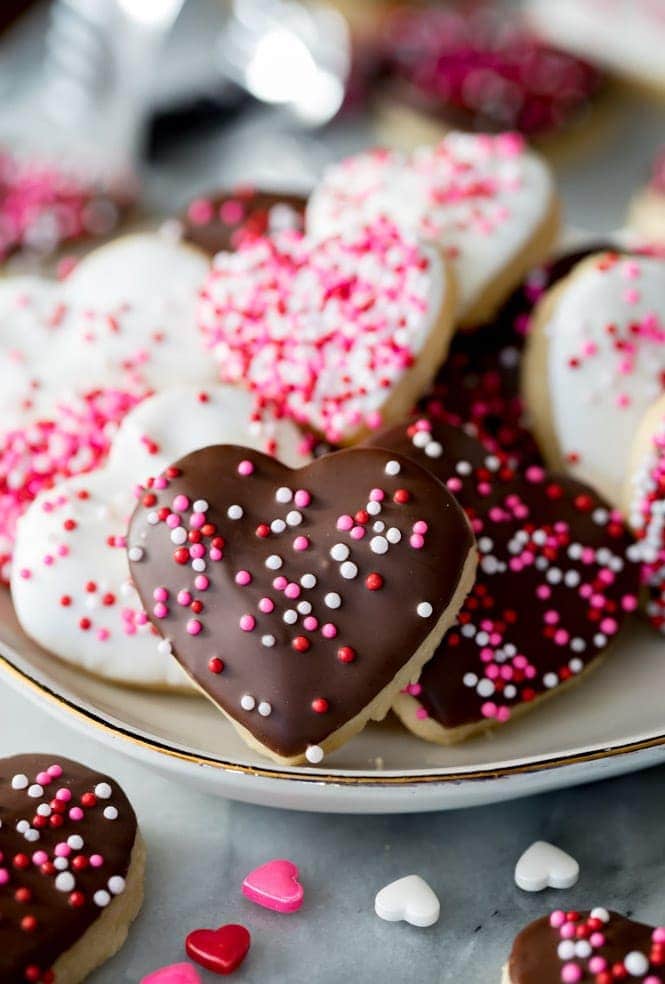 Chewy Strawberry Cookies
Freeze-dried strawberries and white chocolate make these Chewy Strawberry Cookies from Sam at Frosting and Fettuccine extra-irresistable!
Red Velvet Cookies
Press white chocolate chips into the tops of these Red Velvet Cookies from Spaceships and Laser Beams for a pretty cookie that is easy to make too!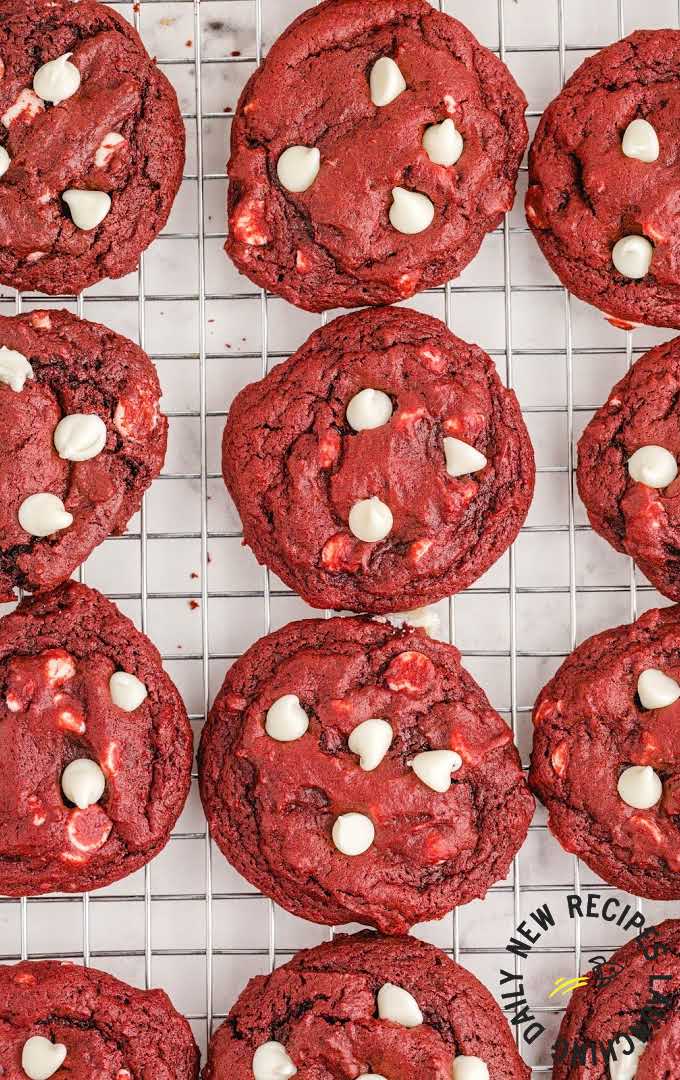 Strawberry Sandwich Cookies
Strawberry Sandwich Cookies with Strawberry Buttercream from Saving Room for Dessert are loaded with strawberry flavor. The recipe uses freeze-dried strawberries in the cookie and the buttercream for the best color and flavor. A must-try!
Love free craft ideas? Subscribe to Bellewood Cottage for relaxing craft ideas straight to your inbox.
Red Velvet Sugar Cookies
Need a quick cookie recipe with some pizazz? Try these 20-minute Red Velvet Sugar Cookies from Dessert for Two (topped with Reese's white chocolate peanut butter hearts!). Note that this is a small batch recipe, so it makes six cookies.
Royal Icing Hearts
Heart-shaped cookies are classic and these Sugar Cookie Hearts with Royal Icing from Seeded at the Table are decorated so beautifully! The recipe keeps things doable with only three icing colors, squeeze bottles (no filling pastry bags required), and toothpicks for decorating.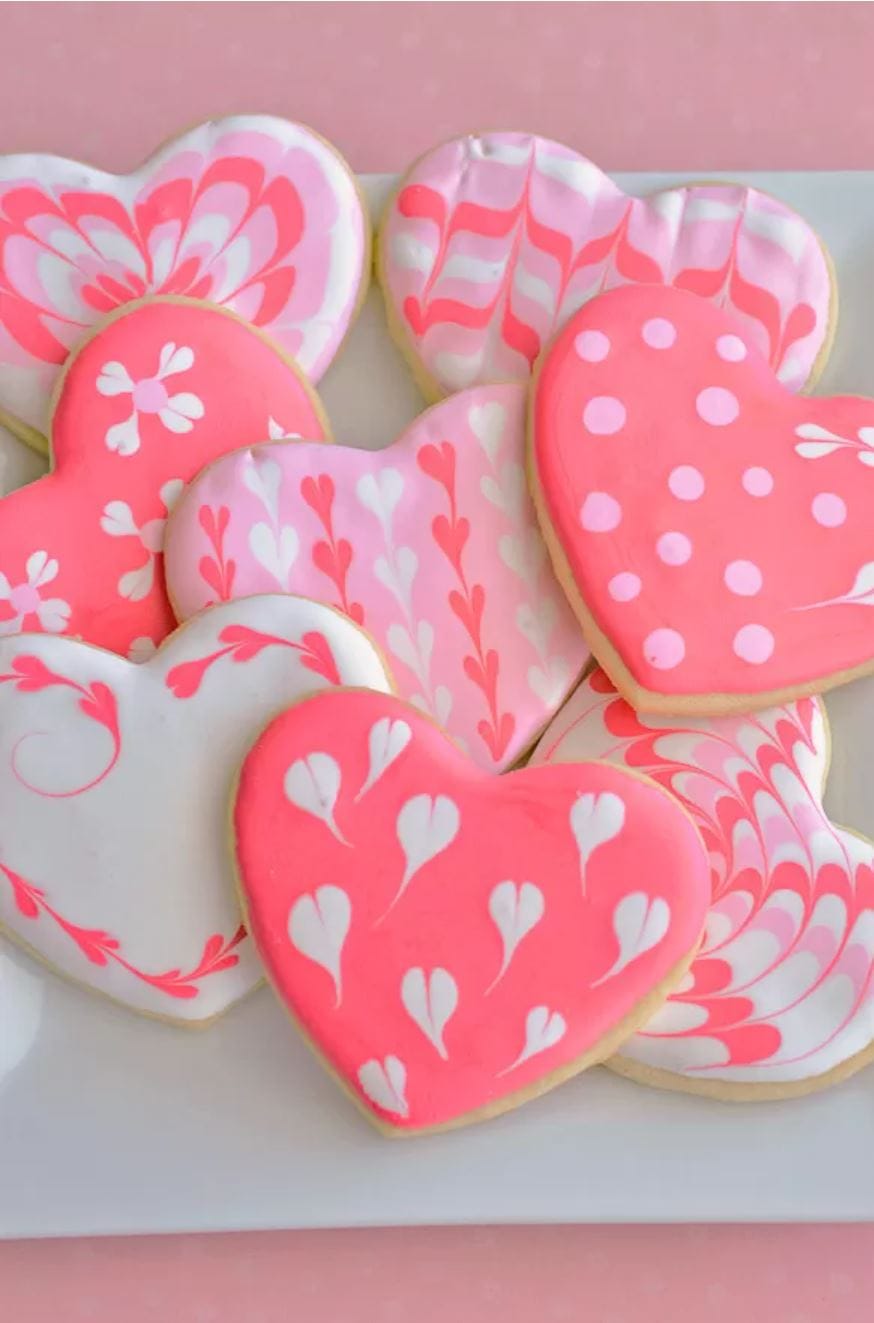 Red Velvet Thumbprint Cookies
These Red Velvet Thumbprint Cookies from A Cookie Named Desire are filled with a luscious cream cheese frosting. Grab some heart-shaped sprinkles to decorate if desired!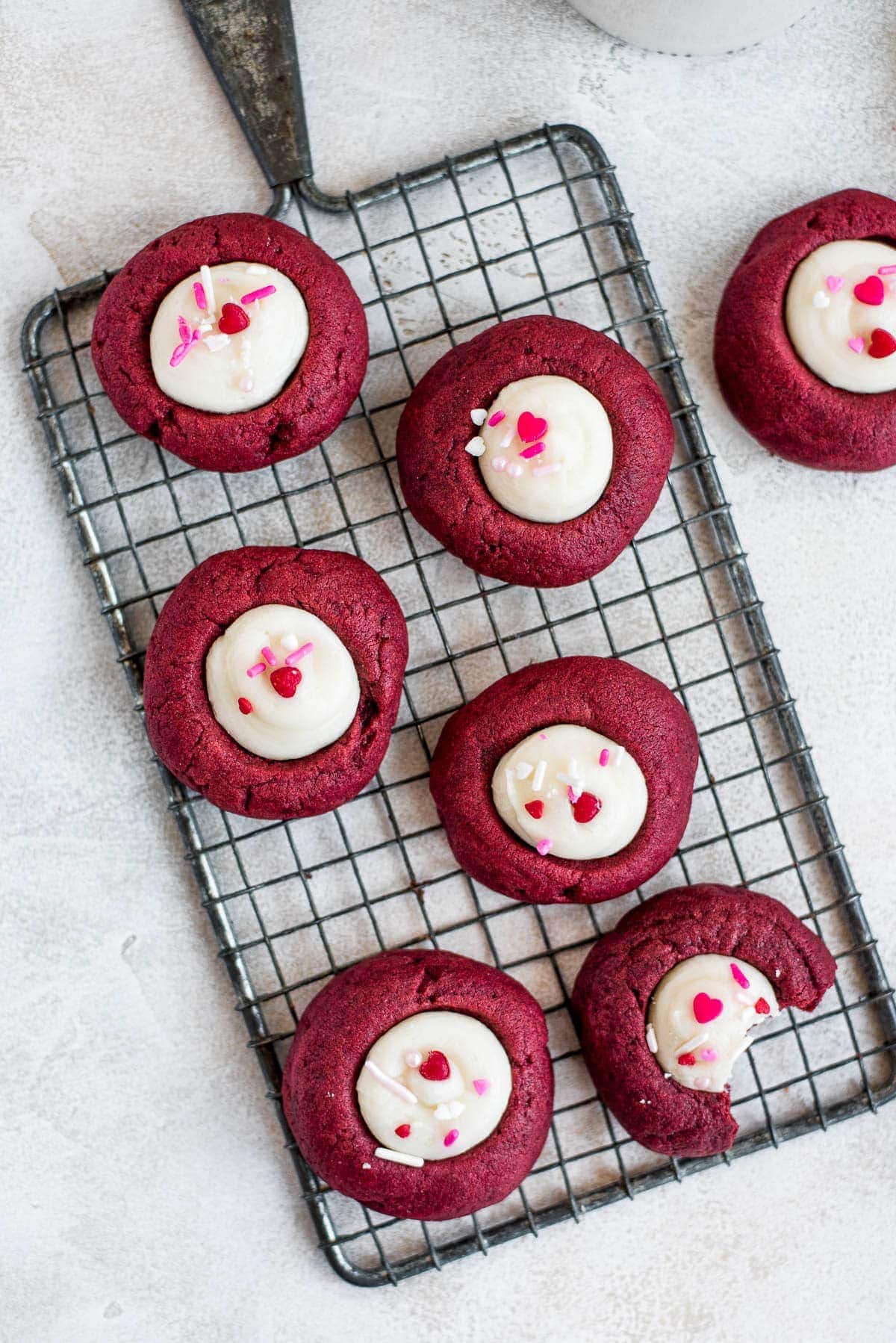 Valentine Heart Macarons
These Valentine Heart Macarons from Liv for Cake will take a little more time and care to get right, but Liv includes lots of helpful tips for macaron success!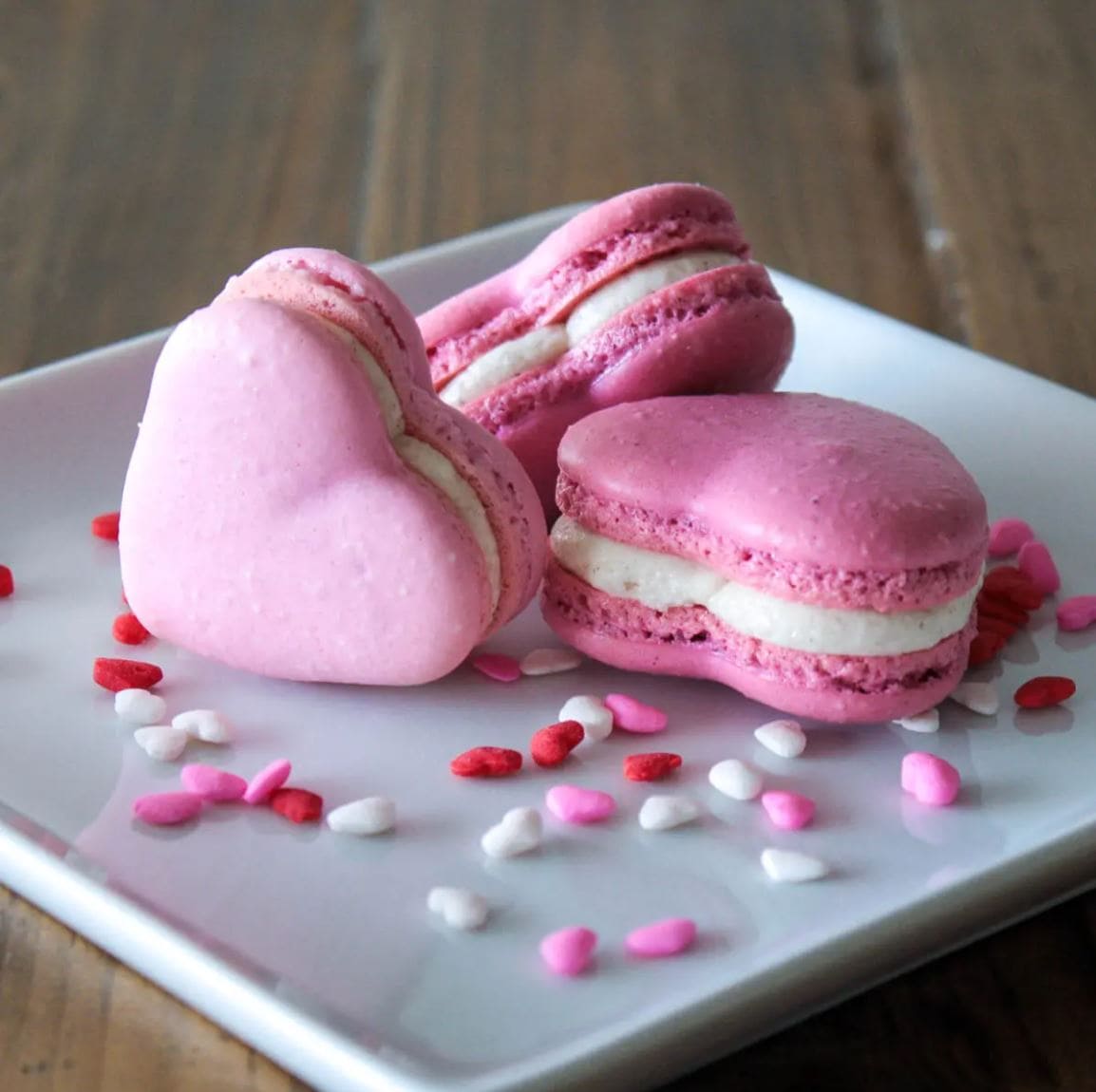 Valentine's Day M&M Cookies
Christina at Dessert for Two includes a quick additional step before stirring up her Valentine's Day M&M Cookies that makes them extra-delicious. The recipe makes 12 cookies, so it's great for couples or small families who don't need pans and pans of cookies coming out of the oven!
Classic Sour Cream Sugar Cookies
I LOVE a classic soft and chewy sugar cookie. This recipe for Classic Sour Cream Sugar Cookies from The Busy Baker makes 3-4 dozen cookies, so they are perfect for a Valentine's party or for packaging up for gifts.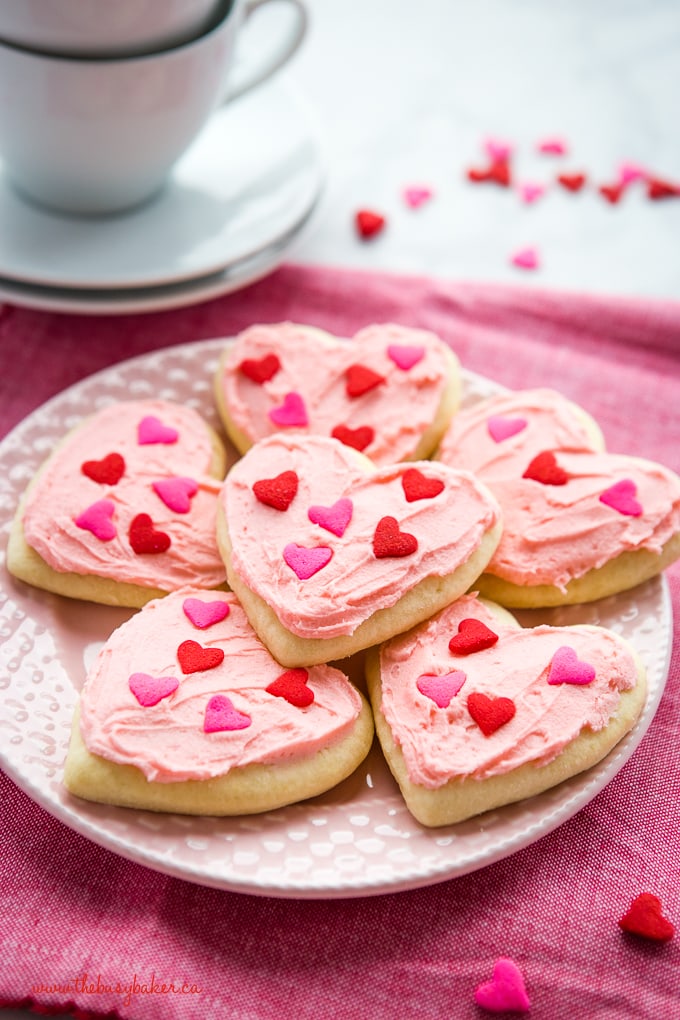 Raspberry Jam Thumbprint Cookies
Raspberry Jam Thumbprint Cookies from On My Kids Plate are an easy-to-make cookie that looks great on any holiday platter.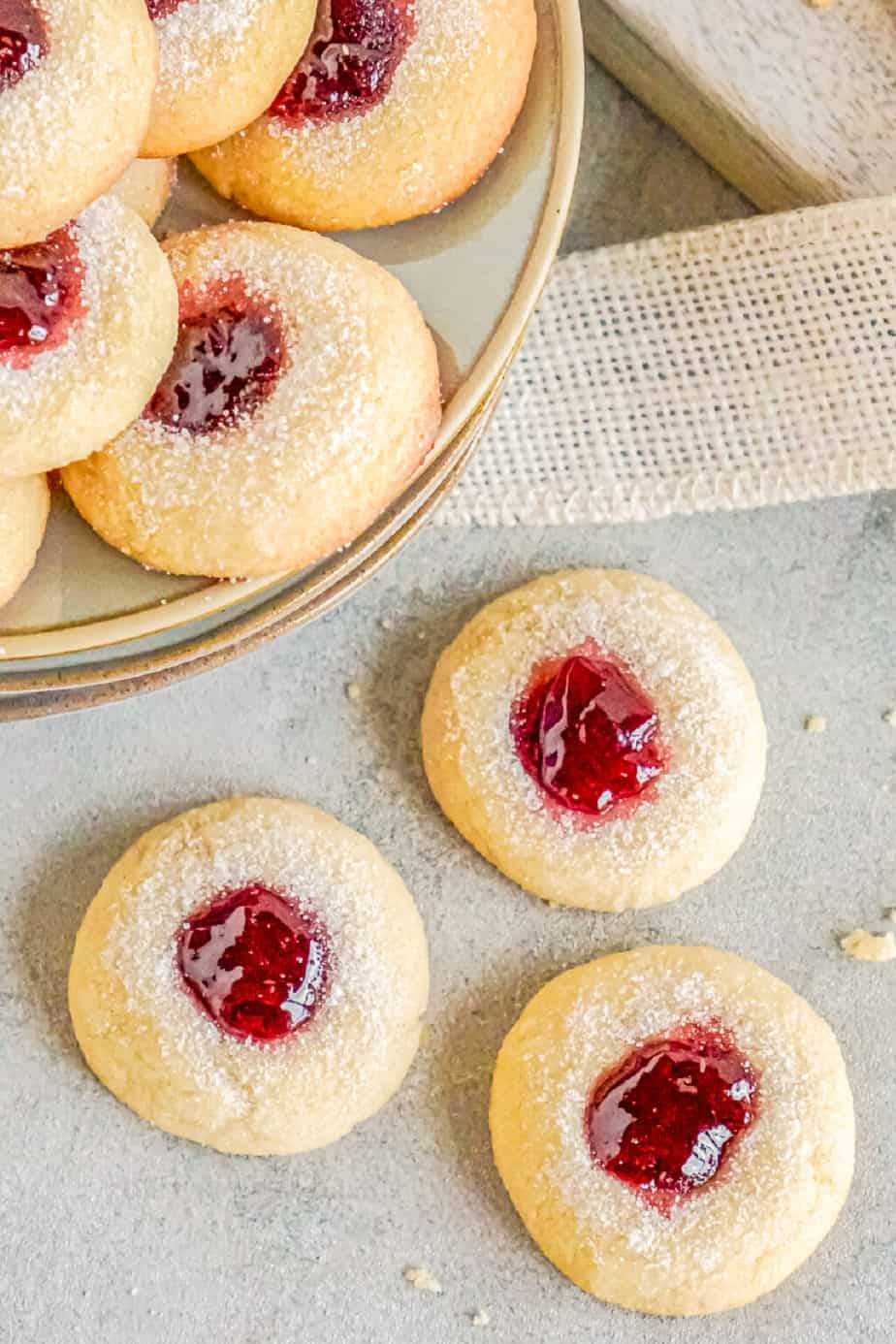 Red Hot Cinnamon Biscotti
A biscotti cookie with a cup of tea is a favorite of mine and these Cinnamon Red Hot Biscotti Cookies from The Monday Box are a creative twist! Here crushed red hots add the cinnamon flavor and give the dough a bright color.
Valentine's Day Rice Krispie Treats
Top these heart-shaped Valentine's Day Rice Krispie Treats from The Anthony Kitchen with pink icing for an easy Valentine's Day treat that the kids will love to help create.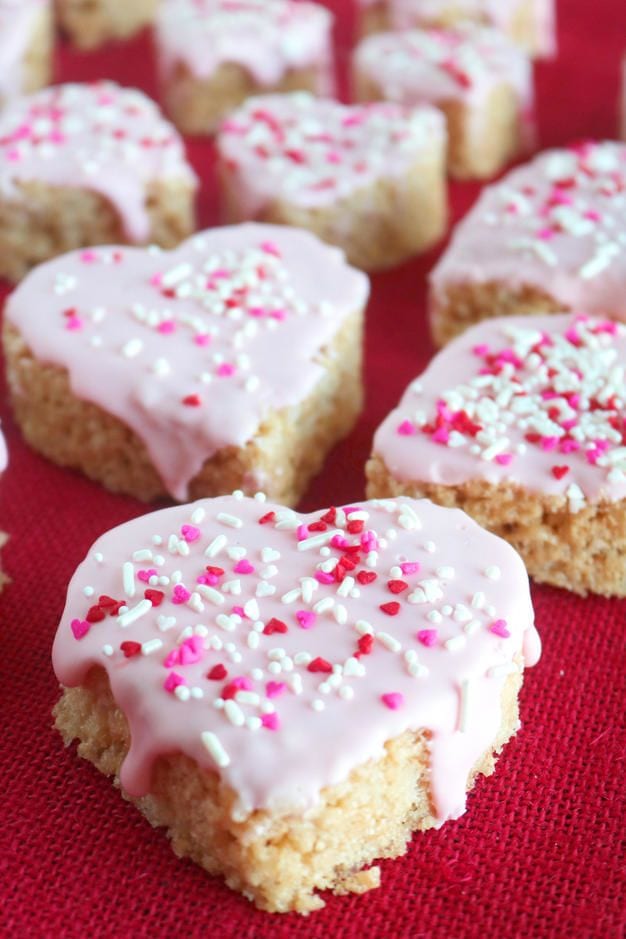 Honey Graham Bears
These little Honey Graham Bears from The Monday Box are darling with heart garlands stretching between their hands. This Valentine's Day cookie might require a few extra steps, but the finished result is adorable!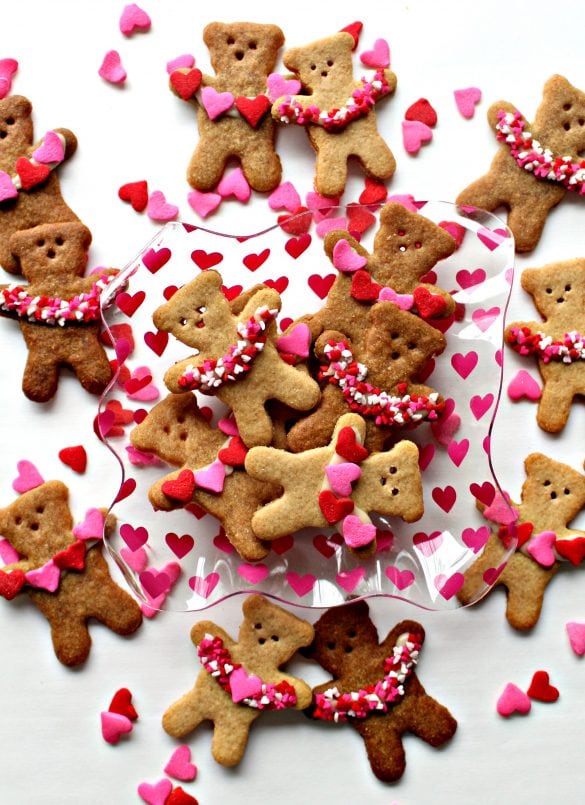 Marbled Heart Cookies
Sam from Sugar Spun Run shows how to create these easy Marbled Heart Cookies with a simple glaze swirled using toothpicks.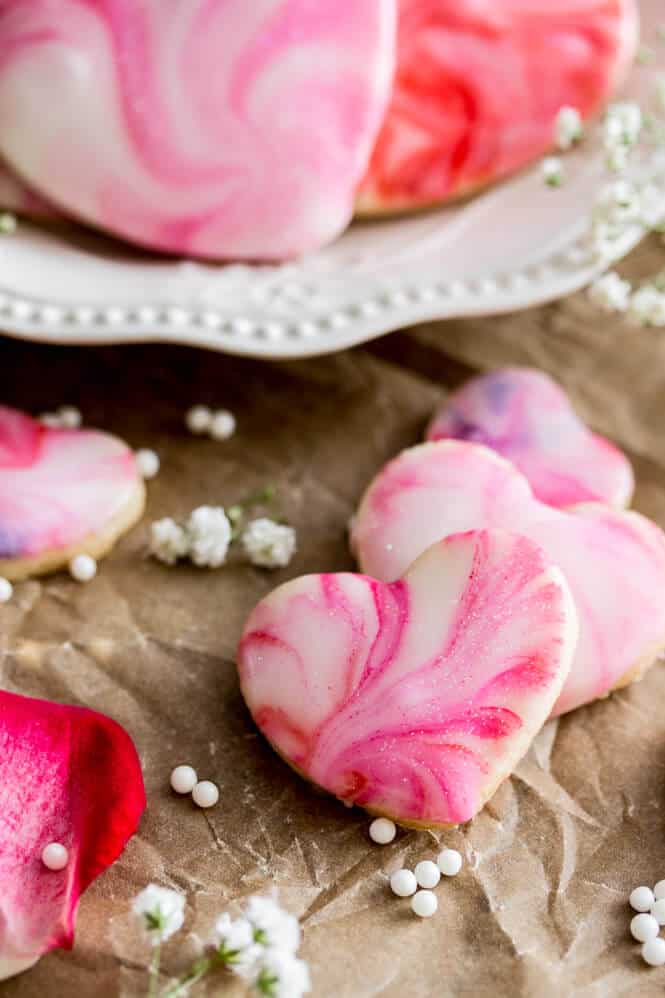 Easy Strawberry Cookies
These soft Strawberry Cookies from An Italian in My Kitchen are made with fresh strawberries and only require one bowl–so easy! Bookmark this one for the summertime too when fresh strawberries are at their peak.
Heart Fortune Cookies
These Heart Fortune Cookies from Camilleiam are decorated with the tiniest of hearts. Pack them in a takeout container (add some heart stickers!) for a sweet Valentine's gift.
Frosted Valentine's Day Heart Cookies
Another Easy Frosted Valentine's Day Heart Cookie recipe, this one from Foodie Crush. Almond extract in the dough gives that "bakery" flavor everyone loves!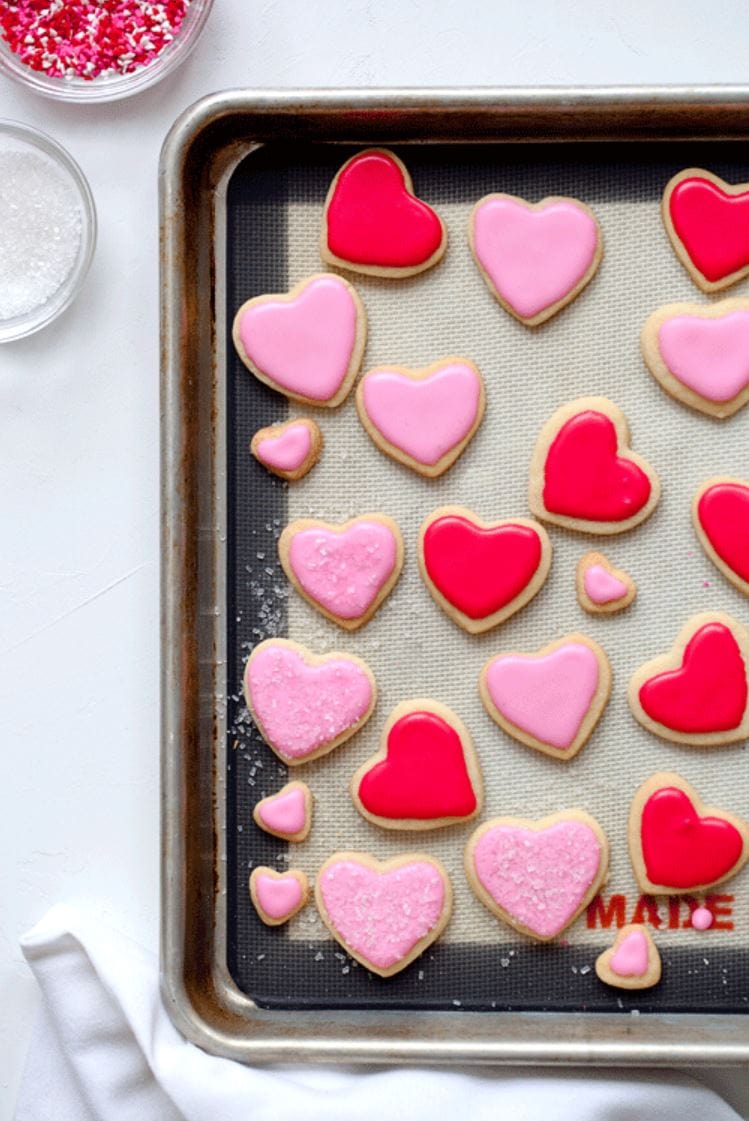 Ombre Heart Sugar Cookies
Try out painted fondant when you make these Brown Butter Heart Cookies from Sugar Hero. So pretty!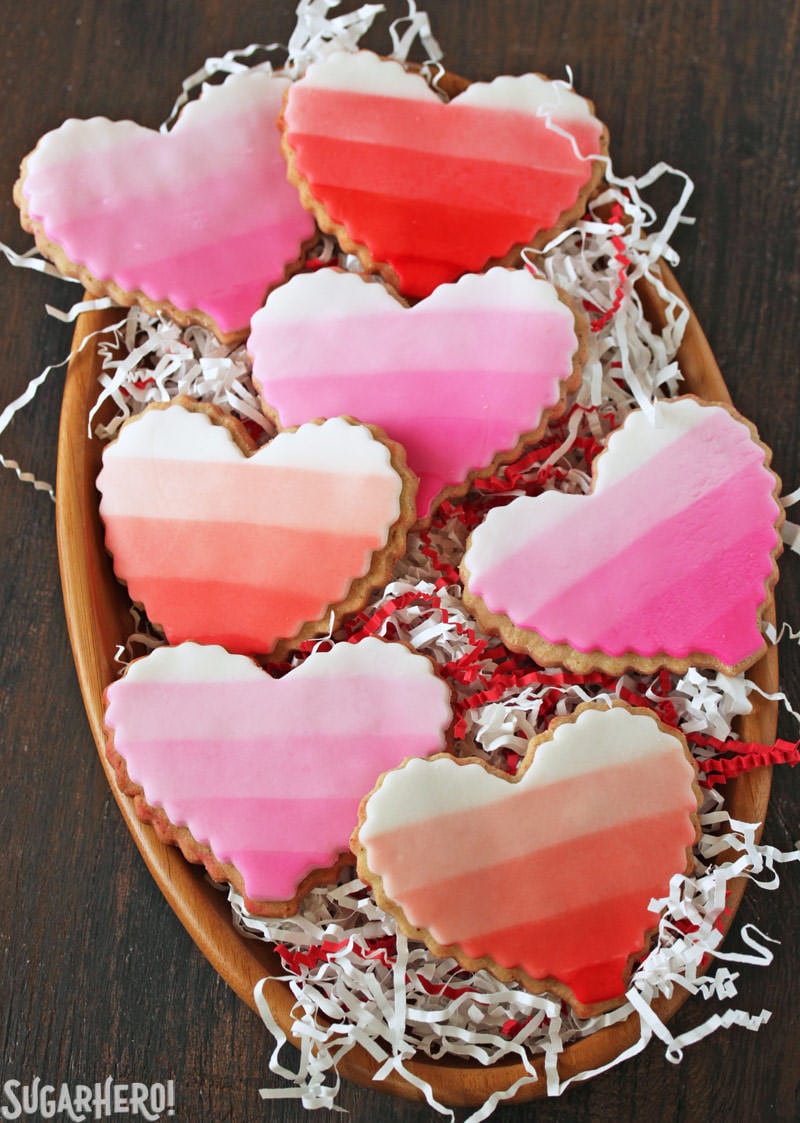 Chocolate Valentine Cookies
These Chocolate Valentine Cookies from An Italian in My Kitchen are roll-out cookies that can be made into sandwich cookies and filled with Nutella or strawberry jam–so decadent!
Browniest Cookies
Browniest Cookies from Deb at Smitten Kitchen are filled with that fudgy flavor and texture that everyone loves in a brownie. Only one bowl and just a short refrigeration session needed.
Double Chocolate Cookies from a Cake Mix
This easy-peasy recipe from It's Always Autumn uses a Devil's Food cake mix to make a sensationally chocolate-y cookie. Mix in Valentine's M&Ms for some holiday flair!
What Do I Need to Make Valentine's Day Cookies?
While I've included a variety of different recipes here to suit many bakers (whether you have a kitchen decked out in baking supplies or are the proud owner of just one sheet pan), there are a few supplies that you'll find really handy as you bake for Valentine's Day:

Whether you were searching for easy cookies recipes, cookies to gift, or just something sweet to brighten your February (or January–no judgment here!), I hope you found a few recipes you love!
Thanks for stopping by! ~Ellen
More Fun Ideas to Try