The Best Handmade Mason Jar Gift Ideas!
Mason Jars are just begging to be used for crafts and these handmade mason jar gift ideas are perfect for easy birthday gifts, teacher gifts, Christmas gifts, and more! From a cleverly crafted pineapple jar to cozy layered hot chocolate, you'll love these creative gift ideas.
Please note that this post contains affiliate links which allow me to earn a small commission when a purchase is made at no additional cost to you. Read more here.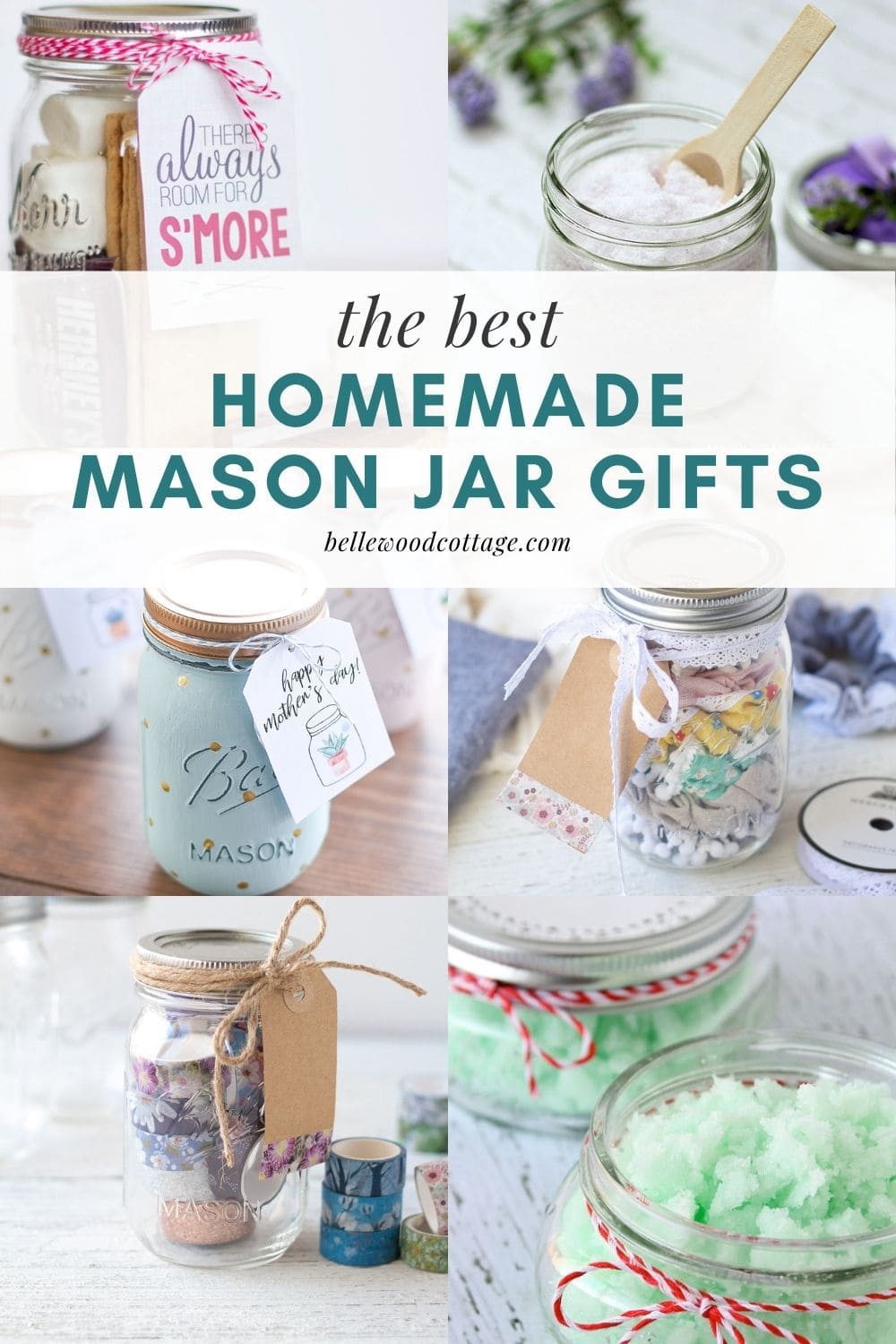 All photos used with permission (directly given or from the photo usage policies found on the respective websites) from the original bloggers and creators.
Thanks to all of them for sharing their wonderful ideas!
I love easy craft projects–and these handmade mason jar gift ideas are not only easy to make, but adorable too! Whether you are looking for a clever way to package some treats or even some non-food gift ideas, this roundup of ideas has you covered.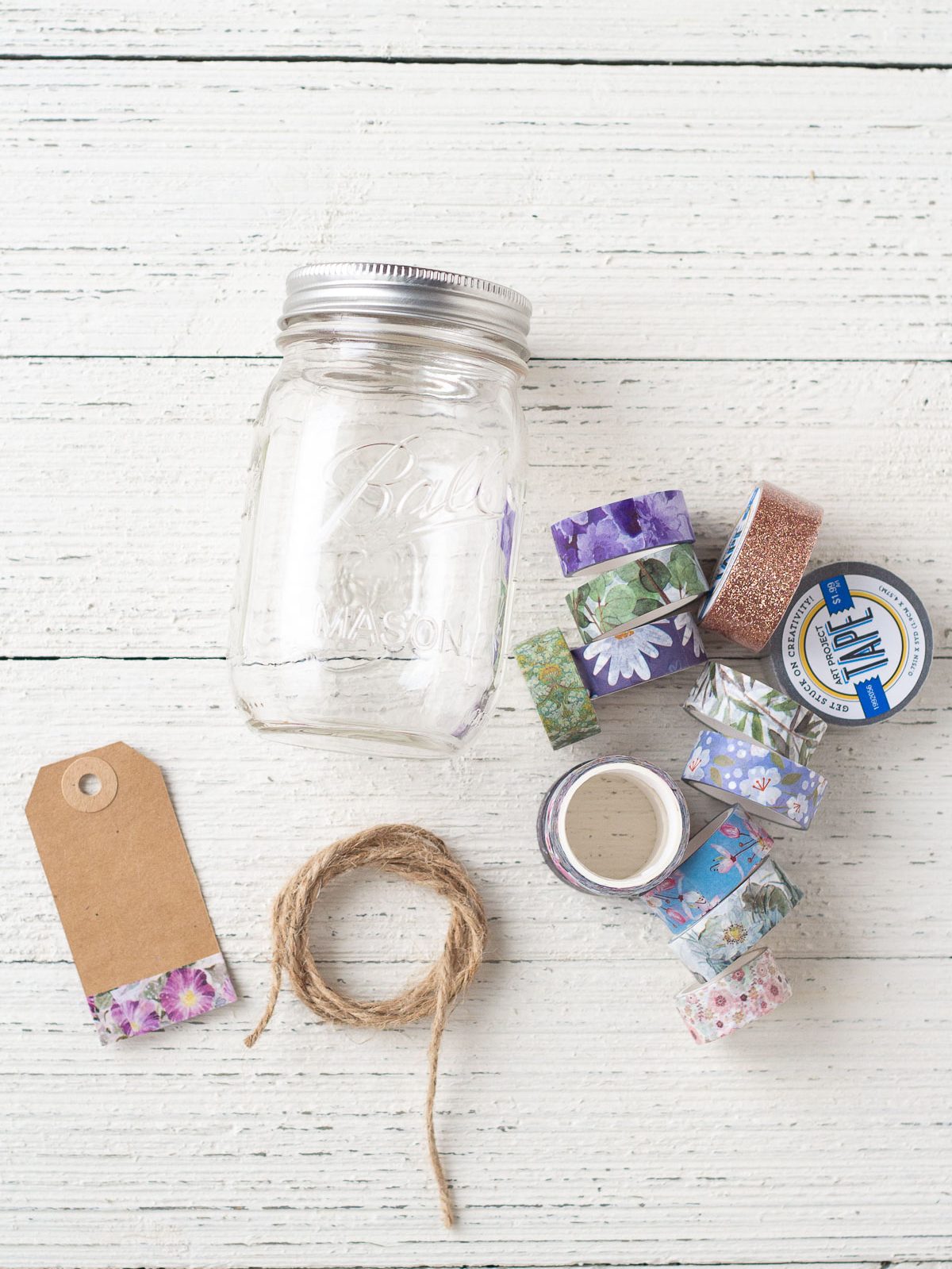 Before starting, you'll need some jars. A few of the included tutorials actually use recycled jars, which is a great option too. Otherwise, if you need to purchase your mason jars, here's some ideas.
Where to Buy Mason Jars
For standard mason jar sizes (each tutorial here uses a different size, so check the instructions before you buy) double check that you are getting a good price. I've found that sometimes they are a bit more expensive online, so unless I need something very specific, I will often just head to Target or Walmart to grab some in person.
Here's the jars online at Target since I feel like their online pricing is generally pretty consistent with the in-store pricing:

I also had to mention mini mason jars (and mini mason jars with handles!). These are just adorable. These jars are too small for many of the projects on this list, but they would be excellent for Christmas stocking stuffers, wedding favors, etc. Just fill with some pretty candies and you are set!

The Best Handmade Mason Jar Gift Ideas
I'm so excited about all these ideas! From soup-in-a-jar to lavender-mint bath salts, there are plenty of ideas to fill those mason jars. I hope you find a few that you love.
Love free craft ideas? Subscribe to Bellewood Cottage for more fun and relaxing craft ideas straight to your inbox.
Salt Dough Ornament Kit
These kits are quick to make (just a mix of flour and salt!) and include printable gift tags with instructions for salt dough crafting. Make up the salt dough mix for stocking stuffers or a fun gift any time of the year!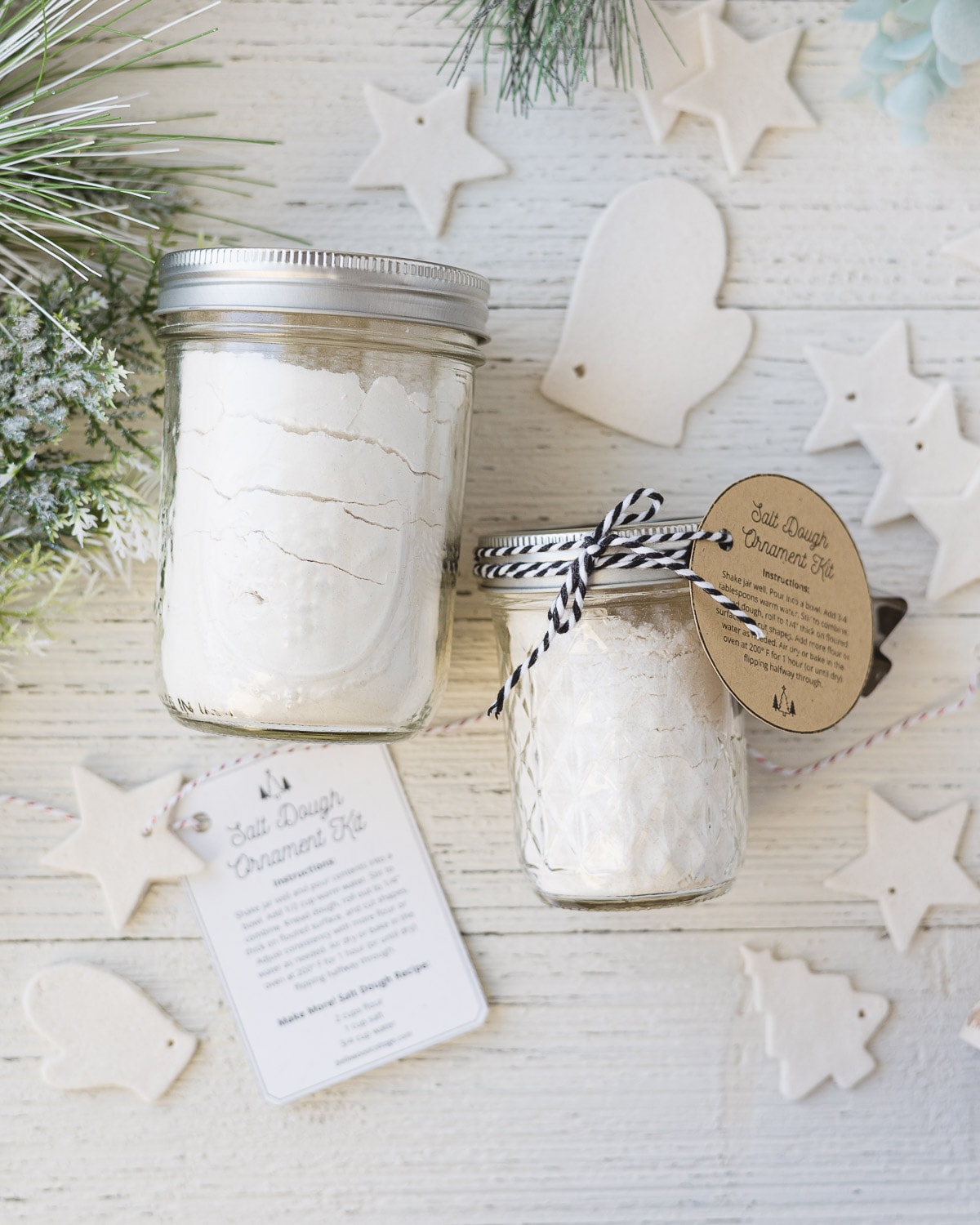 S'mores Kit Jar
This s'mores kit jar from Yellow Bliss Road is so cute with the custom gift tag! Would make adorable party favors.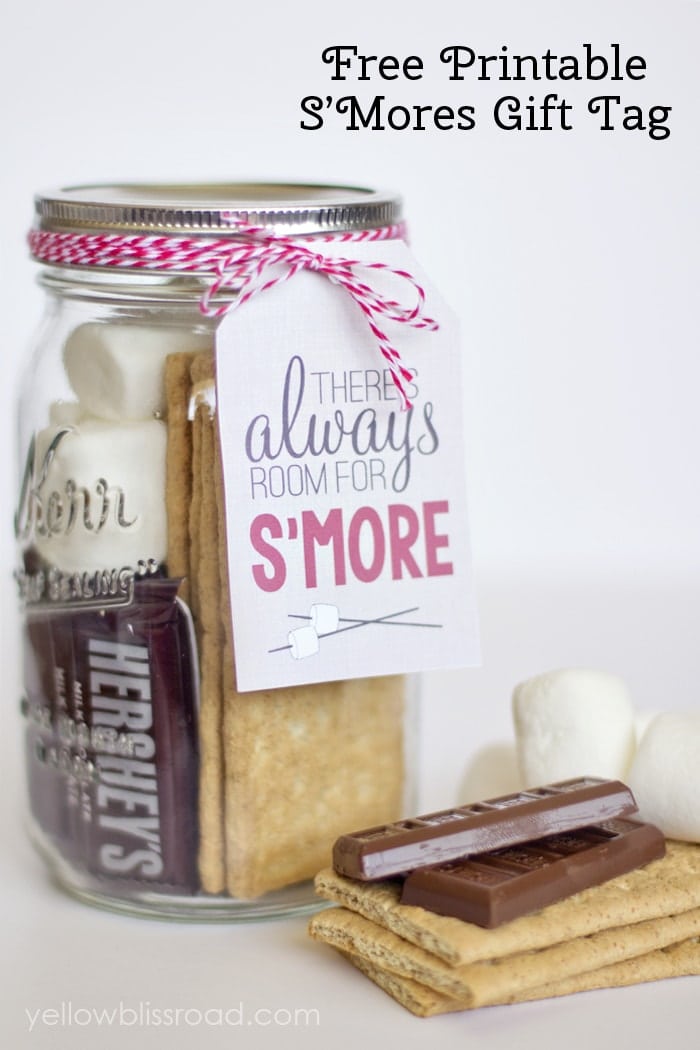 Sewing Kit Mason Jar
Put together a DIY sewing kit for the sewing enthusiast in your life. This kit is easily tailored (no pun intended) to those just beginning to sew or those who are more advanced. You can even make it more special by including heirloom or vintage sewing supplies!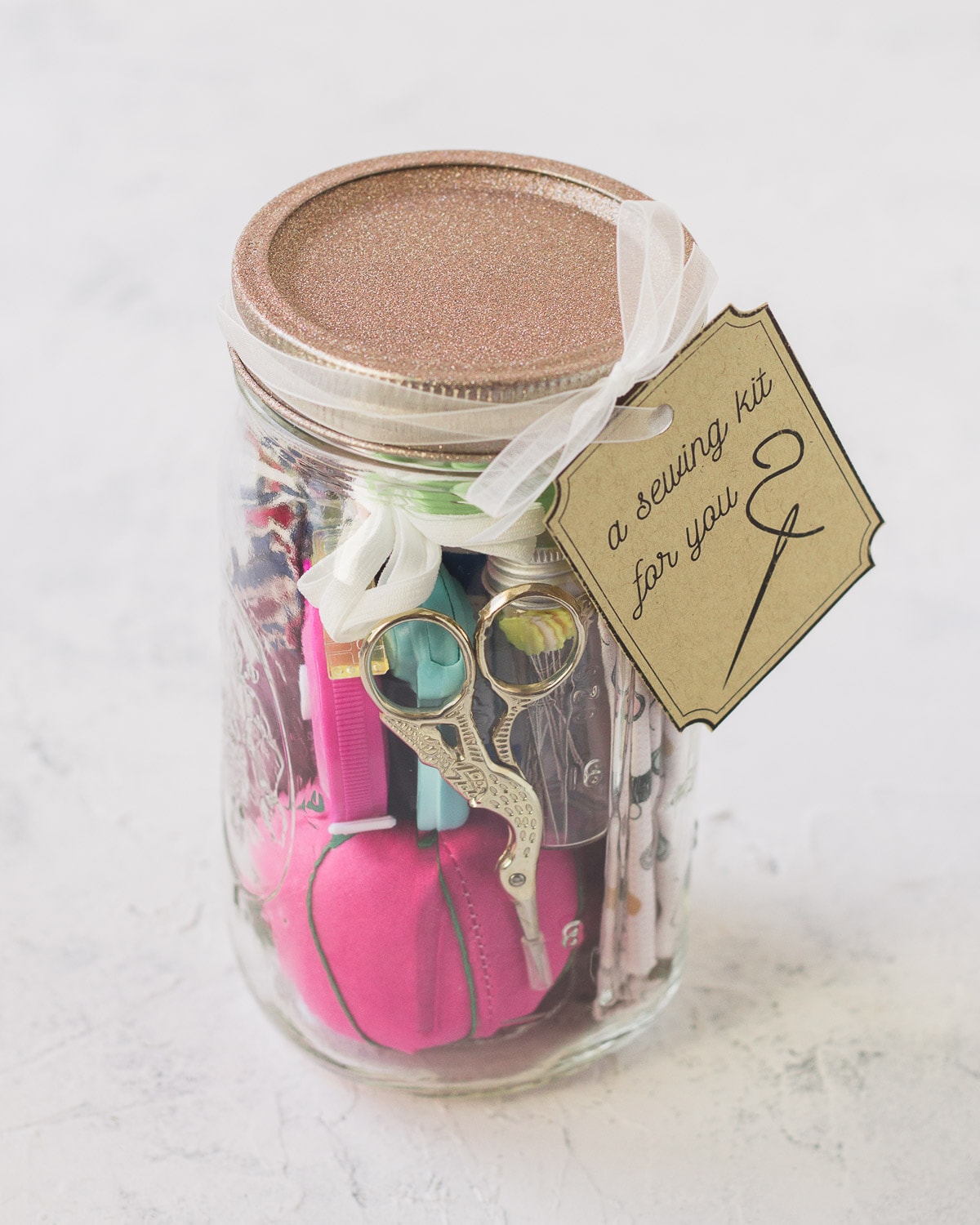 5 Bean Soup in a Jar
This Soup in a Mason Jar from Angie at Country Chic Cottage layers dried beans and spices and comes with a cute recipe gift tag too. If you are looking for a healthy mason jar food gift–this is it!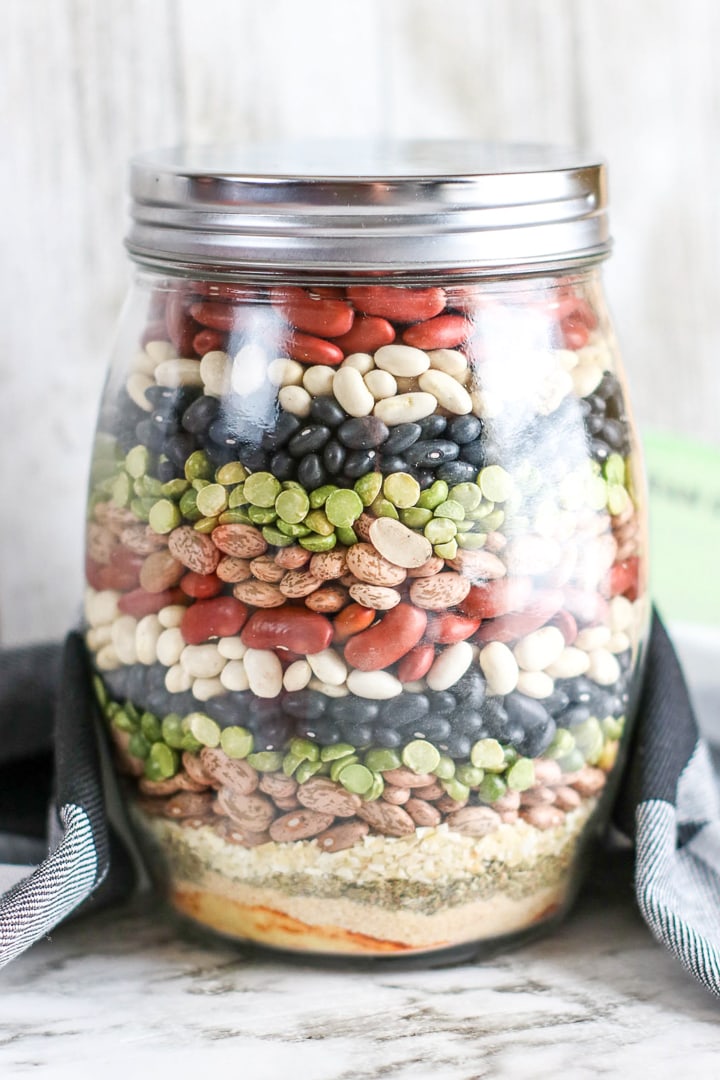 Mason Jar Succulents
These DIY Mason Jar Succulent Pots from the gals at Lolly Jane make an excellent gift idea–they've even included sweet little printable gift tags for Mother's Day or Teacher Appreciation.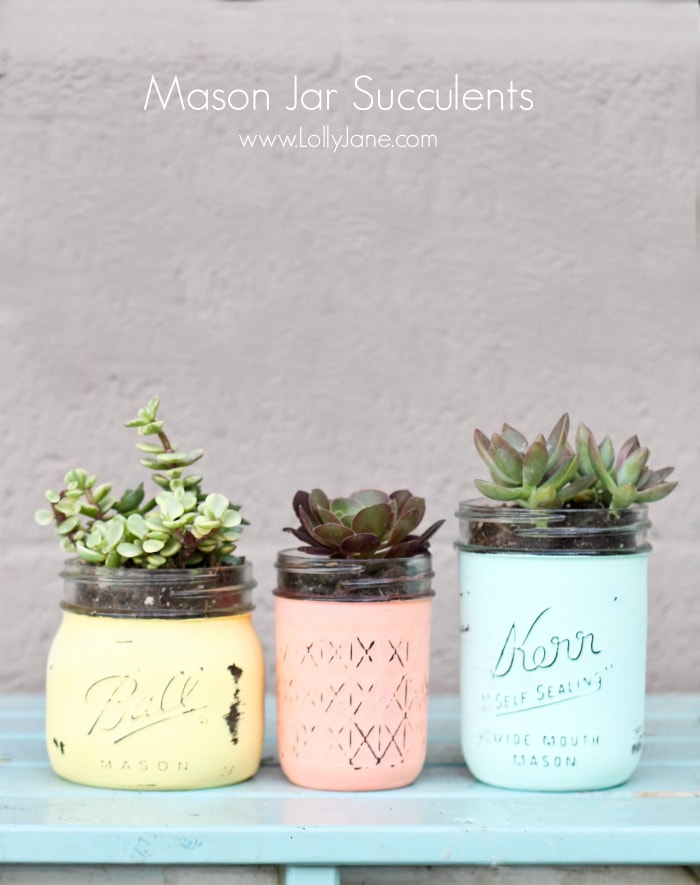 Homemade Pumpkin Spice in a Jar
Make your own pumpkin spice mix (and customize it however you like!) with this quick recipe and tutorial.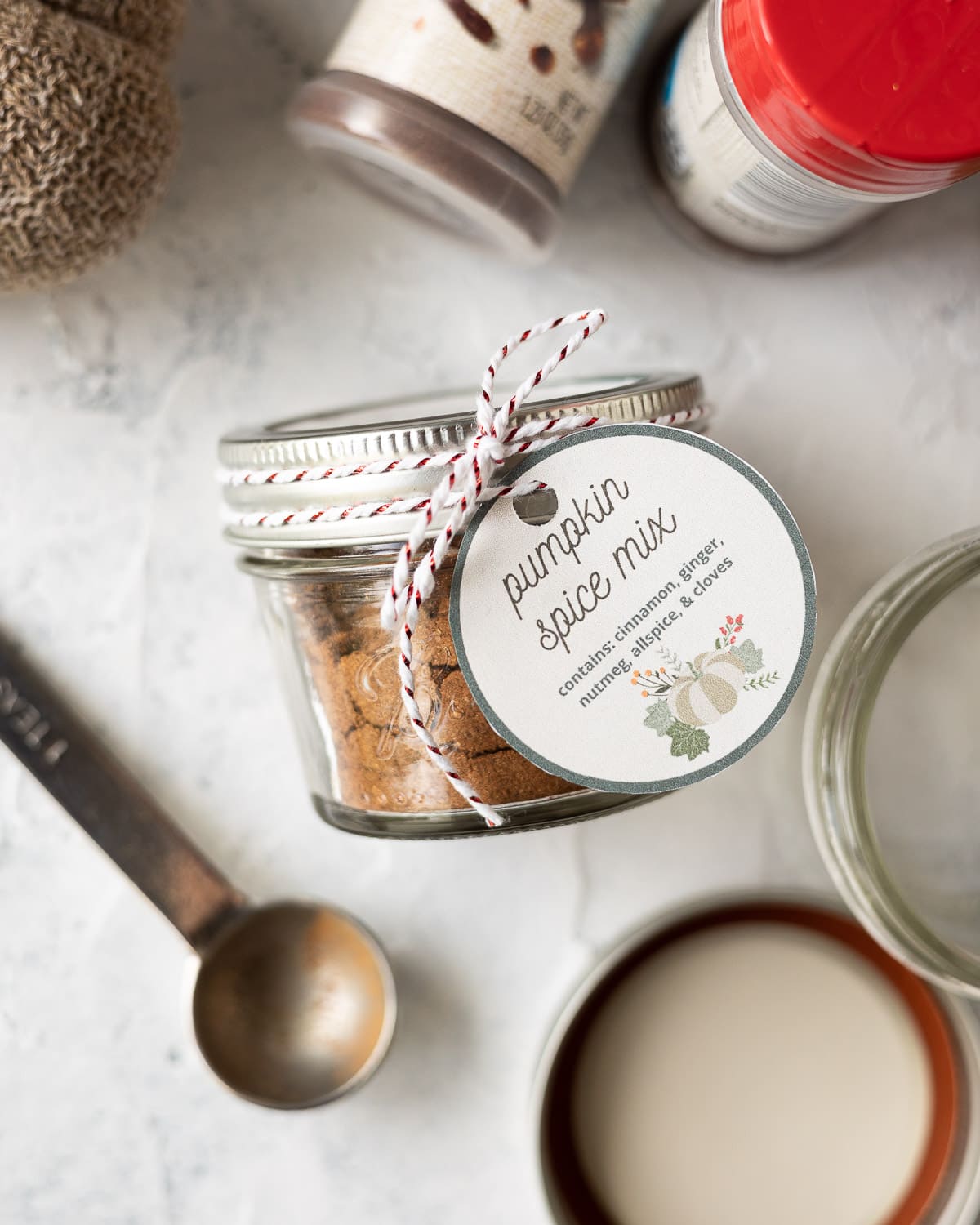 Washi Tape Mason Jar
Fill up a jar with spools of pretty washi tape in your favorite colors. This washi tape mason jar gift makes a great gift for anyone who loves crafts, bullet journaling, scrapbooking and more. Get the instructions and learn how much washi tape you'll need here.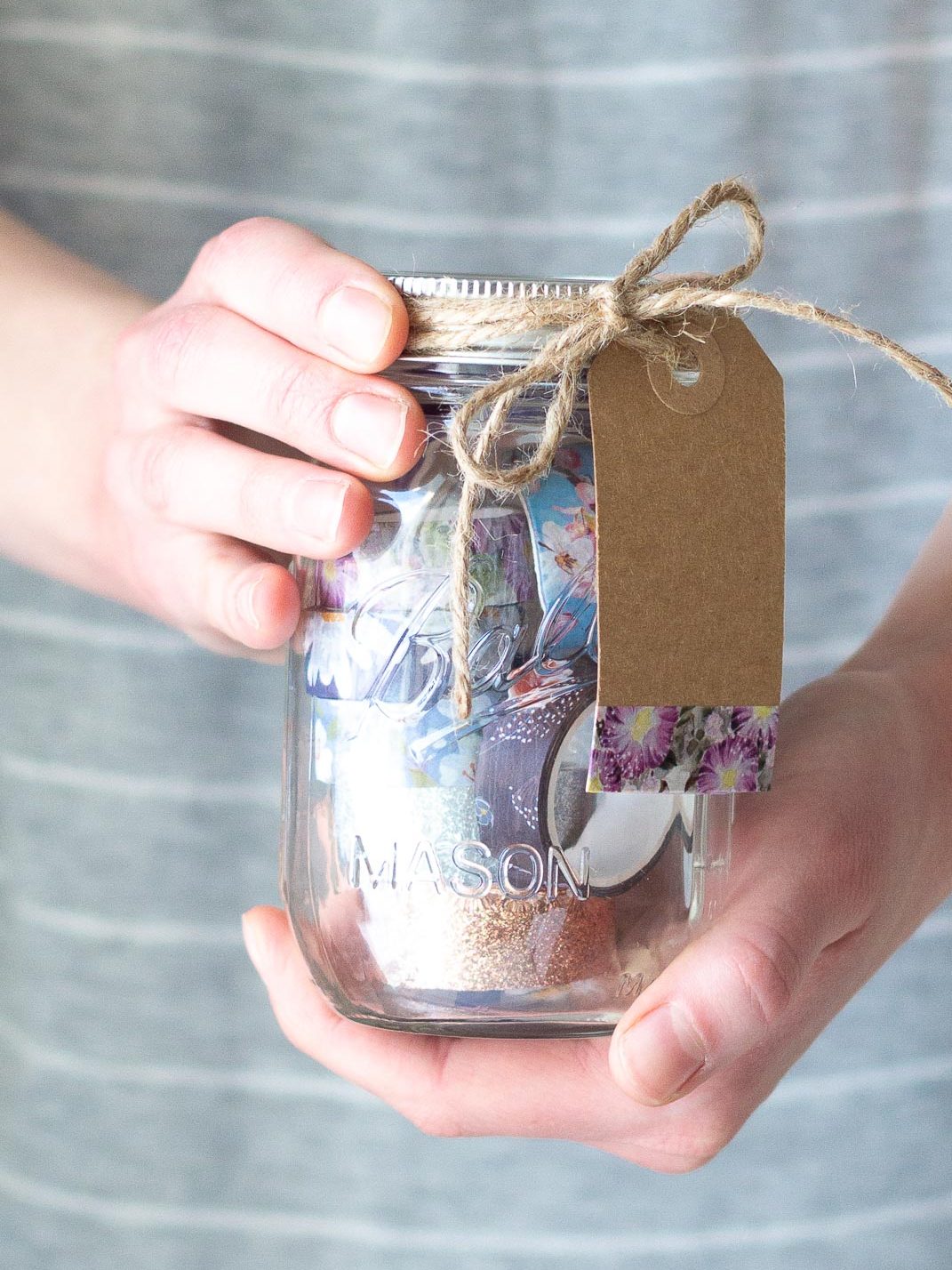 Pancake Mix in a Jar
This homemade pancake mix in a jar from Walking on Sunshine Recipes is a practical gift that will be appreciated whether you gift it during Christmas or any time during the year!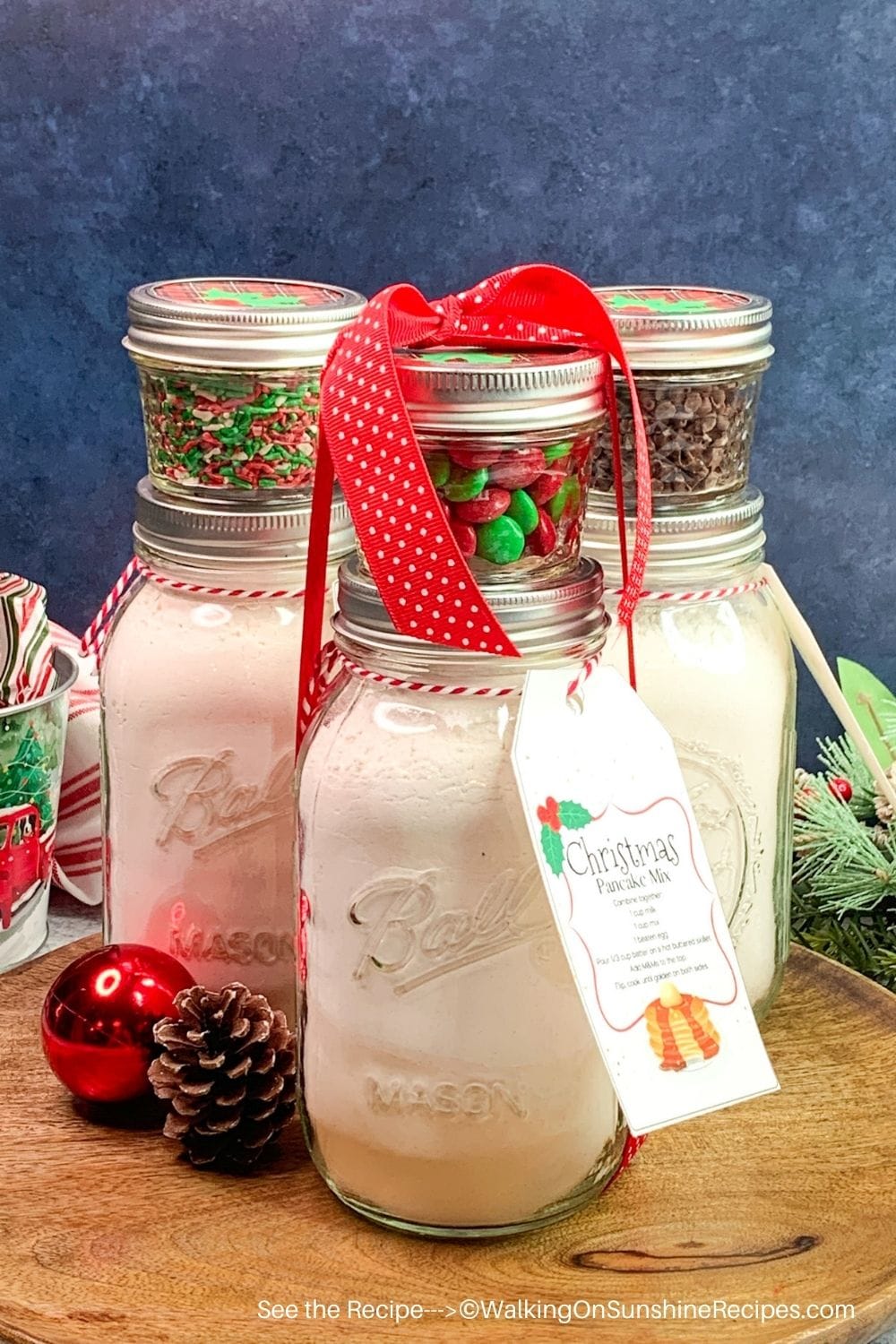 Homemade Hot Chocolate Mix
I love the fluffy marshmallows and bright candy canes topping this delicious hot chocolate mix-in-a-jar recipe! Liz at Love Grows Wild has included two different gift tags for printing in addition to the recipe.
Office Survival Kit
Heading back to the office after the holidays can be rough. Gift a jar of "survival essentials" with this mason jar office survival kit.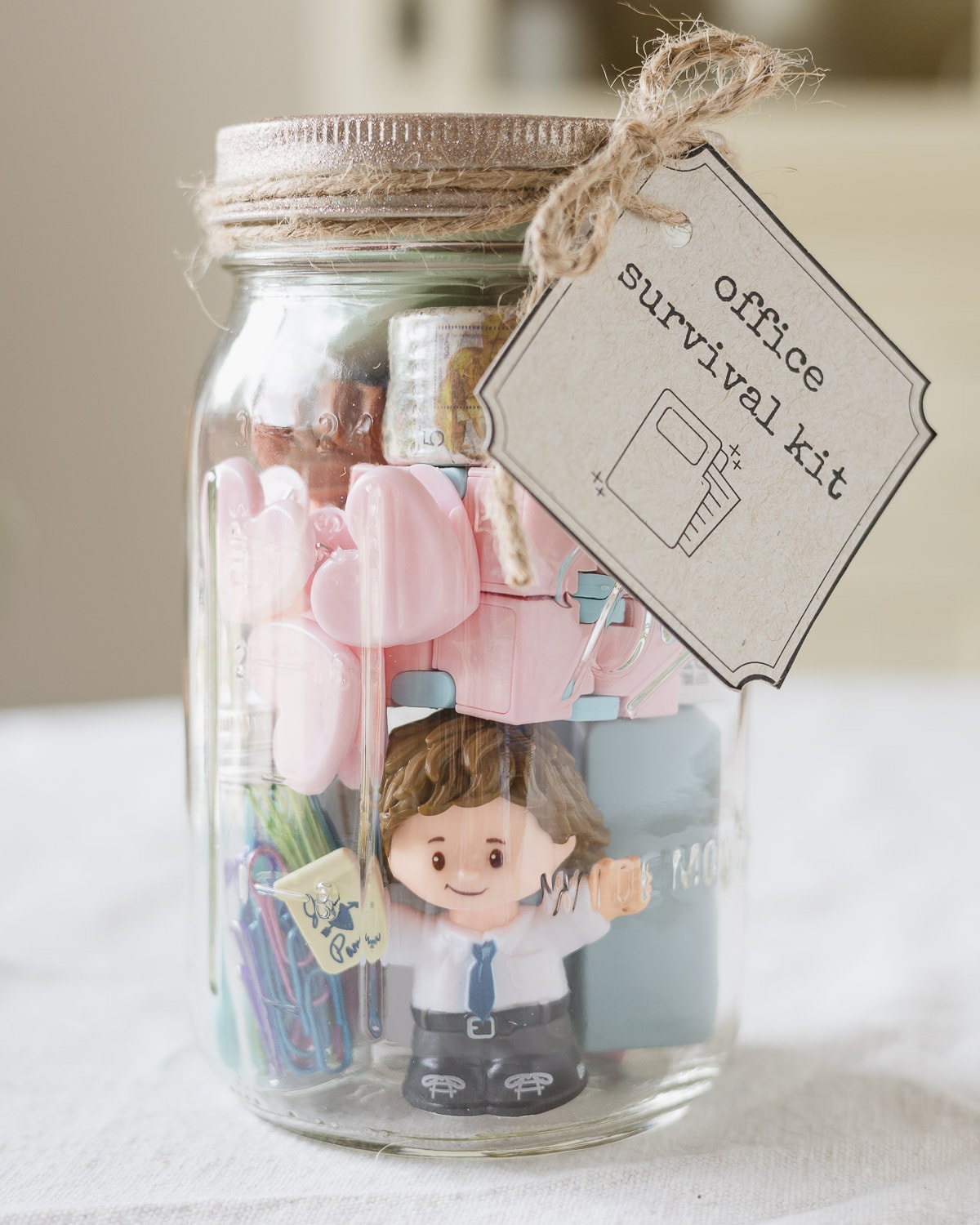 Graduation Gift Jar
A great idea from Country Chic Cottage, this Graduation Mason Jar is the cutest little owl and would be the perfect vessel for a check, giftcards, or candy for your graduate.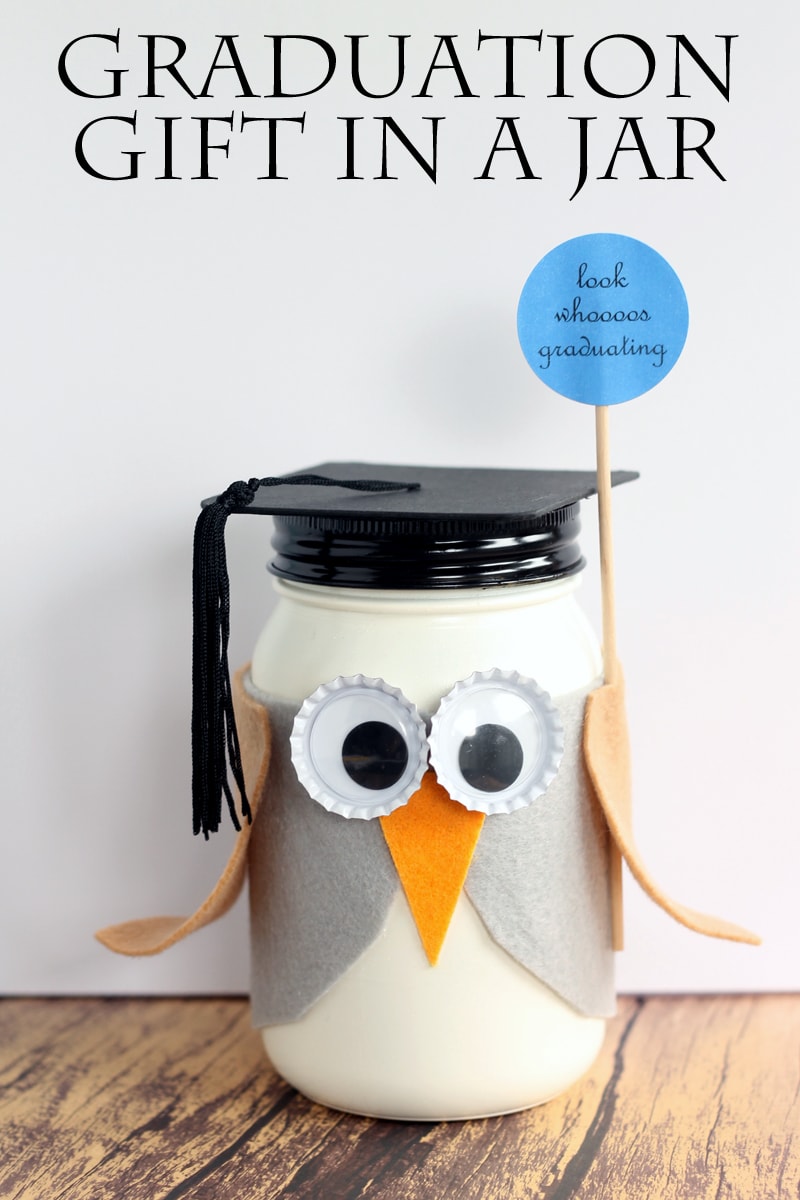 Animal Topped Mason Jars
I thought these jars were so unique! Animal Topped Mason Jars from Mason Jar Crafts would be great for filling with gifts for kiddos, or just gifting for use as décor and organization in their room.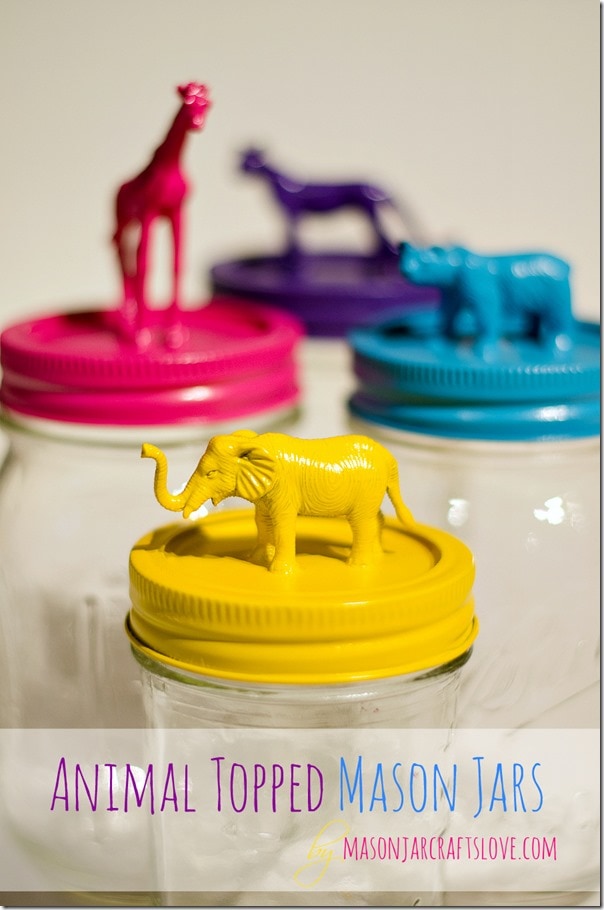 Craft Supplies Mason Jar
Have fun shopping for tiny craft supplies and packaging them into a quart-size mason jar. This "craft supplies" mason jar gift could include anything from paints, to washi tape, to stickers, sewing or embroidery notions, and much more.
Leather Mason Jar Mug Coozie
This leather mason jar mug coozie from Natalie at DoodleCraft is unique and could be a great project to try working with leather for the first time.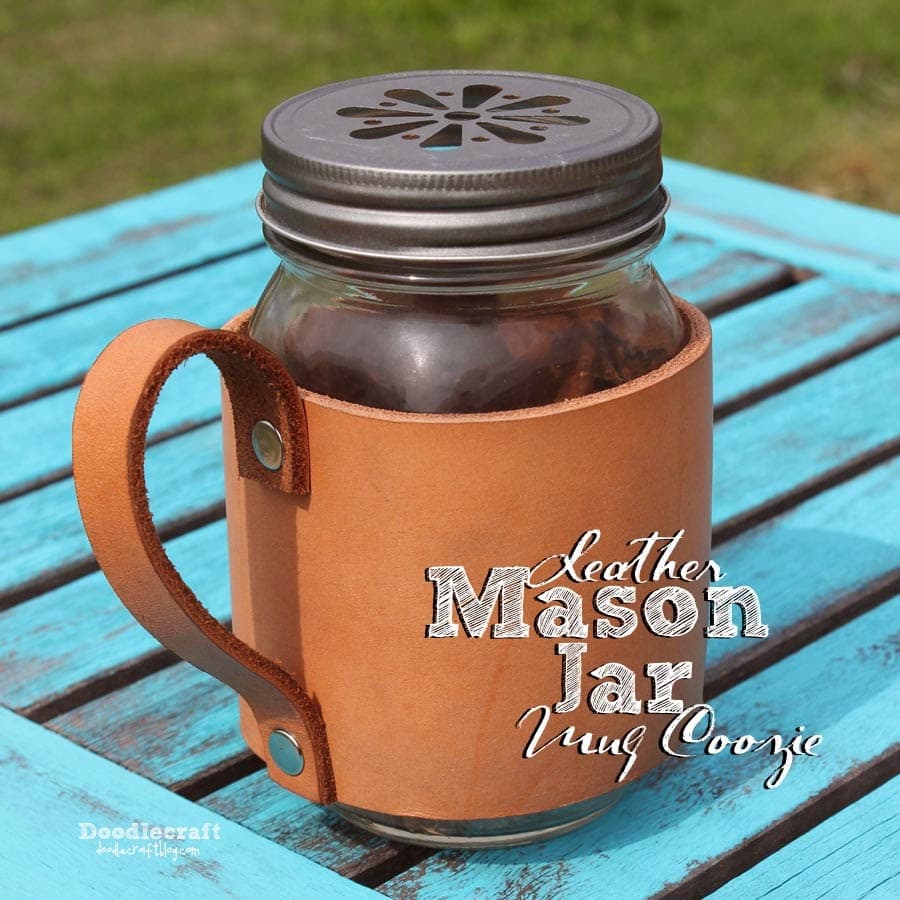 Boredom Buster Mason Jar
This Boredom Buster Jar from Tonia at The Gunny Sack is ideal for keeping kids busy on road trips or just creating a special gift for a birthday etc. Tonia's included lots of ideas for filling the jar on her blog post.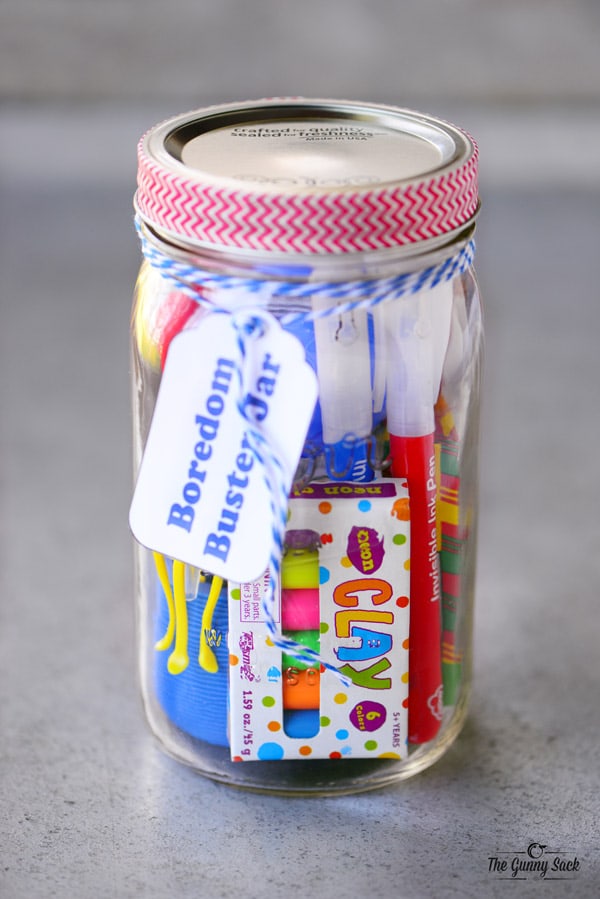 Storage Jars with Glass Knobs
Upcycle mason jars by painting the lids and adding glass knobs to create these storage jars with glass knobs (another great tutorial from Lolly Jane!). You could gift a set of these or fill one or two with some fun treats, manicure supplies, or even office supplies like washi tape, paperclips, and mini scissors.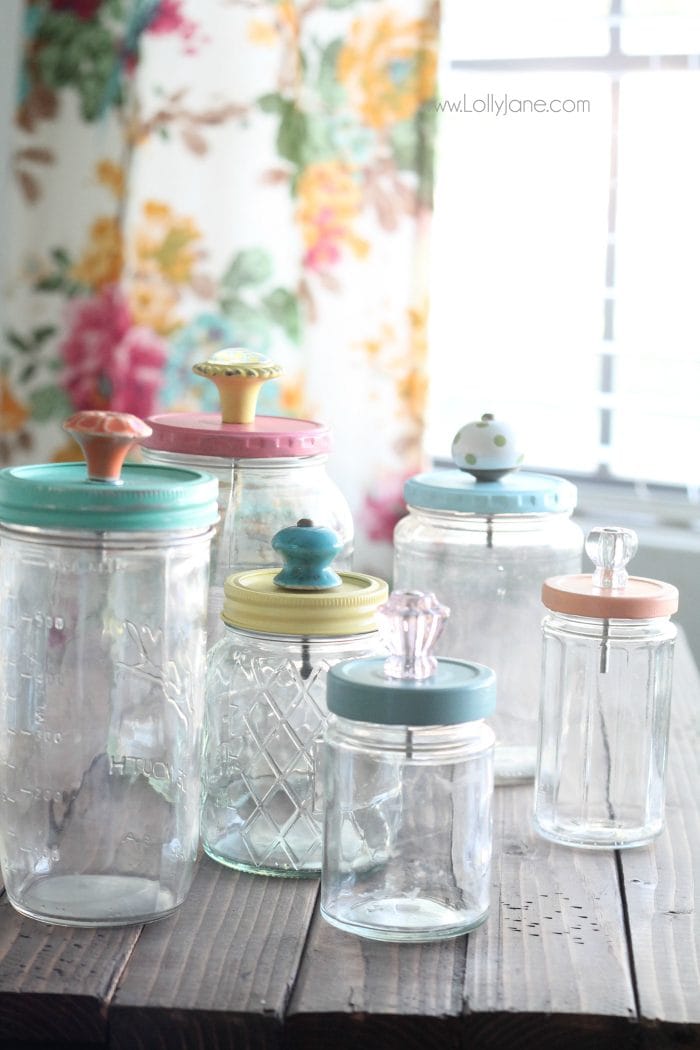 Homemade Playdough in a Jar
So fun! A great mason jar gift idea for kids, this homemade play dough jar makes a cute gift that kids will love.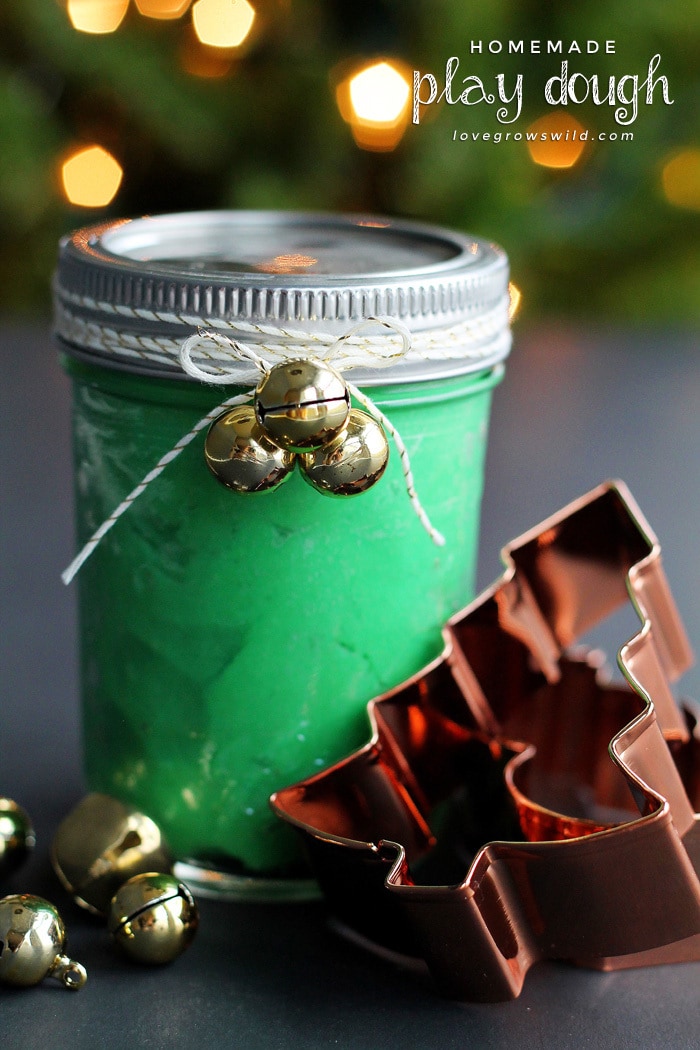 DIY Lavender Mint Bath Salts
Bath Salts are an easy way to fill a mason jar and this Lavender Mint Bath Salts Jar from Linda at Mason Jar Crafts is so pretty! This would be great for a Mother's Day gift.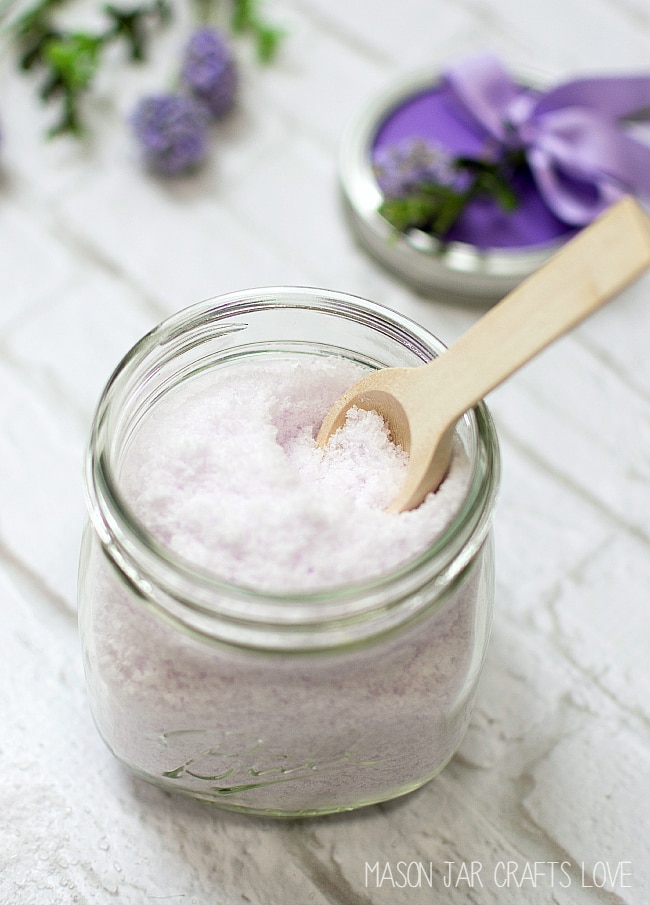 Mason Jar Pineapple Gift
This adorable Mason Jar Pineapple Gift from Malia at Yesterday on Tuesday is filled with sweet candy and topped with a faux succulent. One of the most creative mason jar ideas I have seen–I love this one!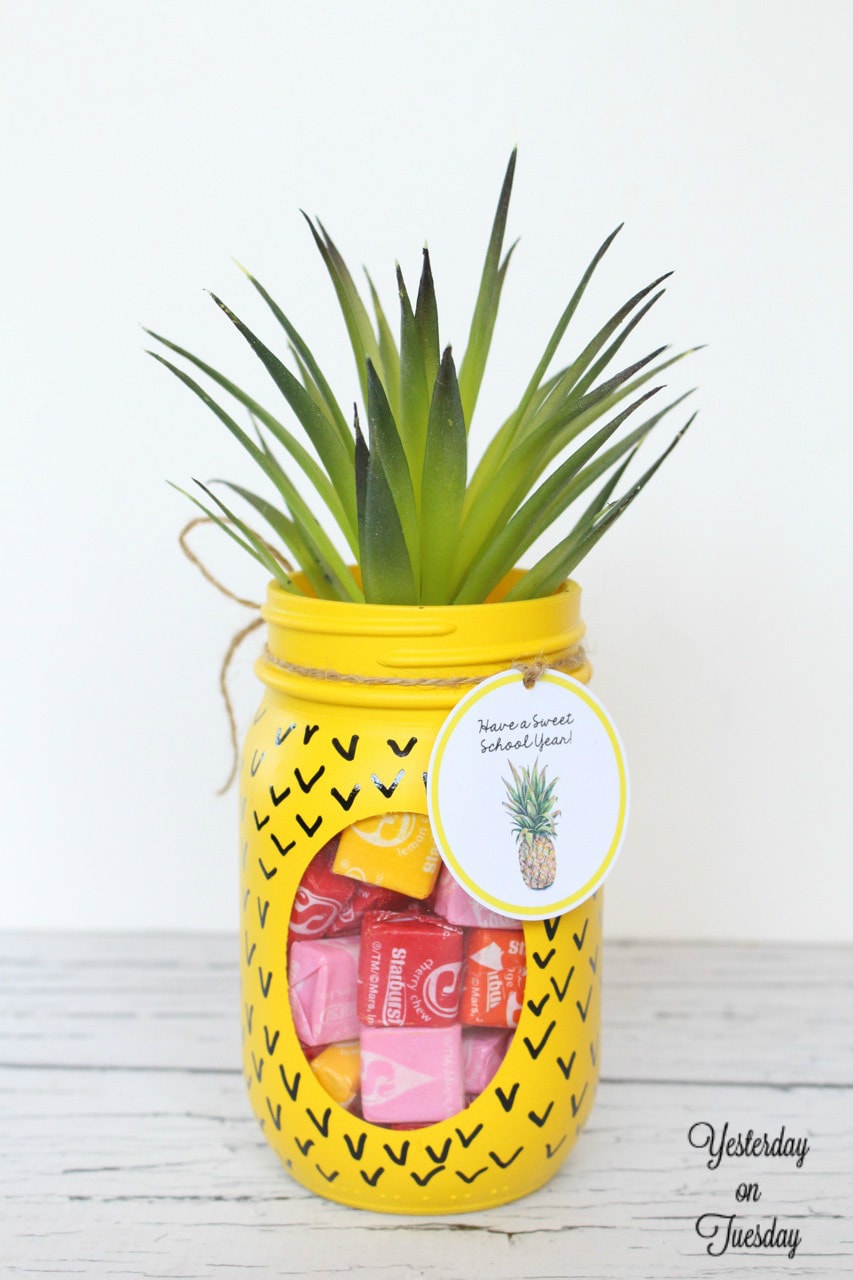 Scrunchies in a Mason Jar – Handmade Gift Idea
Make homemade scrunchies (a good sewing project for beginners) and then fill a mason jar with them! You can sew with your favorite colors and fabrics to customize the scrunchie gift jar–or even just use storebought scrunchies!
Chocolate Mint Mason Jar
Pamper a friend with a chocolate mint jar gift–filled to the brim with chocolates and spa items. Tonia at The Gunny Sack creates such brilliant mason jar ideas–and I love how this jar also includes mini mason jars inside!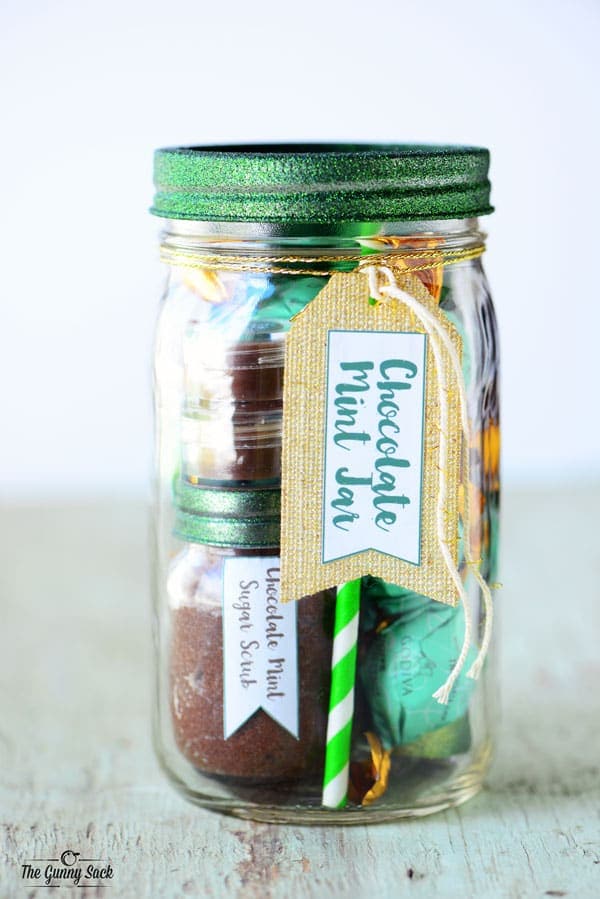 DIY Mint Sugar Scrub
This Mint Sugar Scrub is made to fill smaller 1/2 pint mason jars and it makes a lovely handmade gift idea if you are looking for some non-food options.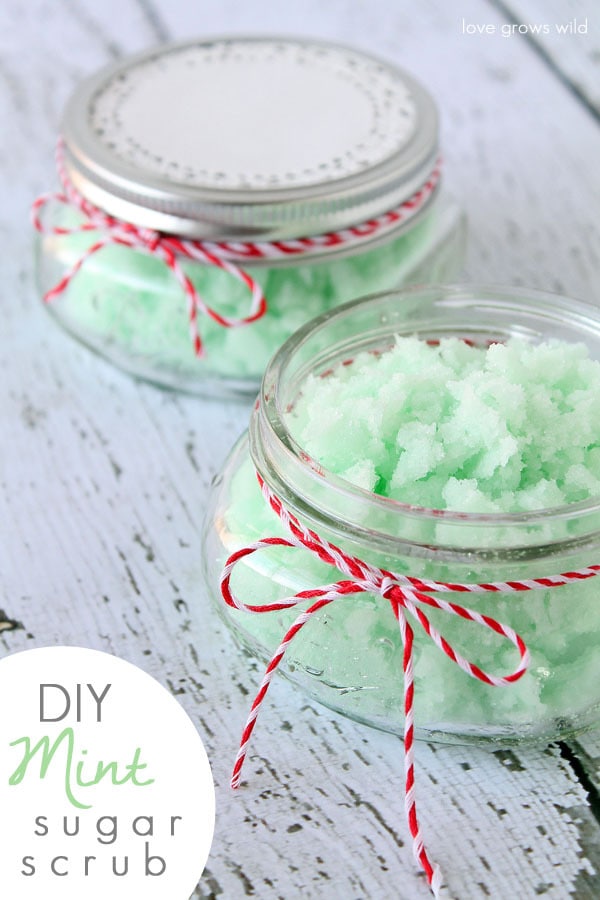 Mother's Day Mason Jar Gift Tag
Simply painting a jar and filling it with giftcards, candies, or other goodies would be an easy handmade Mother's Day Gift. This Mother's Day Gift Tag from Mason Jar Crafts is the perfect way to finish things off.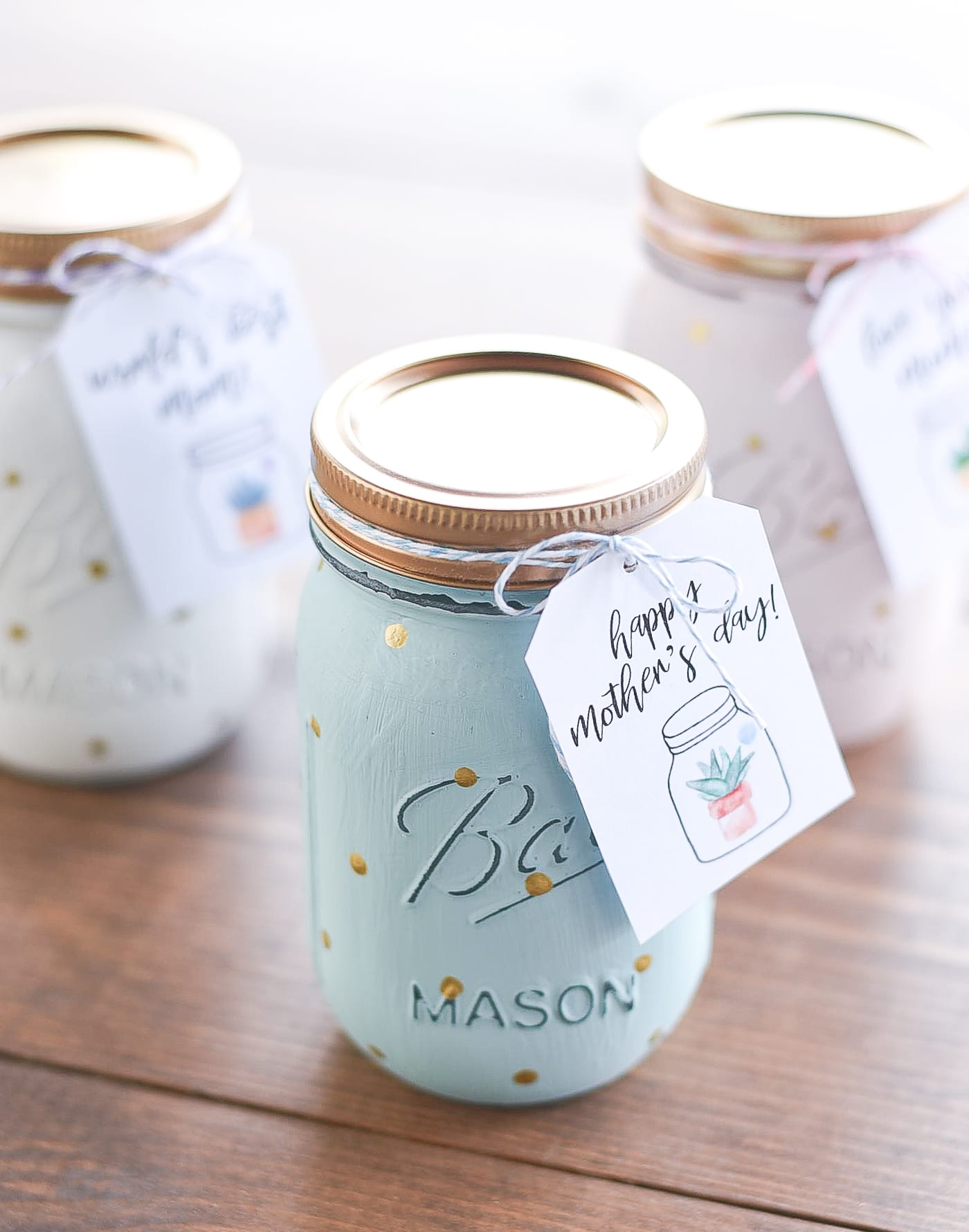 Tea Time Mason Jar Gift
I've loved miniatures ever since I was little, so the tiny honey and sample teas in this jar just make my heart happy. A tea time mason jar gift for someone in your life who takes tea seriously!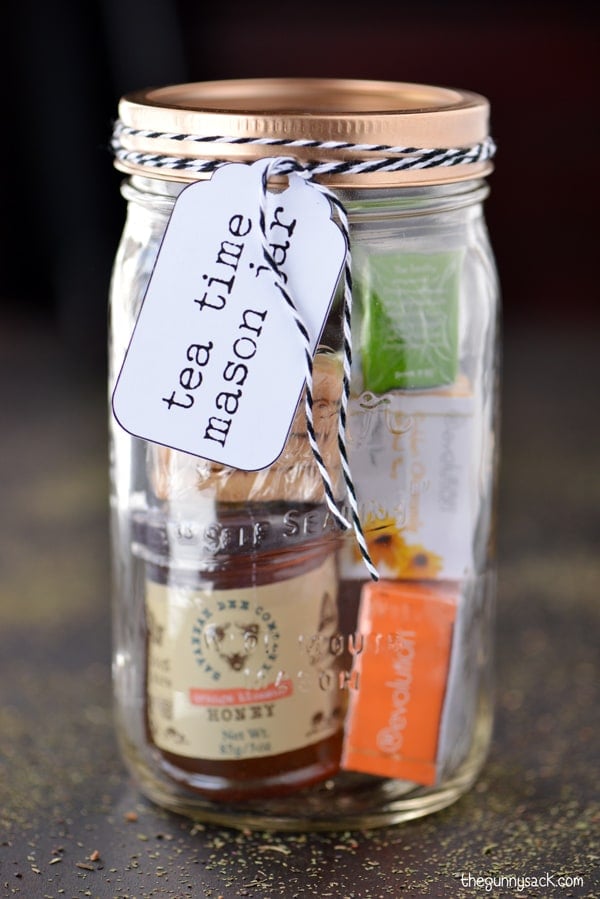 Snowflake Hot Chocolate
Heather at Setting for Four adds snowflake sprinkles and silver dragees to make this pretty & festive hot chocolate mix extra special!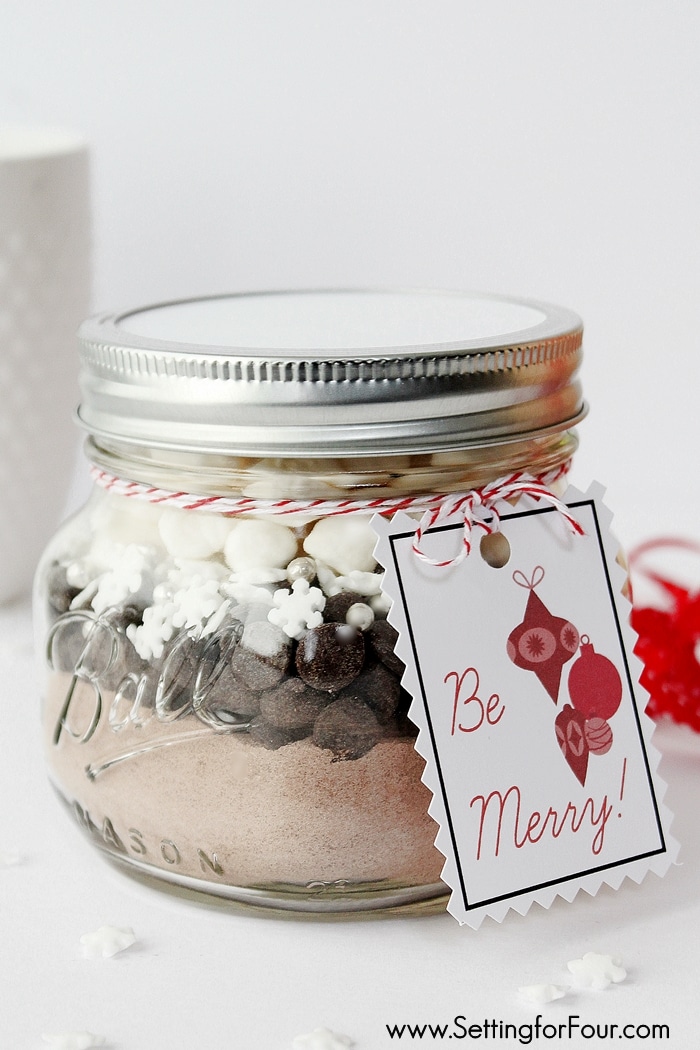 "You Make My Heart Burst" Valentine's Day Treat Jars
This Valentine's Day mason jar idea from Megan at The Homes I Have Made is so cute. And even more fun, Megan used all recycled jars for this project. What a great way to recycle and save money too!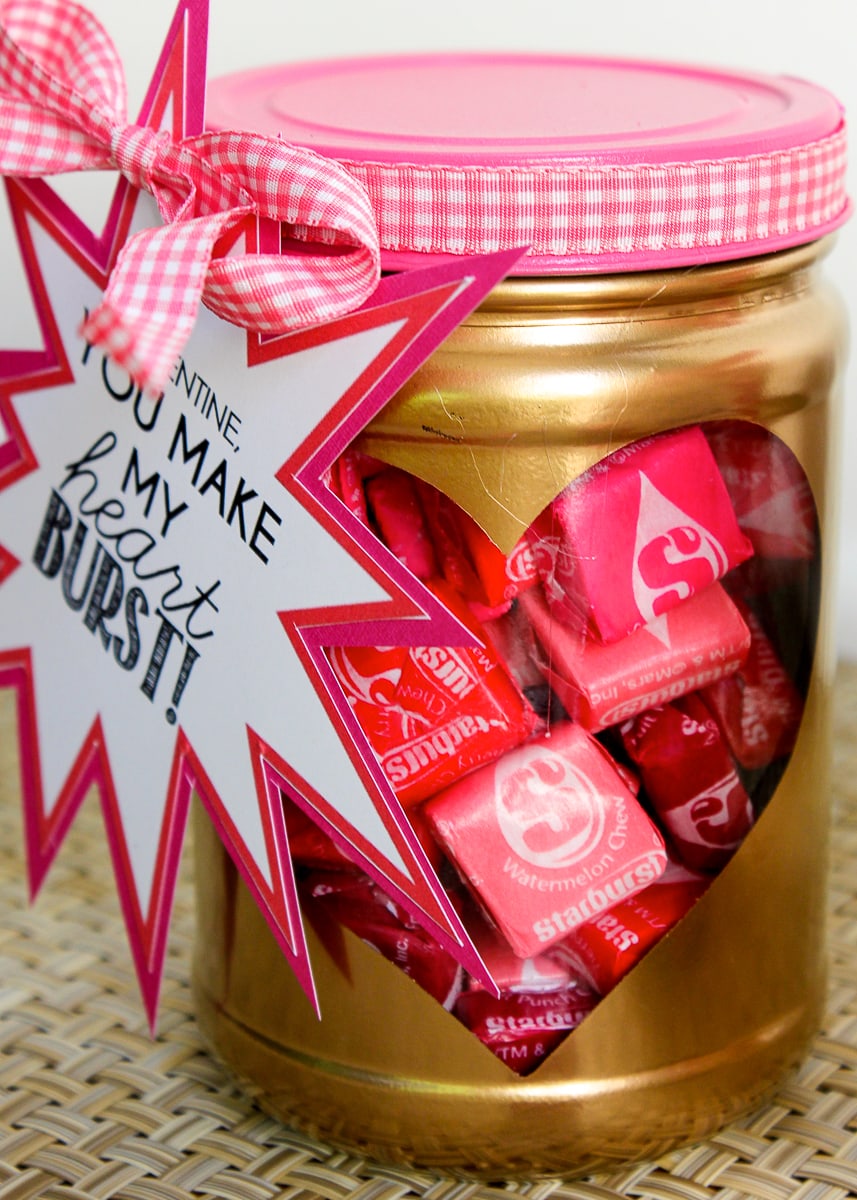 Jar of Hearts Valentine Gift
This Jar of Hearts Gift Idea from Polkadot Chair is adorable gift idea that comes along with printable gift tags you can find at the original post.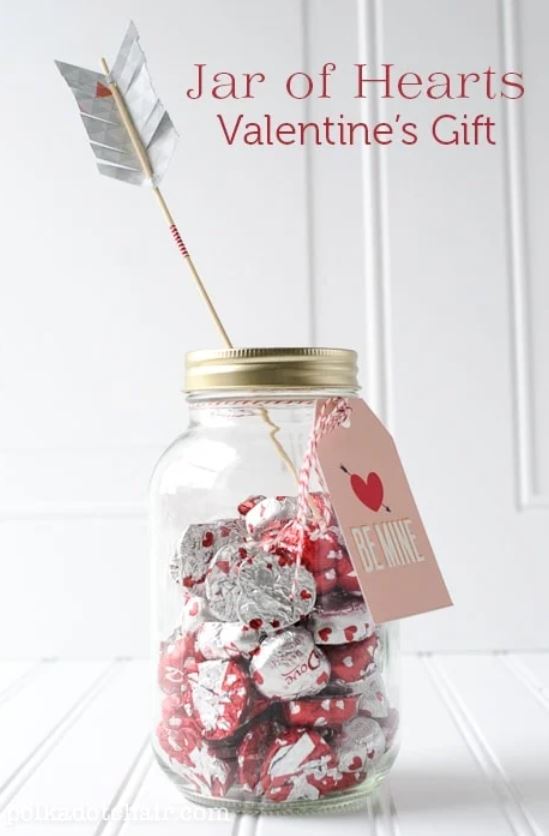 I hope you enjoyed this roundup of some of the best handmade mason jar gift ideas. Which jar idea is your favorite? I'd love to hear from you!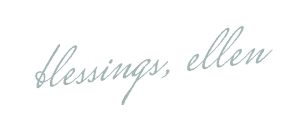 More Craft Ideas